To begin with, British food is not complicated.  So drawing up our "foodie list" was the last thing we did when we were planning our UK trip in June last year. It helped too that Netflix was streaming British cooking shows such as "The Big Family Cooking Showdown" and "Million Pound Menu", and watching them gave me a good idea of what to expect in British local food.
Truth be told, I was more concerned with the price of the food there so I asked for tips and recos from almost everyone I know who has gone to UK, hehe! It's good that I did, because I learned about cheaper but good food options for us. Not only did we get to enjoy the local tasty treats in the UK without hurting our wallets, but we were also able to enjoy what the locals actually eat.
Tasty food are found not only in restaurants, but in local food shops as well such as Pret A Manger (or simply 'Pret'), fast-food chain Leon and Nando's and bakery chain Gregg. We were able to try all these, and by the end of our trip I am a certified Pret addict na; always ordering the same thing and I swear I can eat there everyday.
The British classics were of course the highlight of our food trip. Here are some that we tried during our travels around UK and Edinburgh in June last year:
Sausage & Mash, Cottage Pie and Fish & Chips 
There's no better place for us to enjoy these British comfort food favourites than at London's most loved restaurant – Garfunkel's.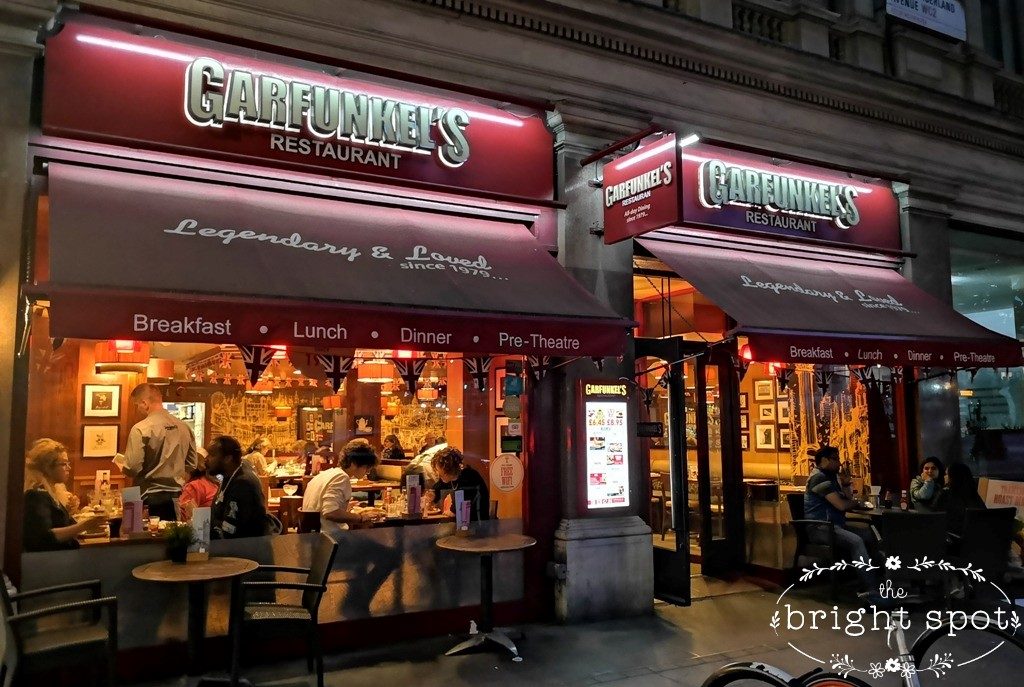 The Brits are known for generous servings of food so these orders are for sharing already by the 4 of us in the group. We also ordered beer because this is London after all, where beer culture is very much alive and no doubt a favorite after-office activity of the locals.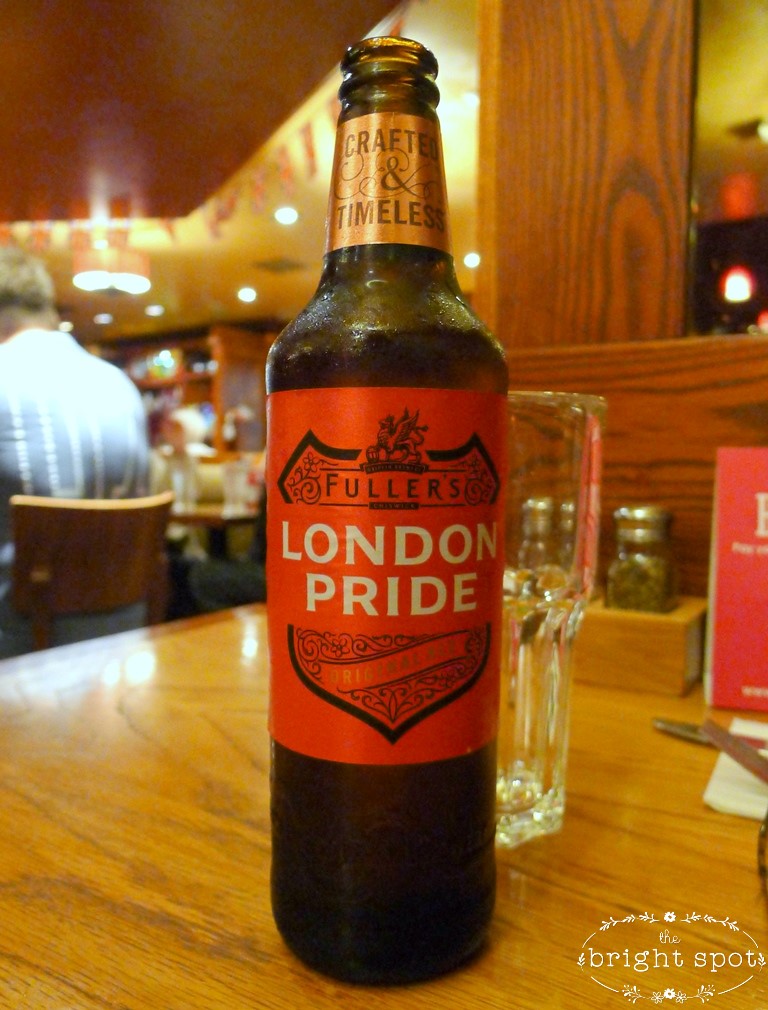 You couldn't get more British with these classic meals below: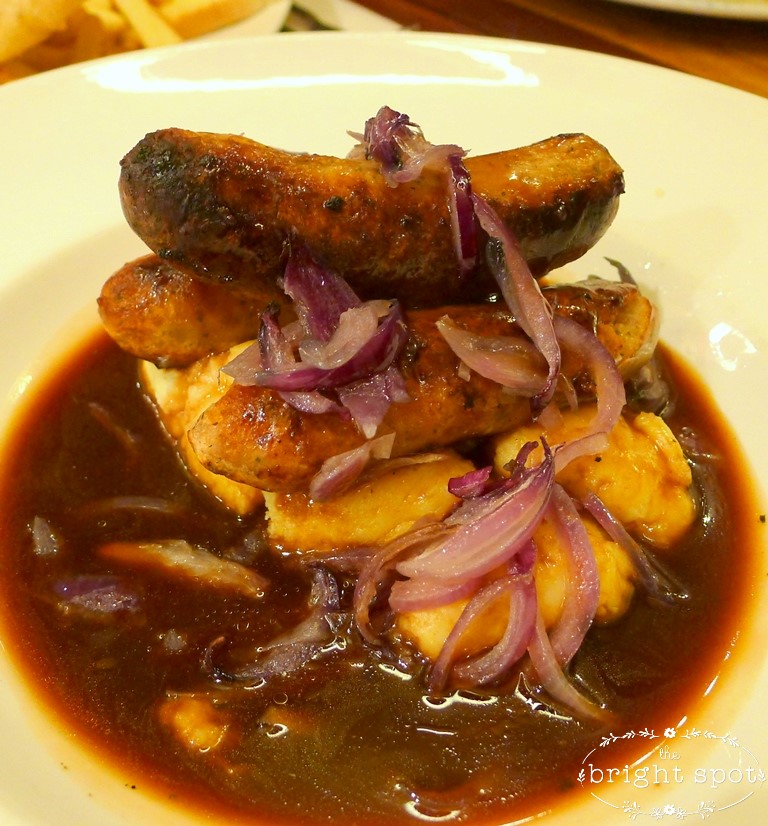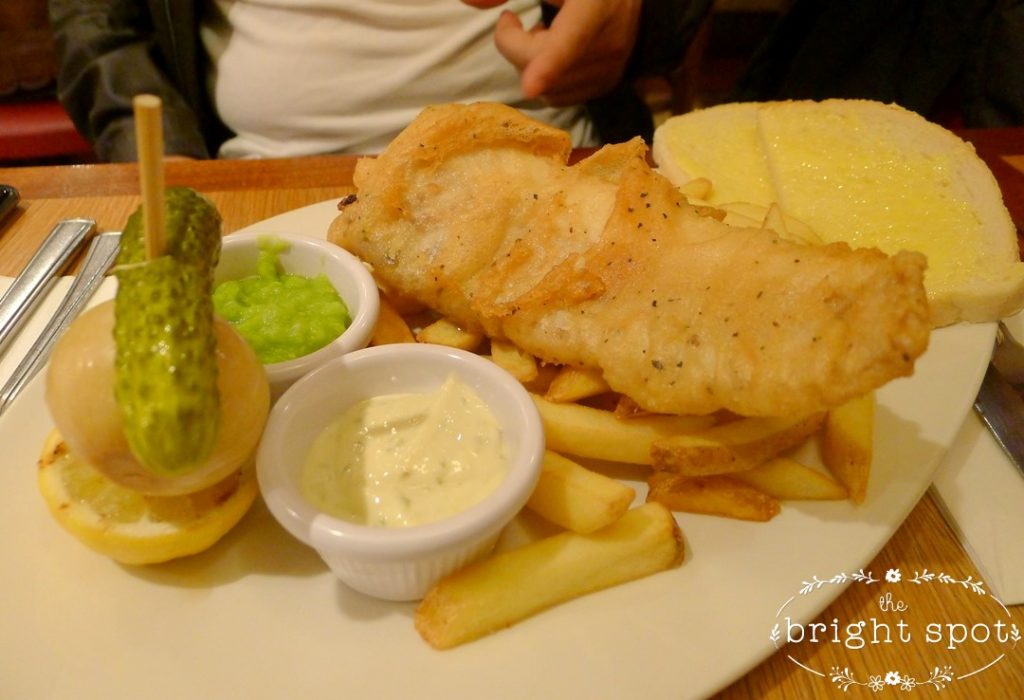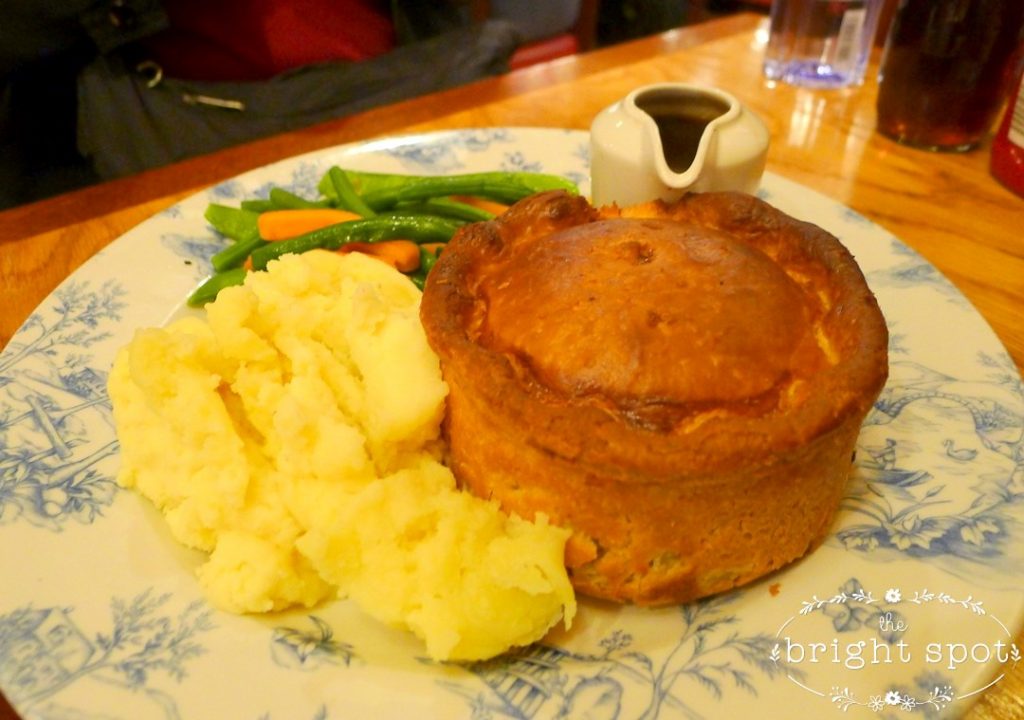 I liked the Cottage Pie best. You don't usually find this in Manila, and their beef is really nice, tender and savory. I knew I have to taste more of their meat pies and I was happy that another opportunity came when we were touring the Scottish Highlands and our tour guide Alistair of Hairy Coo brought us to this award-winning delicatessen shop at Aberfoyle. There we were able to taste Black Pudding Pie and Steak Mince Pie as well. Grabe lang sa sarap!
We were also able to have our 2nd Fish & Chips meal at Oxford's most famous pub, the Turf Tavern. Their regular serving of fish & chips is already good for sharing, and I don't know how they do it here in the UK but they get it consistently right: the batter is crispy outside with just the right level of saltiness, and the fish inside is fluffy and fresh. I like mine smothered in ketchup with some more salt. Perfect with a pint of beer!
British Scones
I looovvveee scones! In the UK, the scones are big, and I mean really big and the texture's light and soft and not crumbly as most scones usually are here in Manila. I had scones at Huffkins in Burford (part of our Cotswolds tour) and then at Aberfoyle again in Scotland. How I miss their scones already! One thing I noticed with British scones is that they are denser. Also, the one at Aberfoyle has currants, so no need for cream and fruit jam.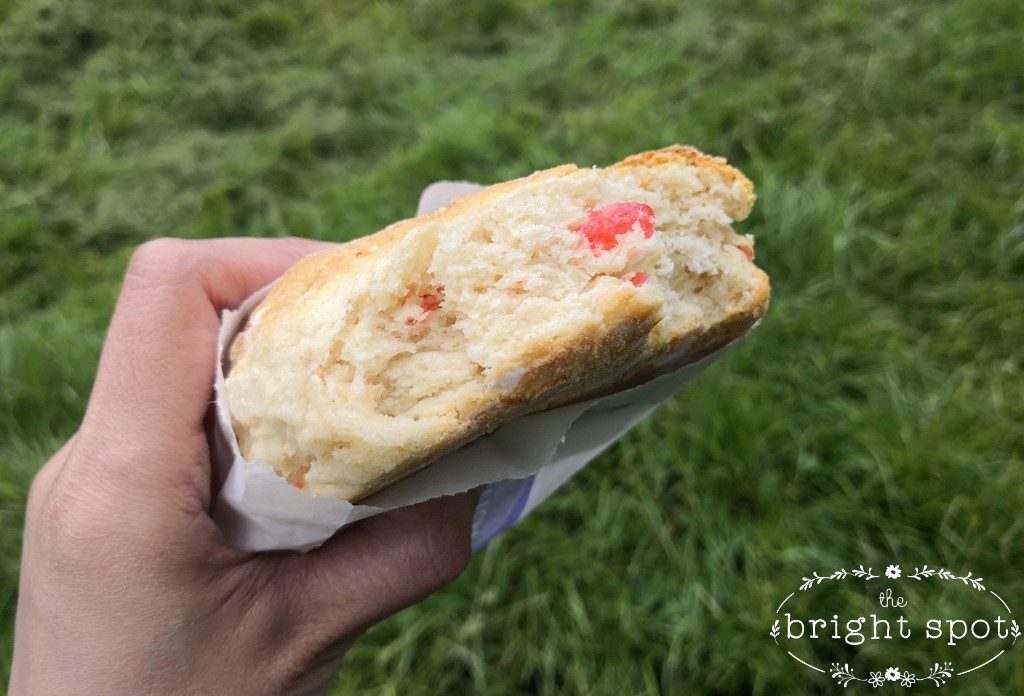 Lardy Cakes
Among the many treats of visiting England is a freshly-made warm and sticky lardy cake served with warm tea.  Don't miss this especially if you find yourself at Huffkins in Burford. (Trivia: It's called a lardy cake because it's made using freshly rendered lard from pigs).  It's very rich, sweet but oh so good!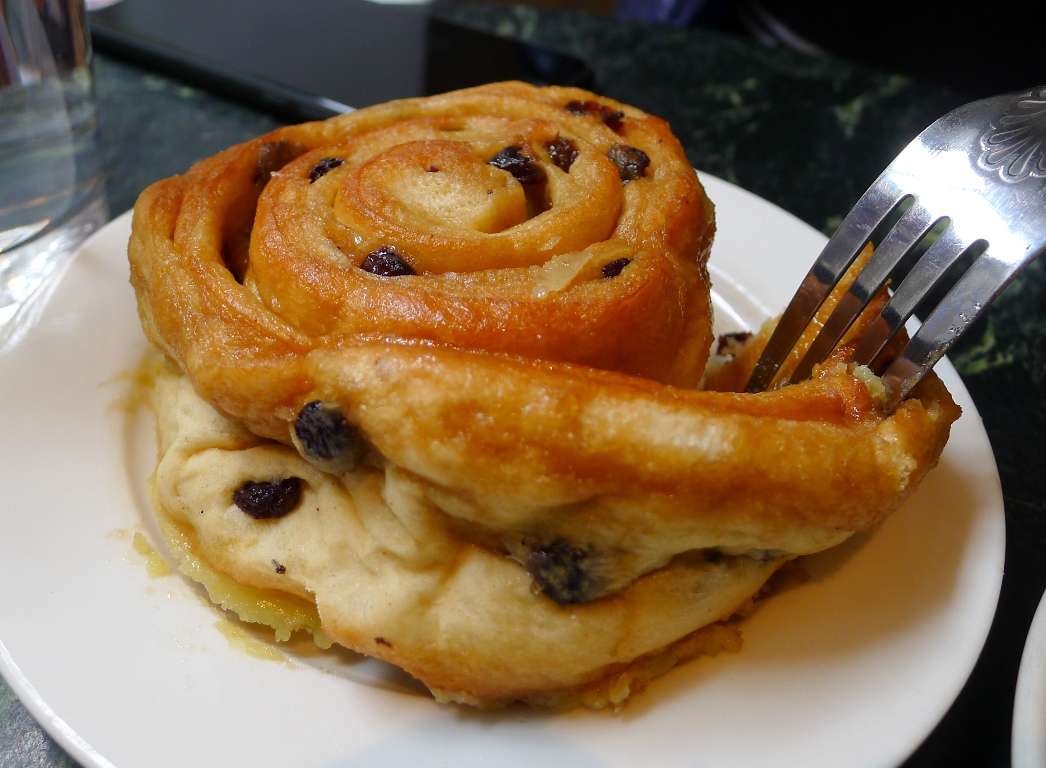 Haggis
Haggis is a Scottish pudding containing sheep's pluck (heart, liver, and lungs). This is a must-try when in Scotland and we did try it – twice! We were able to have this as takeaway at the Old Tolbooth which you will find along the Old Town in Edinburgh, and as a fine dining food at Angels with Bagpipes.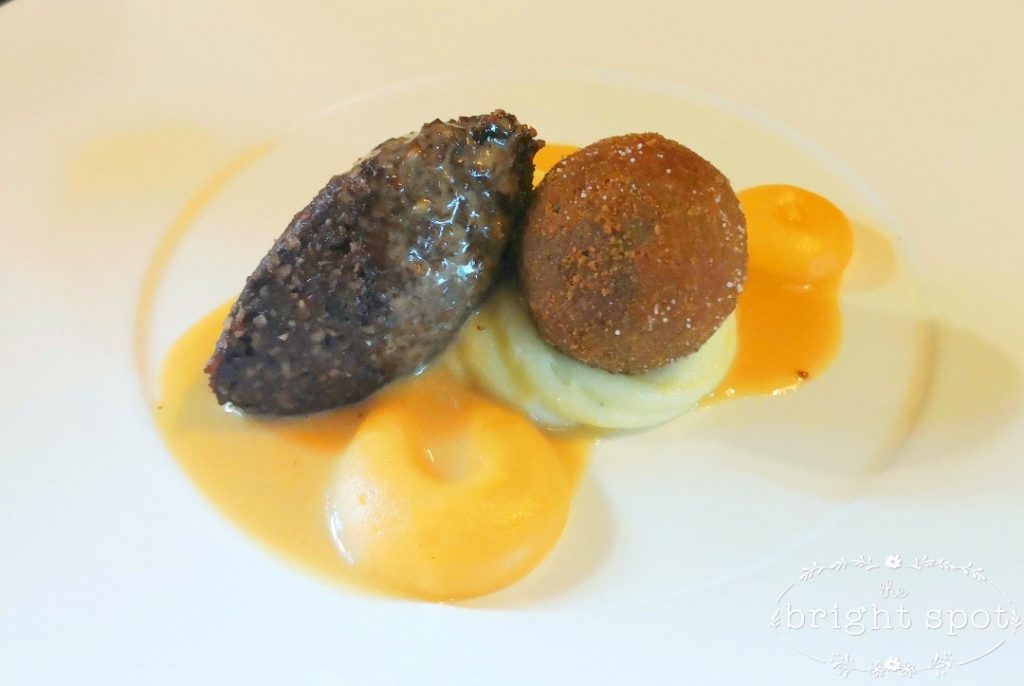 British Strawberries
Our trip coincided with British strawberry season and I could not believe that they're selling them very, very cheap! They're also very plump, juicy and of course, sweet and fresh. I'm happy to munch on them every chance we get.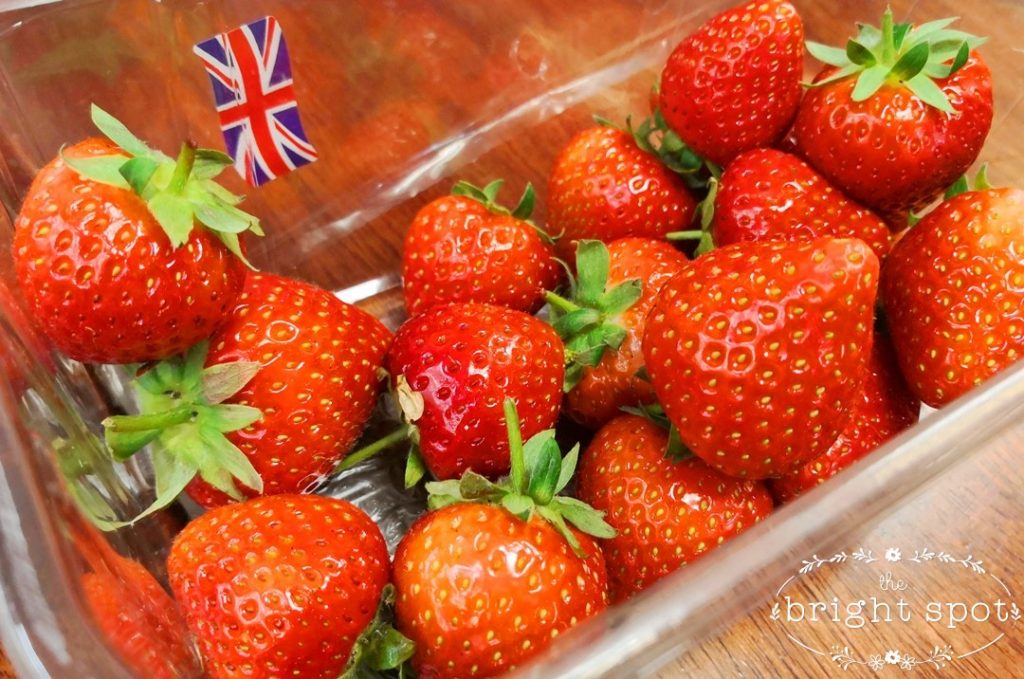 Chicken Tikka Masala
Touted as a true British national dish, Chicken Tikka Masala came from the Indian dish "chicken tikka" with masala sauce that was added to satisfy the desire of British people to have their meat served in gravy (Wikipedia). We were able to try this at an Indian restaurant (the Gulab Tandoori) just a few steps away from our hotel at King's Cross. It got a nice and creamy sauce with lovely flavors of tomato puree, coconut cream and other secret spices. Dami kong rice and roti na nakain with this!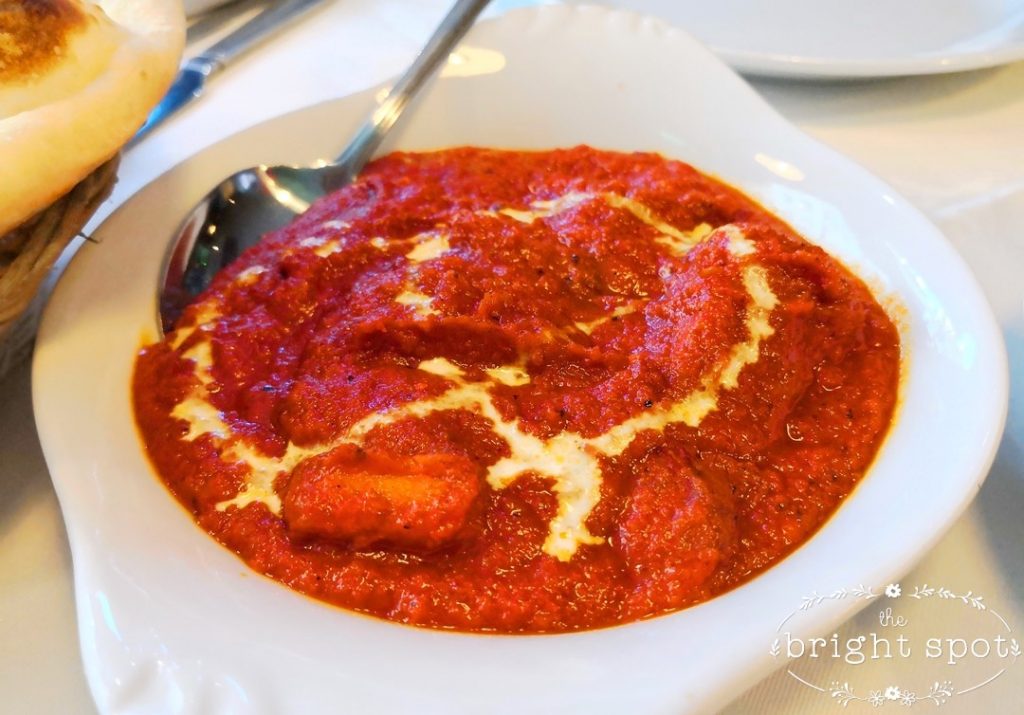 Angels with Bagpipes
We celebrated our trip in Edinburgh with a three-course lunch for all of us at Angels with Bagpipes, one of the finest restaurants to have graced Edinburgh's most iconic and historic street, The Royal Mile. Angels with Bagpipes presents a stunning seasonal menu made with fresh Scottish ingredients that is divine to both the palate and eye.
We ordered their three-course Seasonal Lunch set priced at £21.50, and as they were offering 4 choices for each course, we were able to try all of them, hehe!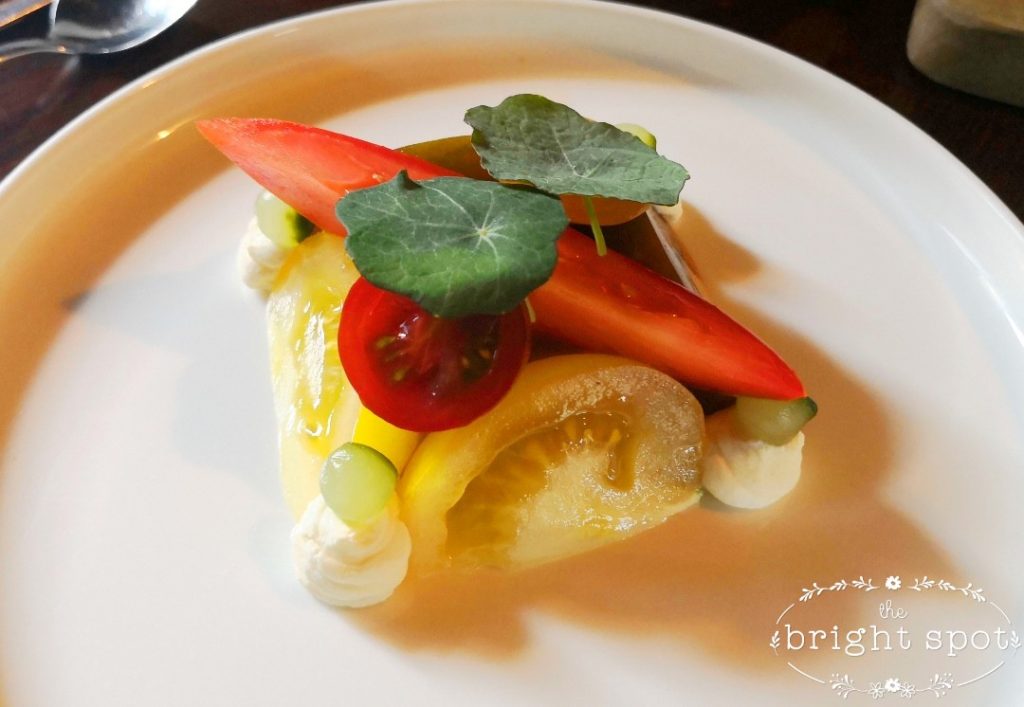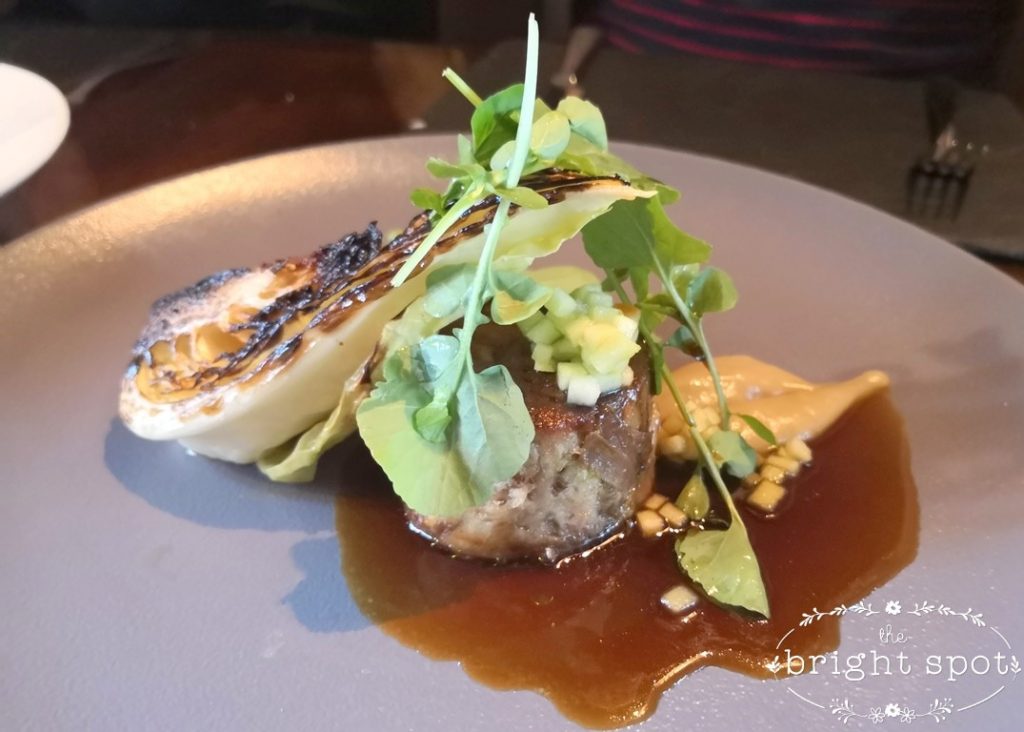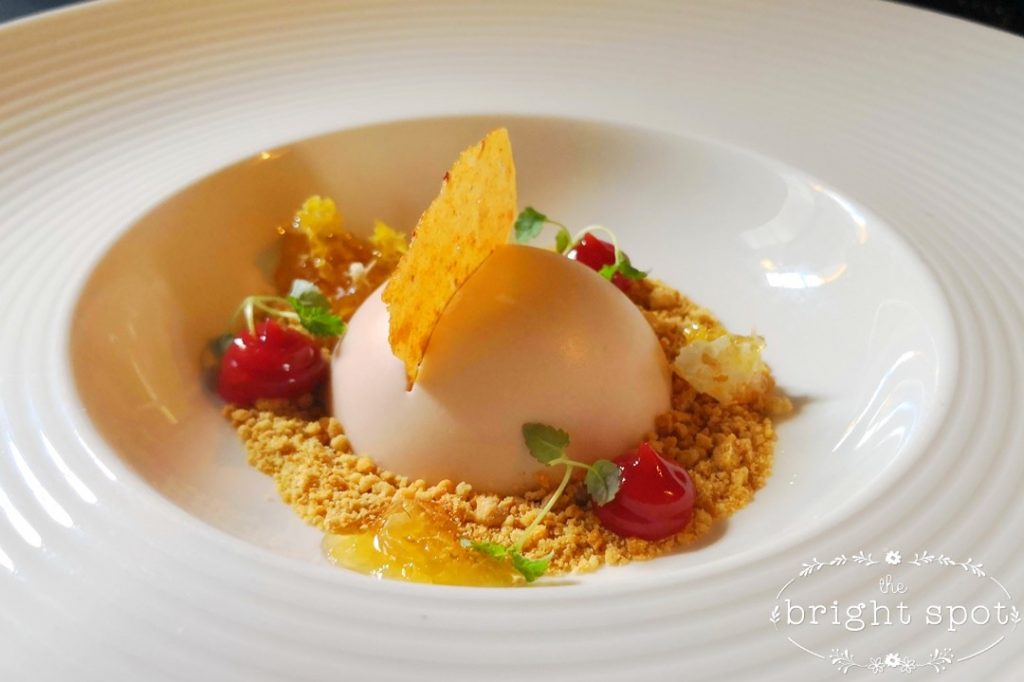 Nando's
We ate at Nando's on our first night in UK. Nando's is a  South African restaurant chain that specialises in Portuguese-African food, including its signature flame-grilled Peri-Peri style chicken.  It has several branches in London, so you won't miss it when you're there. A must-try at Nando's (aside from their famous Peri-Peri Chicken) is the Halloumi Sticks with chili jam dip.
Pret-a-Manger ('Pret')
I fell in love with Pret!  As in super favorite ko sya when we were there.  Their freshly prepared sandwiches are so good, healthy pa and more importantly, swak sa budget namin mga budget travelers, hehe!  That's the best thing actually with Pret – affordable, masarap at busog na busog na k'me.
This is our typical breakfast at Pret (to fuel us in our walking and bus tours): large cup of coffee for each, an almost footlong sandwich to share and I like capping it with a healthy yogurt or blended fruit cup.
Their Chicken Caesar & Bacon sandwich is my favorite.  I think I had this 3x while in UK!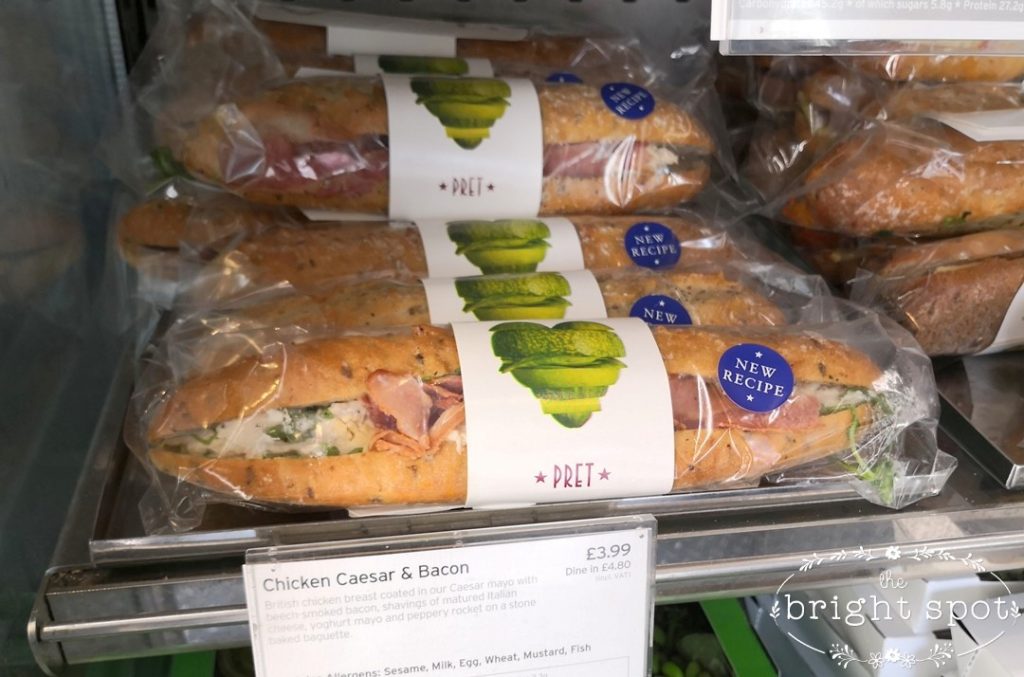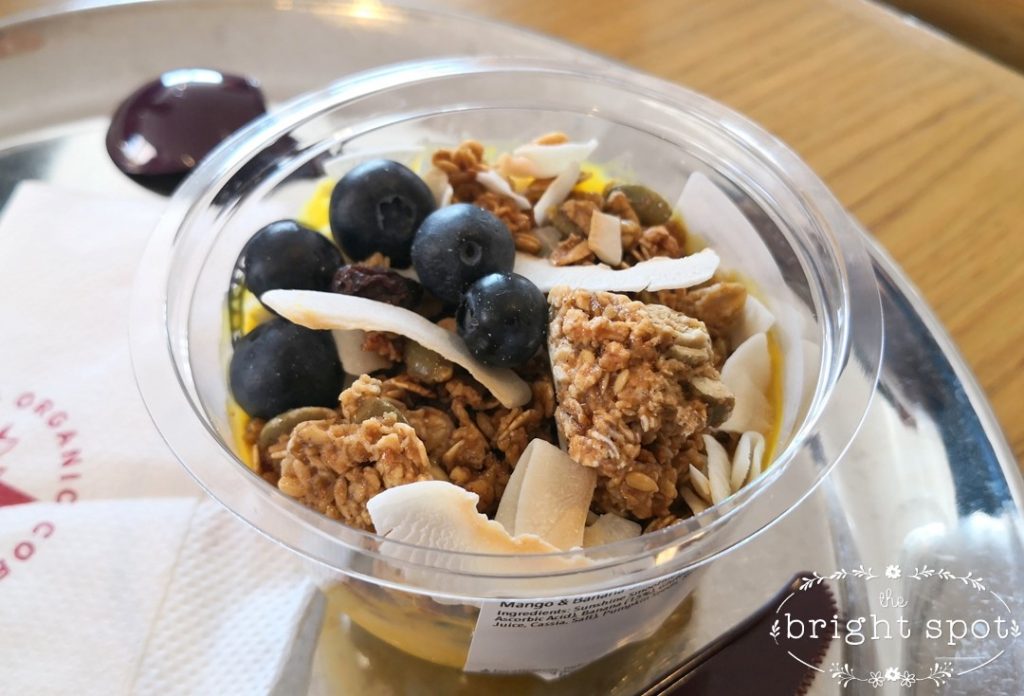 Greggs
Greggs is the largest bakery chain in the United Kingdom.  You gotta try their sausage rolls which is a hit for both locals and tourists.  And don't forget to pair it with their coffee, too.  This was our breakfast on our 2nd and last day in Edinburgh, which we had 'picnic-style' at Princes Street Gardens overlooking the Edinburgh Castle.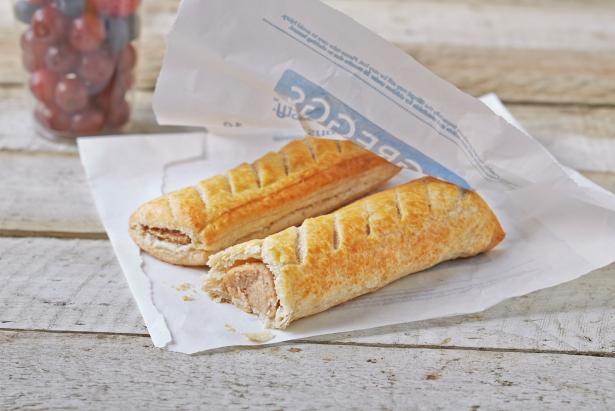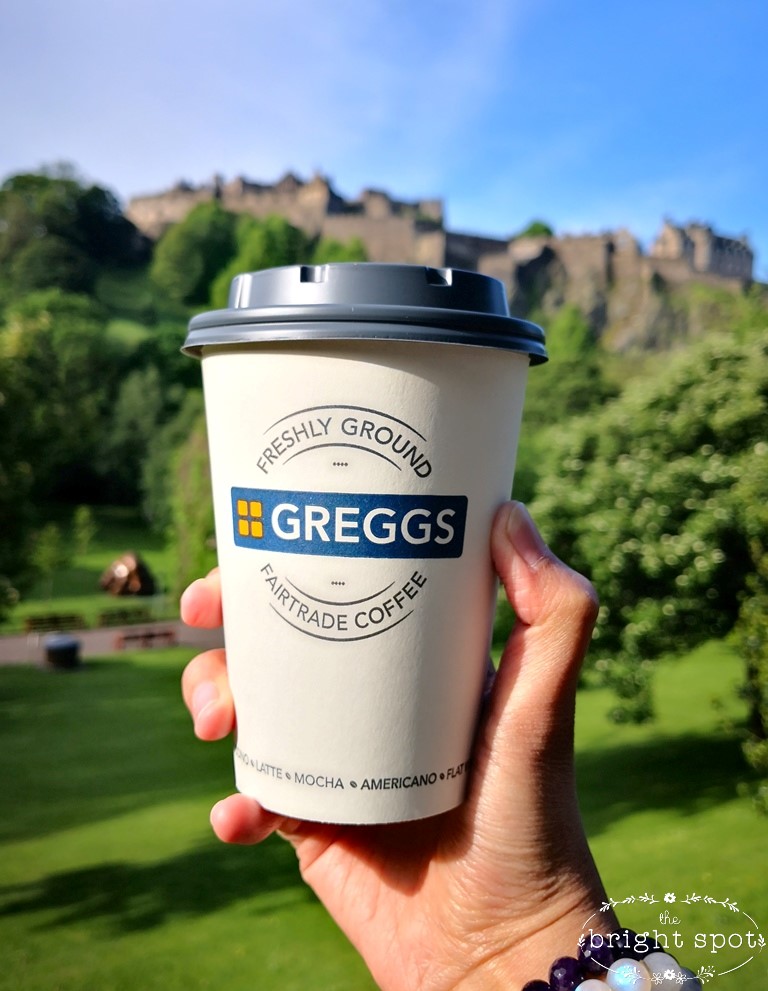 Leon
If you are a vegetarian, you will probably like Leon.  This restaurant chain served "naturally fast food" like burgers, salads and even rice bowls.  Unfortunately, it's not for us and we found their servings small.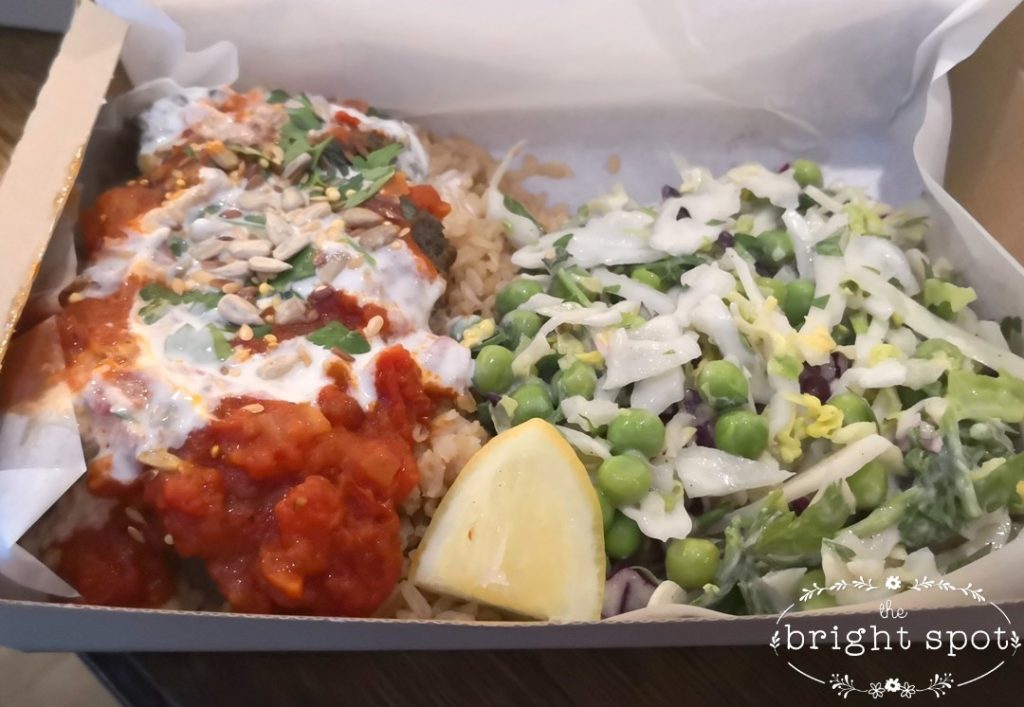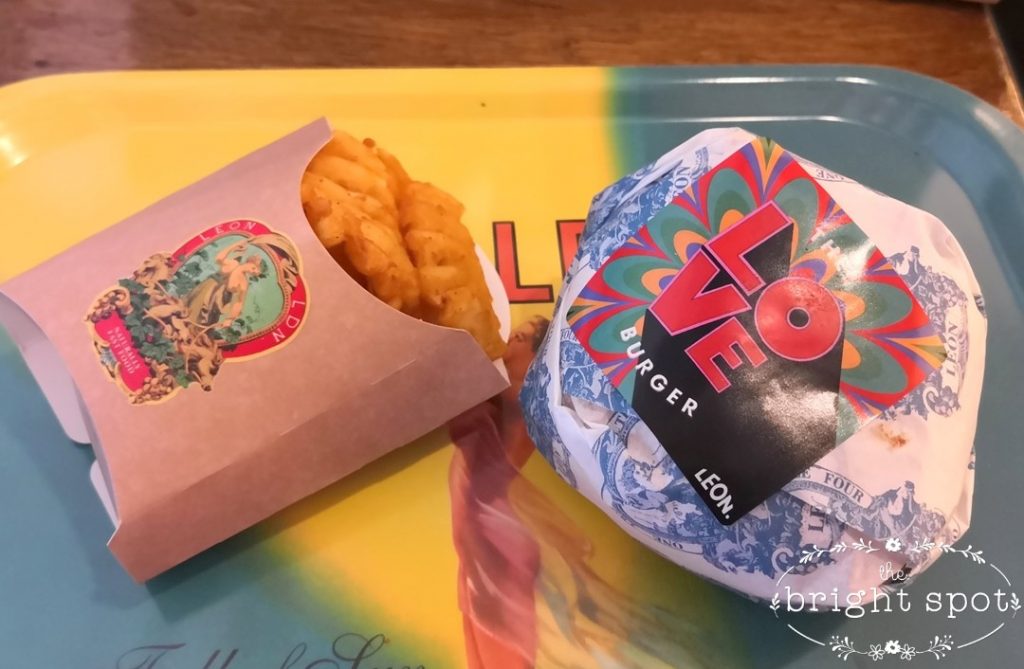 Ben's Cookies
We were able to try Ben's Cookies in the UK (before they opened branches in Manila) and we were lucky to visit mismo the original shop in Covent Garden.  Their Coconut Cookie is my favorite.  Too bad this particular flavor is not available in Manila (kahit sagana tayo ng supply ng coconut dito).
We were also able to try McDonald's, KFC and Starbucks in London and Edinburgh, and interesting yung mga menu items nila na wala sa atin sa Pilipinas: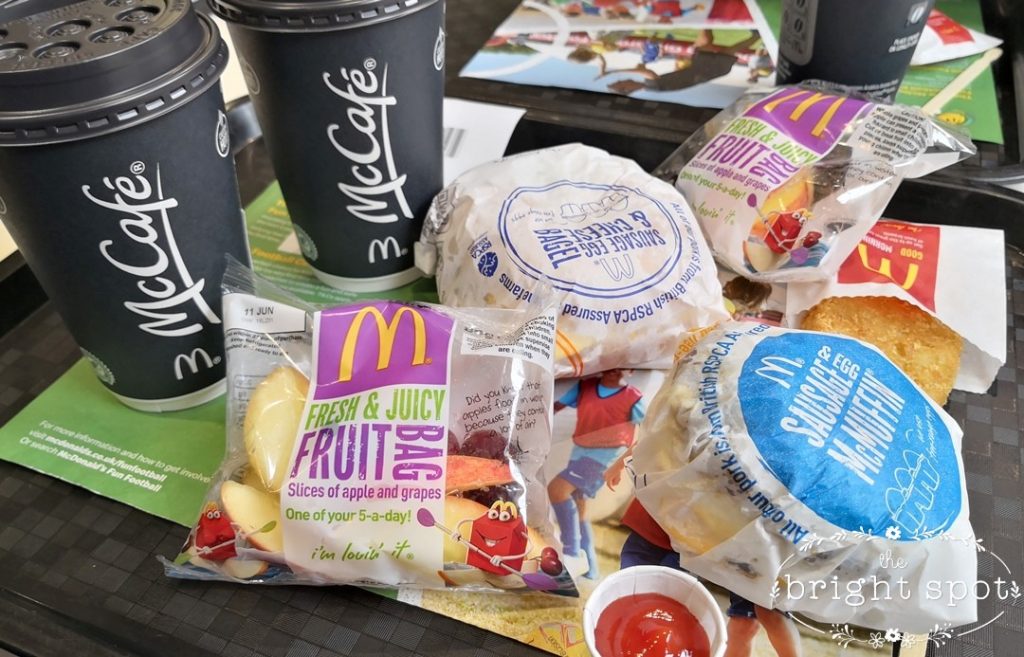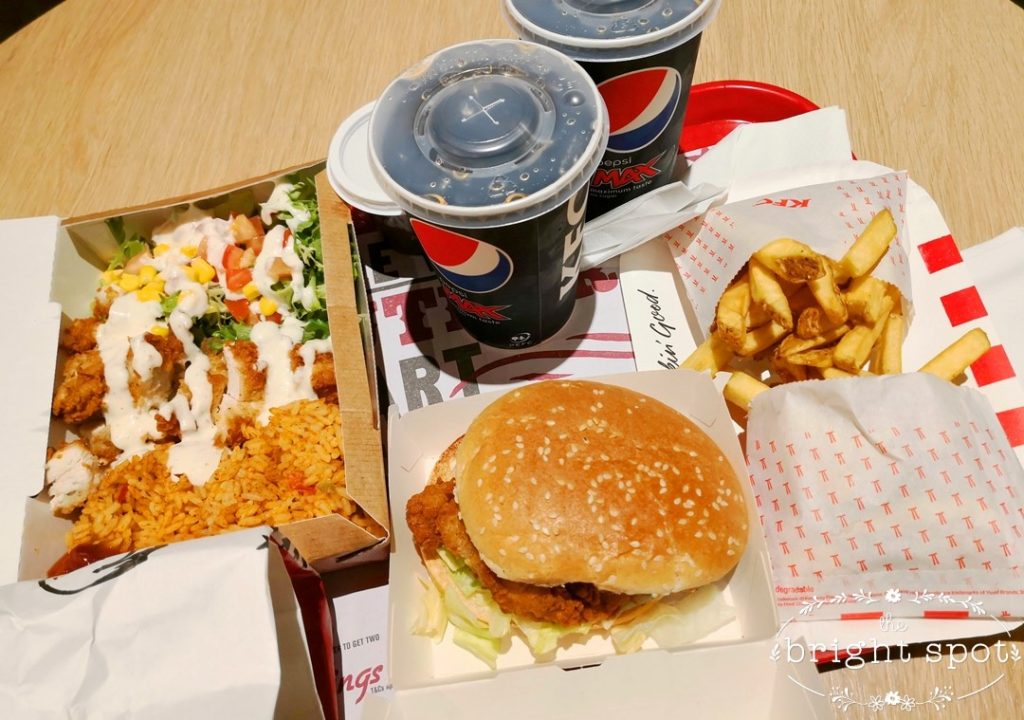 English Breakfast
You will not run out of options on where to have English Breakfast in London because almost all food shops and restaurants have this in their menu.  But for some reason, we ended up having English Breakfast inside Covent Garden!  I forgot the name of the food shop where we ordered this but I remember the owner / cook being very helpful and friendly to us.  AJ and I shared in this big plate of English Breakfast with everything on it.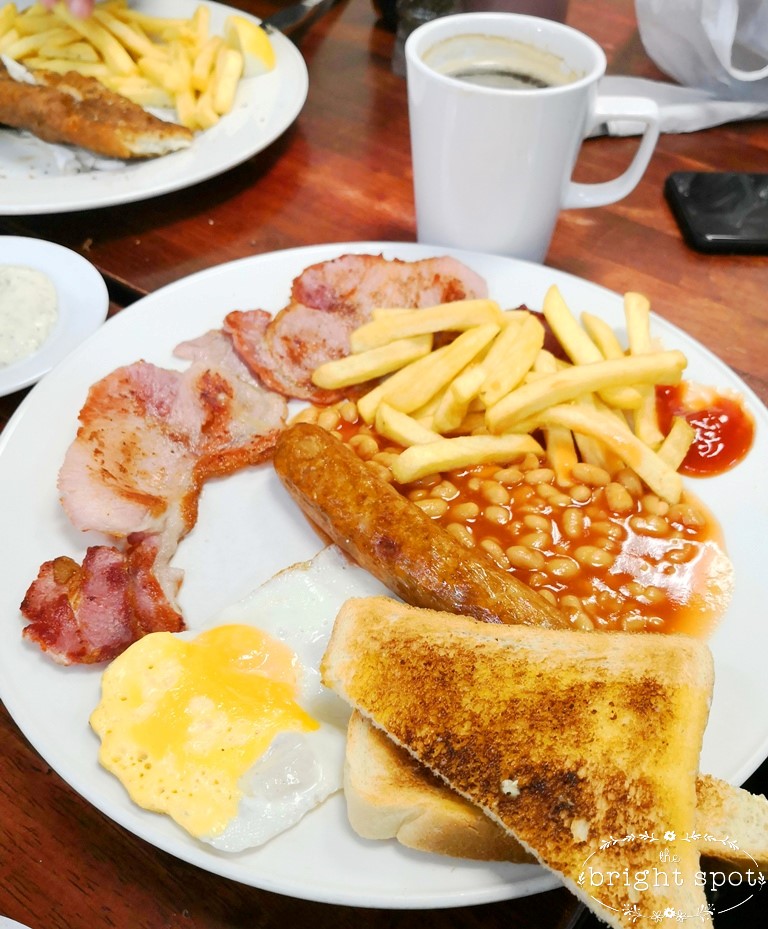 Food Markets
I have already written about the food markets we visited in London: Camden and Borough Markets.  A trip to the food market is a must when in London.  Whether you are looking for food to bite, shopping for gourmet food stuff, discover sweet delicacies or simply want to enjoy and appreciate good food from around the world – this is the place to be.  London's food markets have a vibrant and friendly atmosphere that's perfect for first-time tourists like us.   I also found them to be safe and very clean.  Just have a bottle of water with you when you go here because food stalls here don't sell them (less environmental waste too).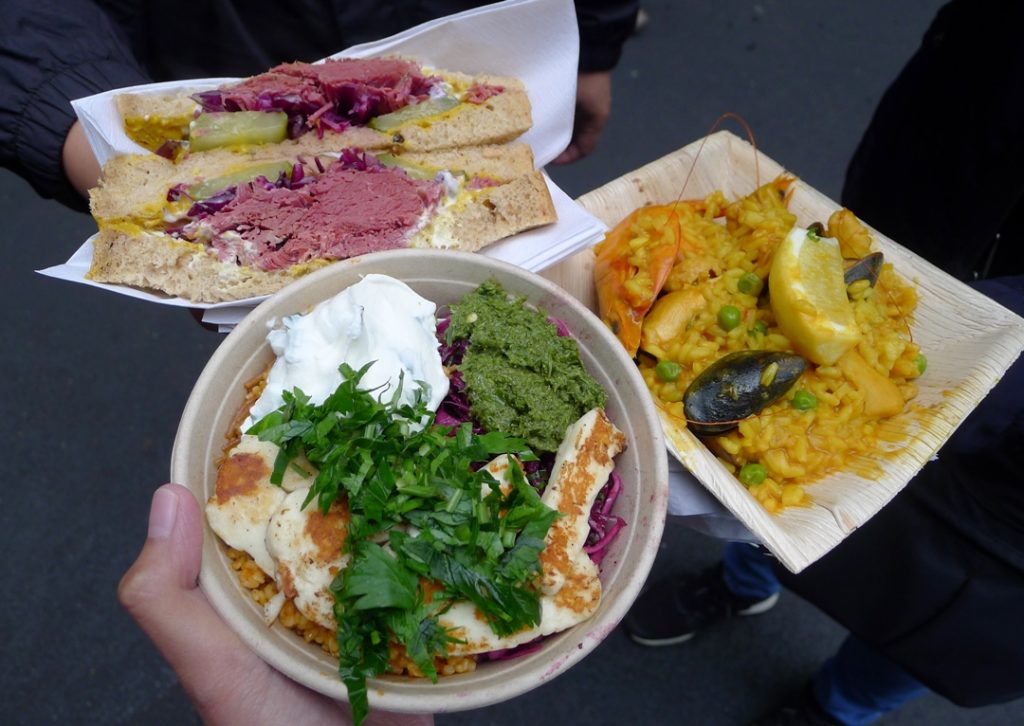 Sarah Nelson's Grasmere Gingerbread
Last, but not the least, there's the famous gingerbread biscuits (and the best in the world) that my friend Denise shared with us.  She got this from Grasmere mismo where she and hubby Roy stayed overnight at Lake District (while me and AJ were traveling back to London na from Edinburgh).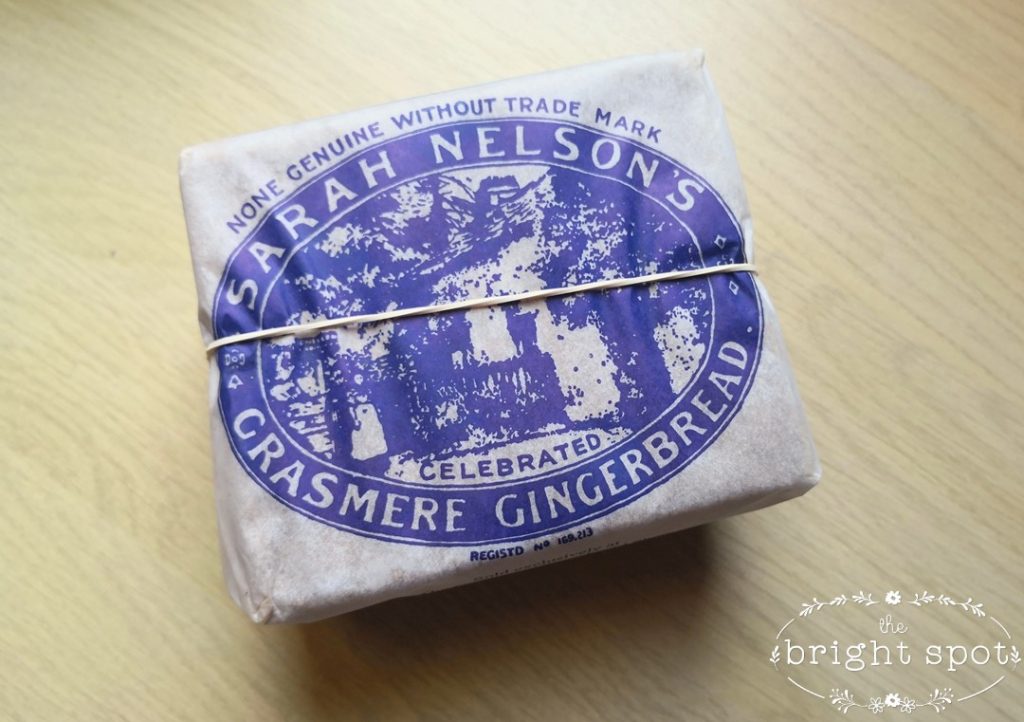 I can still remember smell of these gingerbread biscuits.  Super bango k'se and takes you back to the idyllic countryside life.  I was not able to visit Grasmere but somehow these biscuits took me there, and I can imagine myself having these with English Tea and enjoying the view of the English Lake District.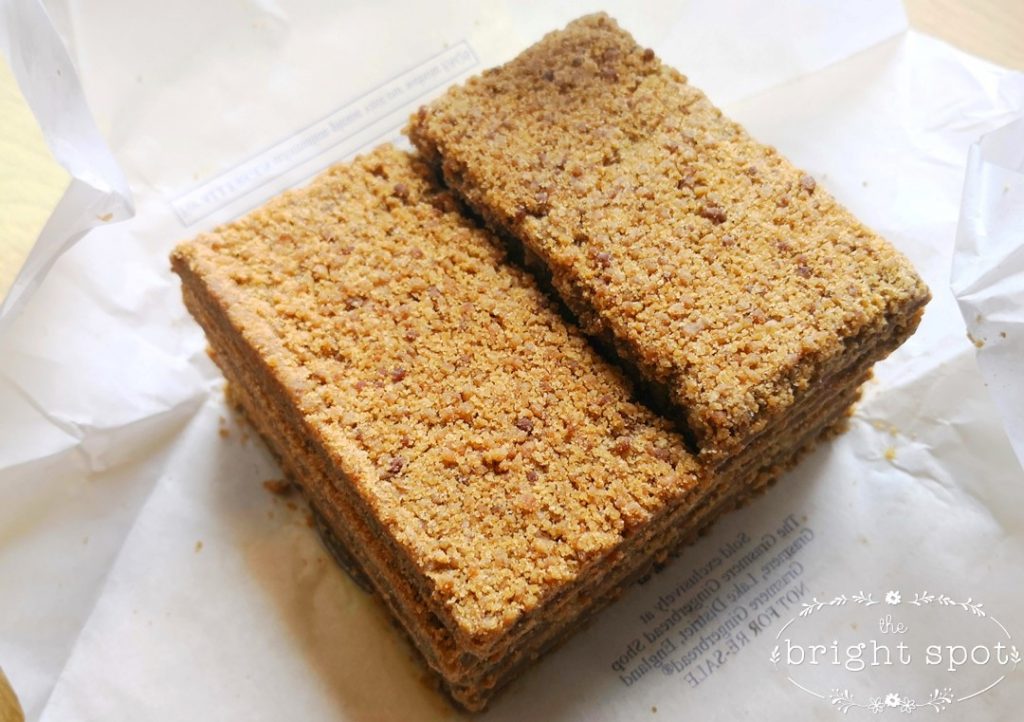 This has been a wonderful food journey, even for budget travelers like us. It only goes to show that you don't need to splurge to enjoy good food.  Sometimes, it is a little restaurant or food stall and even on-the-go sandwiches that gives you the most memorable food experience!  In my case, it is the on-the-go sandwiches from Pret and Boots, haha! Yan ang super nami-miss ko sobra!  Their sandwiches were my choice of breakfast and lunch because I can eat it on the go or while in a tour bus.   They make fresh and big-sized sandwiches over there, very masarap with healthy ingredients to boot.  And anything with avocado, I buy hehe!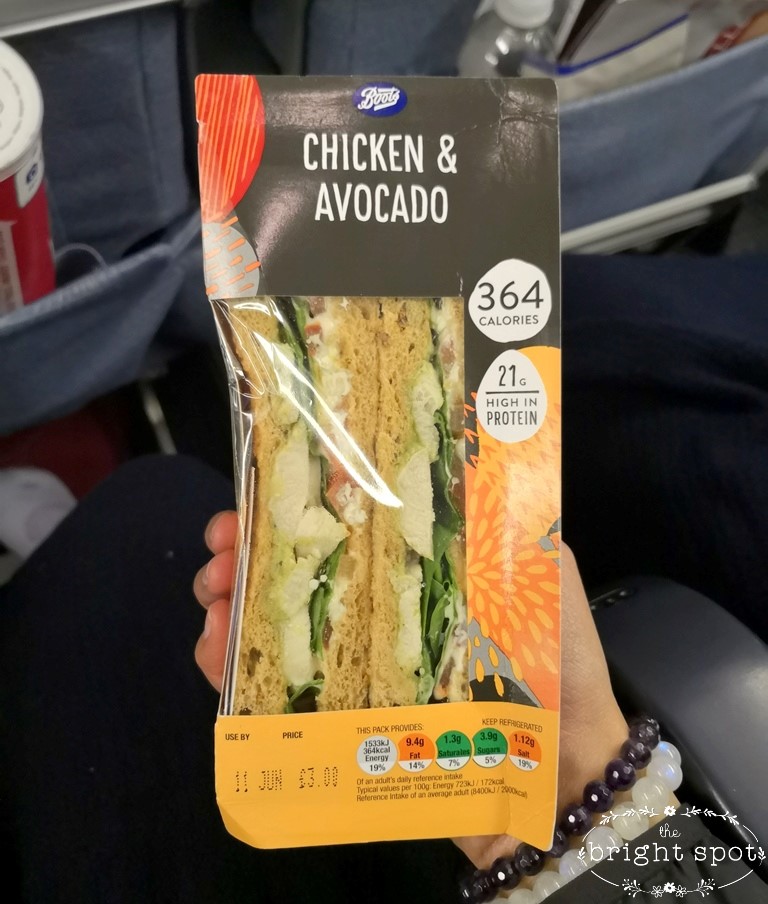 Thanks so much for reading through the last installment of my UK travel series! Should you wish to back-read on our travels around UK and Edinburgh, below are the related links:
UK Adventure Day 1: Exploring London via River Thames + Walking Tour of Buckingham Palace
UK Adventure Day 2: Exploring Windsor, Bath and Stonehenge + More of London at Night
UK Adventure Day 3: Exploring the Traditional Cotswolds Villages and Oxford
UK Adventure Day 4: Covent Garden + Trip to Edinburgh
UK Adventure Day 5: Exploring the Magical Edinburgh
UK Adventure Day 6: Our FREE Scottish Highlands Hairy Coo Tour
UK Adventure Days 7 to 9: Back in London
Cheers!