Hello, I'm back!
I haven't been writing because there's nothing interesting to share but I've been seeing lots of ads in my IG lately about pearl jewelry for sale.  Some even have celebrity endorsers for their products.
What piqued my curiosity was that there seems to be an excess supply of pearl necklaces because they are being sold everywhere.  It was so tempting to buy, really, especially if the luster appears to be of excellent quality.  But do take note, dear readers, that nothing beats seeing the real thing.  So unless you personally know the seller, always exercise caution when buying high-end pearls.
For me, a pearl necklace selling at Php20,000 is already expensive because pearls are so maarte; they require life-long care from the wearer and if you are not willing to invest in giving them TLC, then your Php20,000 is better off kept in the bank.  If you have been reading my blog for some time, you will remember that I wrote about caring for our precious pearl jewelry and you will know too that I chose to invest in earrings and rings, not necklaces.
Why is that? Because I wear earrings and rings every day.  Not only do I get full mileage of the pearl jewelry that way but I also preserve their luster that way.   As I mentioned in this old, old blog post of mine way back in 2011, pearls love our natural skin moisture.  It's what keep their luster and shape in tip-top condition.  So they are really meant to be worn and not kept in storage.
Unfortunately, the pandemic and working at home for more than 2 years made me lazy about pearl care.  I did not wear my pearl earrings and ring because I was afraid I would get the virus there and then transmit it to the other stuff in our home.
I was only able to wear them again this year when I started reporting to work on-site.
So how did my pearl earrings fare after more than 10 years and after being briefly forgotten in the last 2 years due to the pandemic?
I have 6 set of South Sea pearl earrings, and for comparison, I am posting their picture from 2014 when I featured them here in this blog post:
Except for the light greyish pearls at the bottom which was bought from a Greenhills pearl tiangge and the golden south sea pearls which I got from eBay, the rest were bought from my trusted jewelers.
The bluish-grey 13mm south sea pearl earrings and 9mm white south sea pearls still retained their superb luster and shine, after all these years.  I just wiped them clean after being stored for 2 years, and they're looking good as new.  They're the best in my collection, and I'm glad I invested in them when I was young.  The smaller white pearl earrings has a partner ring which is also in great shape and luster but I don't wear it often to work now because I'm paranoid about hand washing, and I might just lost my ring if I take it out too often.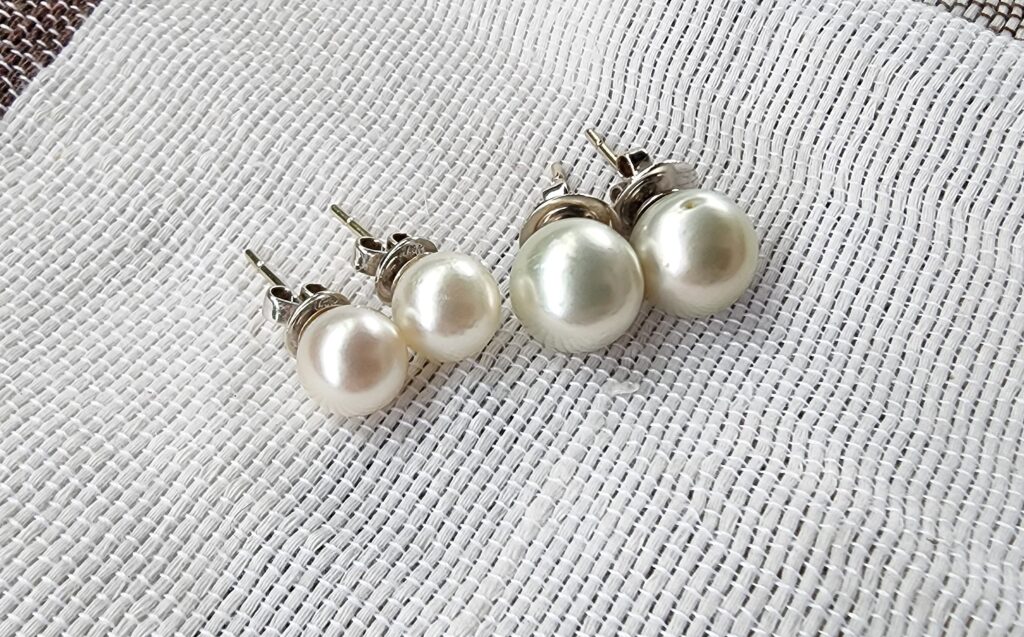 My golden south sea pearls are my next favorite, and they continue to bring me the same joy as when I first got them years ago.  The golden south sea pearls in the earrings were actually loose pearls that I bought at eBay for Php8,000, while the beautiful golden south sea pearl on the ring was a lucky find in Palawan (read about the story here).  I was actually afraid that they will lose their beautiful color over the years (because they're cheap pearls, after all) but it's amazing that they did not!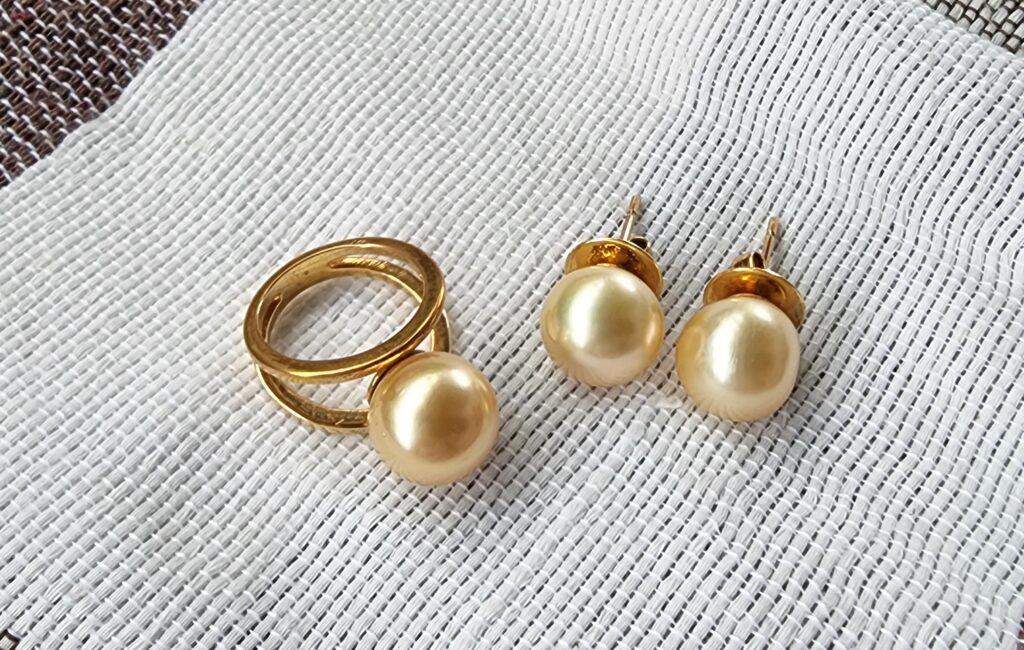 Perhaps the most challenging pearls for me are tahitian pearls.  I have two, in peacock green and black brown colors.
The 10mm tahitian pearl earrings originally has a rich, deep green color (see it here) and although I applied the same care as I did with my other pearl earrings, the color still faded over time.  It now looks like this, and the dark, vibrant green color coating is gone.  It occurred to me that the pearls may have been dyed, which perfectly explains the fading.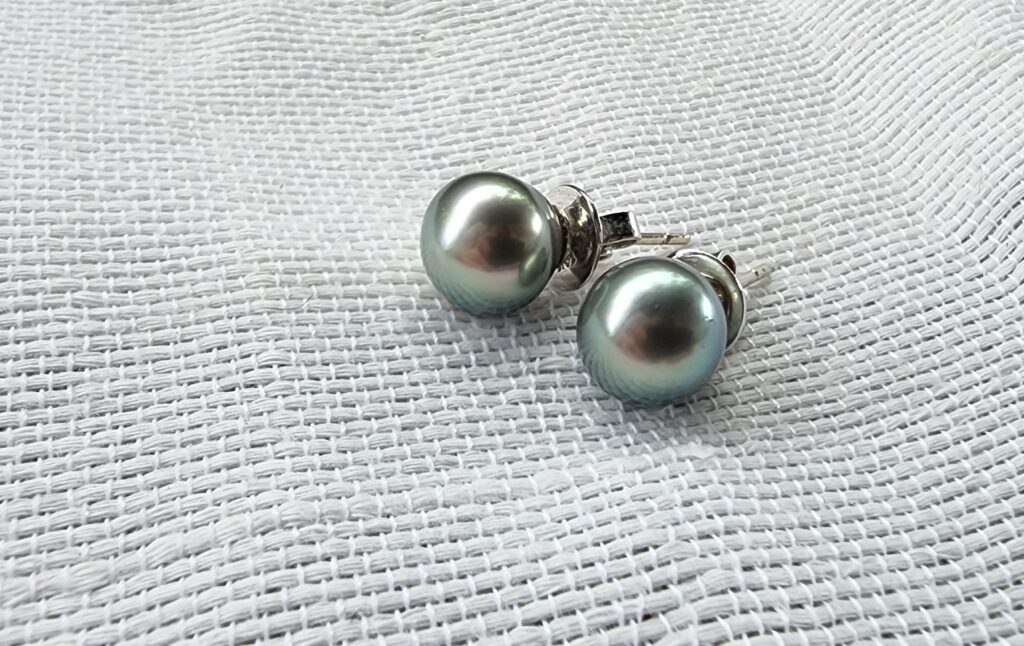 There is nothing wrong in buying dyed natural pearls because they are really being sold in the market, but do manage your expectations.  The good thing about this particular earrings is that the luster is superb, and did not turn dull one bit.  For this, and because it still has a beautiful green color, I consider it my favorite as well, and it's actually what I'm wearing at work lately.
Now here's another of my tahitian pearl earrings and ring set, bought from another jeweler, which also faded in color over the years, and sadly, also lost its luster over time.   You can see its difference from the earrings above because the light reflection in the other earrings are much, much better that you can see my hand and camera in them.
The reflection of the black pearls below is hazy and a bit dull.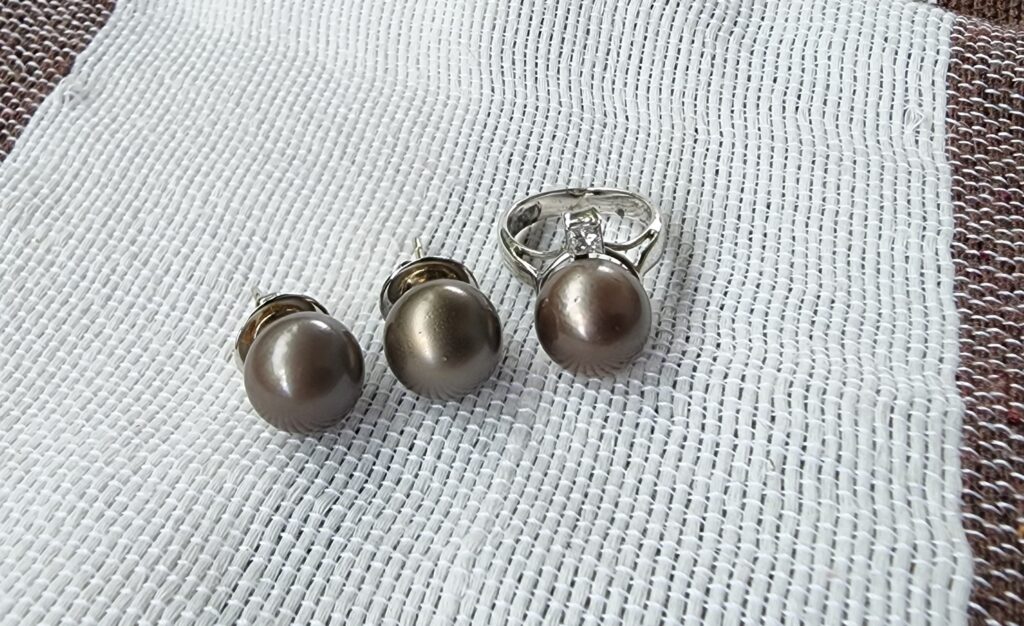 Now this is where I want to 'caution' you because I noticed some sellers highlighting the 'luster' of the pearls by holding or placing it against their skin.  Let me show you how the black earrings look when placed between my fingers: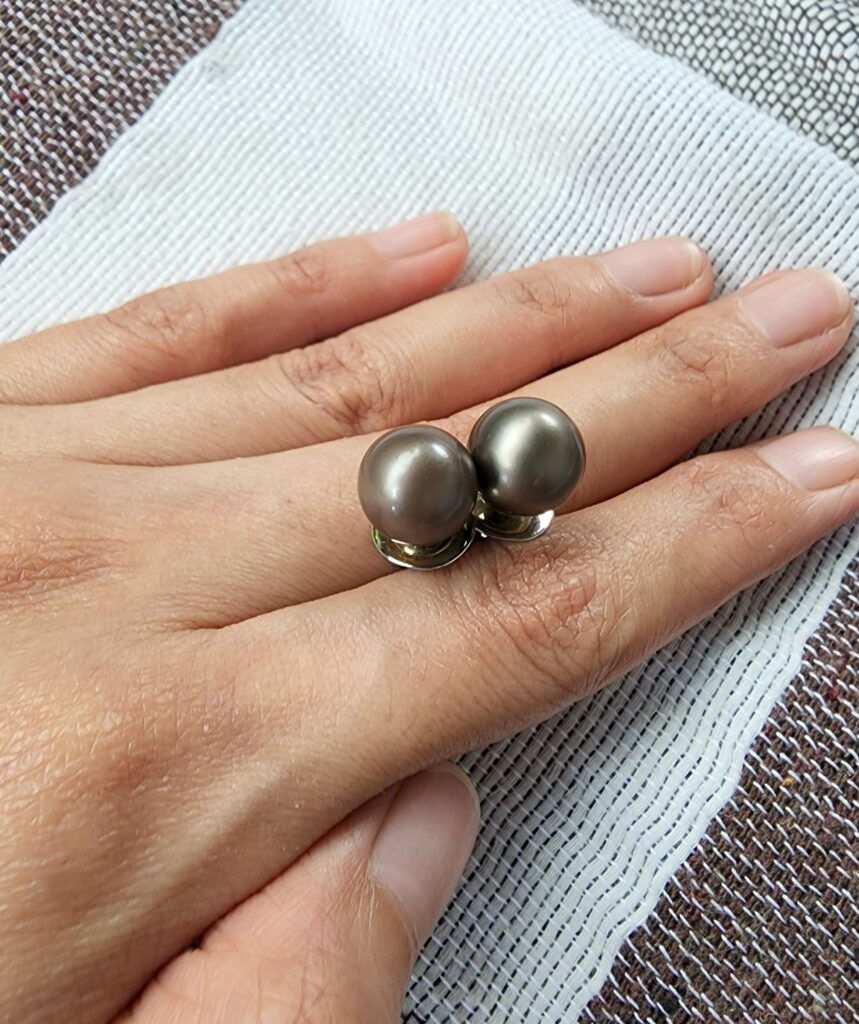 It looks good pa rin, di ba?  All pictures here were taken using a Samsung cellphone and natural light, to show the natural luster of the pearls (or, for this one, the lack of it).   But if I take it with the aid of ring lights and other picture enhancing apps, then there is a chance that what you are seeing is not really of superb luster and color.  So it's really important that you manage your expectation for the price that you are willing to pay.
I remember getting this black pearl set at a really good price (almost half the price of my superb quality bluish-grey 13mm south sea pearl earrings) and what sealed the deal for me then was the weight of the 14k white gold used for the pearl setting and the princess-cut diamonds that came with it.  You can still see the original setting in the ring, but the earrings have since been re-set into plain ones (without diamonds) because my ears hurt when I wear them for a long time.  I still keep the loose princess-cut diamonds for future jewelry project.
Despite their imperfections, I still wear this, especially when there are dinner events because night light and warm yellow lights enhances its beautiful black-brown shade.  Very elegant sya tignan.
Finally, there's my 12mm grey south sea pearls bought from a Greenhills tiangge, which is special to me because it's a gift from AJ and it's what started my collection of south sea pearls.  The color did not change much over time, but it has lost most of its luster already.   Again, hindi halata sa picture below (because maganda yung cellphone na ginamit ko, hehe!) so be very careful when buying from online sellers.  Ask questions. Probe on the origin of the pearls.  Eto nga, binili namin face-to-face pa but the quality will only be known to you after a few years and by then, you cannot return it back.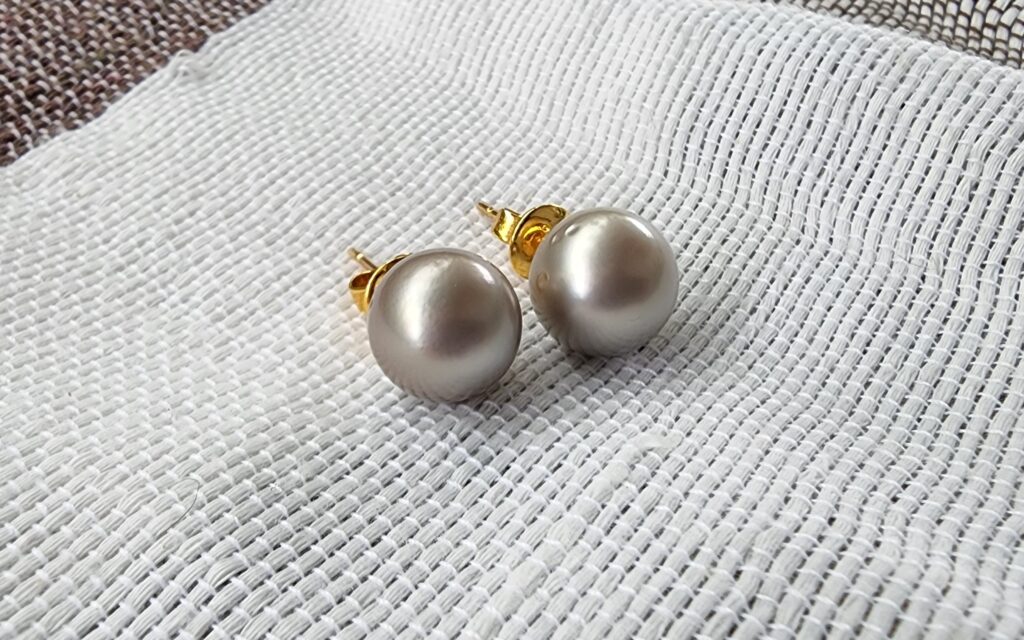 I like wearing the grey pearls over casual jeans and shirts, and also when I'm traveling for work because they're not too flashy to look at, as compared to wearing diamonds or other gemstones.
I hope you will find my own experience as a buyer and lover of pearl jewelry helpful, especially if you are itching to get that beautiful pearl necklace from a supposed reputable seller online.  Always remember that buying jewelry is an investment.  And if you invest in something, you hope to get something from it in return.  Buying pearls as jewelry investment (and not as a costume jewelry) will pay off in the long run if you know your pearls, your jeweler and you are willing to commit to its life-long care.