Today is the last day of 2022 and what better way to end it than document my travel highlight for this year: my short visit to South Korea last November.
My employer was invited to attend an inauguration event and I was fortunate to have been part of our very lean delegation, which included our President and General Manager (equivalent to company CEO).  The event was to take place in Jeju Island, South Korea.
We got our travel approval in October, and we thought the "Visa free" option for Jeju Island means lesser travel preparations for us – but we were mistaken.   There is no direct flight from Manila to Jeju Island, so we have to apply for a South Korea visa.   (Note: If you want to take the "Visa free" route to Jeju Island,  you have to take a connecting flight via an Asian country like Hongkong, Taiwan, Japan and Singapore).
Good thing our host (part of the government of South Korea) assisted us in getting a schedule with the Korean Embassy.  The requirements are the same as when applying for regular tourist visa and we immediately submitted ours as soon as we were given a schedule.
We are to leave for Seoul (with connecting flight to Jeju Island) on November 26 and we got our visas on November 24, hehe!  This being my first travel abroad after the pandemic, I was both excited and scared.  But since this is a business trip (for less than a week) and a travel agency arranged everything for us, the trip should be manageable.
I packed for heavy jackets and many layers of clothing because we were told that the weather in Jeju Island is erratic and in Seoul it is very cold.  We flew via Korean Air and the flight was relatively hassle-free, including our land transfer from Incheon Airport to Gimpo Airport to get to our connecting flight to Jeju Island.
We were booked at KAL Hotel in Seogwipo, Jeju Island (also the venue of the event) and I couldn't be more pleased.  Our room has the relaxing view of the ocean and Hallasan Mountain.  It is the highest point of South Korea and the second-highest mountain in Korea overall.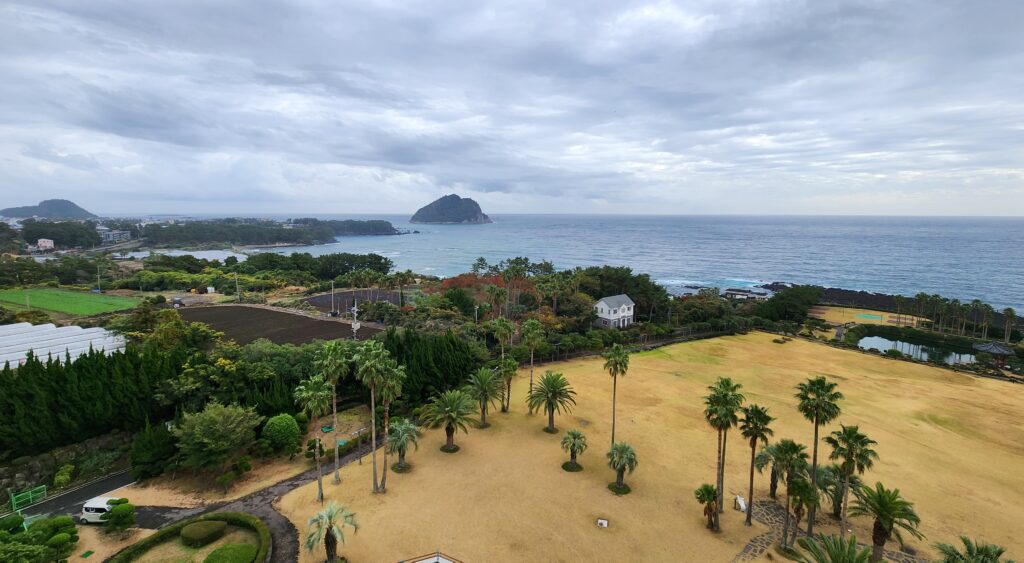 It was raining when we got there and all throughout our stay, hehe!  But it did not dampen our spirits and we managed to explore a bit of Jeju Island and enjoy their famous fish dishes!
Thankfully, the weather cleared a bit after we unpacked our things (we arrived early morning of November 27) and the kind staff at KAL Hotel recommended Naegeori Restaurant along the food street there, famous for serving only fish and vegetable dishes – all very fresh and delicious!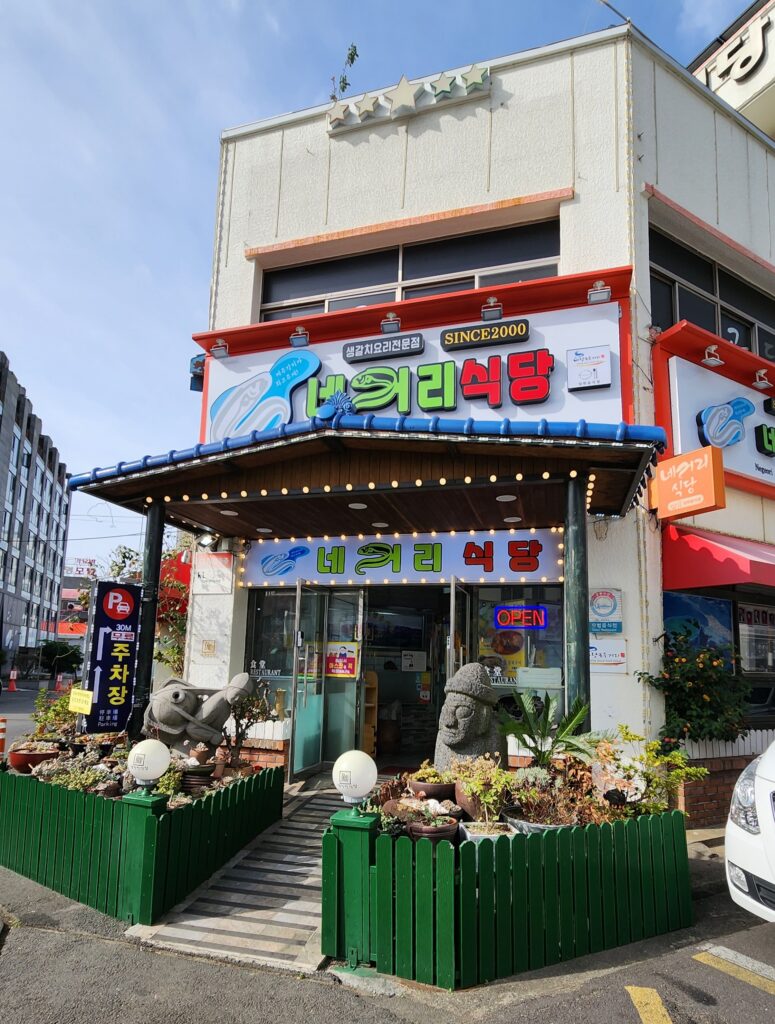 I was with my lady boss, and we shared this Broiled Sea Bream with side dishes and rice, a hit among the locals there.  We also ordered their Seaweed Soup which is so, so good naubos namin!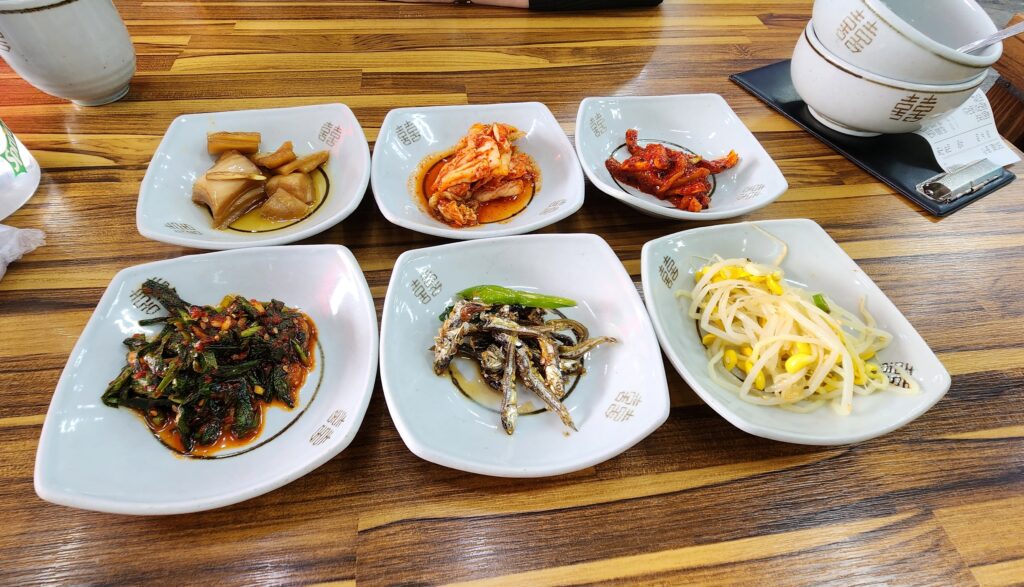 Happy with our first lunch in Korea, we explored a bit of the food market area before going back to the hotel to rest.
In the evening, our group decided to explore the Seogwipo Olle Market which is very near our hotel, and we also had our dinner there.  This is our only chance to explore Jeju because the next day is the event day and the day after that we will take an early morning flight back to Seoul.
One thing I know about Jeju Island is that it is famous for their sweet oranges!  I enjoyed having cold orange juice which is being sold in every other stall there, and we were  given free oranges too when bought some orange tarts as pasalubong.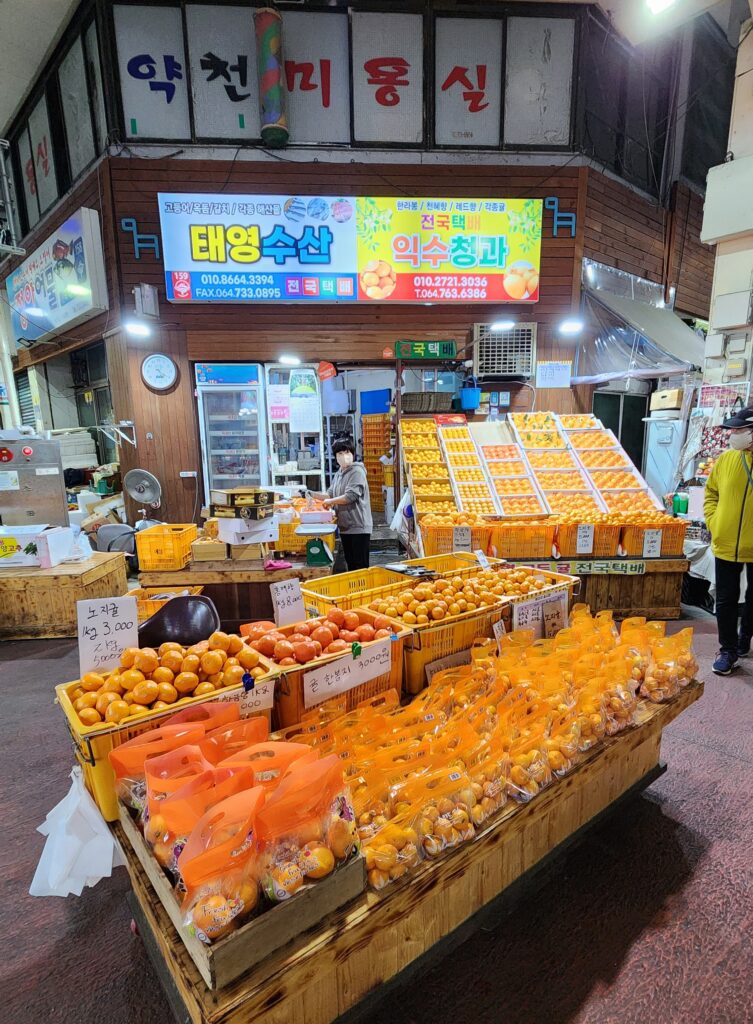 I love the vibe at Olle Market!  It's easy to explore and not too crowded.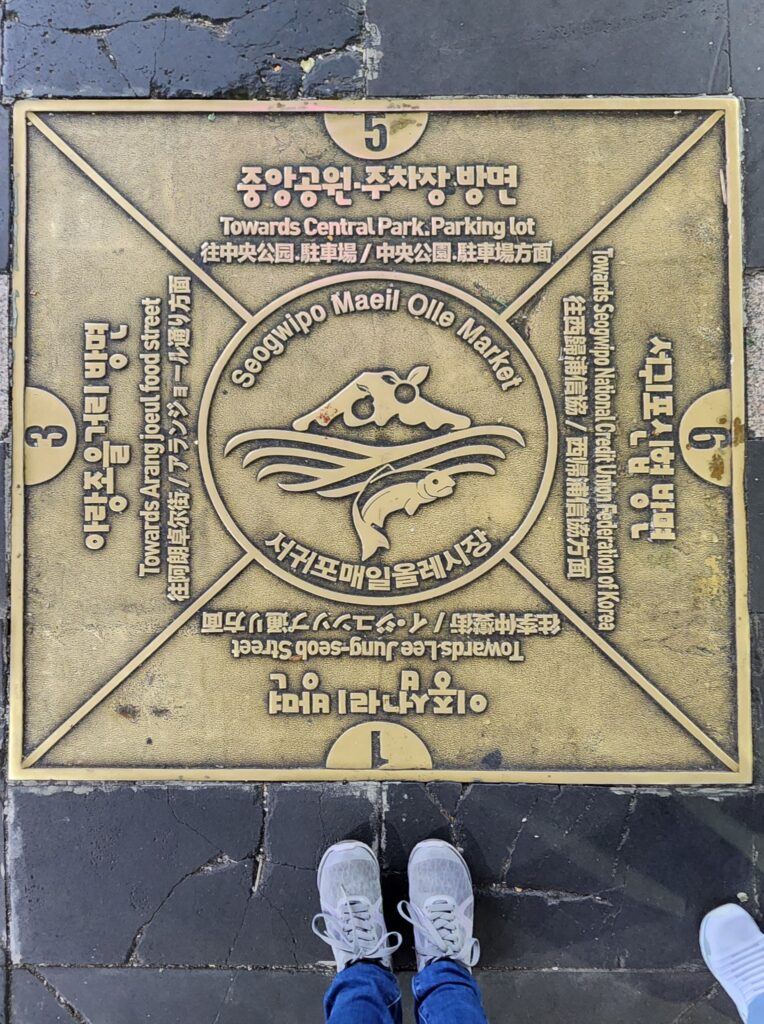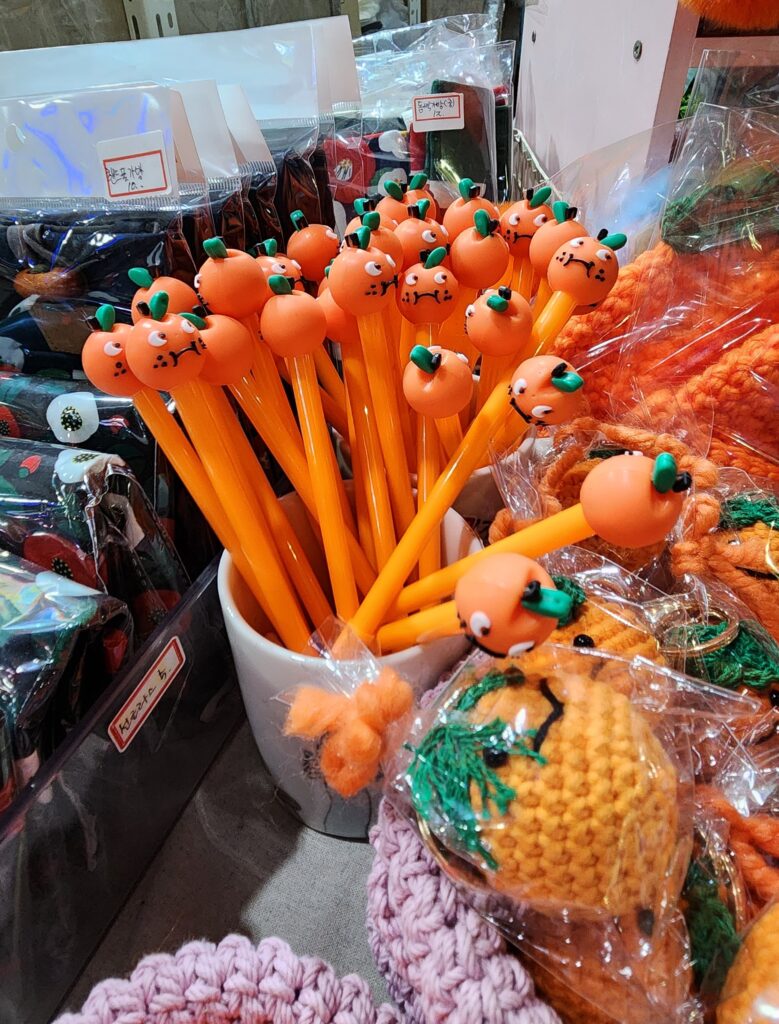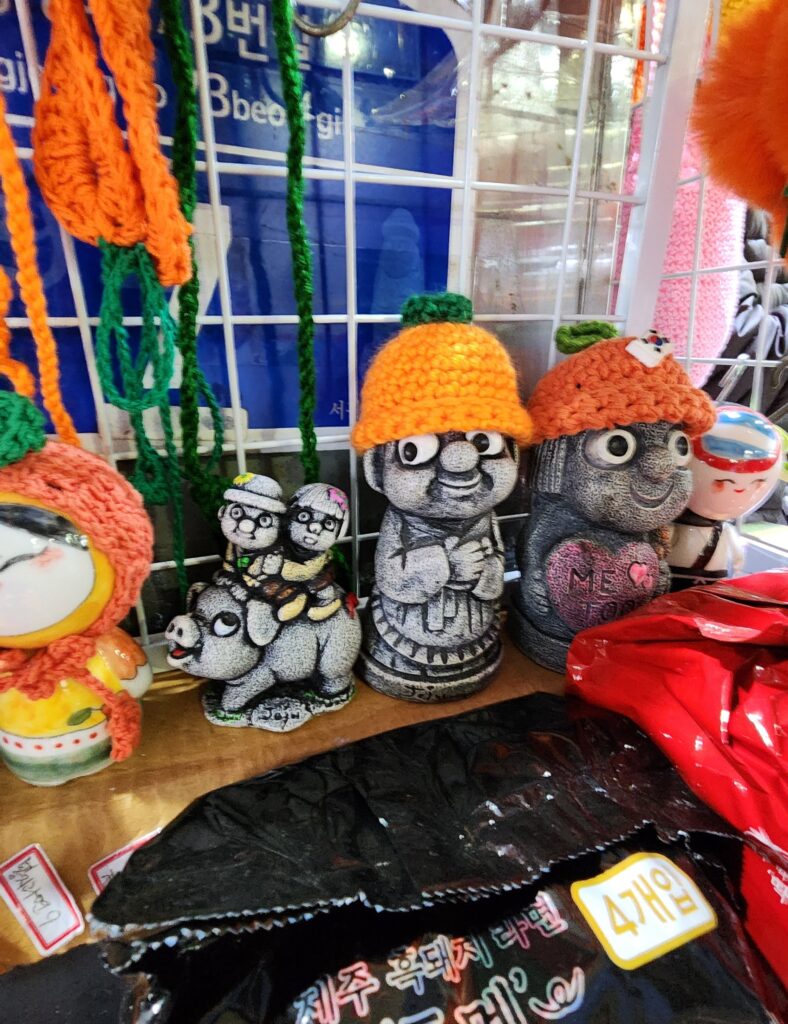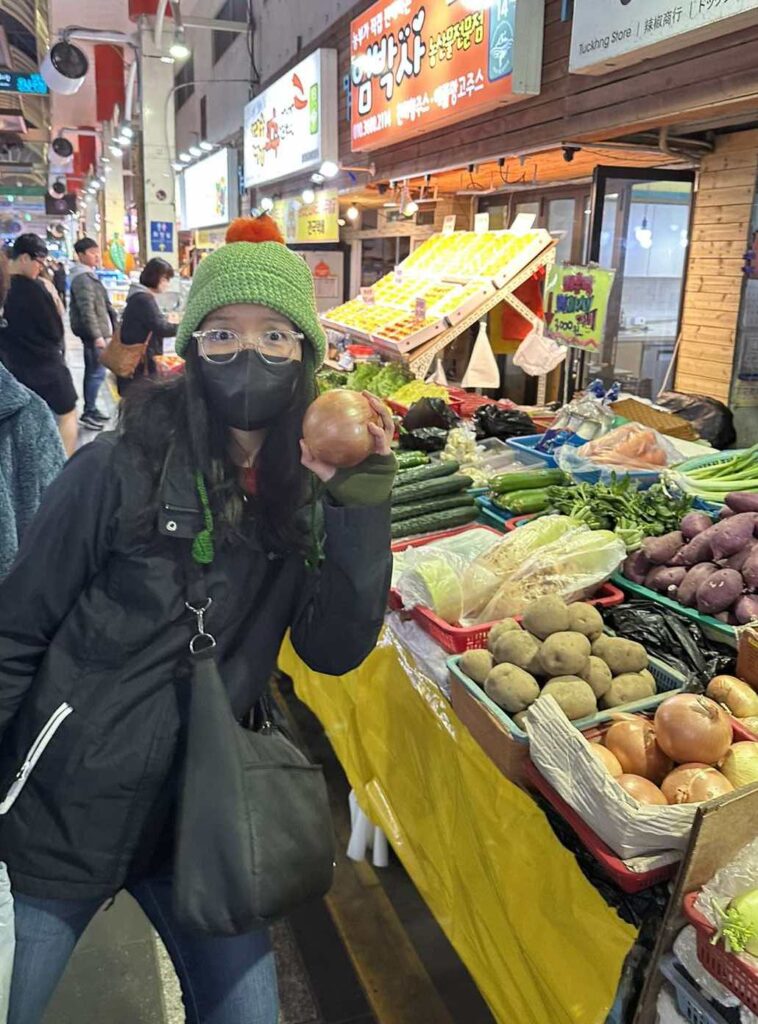 I forgot the name of this restaurant we had dinner in, but this was where I had my taste of Hairtail fish, or galchi jorim, a fish prized by Jeju's locals.  We had it in this spicy stew dish that's perfect with Cass Korean beer and rice.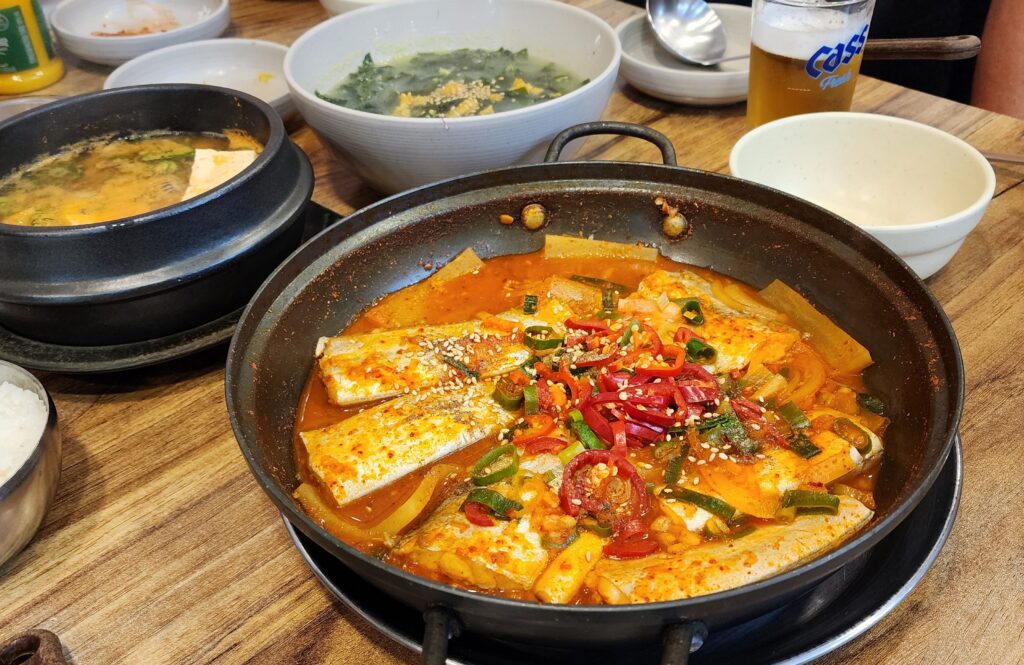 We capped the night at a small cafe just across the restaurant where we enjoyed coffee and soft-serve ice cream.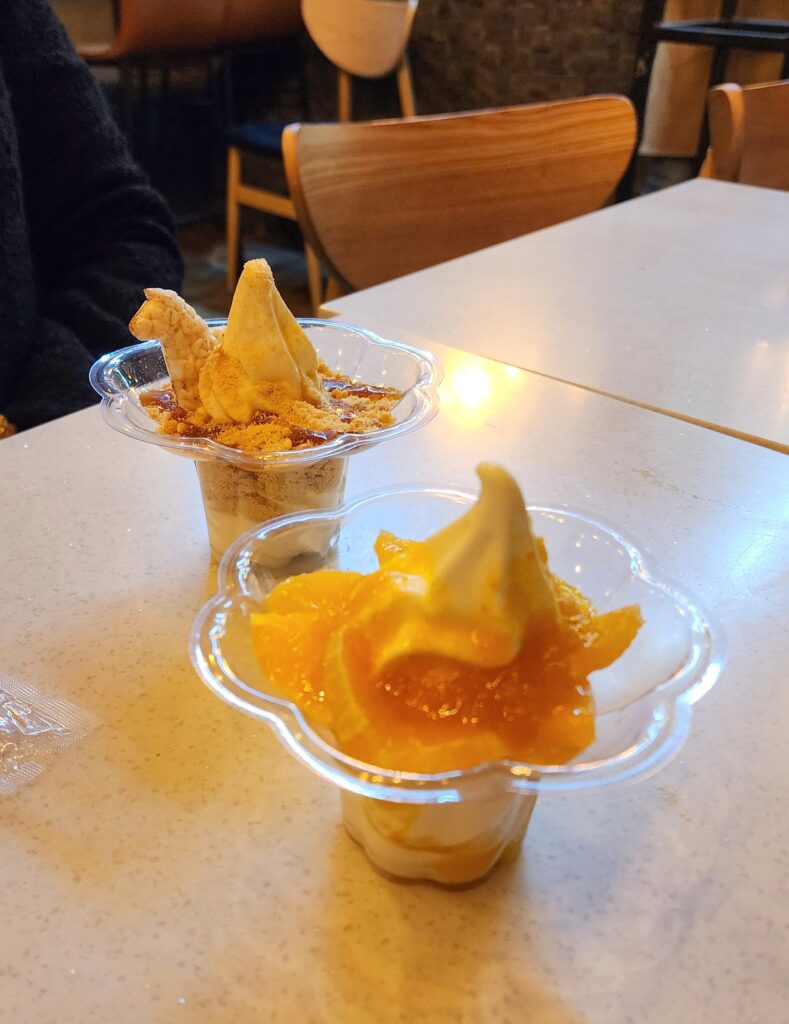 Then next day was event day; there's a conference to attend first then followed shortly by the inauguration event, both at KAL Hotel.
Was able to do some morning walk around the hotel after breakfast.  It really is a beautiful resort hotel.  I hope I can go back here to see more of Jeju Island and have that bowl of stewed galchi jorim again!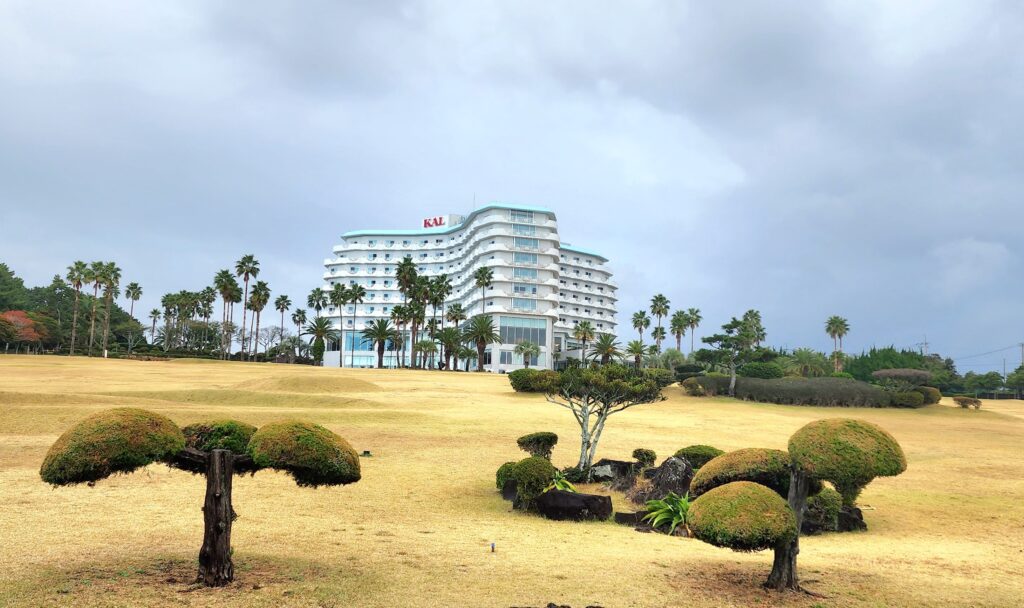 We have to leave very early the next day (November 29) for Gimpo Airport for our flight back to Seoul.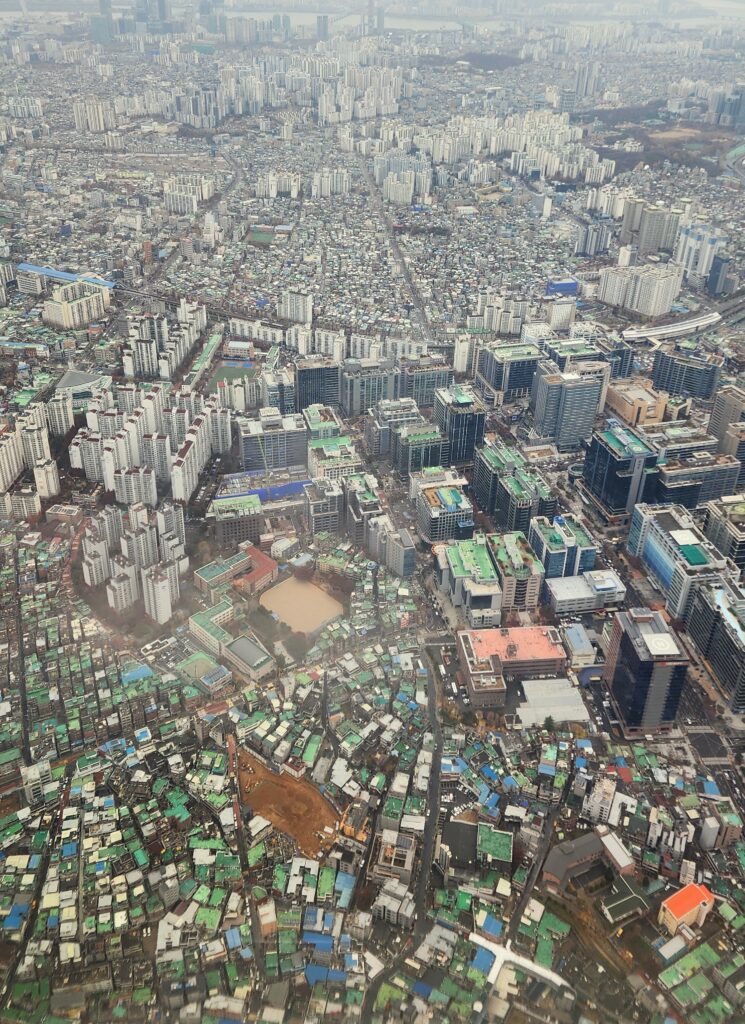 The weather at Seoul was freakin' cold and I loved it, haha!  Parang Tagaytay weather lang ang Jeju Island, and I almost regretted having brought my thick jackets and warmer pants!  Pero sulit na sulit na sila pagdating namin ng Seoul!
This was our free day already (we are to fly back to Manila the next day, November 30) and it's a good thing we're booked at the Myeongdong area – a bit far from Incheon Airport but is Seoul's main shopping, parade route and tourism districts so perfect for us who has only one day to explore the city.
We were booked at Lotte City Hotel Myeongdong (not to be confused with Lotte Hotel Seoul which is the wrong hotel our driver dropped us off, haha!).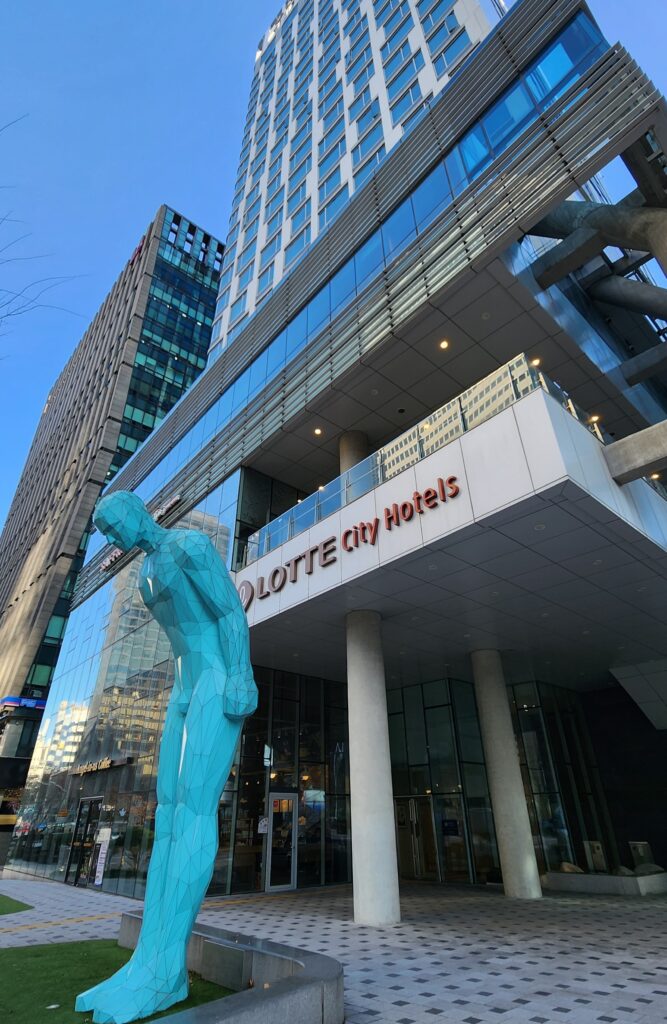 We deposited our luggage and had lunch at the nearest local resto.  Check-in time was at 2 p.m. so we killed time at… Lotte Department Store hehehe!   I used Naver Map (not Google Map) to get around Myeongdong.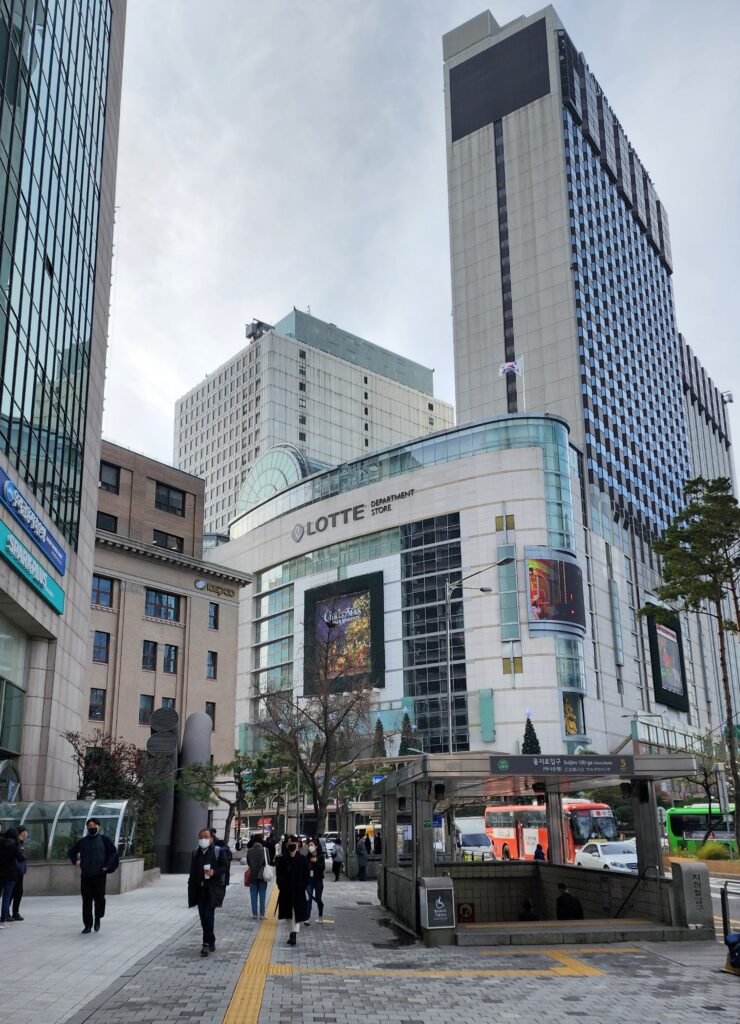 Luxury mall pala ito, parang Rustan's but there's a duty free mall in several floors there selling branded Korean skincare and cosmetics – that my lady boss loved and she shopped happily here, hehe!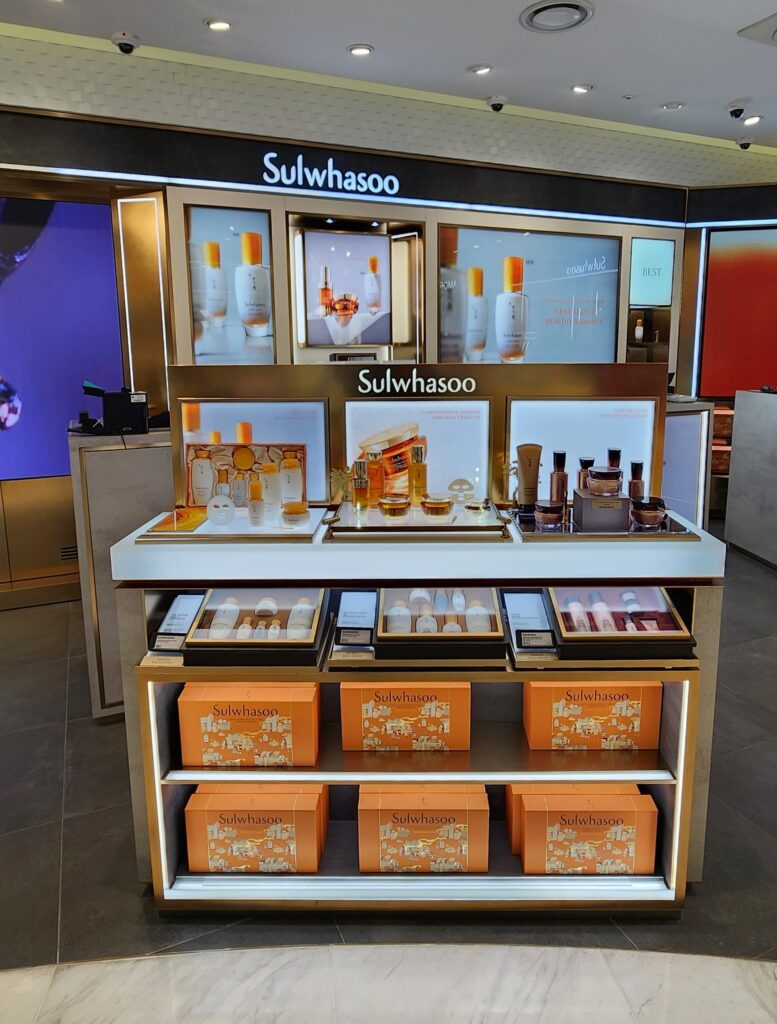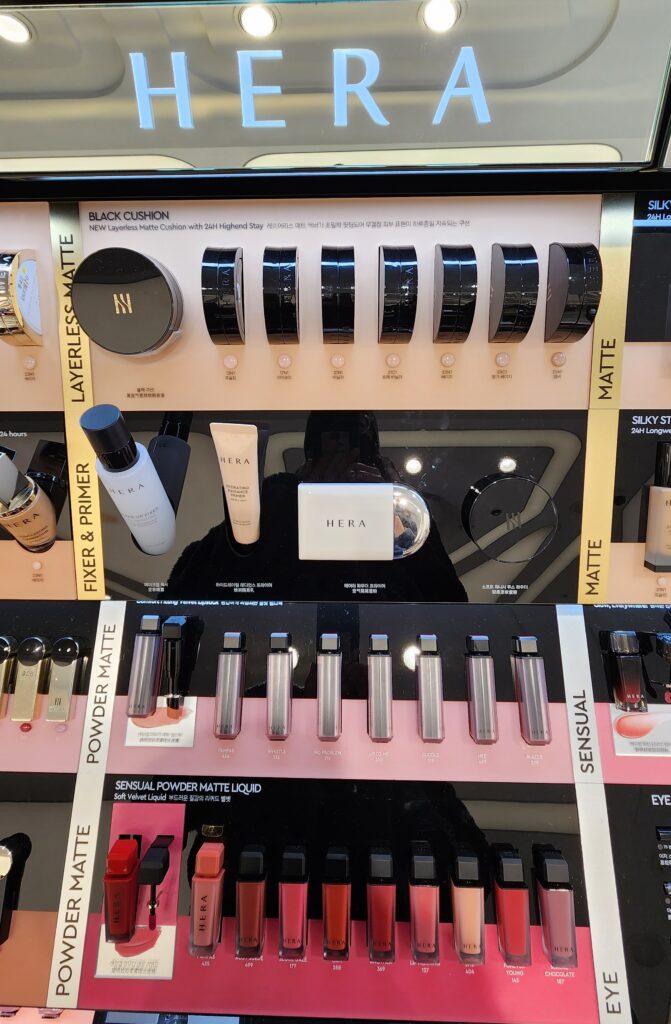 The view from our room at Lotte City Hotel Myeongdong, taken at a little past 6 p.m.  Temperature dropped that night, perfect for walking in my layered jacket, warmer pants, bonnet and mittens!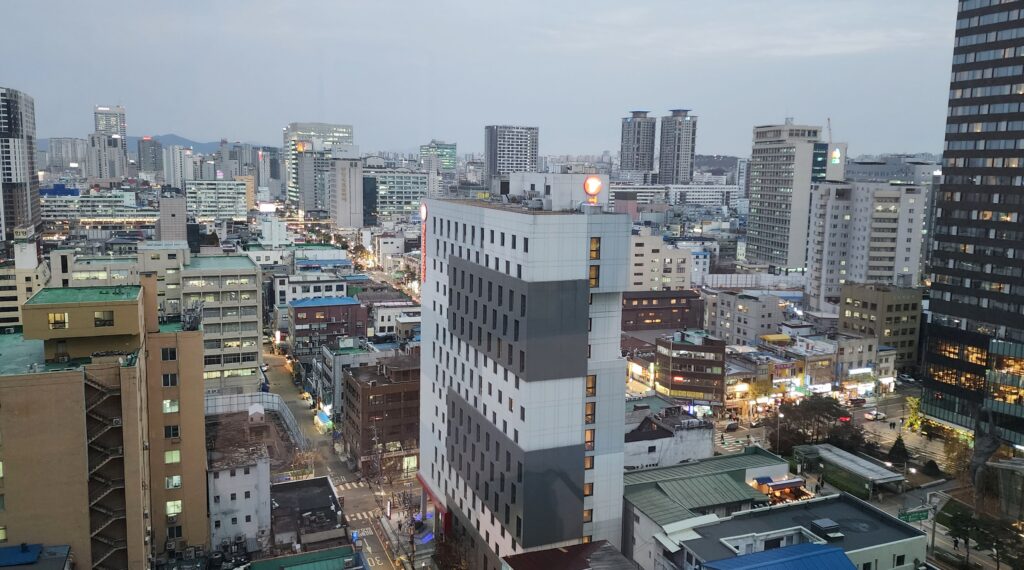 In the evening, we walked our way going to Myeongdong Cathedral, which is a must-see for Catholic tourists there, being a notable symbol of Roman Catholicism in Korea.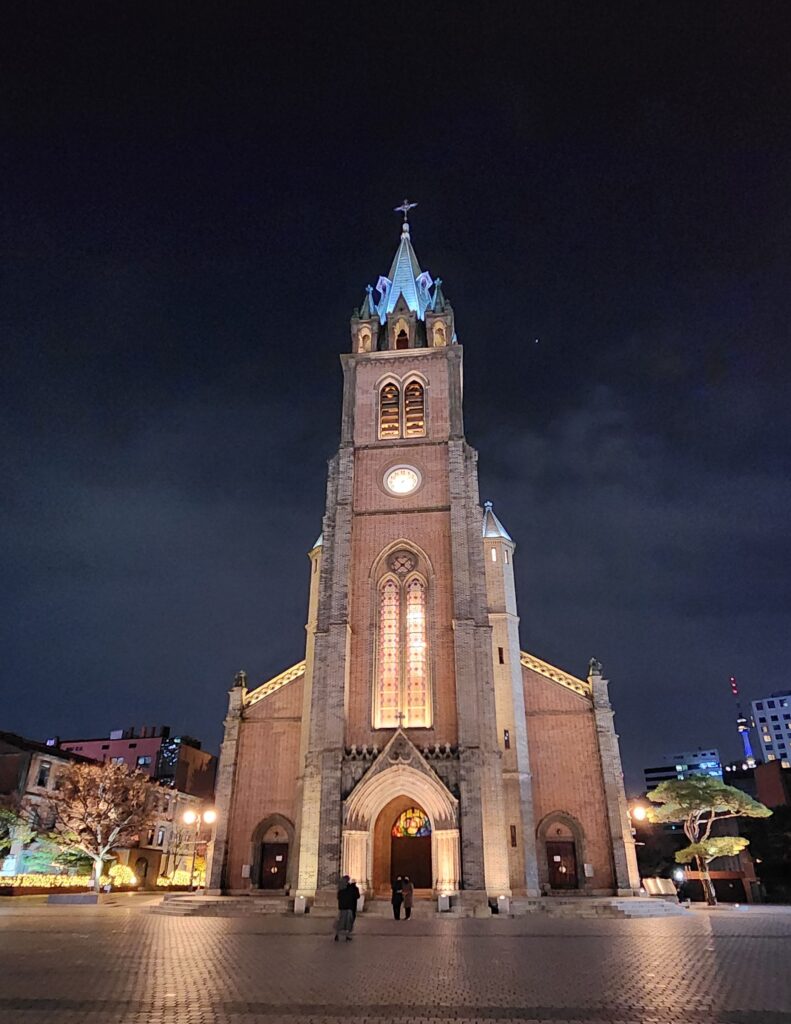 The Cathedral was already closed when we got there.  But not the famous Myeongdong Shopping Street – where shopping and dining experience await both locals and tourists alike.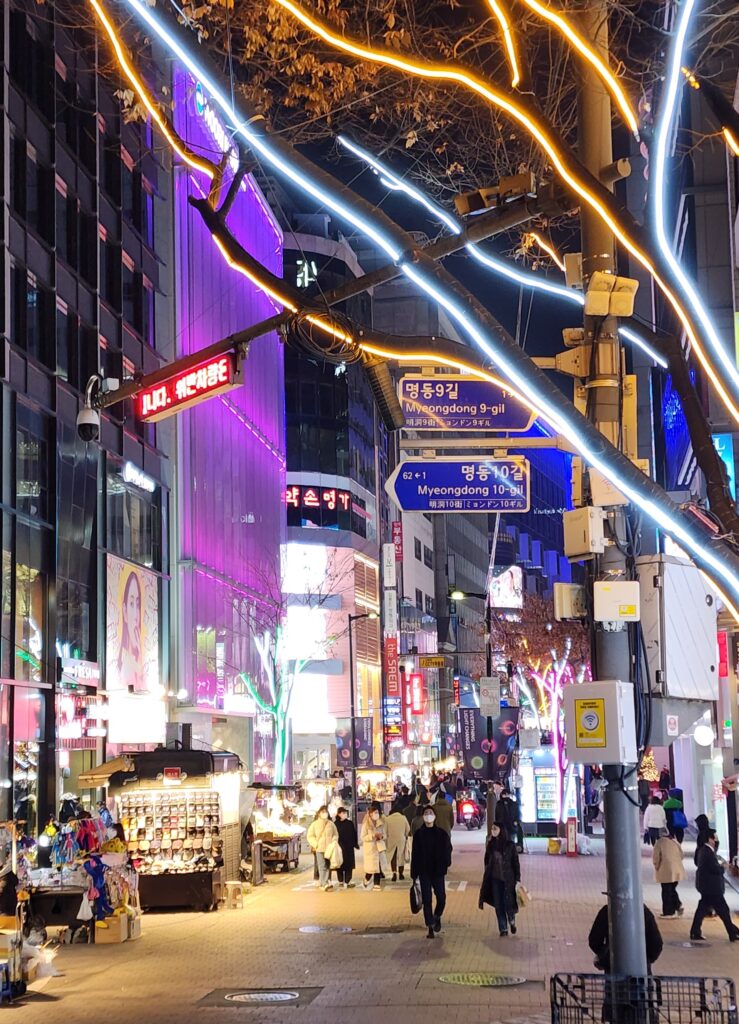 What I like about Seoul is that face mask must still be worn even outdoor. In Jeju Island, wearing of mask outdoor is already optional.  But they are stricter here in Seoul because of denser population.  So being the praning that I am, I complied with mask wearing so all my pictures here are not mask-free, hehe!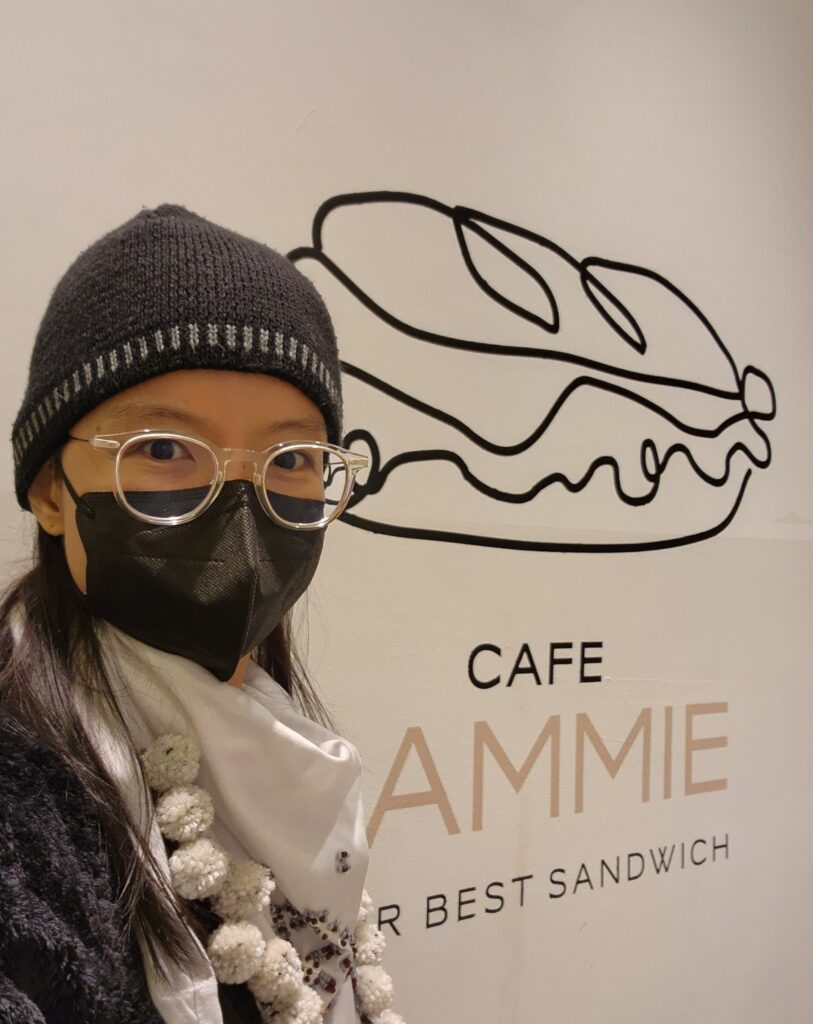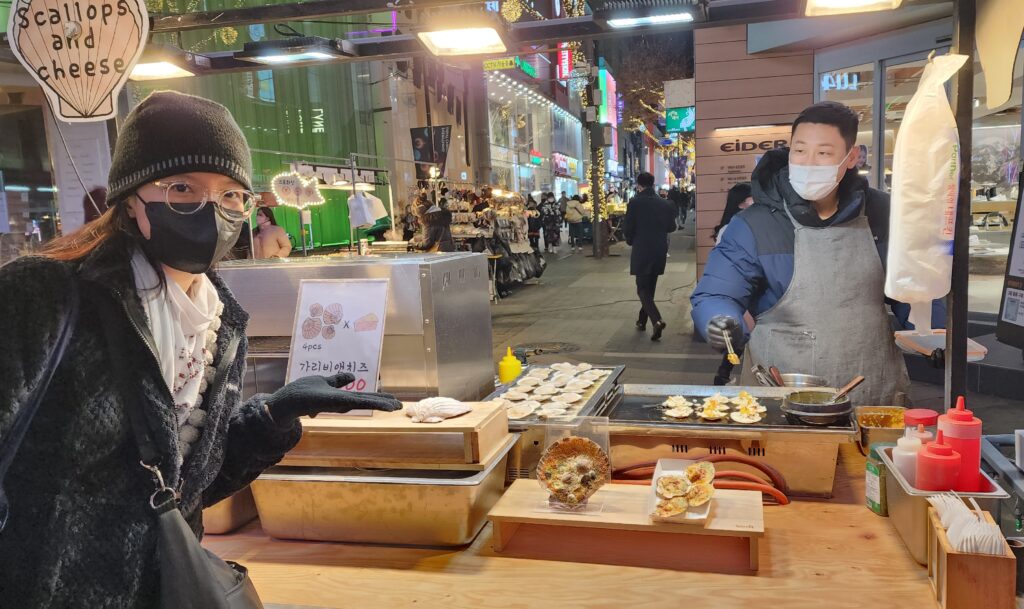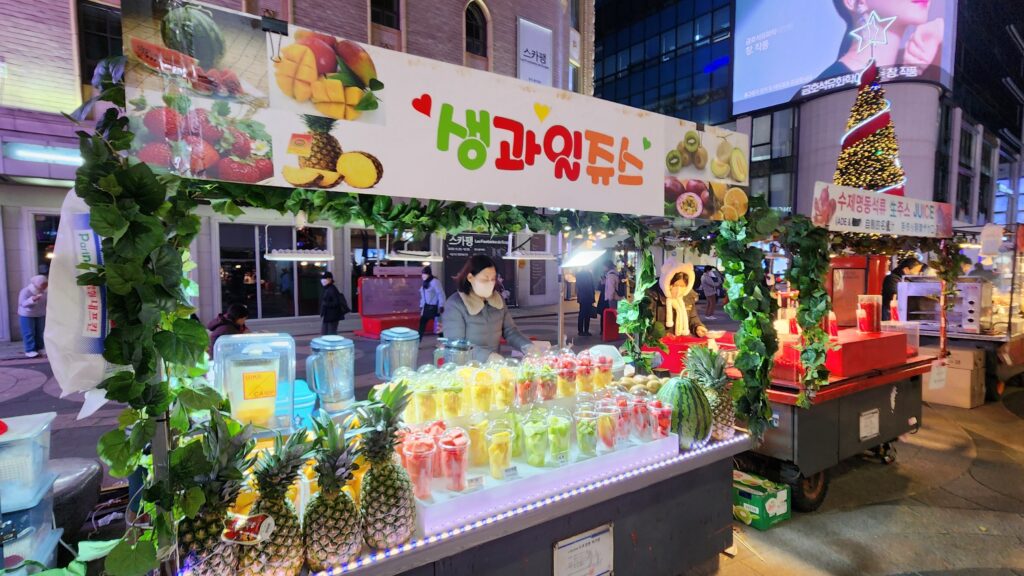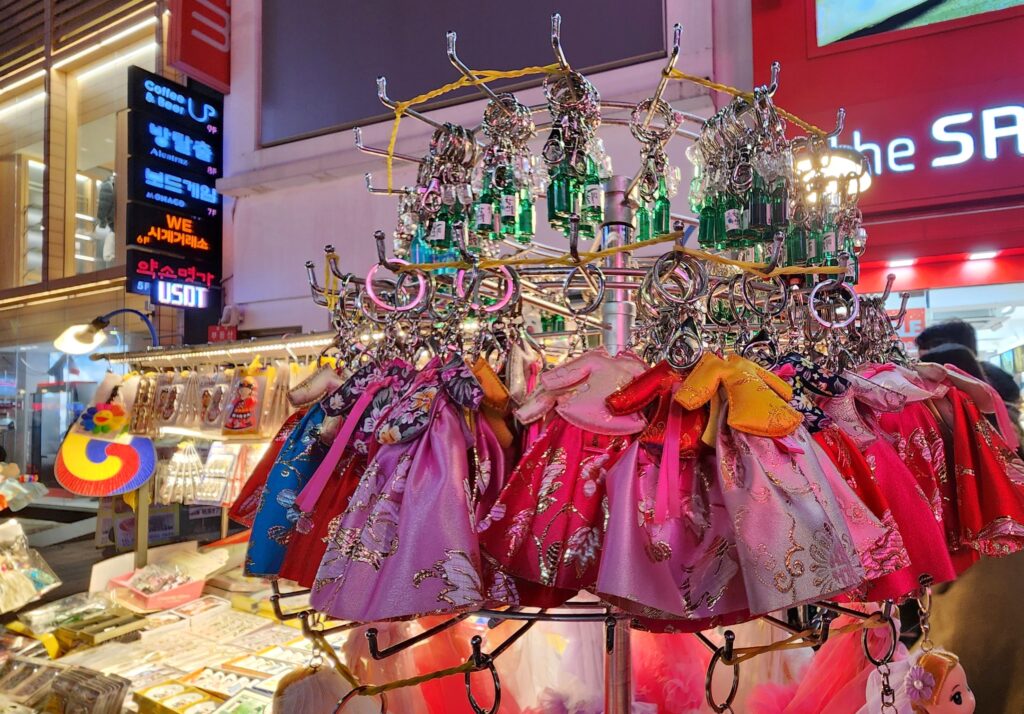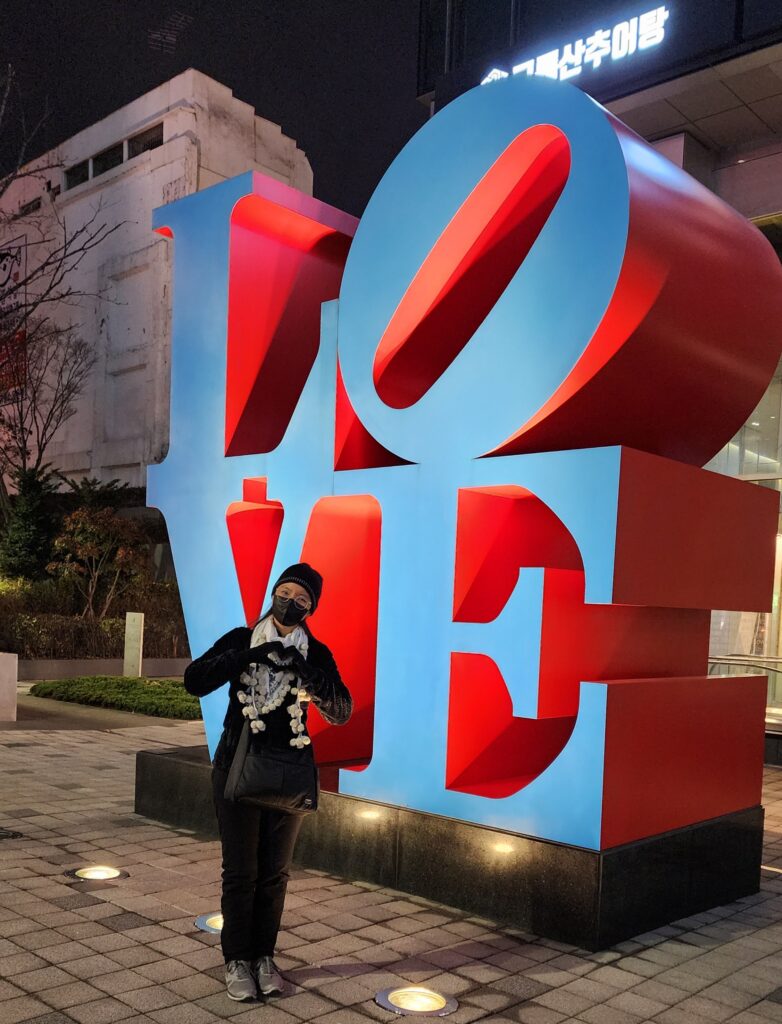 By the time we walked back to the hotel, the weather has dropped further to -2 degrees Celsius and I would learn that it's the start of the really cold spell there pala.  Sayang hindi nag-snow, hehe!
The following day was our last day in Seoul, so we just relaxed at the hotel and checked out the nearby Starbucks in  our area. I was able to bring home a few bags of the Starbucks Byuldabang Blend, the coffee blend made exclusively by Starbucks for Korea.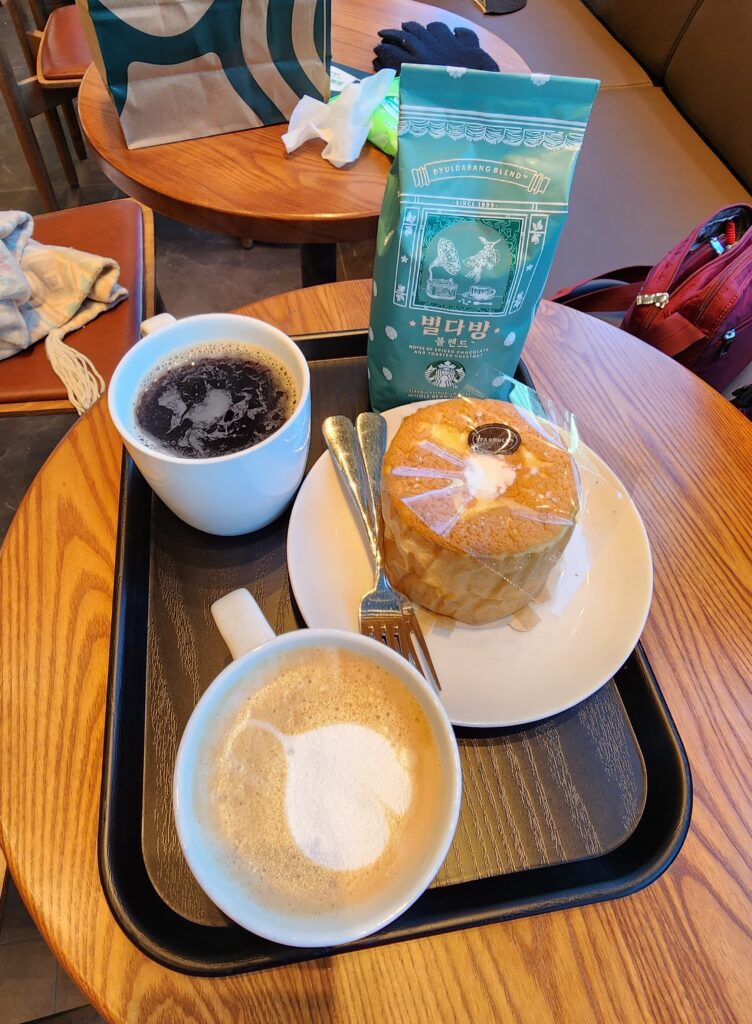 If only the airport is not an hour away from Myeongdong, we would've ventured out again in the shopping district and get lost there for an hour or two, hehe!
It was indeed a very short but sweet stay in Korea.    It was my first time there too but it didn't feel like it! I guess my travel experiences in Japan helped me navigate this one with less hassle and less getting lost in translation too (thank you, Google Translate!).
This being my first travel abroad post-pandemic, every minute of it was special.   I was amazed at how orderly and systematic it was, overall.   Maybe because this was a business trip and our itinerary was really short and strict.  Or maybe because our trip was just a month after the Itaewon tragedy so they were more careful this time.
Nevertheless, my short stay there made me want to discover South Korea more.  I want to go back to Jeju Island.  I want to go back to Seoul.
Lastly, not all Koreans are familiar with BTS and K-drama, haha!  Our driver in Seoul doesn't know some of the Korean actors that my boss was telling him about (with pictures pa).  But the same driver was very helpful when it comes to food reco and weather updates, which I liked!  Hehe!
Gamsahamnida, Korea!  And see you again soon!