Now that summer has officially set in, I become more mindful of the summer heat's effect on my pearls.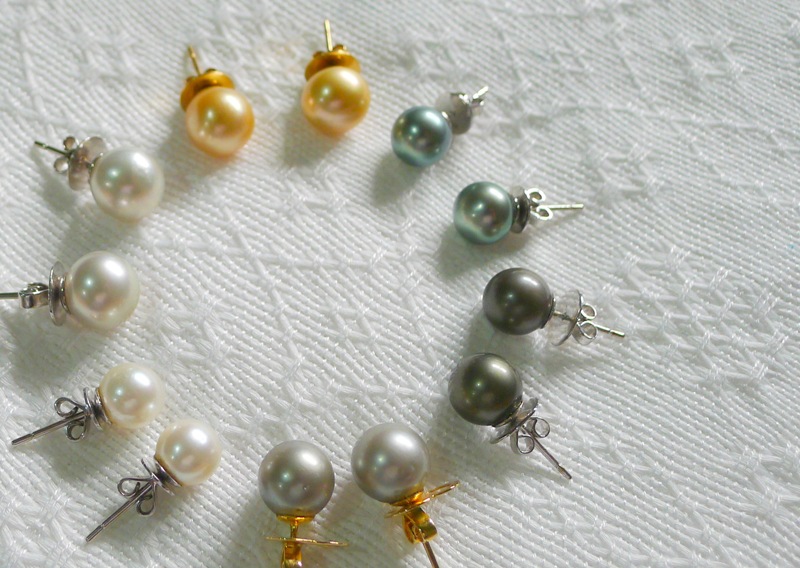 I was once very addicted to south sea pearls, but I 'temporarily' stopped buying after my 6th set because they require more care than my other gemstone jewelry.  I have mostly pearl earrings (as seen above), with matching ring or pendant.
Because they're plenty, caring for them is kind of challenging for me.  But I've found the perfect way to do it:  I wear them almost all the time!  There is a saying that goes something like "pearls want to be worn" and believe me, there's a good reason behind this.
You see, pearls are organic, living gemstones.  And for some reason, they love humidity!  That's why they're perfect for our tropical climate. That's the reason also on why they love to be regularly worn – because the humidity in our body keeps the luster shining and happy!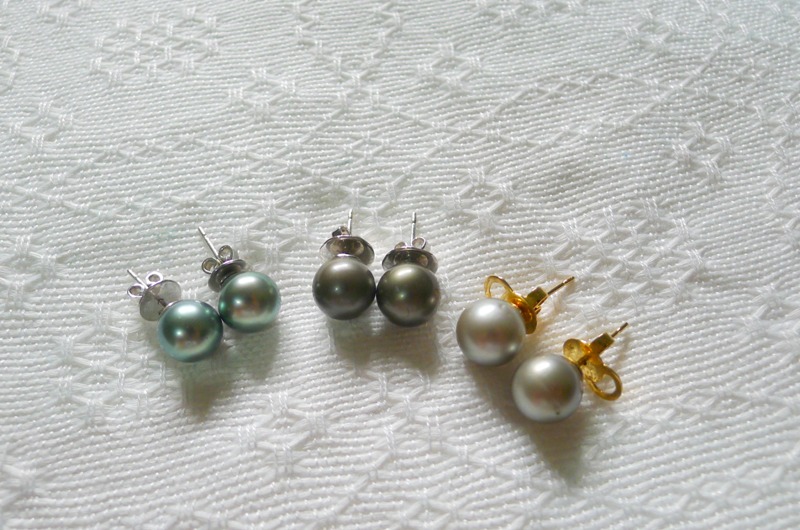 It's best to keep the pearls together in a separate jewelry box, and then put it in a spot where ventilation and humidity are abundant.  I put mine in the makeshift vanity table in our bedroom, but away from our colognes.  My jewelry box has 2 small drawers and there are 3 set of pearls per drawer.  I keep the drawers slightly open, to let the air and humidity in.
For added humidity, I placed a small cap (the cap of a spray bottle will do) filled with water inside each drawer. I refill the caps every other week or as soon as the water has dried up.  It's important that there's always water there because humidity depends on water vaporization.
During the wet season and humidity is high, I don't have to worry about refilling the caps.  But during the dry season, when water evaporates fast and humidity drops, my pearls are vulnerable to drying up, losing their luster and worse, discoloration.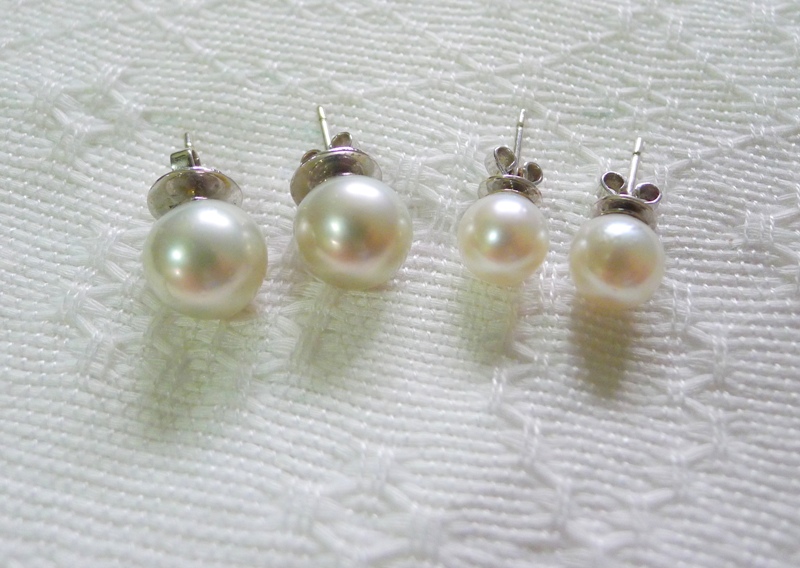 To avoid these,  I follow this trick I read in a magazine before:  I leave the jewelry drawers (containing the pearls) in the bathroom right after bath or shower to give them all the humidity that they love to have.  Try it, it's very easy to do and would make your pearls last and stay radiant longer!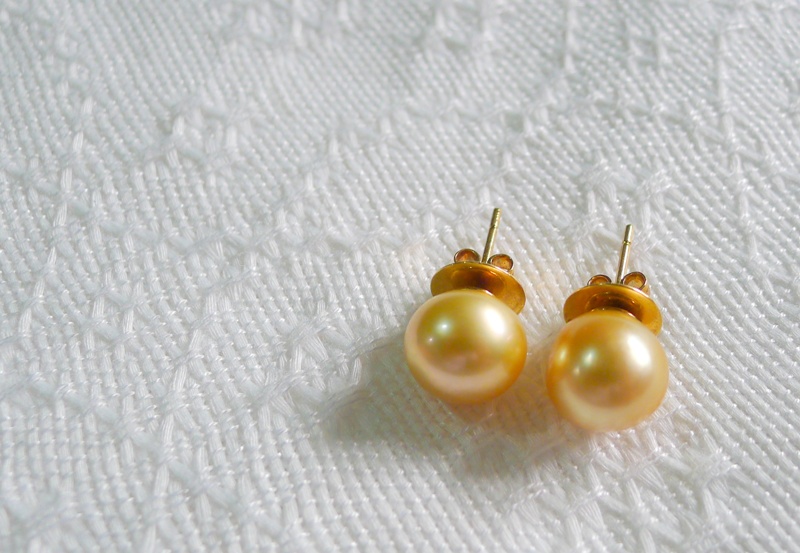 Other important tips:
1. Pearl jewelry must be worn last, and taken off first.   Pearls are very sensitive to acid, and high exposure to acid (from perfume, hair product, body oil product, perspiration and other acid-containing substances) will cloud the luster of the pearls, making it look less appealing.   To avoid direct exposure to acid in perfume or hair product, wait for a few minutes before wearing your pearls (or better yet, wear it last!).   Also, take it off as soon as you're done and wipe with a clean soft cloth to remove whatever substances have remained in its surface.  This habit will keep your pearls happy, and will reduce the occurrence of blemishes.
2. Do not expose your pearls to direct sunlight.   If UV rays have bad effects on our skin, in pearls they bring the worse. Lost of water will already affect its luster, but direct sunlight will corrode the surface and this effect is irreversible.
3.  Do not wet your pearls.  I admit I am sometimes guilty of this because I tend to forget I'm wearing a pearl ring when washing my hands.  When this cannot be avoided, immediately wipe off the watery surface with clean, soft cloth.  But the rule really is to remove your pearl before when washing your hand, since water can be acidic too.
4.  Do not mix pearls with other jewelry.  Pearls are not as hard as diamonds, rubies or tanzanites so if not stored properly, they will get scratches which you may have a hard time removing.  That's why I have a separate jewelry box for the pearls; it's much easier for me to check on them too.  And to make sure that the earrings won't rub on each other, I "pin" them to small-size cut sofa foams (check out this post to get the picture), instead of putting them in pouches.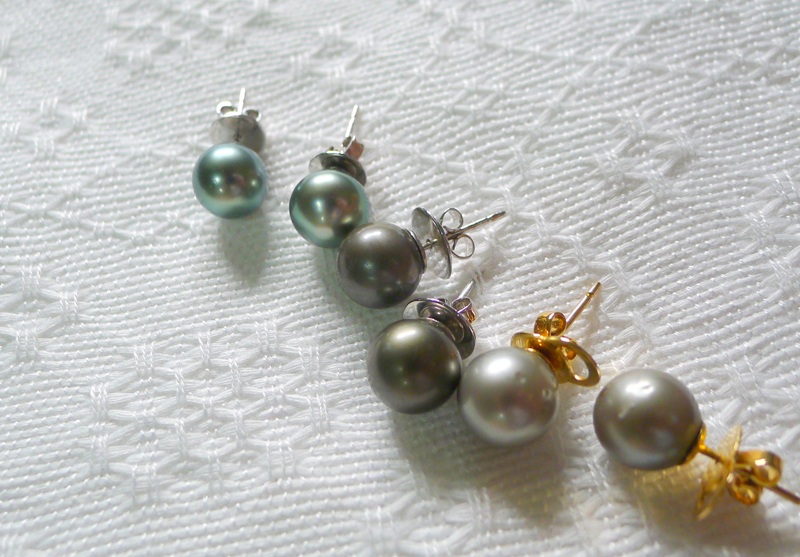 I know, I know.  Pearls demand so much TLC from us, but in return, they will reward us (and our generations to come!) with the satisfaction of owning something beautiful from nature – a gift from nature, to be exact – so it's just fitting that we protect them and care for them.