The year is about to end and I haven't finished my UK travel journal yet, hehe!
So here we go. We are now on Day 6 and it was another outdoor tour for us – this time, to the Scottish Highlands!
One of the early bookings I made in preparation for our UK trip (and even before we applied for our visas) was the 1-Day Free Scottish Highlands Hairy Coo Tour.
To answer your question, the tour per se is not FREE. Here's how it works, and I'm telling you, this is perhaps the best deal we got from all the tours we booked in the UK.
The original FREE Scottish Highlands Hairy Coo Tour started back in 2010. Since then the tour has shown tens of thousands of adventurers the magic and beauty of Scotland. Follow in the footsteps of Scottish heroes, kings and queens on this marvelous 1-day adventure from Edinburgh.


We believe EVERYONE should have the opportunity to experience the beauty and history of the Scottish Highlands, regardless of their budget, which is why we run this tour for FREE!


The obvious question you're asking is, "What's the catch?"


We run this tour on a 'tips-only' basis (£45 value). This means that at the end of the tour, we gratefully accept any donation equal to what you feel the tour was worth. These tips allow us to keep our free tour up and running, so we can keep showing the world the real Scotland.

(Source: https://www.thehairycoo.com/1-day-free-scottish-highland-tour/ )
Booking was easy. We only need to register in their website and choose our preferred tour date.
The meeting place was at the Bus Stop located outside the Deacon's House Cafe, and AJ and I had no problem locating it because it was within the vicinity of the Writer's Museum (in Lawnmarket) that we visited the previous day.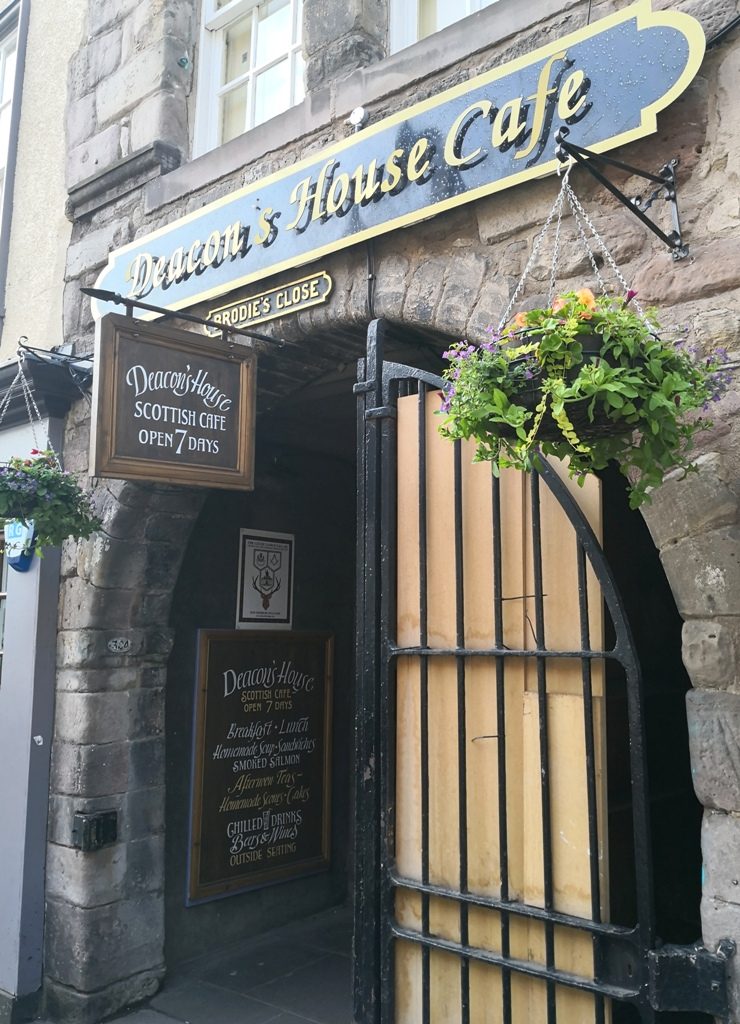 Just across Deacon's House Cafe is Gladstone's Land, one of the oldest buildings on the Royal Mile, and home to wealthy residential and commercial tenants during its heyday.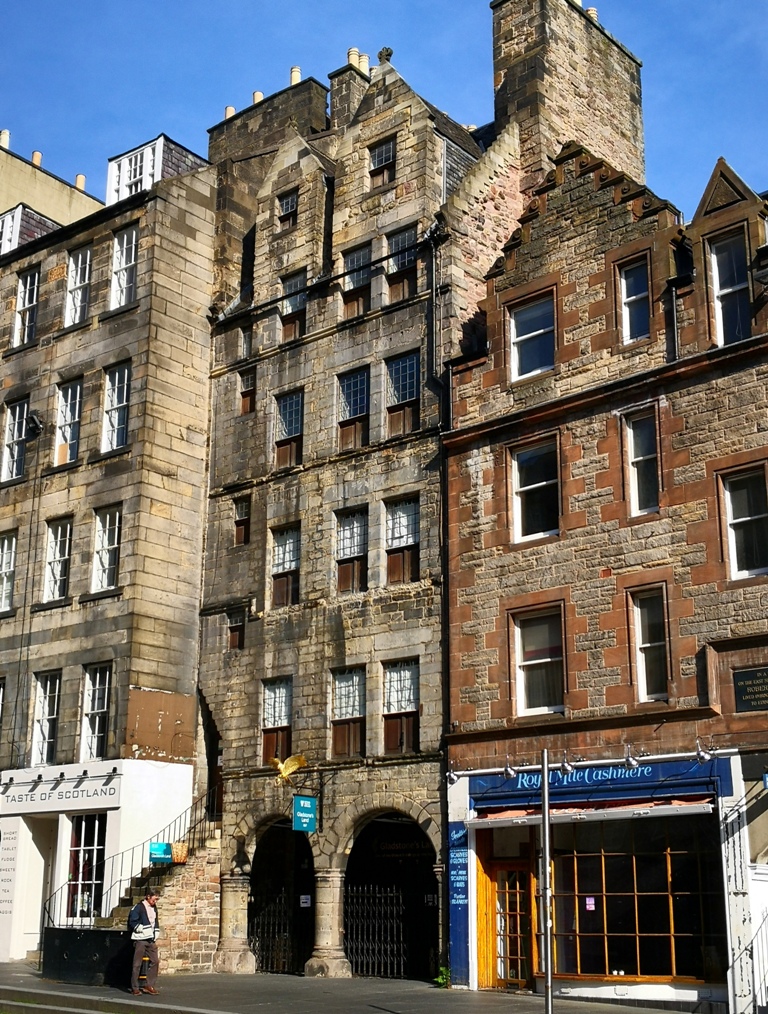 The Hairy Coo Bus came on time (8:30 a.m.) and you cannot miss it in its vibrant orange color.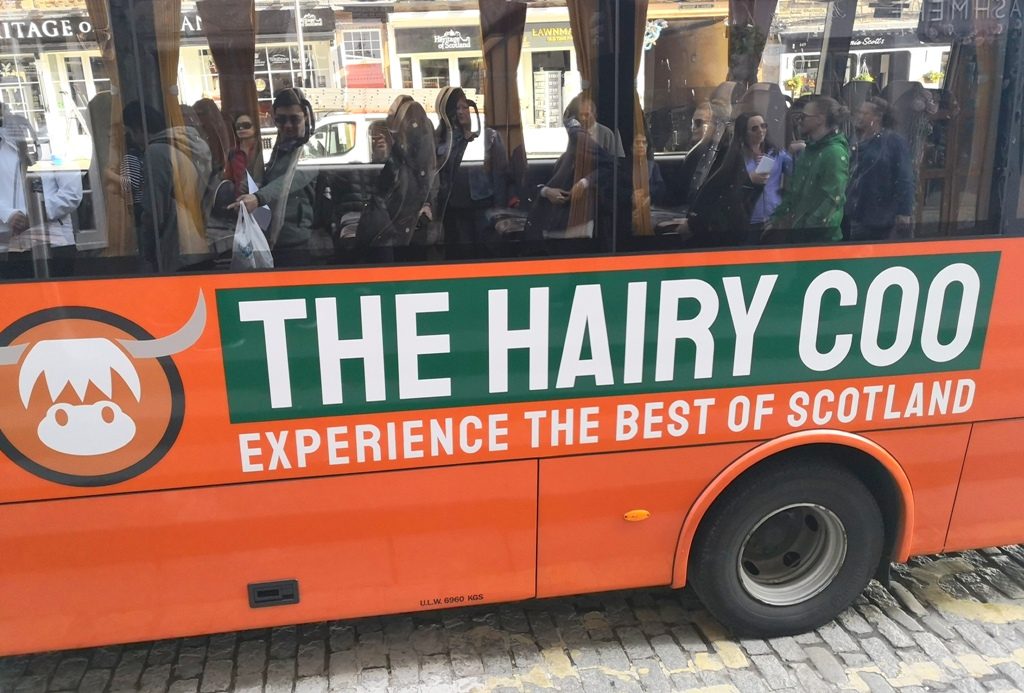 Our first destination was to the Wallace Monument in Stirling. Along the way, we made a quick stop to view the Stirling Castle atop Castle Hill. Before the union with England, Stirling Castle was also one of the most used of the many Scottish royal residences, very much a palace as well as a fortress. Several Scottish Kings and Queens have been crowned at Stirling, including Mary, Queen of Scots, in 1542 (source).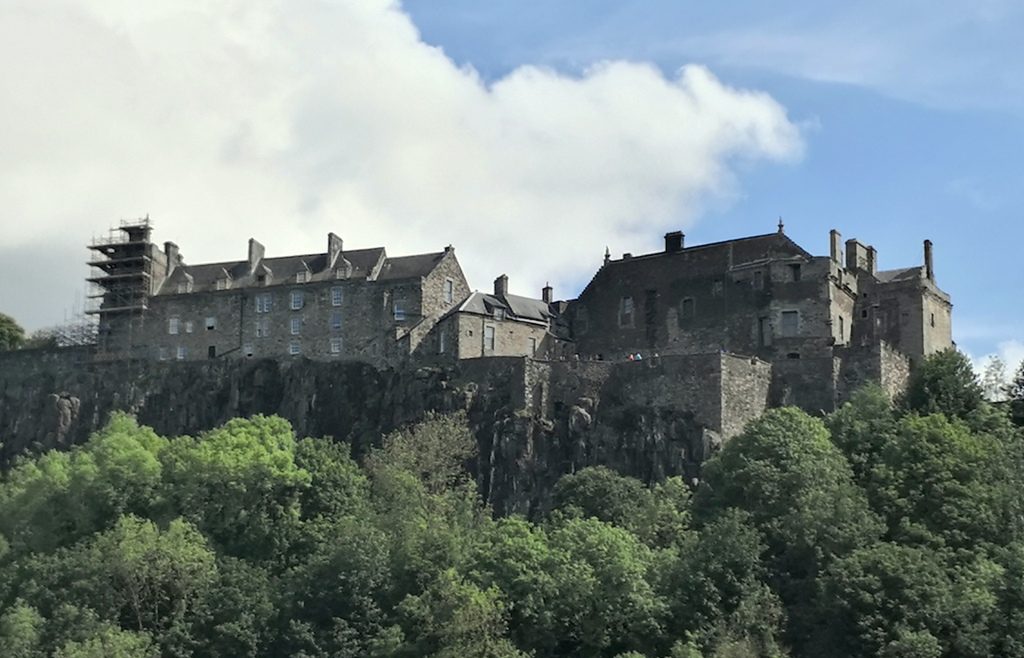 Meet Alistair, our very friendly and jolly tour guide and driver, who happily took pictures of us tourists too and made sure we all had fun that day.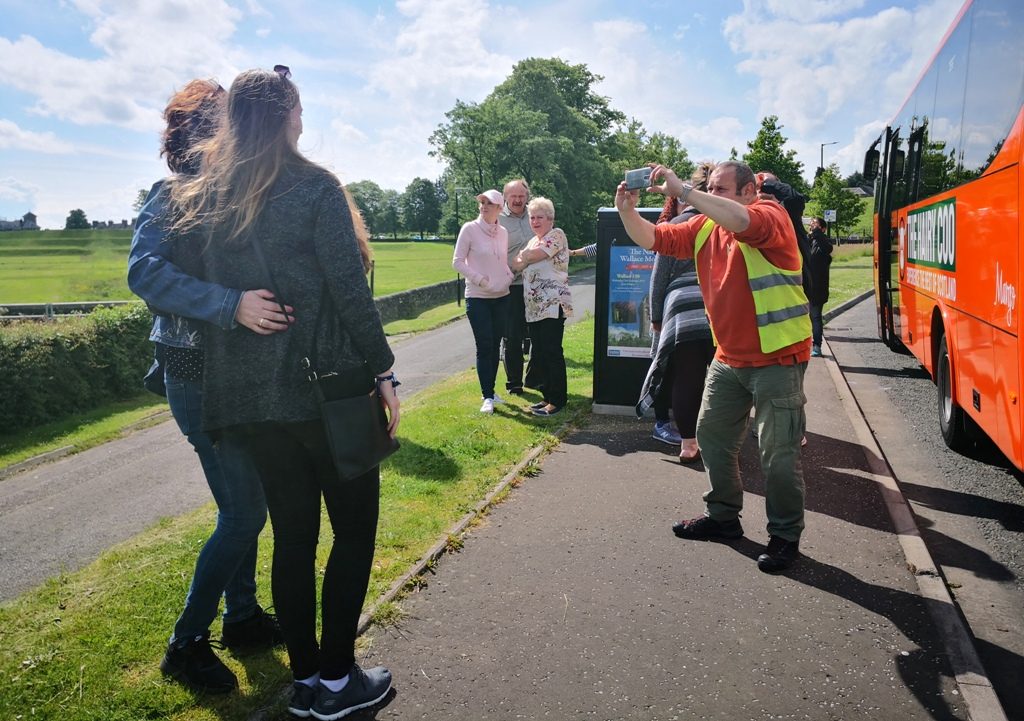 Then we proceeded to the National Wallace Monument – which has been welcoming millions of visitors since 1869 – to discover the story of William Wallace, Scotland's National Hero.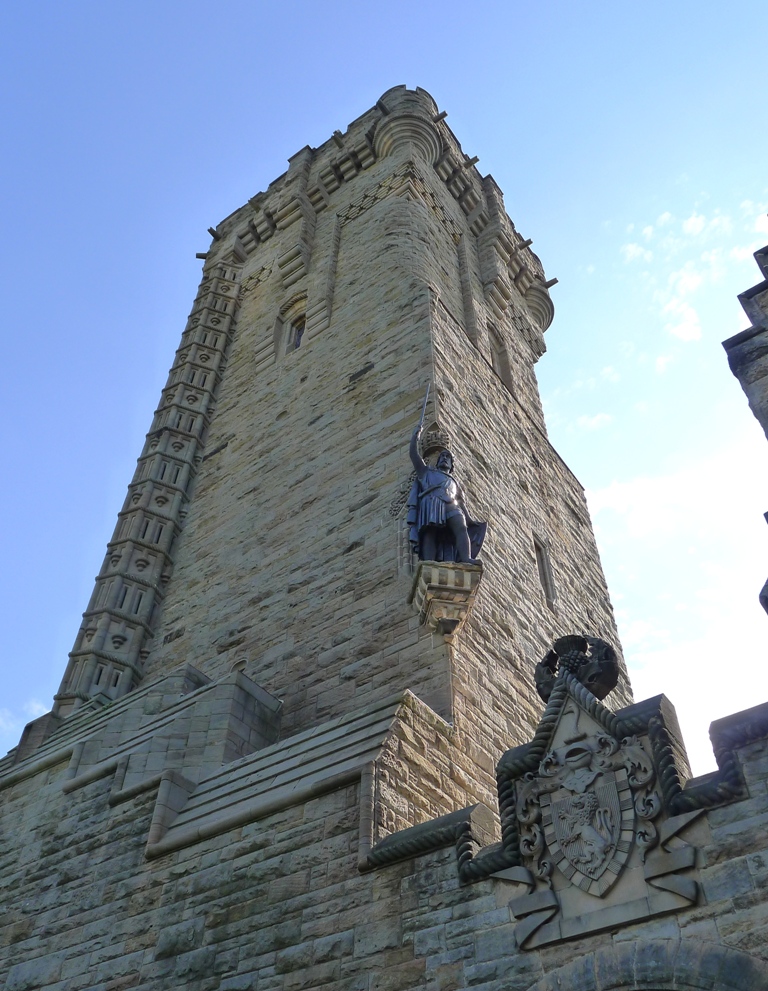 The tower stands on the shoulder of the Abbey Craig, a hilltop overlooking Stirling. To get to the tower, we were given the option of walking or taking a mini-van that picks up tourists from the base point where the souvenir shop is also located. We chose to ride the mini-van because we only had about an hour to explore the place and the tower, and the walking might slow us down.
We enjoyed this view of Scotland from the Abbey Craig.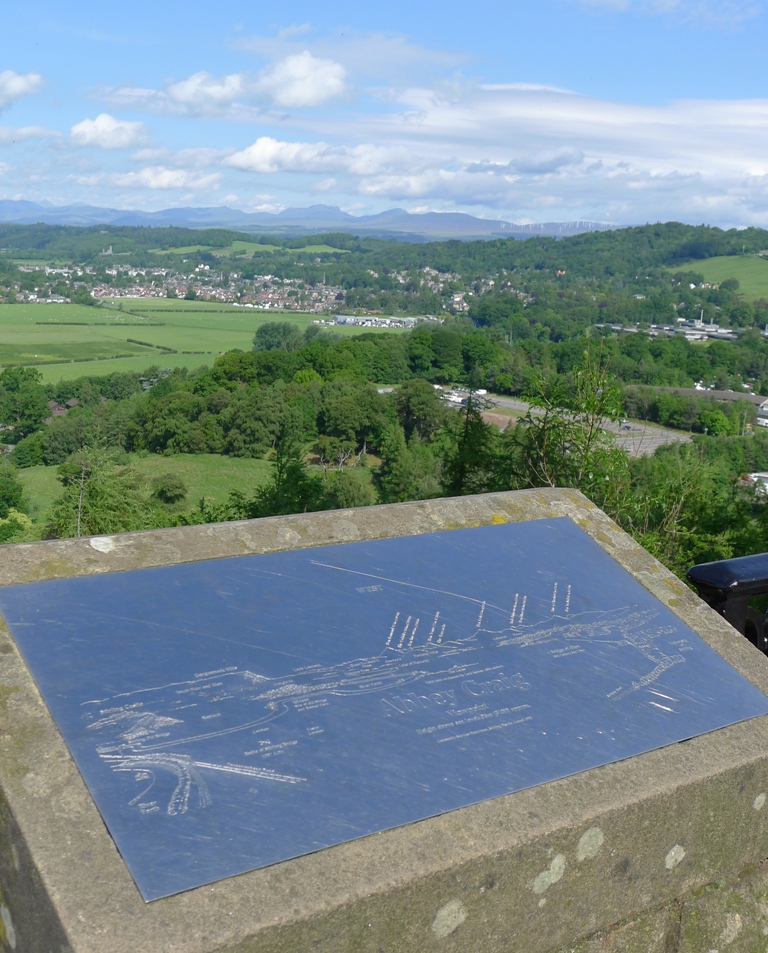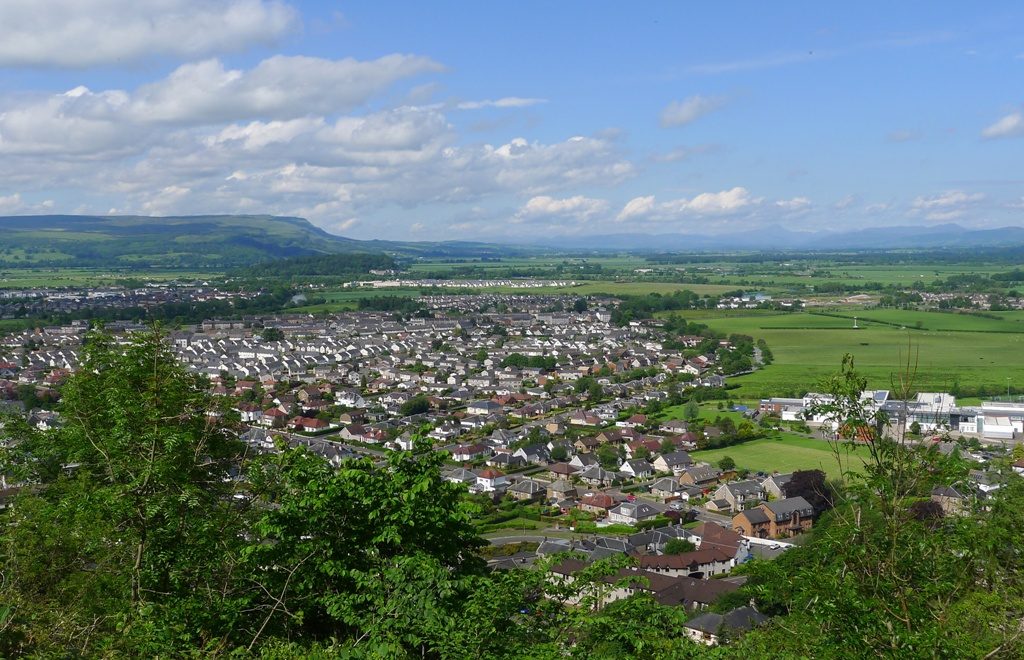 We saw visitors who are on special tours at the National Wallace Monument and who bought entrance tickets to the tower. Those with tickets can climb the 246 step spiral staircase to the viewing gallery inside the monument's crown, where a number of artifacts believed to have belonged to Wallace are also on display.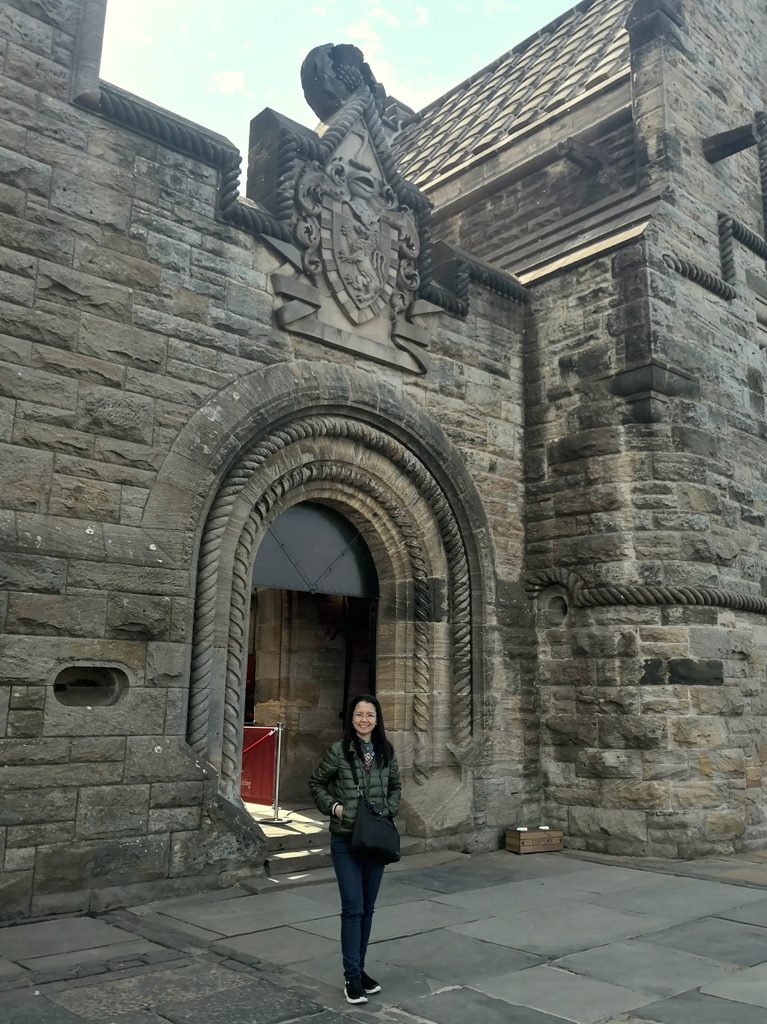 Then off we went to see the Lake of Menteith, also known as Loch Inchmahome, the only lake in Scotland. There is an island in the middle of the lake that served as the final refuge for the then 4 year old Mary 'Queen of Scots', as Henry VIII's armies marched by unknowingly.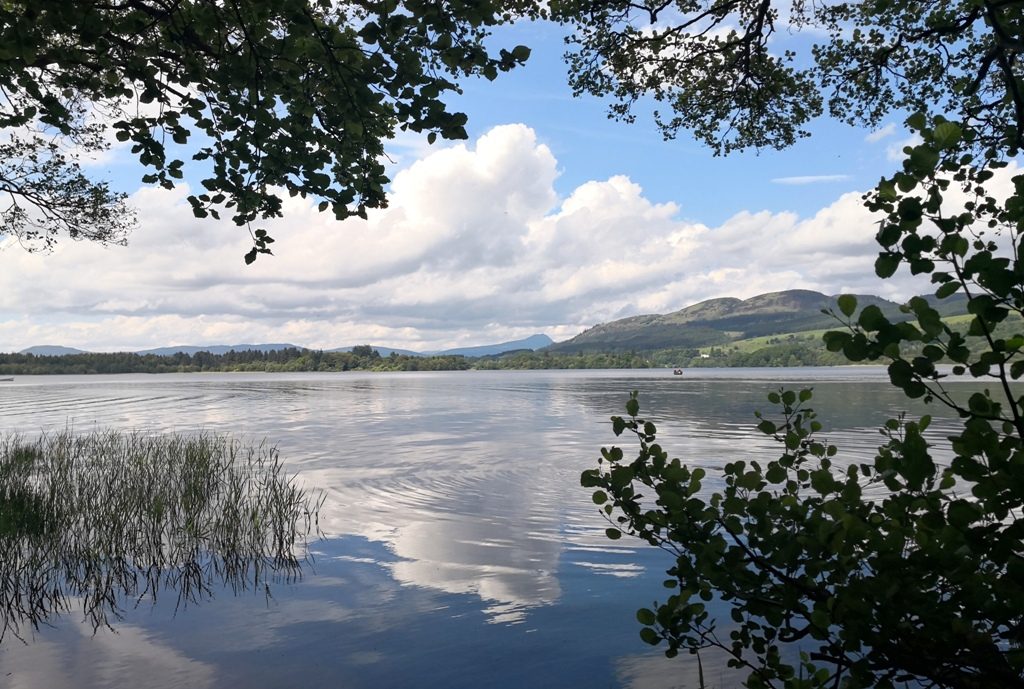 Not sure if this is a pine nut, but it looks like one hehe! Naaliw lang ako picture-an because we don't have this in Manila.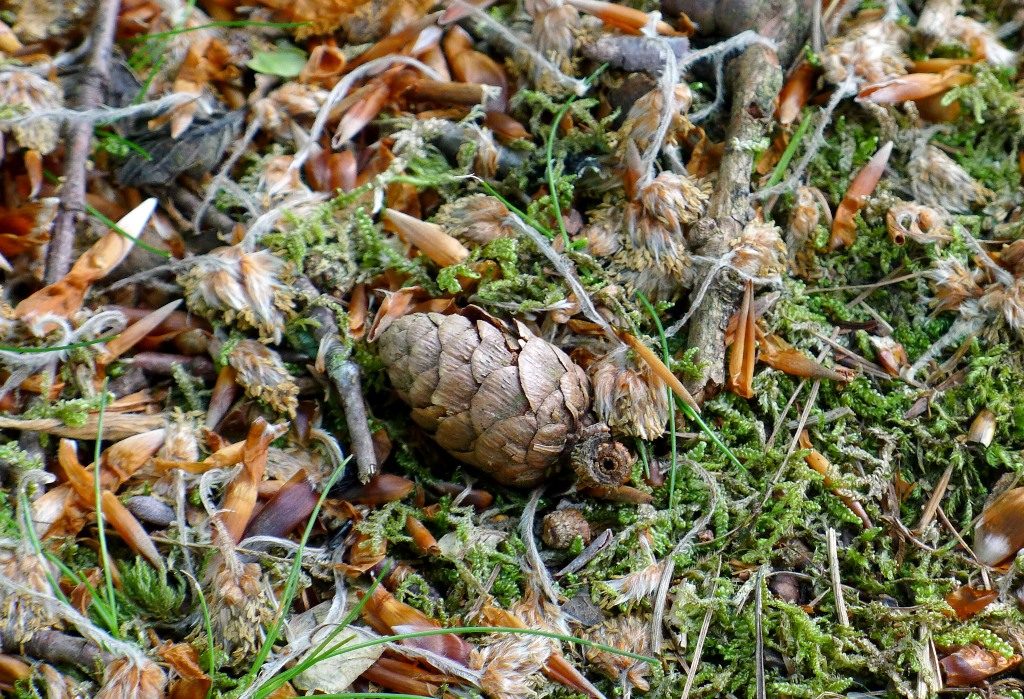 Next we stopped for lunch at the highland village of Aberfoyle. Nestling at the foot of the highland boundary fault line, the village of Aberfoyle is steeped in local history and legend. It is the 'Gateway to the Highlands' and is a thriving, bustling and vibrant place to visit at any time of year.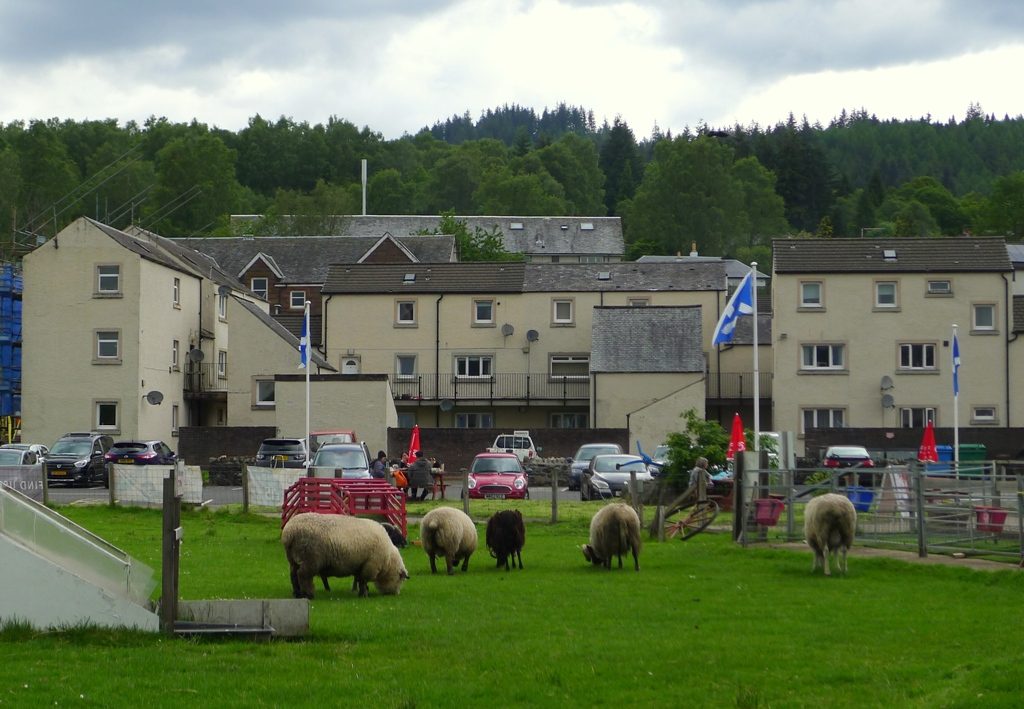 Alistair recommended that we try the meat pies at this local but award-winning delicatessen shop, then take a picnic table to enjoy a picnic-style lunch.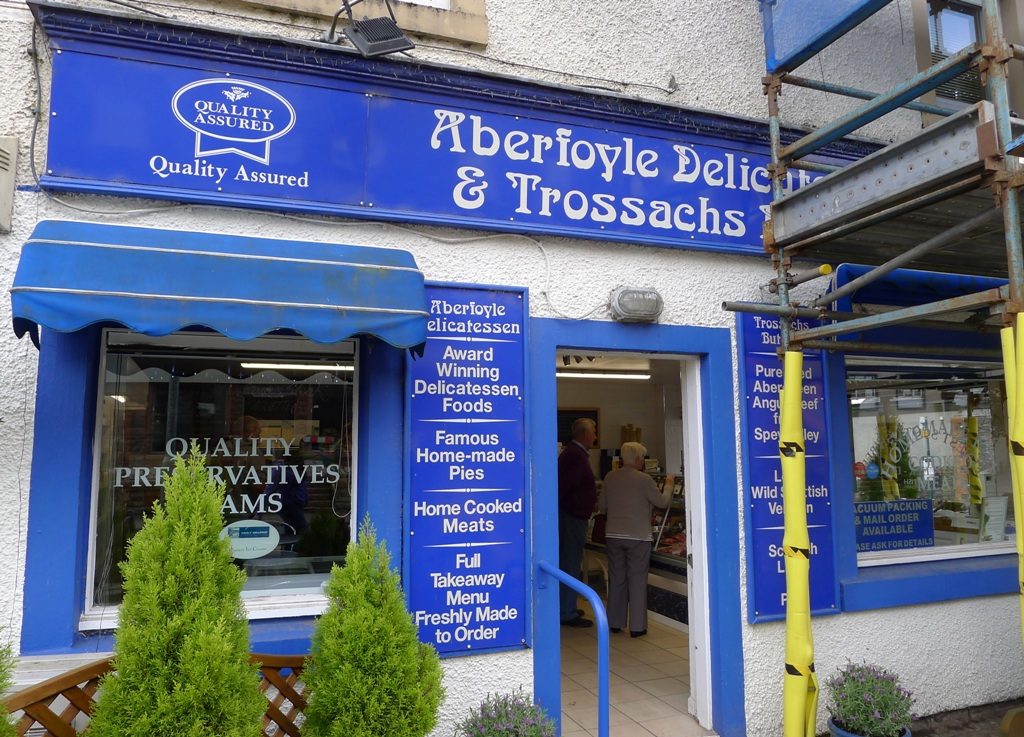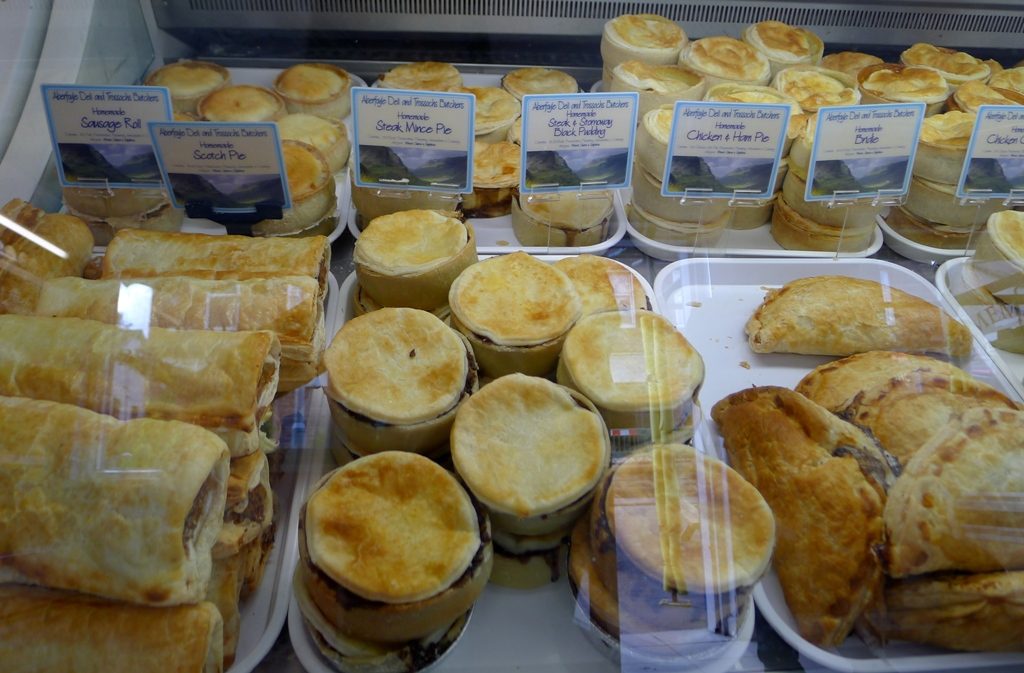 We bought Black Pudding Pie and Steak Mince Pie. Didn't think I'll enjoy the black pudding but I did! So, so good! Too bad we could not take these home to Manila to share to our families.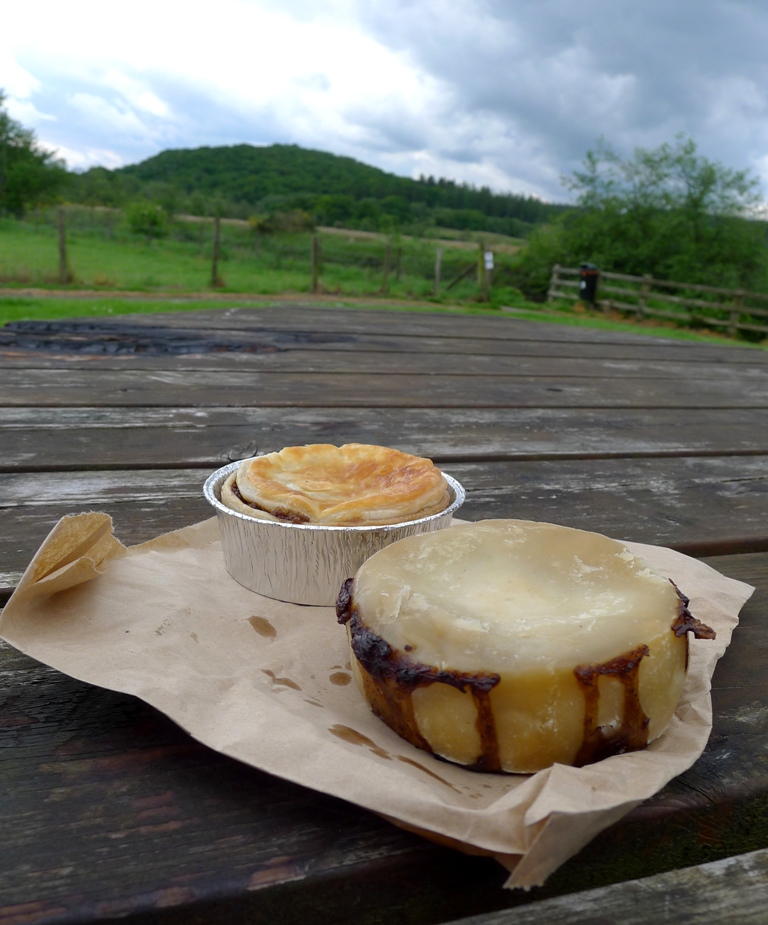 The Scottish Wool Center is here at Aberfoyle Village, and this is the best place to shop for Scottish souvenirs and wool clothing.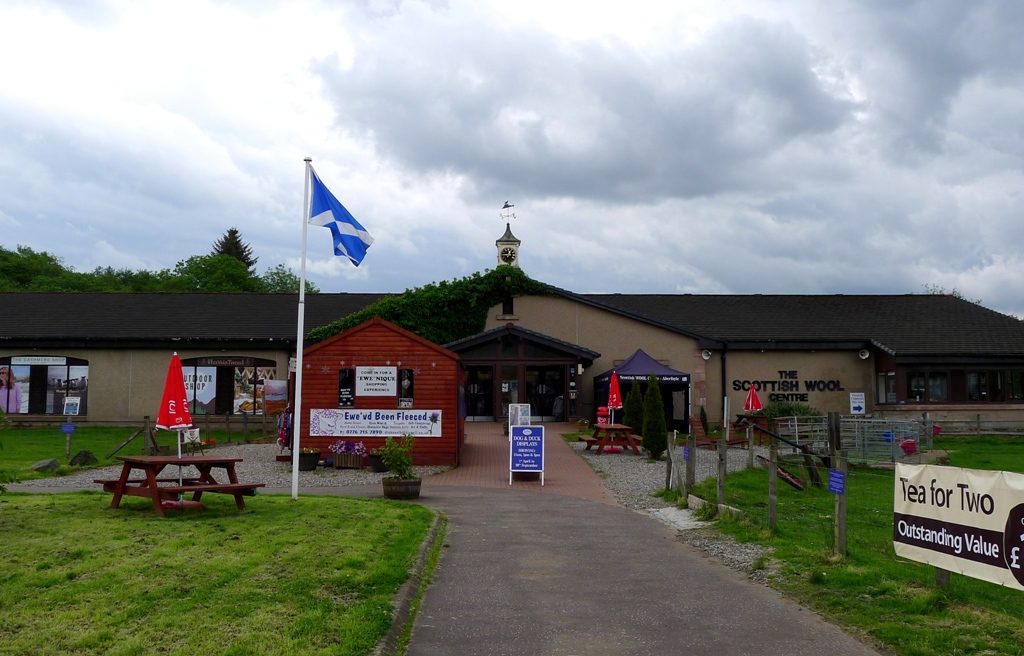 There's a lovely coffee shop inside selling these huge English Scones. Parang pangatlong scone ko na ito sa UK hehe pero sige lang. I love scones!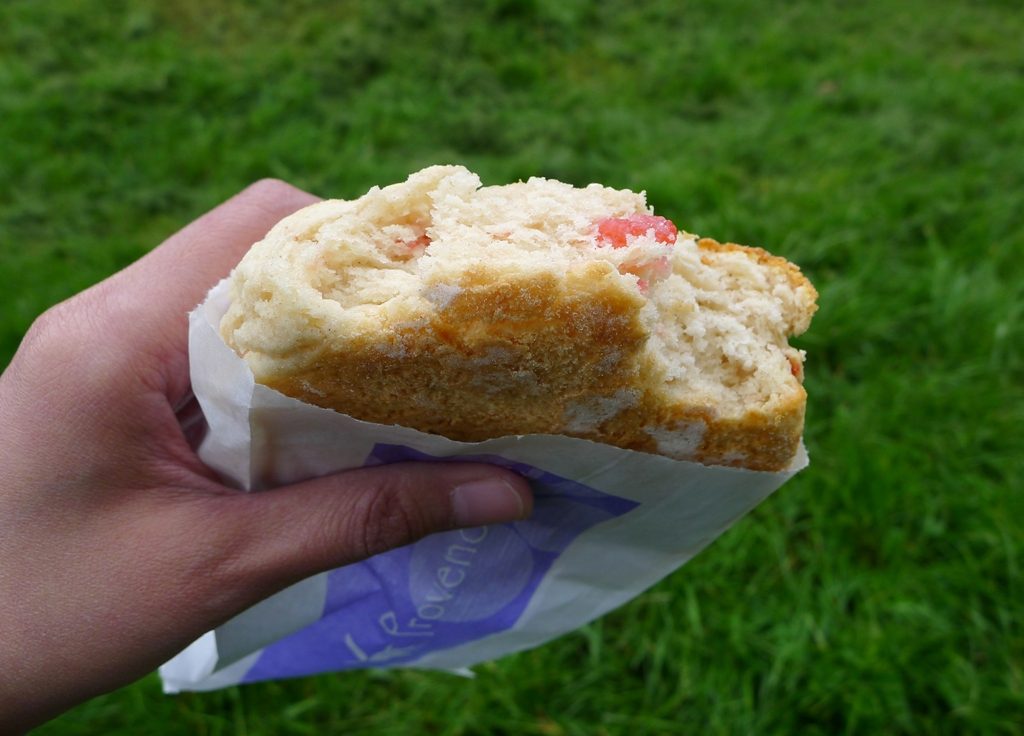 Oppps…some cute kitty saw me eating scone and smelled AJ's coffee. Nag-join sya sa picnic table namin.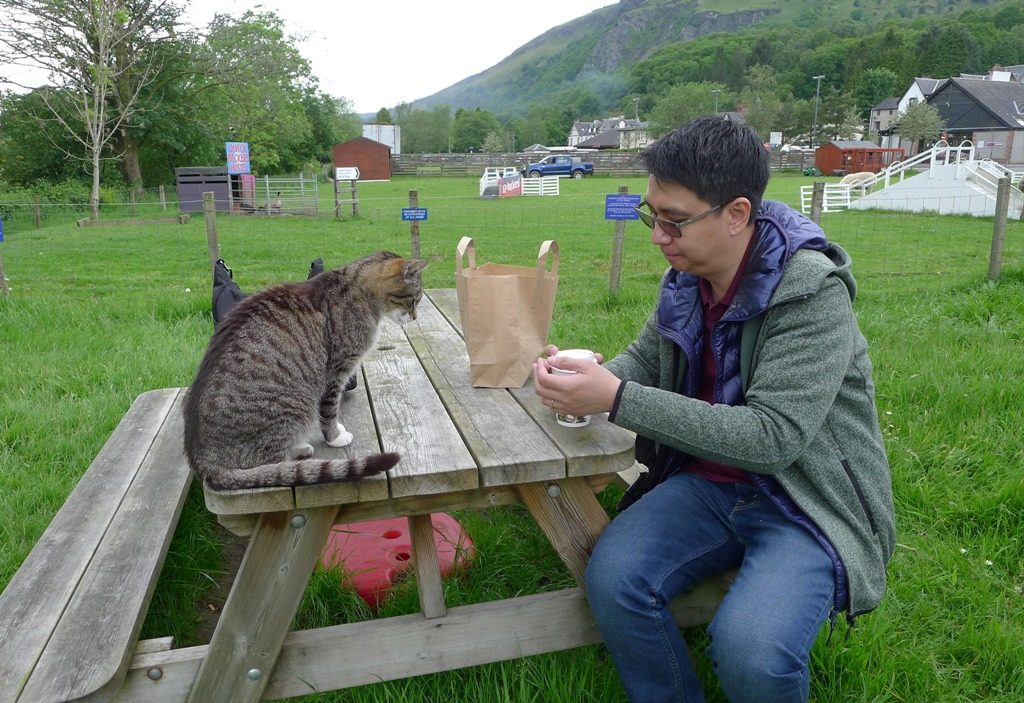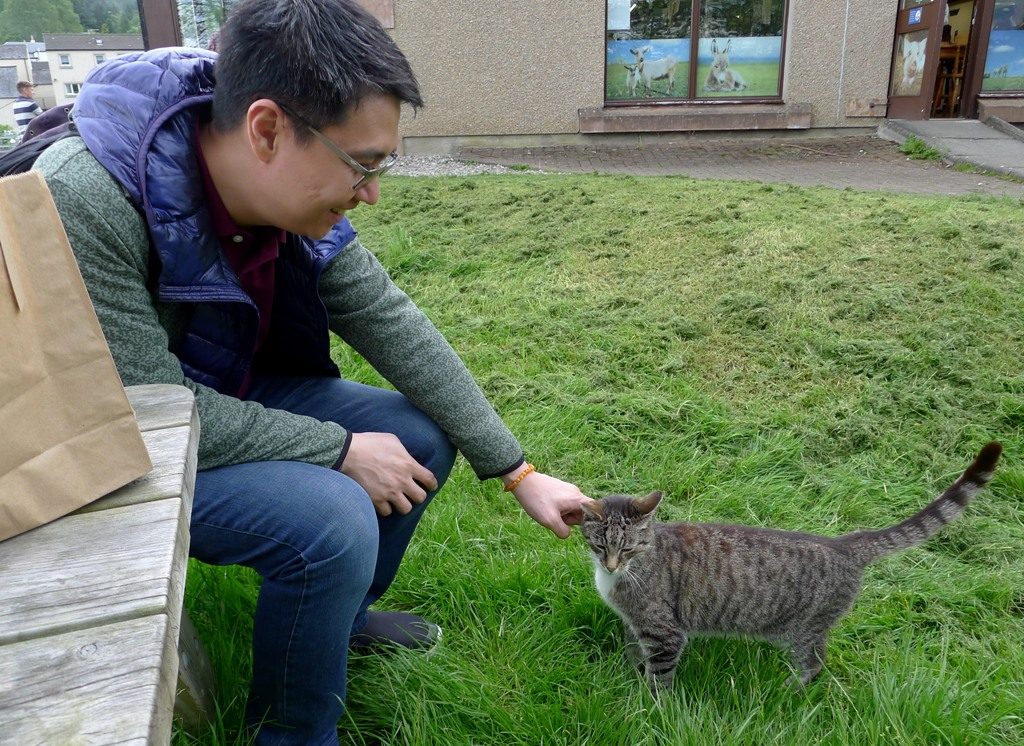 Outside the shopping center are friendly-roaming Scottish sheep and lambs, some of which you can also pet. So cute!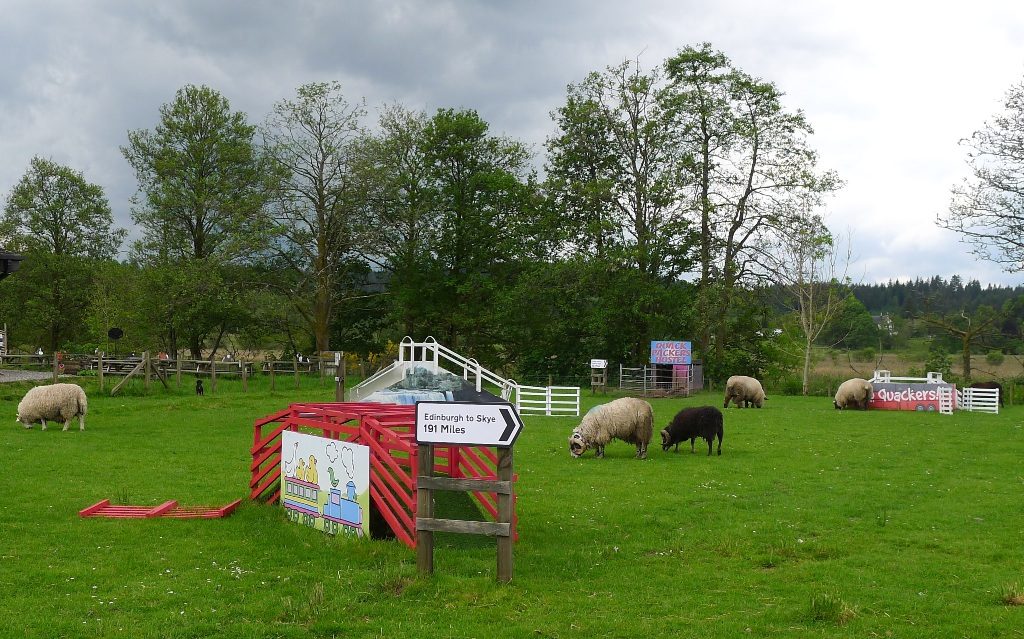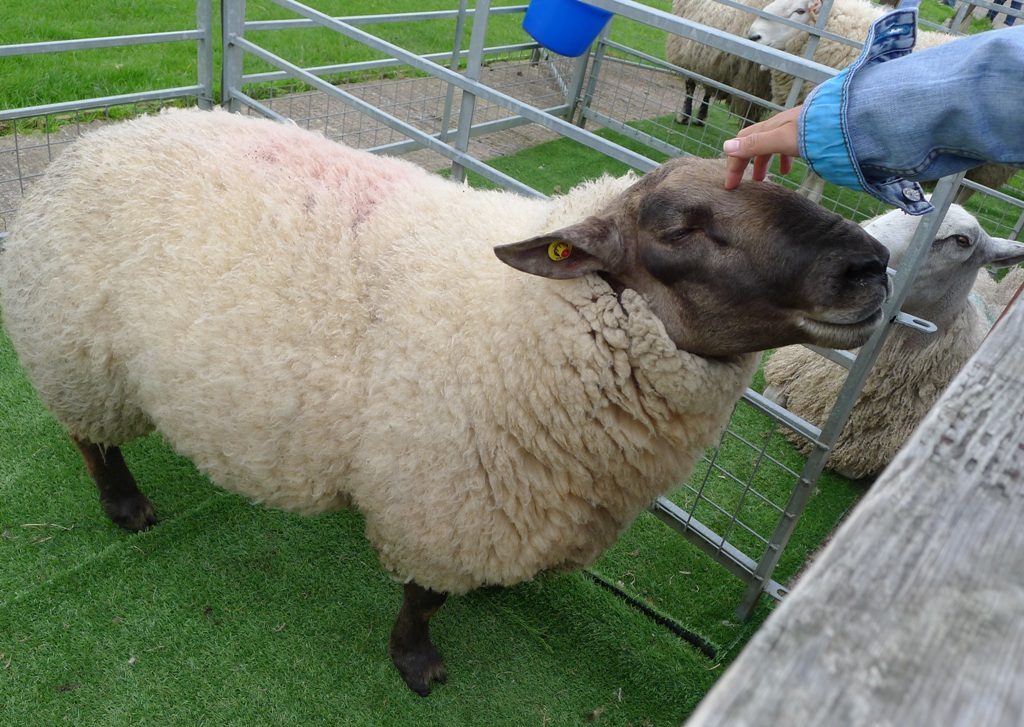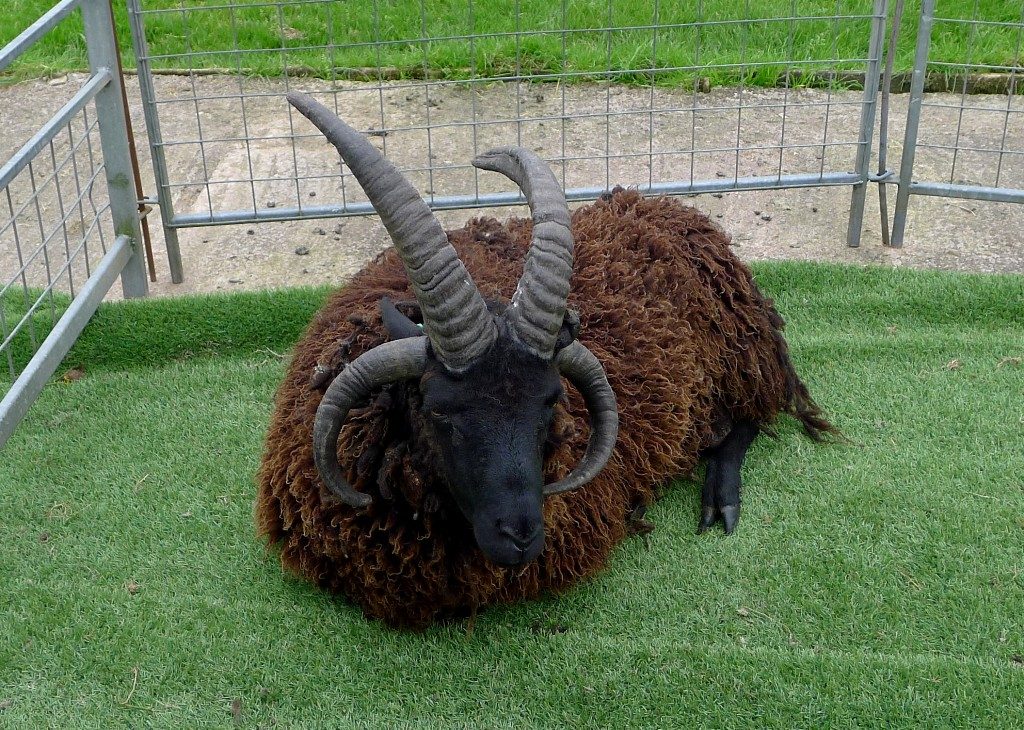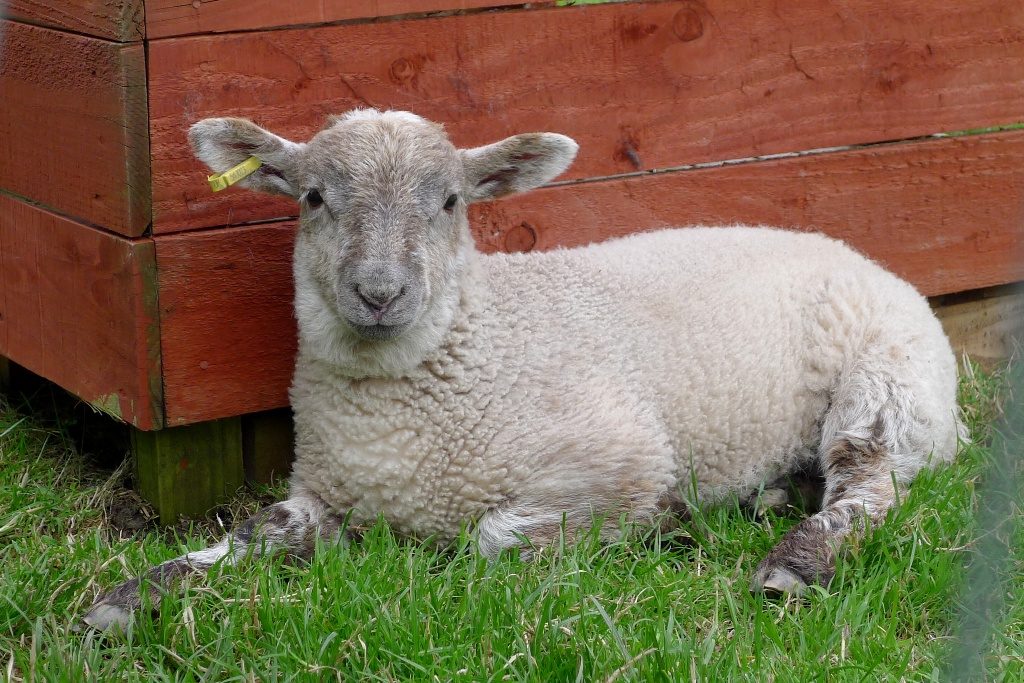 After an enjoyable time at Aberfoyle Village, it was time to hop back to our Hairy Coo bus and resume our Highlands Tour.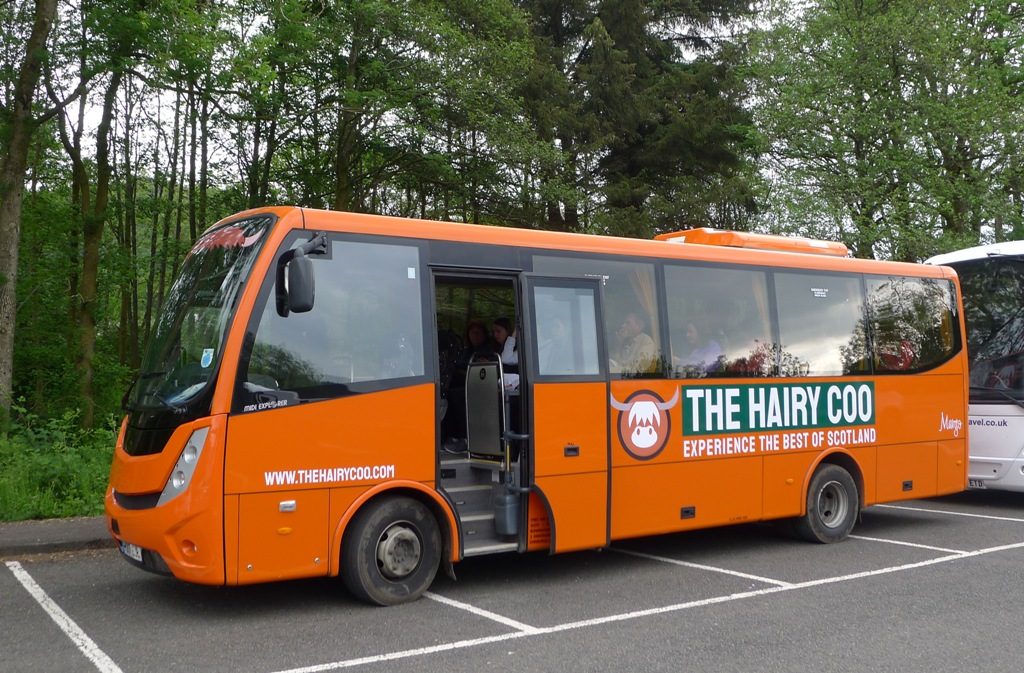 Our next destination was the beautiful Loch Katrine, the inspiration behind Sir Walter Scott's poem 'The Lady of the Lake'. There is an Eco Camp there where one can pitch a tent or rent an Eco Lodge for a relaxing nature trip.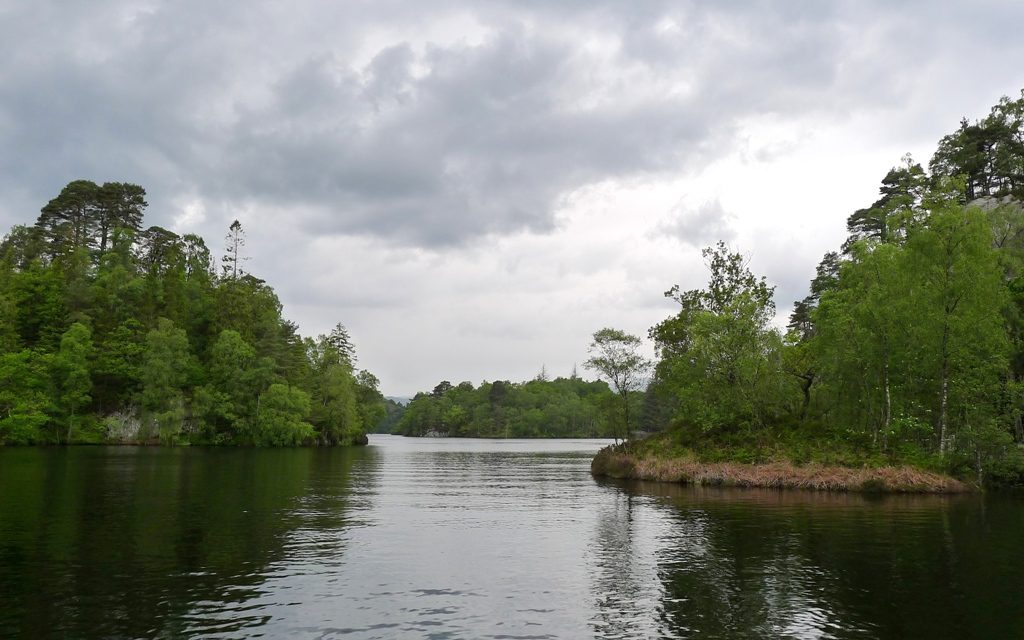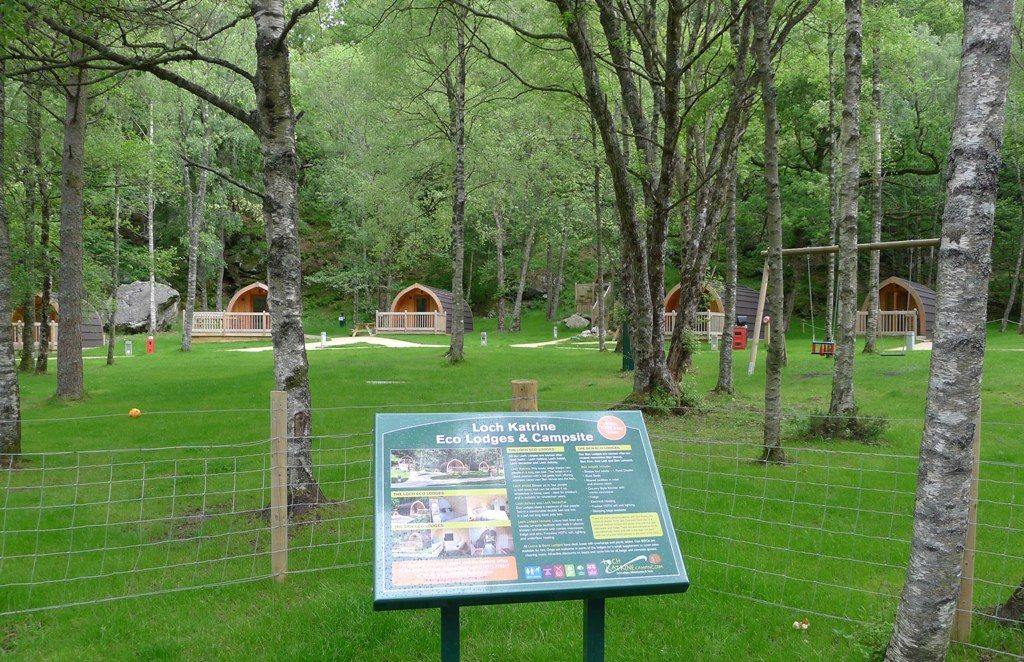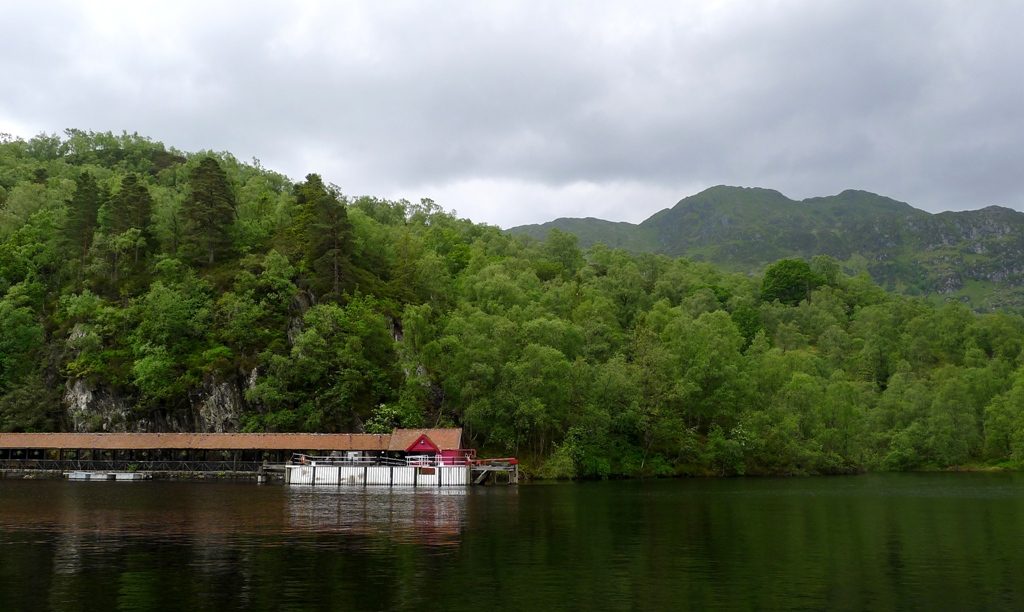 After Loch Katrine, we went to see the Hairy Coos! This is my most awaited part of the tour, because I really wanted to see them in flesh!
Coo is the Scottish word for cow and the hairy part is clearly evident from these lovable Highland cows. Can't complete our visit to Scotland without visiting and feeding our ginger-haired friends!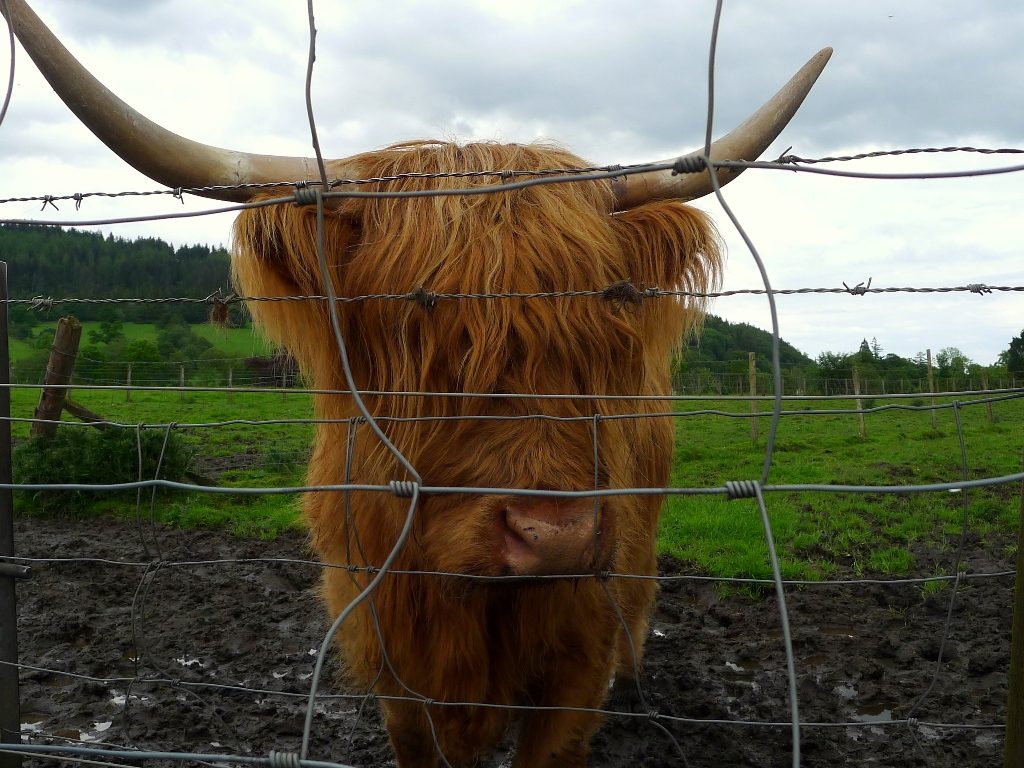 There's only two of them who greeted us that day, but that didn't dampen my spirits and I was able to feed them both, yey!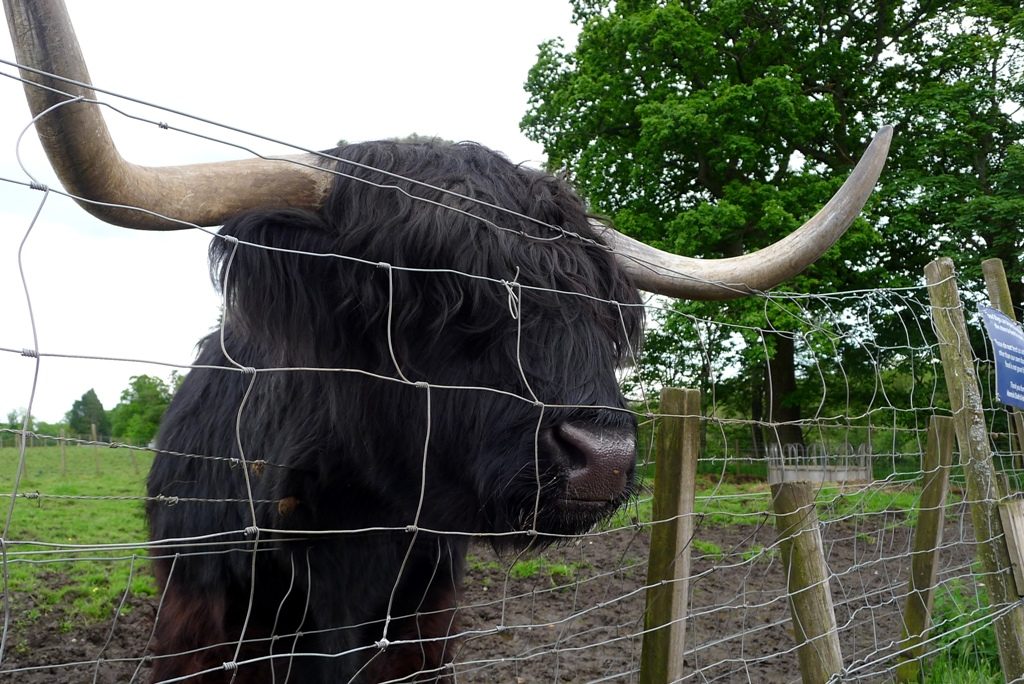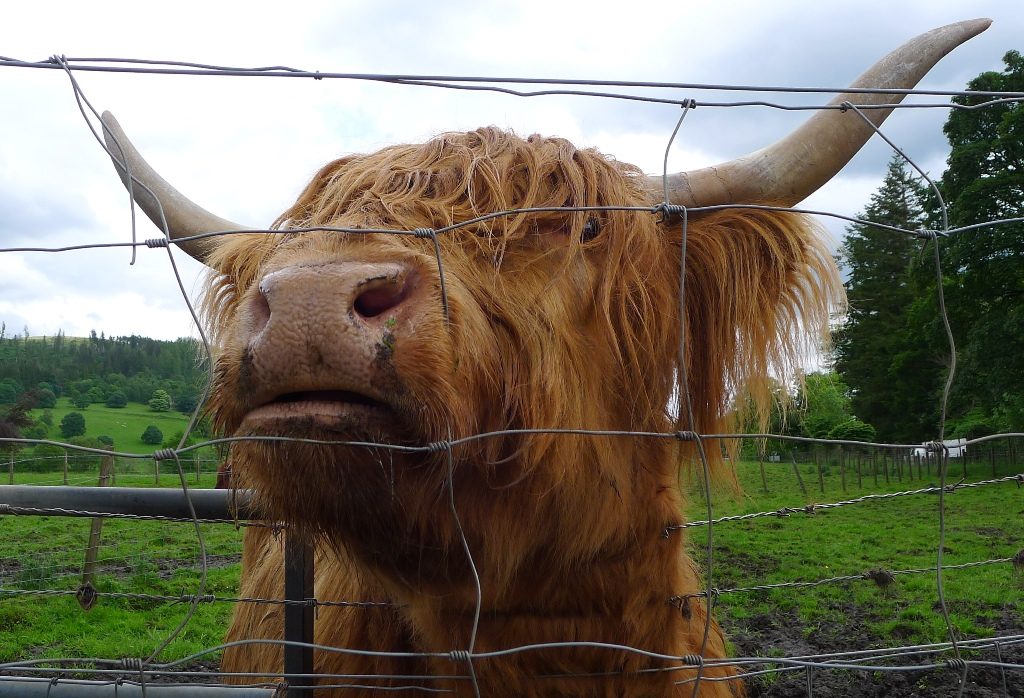 I don't know if there's such a thing as overfeeding them (with carrots) but these gentle Coos gladly took and chomped on all the carrots that our group fed them.
Soon after, we traveled back in time again at Doune Castle.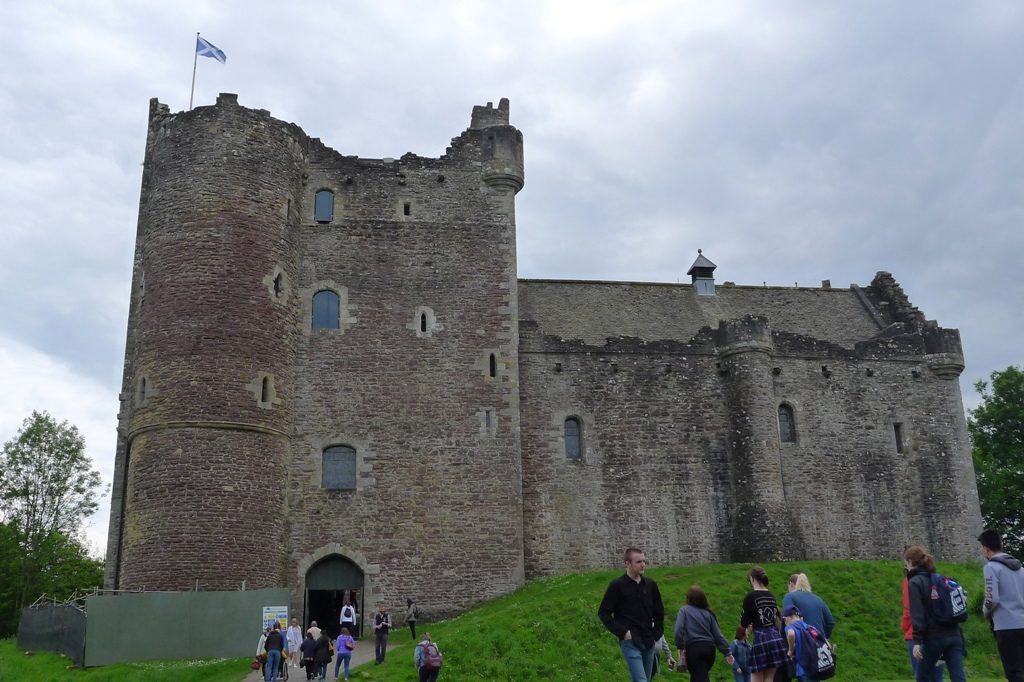 Mary, Queen of Scots, have stayed at Doune Castle on several occasions. The castle has played so many roles in Scotland's history but it was the hit TV series 'Outlander' and 'Game of Thrones' that made it a popular tourist attraction in Scotland.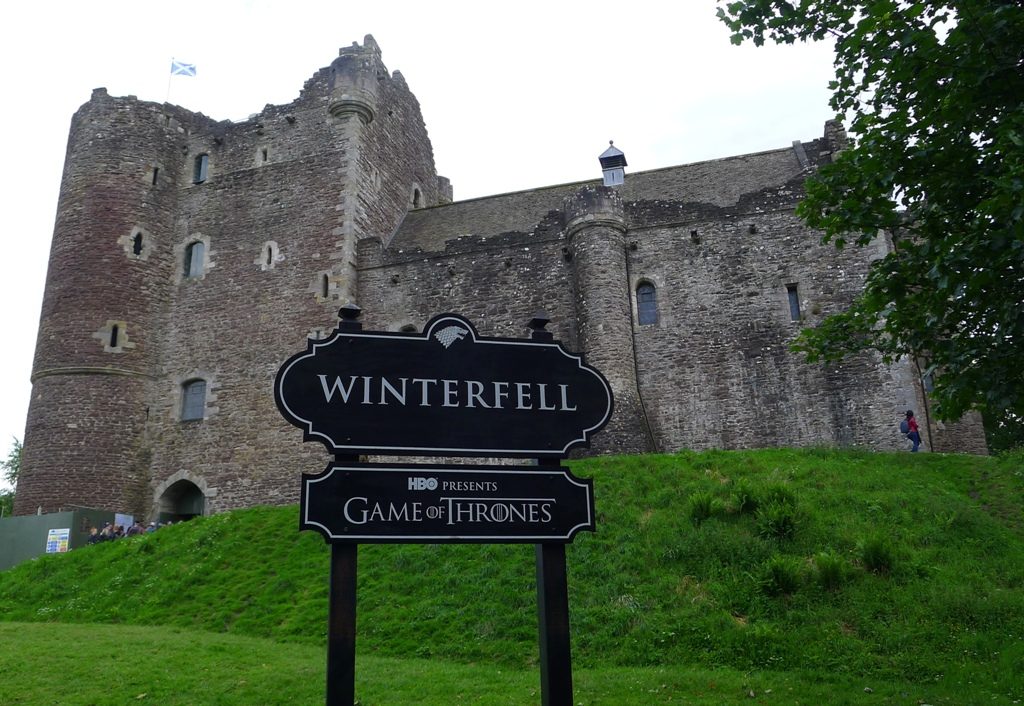 We ended our tour at the Forth Bridge, a magnificent 8,094 feet engineering masterpiece and was name a World Heritage Site by UNESCO in 2015, recognising it as "an extraordinary and impressive milestone in bridge design and construction during the period when railways came to dominate long-distance land travel".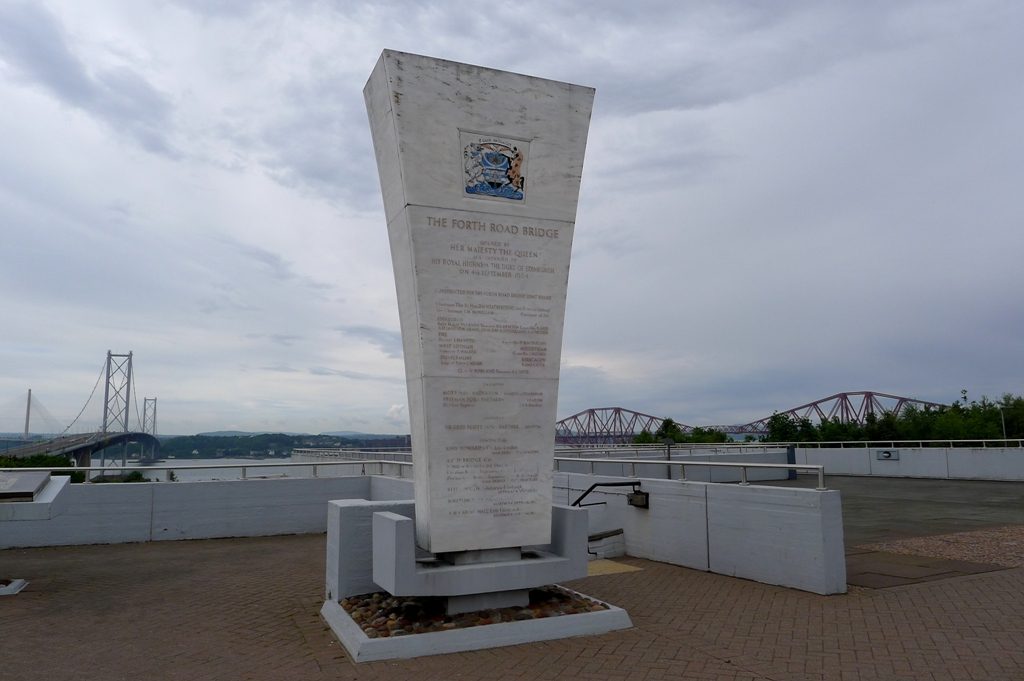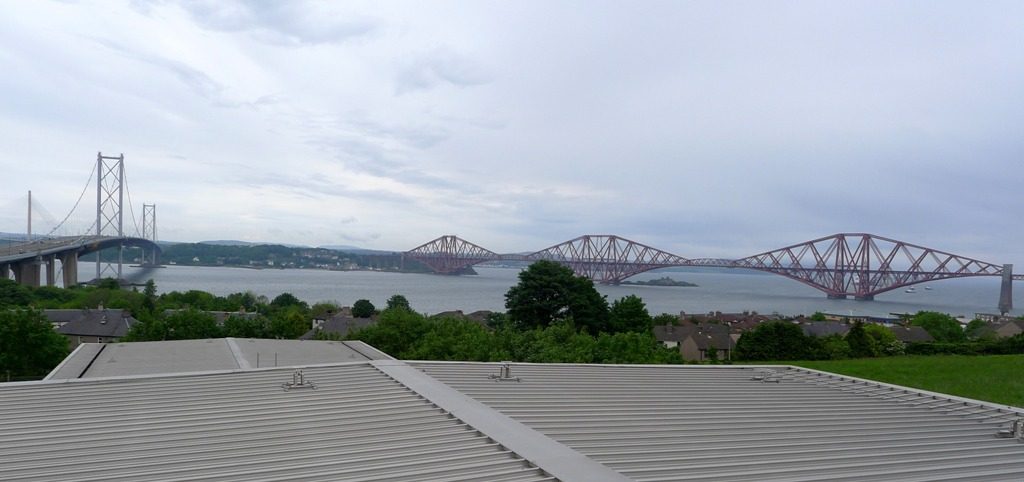 We were back in Edinburgh City before 7 p.m.
I loved all the places we visited in the Highlands, and the relaxed pacing was just perfect for sightseeing. I highly recommend this tour from Hairy Coo if you are planning to visit Scotland for a few days and would like a day tour of the Scottish Highlands. Sobrang good deal pa.
Btw, the Hairy Coo also offers longer tours of up to 5 days for you to experience the absolute best that Scotland has to offer. Check out their website for more details.
Up Next:  UK Adventure Days 7 to 9:  Back in London