Our DIY UK itinerary has a good mix of packed and relaxed days, which we laid down like this: the first 3.5 days were for exploring London and other places in England that are very accessible from London, such as Bath, Stonehenge and Oxford, after which we ventured far beyond England – to Edinburgh in Scotland – for 2 full days of sightseeing, and then back to London for the remainder of our trip to do museum visits and to wrap up all the sightseeing.
We have 9 days of touring around England and Scotland, so we have balance all the walking and commuting that we have to do in order to avoid foot sprain, however minor it is, that could dampen, or worse ruin, one's adventure-filled itinerary.
We arrived at Heathrow Terminal 2 on the evening of June 1 (Saturday), thus our sightseeing officially began the following day (a Sunday). We kicked off our UK vacation with a cruise down River Thames, while at the same time already hitting the major attractions in our (very long) checklist.
How'd we do this? Through this 24-hour Thames River Pass (that they call the "Red Rover") that lets you hop on and hop off at any of these four piers conveniently located near the popular attractions in London: Westminster, London Eye, Tower of London and Greenwich.
The Red Rover, which we booked via Viator, was perfect for us who have planned to visit these 2 popular attractions (with entrance passes) on our first day: the Royal Observatory and the Tower of London.
Our entrance passes to the Royal Observatory came with our Red Rover tickets (since I booked these two together as a package), and which we collected at the Westminster Pier.
On the other hand, our tickets to the Tower of London (with admission to the Crown Jewels Room) – which we booked via Klook -were collected at the ticketing counter just outside Tower of London.
Our group took the first river ride scheduled at 10:00 a.m. We went early at Westminster Pier to take pictures of the Big Ben and the House of Parliament sana pero bigo agad k'me. The Big Ben has scaffoldings covering most of the tower (I obviously forgot to research about this). It is undergoing vital repair works that will last until mid-2020. The House of Parliament was also partly covered with scaffolding, so we can only see parts of this iconic London attraction.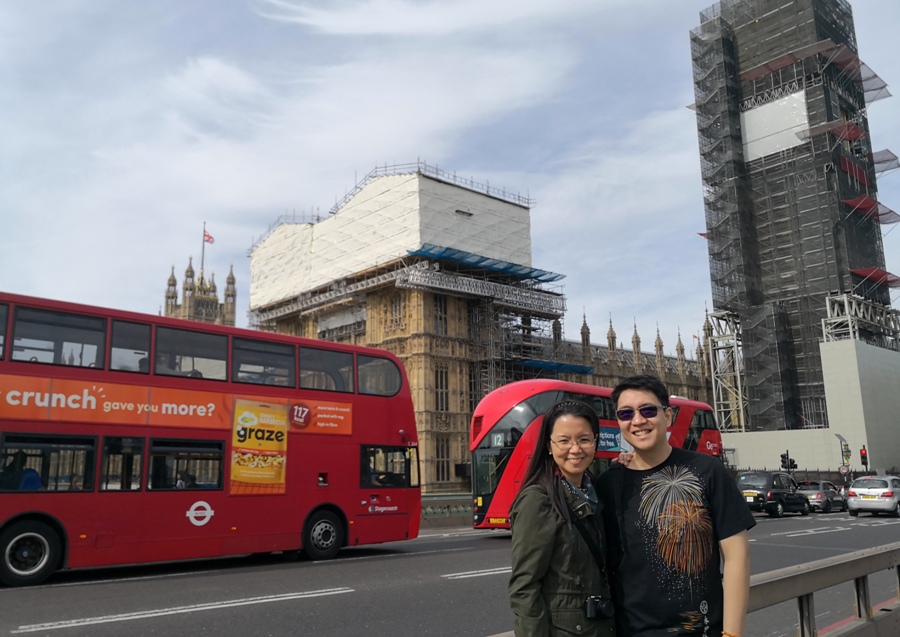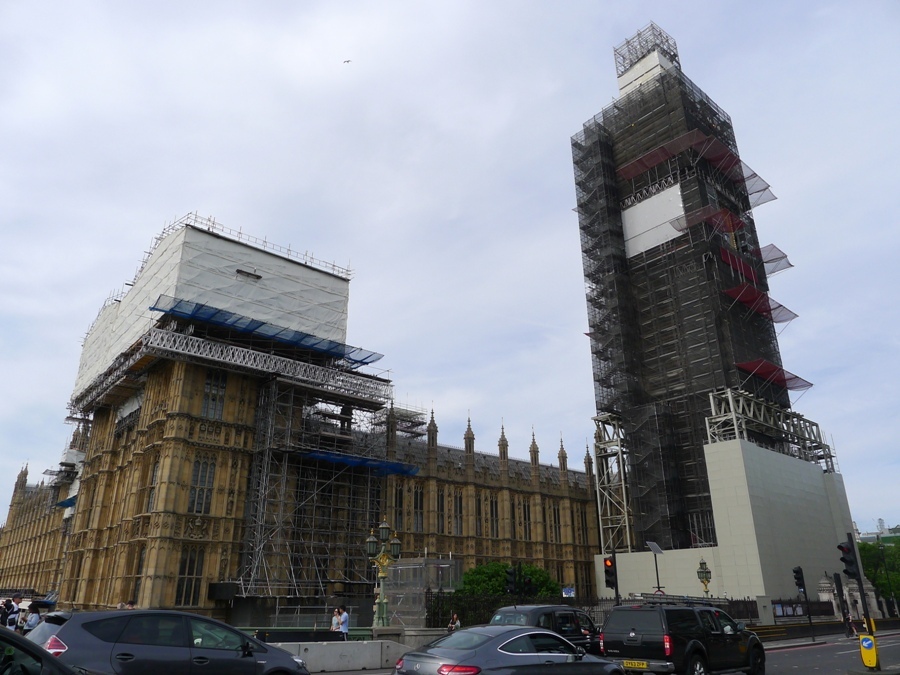 It's a good thing the Westminster Bridge was not yet crowded (on that Sunday morning) so we were able to take pictures around. We can already see the London Eye and the County Hall from here.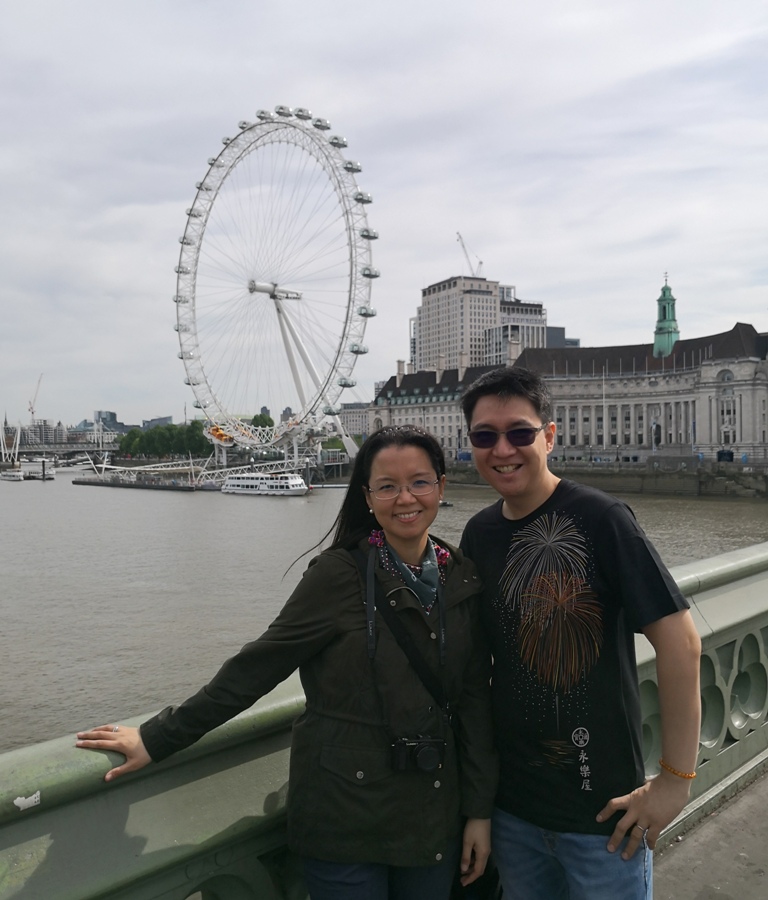 Our Red Rover took off on time. It was packed with tourists but we're able to find seats without problems.
We were treated to a guided commentary of the many sights and attractions along the Thames, some of which are already in our checklist of places to take pictures of, hehe!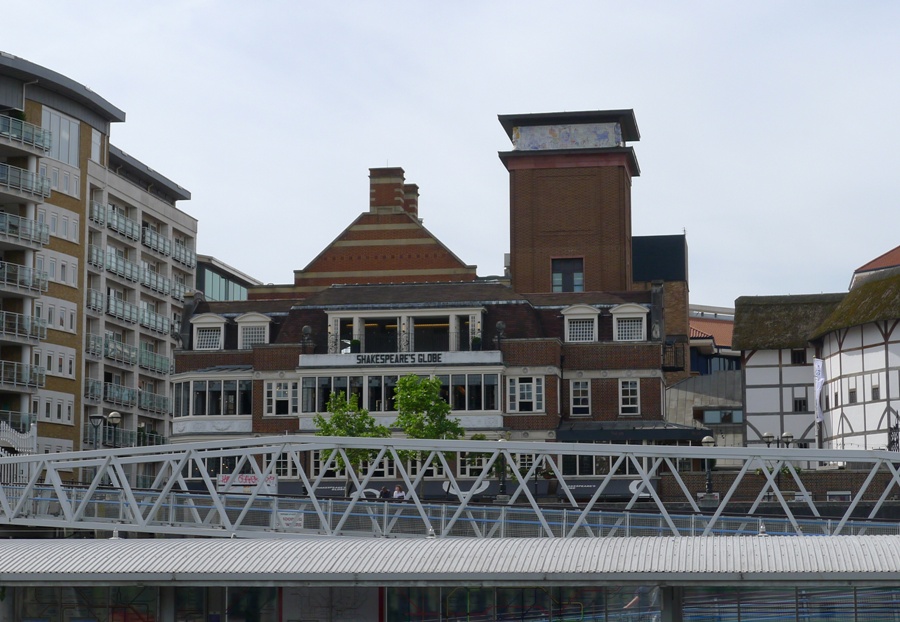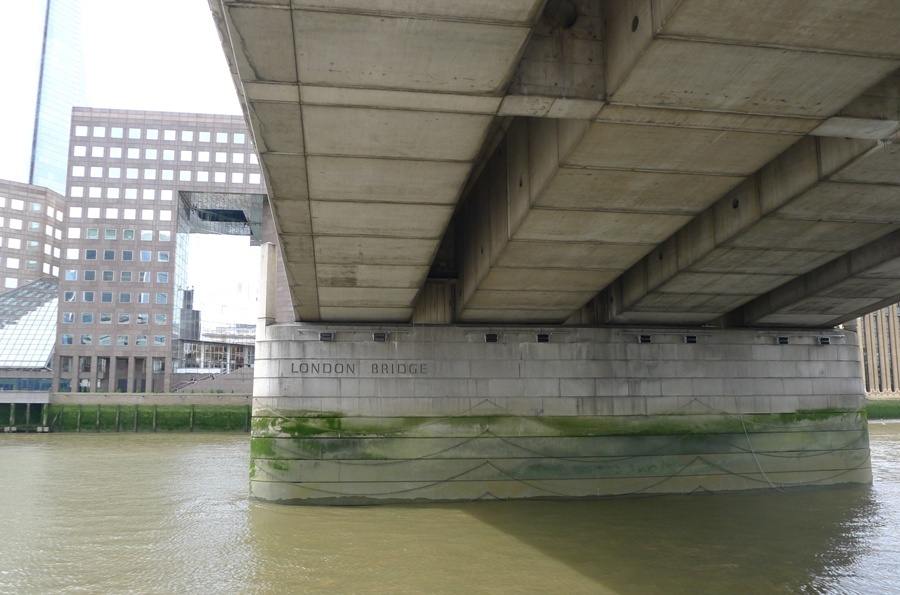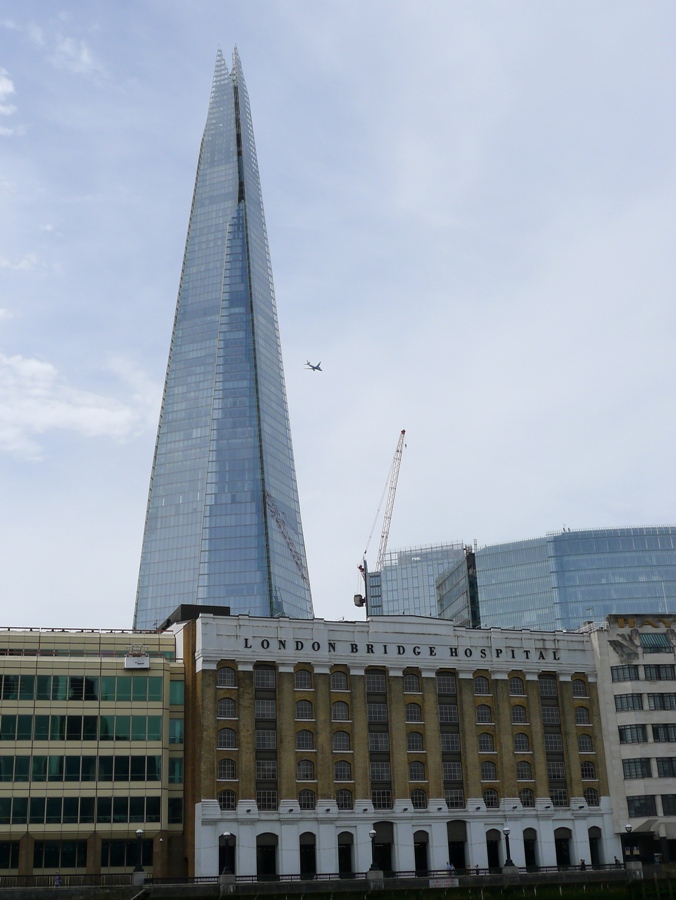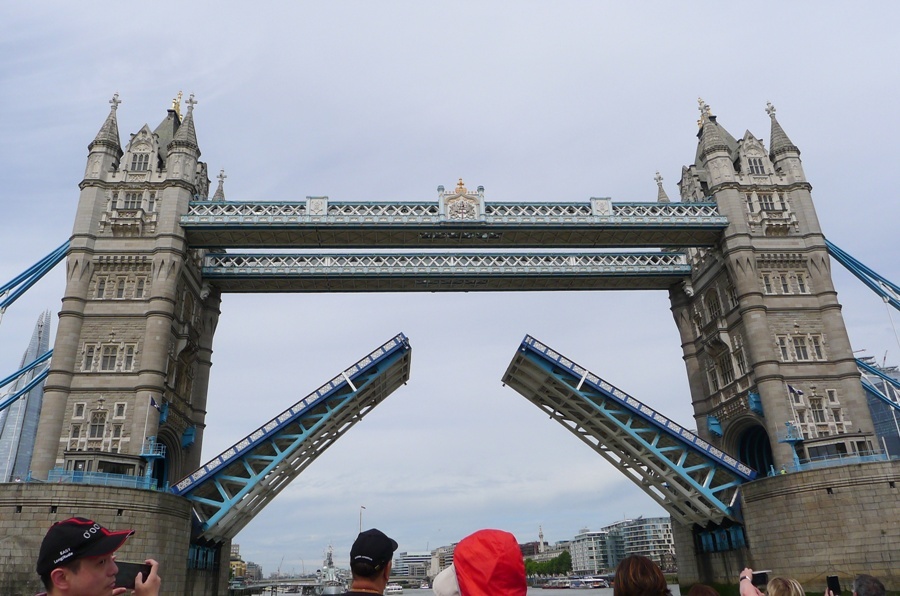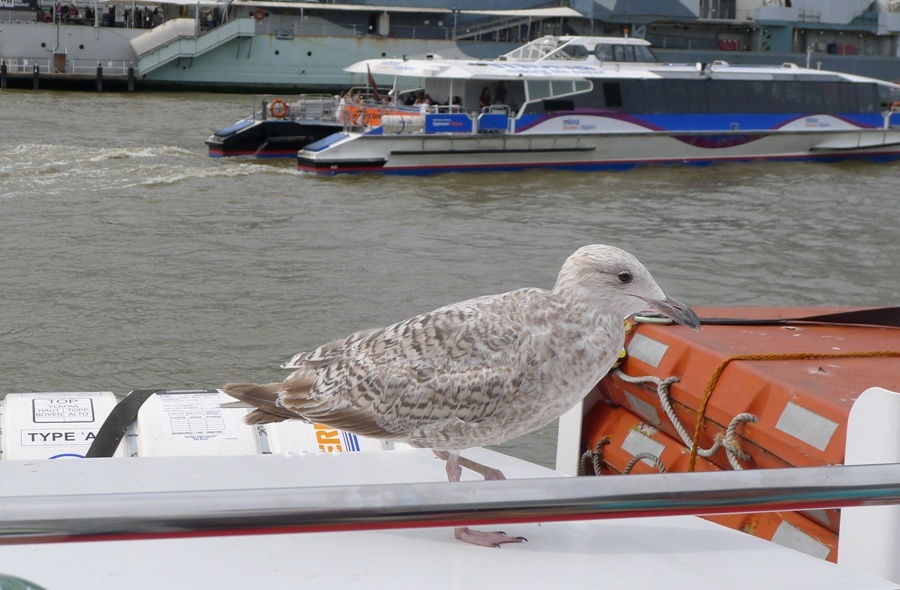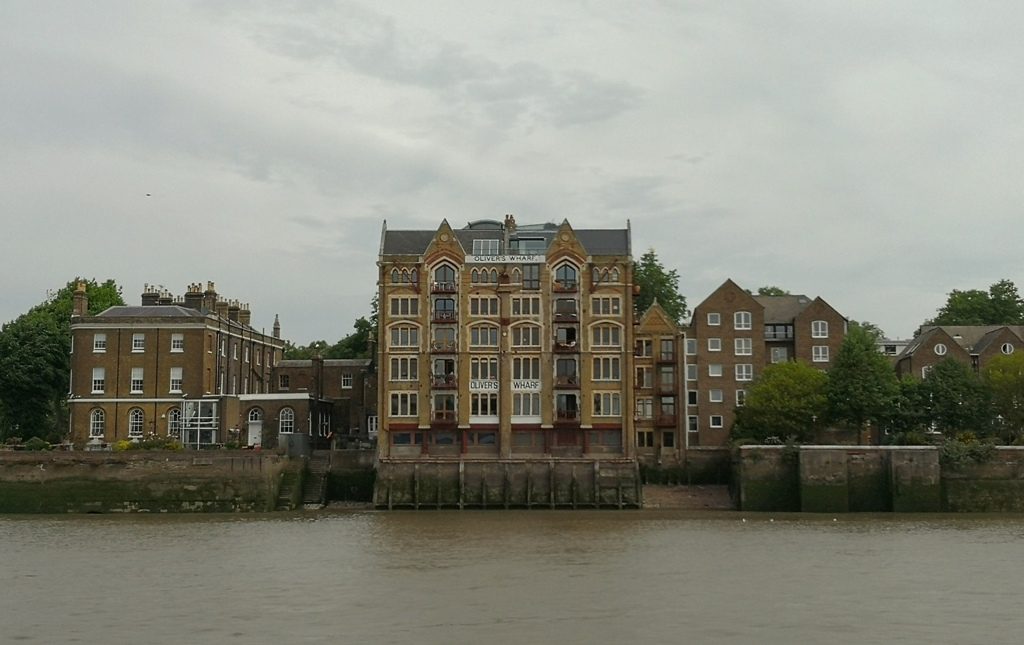 We hopped off at the last stop, the Greenwich Pier, for our first and actually the most awaited activity for the day: to stand at the Prime Meridian Line at the Royal Observatory! This is a dream come true for all of us!
There are actually two (2) ways for you to see and have your picture taken at the Meridian Line. For those who don't plan to stay long or go inside the Royal Observatory, there's another way to see the line – for free! You can walk through the gate that you will find at the right side of the Shepherd Gate Clock that you will immediately see outside the observatory, walk for a bit and see this wall with the line drawn showing the Meridian Line.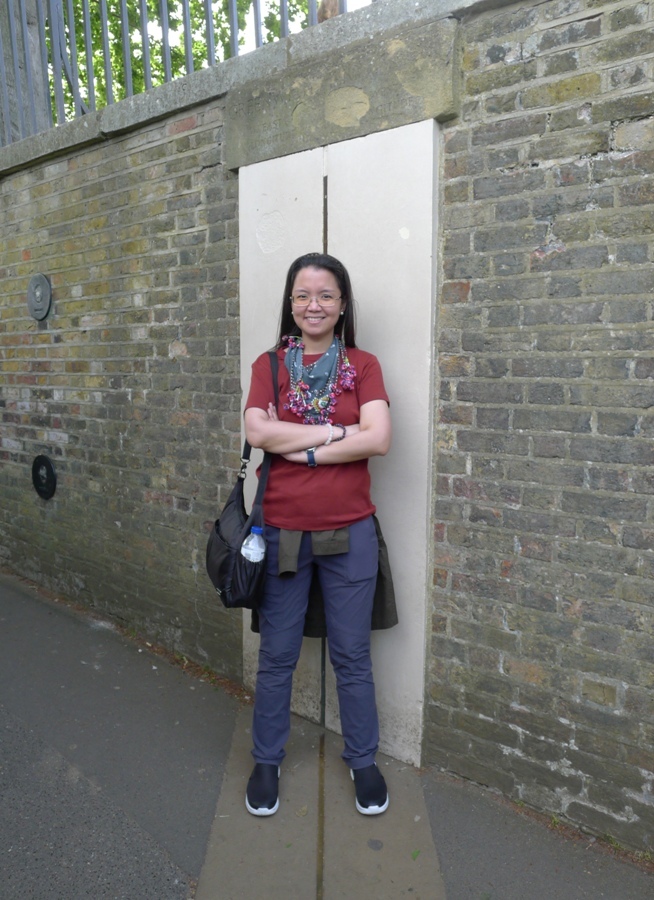 But for us geeks who wanted to have proof that we were able to step on the actual line (haha!), we chose to see and take pictures of the Prime Meridian Line inside the Royal Observatory.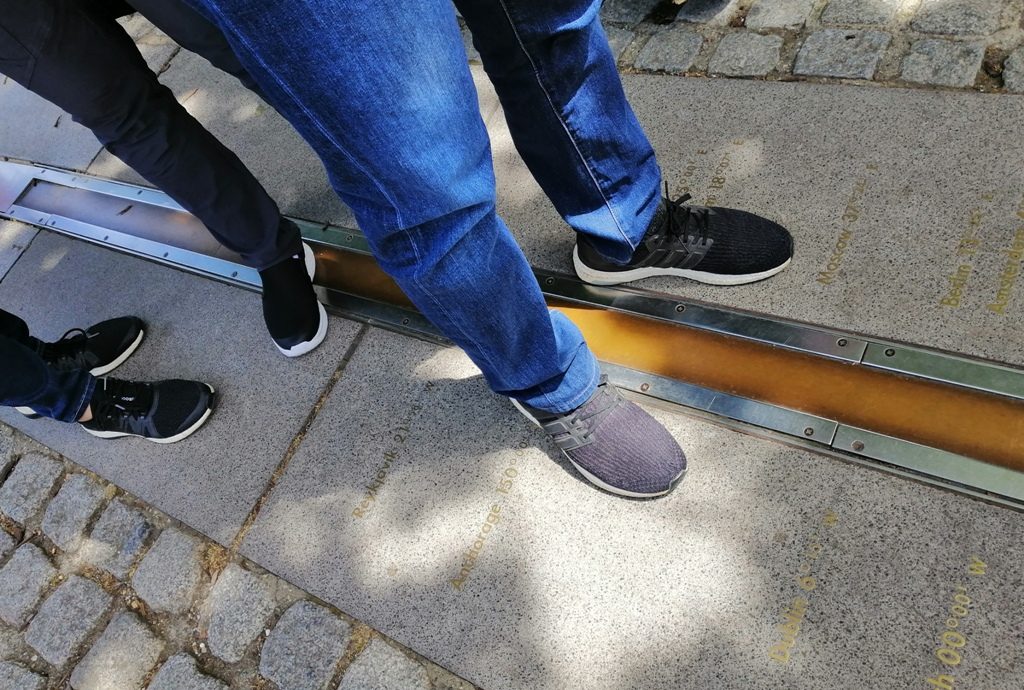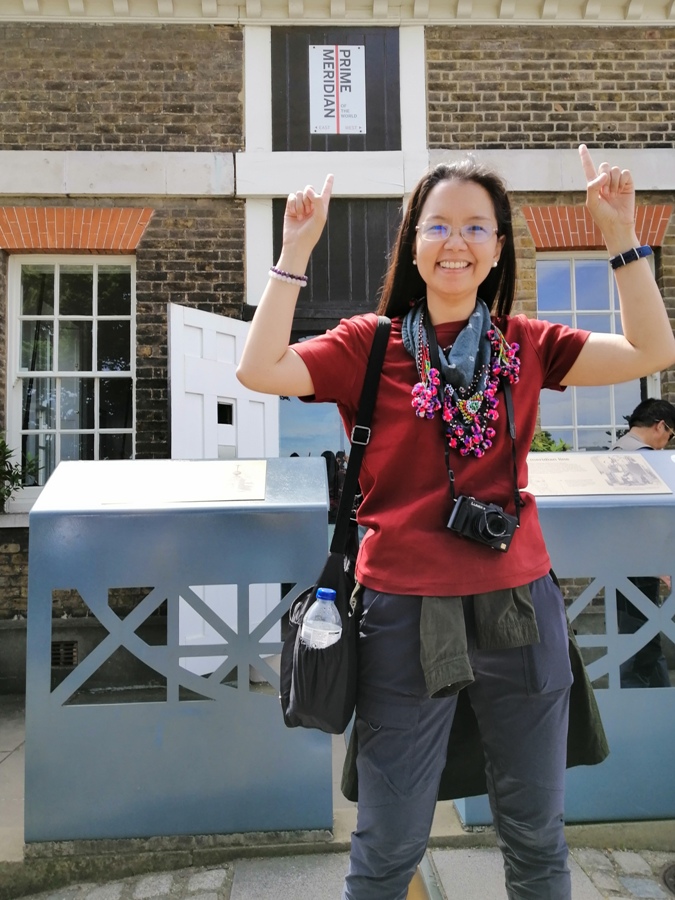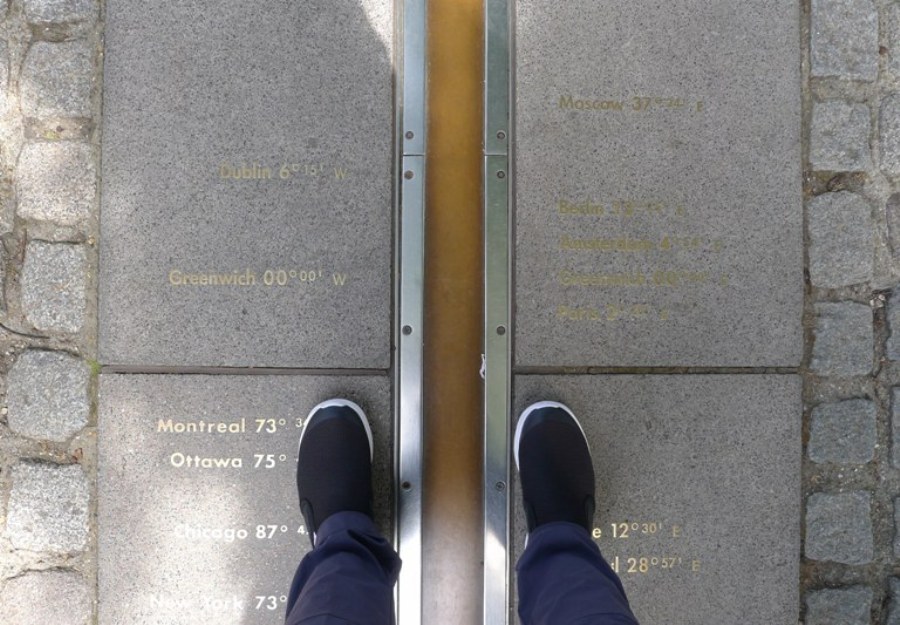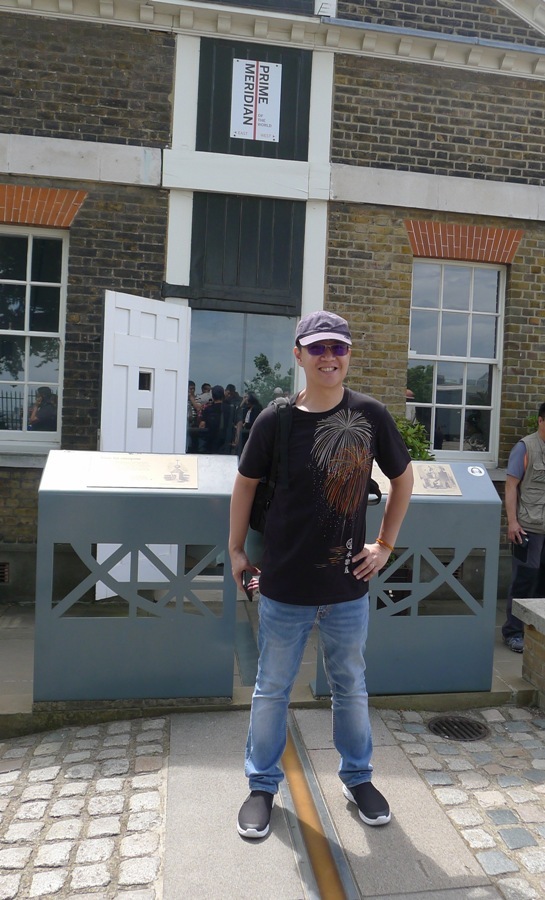 The Shepherd Gate Clock has an interesting story to tell, by the way. In 1852, the Observatory had its own special clock installed, the Shepherd Master Clock. This was connected to a slave clock installed at the gates to the Observatory (one of these is the Gate Clock) and was the first clock ever to show Greenwich Mean Time (GMT) directly to the public. People would bring their clocks or watches to Greenwich and check them, and in turn used their clock or watch to check those of other people.
Currently, the Gate Clock continues to show Greenwich Mean Time, and it does not show summer time.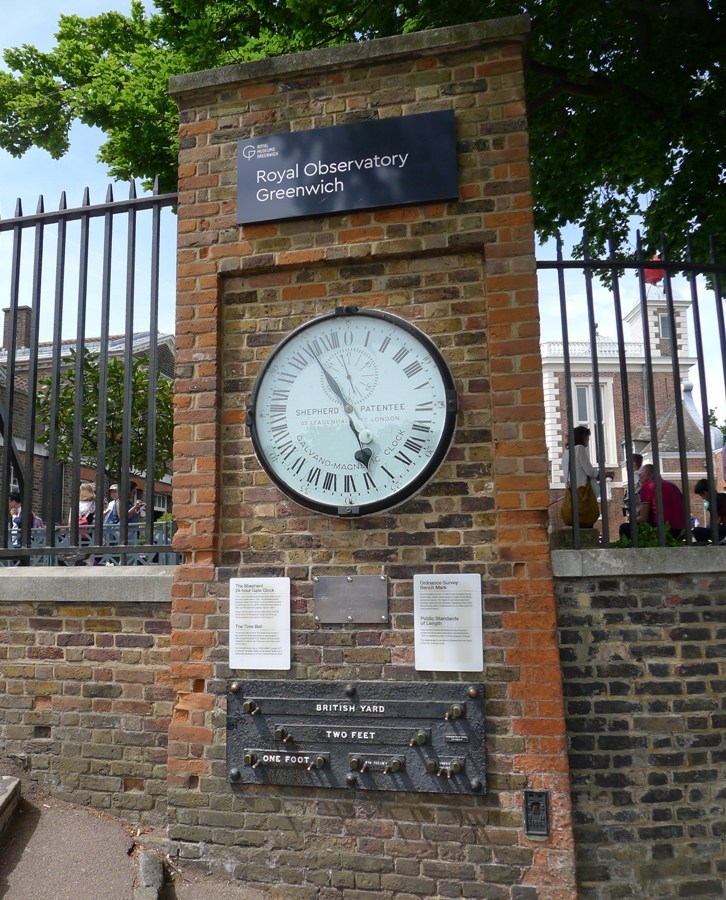 The bright Red Time Ball on top of Flamsteed House is one of the world's earliest public time signals, distributing time to ships on the Thames and many Londoners. It was first used in 1833 and still operates today (source).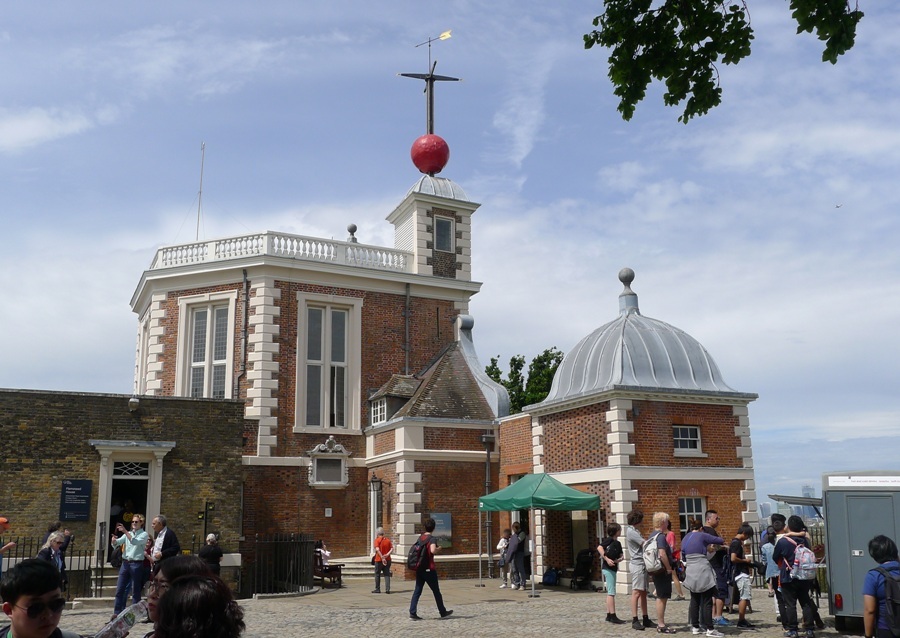 Our tickets to the Royal Observatory comes with free entrance to their museum, plus you get to see too the telescopes that have played important roles in astronomy's history, like William Herschel's Newtonian 40ft Reflector Telescope and the Great Equatorial Telescope: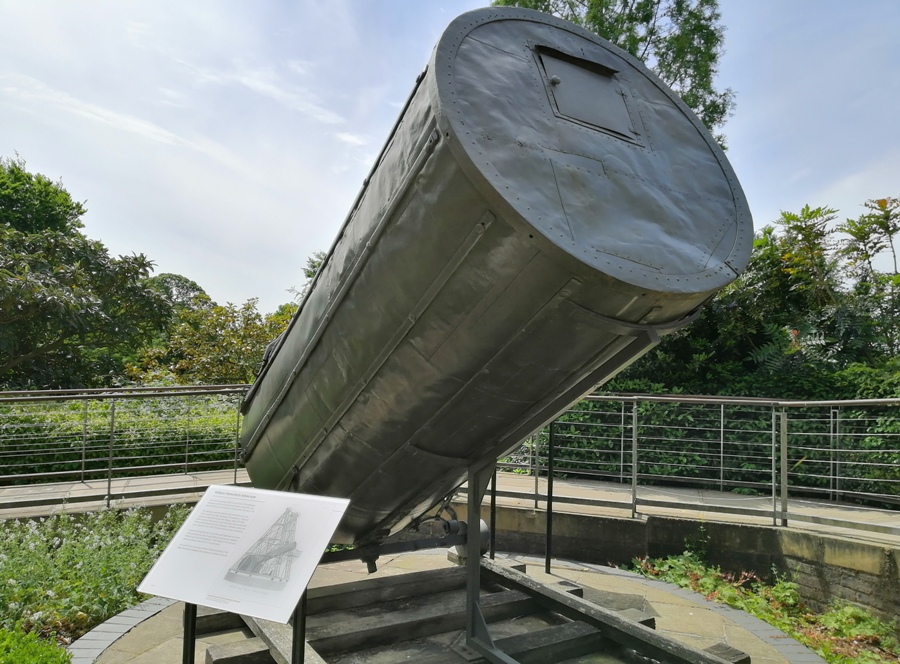 William Herschel discovered the planet Uranus. The Newtonian 40ft Reflector Telescope – built by Herschel using grants from King George III – was one of the largest and most powerful in the world, and through this telescope Herschel discovered the sixth and seventh satellites of Saturn.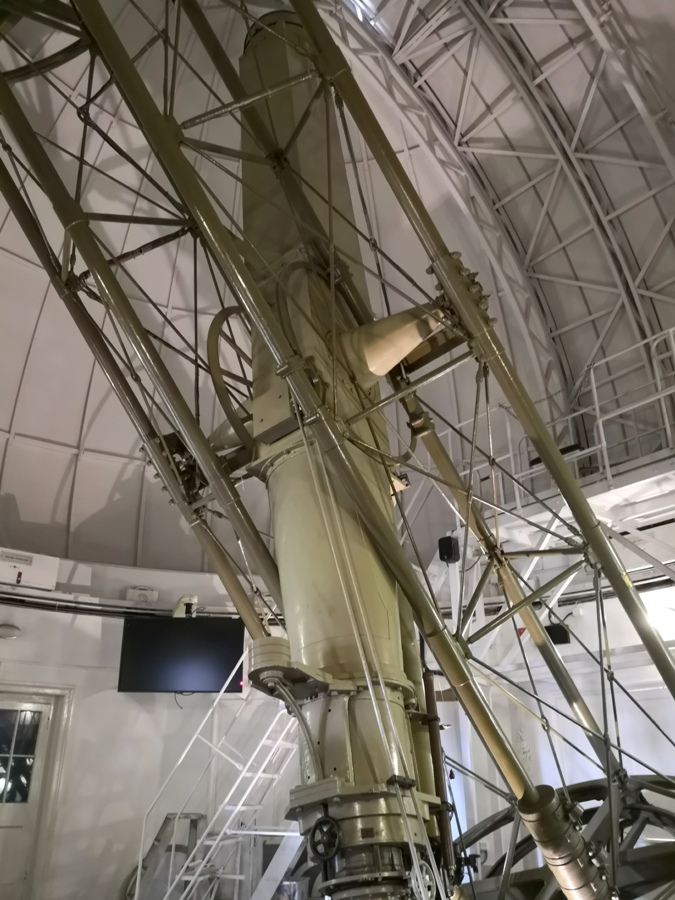 Outside the Royal Observatory, we can see the Greenwich Park and the Royal Navy College.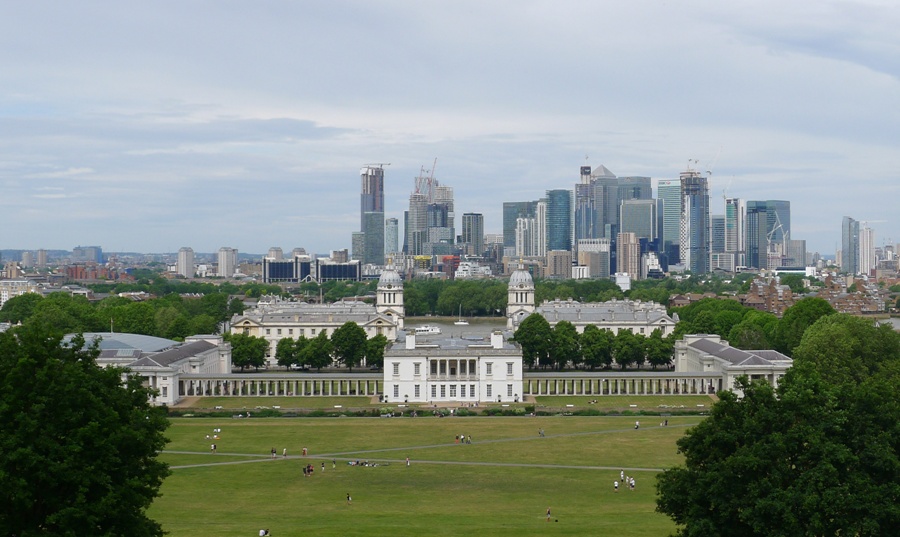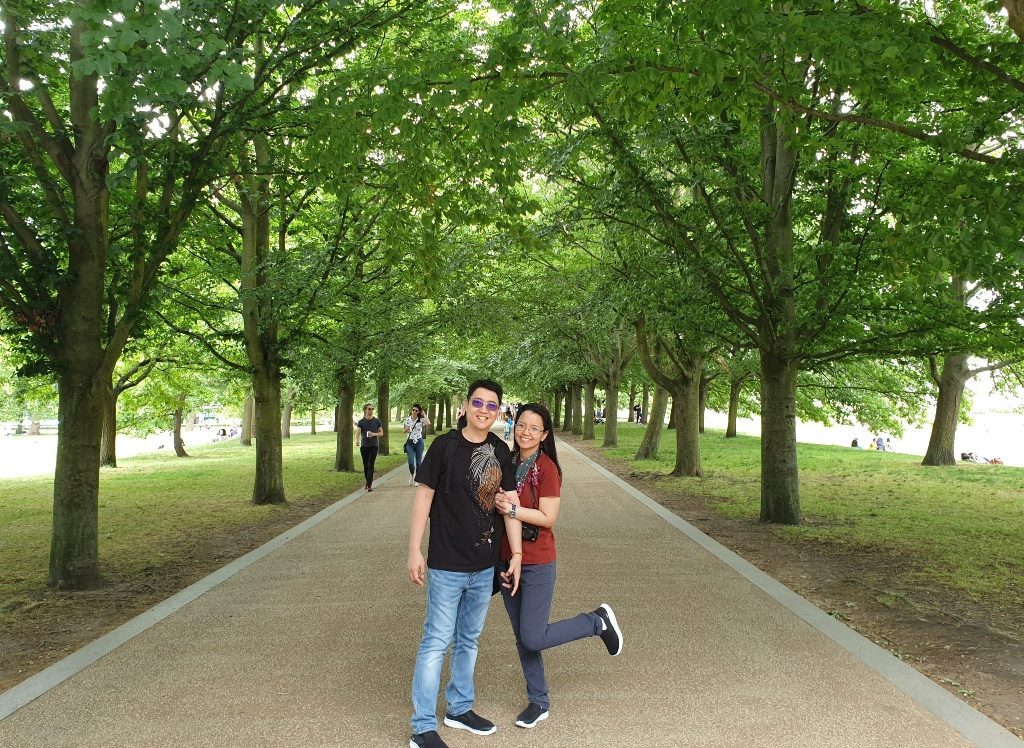 Then it was time for lunch! We walked our way going to the Greenwich Market for lunch and to look around.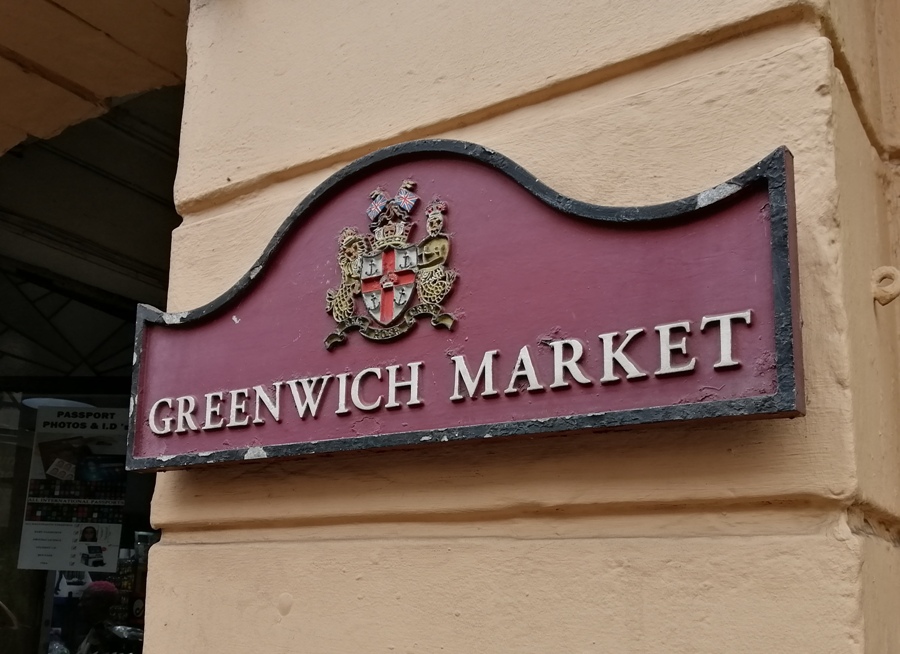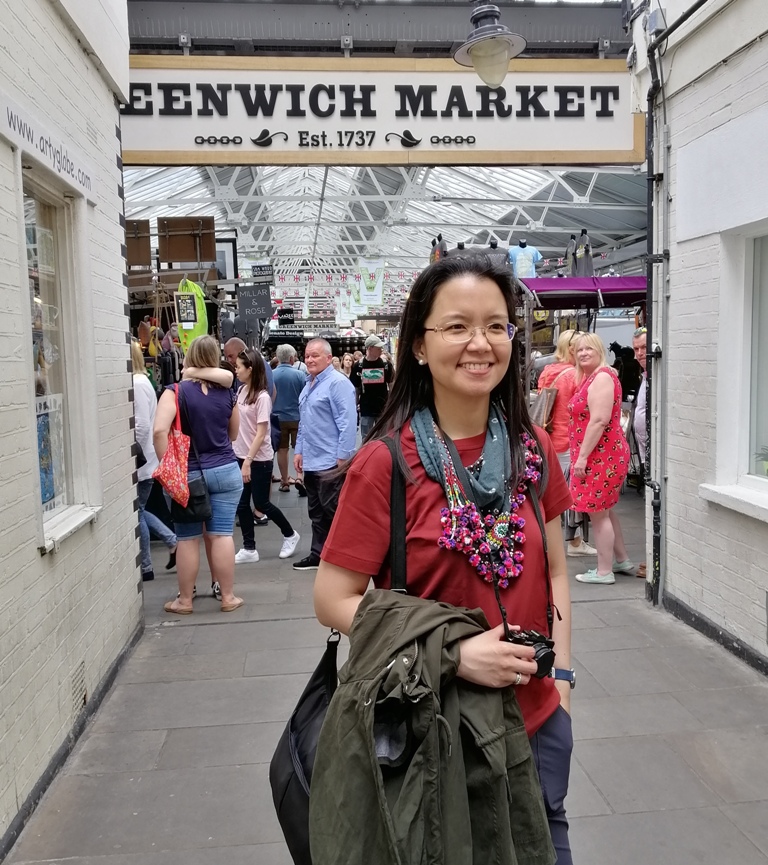 For lunch, we shared on the following street food that can feed 4-5 hungry tourists: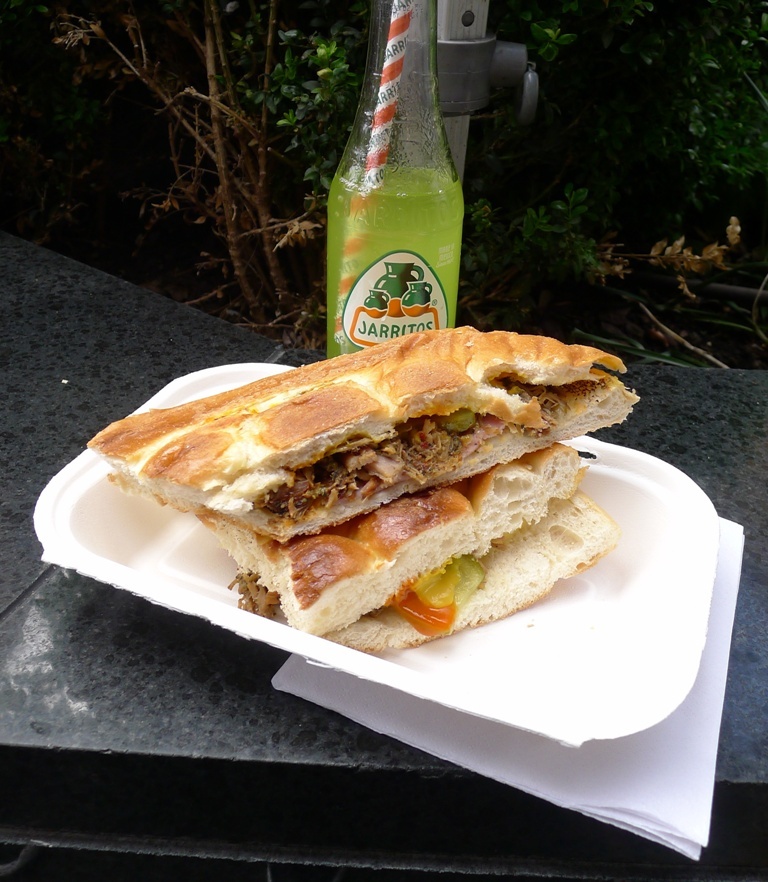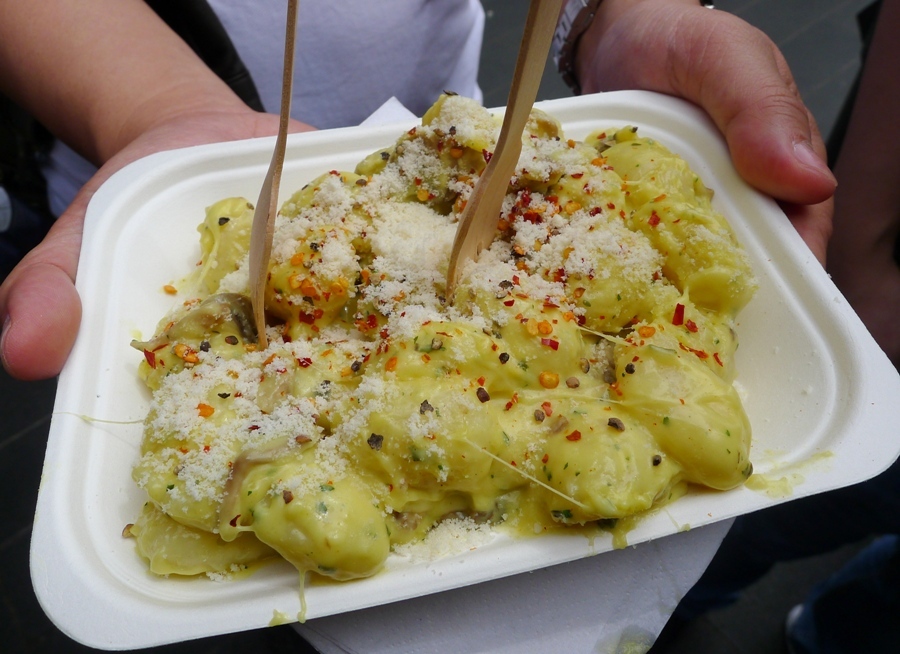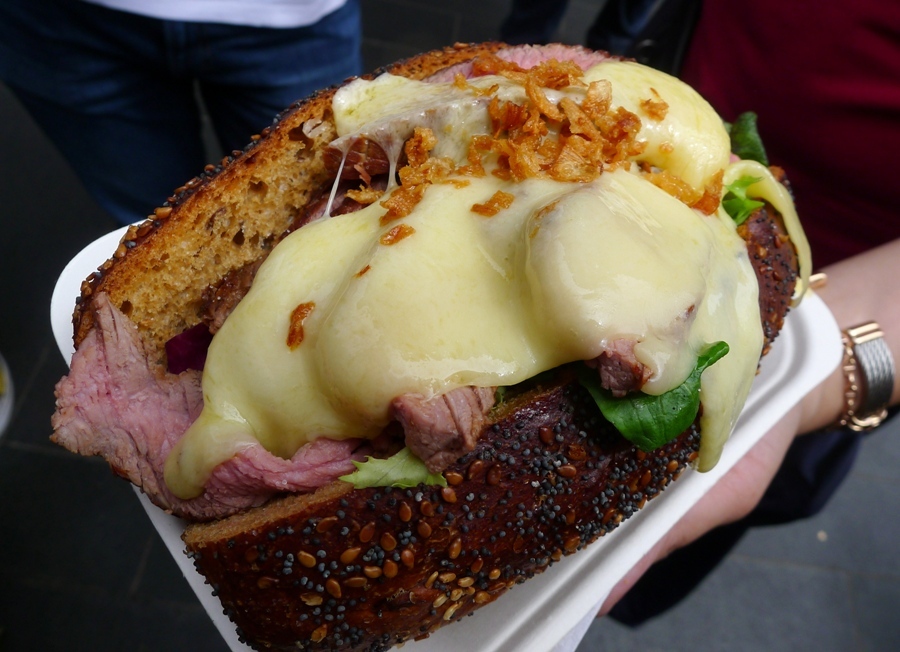 Lahat masarap and busog kaming lahat!
Worried that the Red Rover ride going back to Tower of London Pier will take longer than expected because we are also dependent on the river boat schedule, our group decided to book an Uber car just outside where the Cutty Sark is located.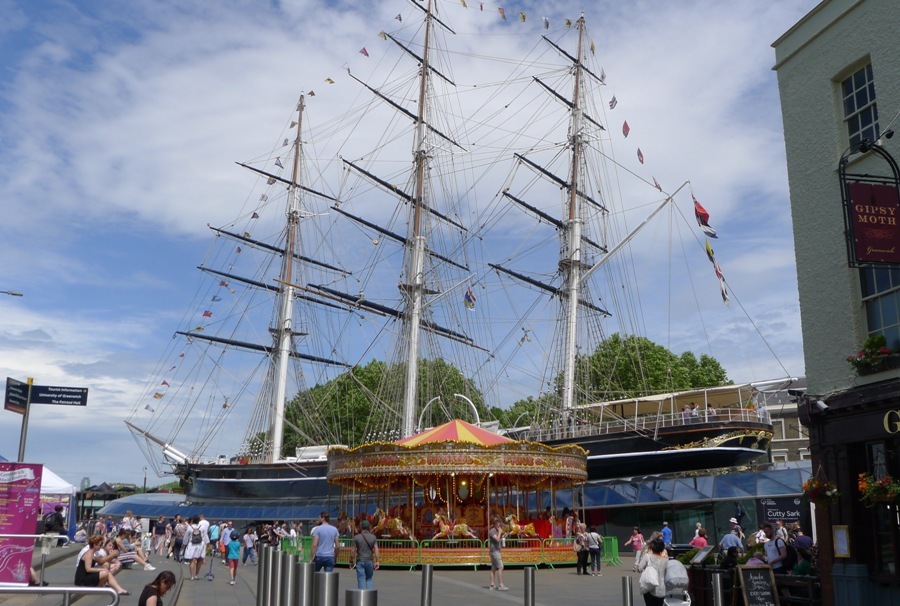 Medyo buwis-buhay ang aming Uber ride going to the Tower of London that we didn't dare try another Uber ride after this, hehe! But with Uber, we were already at our destination in under 30 minutes (while with the boat ride it will take us 45-50 minutes, plus the waiting time at the pier).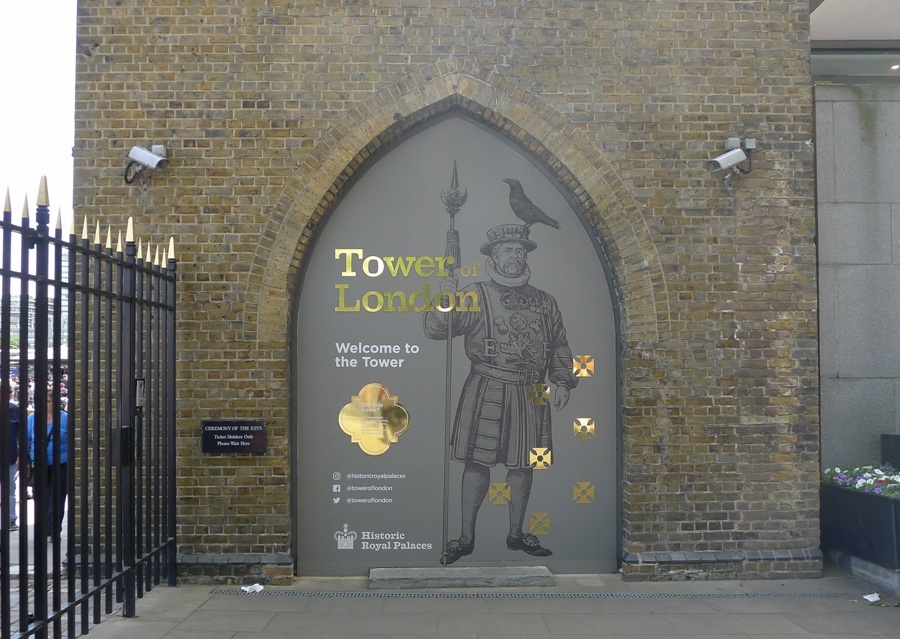 We immediately proceeded to where the Crown Jewels are located. Haba ng pila!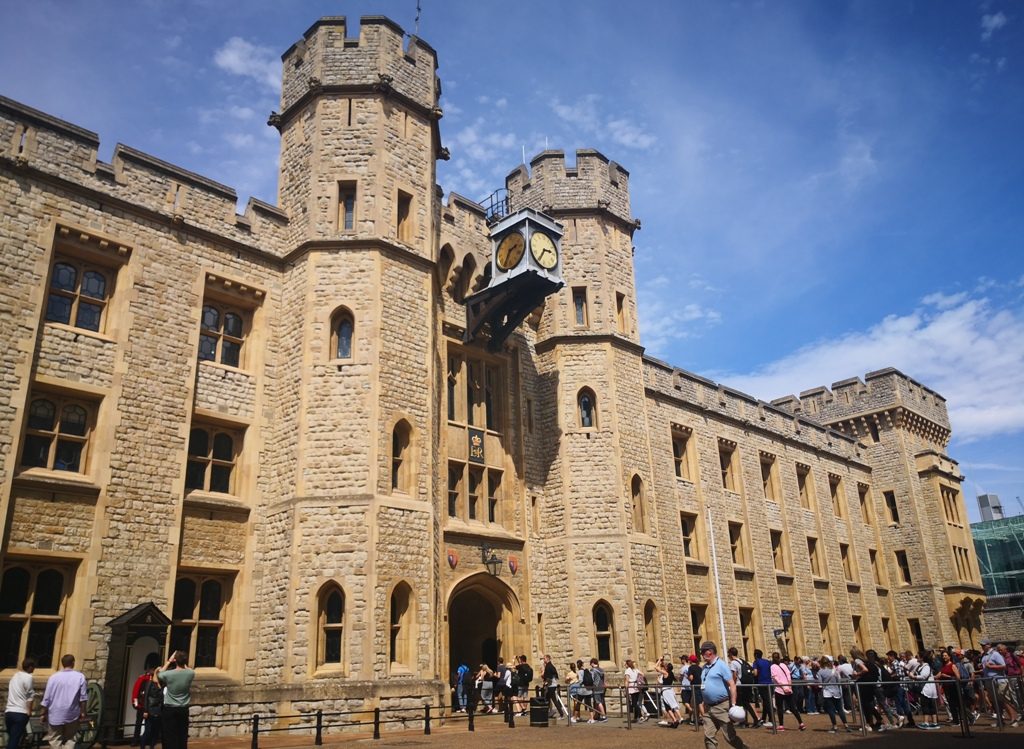 For obvious reasons, picture-taking is not allowed inside the Crown Jewels Treasury. But seeing the exquisite crowns in various sizes and with the biggest gemstones and diamonds was pretty surreal!
To console myself, I took this picture na lang of the Royal Crown souvenirs that I found in the shop, hehe!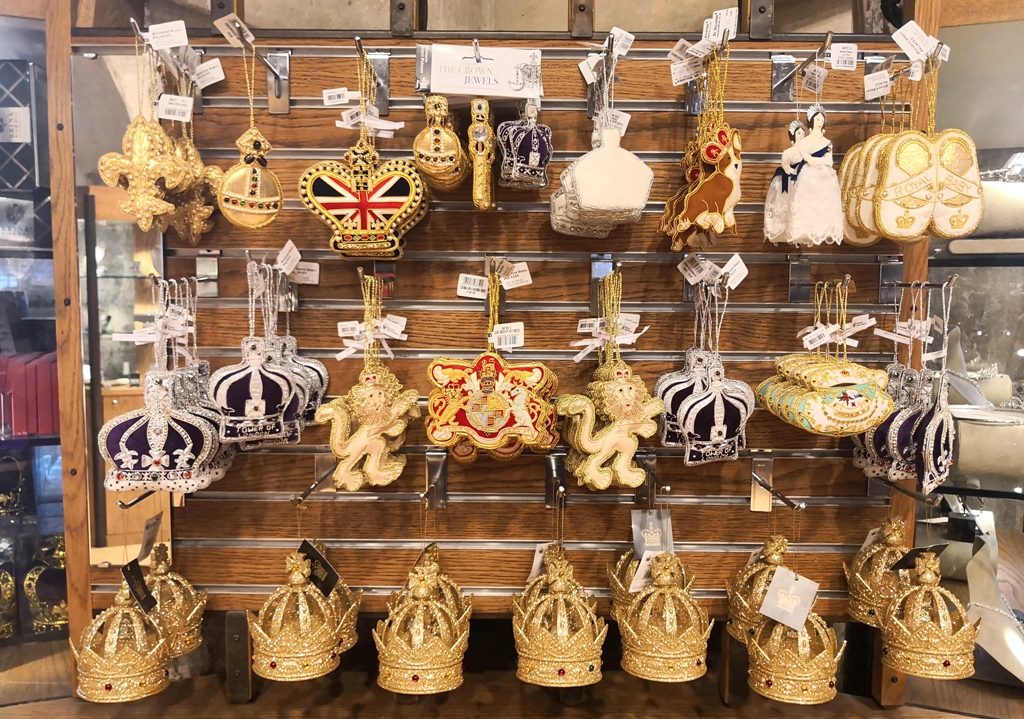 The White Tower. Also met some of the famous ravens here that live in the gardens next to this tower.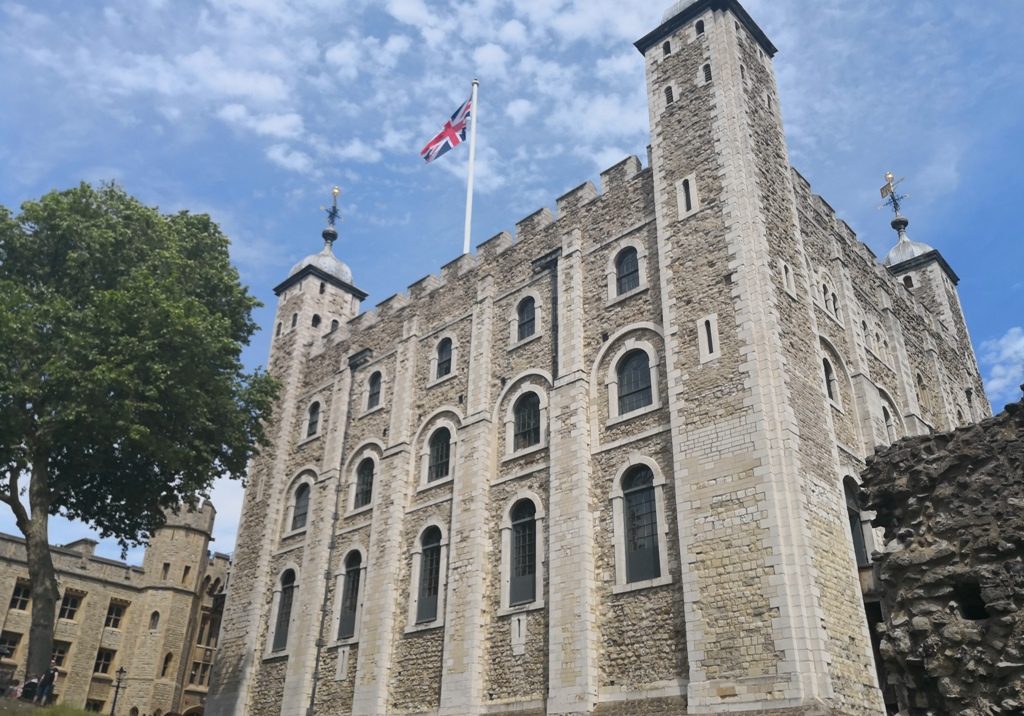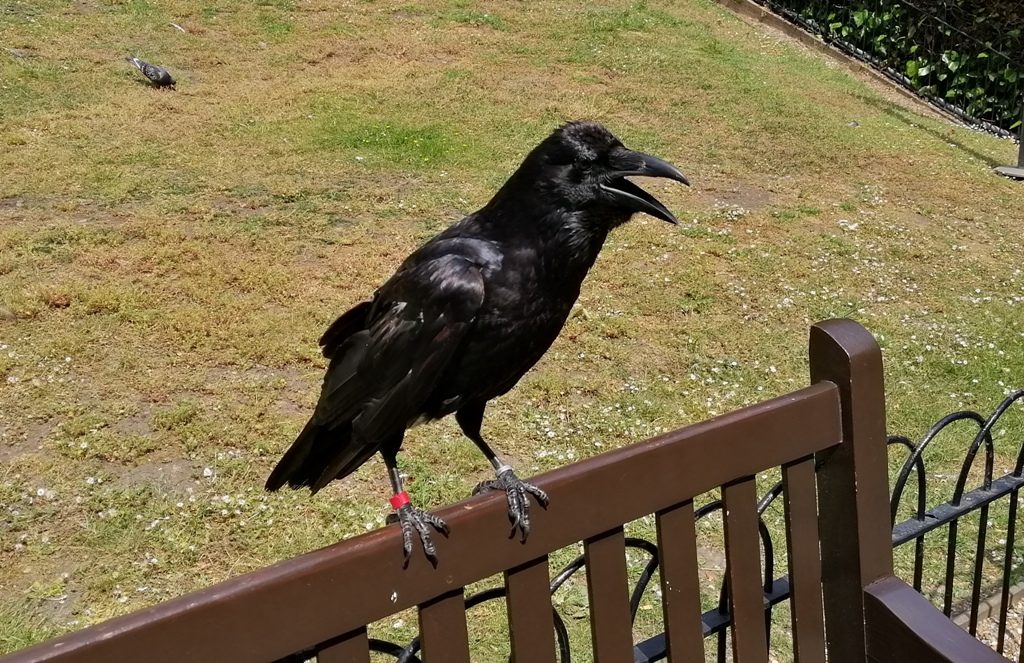 The Yeoman Warder Tour.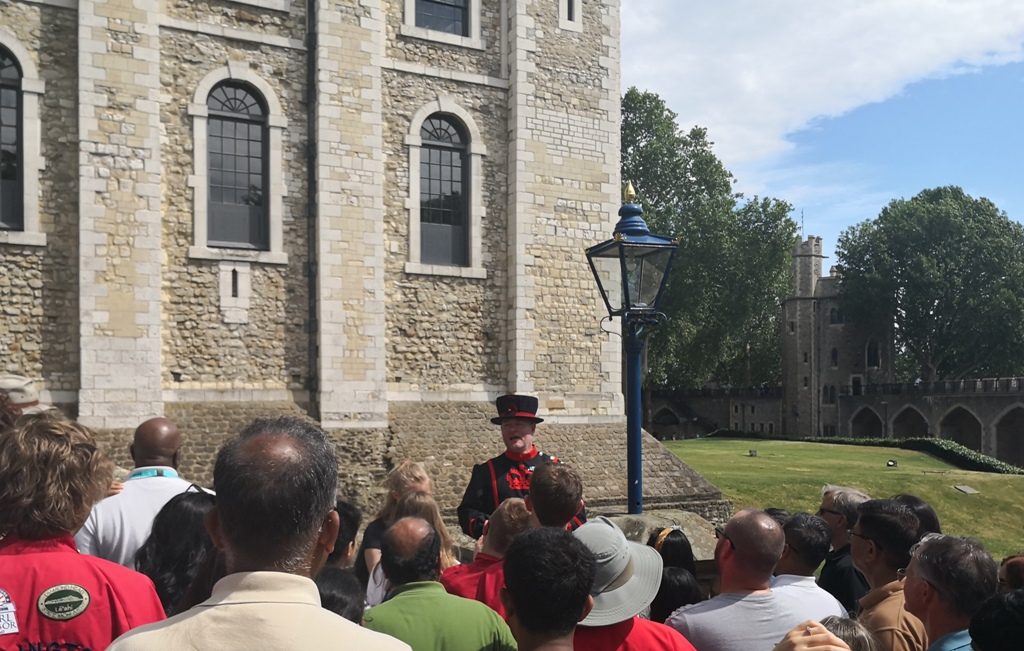 Also caught this 'live act' while strolling around the area.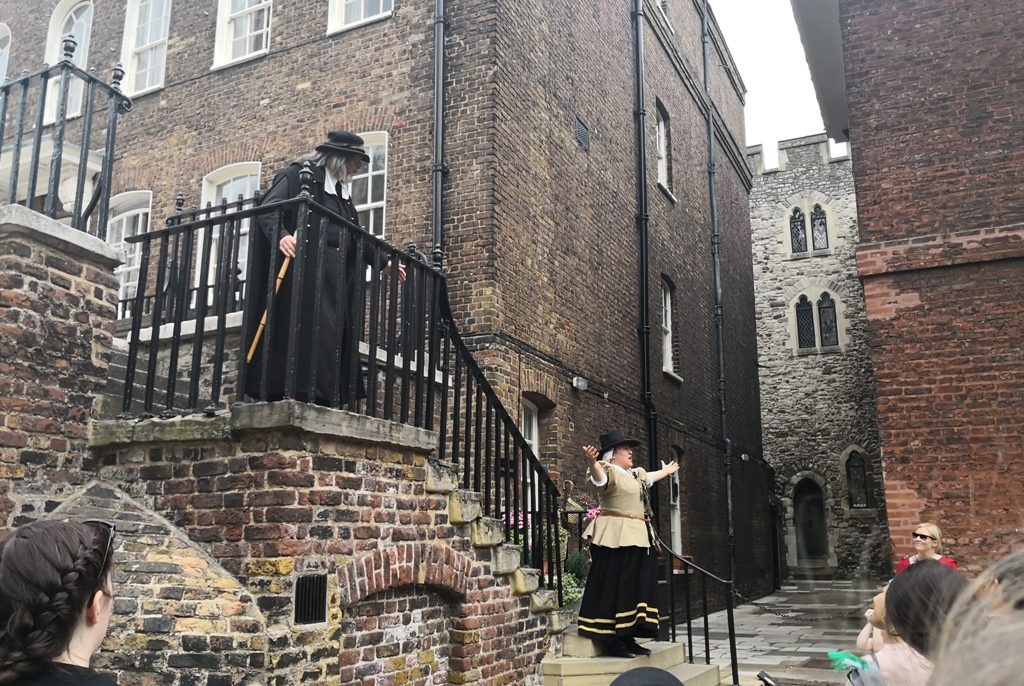 The Tower Bridge was our last stop for this Tower of London tour, and we couldn't leave without having our photos taken with it. Seems that you can't say you've been to London if you have no photo of yourself at the Tower Bridge! Hehe!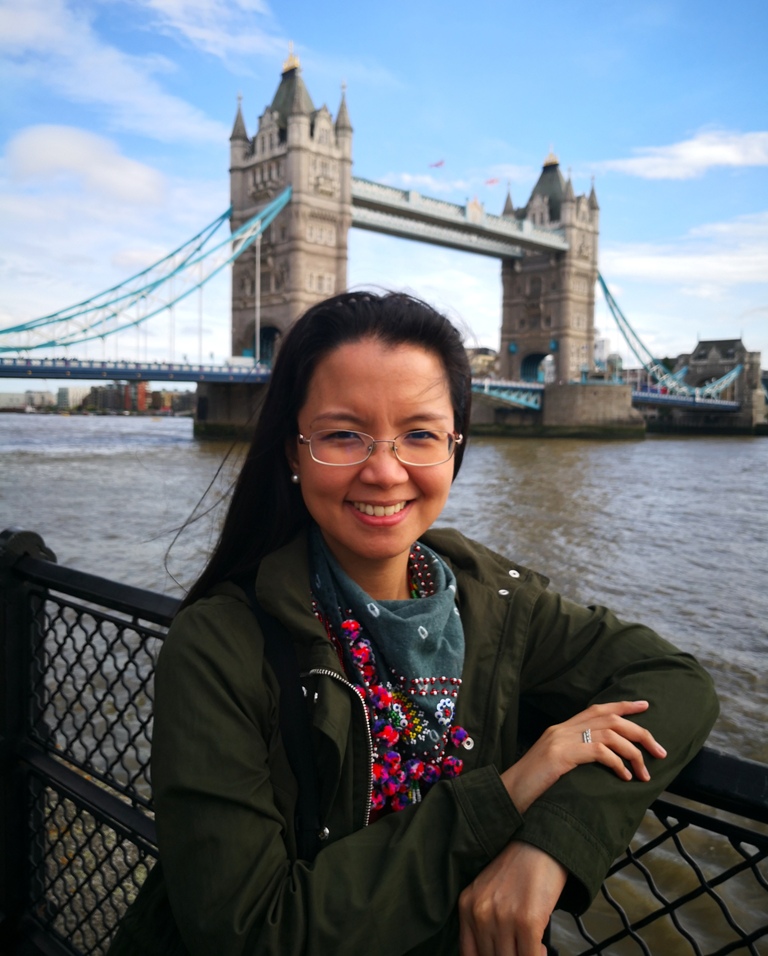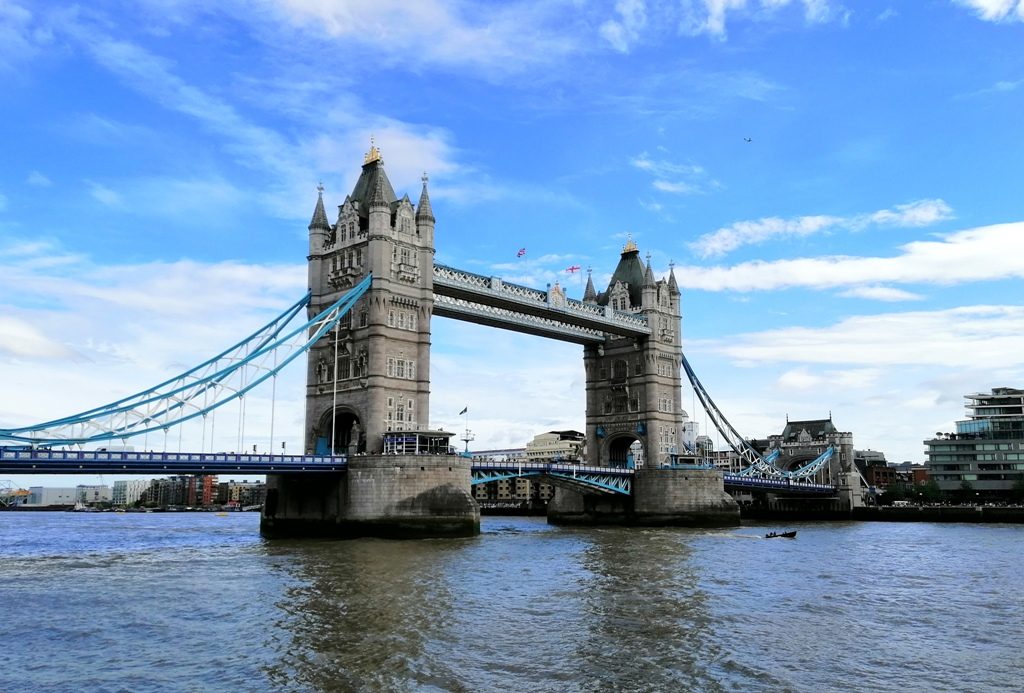 Before we knew it, it was time to head back to the Tower of London Pier to catch our Red Rover going back to Westminster Pier. The river boat ride was less crowded this time, and we were able to rest our feet too.
Back at Westminster, we proceeded with our walking tour of the Buckingham Palace (it was supposed to be done on our 3rd day pa) since it was still bright and sunny at 6:30 p.m.!
Passed by the Westminster Abbey on our way to the Palace.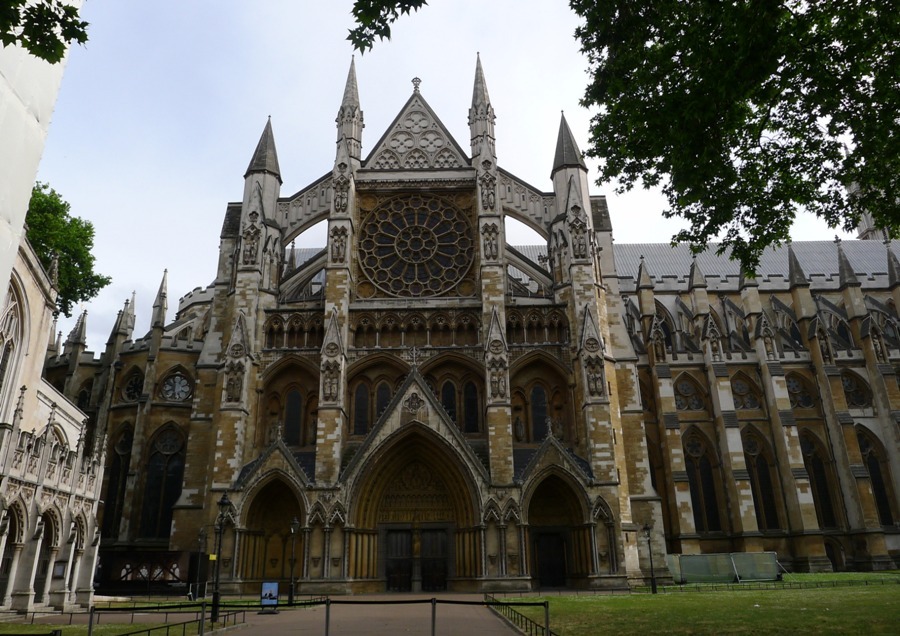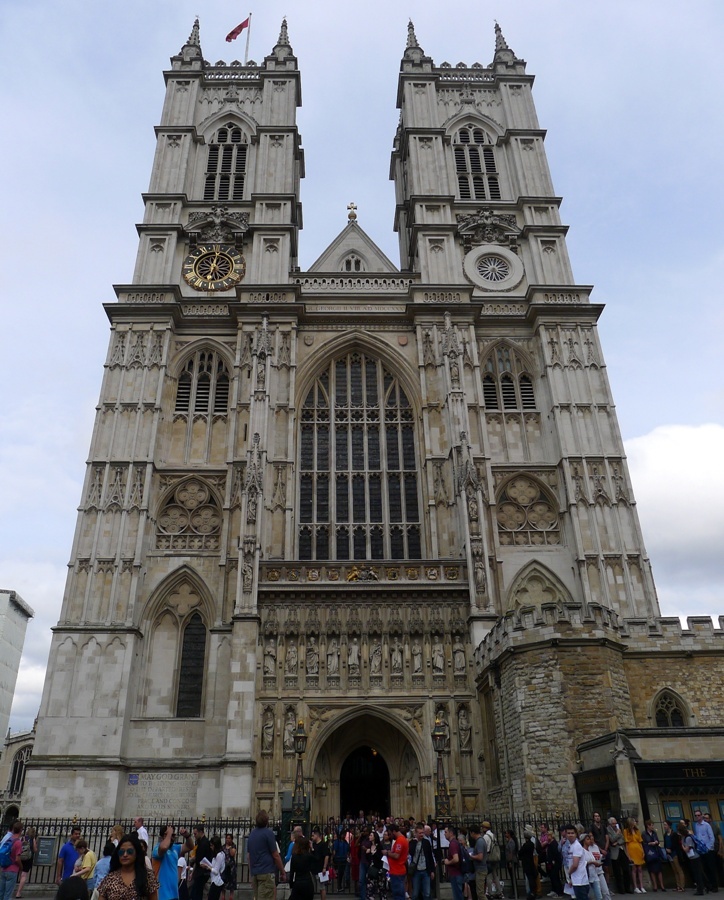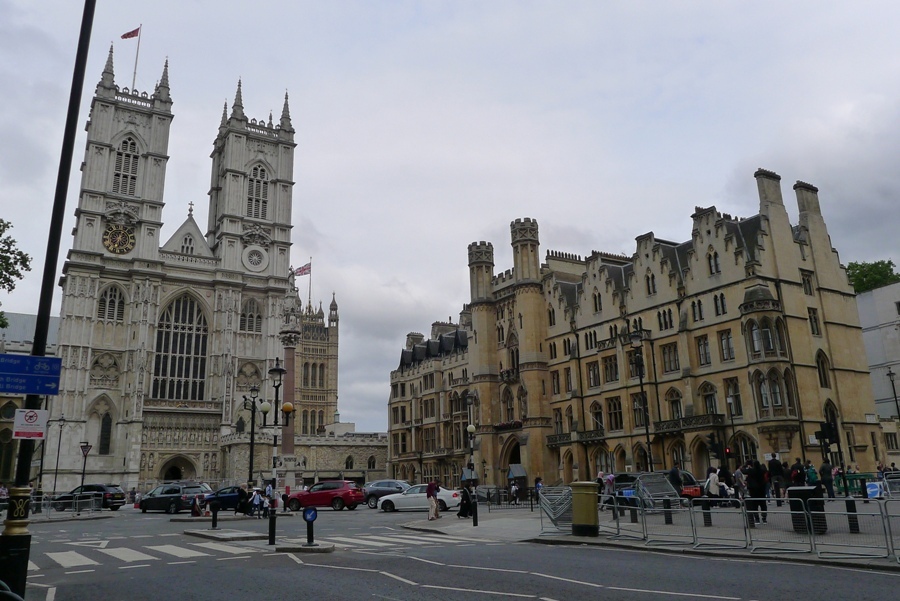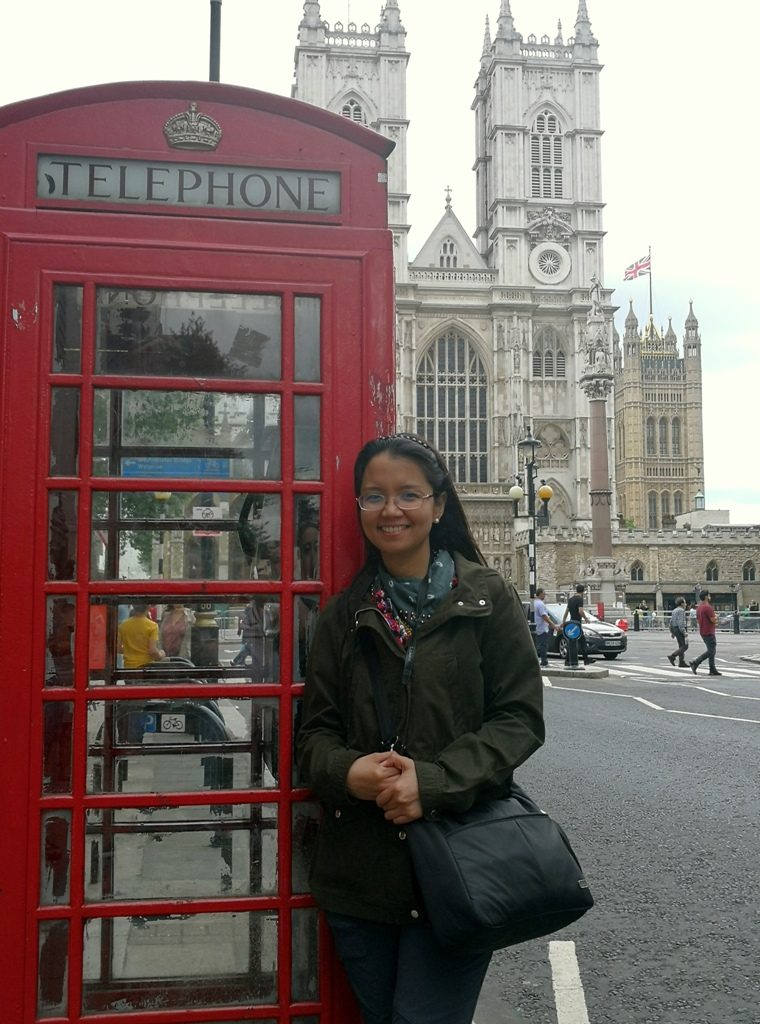 Finally, we reached the Buckingham Palace. Yey!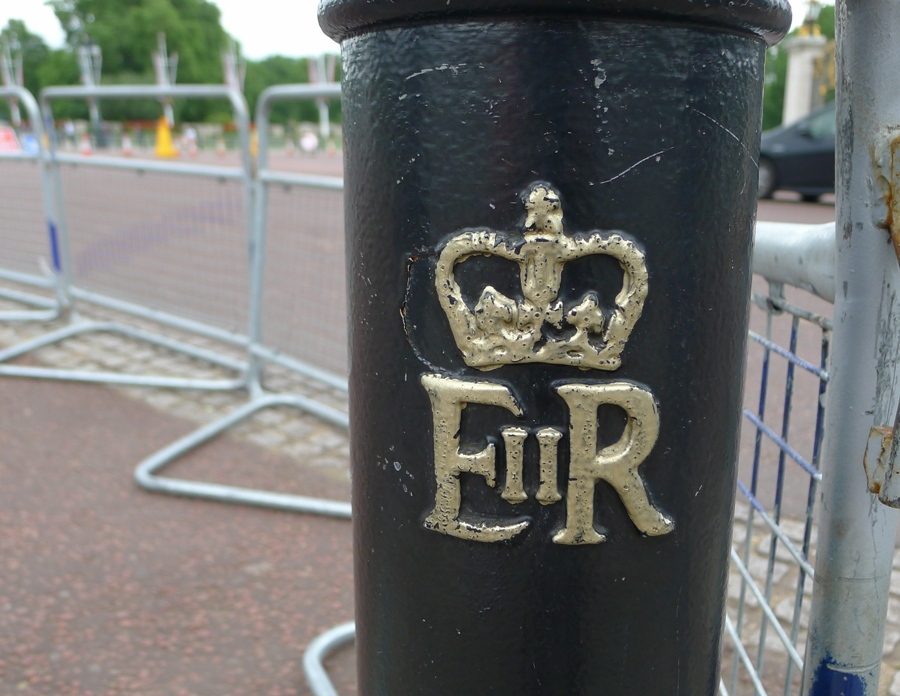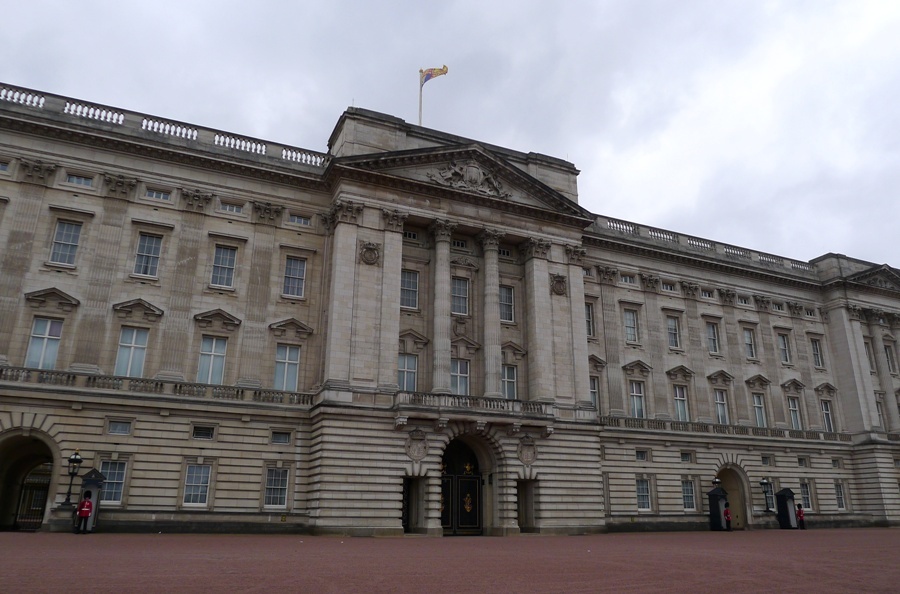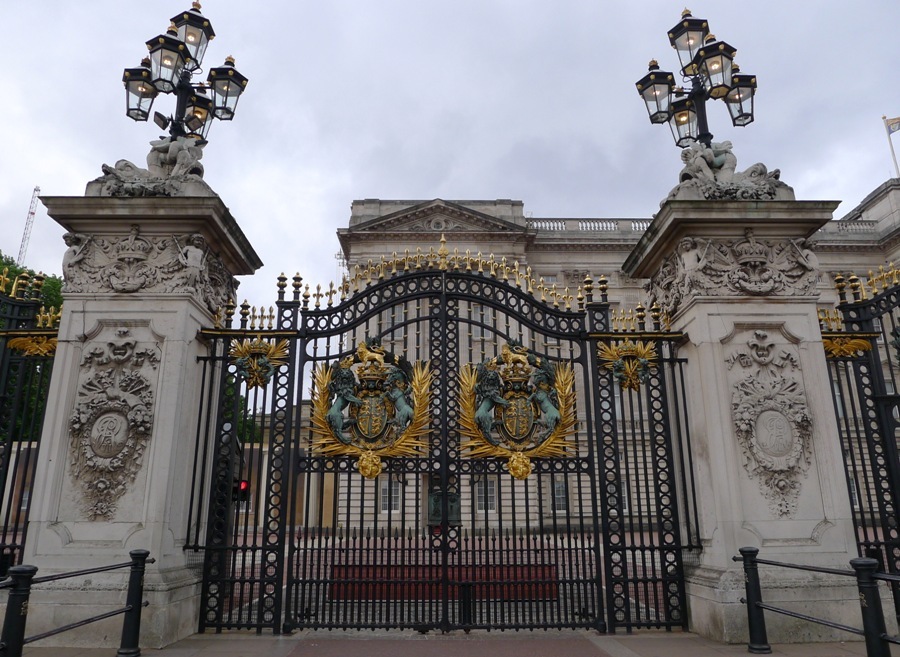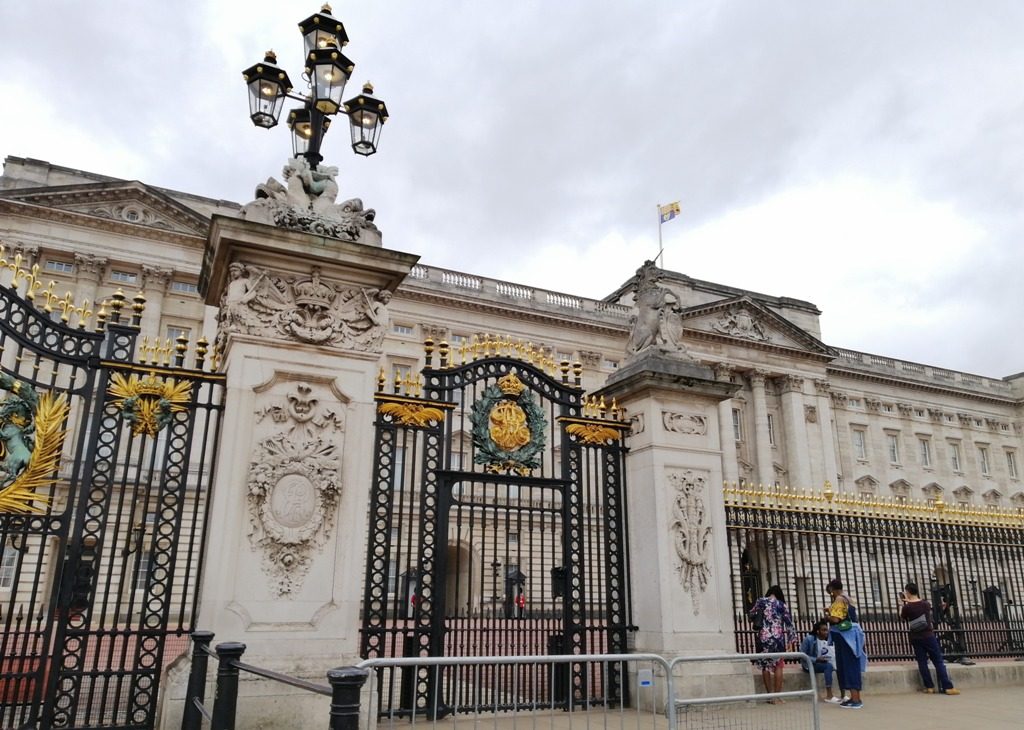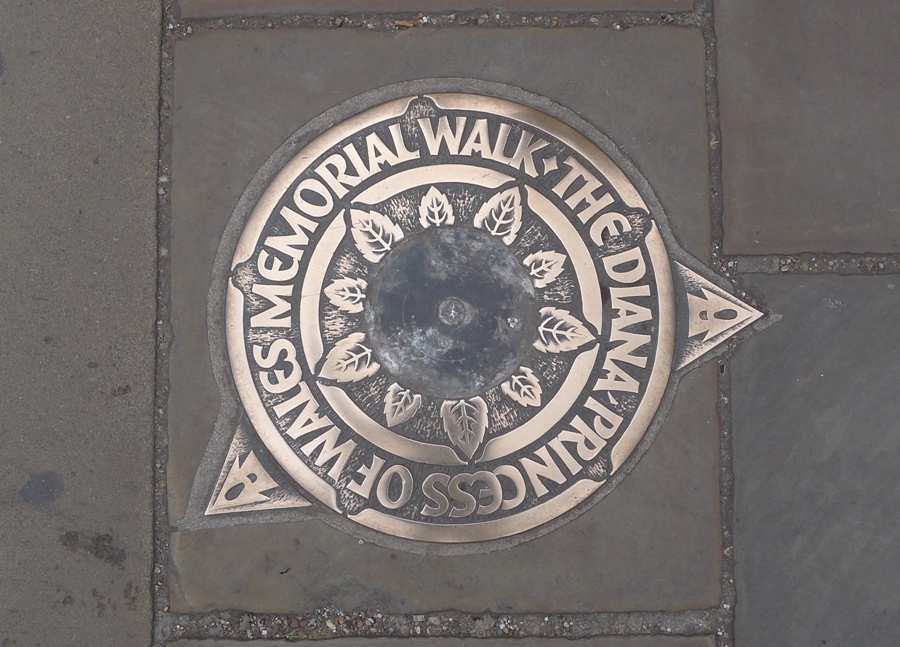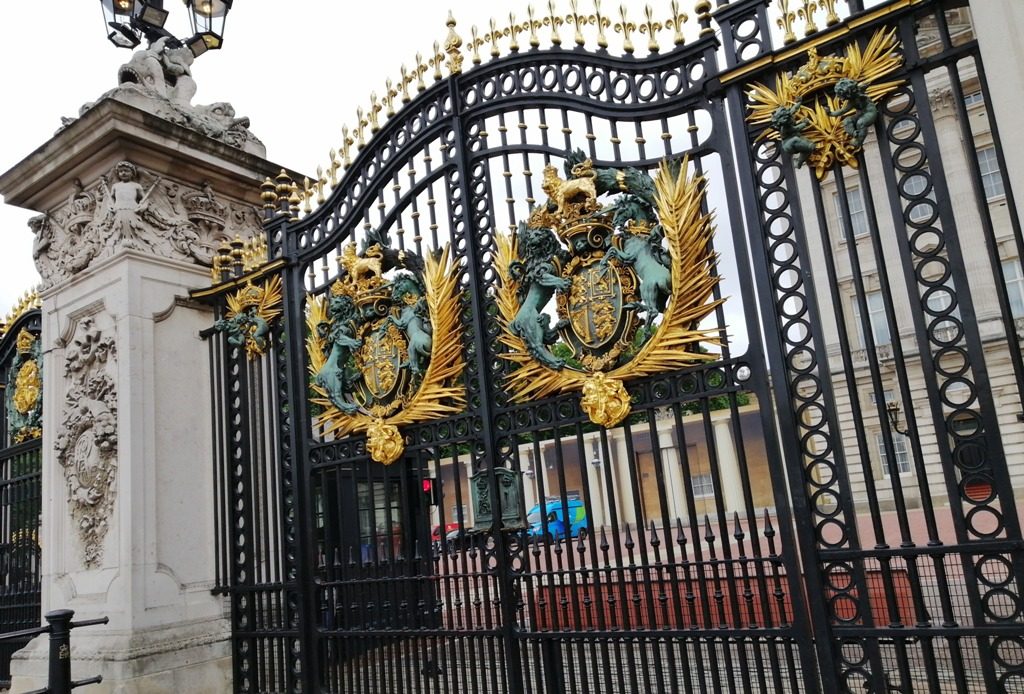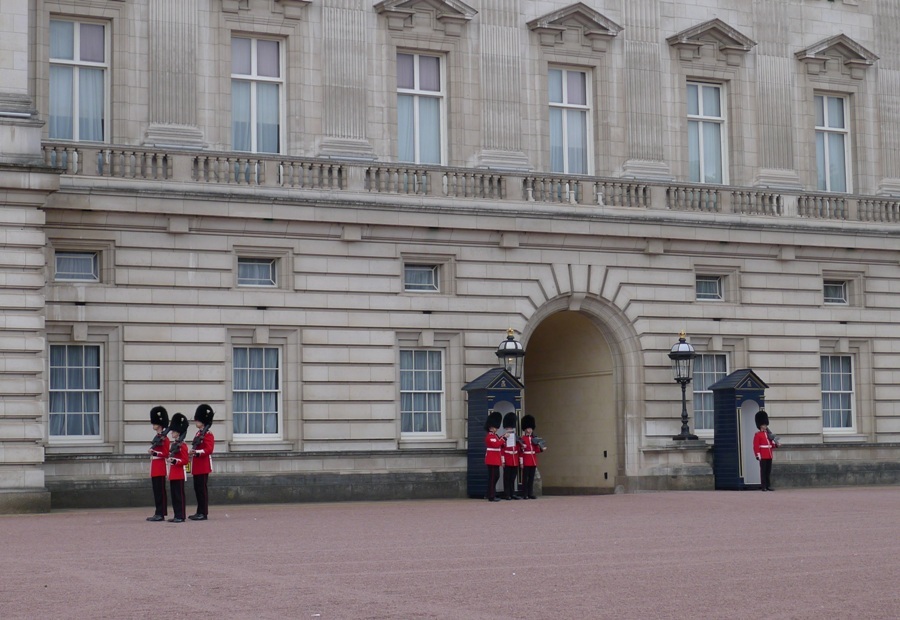 While resting at the steps of Queen Victoria Memorial (located in front of Buckingham Palace), we saw Marine One choppers landing inside the palace. Turned out U.S. President Trump was a guest of the Queen pala! Sumabay pa k'me sa official visit ni Trump, hihi!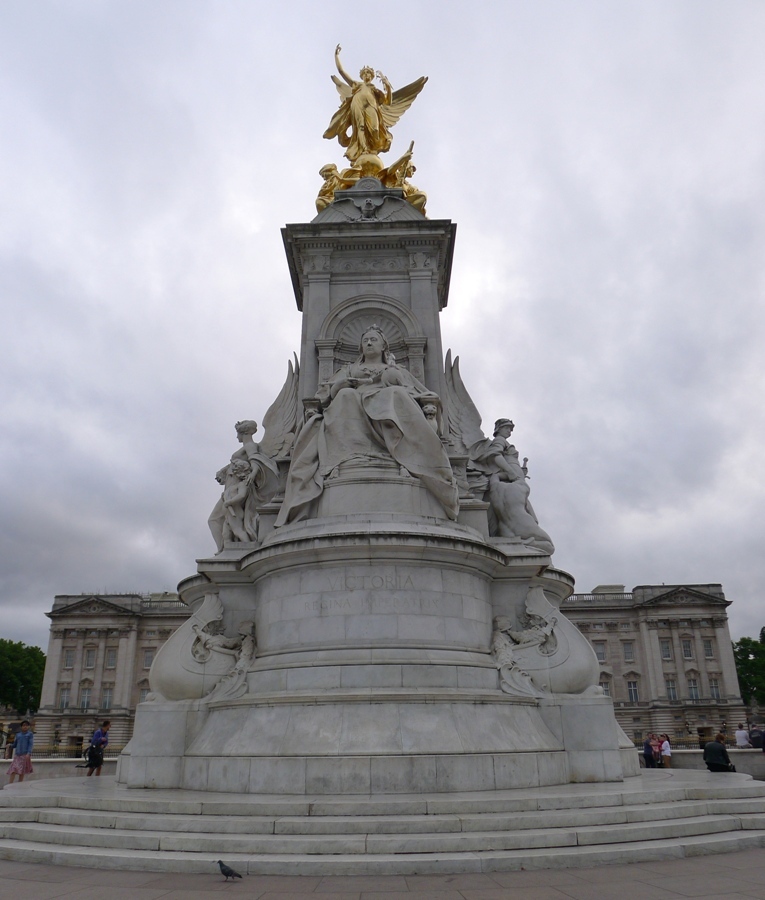 Thus, the flags of the visiting head of state's country (US) were flying alongside UK flags at The Mall.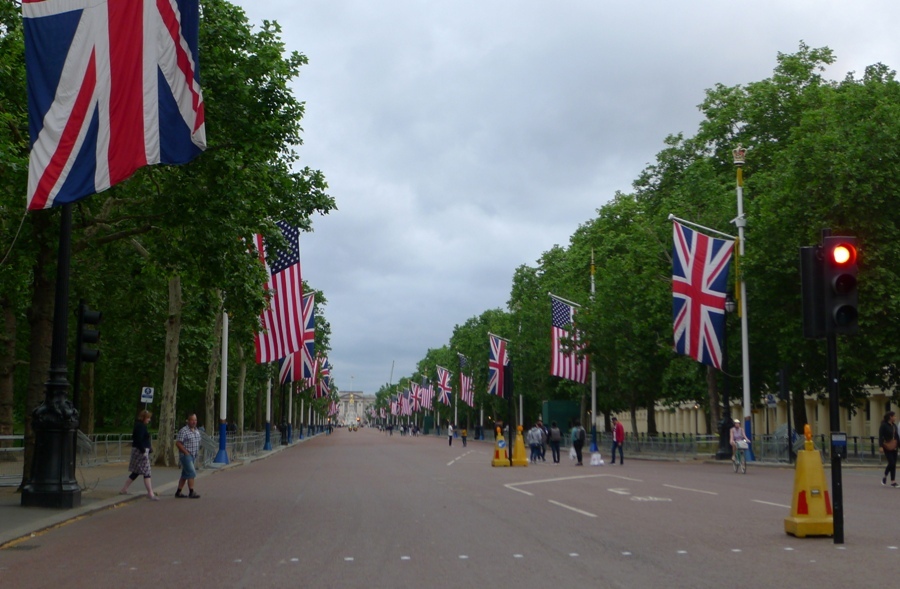 Walked some more and saw the Admiralty Arch, with the Royal Navy's flags (the White Ensign).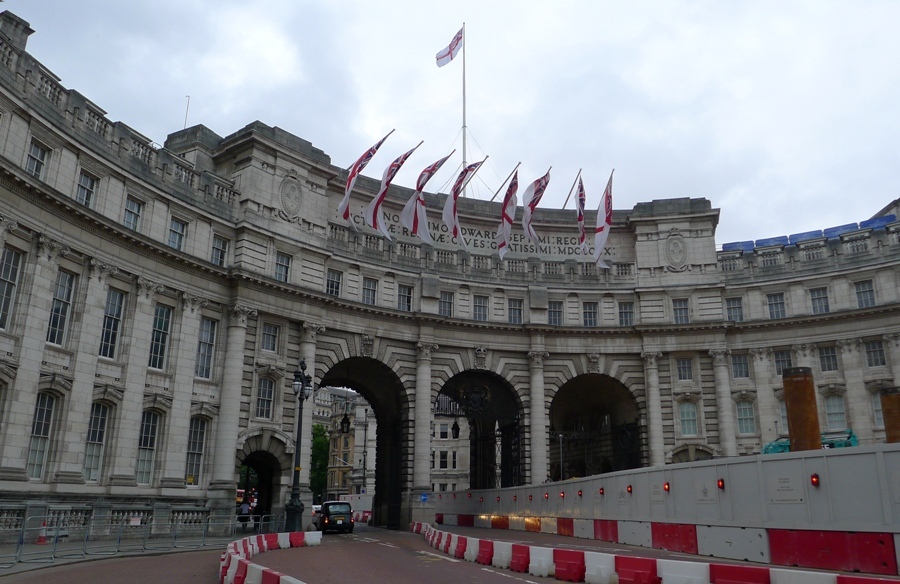 On our way back to Westminster for dinner, we passed by St. James Park so we made another detour here. What we thought was just a short 'silip' of the park ended up almost an hour long because the park was huge, and there were lots of squirrels and swans to distract us – especially AJ! Good thing I have Skyflakes with me, we were able to feed some of them and they were all very friendly naman. I actually enjoyed our stay here at the park.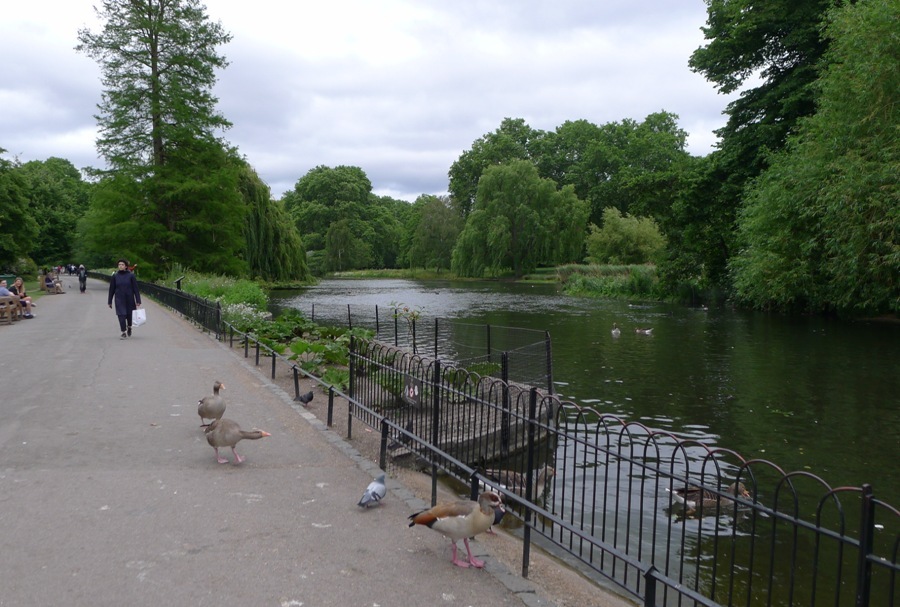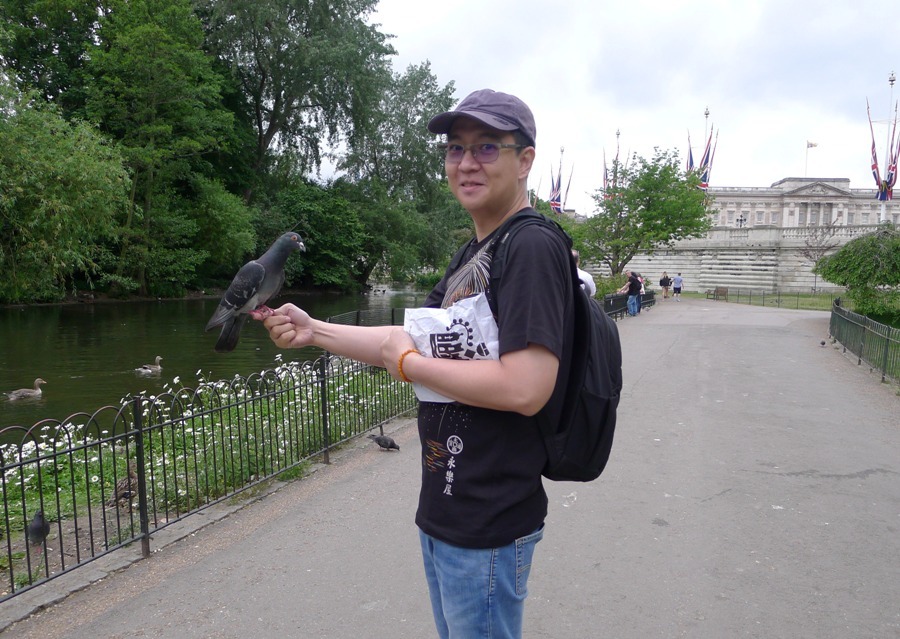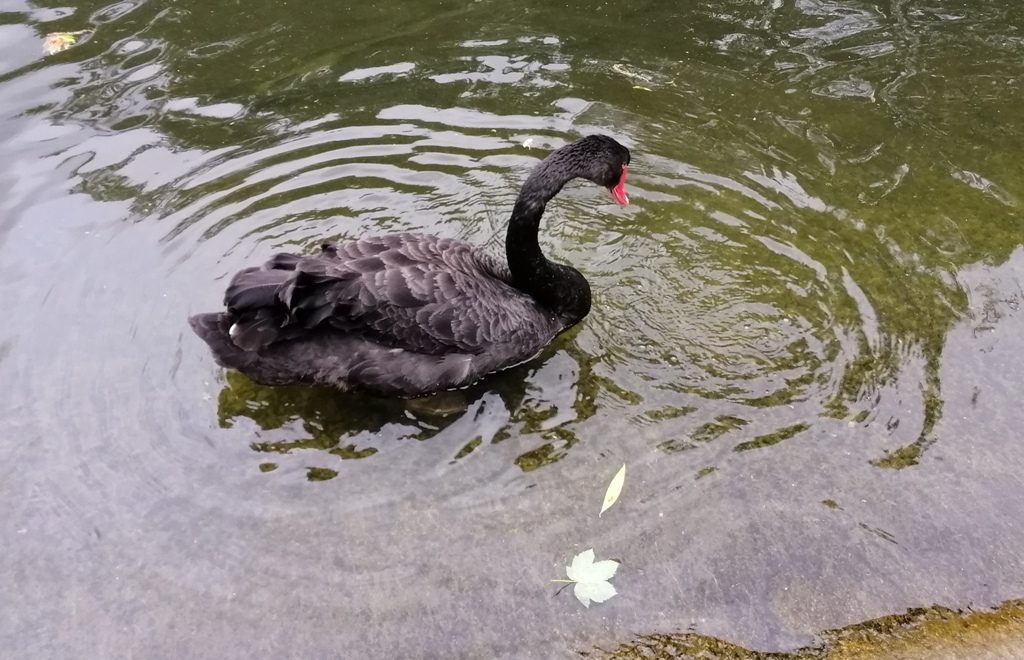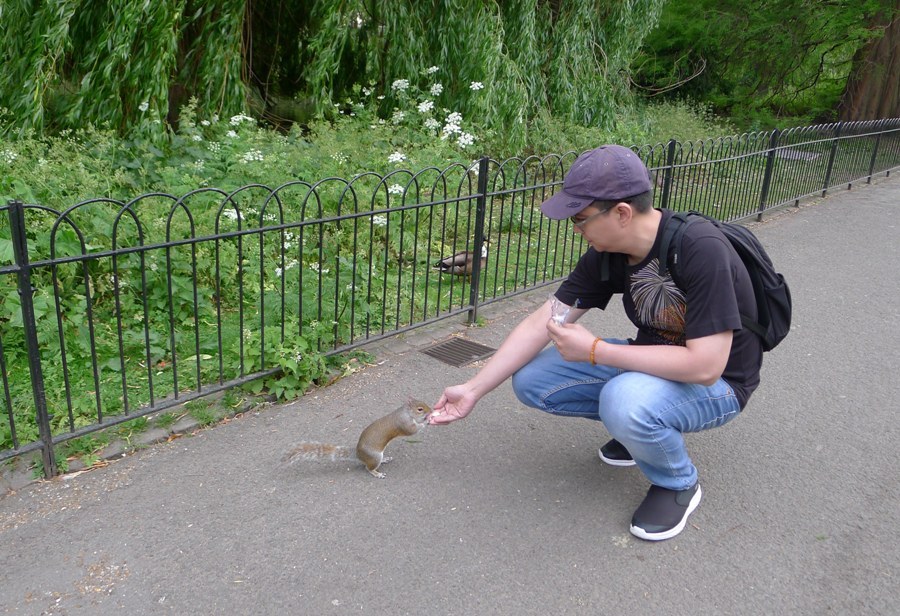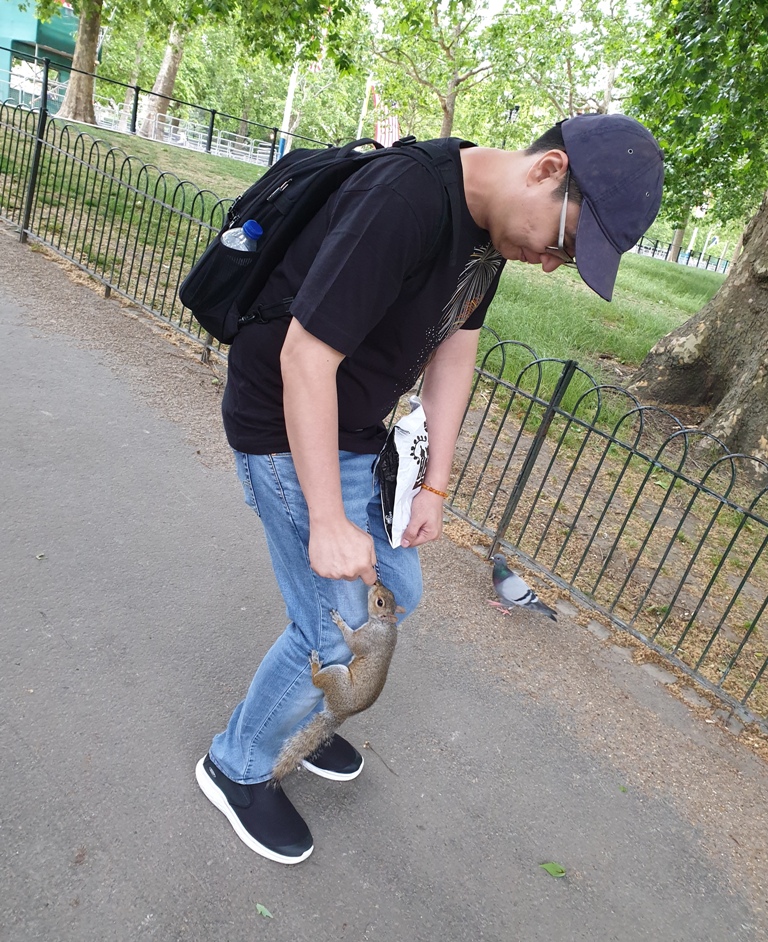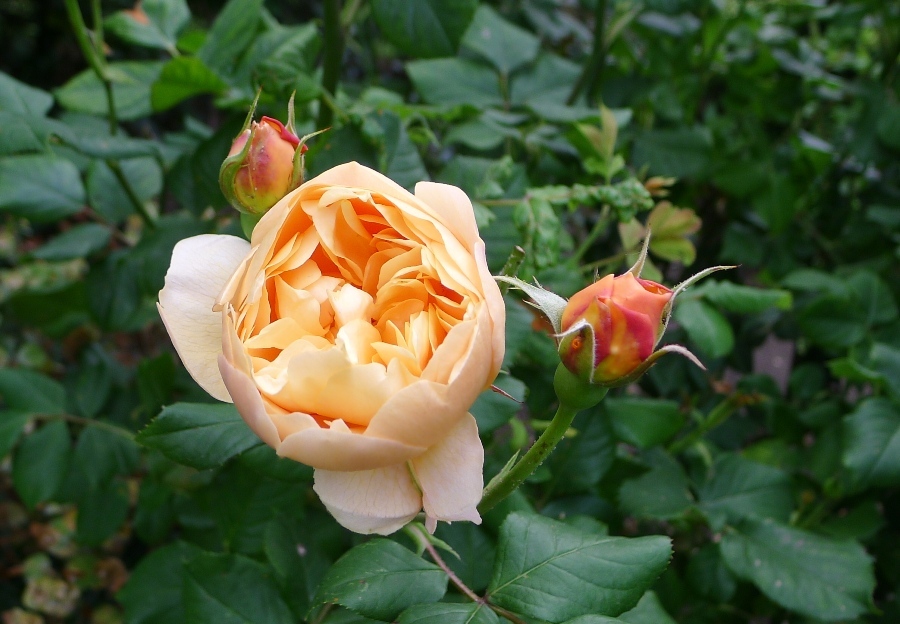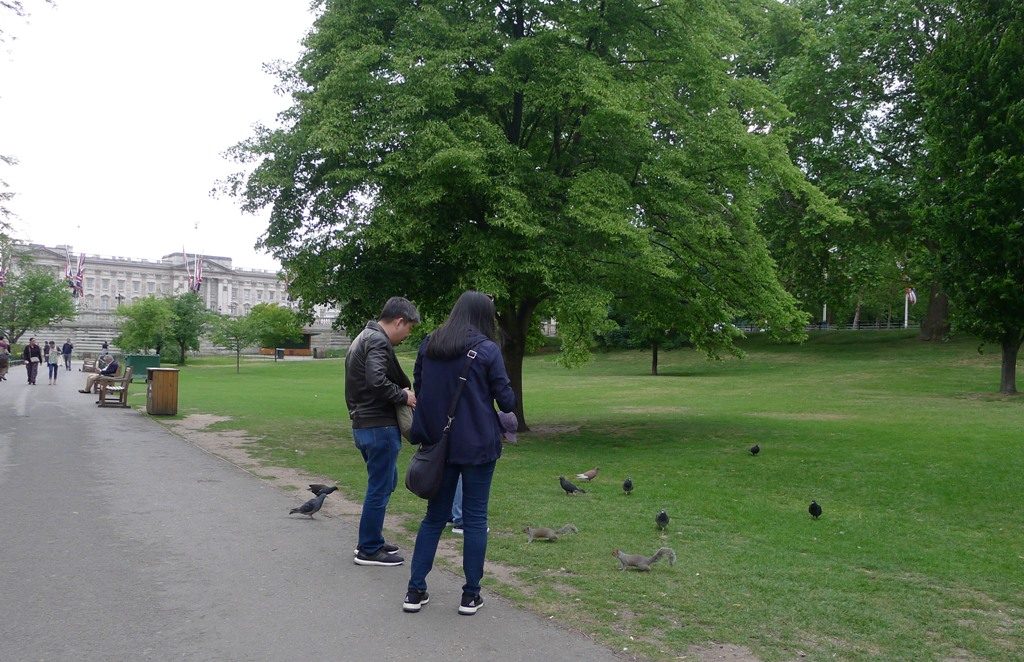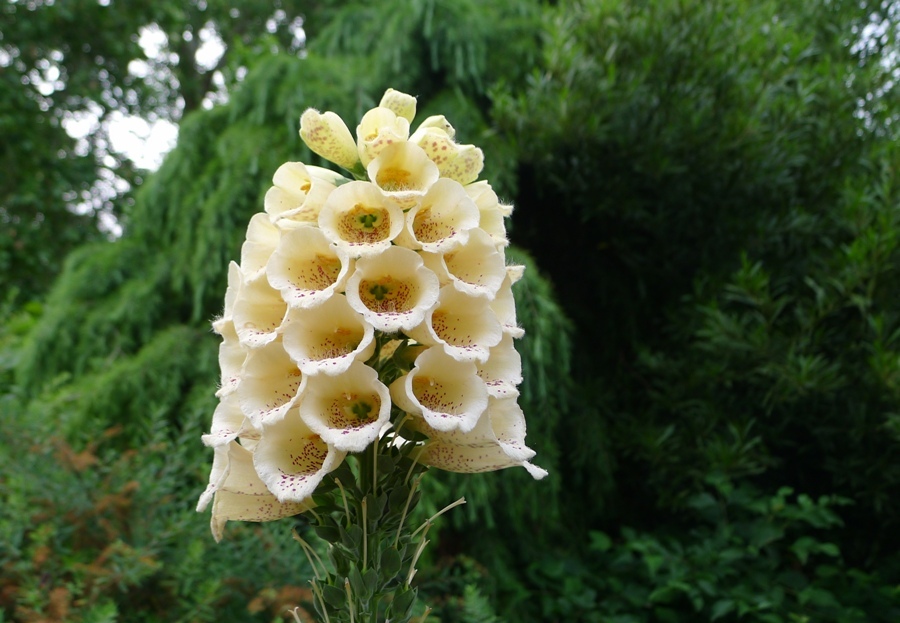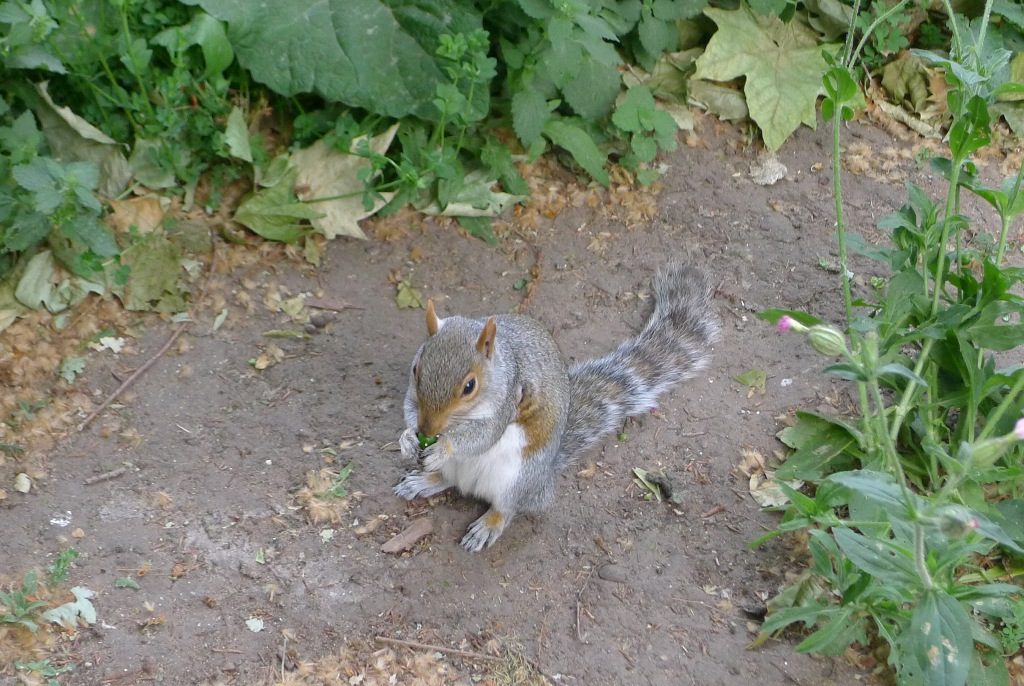 And that was our last stop for the day, before we felt hunger pangs kicking in at past 8:00 p.m. We had dinner at Garfunkel's were we enjoyed traditional British food fare like Sausage and Mash, Fish and Chips, and a Steak Meat Pie!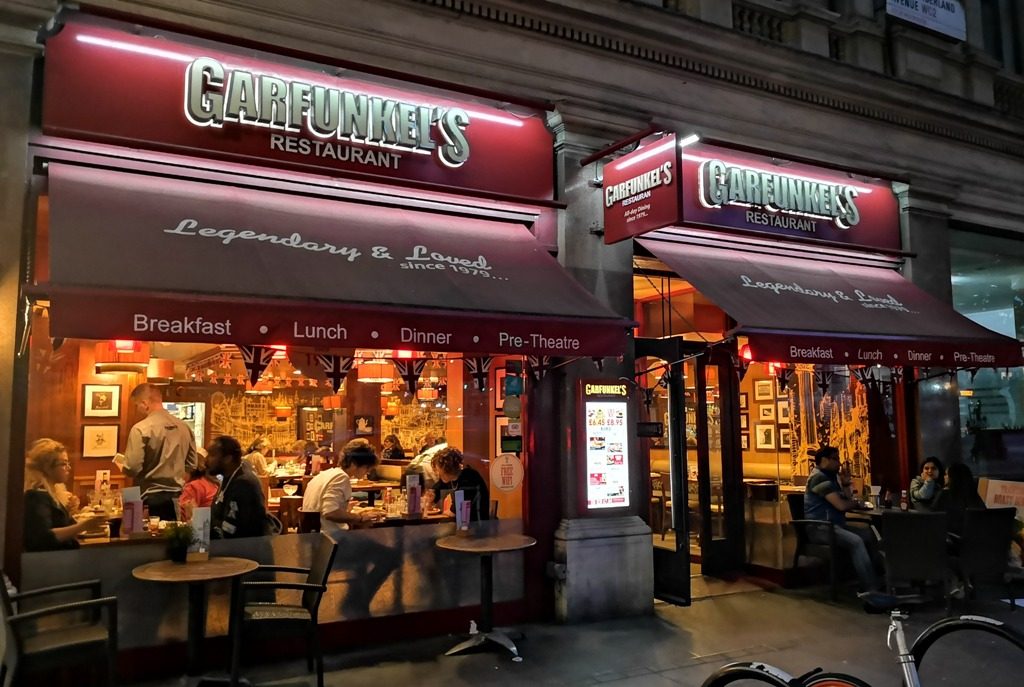 As this post is already too long, I will share on another day all the food that we tried while in London, Edinburgh and others. This one deserves a separate post, really.
Had it not gotten cold that evening (it was actually warm that day; that's why you see AJ not wearing any layering or jacket), kaya ko pa sana ang lakaran hanggang Leicester. But nagyaya na ako umuwi, nilalamig na hehe!
On our way back to the station (going back to Travelodge Vauxhall), I captured this beautiful night view of the National Gallery.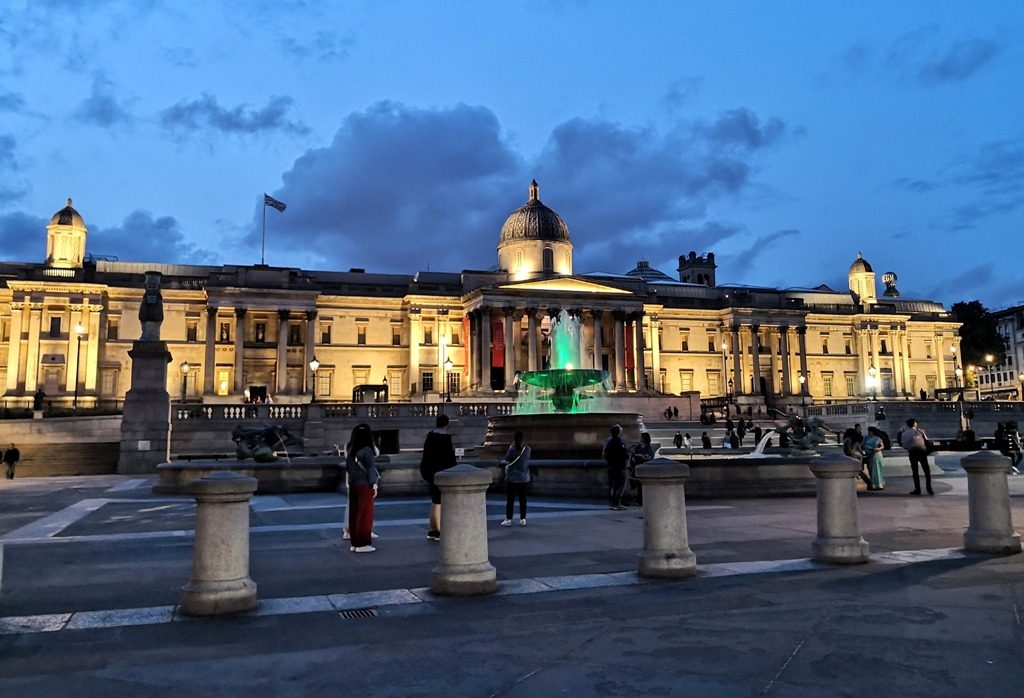 This made me really excited for the museum trips that we have lined up but before that, we still have the beautiful places outside London to explore on the following day, and the magical Edinburgh awaiting us too!
Up Next:  UK Adventure Day 2:  Exploring Windsor, Bath and Stonehenge + More of London at Night