If I will be asked to name a kitchen appliance that newly-wed couples should immediately invest in, it's the convection oven.  We belatedly bought ours in August last year and right now, we use it more than we use our microwave oven and gas stove.  There's just so much you can do with a convection oven and so much flexibility as compared to, say, microwave oven or oven toaster.
That is not to say though that microwave ovens and gas stoves are not worth buying.  I still am using ours to cook and reheat cooked food.  But the convection oven has given us more mileage in terms of the cooking methods that we can do like baking, broiling, toasting and roasting, to name a few.
In buying our convection oven, we relied more on the brand and its aesthetics than its added features.  I know you will find that odd because here we are, excited to do so many baking and yet we bought only the basic model.  For me kasi, as long as it satisfies our requirements, I'm good.  If there are additional features that comes with it for free or at very minimal cost then good but if they're gonna cost us more, wag na lang hehe!
When we were shopping for our convection oven, my instinct told me to get only the basic model but would allow us to do what we could not do with our microwave oven and even our Saladmaster cookware.   The Asahi oven instantly fit the bill, but we also looked at the other brands and ended up choosing between Asahi (the very basic model) and American Home (which came with more adjustment buttons and parts like additional tray and grill but at a higher price).
In the end, it was Asahi's easy-to-use selectors, simple design and price point that won us over.  The model number is OT-2311, and don't get confused if it reads "oven toaster" in the manual.  This is really a convection oven (others call it electric oven or Convection Toaster Oven).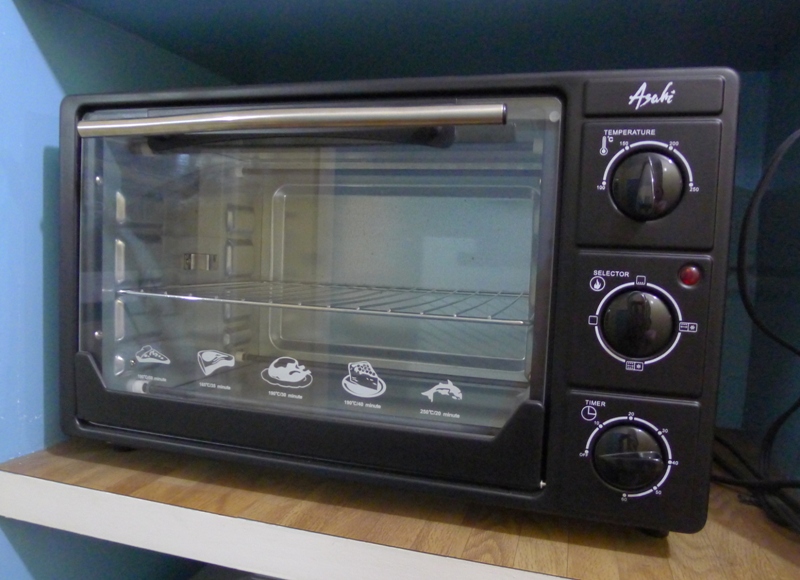 We bought it at the SM Appliance Store in Makati for a little over P2,500.00.  This was the cheapest that we found then.
I like the box-shaped structure of this convection oven, making it look very spacious (and it really is!) and also easy to wipe clean.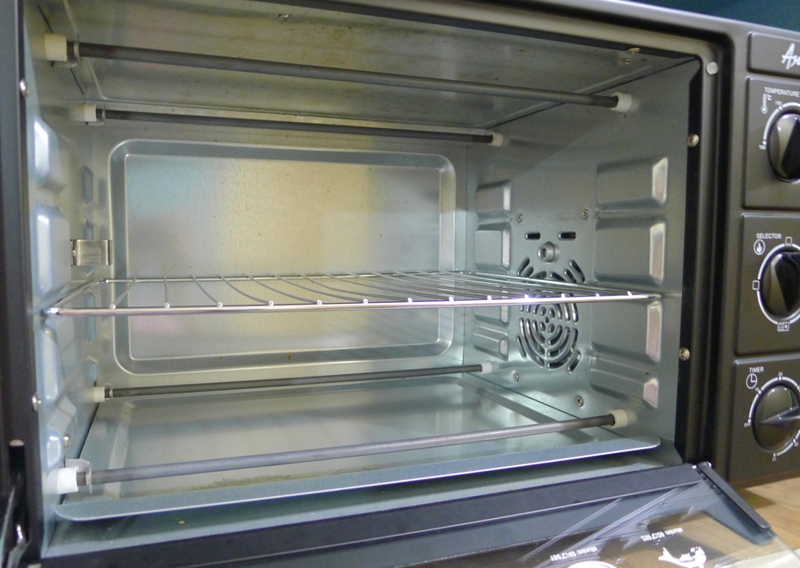 Below is the fan that circulates the heat around the oven.  There's no need to adjust this when you're baking or broiling.  It's programmed according to the cooking method you're going to use.  If it's baking, it goes on and off at time intervals.  If it's in broiling mode, it's constantly on.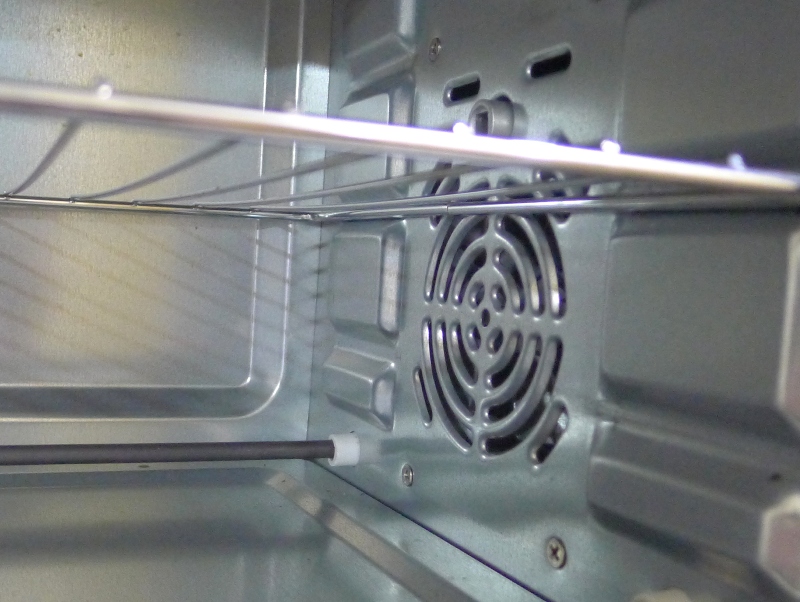 The heating rods, on the other hand, automatically adjust with the heat. You'll know that your oven is really hot na when the rods turn bright orange, and once it reaches the desired heat temperature, the color will slowly go back to blackish grey (its original color).  The fan will keep distributing the heat inside the oven and the heated walls will keep the temperature inside constant.
The crumb tray.  This is a must for me.  I like the convenience of just pulling it off and then dusting off the crumbs.  I'm very OC with crumbs.  I don't like seeing them cos they attract ants!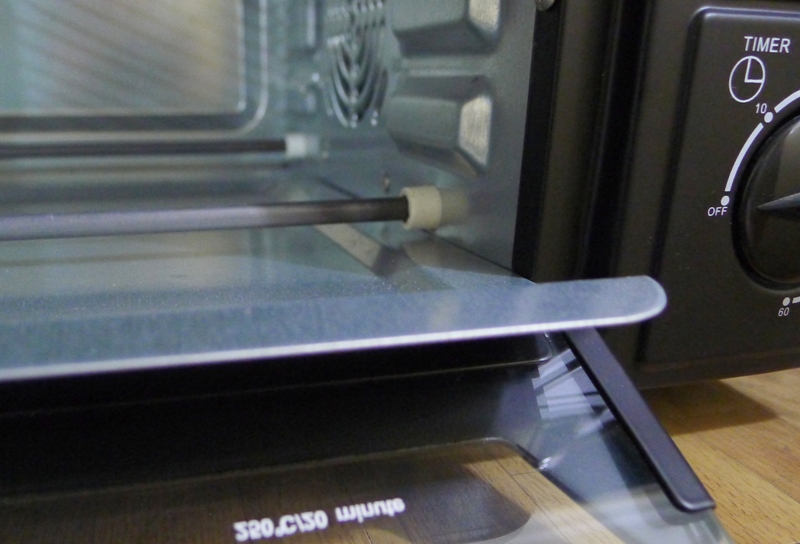 There are only 3 selectors in this oven that you have to be familiar with: the thermostat (in Celsius), heater (the dotted lines refer to the heating rods while the asterisk refer to the fan) and the timer.  Easy to learn and navigate with.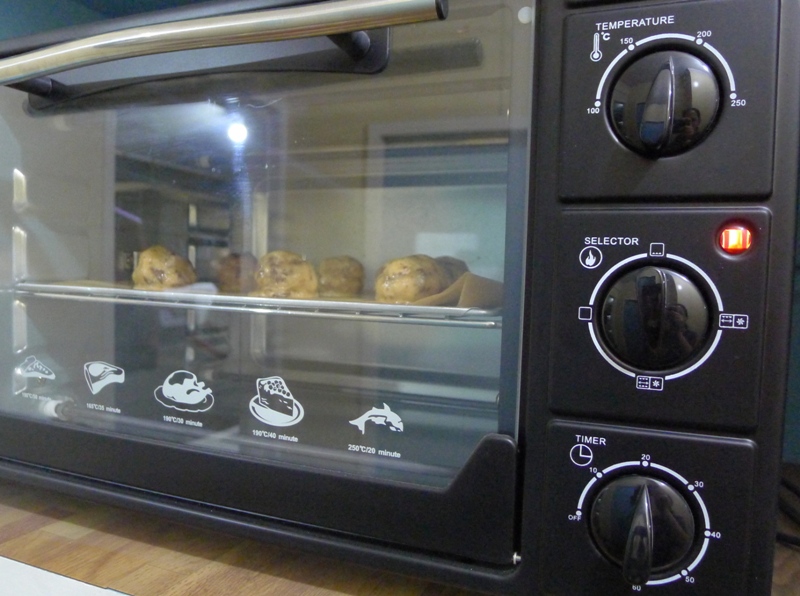 The convection oven has a transparent window glass, so you can clearly see (and take clear photos of) the food being cooked or baked inside, like the chocolate cookies above that we baked a few weeks ago.
If you're wondering what else comes with this convection oven, here they are:
1 Tray (not in photo)
1 Grill Tray (we need more of this)
Tray Holder (we prefer using oven mitts over this one)
Rotisserie Holder and Rod (not yet used)
Below are just some of the culinary successes we have had with our 5-months old Asahi convection oven:
Chocolate Banana Cake (featured August 2013, recipe from Joy of Baking)

Our Jackpot Chocolate Cake with Dark Chocolate Ganache (featured September 2013, recipe here)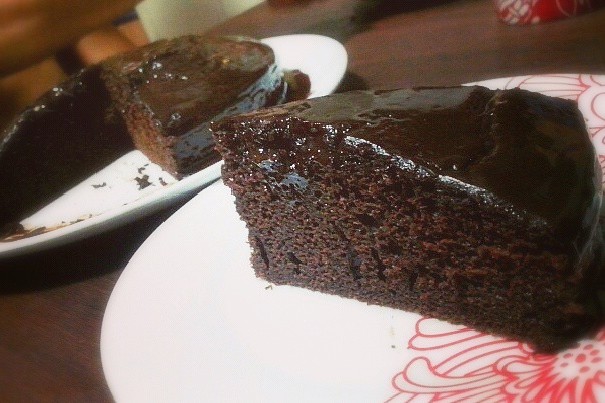 Baked Yogurt Parmesan Chicken (featured October 2013, recipe here)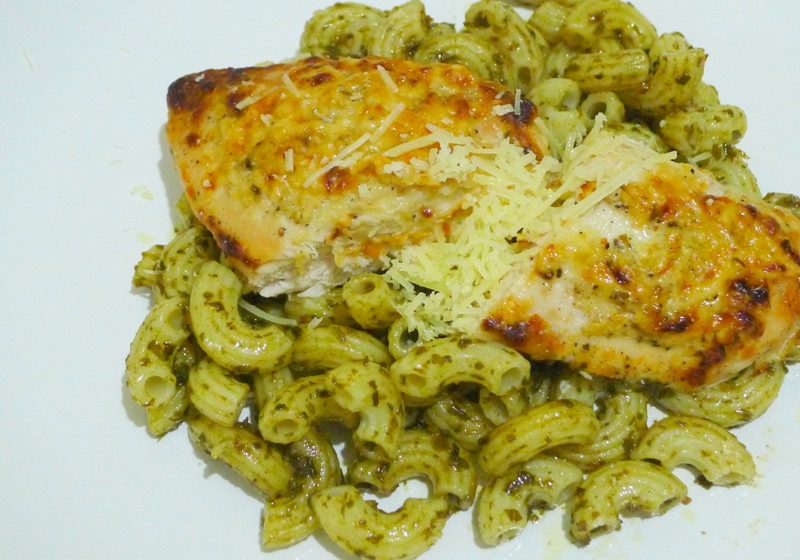 Blueberry Cheesecake Cookies (featured November 2013, recipe here)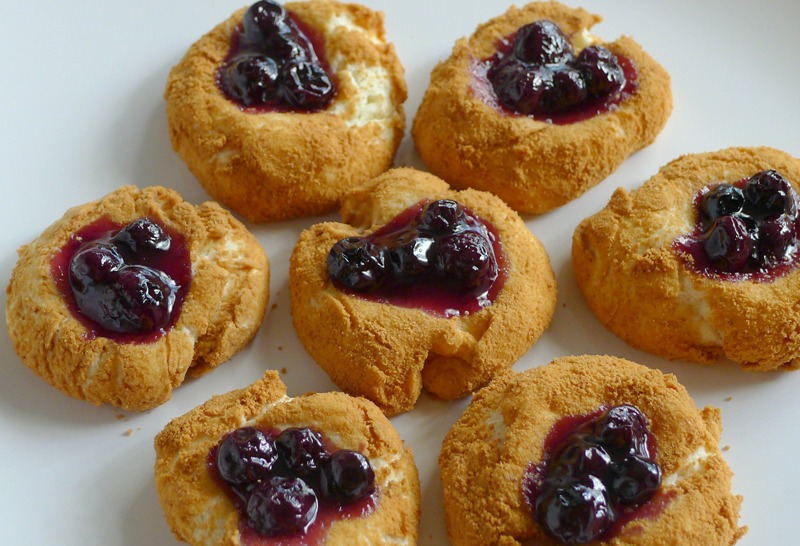 Roasted Chicken Stuffed with Cream of Mushroom (featured December 2013, recipe here)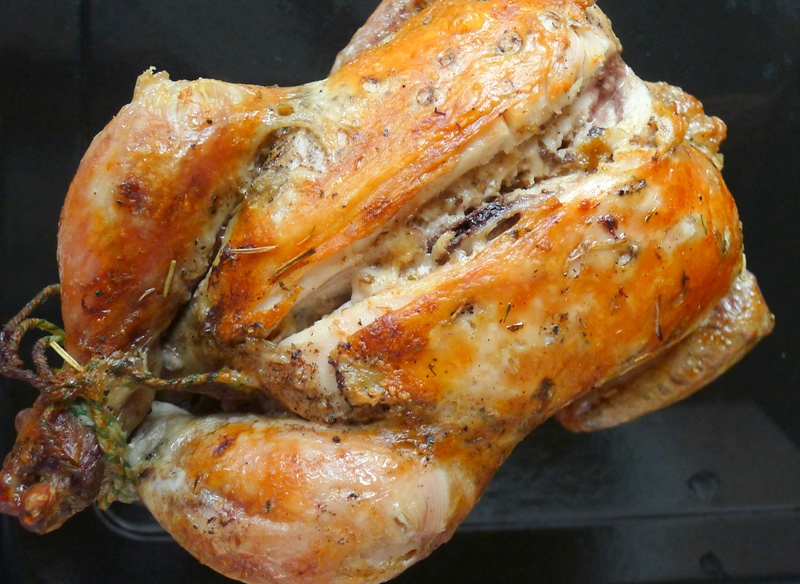 Dark Chocolate Cake with Coffee Cream Filling and Dark Chocolate Ganache (featured December 2013, recipe here)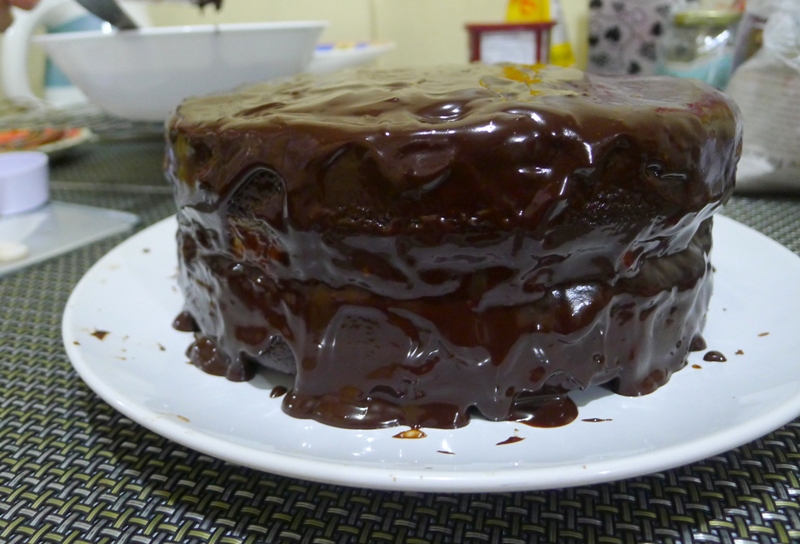 February 2014 feature….Gourmet Chicken Adobo (recipe soon! – UPDATE:  recipe here!)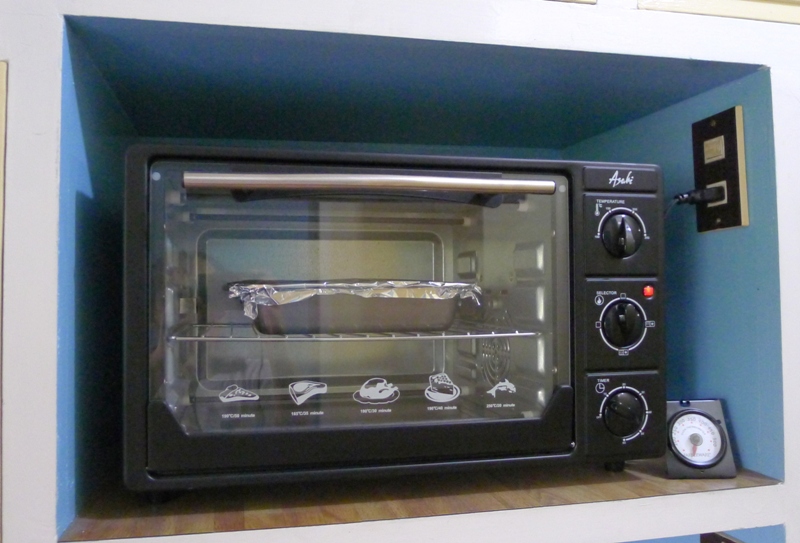 So far we are very, very satisfied with our Asahi convection oven.  If only the grill trays can be sold separately and we can buy some more, perfect na perfect na sana.  You see, with only 1 grill tray in the package, we can make a batch of cookies or a layer of cake at a time lang.  Imagine if we can bake 3 trays of cookies at a time (this is the maximum number of trays you can put in the oven), then pwede na k'me magbenta, hihi!  
As for the accuracy of the heating temperature, we have so far followed all recipes to the dot and the results have been outstanding.  But this being a convection oven and therefore not as powerful as the big kitchen ovens you see in restaurants, expect extended cooking or baking time.  This was the only cooking adjustment we made and it's very minimal I don't think it will inconvenience you either.
Gosh, writing this post suddenly made me hungry hehe!  I hope I have satisfied all your queries, dear readers!  Sorry it took me a while to write all these down.  I wanted you to see the results as well, so I waited until December for that ultimate oven test:  to successfully bake a whole chicken!
And our Asahi convection oven passed that test – with flying colors!  So did our recipe, hehe!  It made me really happy to read feedback from readers who tried the recipe and enjoyed it with their families and friends  =)
More oven recipes to come, so stay tuned!
(Disclaimer:  this is not a sponsored post.)