Our sumptuous lunch today:  Roast Chicken with Italian Sausage and Bread Stuffing.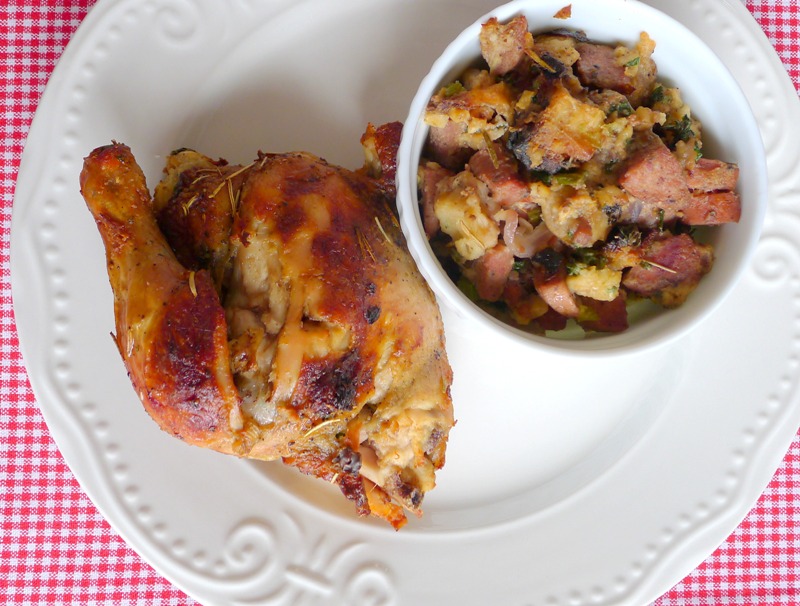 The idea for this recipe came to me last Thanksgiving after seeing pictures and pictures of Stuffed Turkey in my Instagram feed.  So I looked it up online and saw this easy-to-do recipe for turkey stuffing at epicurious.com.  I waited for my Christmas leave at work to try the recipe (para hindi ako nagmamadali) and oh my, it was a bomb!  I now have something to serve for our Media Noche next week!
Using our trusty Asahi convection oven, I did a roast chicken version of this recipe.  And because I did the preparation and cooking late in the afternoon already, AJ and I weren't able to enjoy it much during dinner (k'se nga naman 9 p.m. na k'me nag-dinner, hehe!)   But we had it again today for lunch, and it tasted even better!
The roasting (through baking) process took almost an hour and 15 minutes, so if you want to try this recipe and intend to serve it during family gatherings, please prepare it at least 4 hours in advance.
Here are the ingredients:
2 cups of bread cut into 1-inch cubes (I strongly suggest you use herbed, instead of plain, bread.  Try Village Gourmet's Batard in rosemary and olive oil)
Olive oil
Italian sausage (about 4 big pieces), casings removed and meat sliced
3 medium onions, chopped (use more if you want to add more sweetness to the stuffing)
4 large celery ribs, chopped
5-6 garlic cloves, minced
2 eggs, slightly beaten
3/4 cup Greek yogurt (my substitute for heavy cream)
1/2 cup chicken stock
Parmesan cheese (about 1 cup)
1/2 cup coarsely-chopped parsley
Bounty Fresh chicken
Salt, pepper and dried rosemary leaves for the dry rub (of the chicken)
Preparation:
1.  Pre-heat convection oven at 180-degrees Celsius (or 350-degrees Fahrenheit).
2.  Arrange the diced bread pieces in a cookie tray and bake for about 10 minutes, until crispy (but not too toasted).
3.  Head olive oil in a medium-sized skillet and cook the sausage, until golden brown.  Transfer to a mixing bowl.
4.  Use the remaining oil to sauté the following:  onions, celery and garlic.  Stir for about 5 minutes. No need to season with salt and pepper.
5.  Add the sautéd vegetables and bread to the sausage and mix together in the mixing bowl.
6.  In a separate bowl, whisk together eggs, Greek yogurt, chicken stock, parmesan cheese and parsley.  Stir into the stuffing, mix together and let cool completely.
7.  Prepare dry rub for the chicken by mixing together salt, pepper and dried rosemary leaves.
8.  Cover the whole chicken with the dry rub.  Place chicken in a baking pan.
9.  As soon as the stuffing has cooled, stuff the chicken generously with it.  Spoon the remaining stuffing around the baking pan.
10.  Bake for about an hour and 15 minutes.
Notes:
In baking the chicken, place if first in the lower rack of the convection oven.
To ensure that both sides of the chicken are cooked evenly, take it out of the oven (every 20 minutes) and turn it over.
Once an hour has lapsed, transfer the chicken to the next higher rack, to allow the top to roast into golden brown.  We did not anymore use aluminum foil.
Here's how it turned out last night: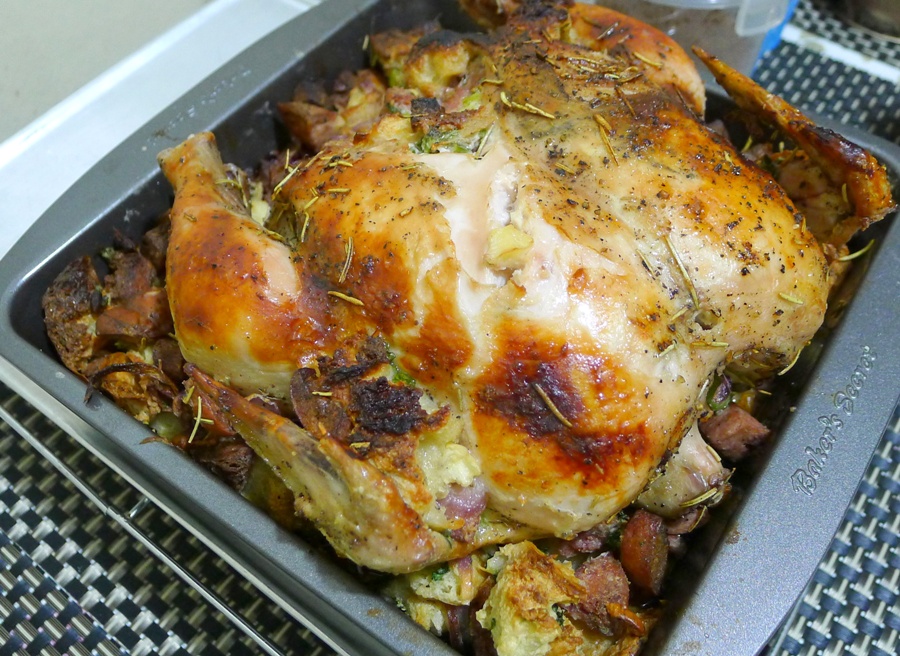 The blackened stuffing you see above are the bread pieces.  You can just take them off if you don't feel like eating overly-toasted bread hehe.
Allow your roasted chicken to cool first before slicing it, to avoid the meat juice from spilling out agad (resulting in dry meat afterwards).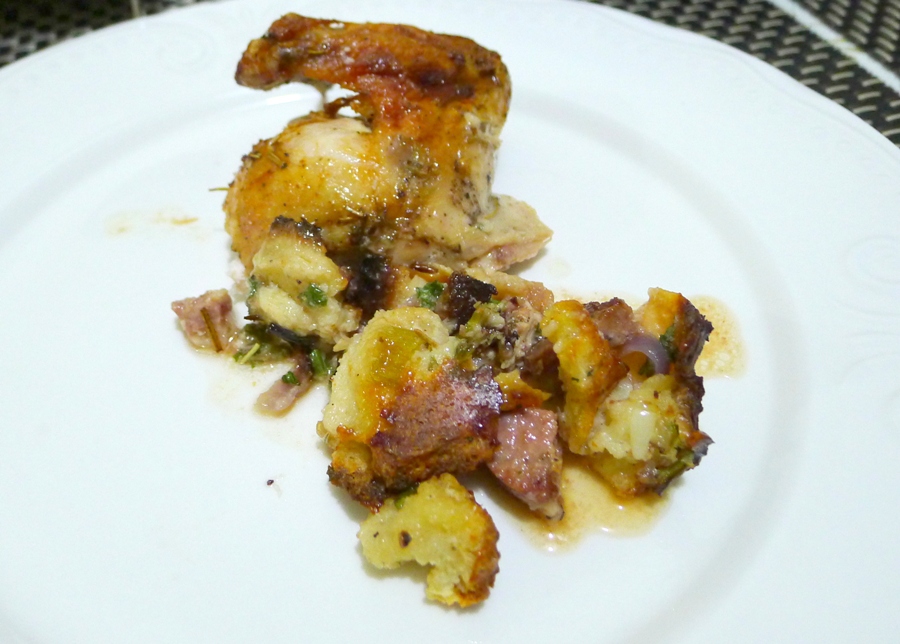 We had it again for lunch today, and the taste (of both the chicken and the stuffing) is even better.
You may opt to do the stuffing only, as it already an ulam (viand) in itself.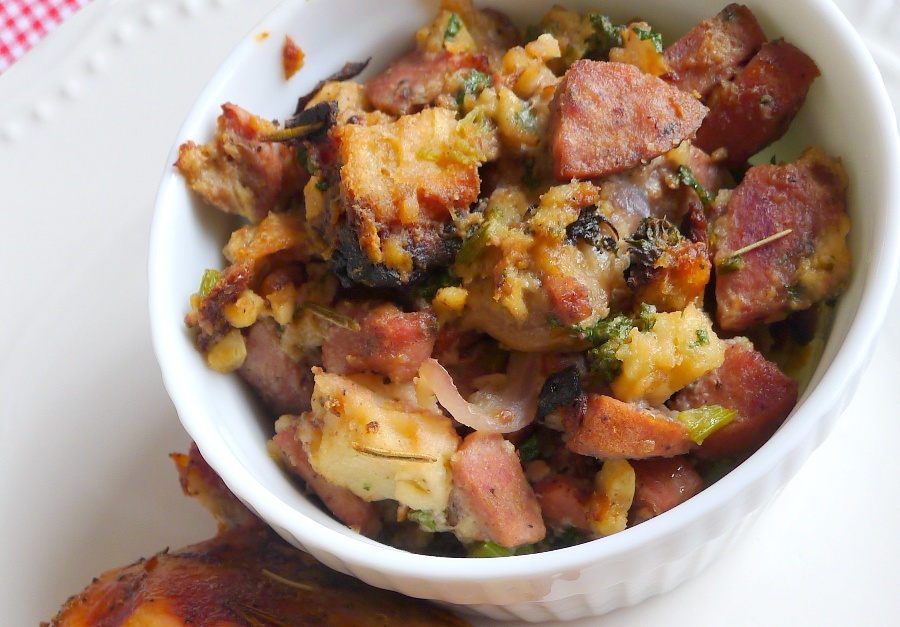 I can proudly say that my sausage-and-bread stuffed chicken a la Thanksgiving Stuffed Turkey was a big success!
And if I was able to do it, then you can do it too!
You can also tweak the recipe for the stuffing to suit your preferences.  You want to do it Filipino-style?  Try using Vigan longganisa instead of Italian sausages.  Or English bangers and potatoes (instead of bread) for a breakfast-style stuffing!
Do let me know how yours turn out!
Enjoy the holiday cooking, everyone!