I'm sure that you have experienced meeting somebody for the first time and feeling that he or she has been in your life forever, like you know him or her already that your conversation took off as if you have lot of catching up to do.  Ain't that feeling great?!  Walang hiyaan, and you enjoy every moment of it because you are just being yourself.
The reason I'm saying all these is that in the few years that I've been a blogger, I've never actually thought of meeting up with my fellow bloggers.  Sa totoo lang, I am a painfully shy person, and socializing is not my forte at all.  I rarely accept invitations from PR agencies to attend events or product launches because I'm not the type who easily connects with the crowd.
So it's quite amazing that this year, I was able to arrange a meet-up between me and two (2) of my blogger friends whom I've known for quite some time already, but never been with in a gathering.
I first met Ms. Ellen while I was looking for Cath Kidston mugs.  I "met" her online at eBay.ph, and she was selling these Crush Mugs that I really like.  I bought 3 from her, but she sent me 4 mugs instead, making it a set.  So generous of her!
And that was the start of our "personal shopper-impulsive buyer" relationship haha, which is now on its 3rd year(!).  Ms. Ellen has helped me realize my dream of owning a mantle glass jar, original Starbucks mugs, the famous garlic roaster and more Cath Kidston items for my growing collection.  She also has a blog (The Pseudoshrink) and here I got to know the very witty and sharp-minded Ellen that I so, so love!
Enter Diane whose blog, Diane Wants To Write, is always well-written.  Whenever I read her entries, I feel like I'm reading someone else's diary hehe!  I can definitely relate to the stressful nature of her work, her love for online shopping, her being a foodie and best of all, her love for Cath Kidston items hehe!
Together with Ms. Ellen, we formed this #CathKidstonSisterhood that have emptied our wallets at some point, but filled our little hearts with so much happiness.  We just love everything pretty that's not super mahal.
After years of stalking each other's blogs and IG accounts, we finally met over brunch last Sunday.  Syempre, the venue of our meeting should reflect our "common denominator" which is Cath Kidston, so we agreed to meet at Vanilla Cupcake Bakery in Glorietta.
The two (2) new wall murals at Vanilla Cupcake Bakery helped set the mood for a light and happy conversation I would have with Ellen and Diane, though kahit sa McDo lang k'me siguro nagkita, ganun pa rin ang mood 'cos we're like high school buddies na matagal nang hindi nagkita hehe!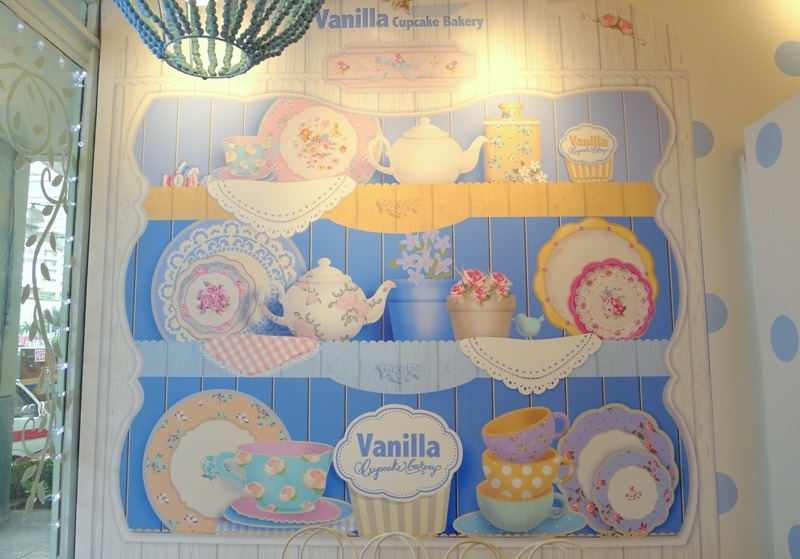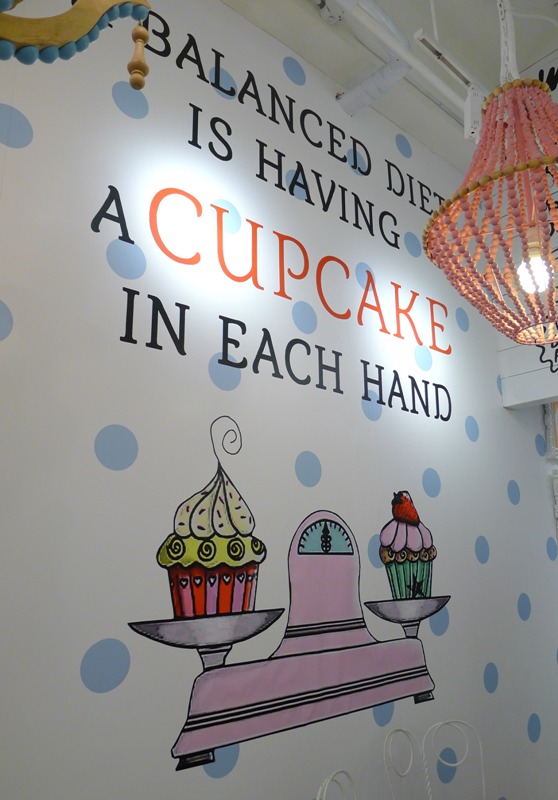 Diane and Ellen (hidden behind the tin can tray and notecards I gave them hihi).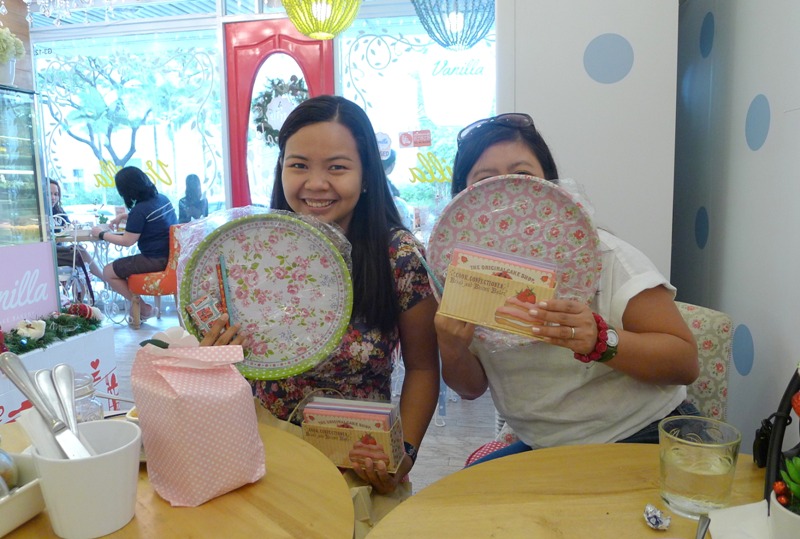 Ms. Ellen's gift to me.  Nahiya nga ako when I saw her very pretty wrapping, because I just used recycled paper bags in wrapping my gifts to her and Diane.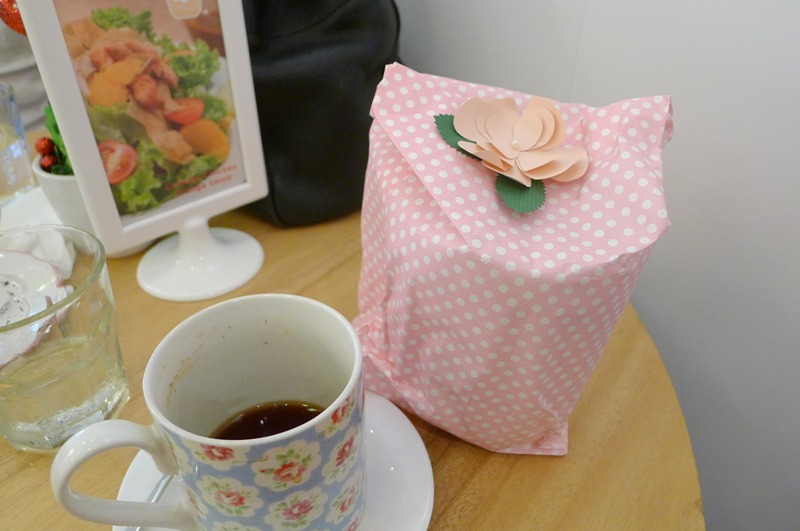 Cath Kidston mug lang naman ang gift sa amin ni Ms. Ellen.  Ay, may notebook pa pala. I told you, she's so generous!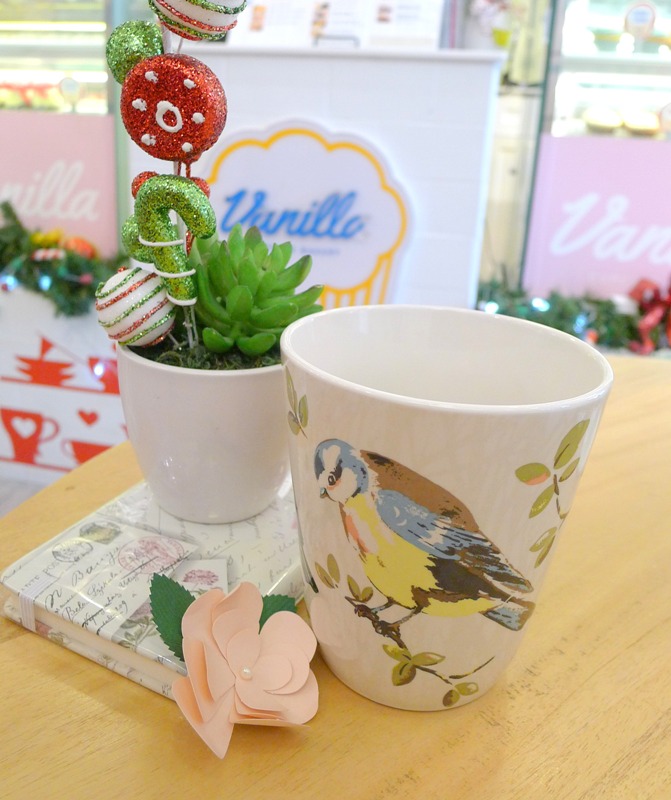 We were later joined by Ms. Ellen's good friend, Tsokoholik (err, I forgot to ask for her real name) who's also my friend over at IG.
Time was a bit short nga lang for the 4 of us ladies, as Ms. Ellen has a flight back to Dumaguete that she has to catch (but as it would turn out, naiwan sya ng plane!).   I, on the other hand, has an event to attend to at Eastwood Mall,  while Diane wanted to check out the Cath Kidston store at BGC (read about her happy trip to the Cath Kidston store here).  Tsokoholik naman would like to check out the Home Section of the Landmark (and she went home with not just one shopping bag hehe!  I love all the items she bought, especially the tin cans!)
So we said our goodbyes, and even without having to say it, we all know that this would not be the last time that we will see each other.
Thank you Diane and Ms. Ellen for making it to our 'momentous' meeting hihi!  And it was so nice to meet you, Tsokoholik!  Next time, talagang sa BGC na ang venue natin  =)