I LOVE garlic.  That's why adobo and salpicao are two (2) of my favorite dishes – the more garlic are put in them, the more delicious they become.
So when Ms. Ellen (of The Pseudoshrink) asked if I wanted buy a Terra Cota Garlic Roaster that she is selling, I said yes right away.  I have always wanted to try at home the Aglio e Olio Spaghetti recipe that I order at Italian restaurants but haven't found on an easier way to roast the garlic.  This garlic roaster couldn't have come at a better time.
I researched online for the proper ways on how to use the garlic roaster, and the instructions were all quite simple.
Here's how I prepared my own Aglio e Olio Spaghetti using the garlic roaster.
1.  The most common method is to cut the top off a bulb of garlic to expose the cloves.  Unfortunately, the garlics I have at home are all dusty on the outside and I didn't feel comfortable putting them in the roasting plate (which is glazed in the inside) with the dusty skin or balat still on.  So I peeled their skin off.  I used about 3 bulbs of big garlics for this recipe.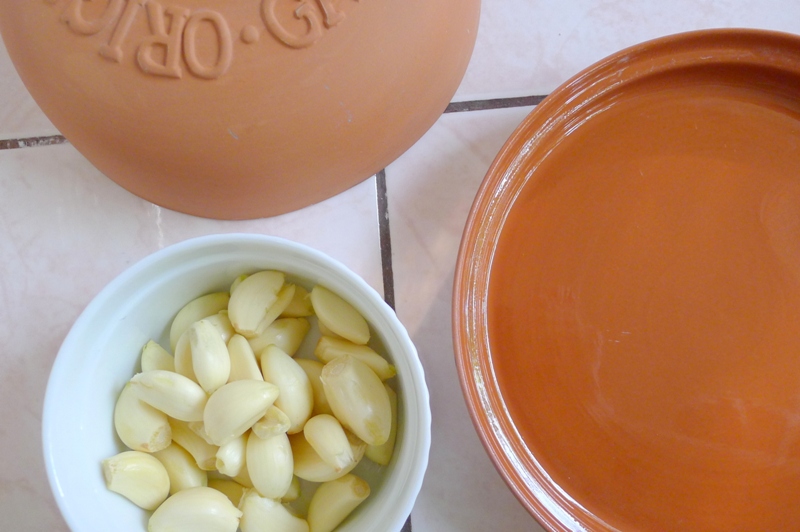 2.  Place the peeled garlic cloves in the roasting pan and add olive oil.  I followed the instruction in one recipe which said 3 tablespoons of olive oil per bulb of garlic.  Since I used 3 bulbs, I put in 9 tablespoons of olive oil.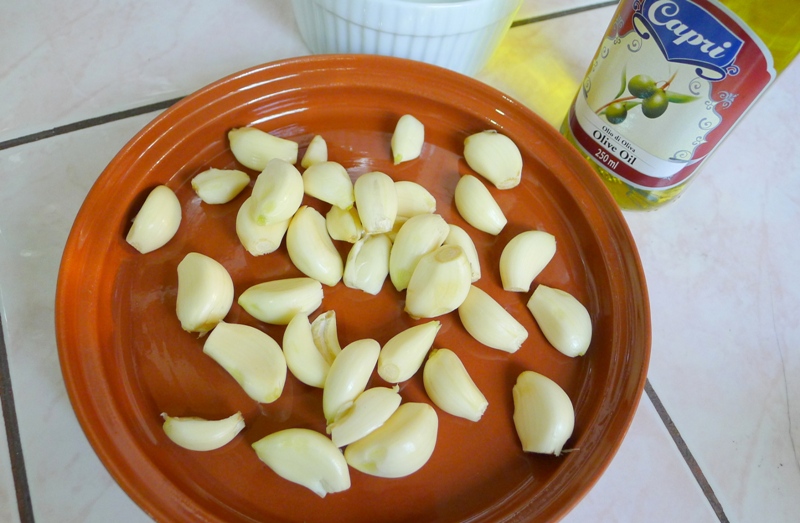 3.  Season the garlic cloves with salt, pepper and dried basil leaves.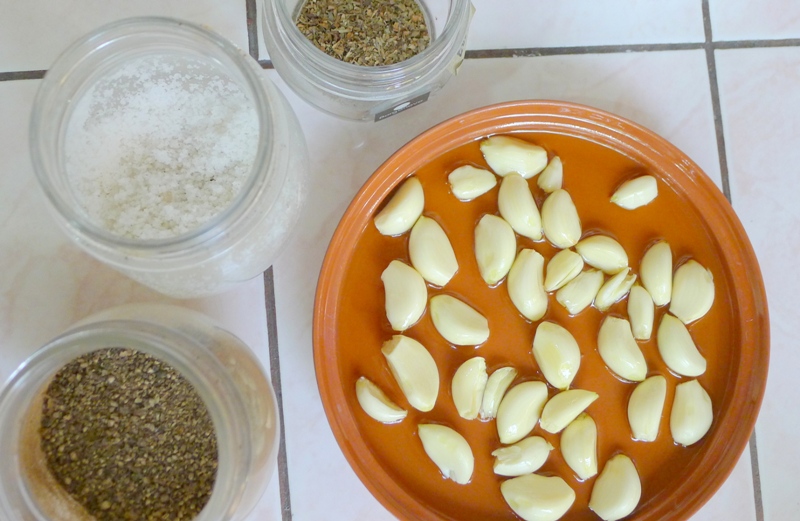 Since we are making a spaghetti sauce here, it's suggested that we add more salt.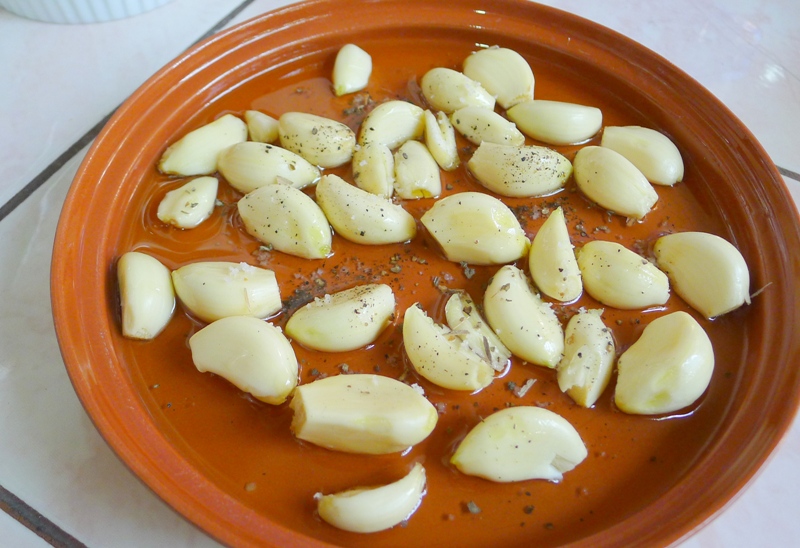 4.  Now, we're ready for baking.  It's very important that you have a cold oven (meaning it's not pre-heated).  Some recipes require that you soak the dome part of the garlic roaster in water for 15 minutes before placing it in the oven, for the moist heat to prevent the garlic from burning.   But other recipes do not require this extra step.  To be sure, I asked Ms. Ellen her method, and she said she just make sure the garlic roaster is placed in a cold oven before the baking starts
I placed my garlic roaster in a cookie sheet with baking paper, so that in case the oil will seep through the bottom of the roasting plate it will not leave any oil in the cookie sheet.  (Thankfully, nothing of this sort happened.)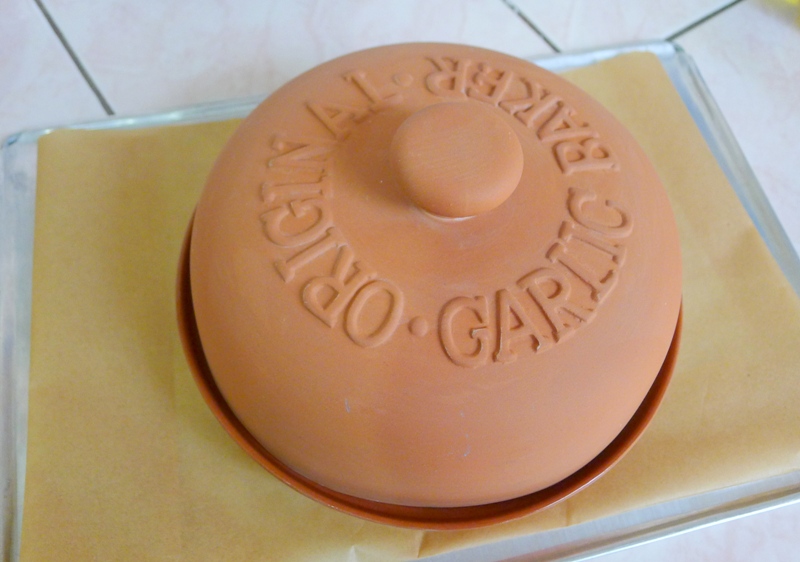 5.  The ideal temperature for roasting is 350 degrees F, but what you must remember when using terra cotta garlic roaster is that it must not be immediately subjected to high heat.  This might crack the plate outright.  It's best to gradually increase the heat until you reach 350 degrees.   That's what I did.  The roasting took 50 minutes.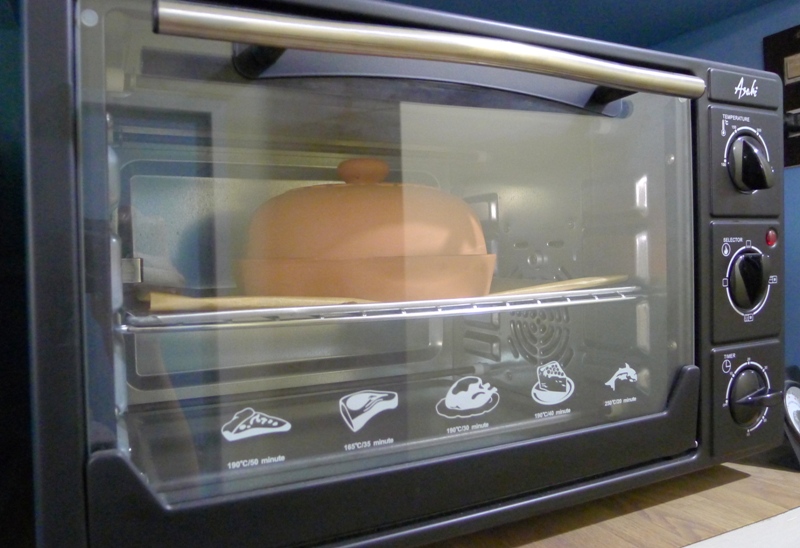 I swear, the smell of freshly roasted garlics is just divine!
I also avoided exposing the garlic roaster to drastic temperature changes  after baking by not taking it out of the oven immediately.  I took it out when the oven has cooled a bit, then placed it in a kitchen towel (no cold surface please!) and let it stay there until it has completely cooled.
6.  The roasted garlics will be very soft.  I mashed them using a fork to infuse more garlic flavor into the olive oil.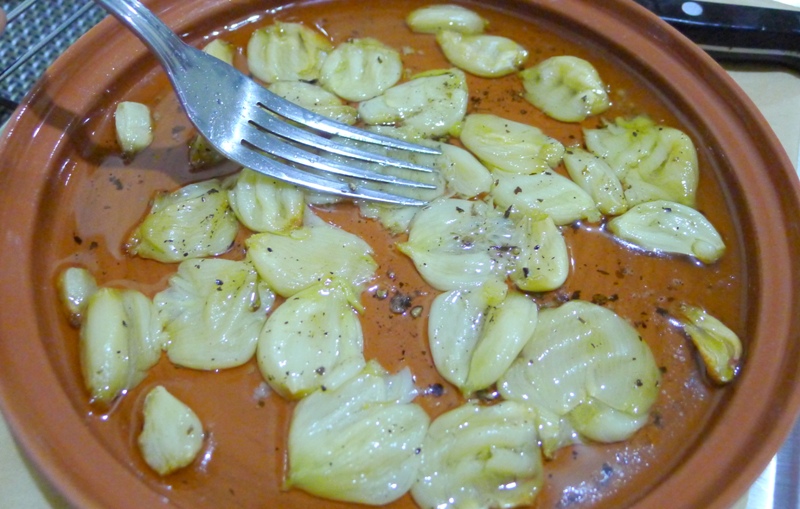 7.  Mix the oil-based sauce with cooked spaghetti noodles and finish with lots of parmesan cheese, grated provolone cheese (other cheese of your choice will do) and cooked Italian sausage for a restaurant-grade Aglio e Olio Spaghetti that you can enjoy at home!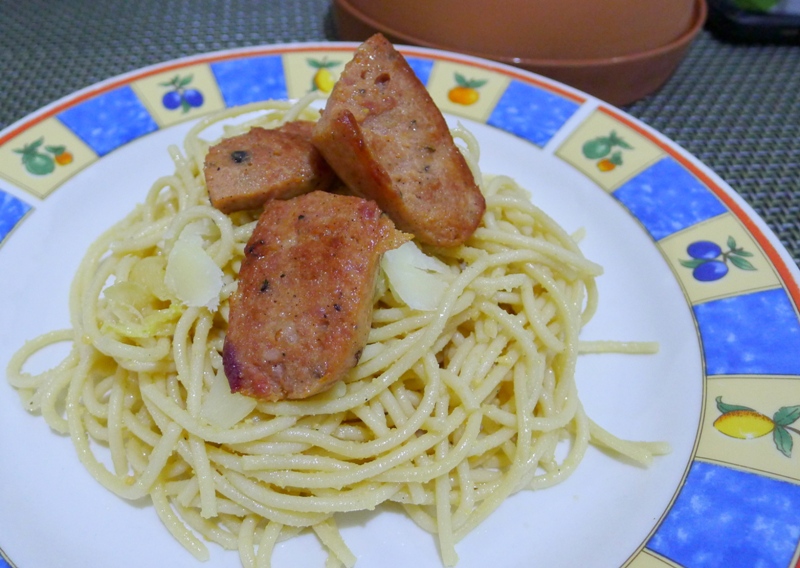 My Aglio e Olio Spaghetti was a success!  The olive oil tasted of wonderful garlic, so make sure to coat very well the spaghetti noodles with the oil sauce for maximum enjoyment!
The oil and garlic sauce is perfect as spread for toasted french baguette too.  I'll do that next time.   You can also mix this with baked vegetable. Or mix it with sun-dried tomatoes for another pasta sauce flavor. Or mix with mayonnaise and you have an instant dip for fresh veggies or chips.
There's just a lot you can do with this garlic + olive oil combination that's also very good for our health.  Read about the 10 amazing health benefits of garlic HERE.
If you also love garlic like I do, then this recipe is a must-try!  If you don't own a garlic roaster (yet), you can bake garlics using a tin foil.
In cleaning the garlic roaster, Ms. Ellen advised me to cool the roaster plate and dome first before washing them.   It's important that you don't soak it in water right away as this may also cause the terra cota cookware to crack.
At first I found the required care as strict, but I got the hang of it eventually.  I just have to remember that these are all essential to keep me garlic-happy for a long time!
Thank you, Ms. Ellen for thinking of me when you had these garlic roasters on sale!
It is not really an exaggeration to say that peace and happiness begin, geographically, where garlic is used in cooking. – Marcel Boulestin, first television chef (1878-1943)