My favorite way of 'decking the hall':  filling up our console table with Christmas ornaments.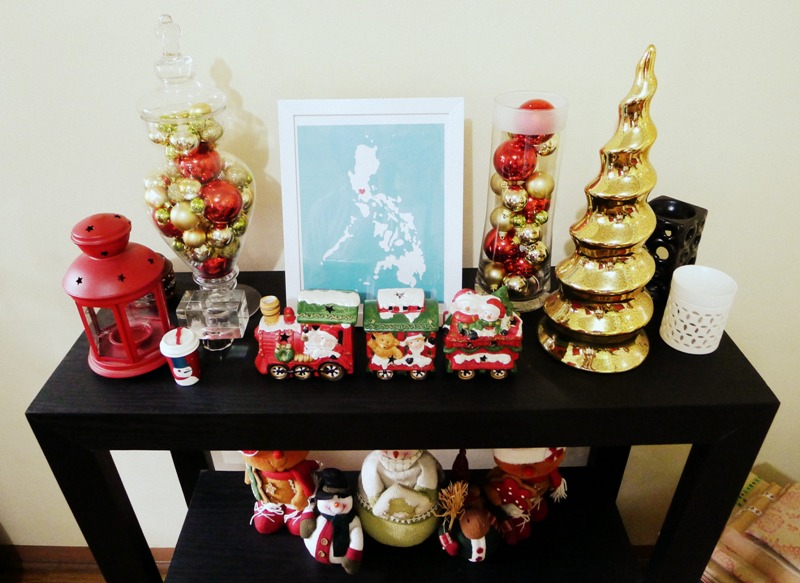 I chose to "grow" my Christmas ornaments collection by adding new pieces each year, instead of buying everything new to match a chosen theme or color palette.   Red, green and gold have always been our Christmas colors.  A bit traditional, yes, but nothing look so festive than these colors put together!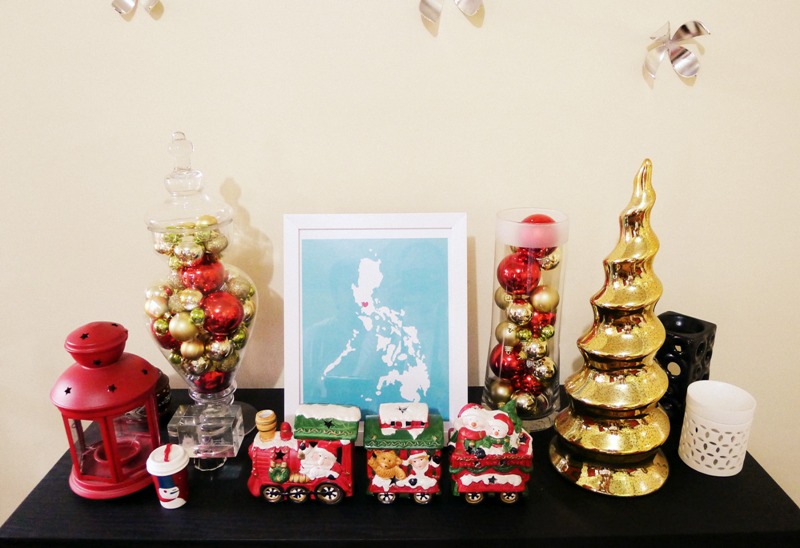 On the top layer of our console table are the following:
IKEA Red Rotera Lantern for Tea Light
Mantle glass jar from Ms. Ellen and recycled glass container for pasta noodles (that I turned into a tall 'vase'), both filled up with Christmas balls in red, gold and green
Ceramic Christmas tree-shaped decor in glossy gold finish.  I got this from Uniwide for only P299.00.
Ceramic Christmas choo-choo train decor from S&R
Starbucks Cup Ornament Holiday Decor (I got this as gift last year)
My 'Heart Manila Philippines' from 43 Lucy Designs
Candle holders (the white one is from Creative Definitions, bought online via Taste Central)
At the bottom layer is my 'growing' collection of Christmas stuff toys – bought from S&R, Uniwide and True Value.  I hope next year manganak pa sila, hehe!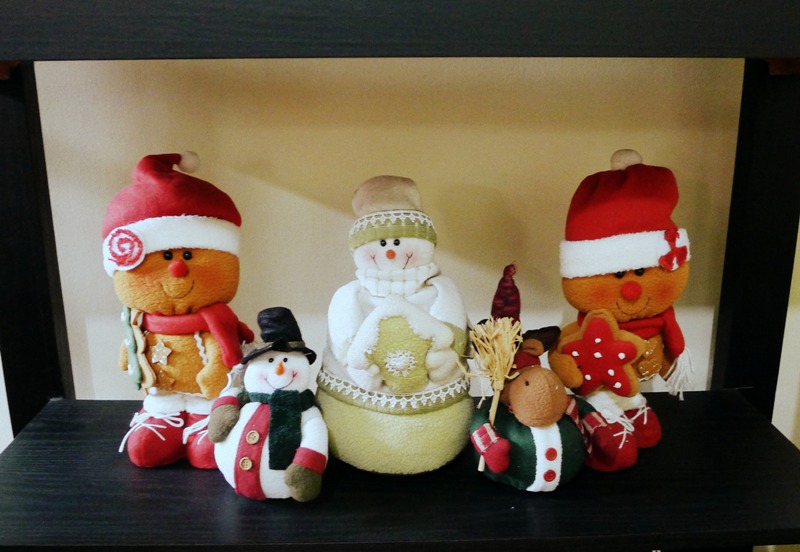 Our Union Jack Storage Chest was also decorated for the holidays.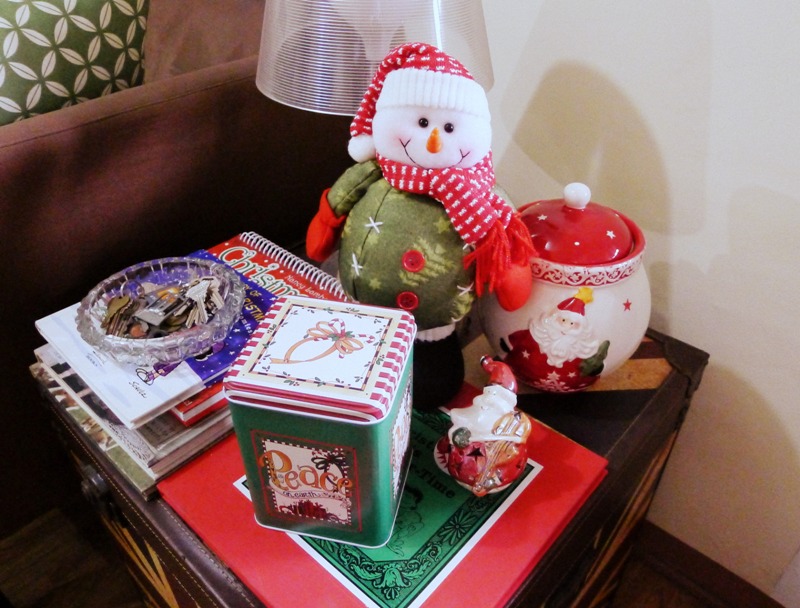 On top:
Snowman stuff toy (from Uniwide)
Santa Claus Cookie Jar (I got this as gift last year also)
Ceramic decor (of Santa Claus playing the violin) from S&R
Christmas-themed tin can (bought at the Landmark for less than P100.00)
Christmas books (from Booksale)
To save on space, I placed our Christmas gifts inside this hand-woven basket that my mom gave me.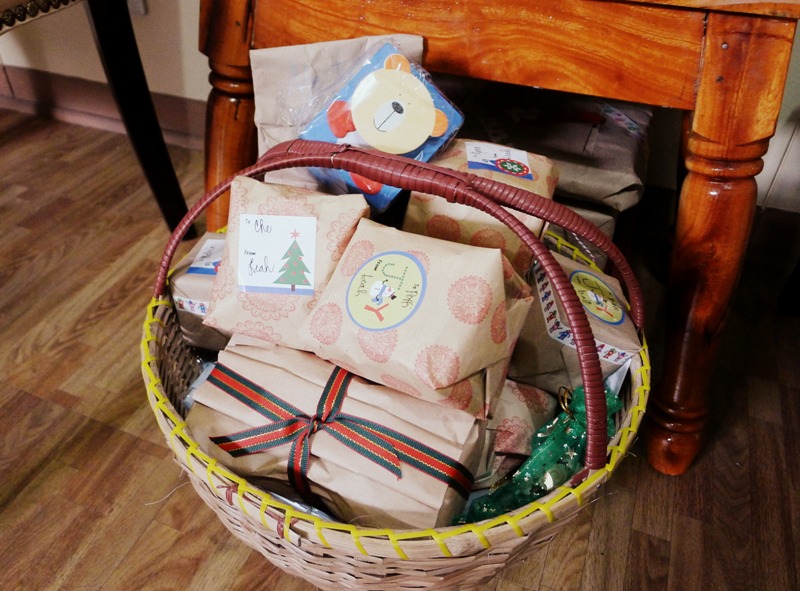 The other gifts (mostly books) were arranged neatly on this Christmas-themed food tray that I got from my Ninang Caro.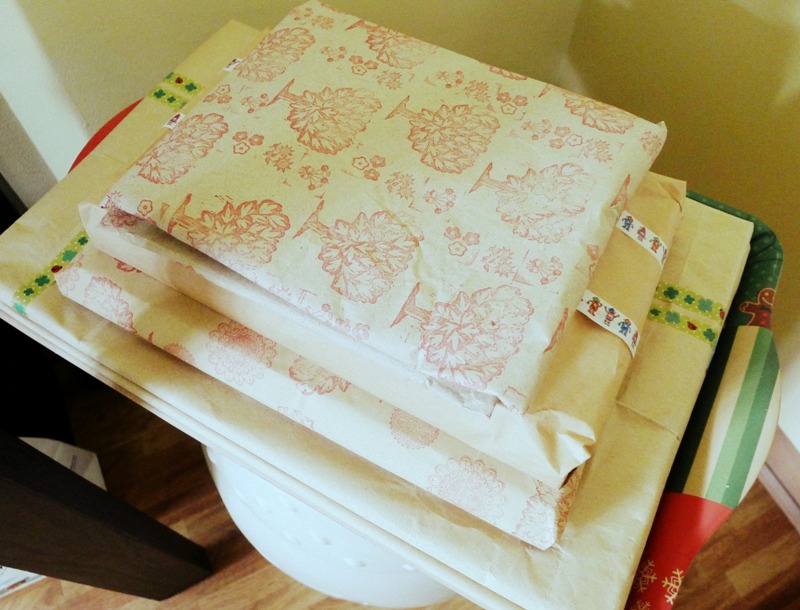 I really enjoy looking at our decors, eventhough they're the same each year hehe!  Each piece is beautiful and special, and brings good cheer!
 Christmas waves a magic wand over this world, and behold, everything is softer and more beautiful.  ~Norman Vincent Peale