Sorry for the lack of posts, I was on travel last Friday for work and as luck would have it, my destination was Puerto Princesa in Palawan and our work was scheduled on a Friday!  We were able to squeeze in an island-hopping activity the following day (a Saturday) before flying back to Manila in the evening of the same day.
You must remember that some months ago, I shared with you this unforgettable trip AJ and I took at Puerto Princesa, Palawan, and up to now I still back read on my posts about the Palawan south sea pearls, our food trip, island hopping and day tour, and reminisce about our wonderful stay there.  And the more I look back at these posts, the more I want to buy a land there and retire in Palawan when I hit 60!
But for now, I am more than happy to be traveling there for work or for a vacation.   I don't think I will ever tire of visiting Puerto Princesa City, especially the LRC 908 Market Mall, for – what else – the Palawan pearls!
I think I spent a good 5 minutes just looking at these gorgeous South Sea Pearl necklaces.  Sana manalo na ako sa lotto so I can buy the golden south sea pearl necklace (third one from the top).  It's super, super beautiful!  The price?  P100k lang naman haha!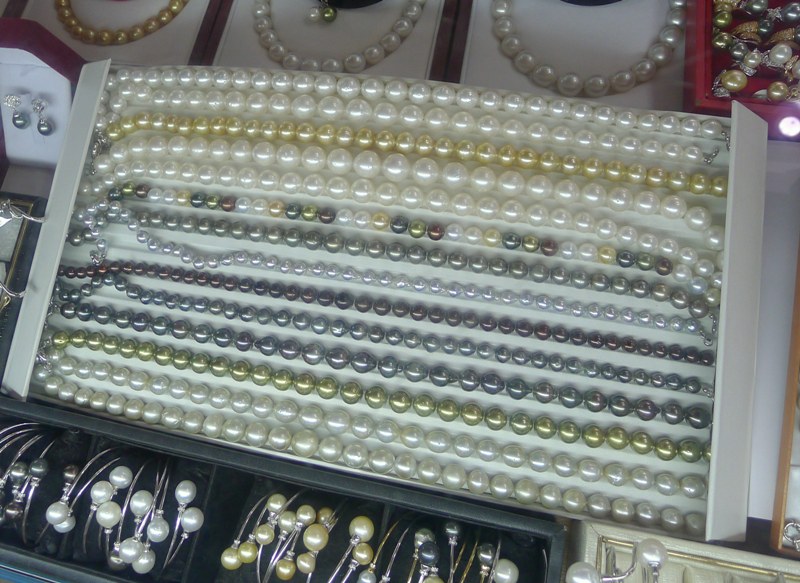 The tear-drop earrings at the rightmost side of the picture below reminded me so much of The Girl with a Pearl Earring, one of Dutch painter Johannes Vermeer's masterworks.  The pearl color is blueish gray (one of the hardest to find).   I didn't ask for the price anymore cos I might be tempted to buy!  Remember, this shop accepts credit cards!
Instead, I looked at the freshwater pearl necklaces being sold there and was amazed at how good-looking the pearl luster and shapes were.
But these being freshwater pearls, they have softer luster as compared to south sea pearls.   Nonetheless, freshwater pearls are solid pearls, so don't be surprised to find a strand of freshwater pearls with nearly spherical shapes, big pearl size (because freshwater pearls can grow as big as 12mm), smooth surface (meaning very minimal scratches or fish bites) and above average luster, fetching a price of P10,000 or more.  That's still a good price to buy, mind you, as compared to buying the south sea pearl necklace that would probably cost 10x more.
So what's a pearl lover to do when she sees beautiful freshwater pearl necklaces at very affordable prices?  Buy, buy, buy!
The freshwater pearl necklaces at LRC 908 Market Mall are priced between P150 to P2,000, depending on the shape, size, surface and luster.   I bought 4 strands in different shades of white and pink.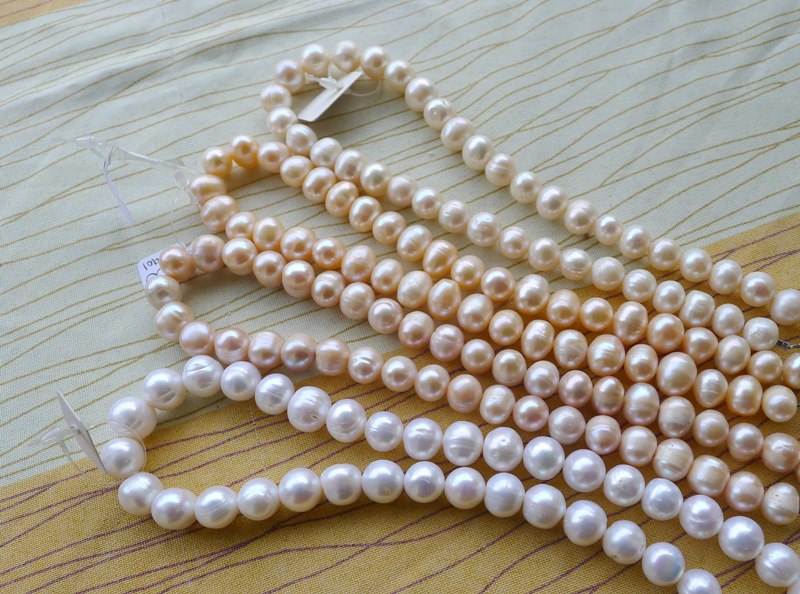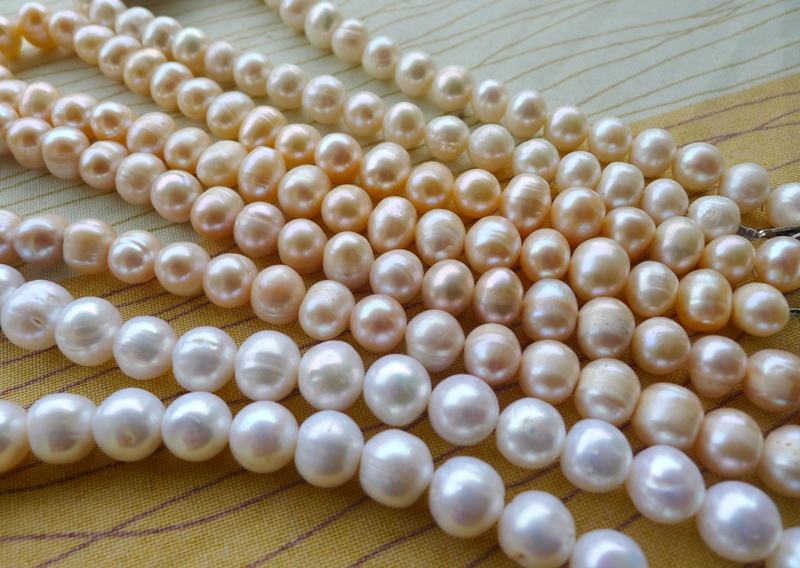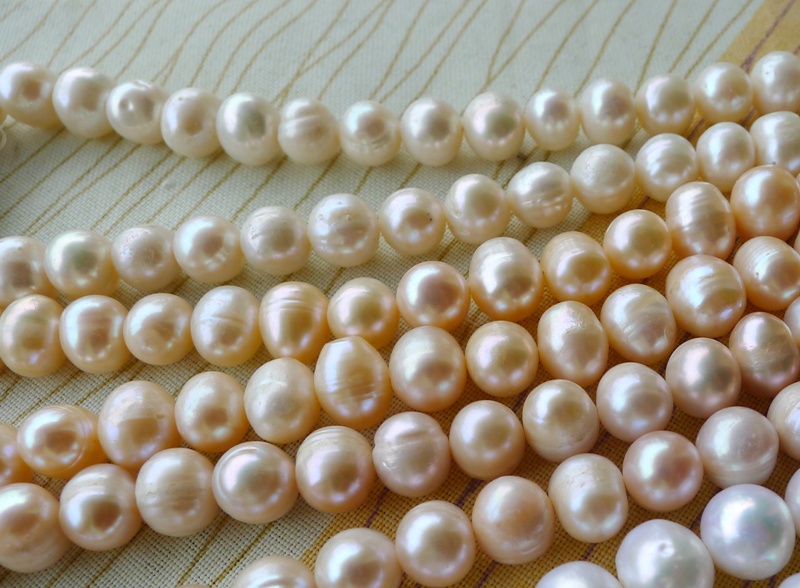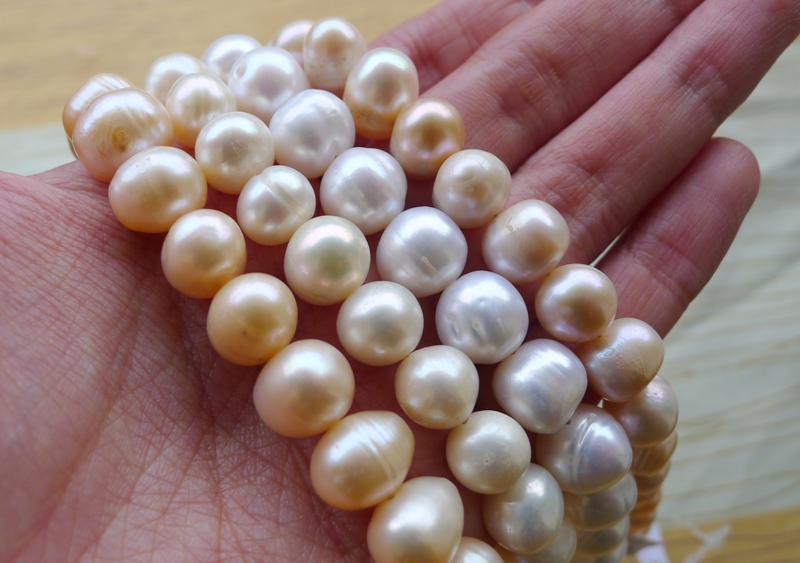 Nice, noh?  The pearls are about 9mm to 9.5mm each, and are mostly off-round.  Pearl jewelry lovers who prefer off-round or baroque-shaped over spherical ones will surely love these.   The luster is generally good, and most of the pearls have smooth surface.  The price is also very okay – not too cheap but not expensive, either.
I know you're dying to find out how much these 4 strands of freshwater pearls cost me, but I will be mum on that this time.  You see, I'll be giving these beautiful necklaces as gifts this Christmas and mega dyahe if my recipients will see this post and read the prices of their gifts hehe!  So I hope you understand, dear readers.
More Palawan stories (from my very short stay) coming up!