Palawan is popular mainly because of ecotourism, which it promotes so responsibly and enthusiastically.   You won't see mass tourism there, and in exchange, you get to experience being part of island communities that are unspoiled but very much thriving.
What you probably don't know about Palawan is that, to borrow this description from Jewelmer, the international luxury brand for Golden South Sea Philippine Pearls: "Pristine tropical waters of the Palawan nurture the world's largest pearl-bearing oyster, the gold-lipped Pinctada maxima oyster. A rich diversity of life, including rare and endangered species endemic only to the region, together with modern pearl farming technology, has enabled a unique partnership between man and nature to create the rare golden South Sea pearl."
Thus, it's just but natural for me to look for golden south sea pearls during our stay there.  And the best place to find them is at LRC 908 Market Mall, known as the "Pasalubong Center" of Puerto Princesa.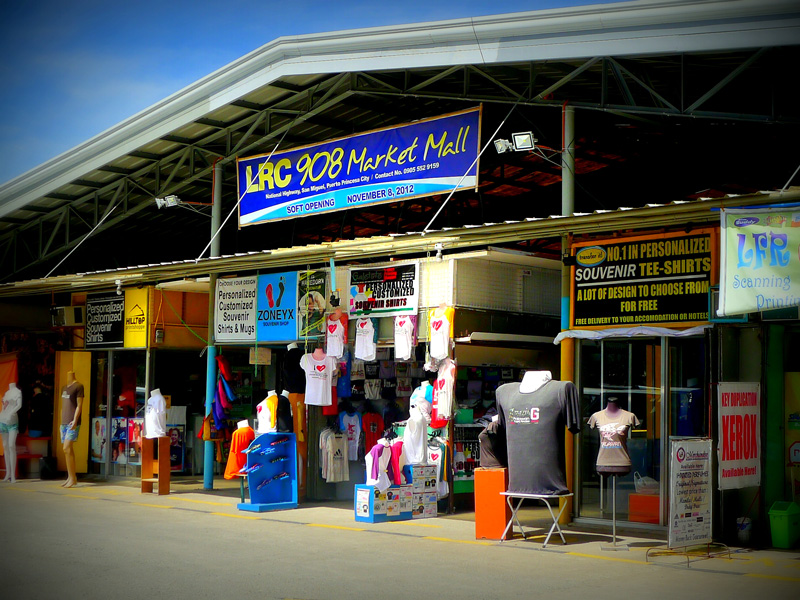 But before you go shopping for South Sea Pearls, I suggest you orient yourself with this simple grading chart for pearls so you get the best among the lot (sample shown below is that of a golden south sea pearl):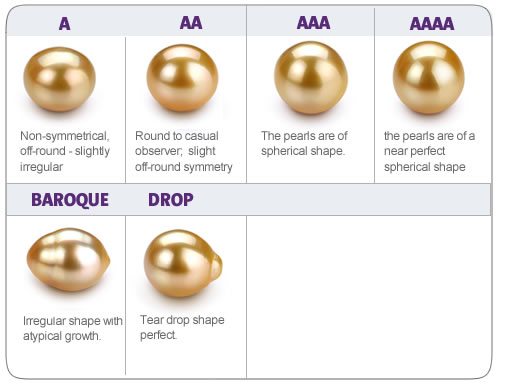 It is said that the more intense the gold color is, the higher is its value.  But you know, when you see this plenty of golden pearls together, believe me – you'll get lost haha!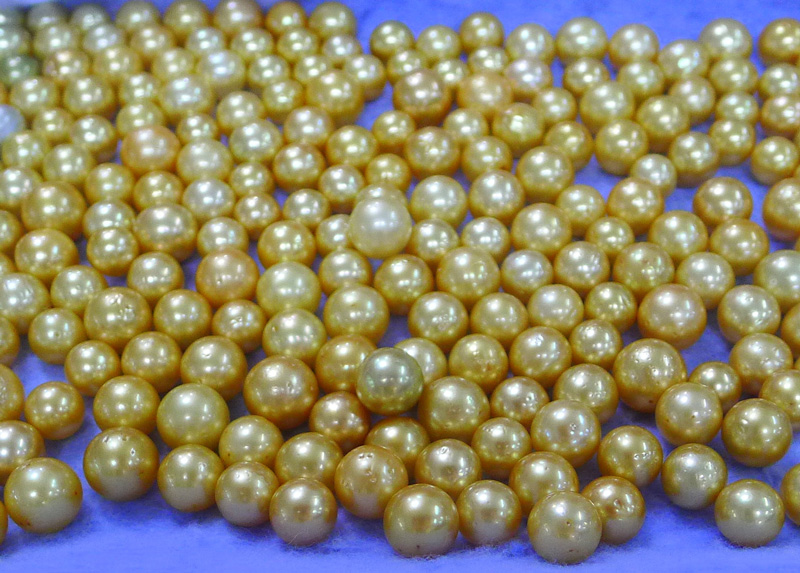 When I shopped for my own golden south sea pearl, I challenged myself into buying one that will cost less than P2,000.00 (Tip #1 – set a budget).   Yes, a single pearl for that price.  Not impossible really because the pair of 11.5 mm golden sea pearls I bought at eBay years ago costs P8,000 or P4,000 for each pearl.
Next, do not rush in picking pearls (Tip #2).  If you can choose from their pile of loose pearls, the better and the more enjoyable it is.  Why?  Because it's like picking the best tasting candy from inside a jar hehe!
But then again, we don't have the luxury of time to check the condition of each and every pearl in the pile so do not hesitate to ask for assistance from the attendants there and narrow down your choices to these "sorted" pearls.  Do not get carried away with their recommendations, though, and if you don't like what they chose for you, say it outright (Tip #3 – look like you know your pearls well so they will choose also the good-looking ones for you).
You can also skip looking at the unsorted pile and just ask for the high-quality ones (like those below).  It's much easier this way and yeah, it saves time hehe!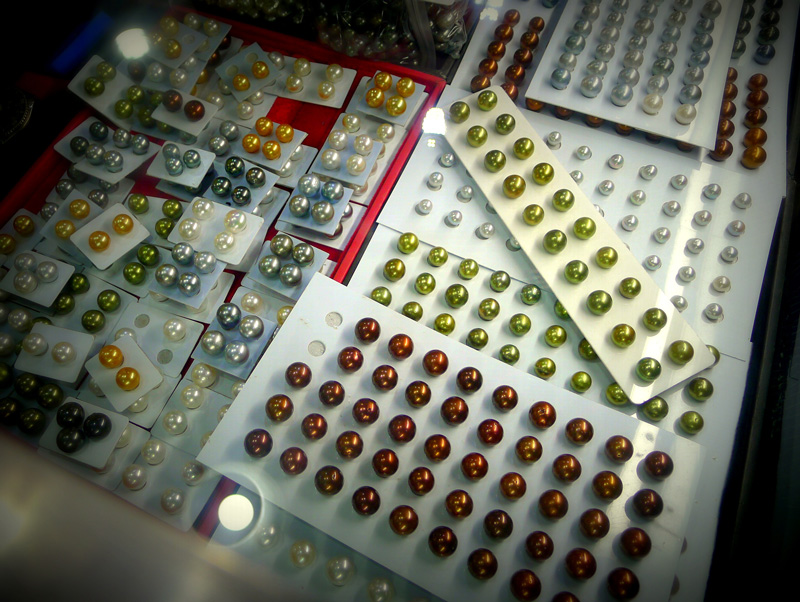 If you are buying pearls to be set into earrings and ring, it is okay if not all of them are the exact likeness of each other.  I personally do not mind them not being of the same roundness (otherwise, they'll look fake), for as long as the shade and luster are not too far from each other.
Also, having fish bites are okay (another indication that they're not fakes), but too many fish bites are not always okay.   It really depends on what setting you'd like for your pearl.  If, for example, you want it to be set into a ring, then the presence of fish bites at the bottom part of the pearl is okay since they will be concealed by the setting anyway.  I would actually buy the pearl with fish bites that are easily concealable (that's Tip #4)  because fish bites drive their prices lower (good point!) and then once set into a ring you won't get to see them anymore (another good point!).  Plus, the gold component and craftmanship of the ring will now drive the price of the pearl ring higher (a good, good point!).
Here's the golden south sea pearl that I got from the pile above, with the golden south sea pearl earrings I have at home  (grabbed from my Instagram account – @dbrightspot):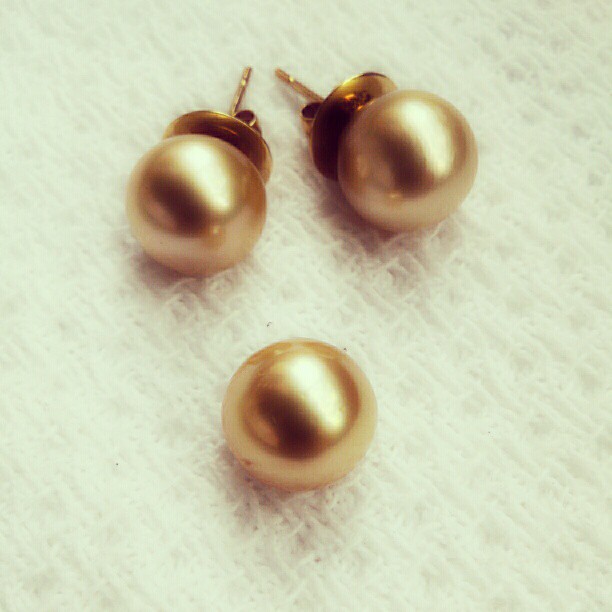 The pearl I got is a little more intense in color than the earrings, but look, they matched each other perfectly in the picture!  The size of the pearl is about 11.5mm.  And since I will be setting it into a ring, the color difference won't be obvious at all.
And the price of the pearl?   It was offered to me at P2,500 but I haggled hard (Tip #5 ) because of the presence of fish bites at the bottom part of the pearl.   I was able to buy the pearl for….(drum roll, please!)…. only P1,500.00   =)    Imagine, a golden south sea pearl for that price?!  It's insane, right??
Anyway, my lucky streak continued and I found these 11.0 mm white pearls (with a hint of silver) that are already set in sterling silver.  They have very good reflection quality (can you see me inside the pearl holding my camera?) and that's also an indication of above-average quality pearls (Tip #6 – check out the luster; the clearer your reflection is inside the pearl, the better).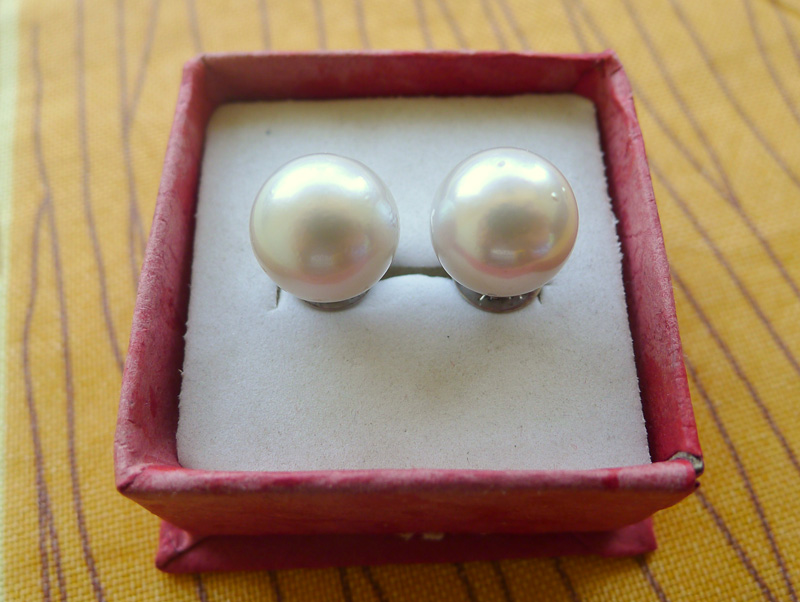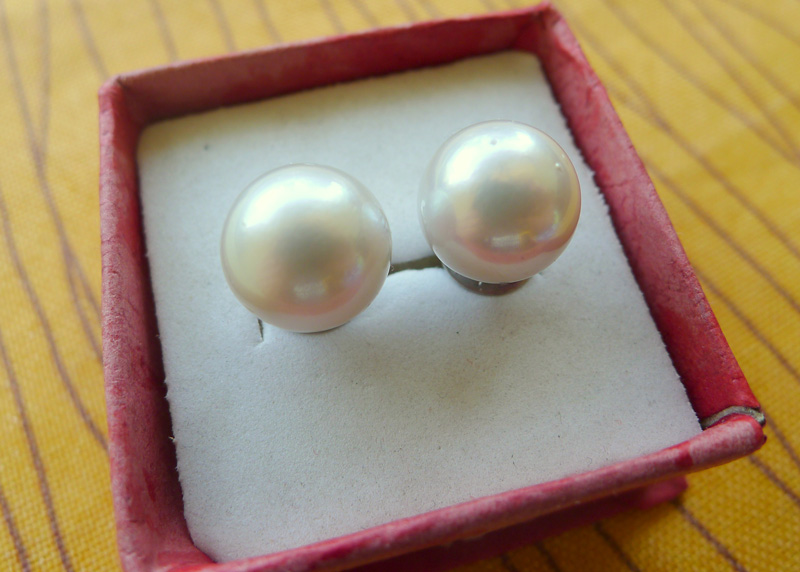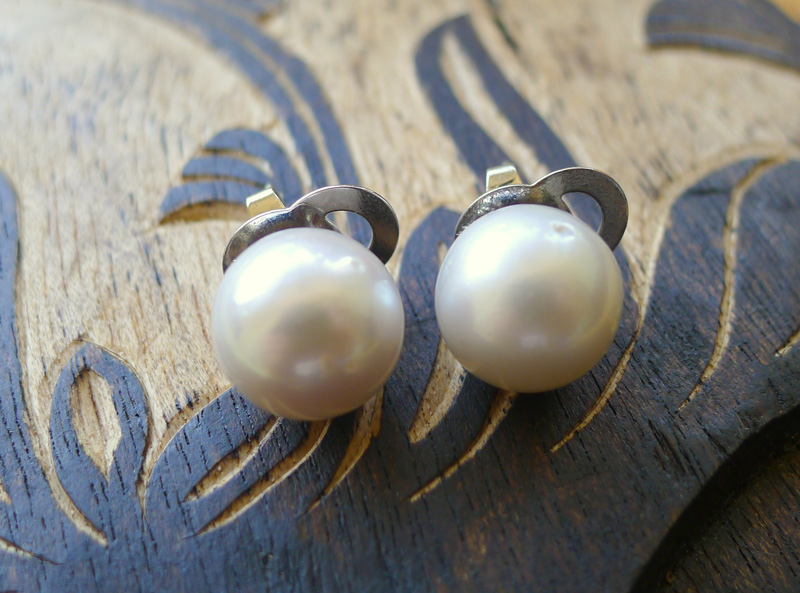 You can see a fish bite at the right earring and that's okay, it's not visible at all when you wear the earring with this side down.
I invested no more than P5,000 for these south sea pearls (yes, very true!) and that made me a really happy pearl hunter!   =)
It also made me happy to see this lady finally buy the golden south sea pearl necklace I was eyeing at the same shop I was in.   It looks way, way better (and rounder) than this Jewelmer necklace that was once auctioned at UNICEF's Auction for Action with a starting bid of P127,500 (photo is from Daphne.ph):
The lady was actually haggling for more discount for this similar necklace when I came in.  She eventually bought it at P70,000.00 – a steal pa rin!   And she's really happy with her purchase.   And I would have, too!  If only I'd gotten hold of that necklace first (sorry, no chance to take pictures but the Jewelmer necklace above will give you a good idea of the pearl sizes and length of the necklace).
Yes, you can buy big ticket jewelry items there at LRC 908 Market Mall because the big shops accept credit cards!   You can worry about the payment later haha!
Now that you know where Jewelmer sources its golden south sea pearls, you'll know what to look for when at Palawan   =)