I have written much about our trip in Puerto Princesa, Palawan last May, but have not said much about the food there.   Why is that?  Because I've been saving it for last   =)
Since all breakfasts and lunches during our 4-day trip are already paid for (as part of the tour and accommodation packages that we availed of),  it was only our dinners that we have to plan and pay for separately.   And that's super fine with us because we also want to try out the local cuisine.
It was a week before we left for Palawan that I started checking out food and travel blogs for the "must-try" food places in Puerto Princesa.   The following were consistently mentioned in most food and travel blogs I've read: Balinsasayaw, Bona's Chaolong and Ka Lui.  So we made sure that we try all 3!
Balinsasayaw:
Dinner at Balinsasayaw was all about classic Pinoy food.   We ordered garlic shrimps (AJ's favorite), grilled pork liempo, adobong kangkong and fresh buko juice.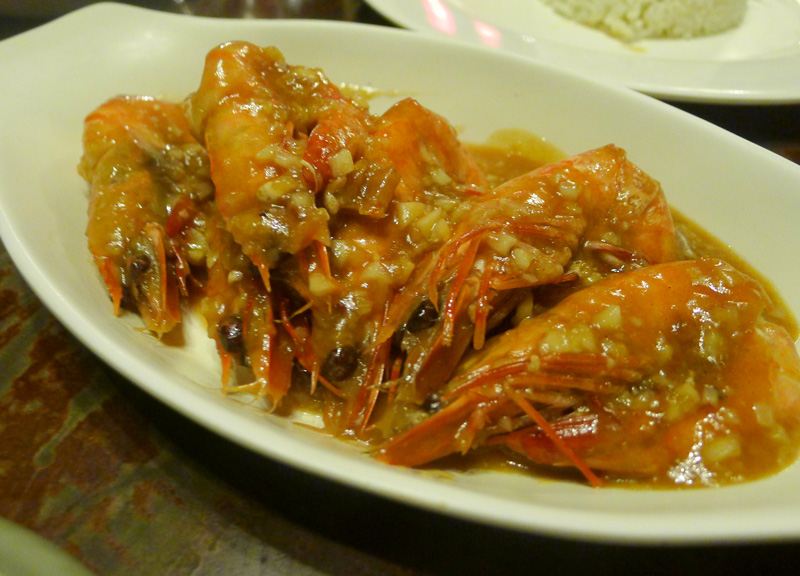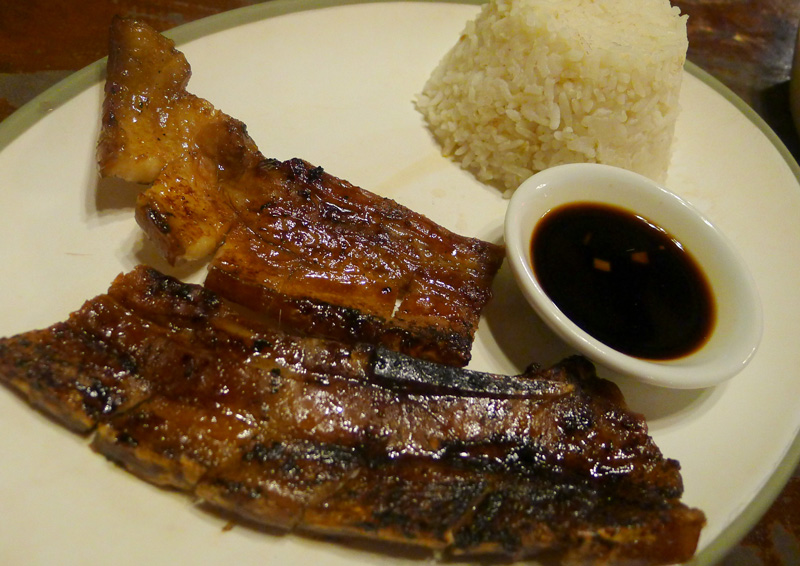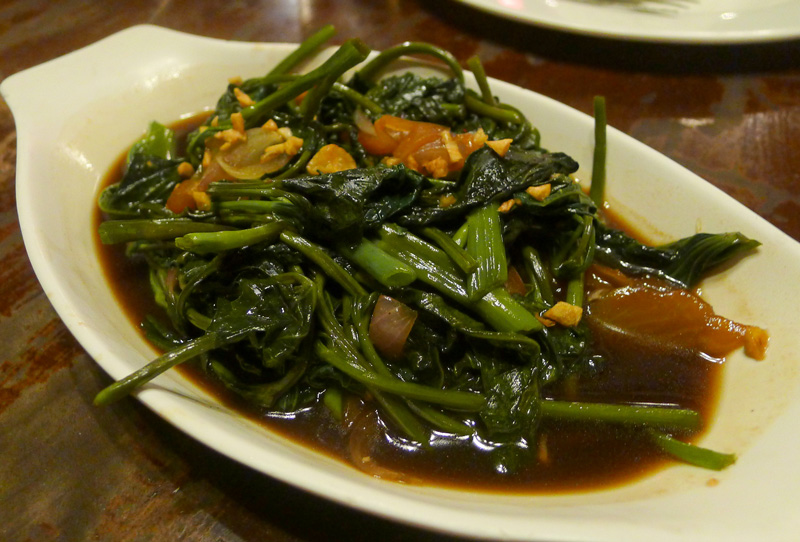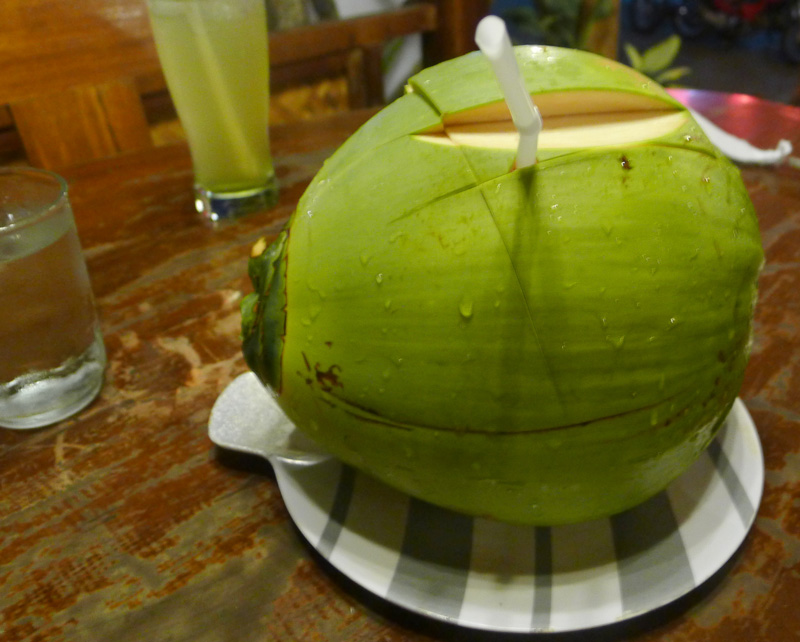 Everything was super sarap, walang maipipintas and nakakabusog!   A warning, though: be ready to order an extra cup of rice because the viands are big in servings (that is, if you're only 2 on a food trip).   So junk the diet when at Balinsasayaw!
Our total food bill for all these is  just a little over P500.00 (lang!).
Bona's Chaolong:
Palawan was once home to Vietnamese refugees (who started arriving in the late '70s stayed until the early '90s), so the locals learned how to cook Vietnamese cuisine and even bake French bread (something that the Vietnamese learned, in turn, from the French – having been part of the French colonial empire known as French Indochina (with Cambodia and Laos), which lasted until the Second World War).   I learned that you can find the best Chaolong noodles in Puerto Princesa at Bona's Chaolong, and paired with their freshly-baked French bread, will instantly warm and fill you up.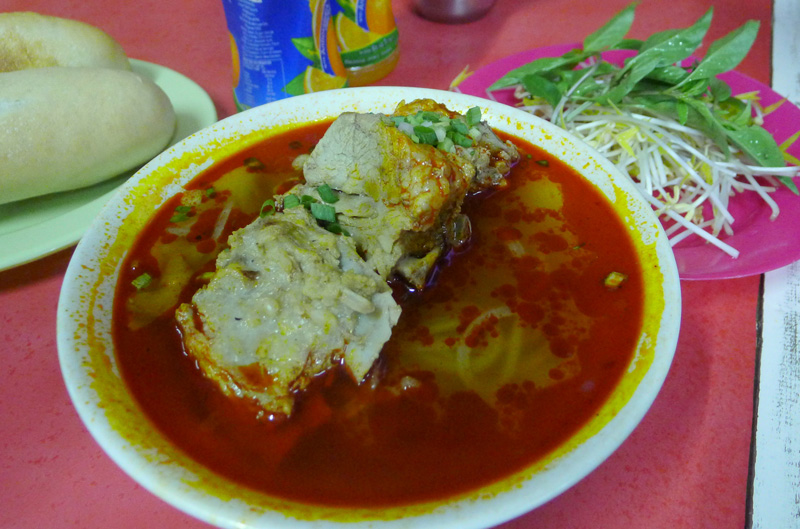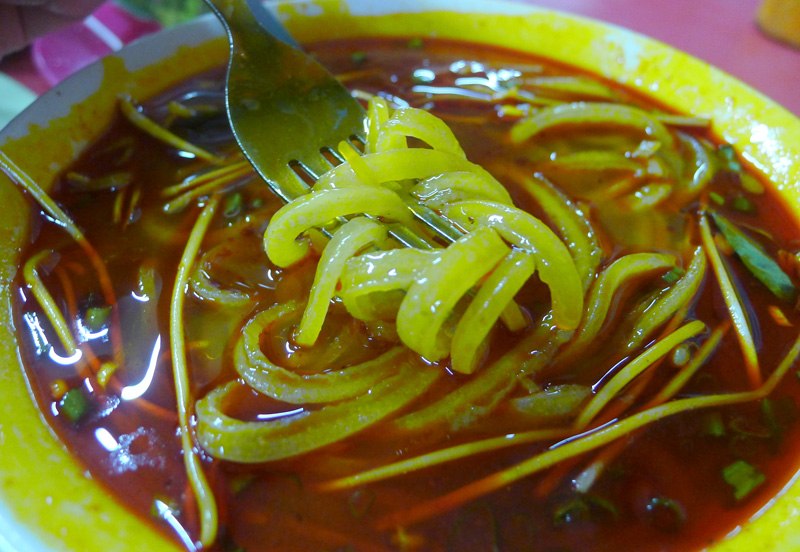 AJ ordered the pork buto-buto version of this noodle dish, while I had the beef one.  The one in the picture is the pork version, but it looked (and tasted) exactly like my beef Chaolong.
It was my first time to try this dish, and I liked it!  It tasted like beef stew but with a surprisingly sweet flavor.
The french bread, on the other hand, was a revelation.   It's crunchy on the outside and super soft inside.   I know I cannot find something as good as this in Manila so I took home a dozen of Bona's french bread  =)   And wala pang one week, ubos na sa amin!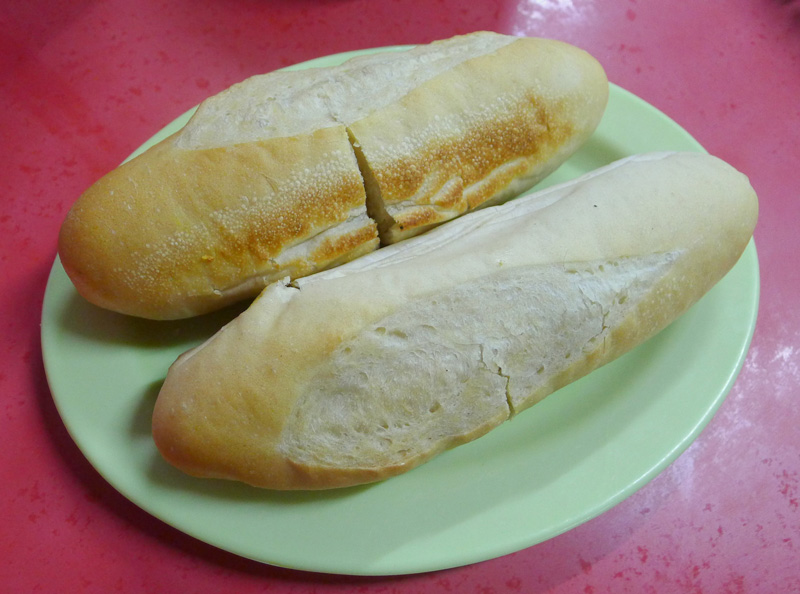 Each bowl of Chaolong at Bona's costs between P50.00 to P65.00 only, while the french bread is P10.00 each.
Our dinner at Bona's is definitely the cheapest one we had so far, that I am curious to find out if there are restaurants out there which can top their interesting dishes and price tag.   Any suggestions?
Ka Lui:
On our last night at Puerto Princesa, we had dinner at Ka Lui – the "gem" of Palawan's local food scene.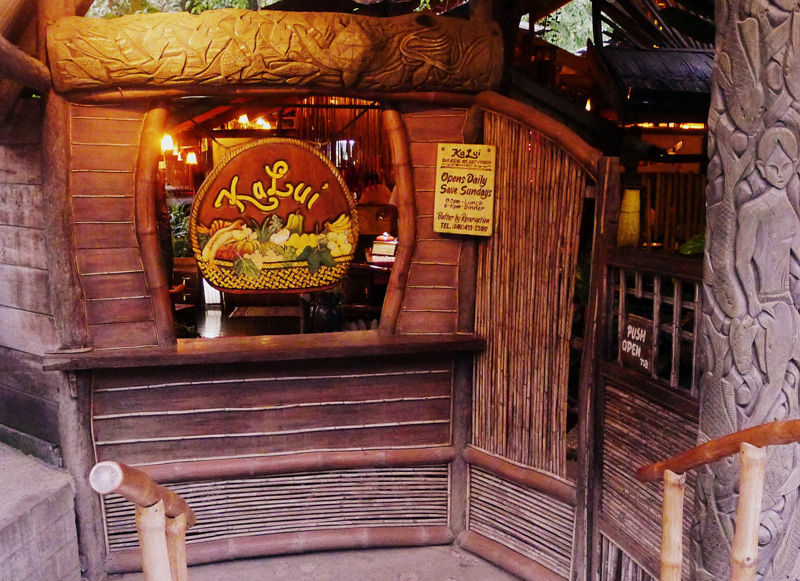 Dining at Ka Lui is strictly on a reservation basis, and the holding period is only for a good 15 minutes .  Walk-in customers are often turned away, while others are brave enough to wait it out and see if there'll be "no-show" customers.
We're glad that our travel agent made a reservation for us 2 days earlier, as we wouldn't feel our trip to Puerto Princesa to be "complete" without a dinner at Ka Lui.
I love the ambiance at Ka Lui, very "homey" and provincial.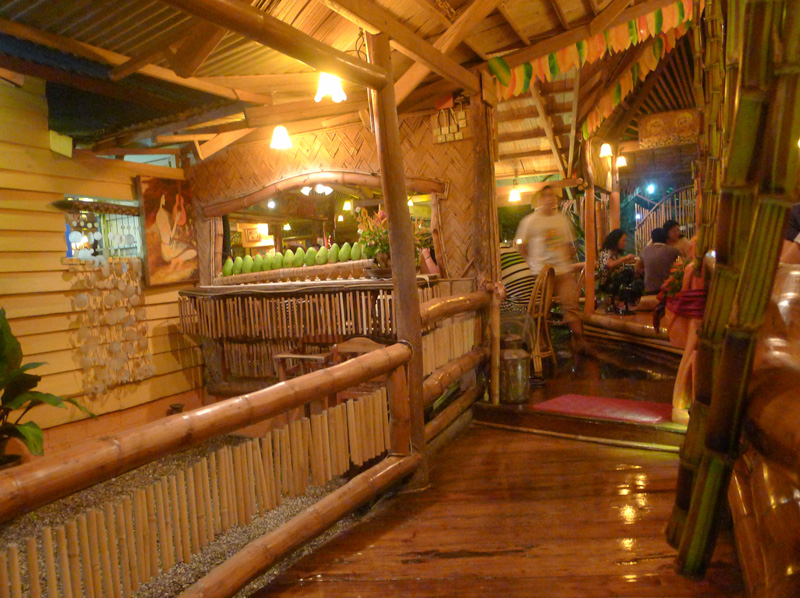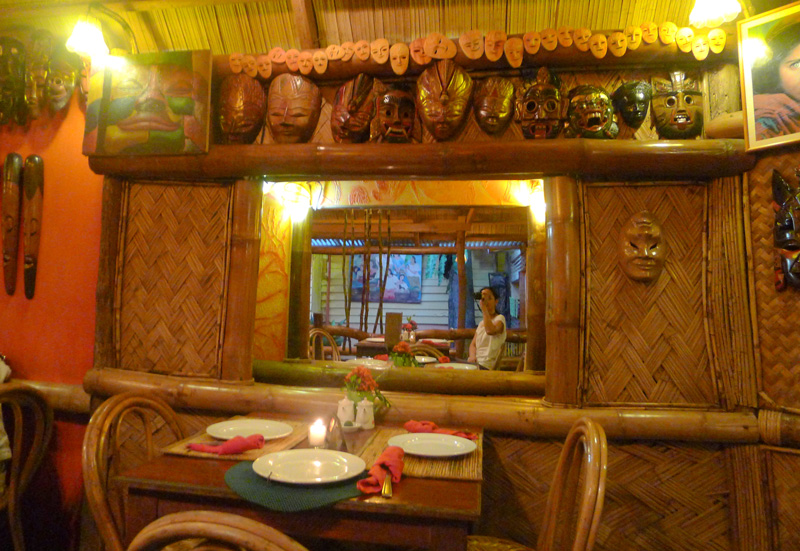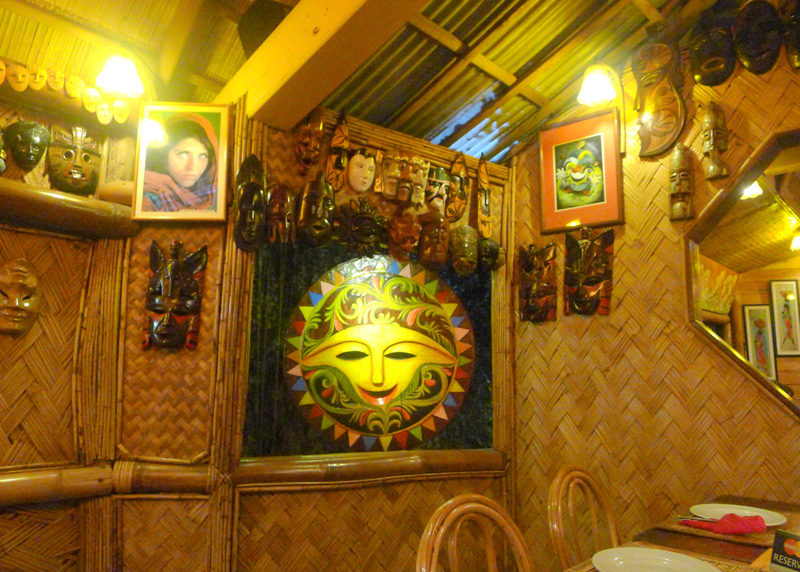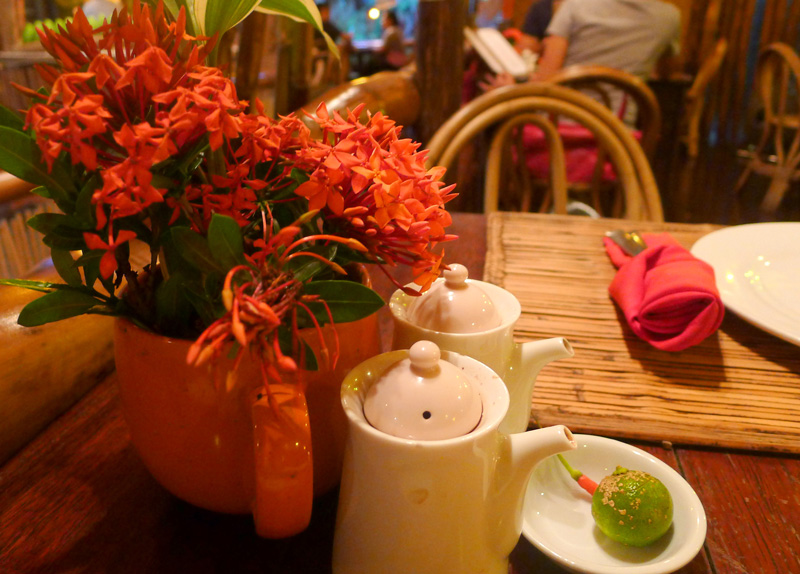 Another thing that makes Ka Lui unique is their "no shoes" policy.  Because there are some tables there with very low table feet (like those you see in Japanese restaurants), customers are not allowed to wear or even bring their shoes / slippers inside.  There's a mailbox-type cabinet outside the restaurant where you can keep them – securely.
We ordered the Ka Lui Special of the Day Set, which is priced at only P435.00.  I thought that it's P435.00 per head, but was utterly shocked (yes, that's the word!) to find that it's already P435.00 for the two of us!  Unbelievable!
And why is that so?  Just check out what's included in this P435.00 meal set for two:
Fresh lato (the seaweed that looks like grapes) as appetizer.  It is juicy and salty.  Add fresh calamansi and you're ready to dig in!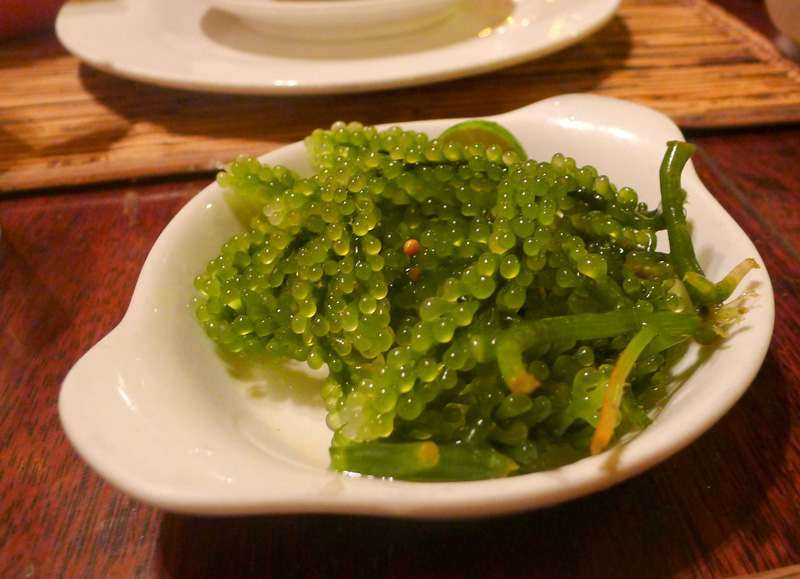 These are biggest and juiciest prawns we've ever had in Palawan.  They're cooked in butter and sauteed in lots of garlic.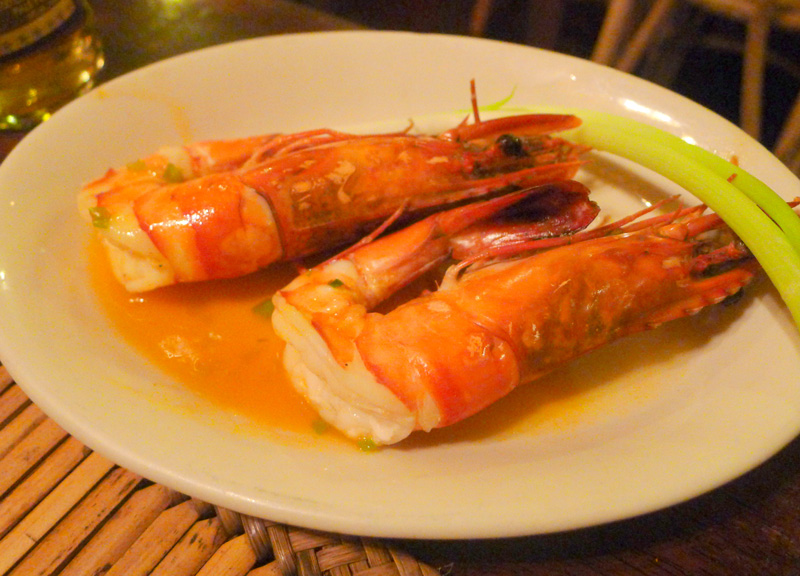 The super yummy pan-grilled tuna steak that's as big and thick as the prawns.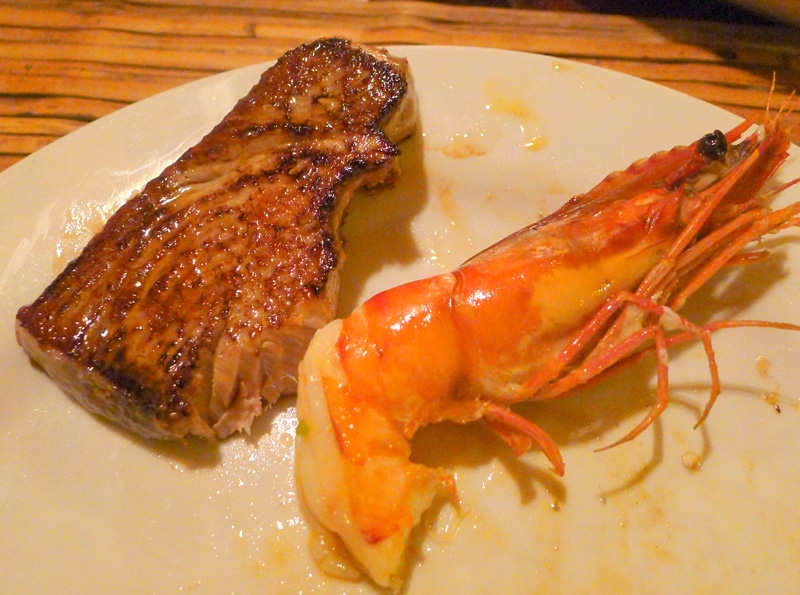 I love this simple but delicious veggie dish.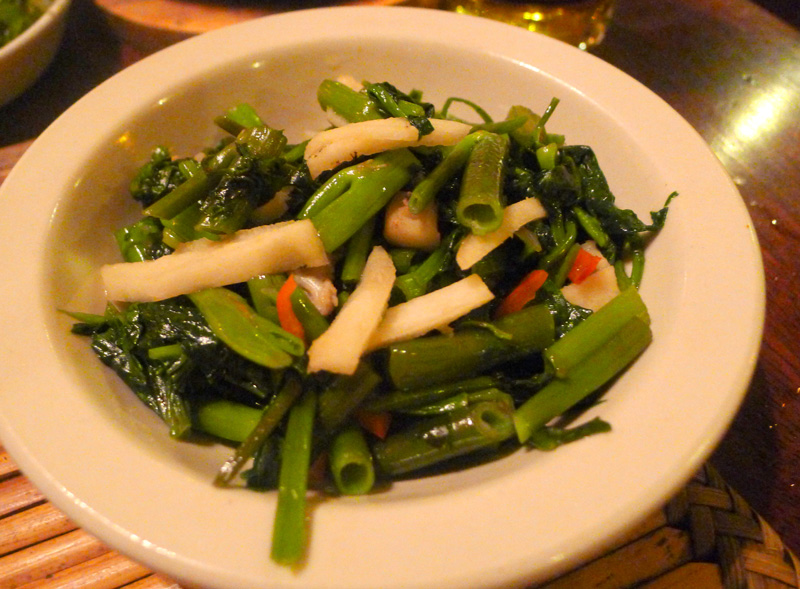 The sizzling squid that's full of flavor and mildly spicy.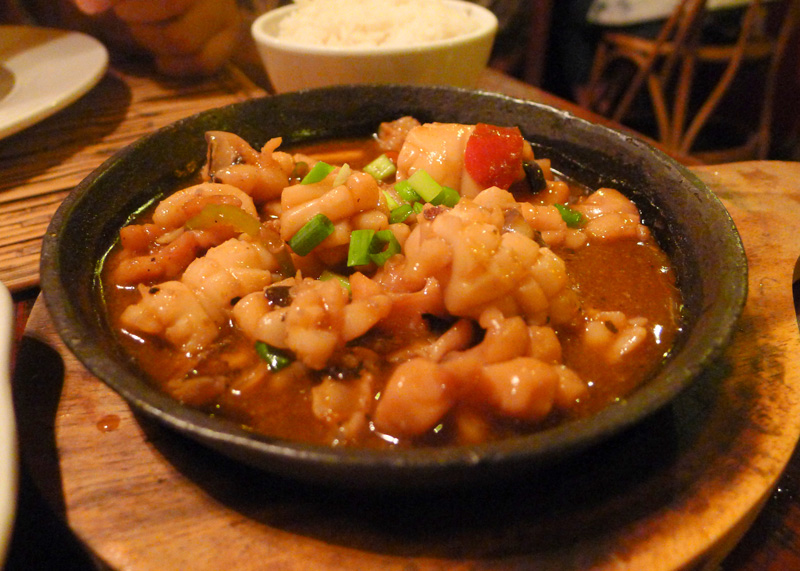 We also got dessert – for free!   Fresh fruits topped with muscovado sugar.  Oh, how I'm missing this already!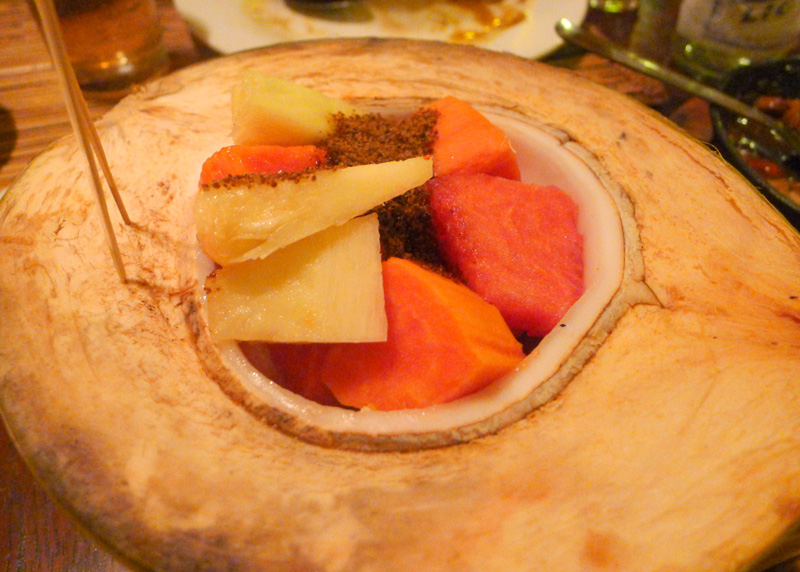 It was such an blockbuster meal in terms of quantity, quality and price.  I think there's no better way to cap your last night at Puerto Princesa than a good dinner at Ka Lui.
Balinsasayaw, Bona's Chaolong and Ka Lui are all located in the city and are accessible via the taxicles (i.e. tricyles) that you will find everywhere in Puerto Princesa.   Taxicle fare is only P8.00 to P10.00 per person.
I hope you all enjoyed our vacation stories from Puerto Princesa, Palawan.   Till our next adventure!