We spent our last day in Osaka at Universal Studios Japan (USJ).  Despite having explored already some parts of USJ the previous day (see related post here), AJ and I still went there early.  We had a quick breakfast at a McDonald's restaurant we found just outside USJ, before starting our day there.
The early morning crowd was kinda thick already – even at 9:00 a.m.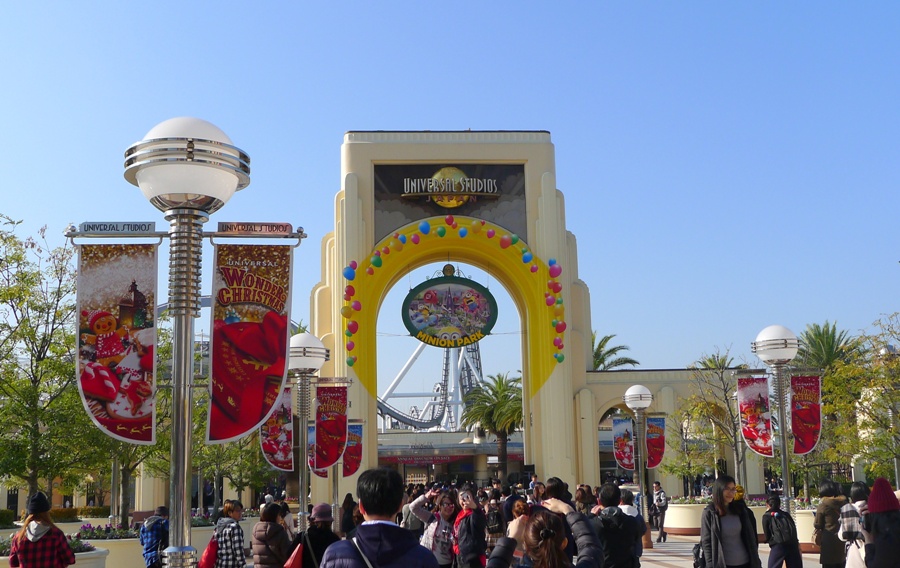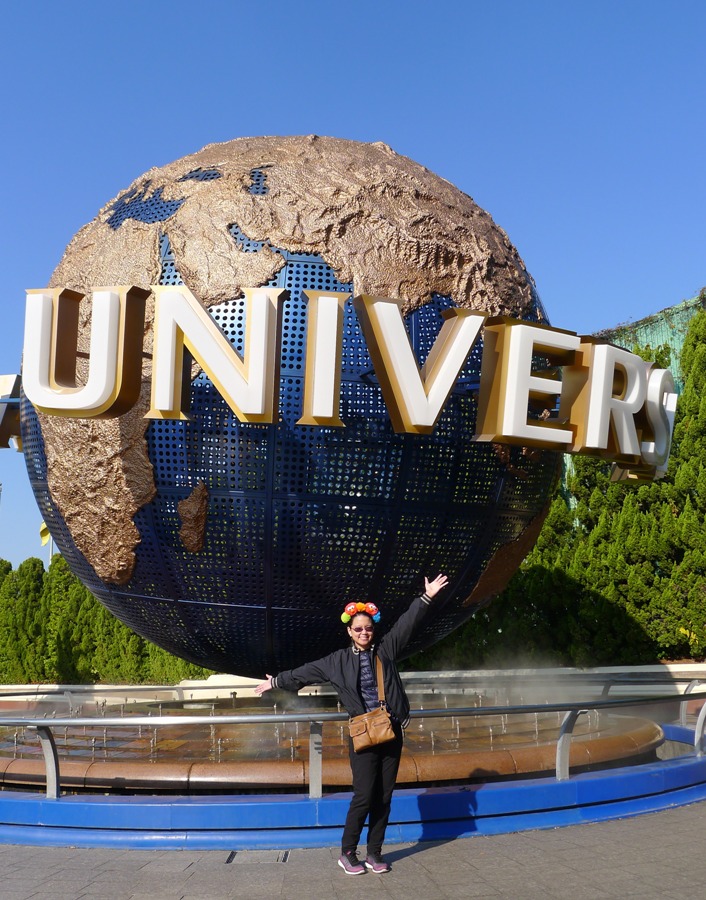 I am definitely not an #ootd type of person who plans her outfit when on travel abroad.  My vintage Lacoste jacket and Uniqlo Blocktech warm-lined pants were from the previous day (or days, hehe!), and to keep warm from the chilly November weather in Osaka, I layered myself with shirt and Uniqlo's Ultra Light Down Vest.
First order of the day: look for Hello Kitty and have my picture taken with her.   The pink-and-white themed Hello Kitty Design Studio was really pretty, but I would've preferred it better if it highlighted Hello Kitty's classic 70's colors of red, blue and white.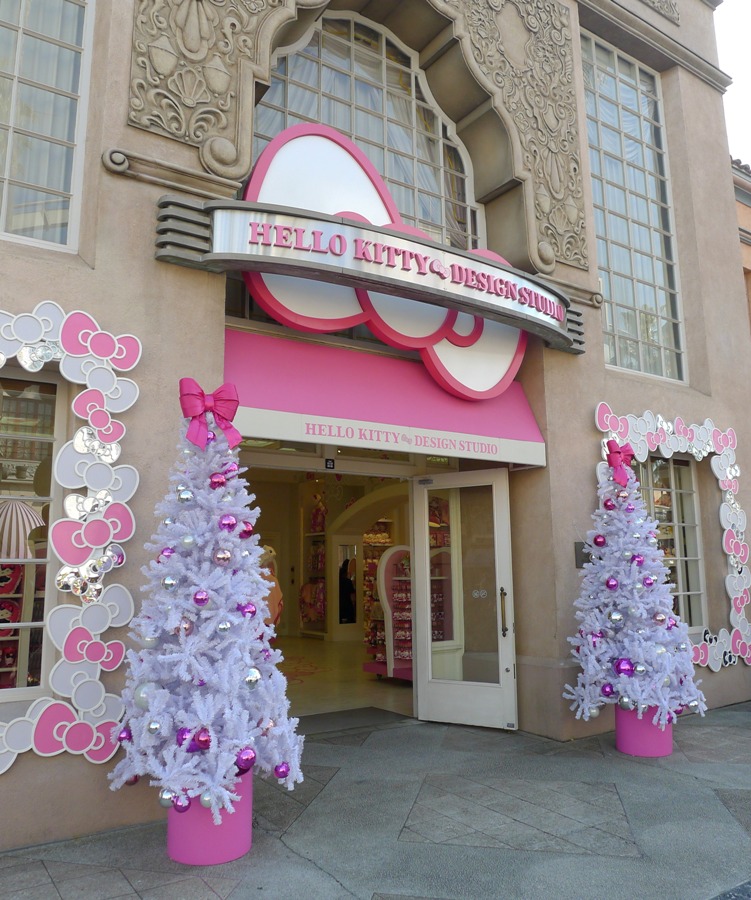 There were so many girls (young and not-so-young) wanting to have their pictures taken with Hello Kitty that day.  I had to patiently wait for my turn because she is giving priority to kids and families with kids.
Finally, nakapagpa-picture din k'meng dalawa!  Too bad I could not converse with her because she speaks Japanese only, hehe!  She was wearing high heels (not shown in photo below) and a really girl-y dress with matching bangle bracelets.  I should've asked her for fashion tips (because I have zero knowledge skills in dressing up, haha!)
The Moppy Lucky Spot is one of the popular attractions at USJ.  Moppy is a Sesame Street walk-around character created exclusively for Universal Studios Japan.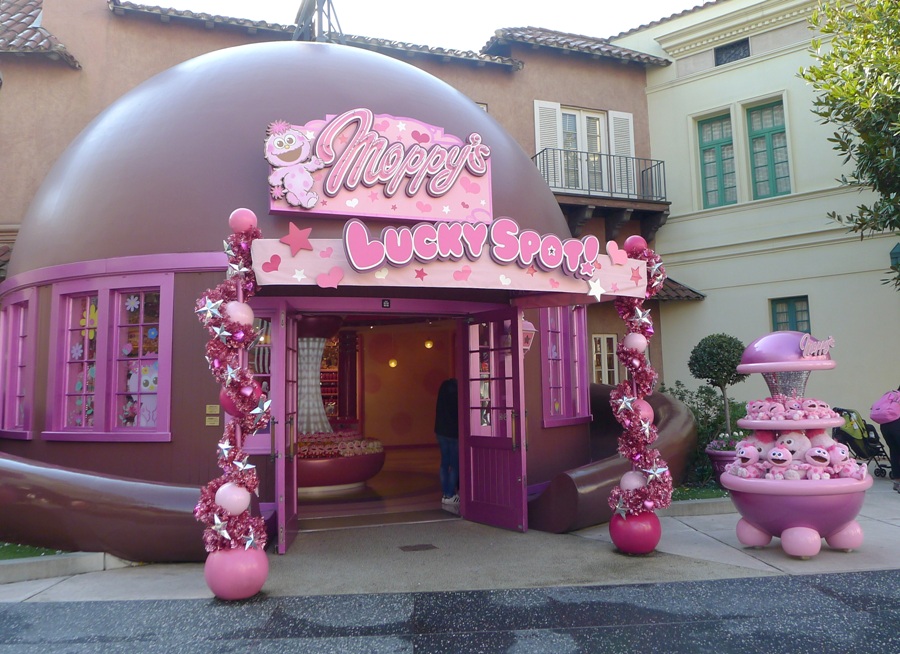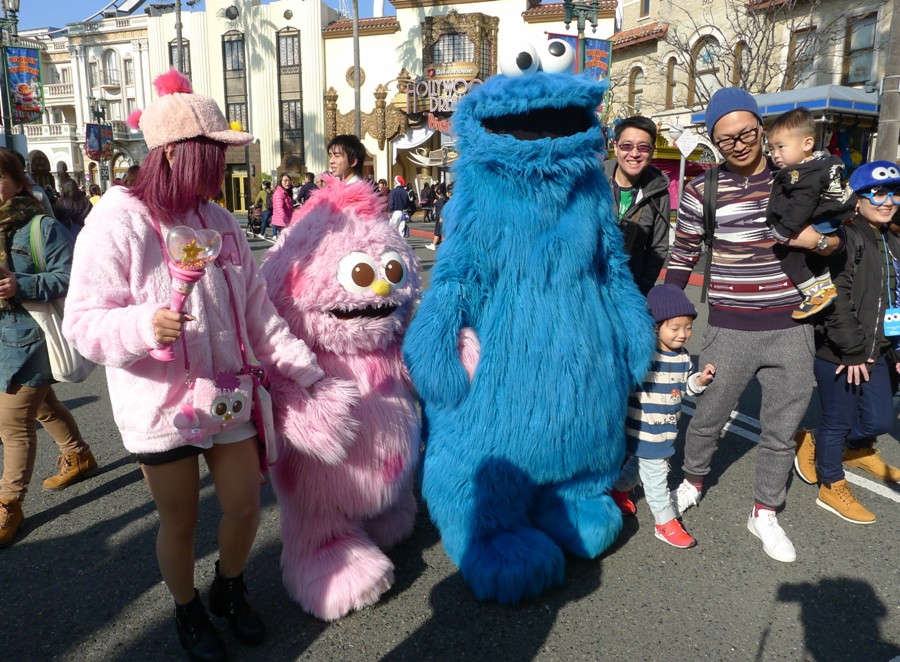 Our first ride for the day was at Jurassic Park.  There are 2 rides at Jurassic Park – The Ride and The Flying Dinosaur – but we tried only the first one. I don't think I can handle the buwis-buhay roller coaster in The Flying Dinosaur – which will swing you 360 degrees through the world of Jurassic Park!
I managed to take a picture of the roller coaster ride at its highest point. The guests look minuscule at the top; ganun sya kataas and you can just imagine what the drop would feel like.  Yikes!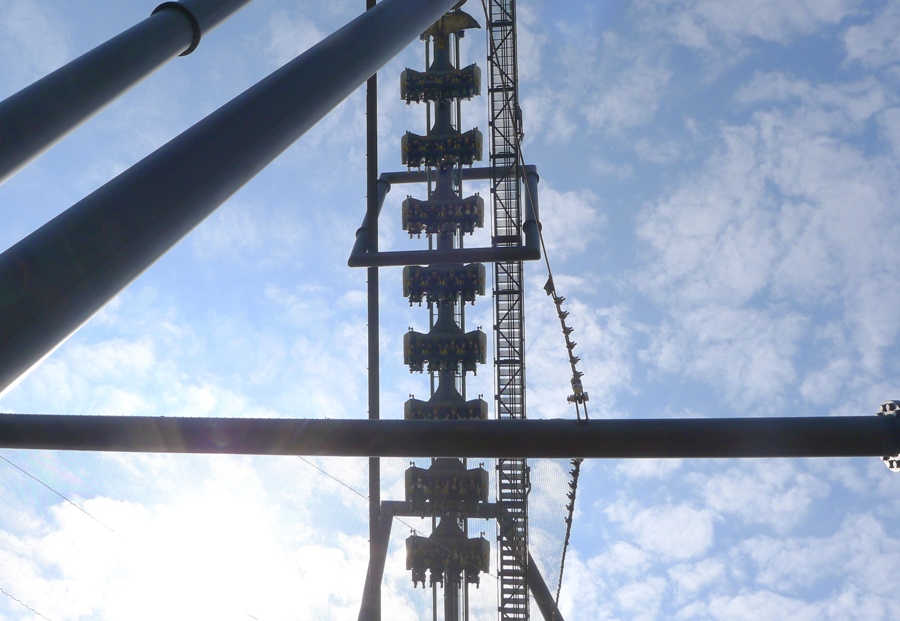 On the other hand, The Ride was plain, nothing fancy but nice na rin hehe!  It's a short river tour with water drop at the end.
After we finished the river tour, we were led to this big Jurassic Park shop filled with merchandise.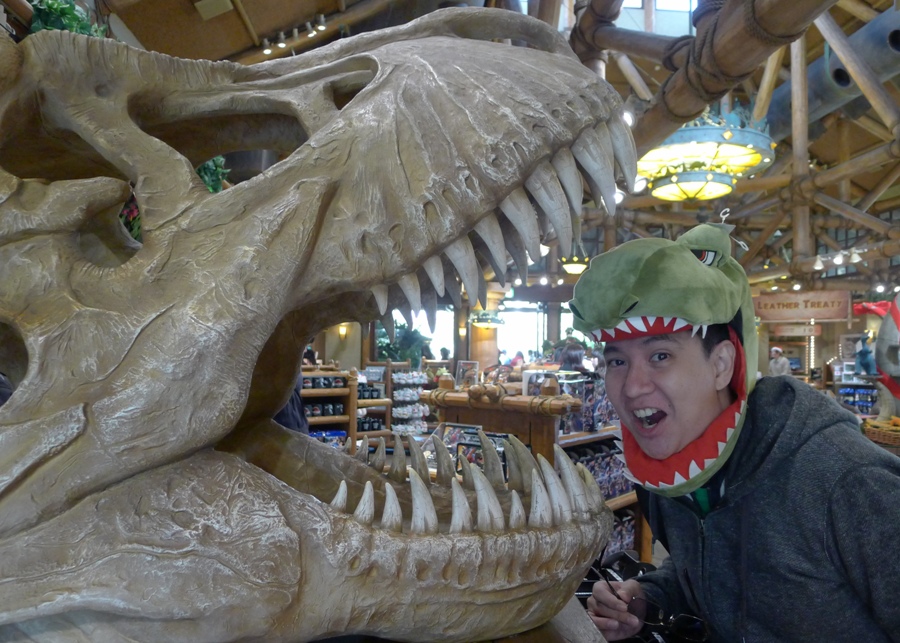 I bought this Hello Kitty plush doll key chain dressed in dinosaur costume, as souvenir from USJ.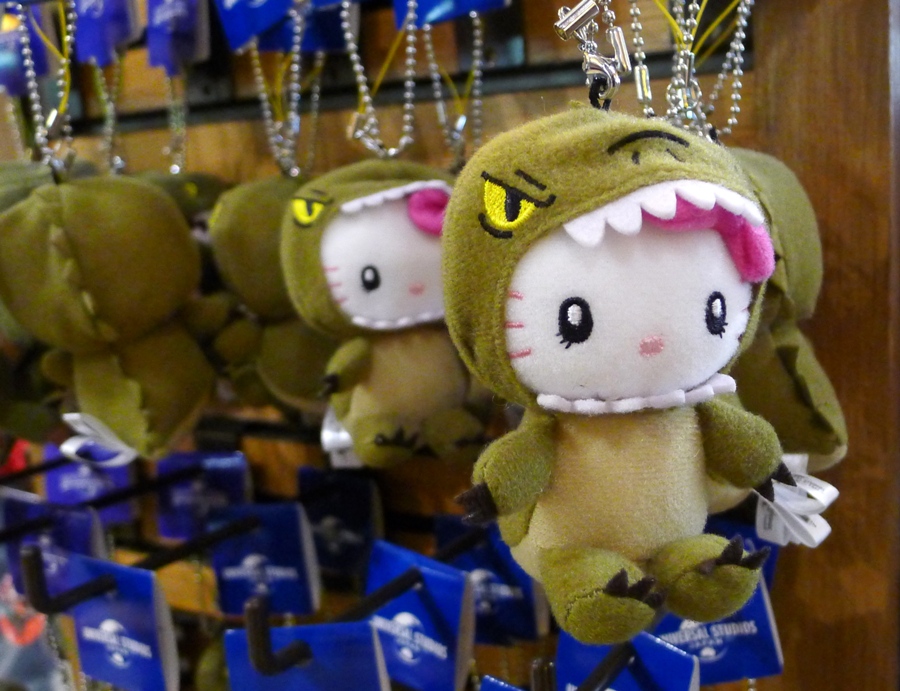 Next, we tried the show attractions.  These are the more age-appropriate attractions for us and we really had a great time at Terminator 2 (in 3D), The Amazing Adventures of Spiderman (in 4K3D) and Backdraft.  The recreated scenes from Terminator 2 and Spiderman, and the stunning 'live' effects of Backdraft that we experienced first hand were impressive and first-rate talaga.
My only comment is that all the dialogues were in Japanese but despite this setback, we enjoyed the flow of the shows especially the action scenes which were meticulously done, and the special effects were just visually stunning.
The other popular attraction at USJ that we didn't dare miss was the Despicable Me Minion Mayhem.  This is USJ's newest attraction so it's also the most crowded.  We didn't try the ride attractions there anymore; just going around the Minion Park was enough to satisfy our curiosity hehe!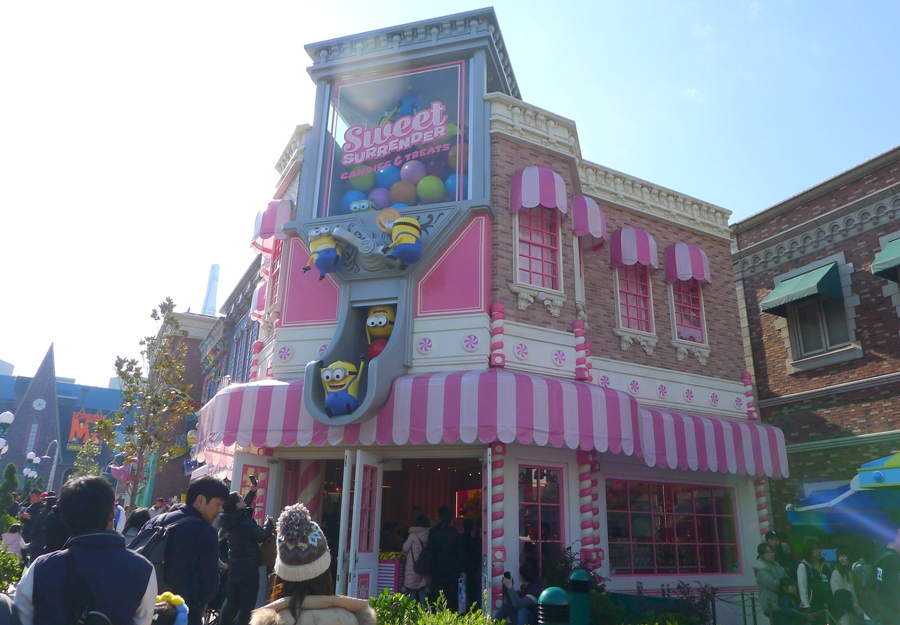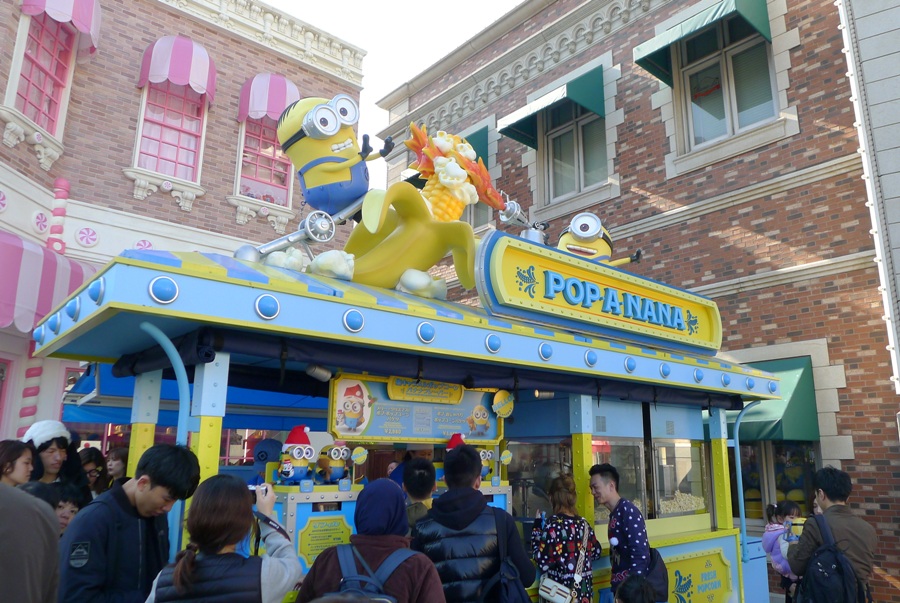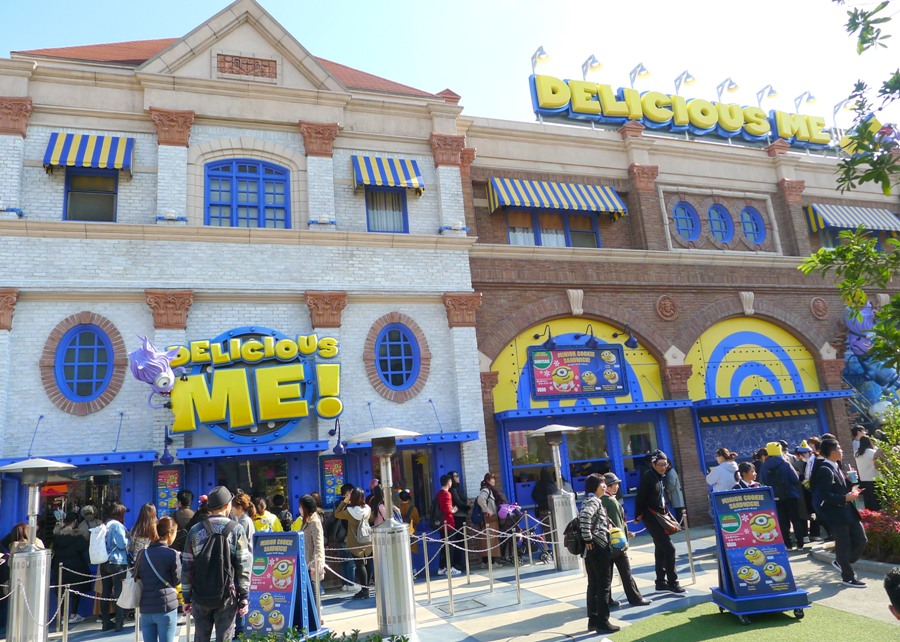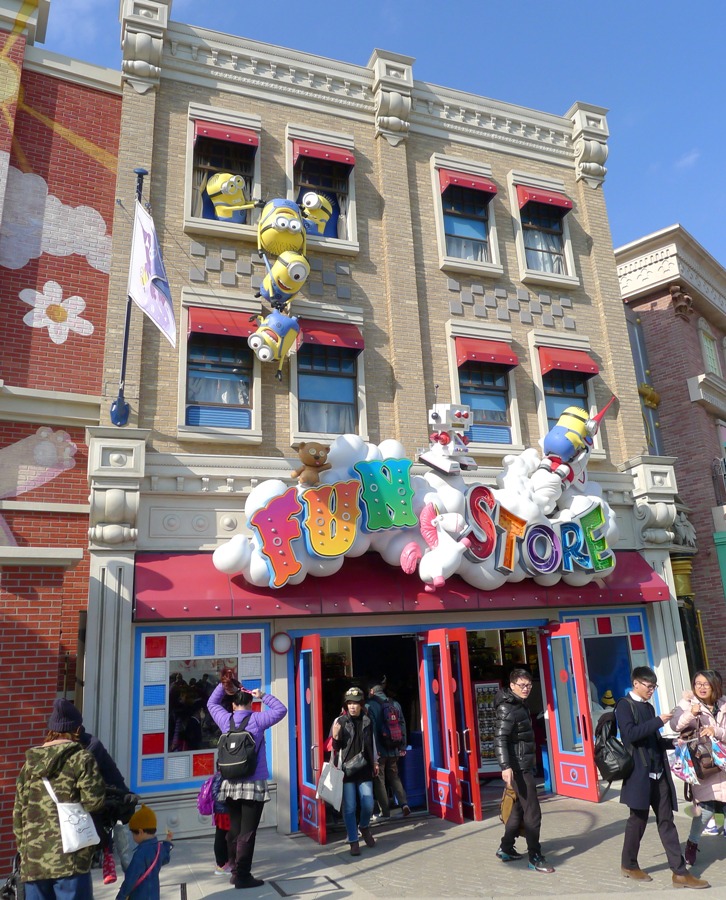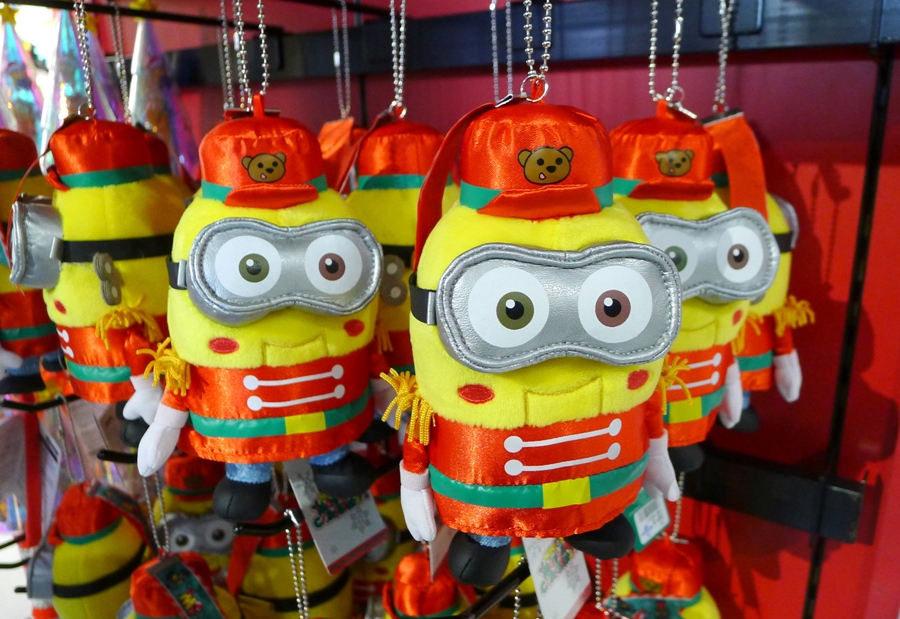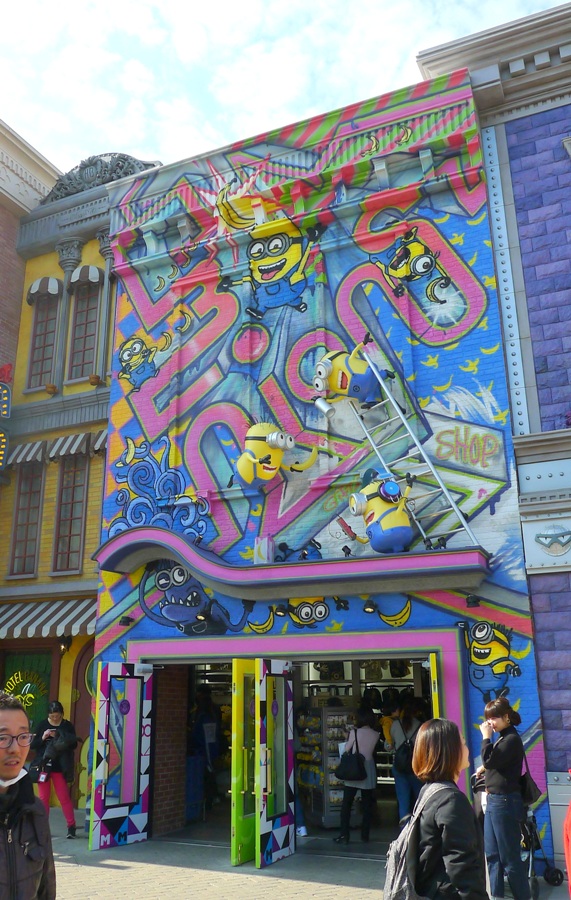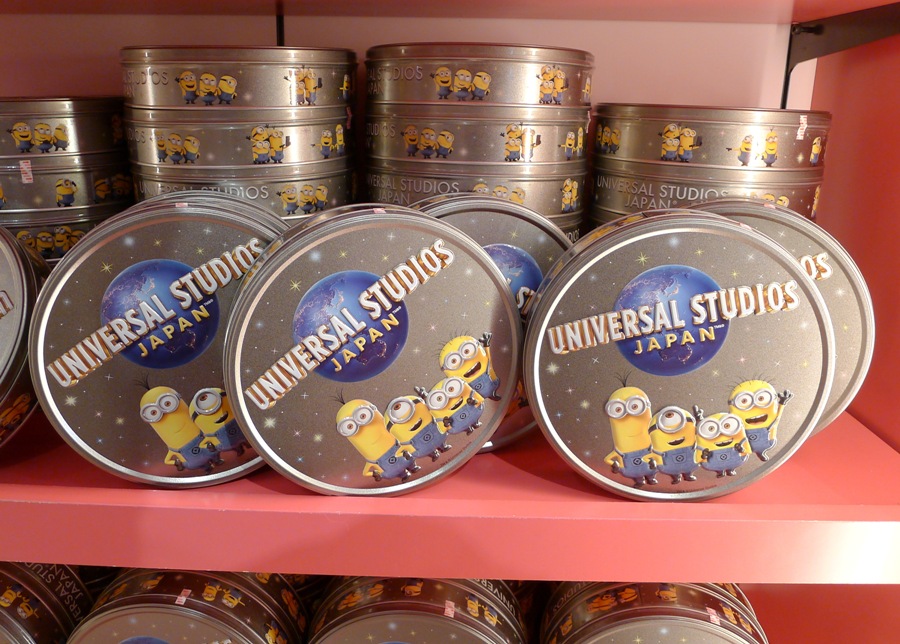 The Minions caramel popcorn was selling like hotcakes because of the cute Minion shoulder bag that comes with it (to hold the popcorn).  It was expensive (almost Php1,000) and thankfully I was not a fan enough (of Minions) to be tempted into buying one.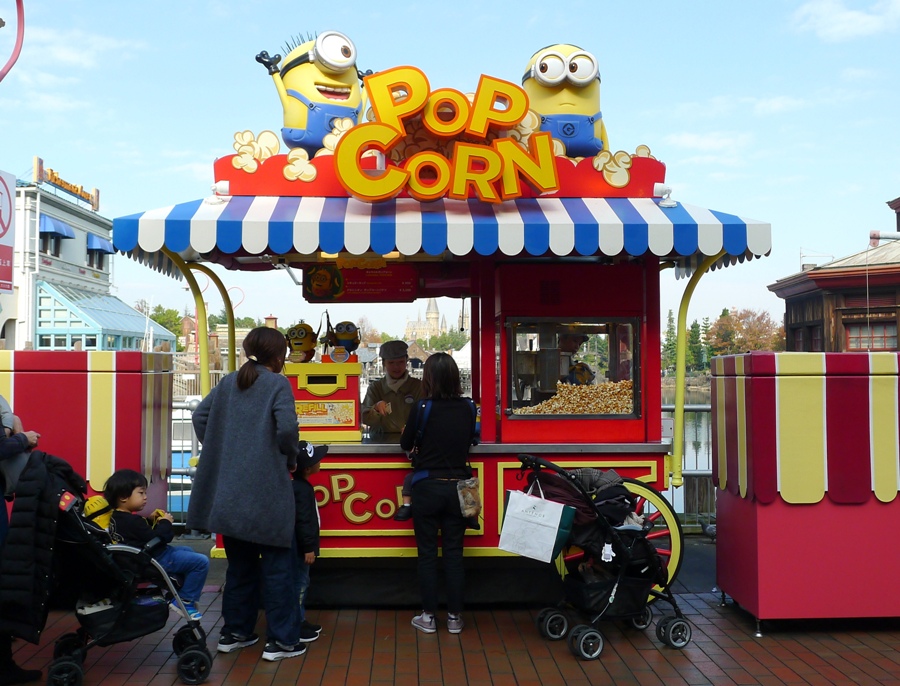 What I was tempted to buy (and did buy) is this Sesame Street headband.  They're everywhere, and almost all the girls I saw at USJ were wearing character headbands!  Aside from Sesame Street there are Snoopy and Minions headbands.  To justify the hefty price tag, I wore mine on the 2 days we were at USJ  =P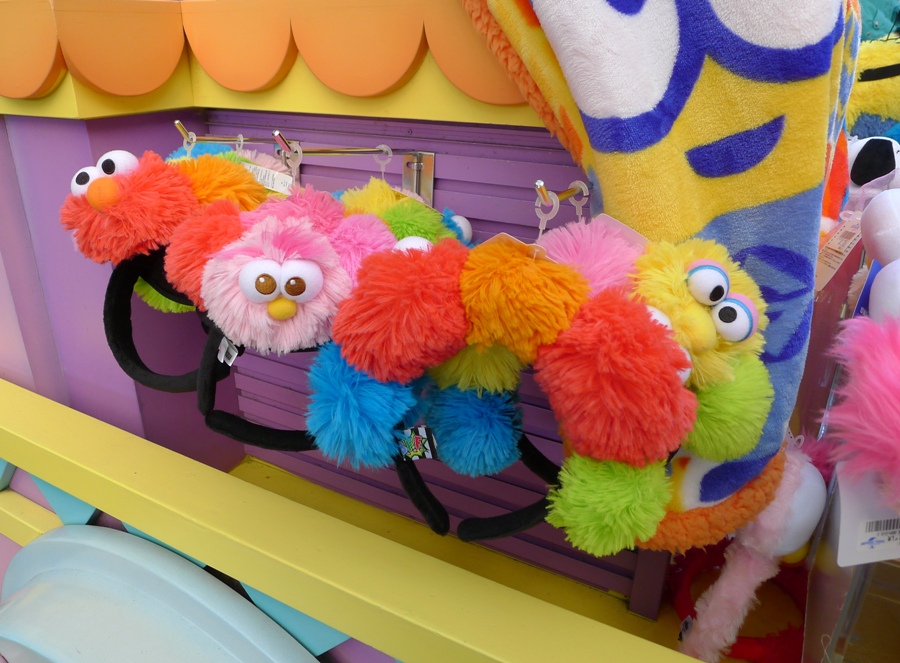 We also passed by Universal Wonderland which houses these 4 attractions suited for kids: Universal Wonderland, Snoopy Studios, Hello Kitty Fashion Avenue (fashionista pala talaga sya!) and Sesame Street Fun World.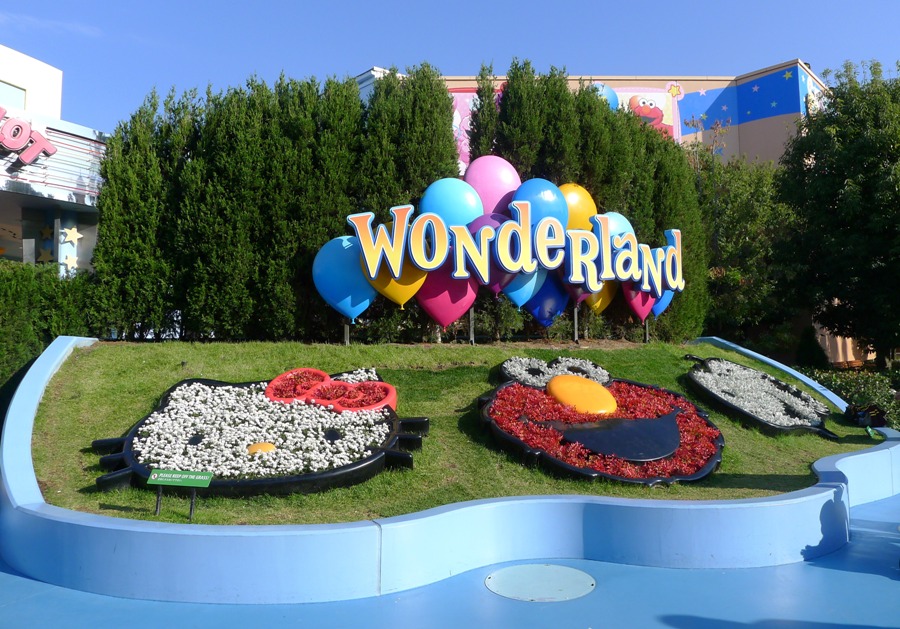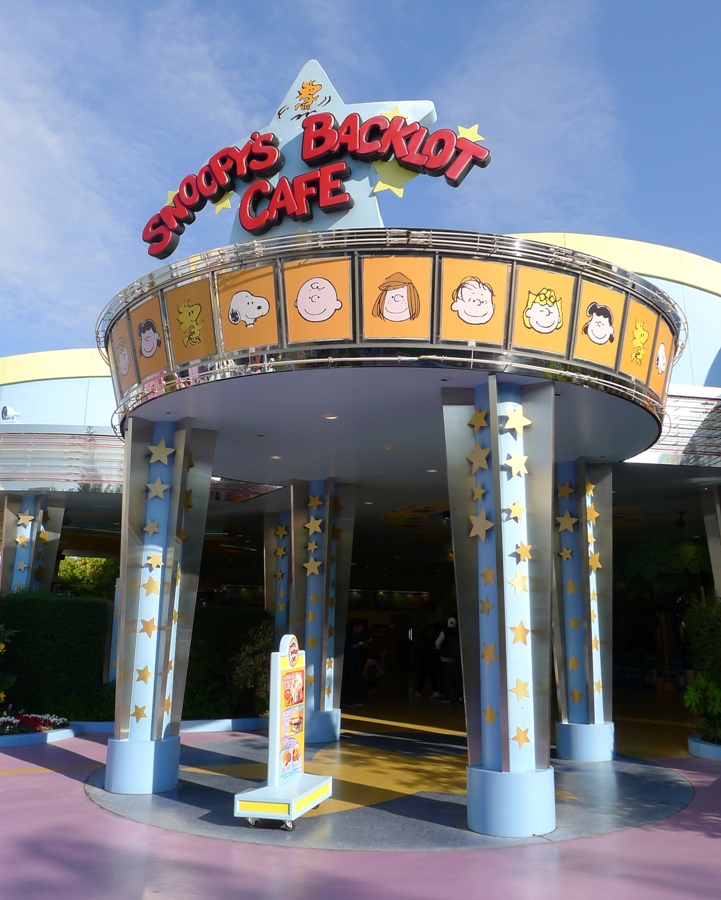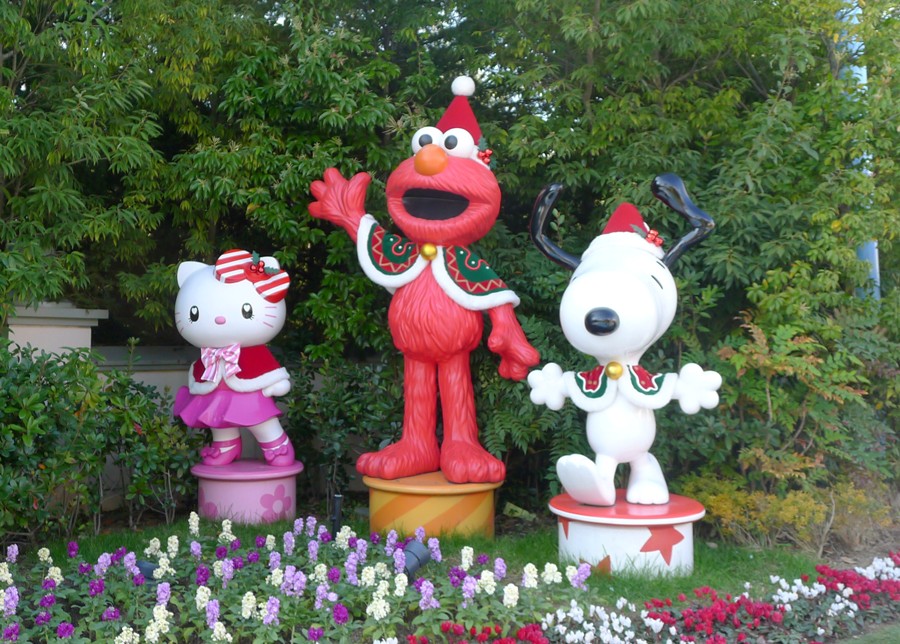 Since katabi na ng Universal Wonderland yung Wizarding World of Harry Potter, we proceeded there next for another full tour of WWHP and lined up again at USJ's most popular ride:  Harry Potter and the Forbidden Journey.  Ang saya!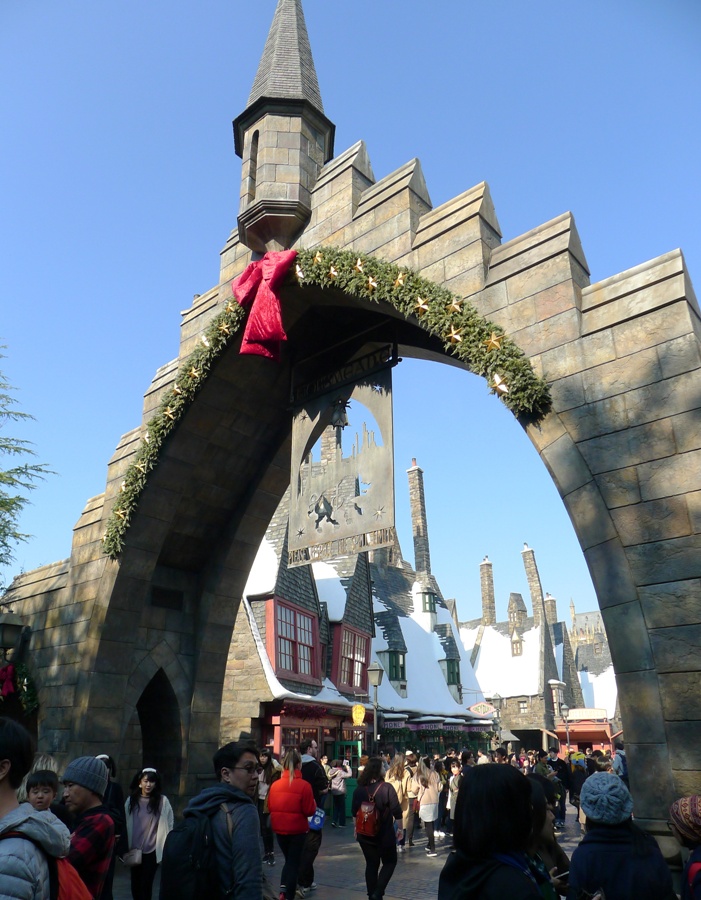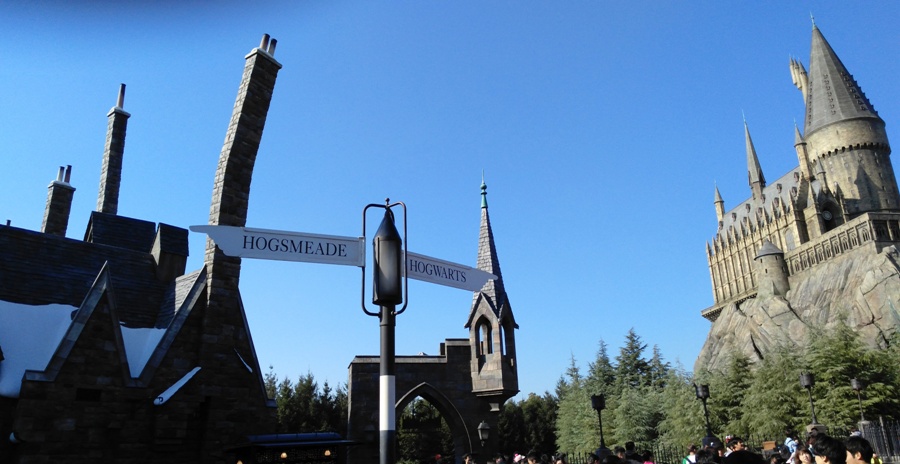 We were so happy to have experienced everything again here at WWHP and I would say super sulit na ng aming 1.5 Day Pass because of this.
The last ride that we tried (before calling it a day) was Space Fantasy – The Ride, and it turned out to be the longest too (at 10 minutes).   Akala ko pambata rin ito, hindi pala hehe!  AJ enjoyed this one because of the space theme and the lively music, hehe!
The rest of our time at USJ was spent walking around and taking pictures of the building structures that transported us to the streets of San Francisco and New York.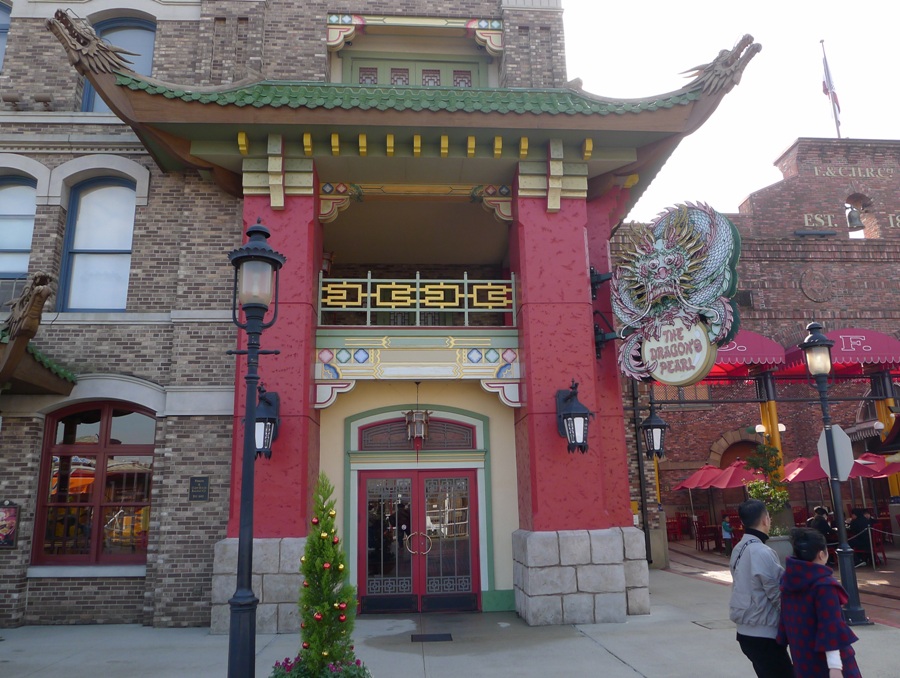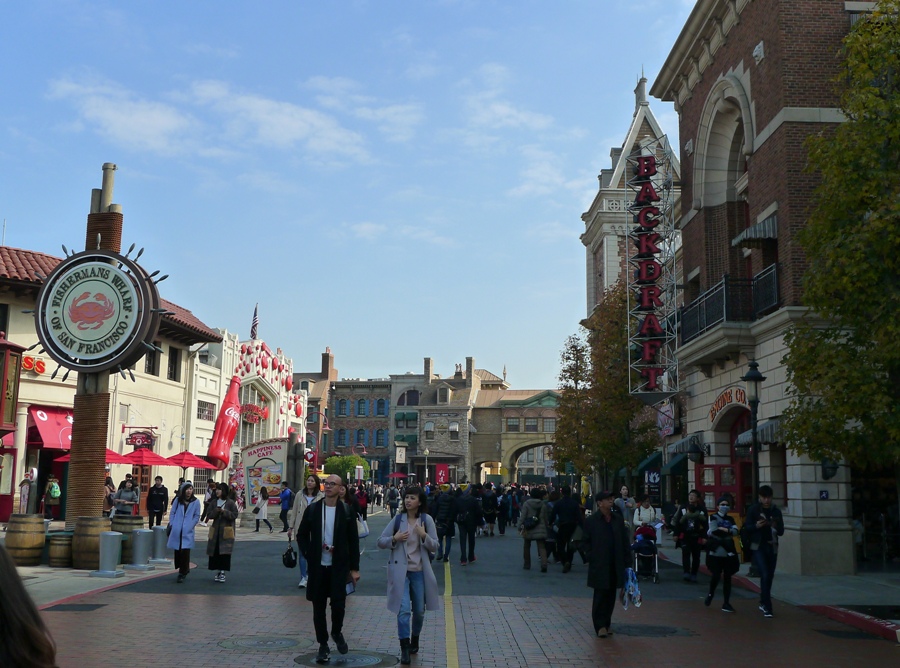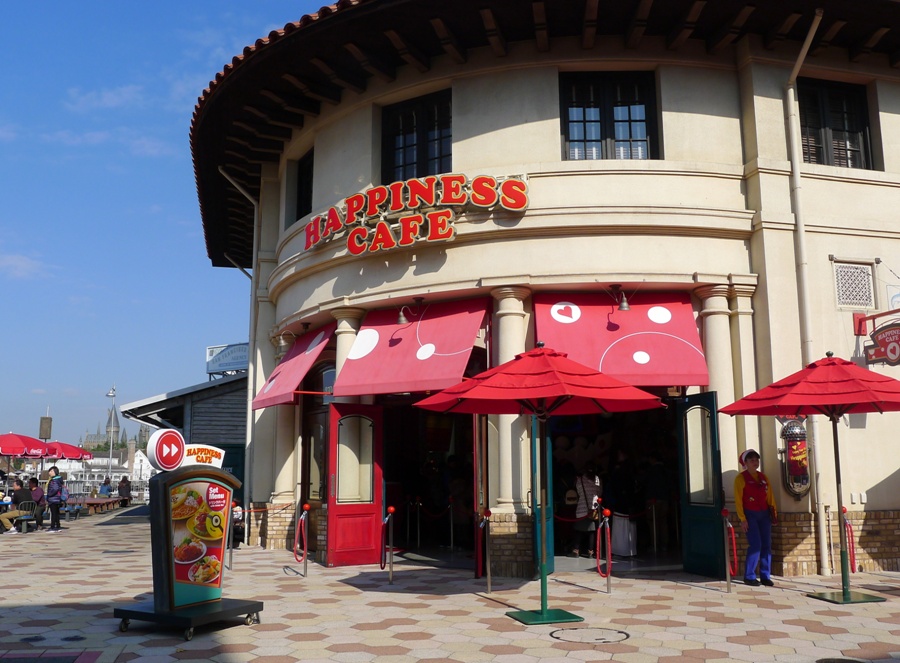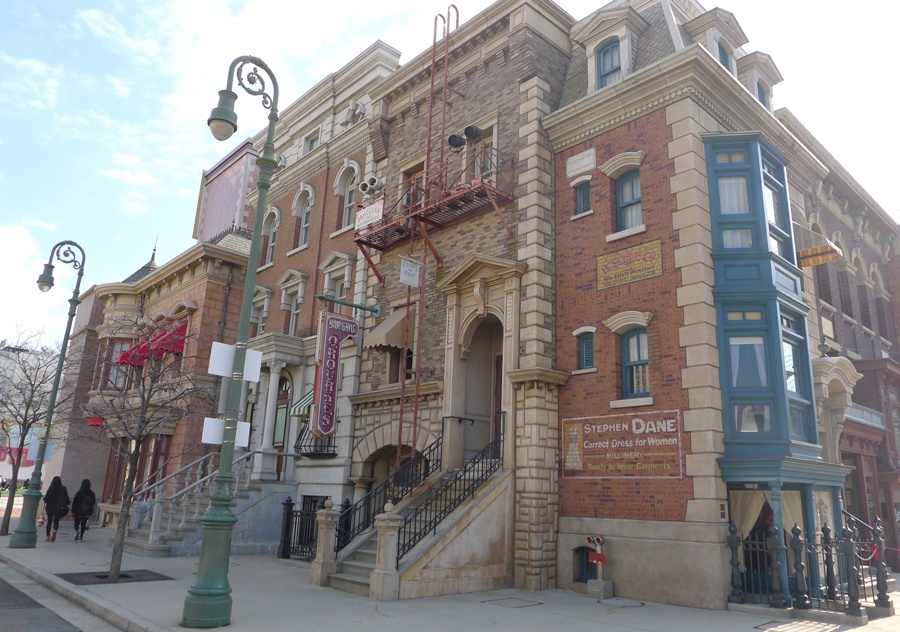 The closing highlight of our day was catching this parade of all USJ characters.  Since we were there last week of November, all the characters were dressed in Christmas-y attires already.  So cute!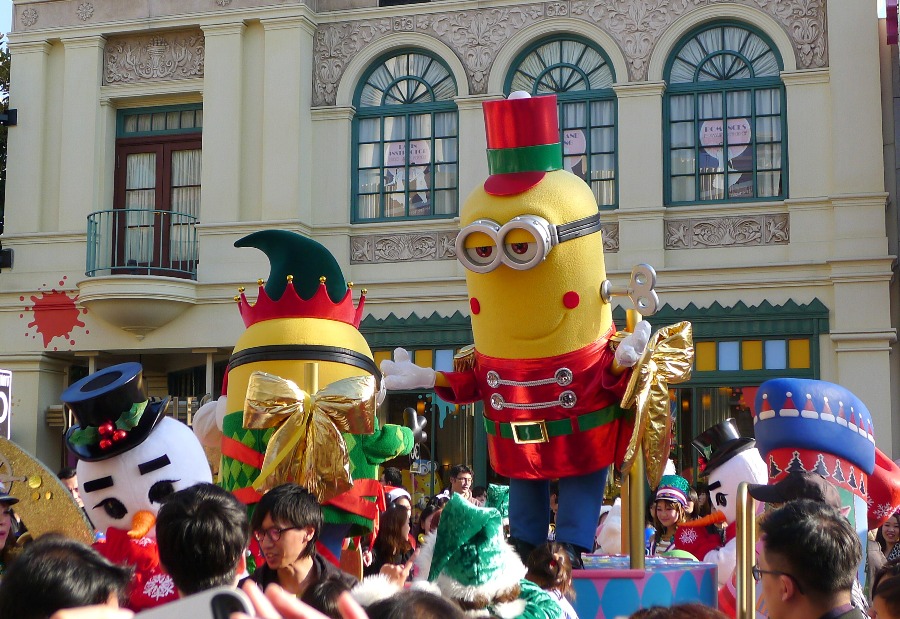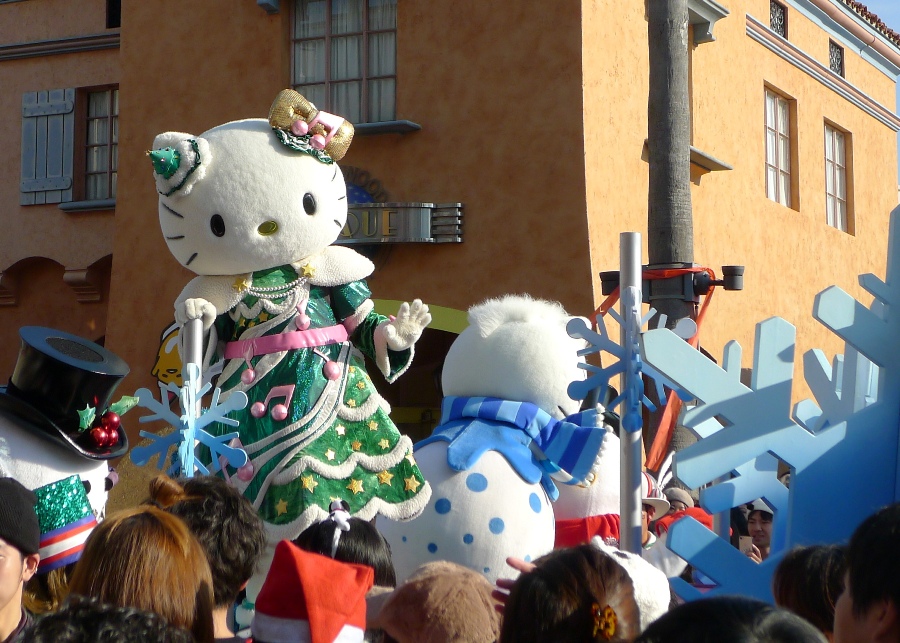 Shrek and Princess Fiona were in the crowd too, and they gamely posed for a picture with us.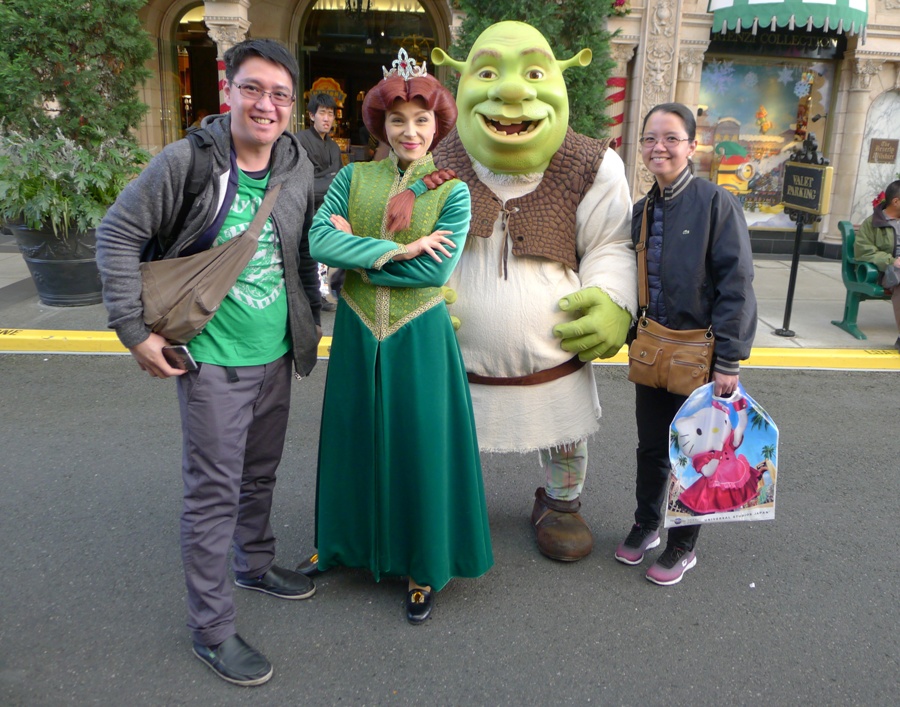 We ended our day really happy, and hungry too!  We lost track of time and before we knew it, 3 p.m. na pala. We have covered all of USJ, experienced the attractions that we liked and enjoyed 2 days of WWHP!  Sulit na sulit na ang passes namin hihi!
Lunch/merienda was at this Italian resto just outside USJ (forgot the name!).  We ordered pizza to share and beer.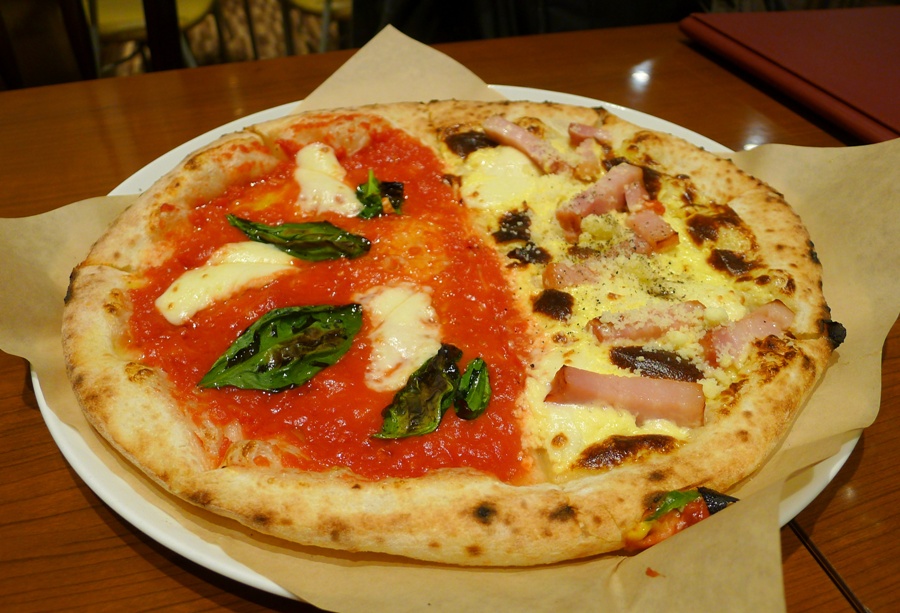 We passed by a Starbucks shop on our way to the JR line, and since we have no other itinerary after USJ, we took a coffee break here muna.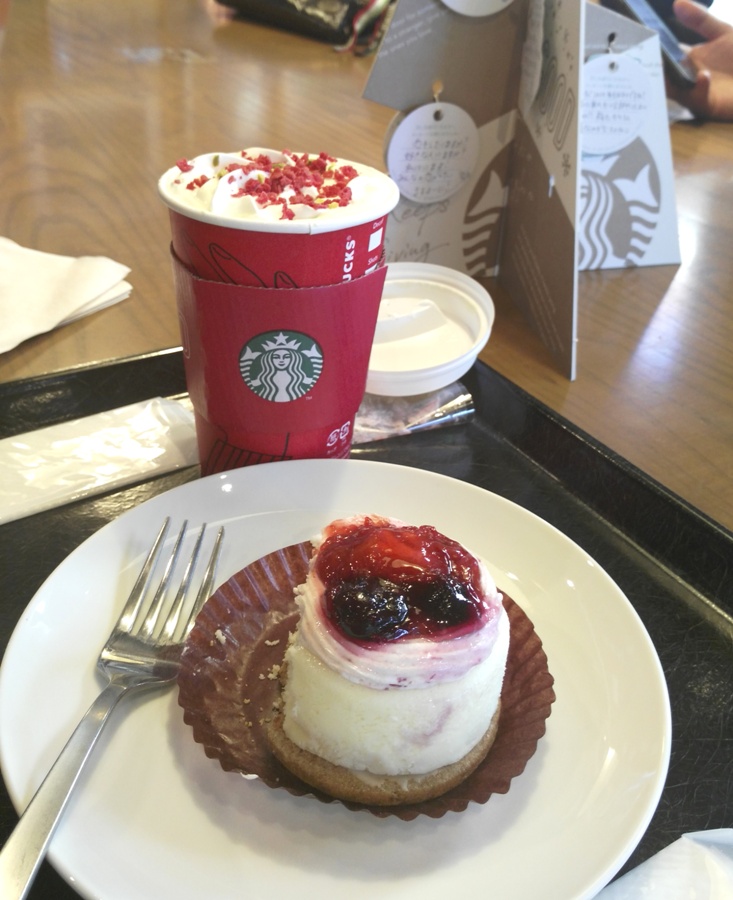 We ordered Starbucks Japan's Christmas-themed holiday drink at that time, the Candied Pistachio hot drink which has a pleasant pistachio flavor with crunchy raspberry candies.  The tartness undertone of raspberries gave balance to the light sweetness of the pistachio drink.  We paired it with a berry cheesecake, yum!
We were back at Air Osaka Hostel at around 6 p.m.  We rested a bit and then started packing.
By 8 p.m. we were feeling hungry na and we walked around the neighborhood to look for dinner.  It was our last night in Osaka (and we were leaving for Manila early the following day) so we didn't wander far anymore.
It turned out our neighborhood at Kitakagaya is lined with shops (Uniqlo is just around the corner!), a big Japanese grocery and fast food restaurants.  Had we known this, we would've bought our pasalubongs na lang from the Japanese grocery (much convenient and just a walking distance from our hostel).
We ate at Marugen Ramen, a ramen restaurant chain that has branches all over Japan.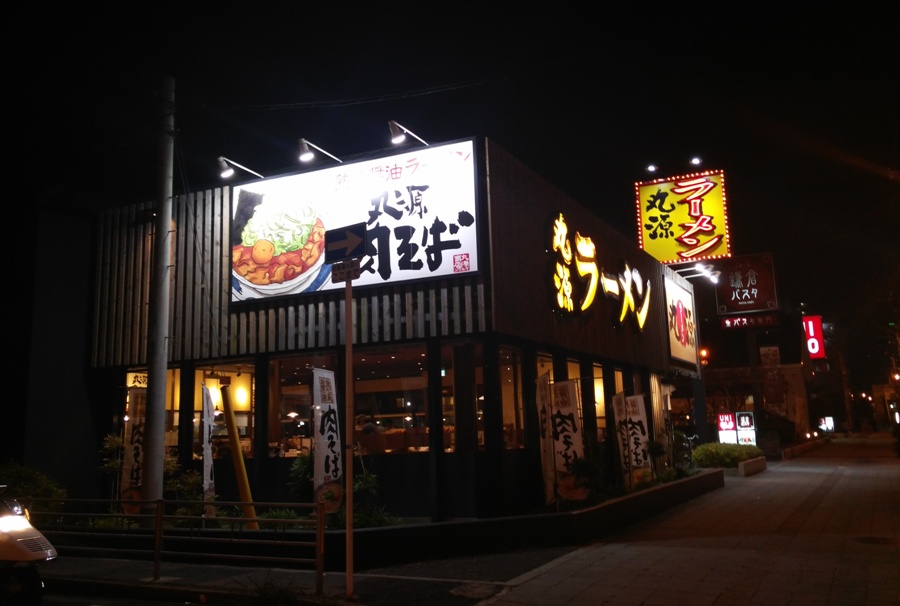 Their specialty ramen is very flavorful, and served in big ramen bowls.  We ordered set meals (Ramen bowl with Gyoza and rice for AJ, and with Chicken Karaage for me) and all of it costs roughly JPY2,000 (or Php1,000.00) only.
And that ends my Osaka + Kyoto travelogue – finally!
To recap, here's our Osaka + Kyoto itinerary good for 5 days.  The links to the separate blog posts are also found below:
Day 1 (Kyoto):  Kiyomizu-dera Temple, Ninenzaka Alley, Kodai-ji Temple (with side trip to Yasaka Shrine) and Fushimi Inari-taisha Shrine
Day 2 (Kyoto / Osaka):  Nara Park, Todai-ji Temple, Kinkakuji-Temple and Dotonbori
Day 3 (Osaka): Osaka Castle, Osaka Museum of History,  Dotonbori/Shinsaibashi
Day 4 (Osaka):  Osaka Aquarium Kaiyukan, Universal Studios Japan (0.5 Day)
Day 5 (Osaka):  Universal Studios Japan (continuation from previous day's trip)
I hope you find my Osaka + Kyoto itinerary and travel tips useful.  There's just so much to see and do in both cities, and I would definitely go back there again  (and again! – ganun ko na sya ka-love talaga) because there are still a lot of places we weren't able to see like the Arashimaya Bamboo Forest in Kyoto, for instance.  And I'd like to have another try too at Kiyomizu-dera Temple after the renovation.
Between this and Tokyo, I had a more enjoyable stay in the Kansai Region and Osaka/Kyoto are good places to start because it gives you the pleasure of discovering the old Japan (Kyoto) and then balance it with modern attractions like the USJ (in Osaka).
Next time we will be more adventurous and go further to the other quiet prefectures in the region like Hyogo (where Kobe is), Wakayama (I read that the Mount Koya experience is really something!) and Shiga (homeland of the ninjas!).
'Till next time, Japan!