After 2 full days in Kyoto (with side trip to Nara), we are now ready and excited to explore our home base, Osaka!
Since AJ and I are both history buffs, we dedicated our 1st day to learn about Osaka's history.  And the best way to do that is to tour Osaka Castle!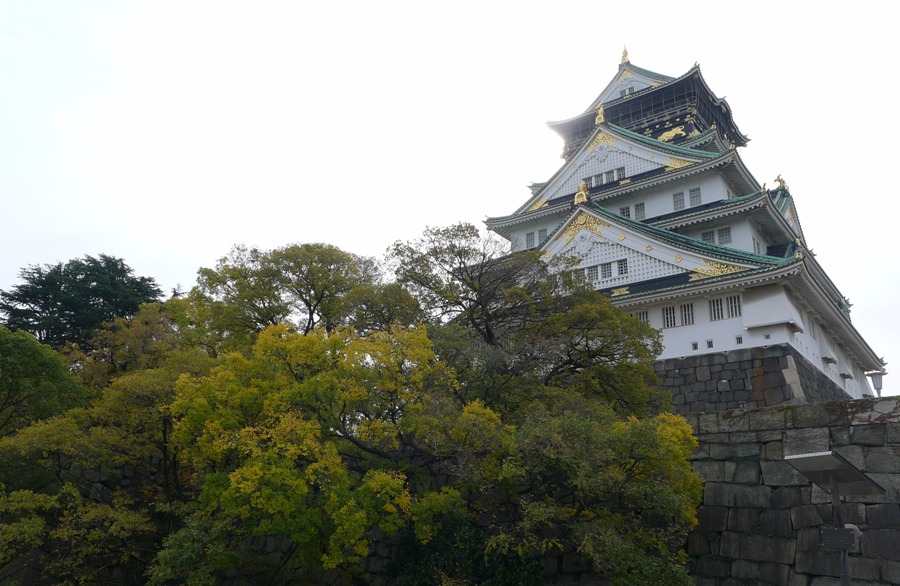 Touring the castle grounds alone would already take the whole morning, with approximately 60,000 square meters (15 acres) to cover on foot, and 13 structures designated as important cultural assets by the Japanese government to see, too.  Of course, we weren't able to check out all of them but we did take time to see as many as we can because Osaka Castle has a very colorful history, and another plus point was the weather that day – cool and sunny!
To prepare ourselves for all the walking that we will do that day, we had a heavy breakfast first at a Mister Donuts cafe we found open at Osaka's business district.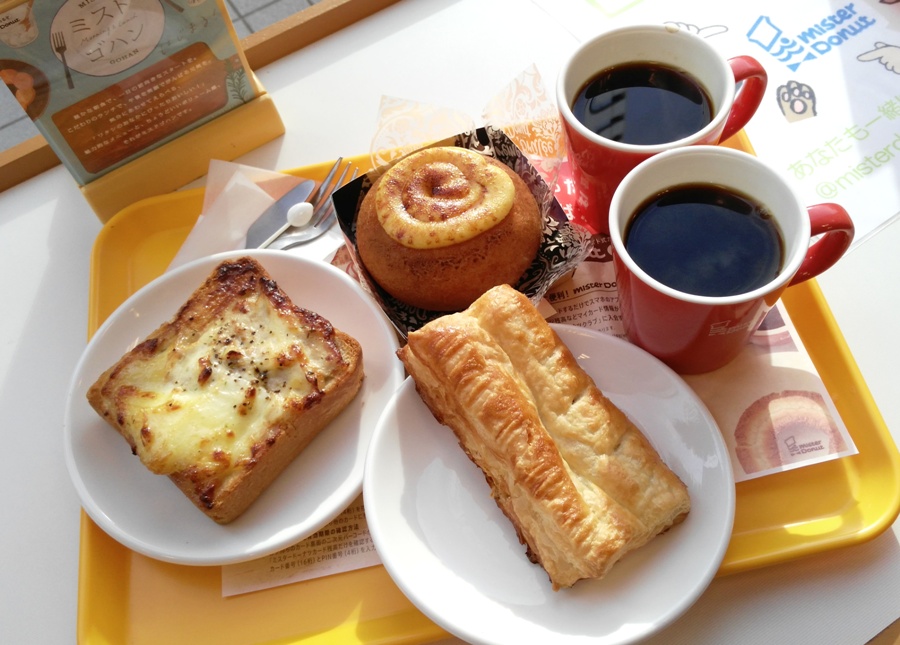 The castle is in the middle of a very large park, called the Osaka Castle Park.  And as it was late November when we went there, we enjoyed autumn at its peak.  The trees with red and yellow leaves were my favorites.   We stopped here to relax, and kung pwede lang mag-nap, ginawa na namin hehe!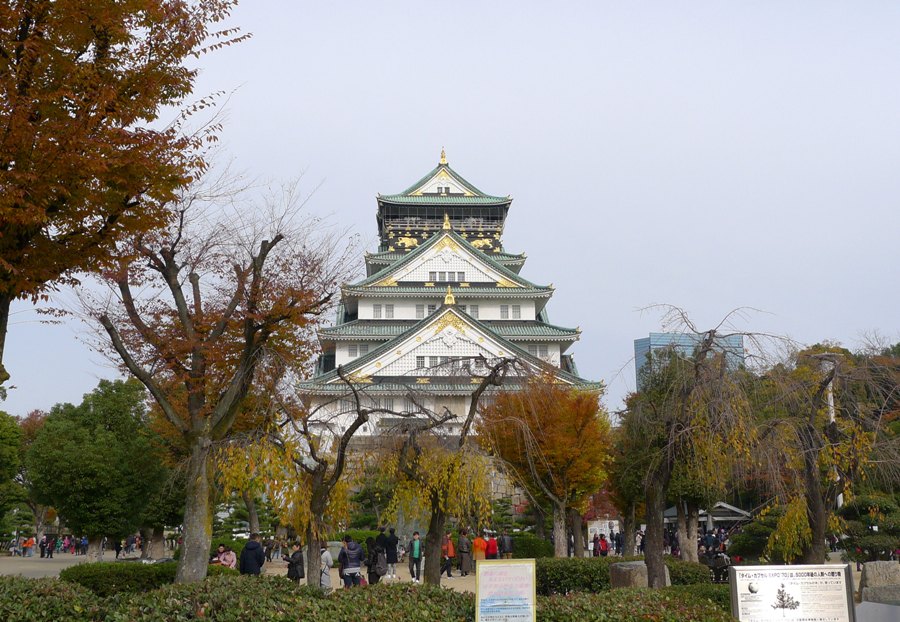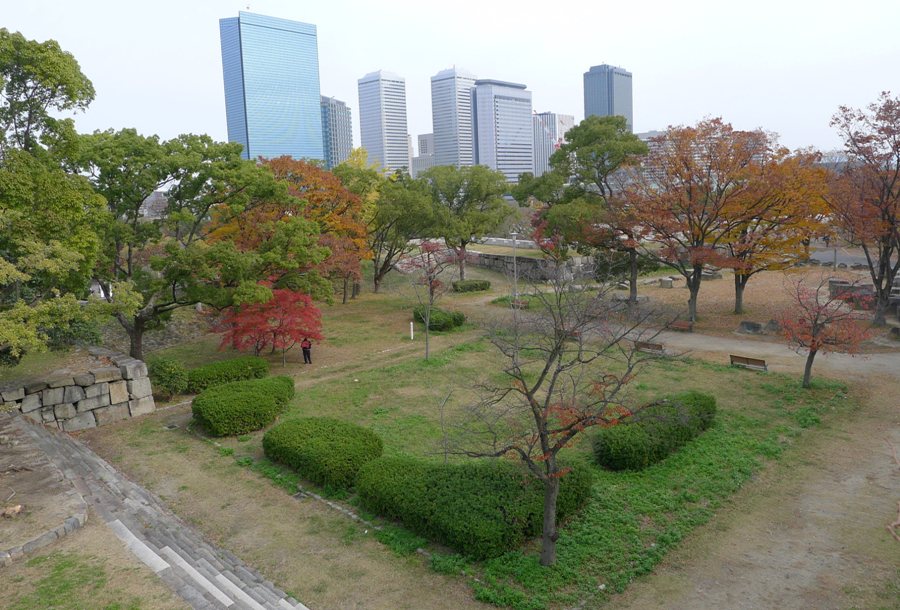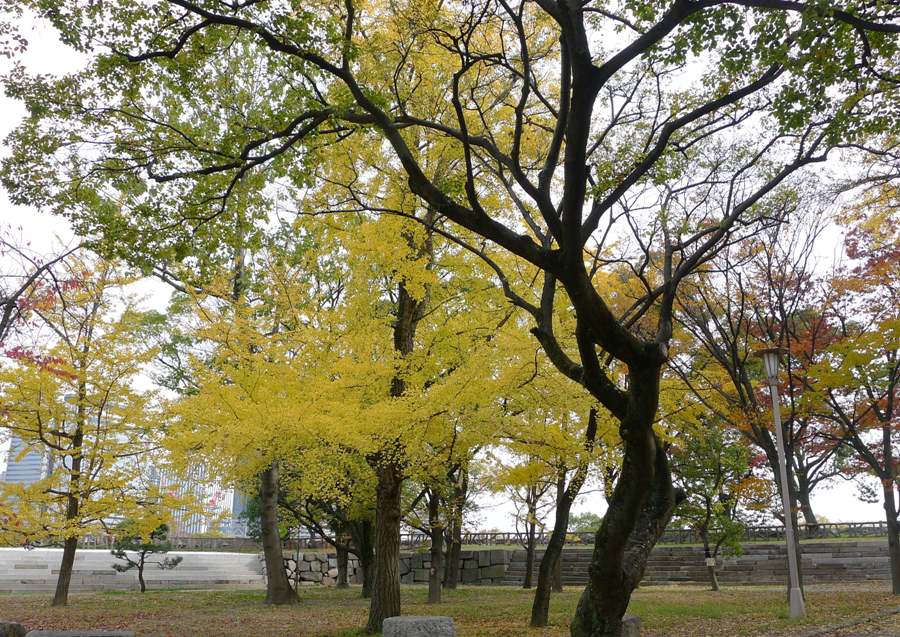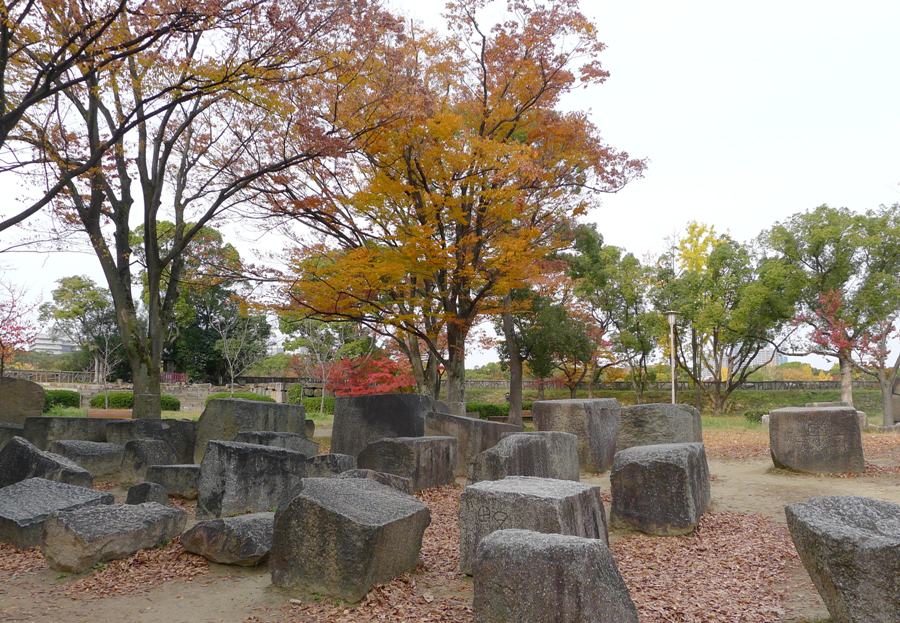 The big, fat pigeons at the park.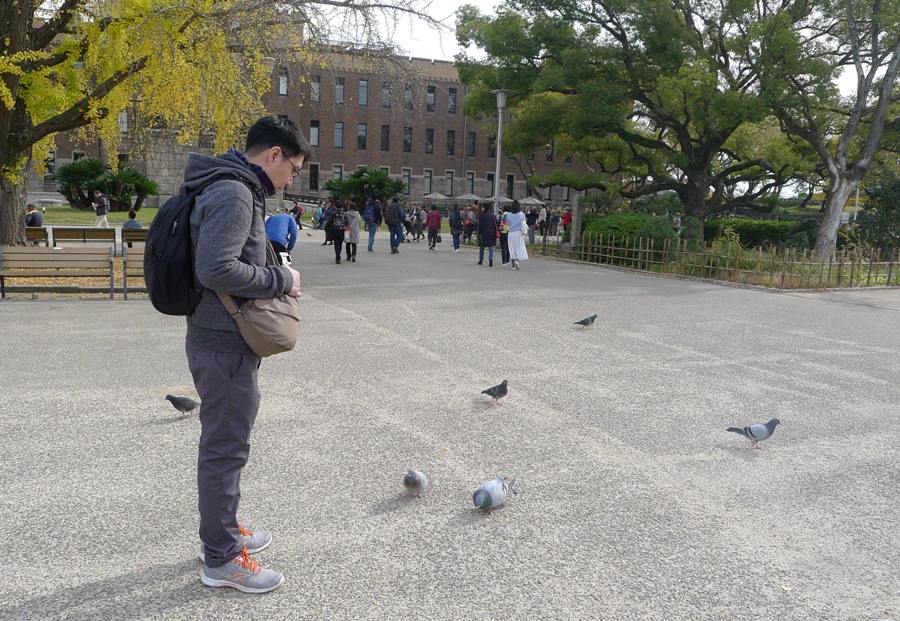 We stopped by Miraiza Osaka, to check out souvenir items.  Built in 1931, this building originally was in service as the Headquarters of the No.4 Division of the former Imperial Japanese Army. Post-war, it was used as the Osaka City Museum until 2001. Now it has been renewed after 16 years of silence, packed with shops, cafes and restaurants. Situated in a premium location, right in front of the Castle Tower, the facility offers comfortable dining and shopping for visitors. (source)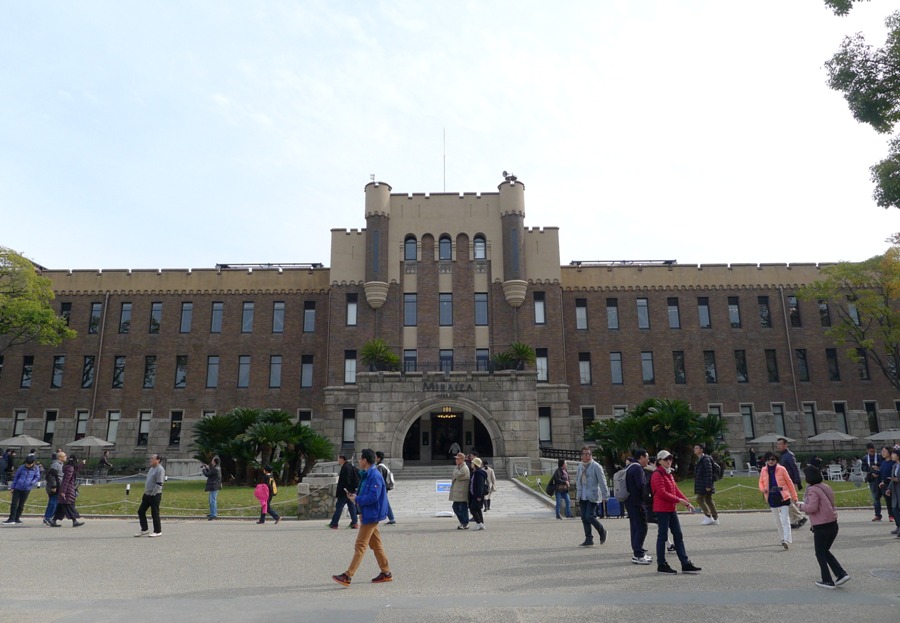 I appreciated this little museum inside Miraiza, which has very little artifacts but a detailed walled illustration of  Osaka Castle's history and its famous emperor occupants.  Here I was able to read up (in advance) on the description and purpose of the structures that we will see inside the castle compound, as well as their very interesting account of the Siege of Osaka that led to the unfortunate suicide of Hideyori Toyotomi .  I think it would be good to start your tour from here, before going to the actual 'sites', for deeper appreciation of the castle's history.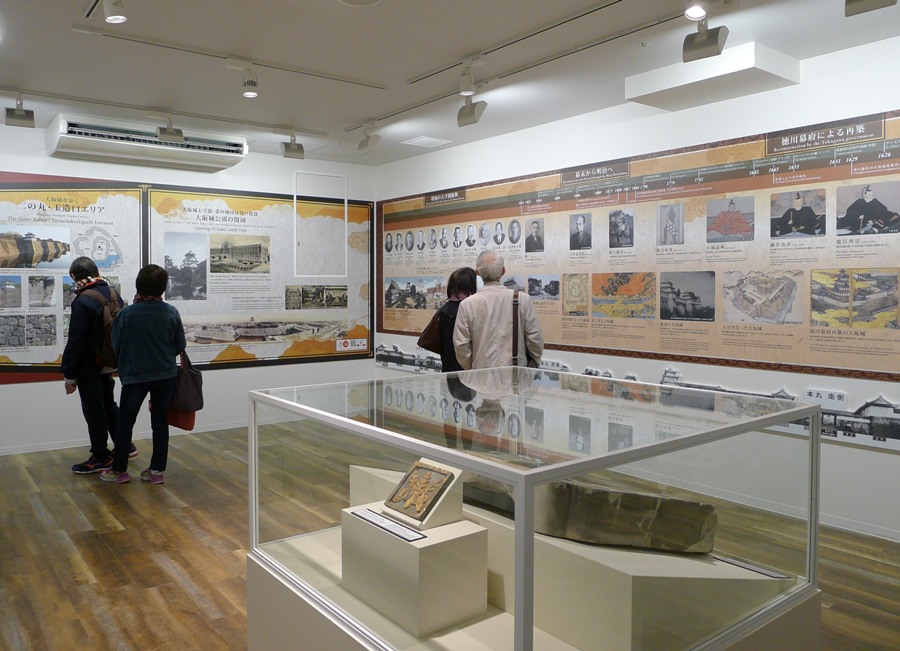 After this stop, we started going through the many structures inside the Osaka Castle compound. What fascinated us most were these giant stone walls that you will see a lot inside the compound.   Not only are they perfectly assembled with the rest of the smaller stones, but you will also be amazed to know that the Japanese invented the Burdock piling technique for building stone walls such as these.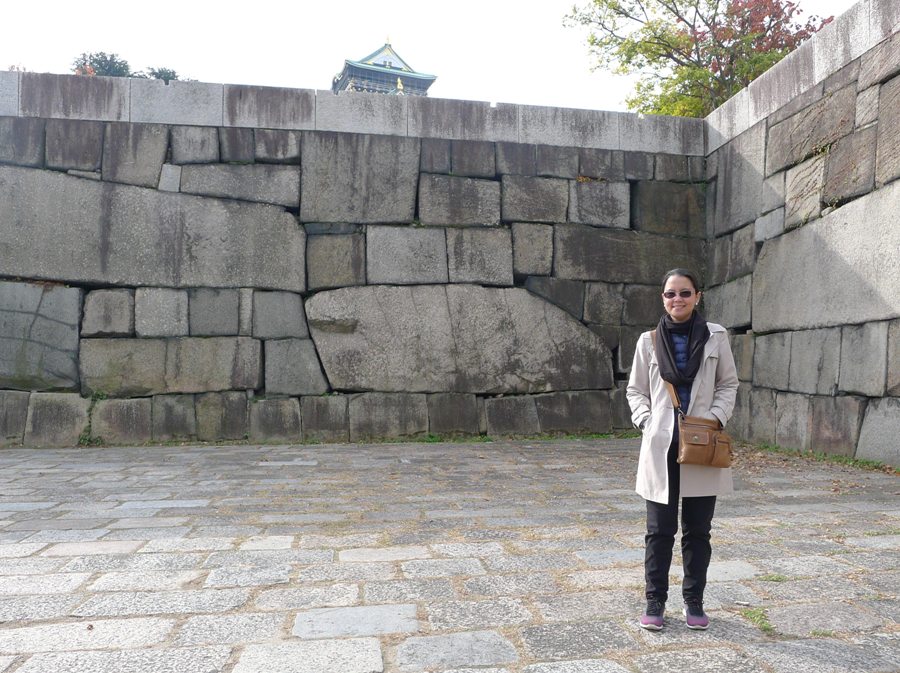 Not to be missed is the "Octopus Stone", the largest stone in the Osaka Castle, measuring over 59 square meters in surface area, 108 tons in weight, with a thickness of 70 to 90cm. It is also the most spectacular of them all, because it has an octopus shape on the lower left corner, which gives it its name. (source)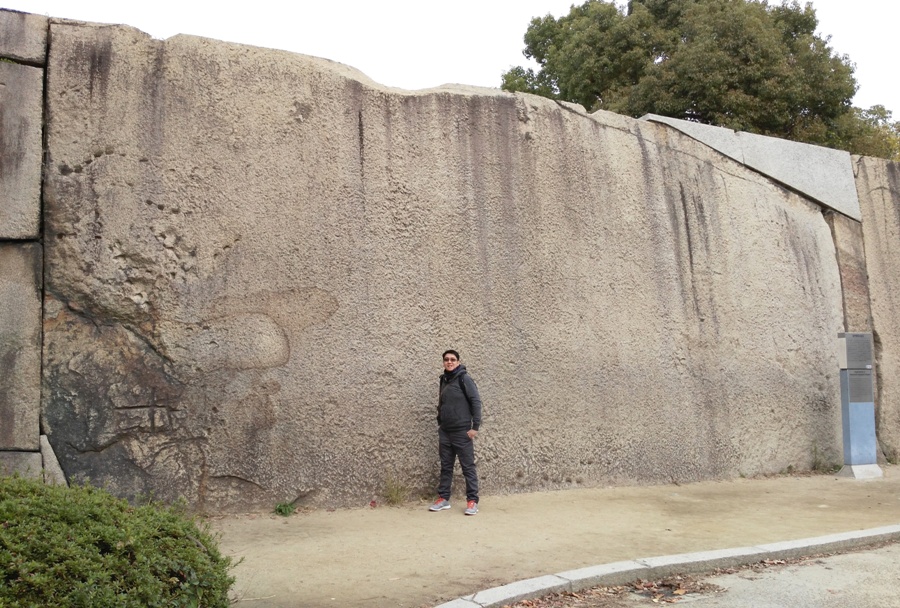 The Main Tower of Osaka Castle up close: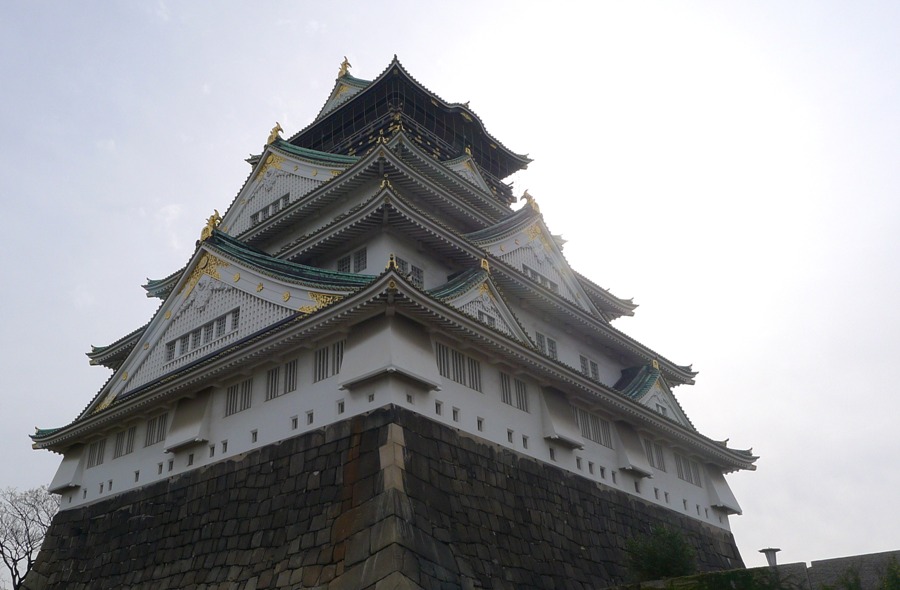 In this picture below I managed to capture the ornamental roof tiles (in black, just below the  topmost roof of the main tower) with carvings of tigers.  They are all gilded in real gold, wow!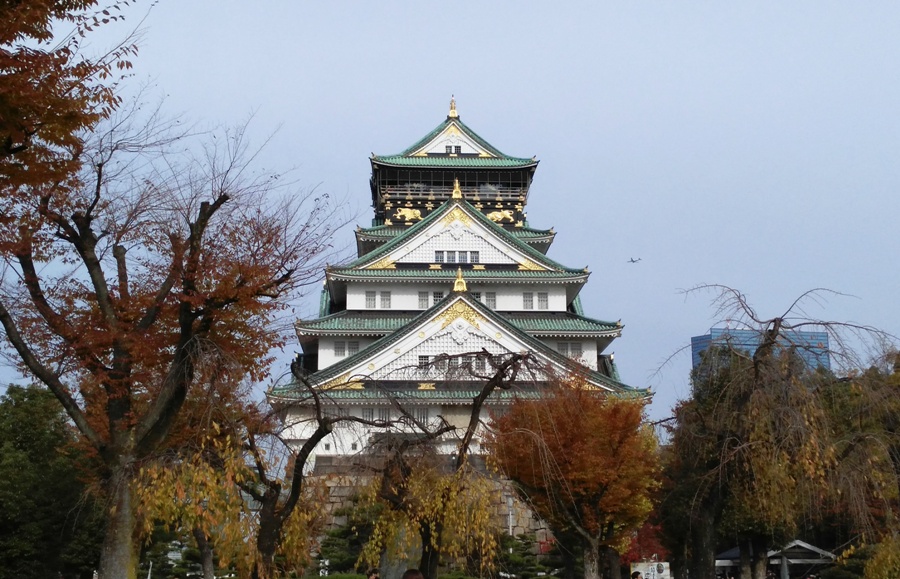 There's a museum inside Osaka Castle but we did not go there anymore because we have another museum in mind to visit.
Interesting is this stone marking indicating the place where Hideyori Toyotomi and his mother, Yodo-Dono, committed suicide after the fall of Osaka Castle.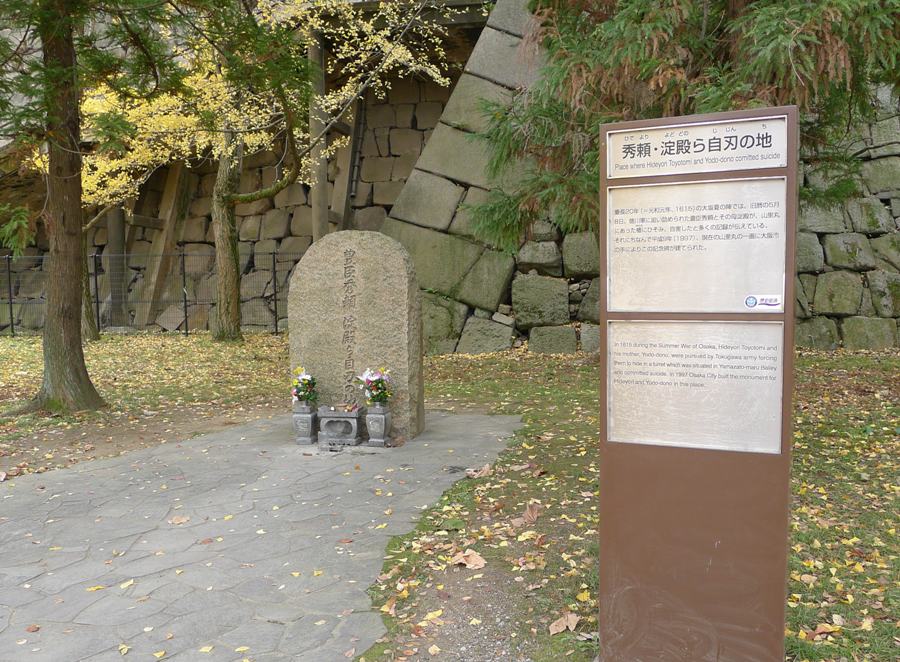 This is the gate entrance to the Plum Grove Garden.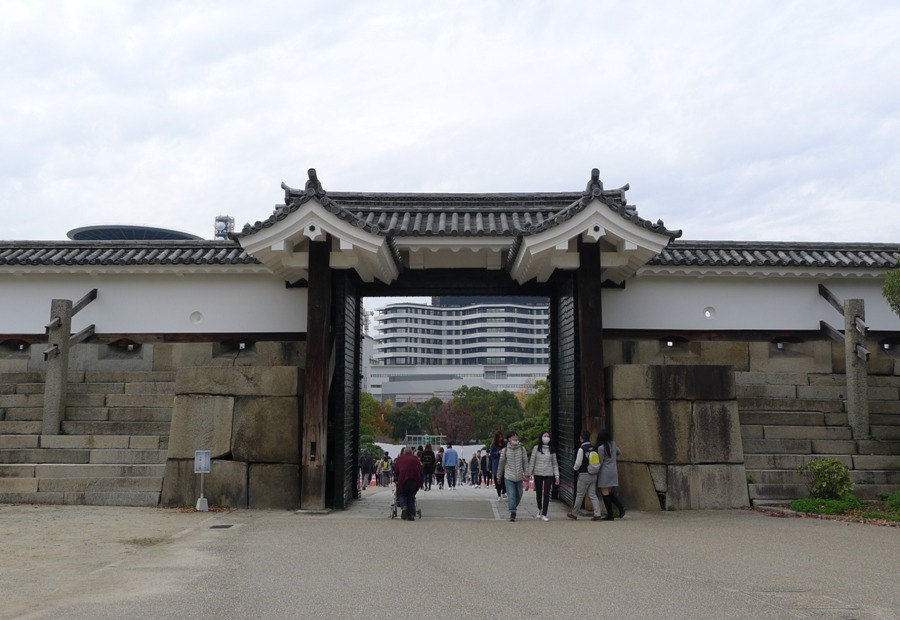 We didn't actually find the Plum Grove Garden, but instead tumbled upon these surprising scenery and structures:
A long and wide walkway filled with more autumn trees: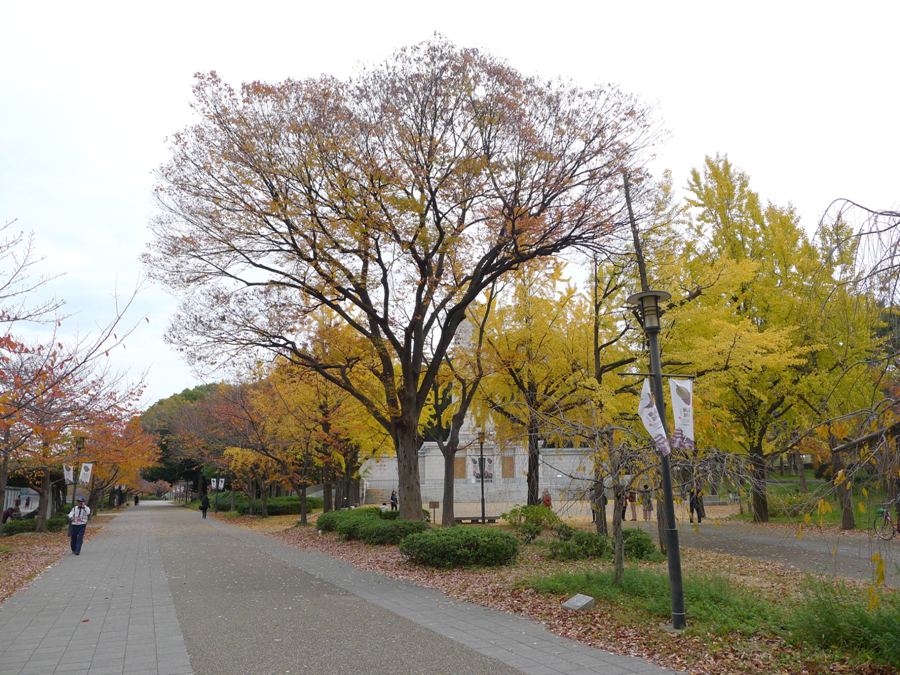 That's me and my favorite lemon yellow trees. Here I was wearing already the Uniqlo Blocktech pants we bought in Dotonbori the night before.  Lifesaver itong pants na ito!  Very effective in keeping our legs warm.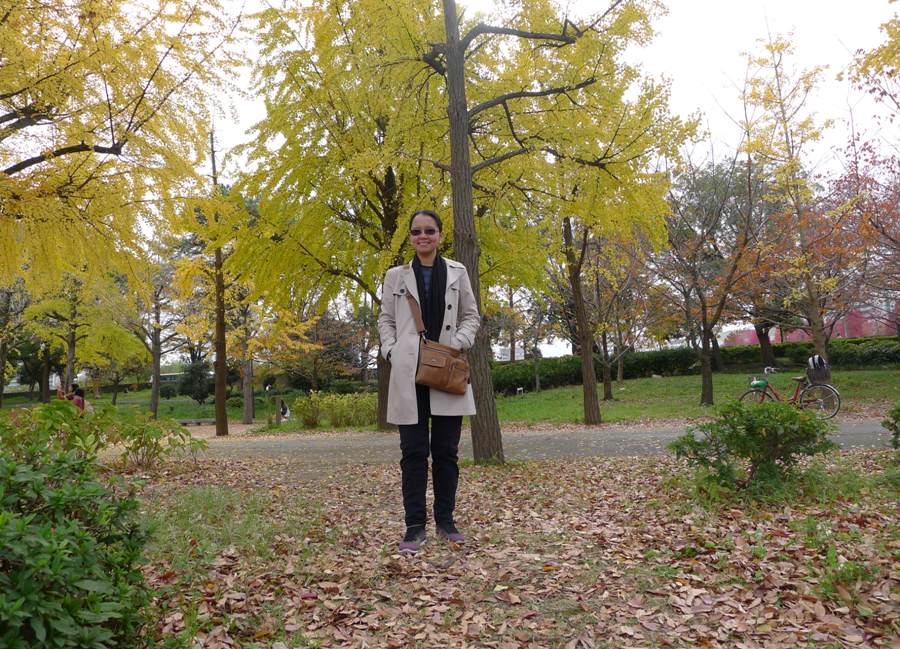 We also passed by one of the many turrets inside the castle compound: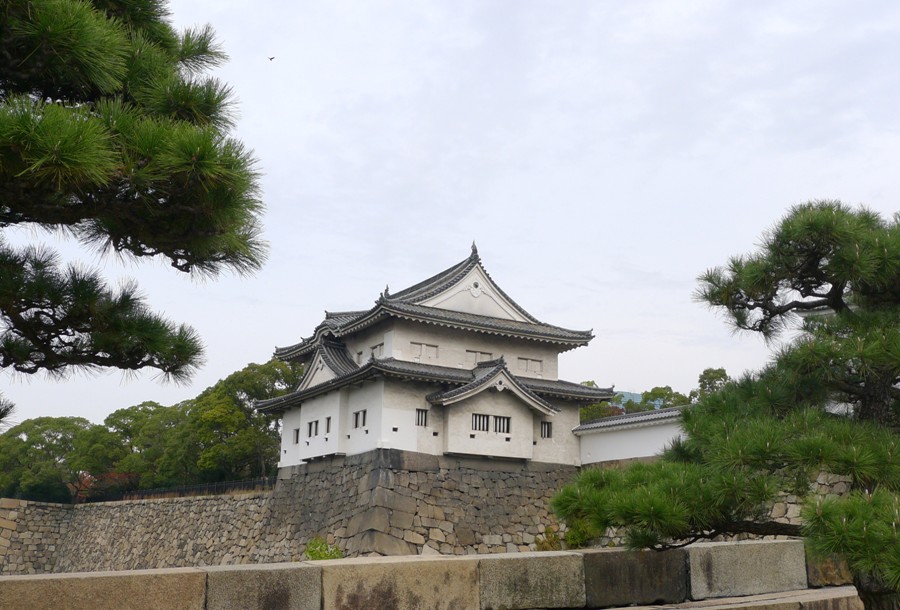 And this very serene view of the South Outer Moat, overlooking Osaka's business park, is like a painting!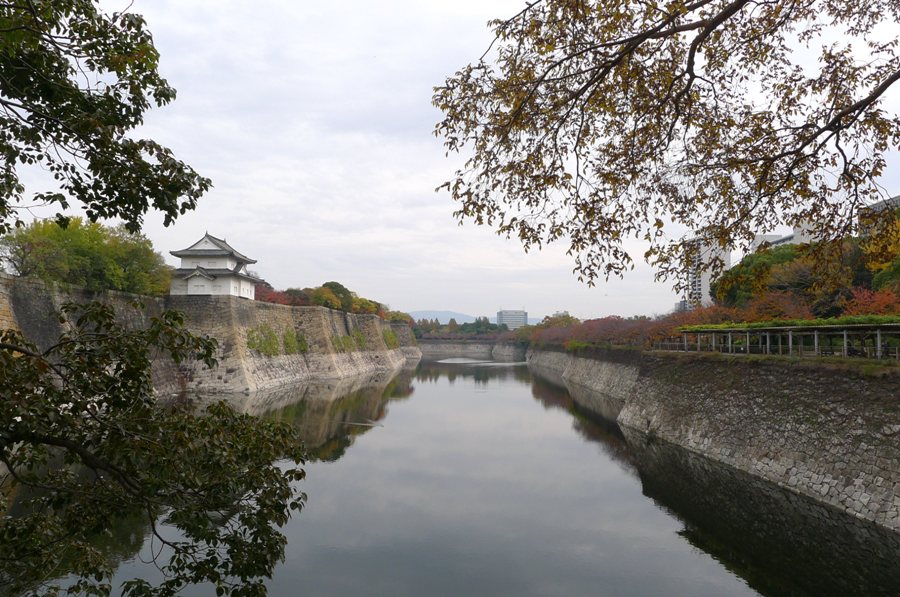 We just continued walking until we found our way back to the business district, and just across the castle compound is our next stop, the Osaka Museum of History.  The museum is housed inside this really beautiful brown building on the left.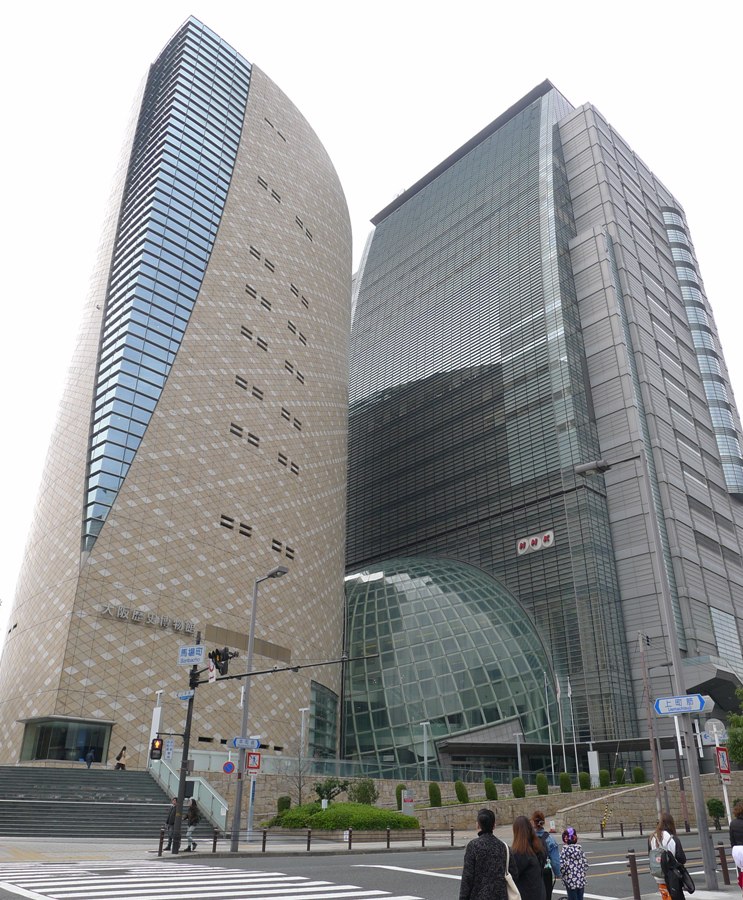 it's a good thing the museum was open on a Sunday.  Entrance fee is only 600 yen per adult (around P300 each).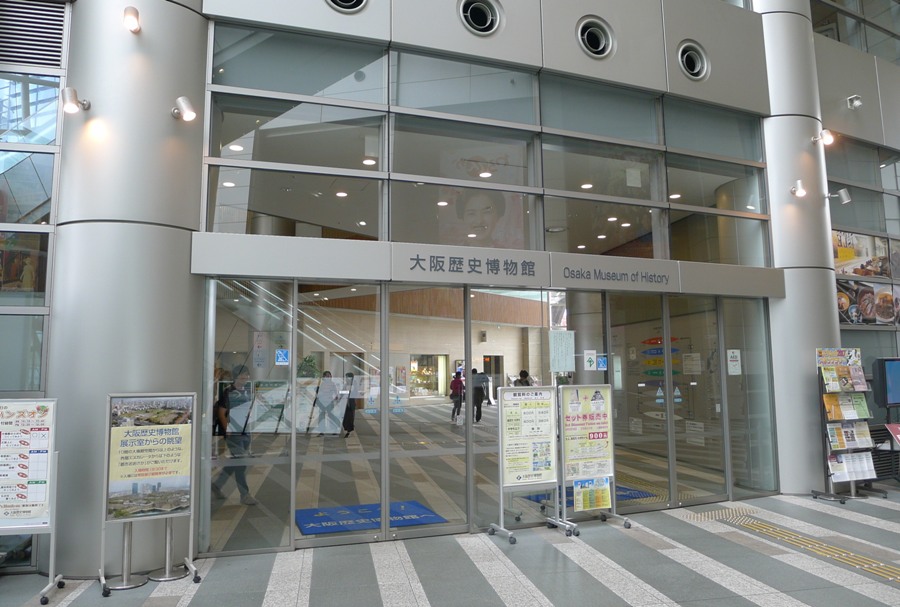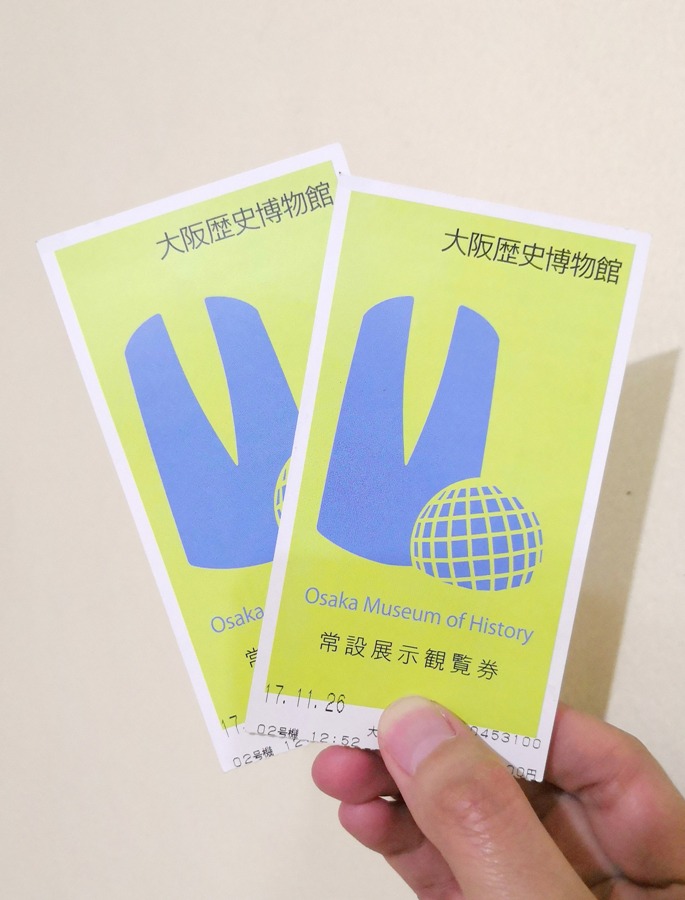 Here's the reason why this museum is in our must-see in Osaka: "The museum exhibits are visually oriented with several large models. They chronicle the city's history, beginning in ancient times when Osaka served as Japan's first capital and site of the Naniwa Palace and ending with exhibits on the city's bustling shopping arcades of the early Showa Period." (source)
Napaka-organized pa ng exhibition route nila.  We have to begin our tour at the top floor and then follow the exhibition route down.
The top floor exhibition gave tourists a very comprehensive history of Classical Japan, particularly the (former) Naniwa Palace, a historical Japanese capital city that was unfortunately destroyed by a big fire in 686 AD.  Para syang "Atlantis" ng Japan, because for a long time, the existence of the palace remained a mystery, until traces of its existence were found in 1957.  Through more recent excavations, the existence of a city was confirmed, and the Osaka Museum walked us through the discovery process, with a very nice visual presentation.
We were also able to see actual remnants of palace, like these roof eaves tiles actually used in the Naniwa Palace, and a pottery work found in the excavation site.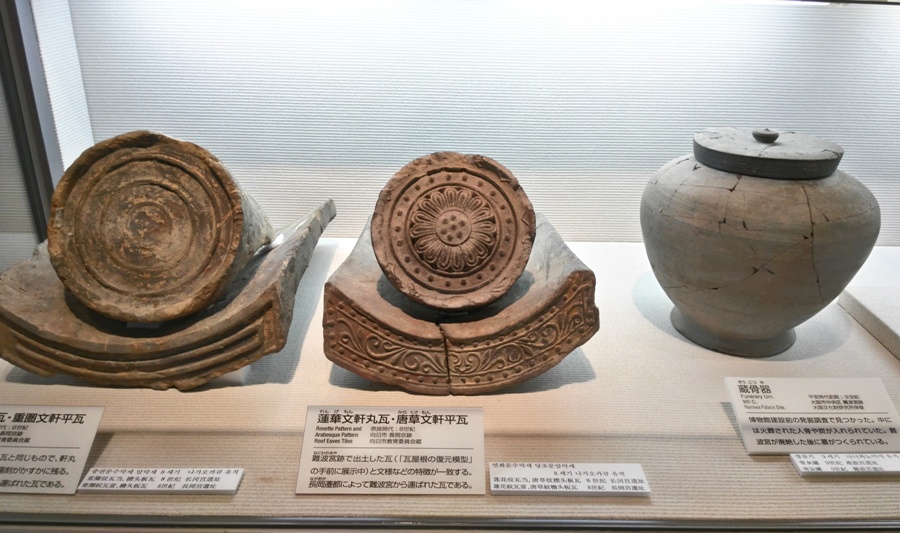 From the museum, we saw the actual site where the Naniwa Palace once stood.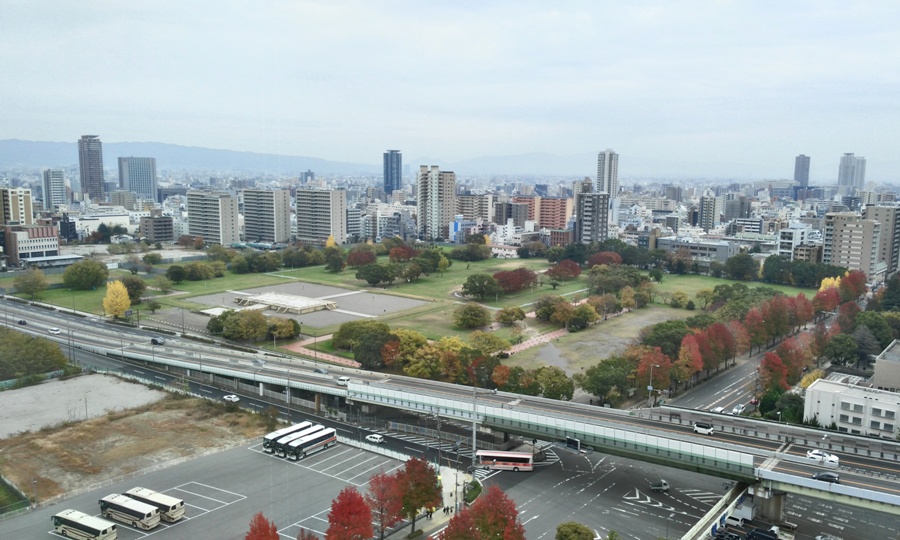 Next to Naniwa Palace, I enjoyed discovering about the Feudal and Medieval Japan (their longest era, from 12th to 19th century).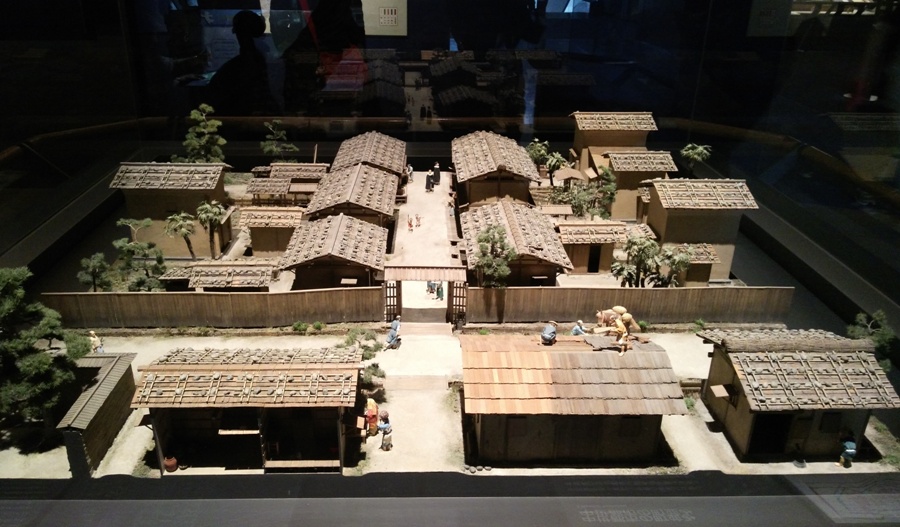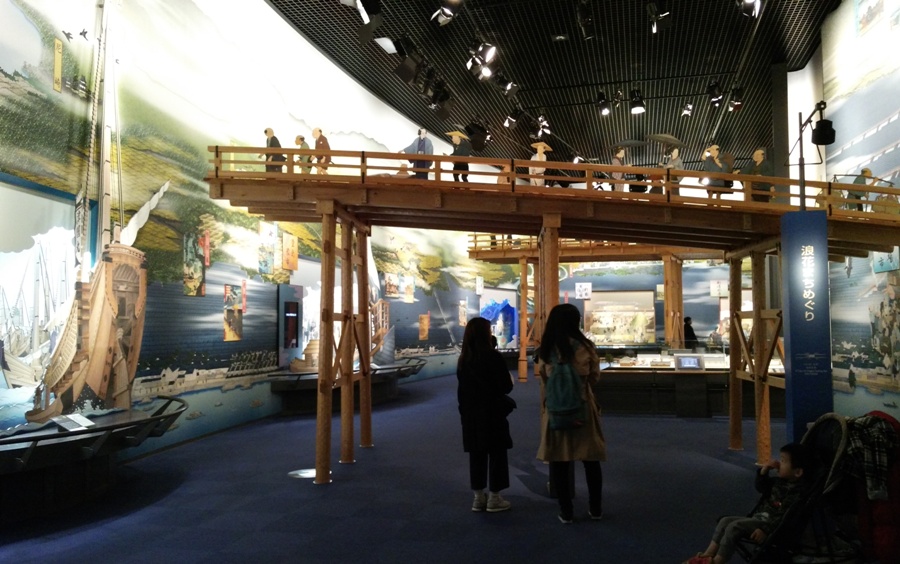 It was not the samurai swords that interested me the most; but the less popular but more interesting souvenirs of the past like these early version of leather shoes and vintage map from the 18th century!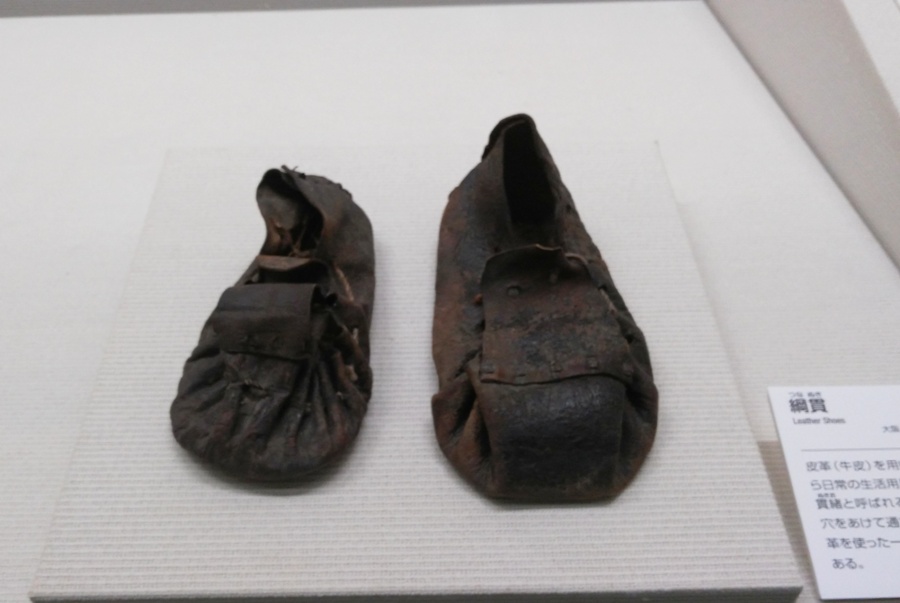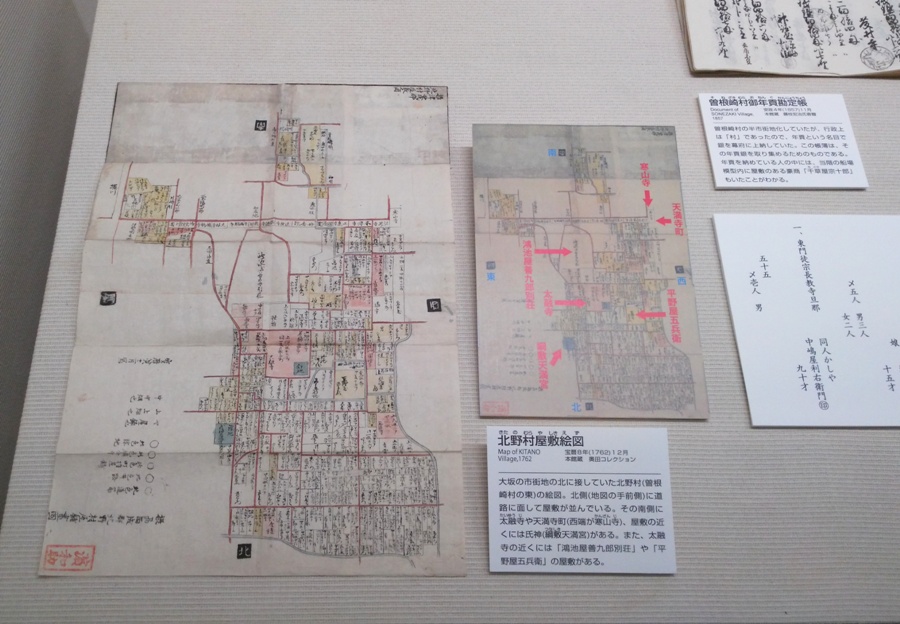 The Modern Japan / Discovery Science exhibition area was the coolest among all the floors we've been to, because it was arranged like a pre-school hehe with lots of interactive activities!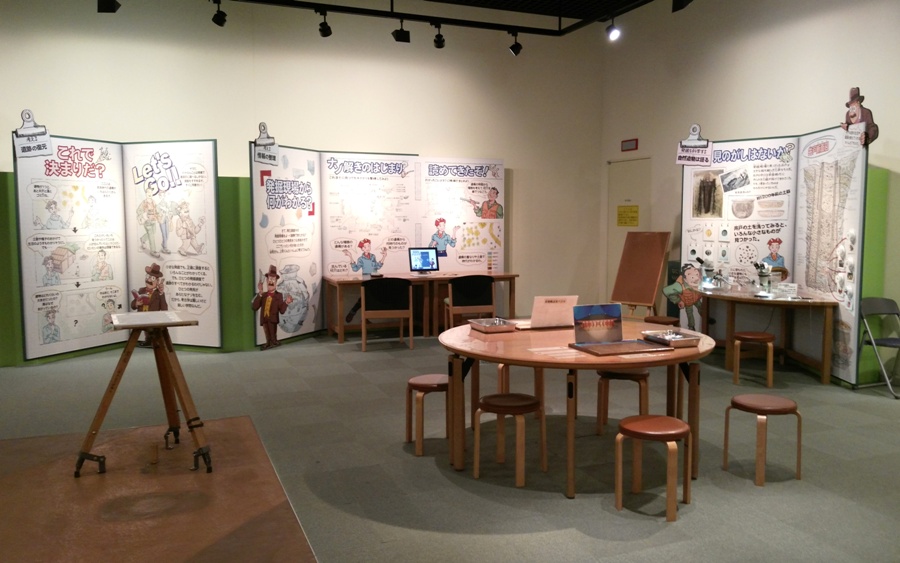 Here, we built a puzzle depicting the Naniwa Palace  =P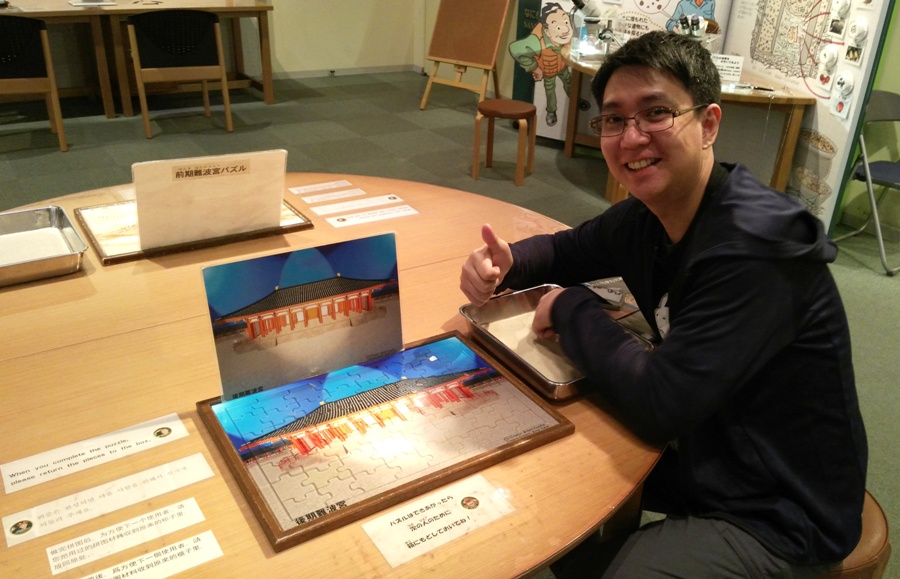 After finishing our "field trip", we had dinner at a train station going to Dotonbori and then made one more pasyal in the Dotonbori area, to pay homage to the Glico Man!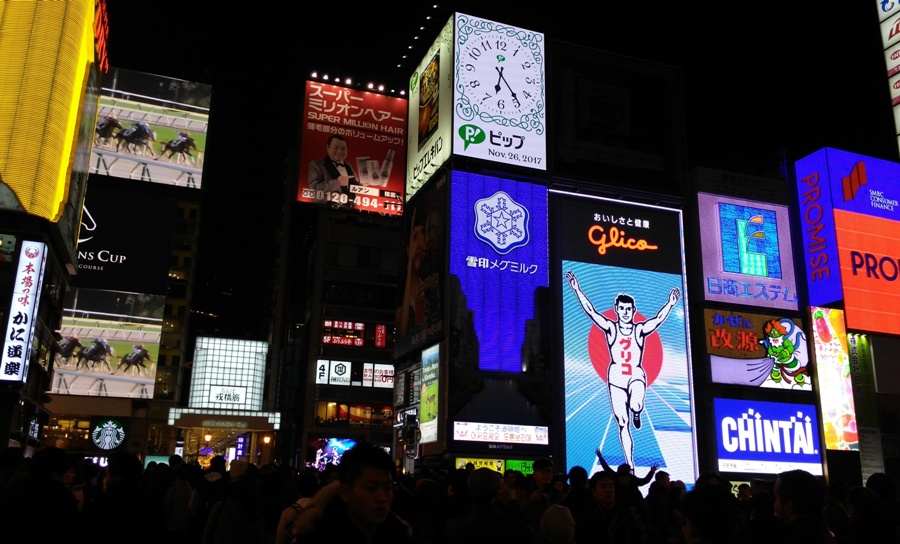 We checked out Shinsaibashi but hindi talaga k'me mahilig sa shopping, so we didn't get anything here except for a few pasalubong to take home.
Lastly, we stopped by Honolulu Cafe to rest from all the walking we did the whole day, and because I was craving for another good cup of coffee.  Na-intriga ako sa Macadamia cream sauce nila so we ordered their stacked Japanese pancakes with Macadamia cream sauce.  It was just soooo good!  I actually enjoyed this more than the coffee, hihi!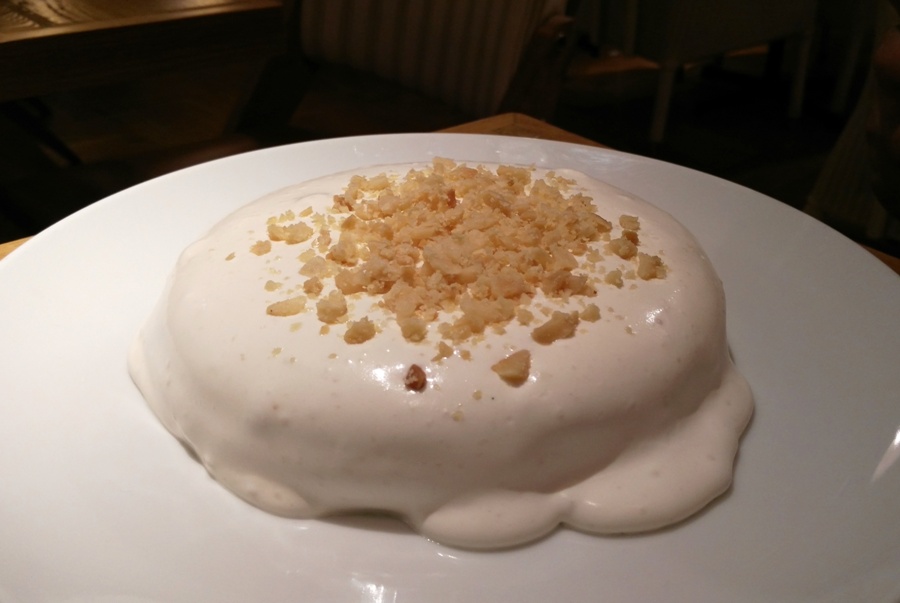 And that was our 1st day in Osaka =)   One thing I learned from our trip to Tokyo the previous year, we don't need to go to all the castles, the temples and the gardens that were recommended by travel sites.  We just have to choose those that interested us the most, so we can take time getting to know the places we decided to visit.  And that's exactly what we did in Kyoto and Osaka.  Pinili lang namin yung gusto namin puntahan, and I would say mas relaxed and mas nag-enjoy ako this 2nd time around in Japan.
We saved the highlights of our Osaka trip in the last 2 days of our stay there.   I am a big, big fan of Harry Potter and the reason why I really want to visit Osaka is to see the Wizarding World of Harry Potter at Universal Studios Japan  =)   In my next post (which hopefully I get to write sooner and not after another 2 months, hehe!) I will share with you how I looked for the best deal in USJ tickets, and my tips so you can enjoy it without burning your wallets =)