Our last 2 days in Osaka were spent as follows:
Day 4 (Monday):
Osaka Aquarium Kaiyukan
Universal Studios Japan (3:00 p.m. onwards)
Day 5: (Tuesday)
Universal Studios Japan (whole day)
Some budget tips for Universal Studios Japan:
I am a big Harry Potter fan and habang nag-iipon pa ako ng pamasahe for London and for the Harry Potter Studio Tour, I figured the closest I could get to seeing Hogwarts is at Universal Studios Japan (USJ) – where the Wizarding World of Harry Potter theme park is.
Hence, a trip to Osaka would not be complete for me if we will not visit USJ.
I researched online for the best ticket deals to USJ and the Wizarding World of Harry Potter.  Most bloggers, past and repeat USJ tourists, are recommending the 1-day regular entry ticket combined with the Express Pass.  These are 2 separate tickets that you have to purchase, and which will cost you around Php6,500 to Php7,000 for the 2 tickets.  You can purchase them online (I recommend Klook) or direct from Universal Studios but you have to line up for these so it's best to buy them ahead of your preferred schedule.
Most people get these (extravagantly) priced tickets to save time inside USJ and do away with falling in line for the rides.  But I figured that it was only in the Harry Potter rides that the line is likely to be long (thus, waiting time is to be expected), and not in the others.
So in deciding whether to get just the regular entry e-ticket (priced at Php3,829.00 at Klook now) or get it together with the express pass (you can choose between express pass for 4-rides or for all 7-rides) which would mean adding another P3000-P4000 in the ticket for USJ (per head!), we asked ourselves the following:
Is trying all rides inside USJ a must for us?  No.  We will go only for those rides that appeal to us.
Are we okey with touring USJ in half-a-day, and spend the other half just for Wizarding World of Harry Potter?  No.  Hindi sulit and baka makapos sa oras.
Are we okey with just touring the Wizarding World of Harry Potter the whole day, and just squeeze in whatever rides we can with the remaining hours at USJ?  No.  Hindi rin sulit!
So obviously we want more value for our money (the P3,829.00 price tag for the regular day e-pass is not cheap ha!) and if that means spending more time at USJ to maximize our experience there, then we'll go for it.  After all, this is our first rin at a Universal Studios attraction, and we just want to have a really good time there without feeling rushed, or missing on the other good stuff that USJ has to offer.
That's why best deal talaga for me yung 1.5 Day Pass that I saw also at Klook and priced at Php3,441.00 per head only.
Here's the description of this not-so-popular pass (but turned out to be the most sulit for us):
Start your amazing day after 3:00pm on day 1 and continue on an all-day adventure on day 2!
Step into the park's most famous attraction, the Wizarding World of Harry Potter
Don't lose your head at the world's craziest attraction, the Minion Mayhem Area
Conveniently redeem your voucher at Osaka's Kansai Airport (KIX) or Namba OCAT Station
More about this pass from Klook's page:
Enter the amazing worlds brought to life by the world's biggest blockbuster movies with this one and a half day ticket to Universal Studios Japan in Osaka! Pick up your ticket right at Kansai International Airport or Namba OCAT and head straight for adventure! Get fantastic value tickets to USJ and extend the fun with admission from 3:00pm on your first day, and a full day of fun on the following day. Lose yourself in the magic and splendor of the Wizarding World of Harry Potter, the park's most famous attraction, and get a taste of life as a wizard! Keep yourself from losing it when you head to Minion Mayhem Area, the world's largest and craziest park, with a great gift shop for minion lovers everywhere. A fan of Japanese animation? See the worlds of One Piece, Dragon Ball, and more of the world's most famous titles come alive as you meet their characters within the park. All these and more of some of the world's most state of the art thrill rides and attractions in the one theme park in Japan that you shouldn't miss. 
How's that?  For just Php3,441.00, you get a half-day and one-whole day of USJ to enjoy!  You may not get the privilege of VIP entrance on every ride (because it doesn't have any express pass privilege) but with 1.5 day of USJ to yourself, you won't need that anymore!
In the 1.5 day we were at USJ, AJ and I were able to enjoy the very popular ride attraction inside the Wizarding World area – the Harry Potter and the Forbidden Journey – not just once but twice(!), and we were also able to enjoy as well most of the other rides inside USJ – again, without rushing for time!
You will also read about how strict the USJ staff are, and that you can't bring in water and food inside.  Actually, you don't need to bring water inside because there are water fountains inside USJ!  Why carry water that will add weight in your bag when you can drink it for free inside the park?
As for food, it really is best if you eat before going inside USJ because once you have stepped inside, makakalimutan mo na kumain hehe!  I think bringing little snacks such as small, wrapped pastries and maybe candies (for sugar rush) is helpful especially if you just want to take little bites in between walking, or while waiting for your turn at the rides.
But for the experience, you can also try the restaurants inside USJ (like what we did).  The food inside the park is expensive, yes, so just swipe your card without looking at the bill hehe!  Actually, when at USJ, your credit card is your best friend because there are so many gift shops inside(!), mapapabili ka kahit ano pang control mo sa sarili.
Anyway, because we have a free half-day to spend anywhere we like before starting our USJ tour at 3:00 p.m. on Day 1, we were able to make time for another of Osaka's popular attractions – the Osaka Aquarium Kaiyukan.
Osaka Aquarium Kaiyukan: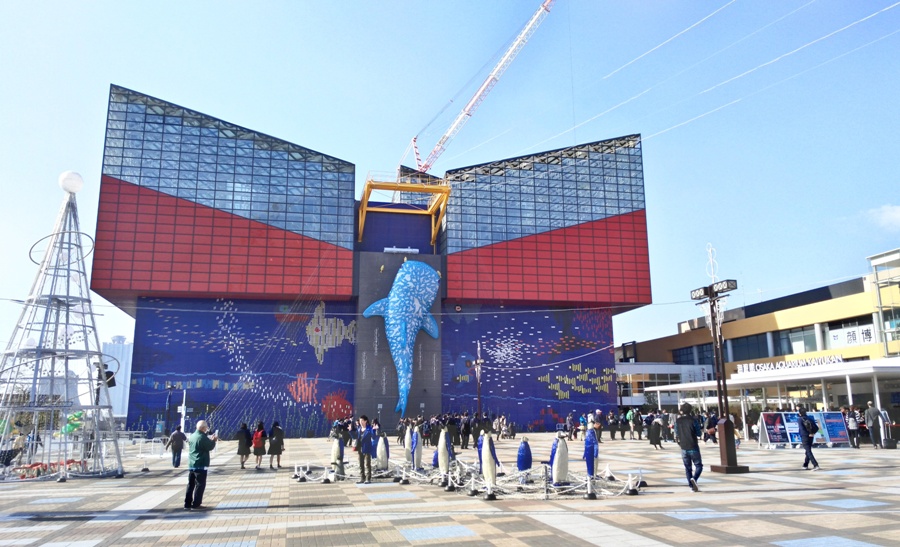 The Kaiyukan opens at 10:00 a.m.  We grabbed breakfast first at this modern cafe called 9 Borden Coffee at Minato Ward, just a walking distance from Kaiyukan.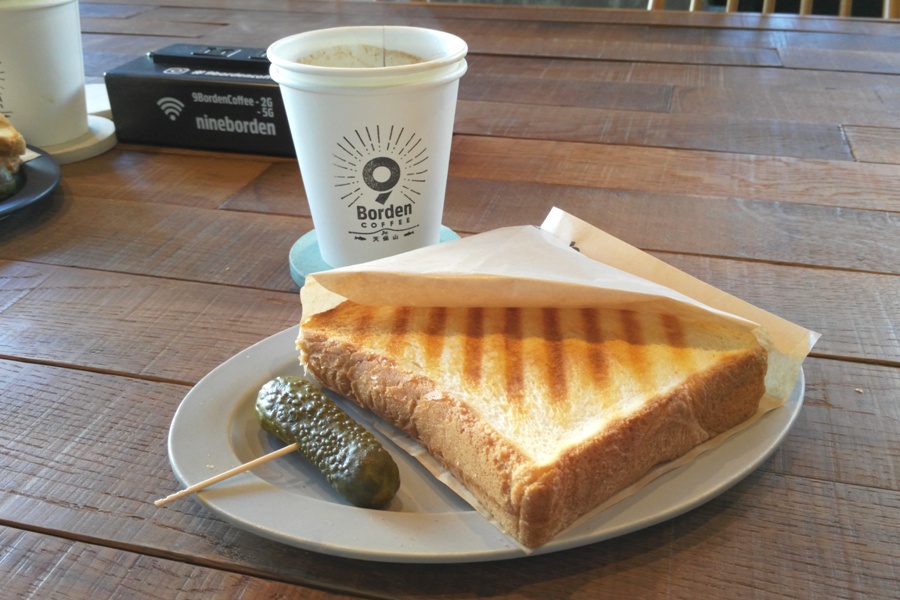 Saw the Tempozan Ferris Wheel and a Legoland attraction which are part of the Tempozan Harbor Village, located just next to Kaiyukan.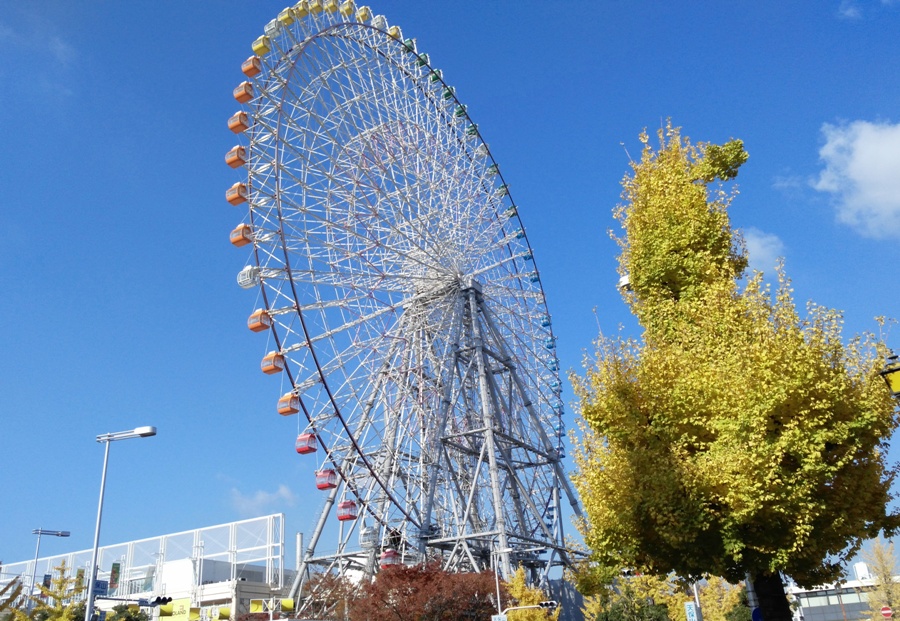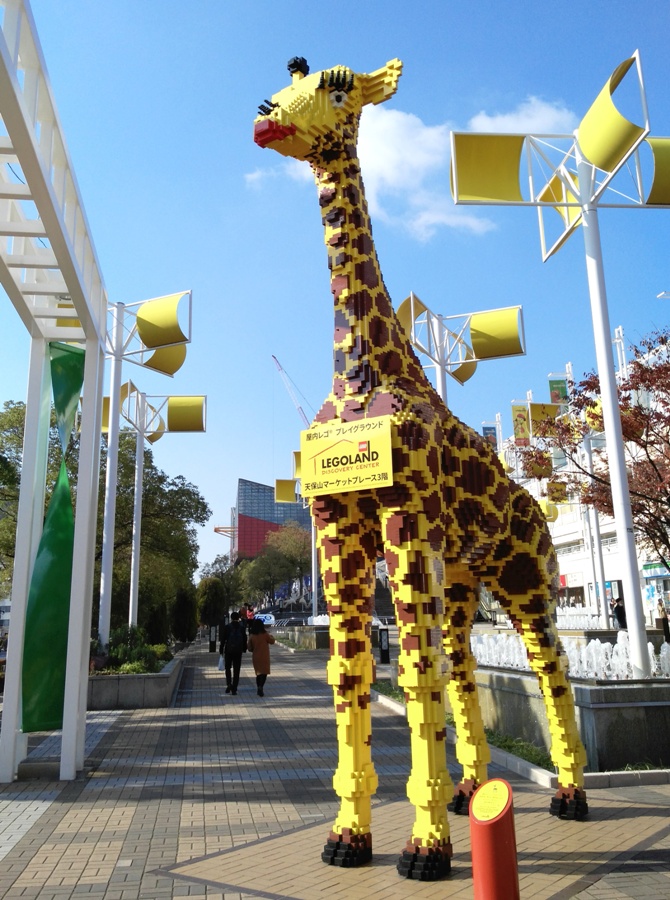 We bought our tickets to Kaiyukan on the day itself.  I learned that there's a ferry ride ('Captain's Line') that goes straight to USJ from Kaiyukan, and which leaves every hour from the port, so we got this na rin para covered na ang transpo namin going to USJ.  Plus, may discount pa!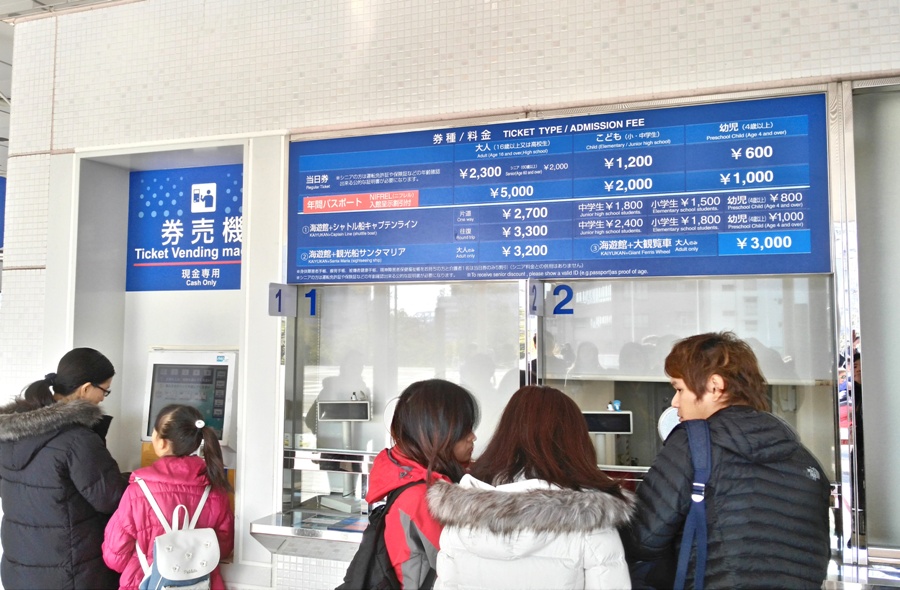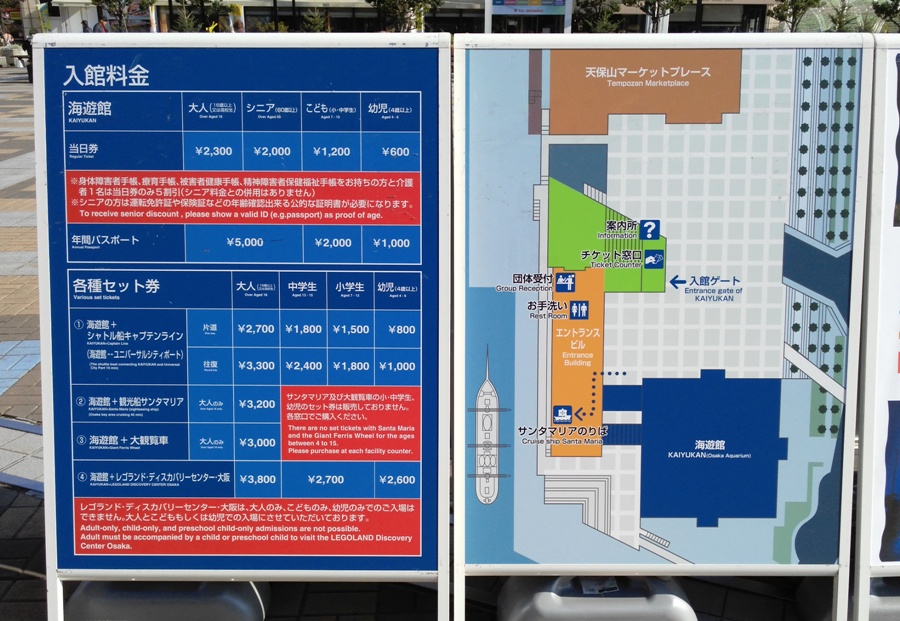 The entry ticket to the aquarium costs 2,300 yen (about Php1,100 per head).  The ferry boat ticket to USJ costs additional 700 yen per head.  But with the discount rate, we saved 300 yen for each of us.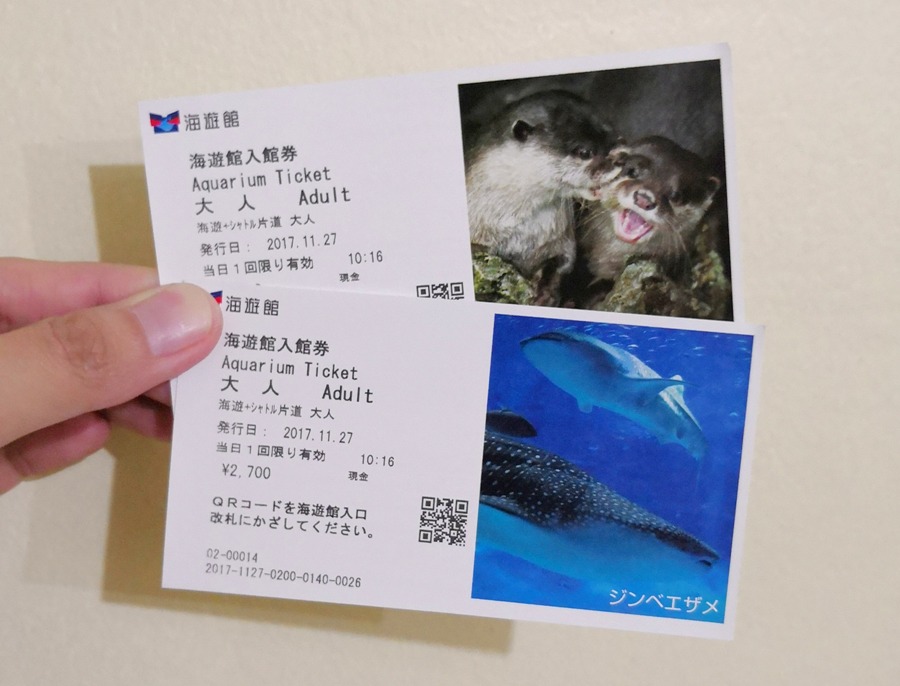 Osaka's Kaiyukan is the world's largest aquarium.  From the entrance, we took this very, very long escalator ride that took us all the way to the 8th floor.  That's where the aquarium exhibit begins.  It was literally a virtual tour of the Pacific Ocean, and as we go down on each floor (via a spiral ramp), the "deeper" we went to the parts of the Pacific Ocean.
We saw so many interesting marine life, from the smallest fishes (including Nemo!) to the baby sharks and whale sharks (butanding).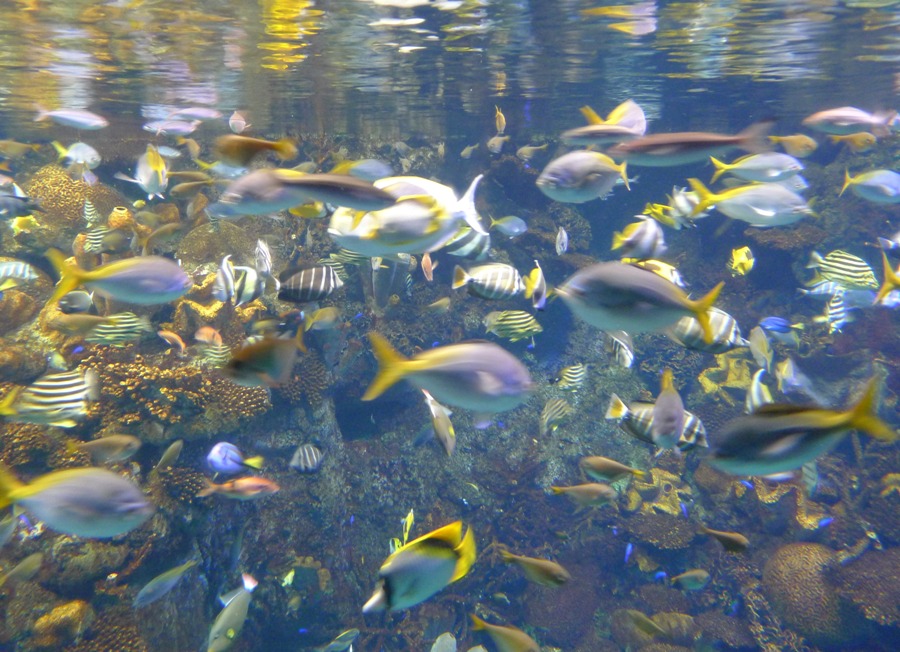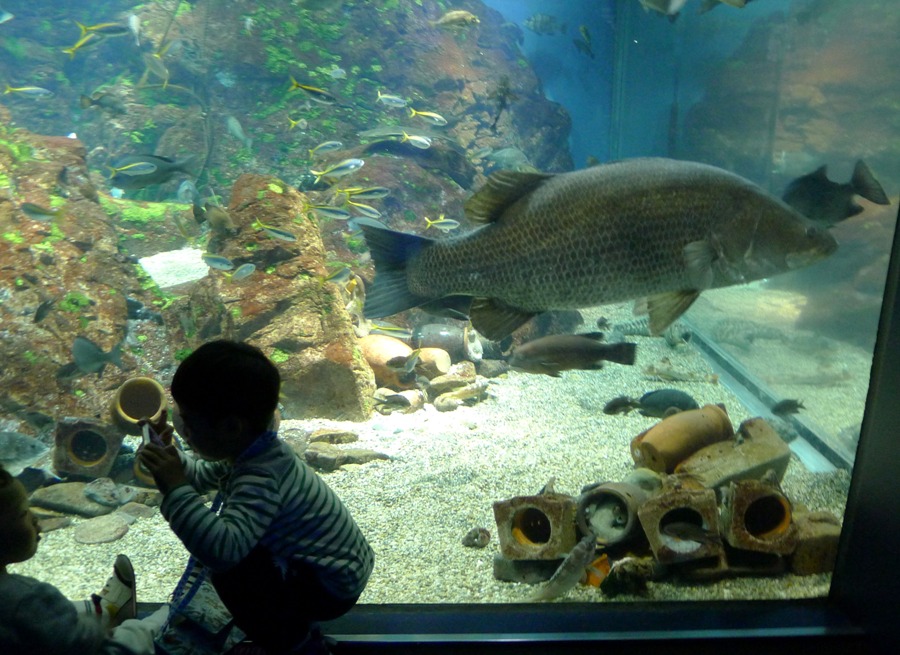 The 'ipis' of the ocean.  Ewww!  Buti dead na, I mean fossilized na. (Sorry, takot ako sa ipis!)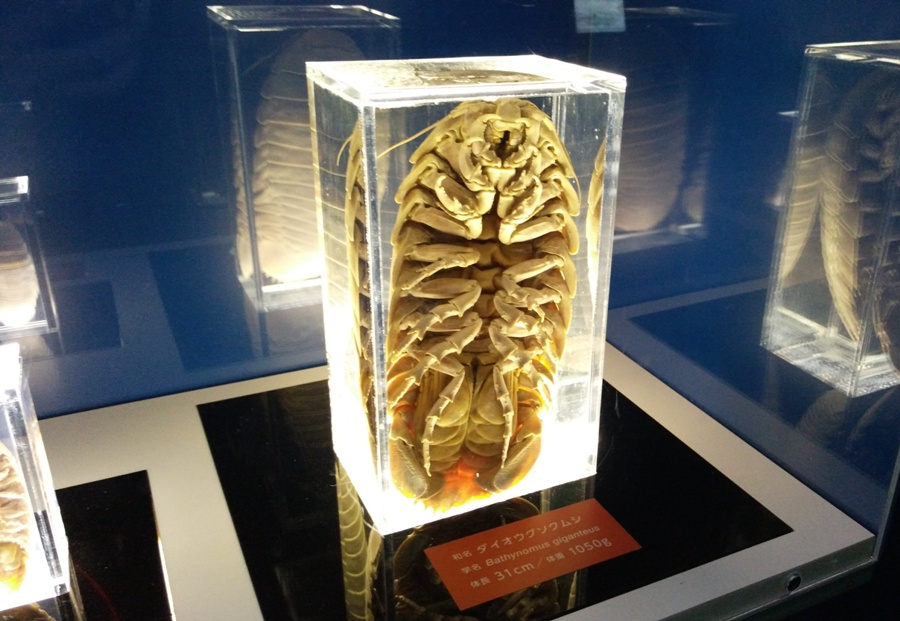 I saw lots of big turtles!  My favorite to watch.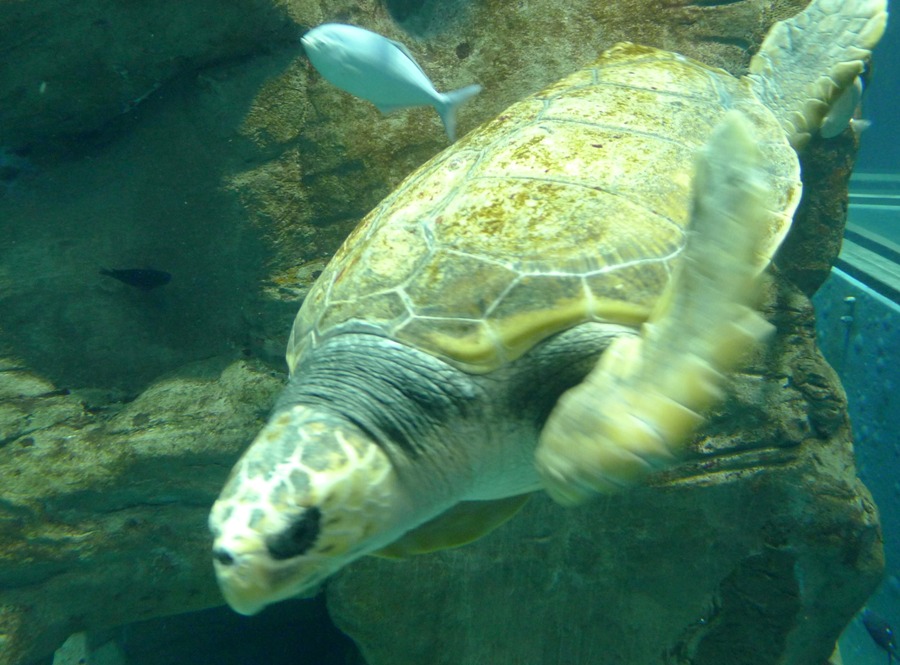 The giant crabs that we found at the bottom of the sea, so to speak, or at the 4th floor which is the last stop of the Pacific Ocean tour.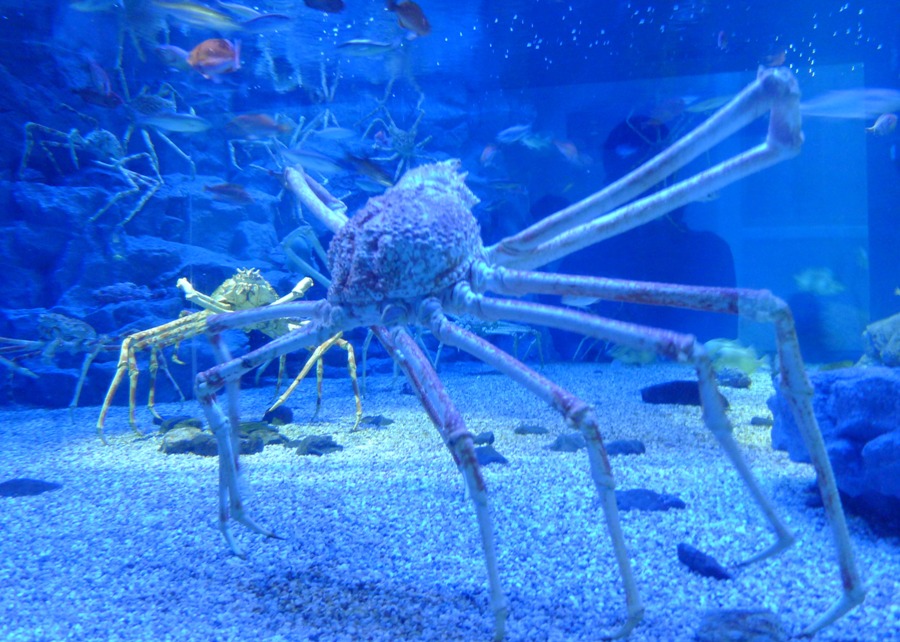 We also caught the penguins on their lunch break, and it's so cute to watch them patiently wait for their turn to be fed (no pushing!).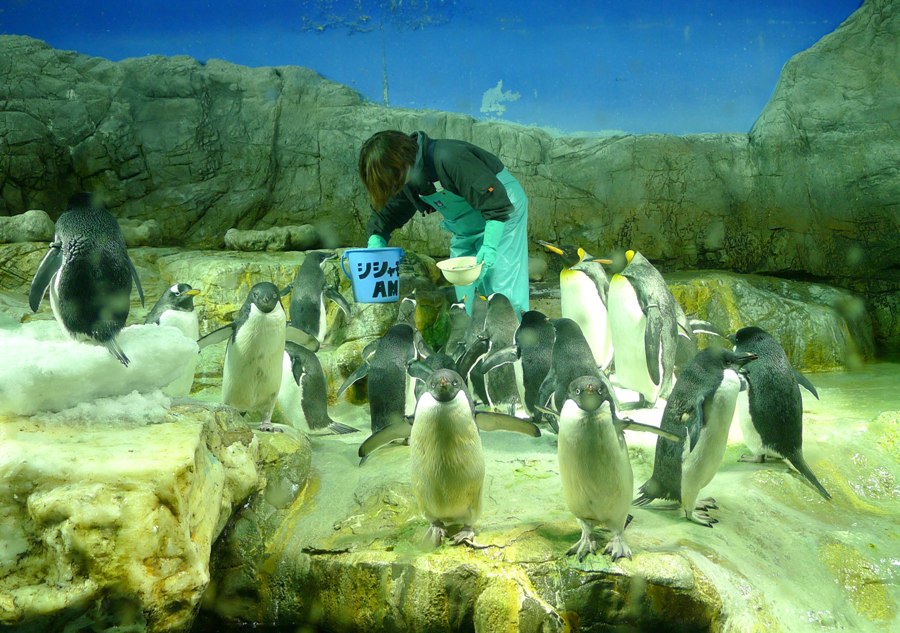 We paused for some 'whale shark' soft-serve ice cream. It has half-vanilla, half-bubble gum flavor.  Yum!  Missing this one already!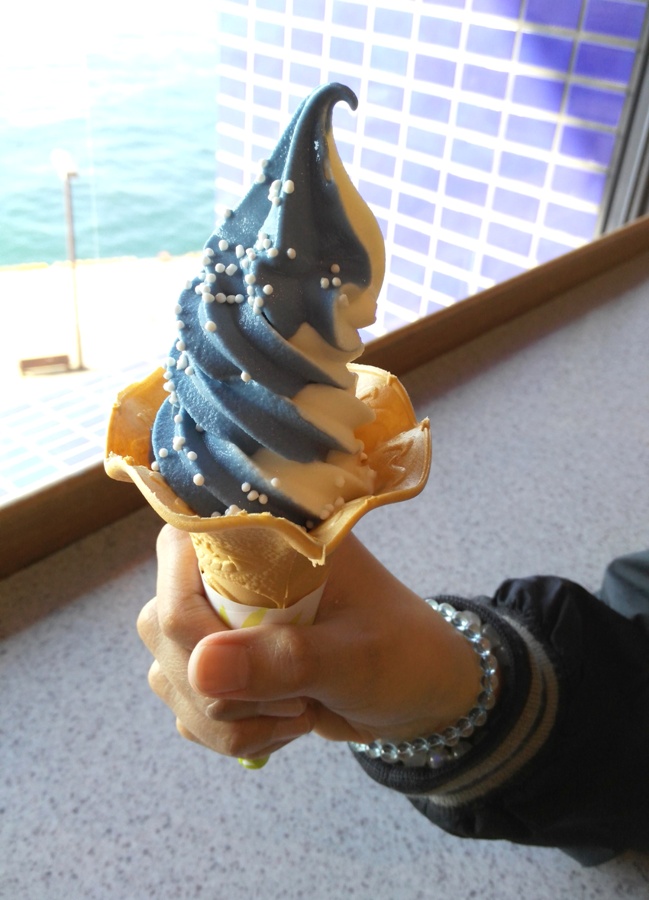 Next, we checked the 'Antartica', the coldest part in Kaiyukan, and its other attractions.   At some point, we found ourselves following this group of pre-schoolers on a field trip that day, and we pet the stingrays like they did, too hehe!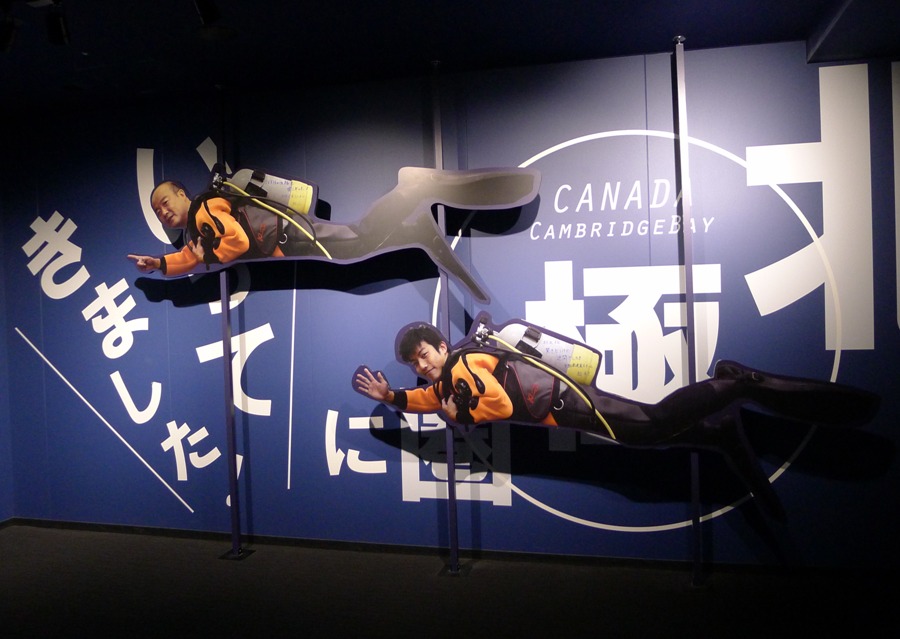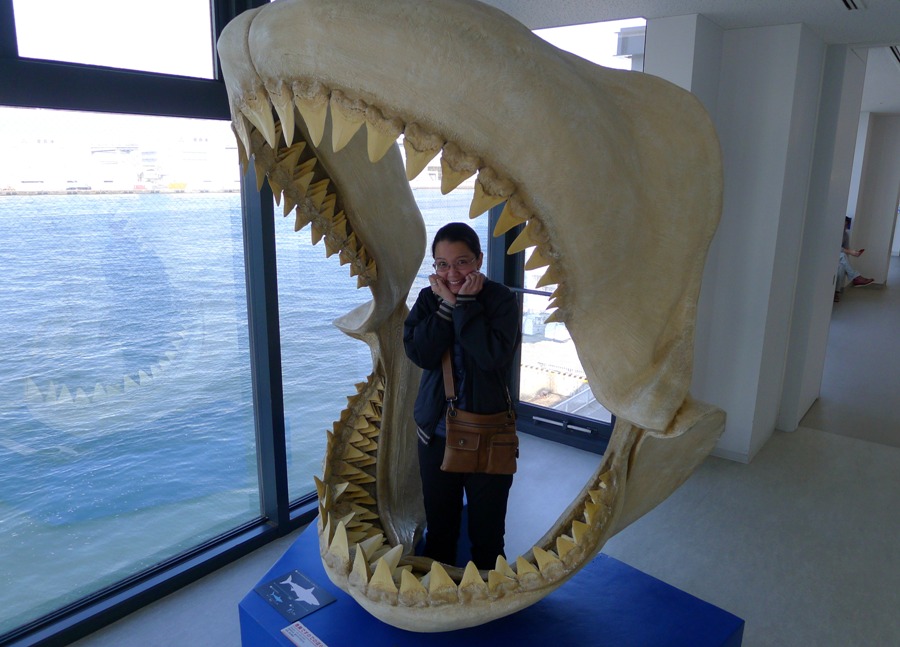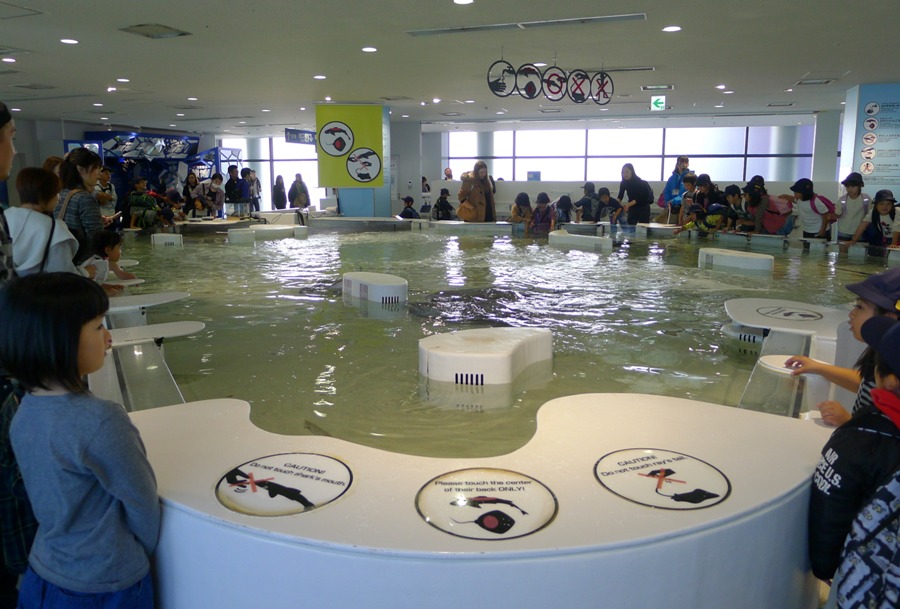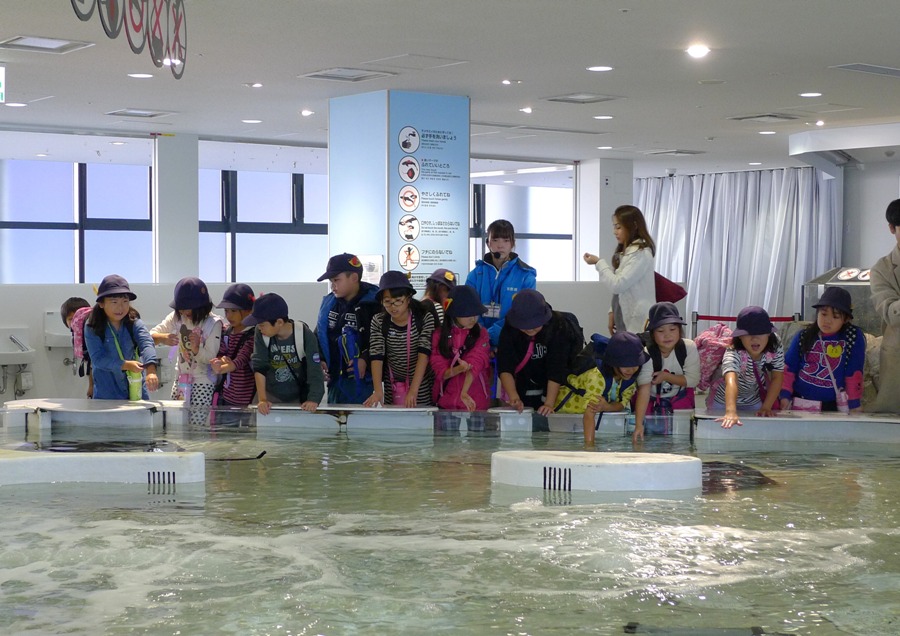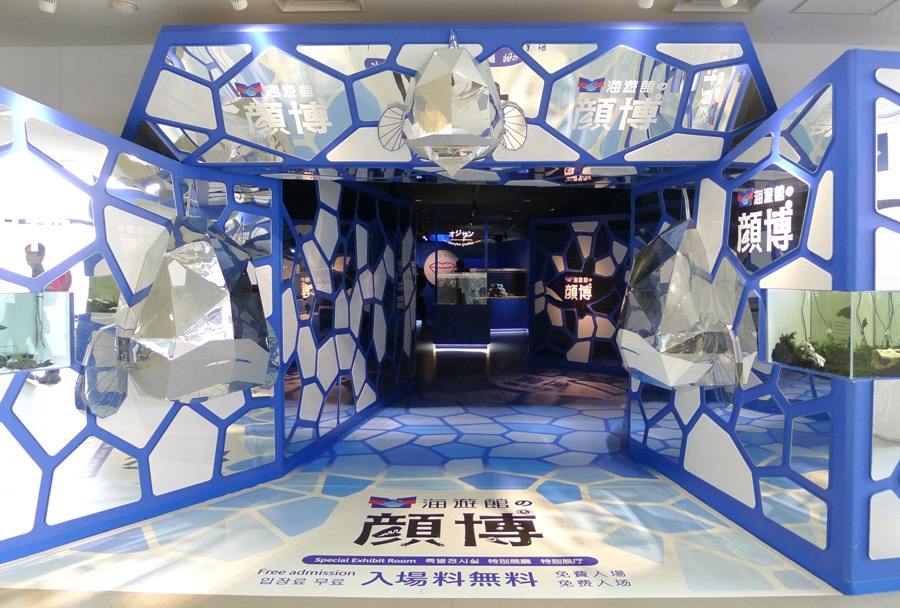 It took us 2.5 hours to cover the whole aquarium.  Nakakapagod din!  We had a quick lunch at the Temponzan Market Place just beside Kaiyukan because we don't want to be late for our ferry ride to USJ.  You won't miss this market place because of the rows of restaurant that you will see just after exiting the Kaiyukan.
Then it was time to board the ferry boat that will take us to USJ!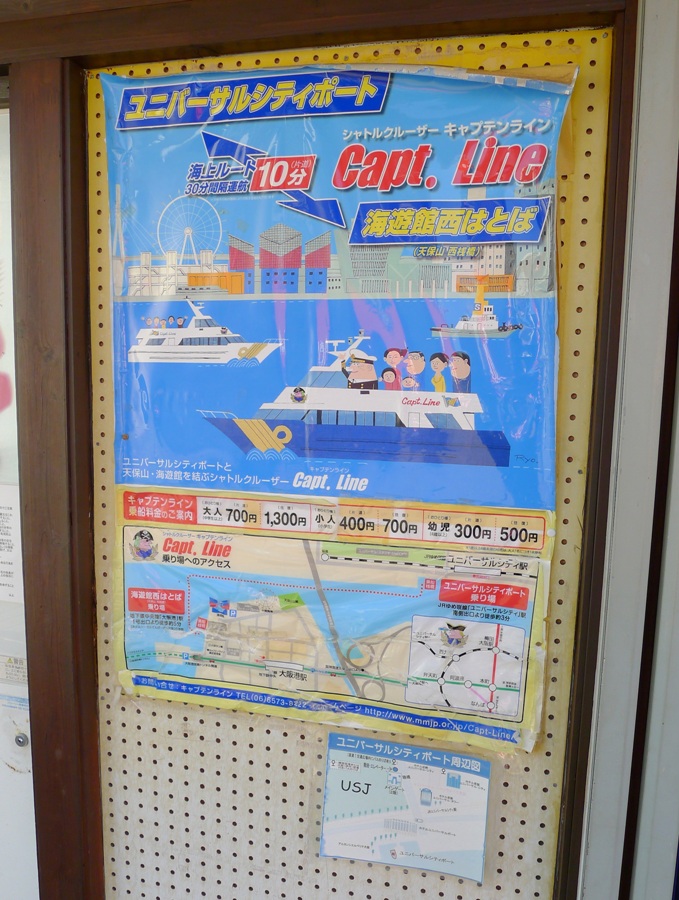 We took the 2:00 p.m. ferry trip, and after 15 minutes we were already at Hotel Universal Port – our stop.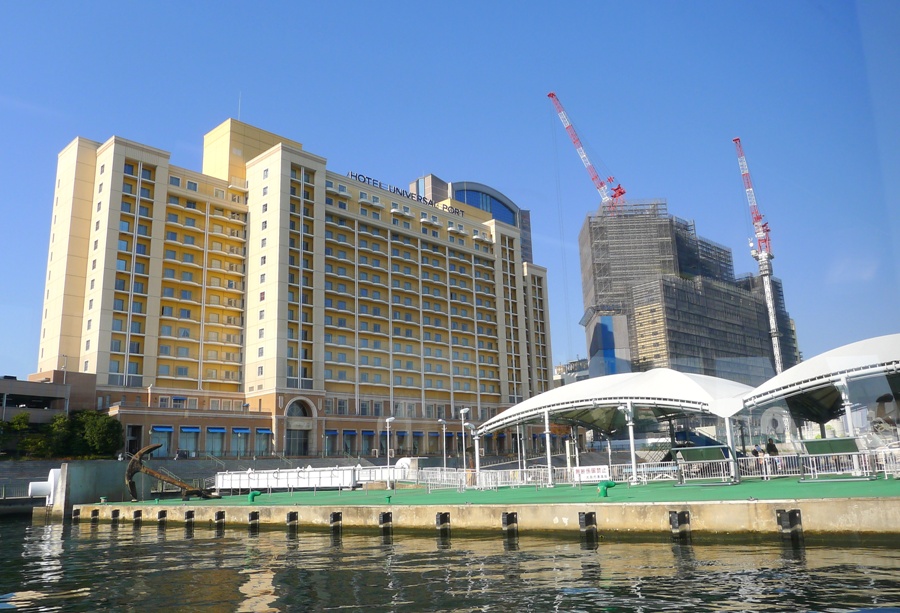 The hotel's lobby – filled with Minions!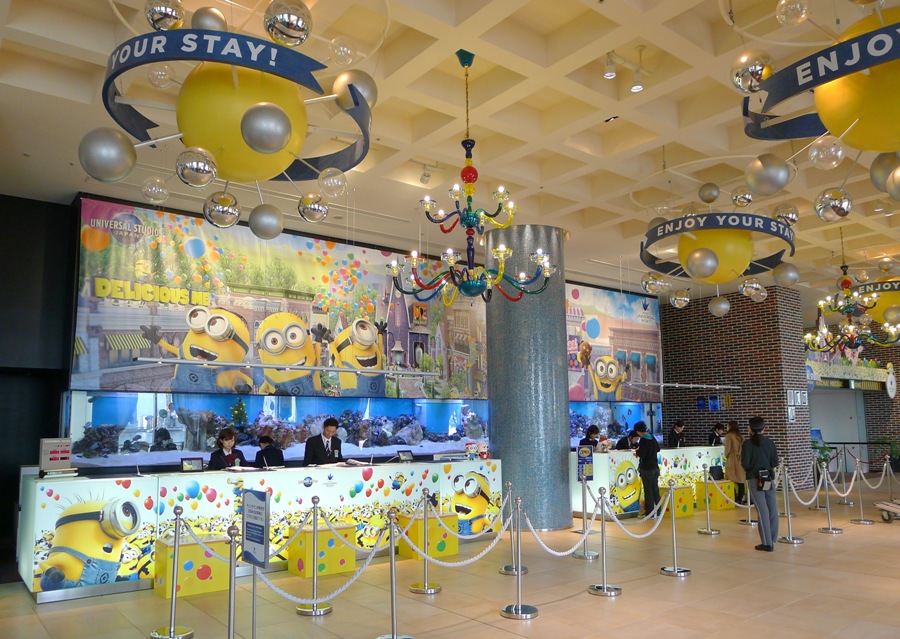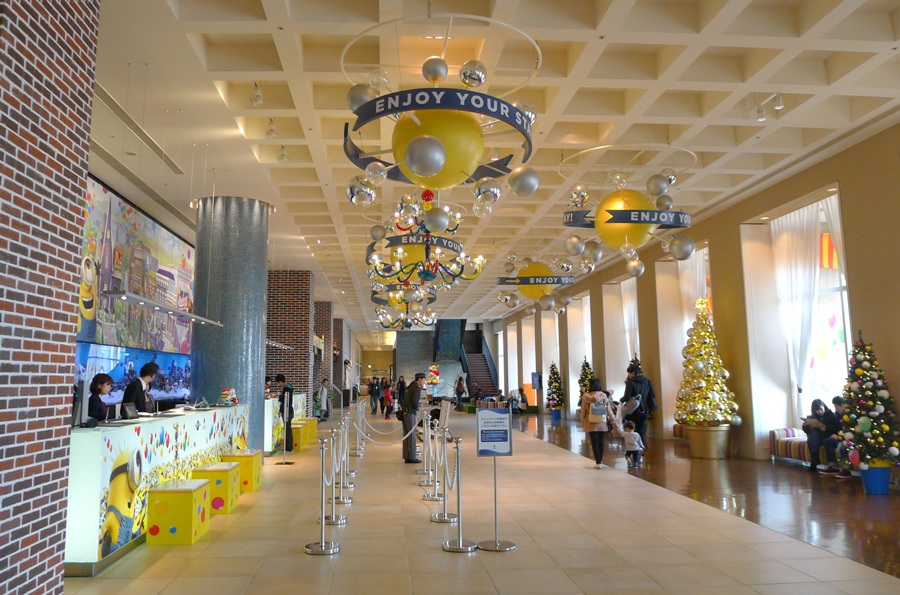 From the hotel, we just followed the road going to USJ.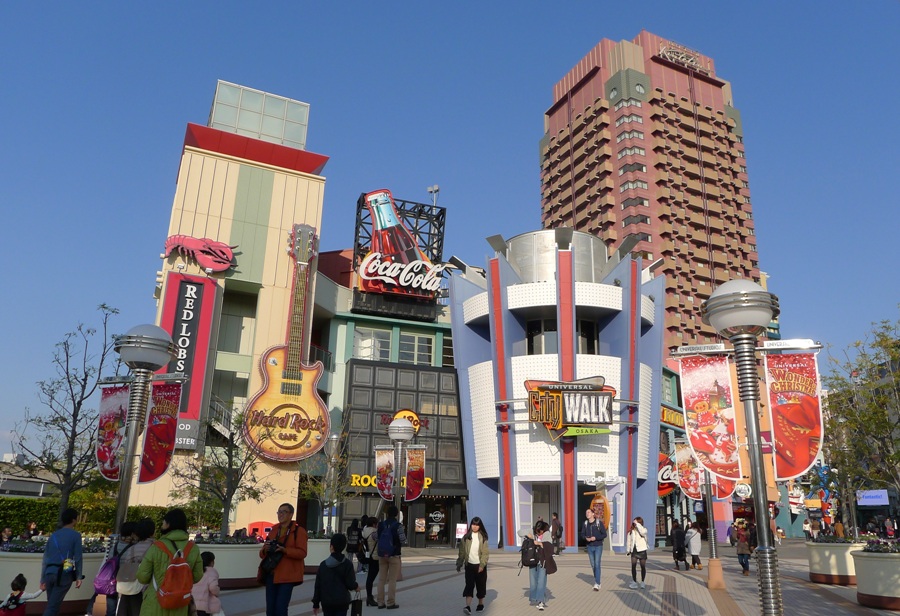 Universal Studios Japan:
And there it is!  Welcome to Universal Studios Japan!  Wheeeee!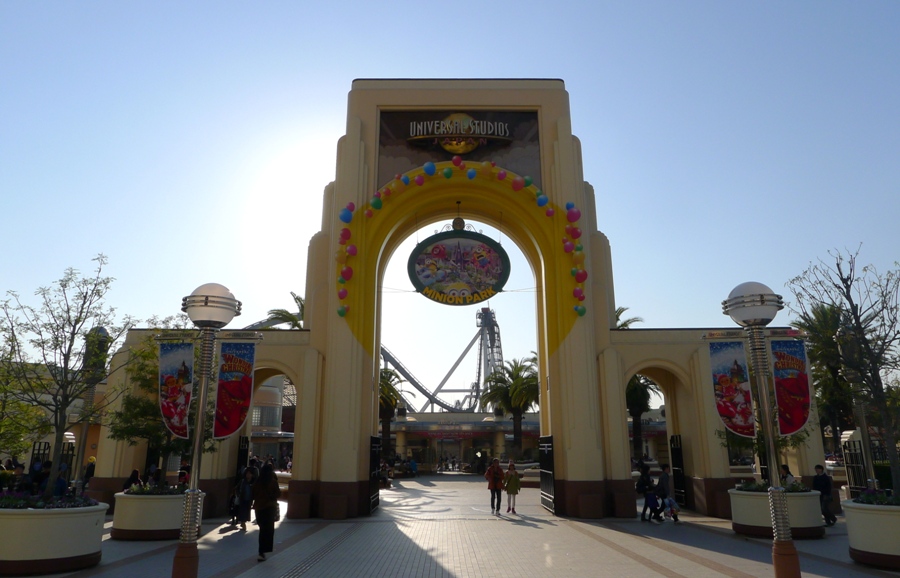 Our 1.5 day Passes (sayang, Minions ang nasa picture, walang Hello Kitty hihi!):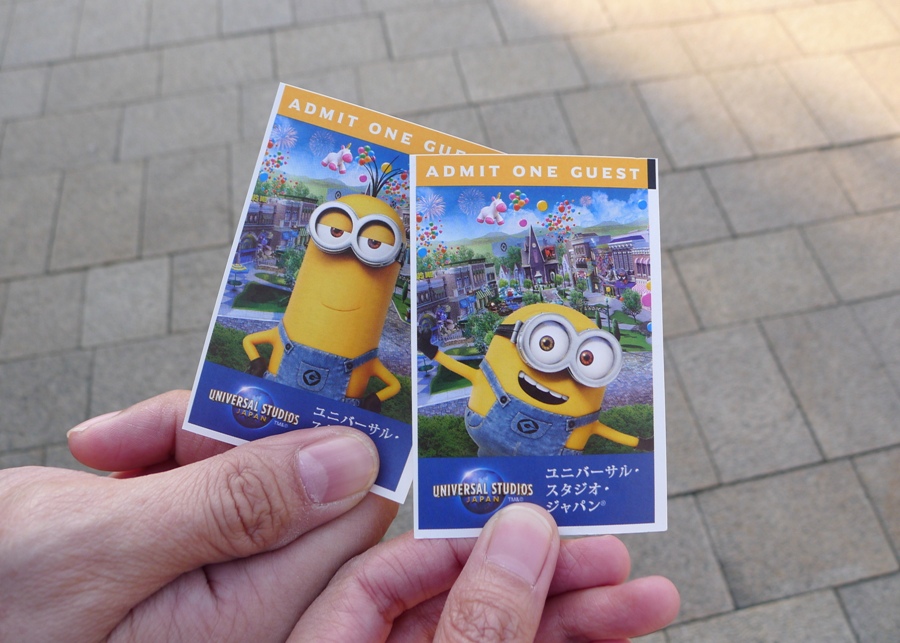 Here's the line for us who bought the 1.5 day pass.  The gates opened at 3:00 p.m. – sharp.  We were expecting our bags to be opened and checked but hindi naman.  The USJ staff and guides were all smiles, all friendly and all very helpful.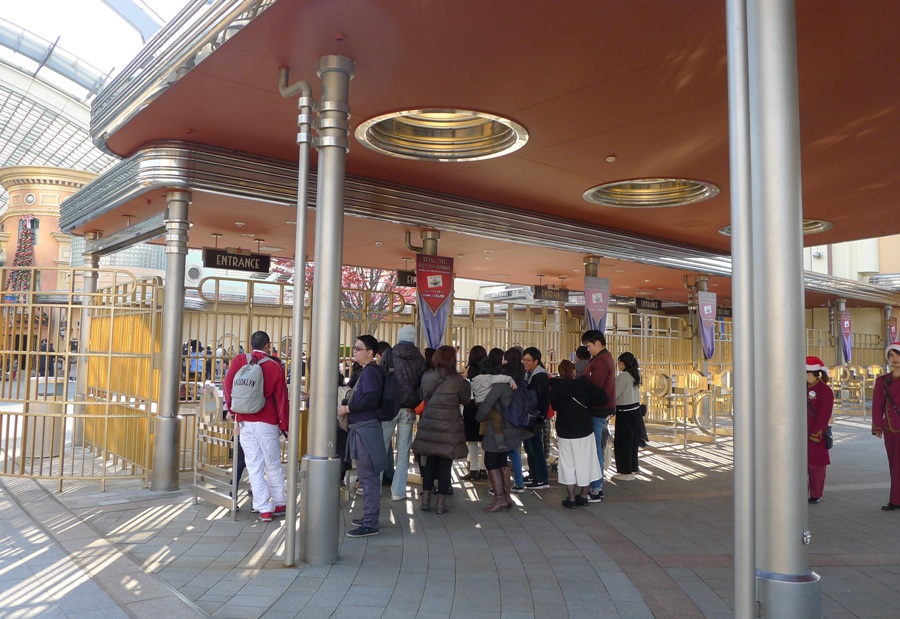 Opps, may photobomber agad!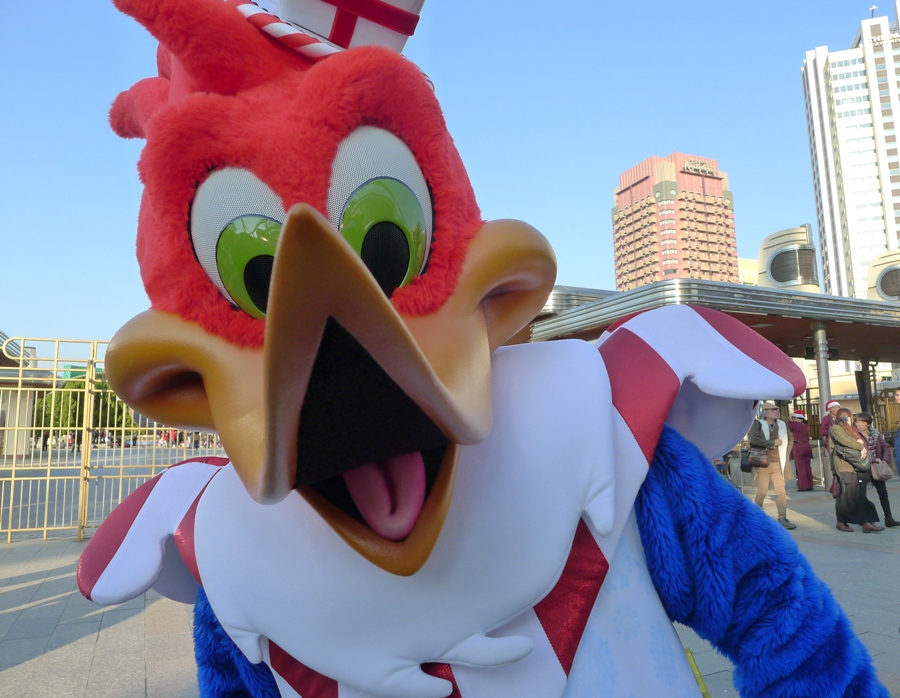 It was Woody Woodpecker who was welcoming the guests that day.  We were able to have our picture taken with him, too: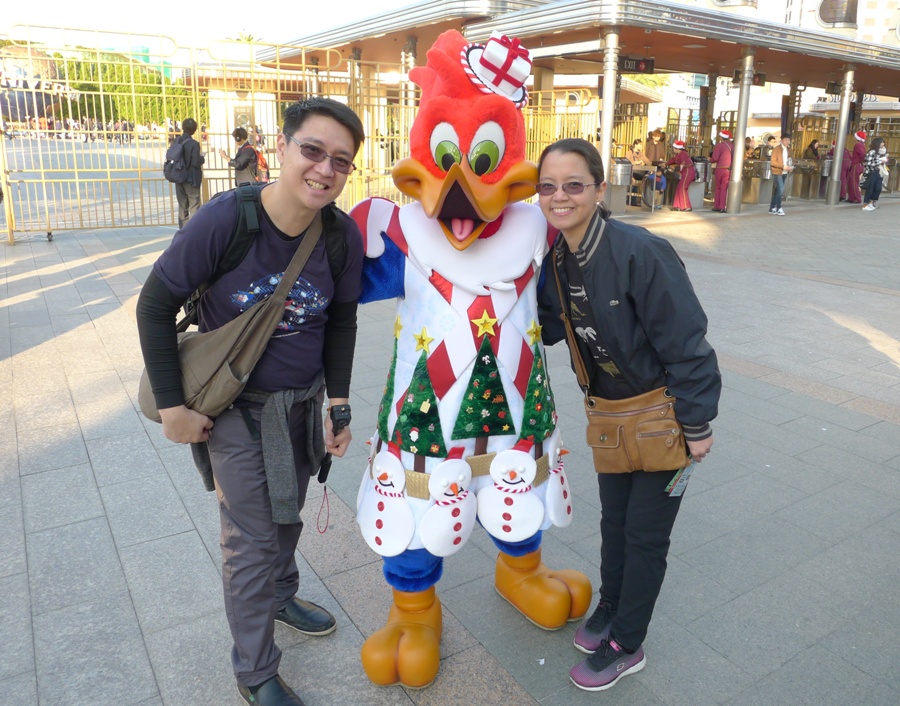 We had planned our 1st day at USJ to be all about Harry Potter.  So the first thing we did was to get the map and look for the Wizarding World of Harry Potter, where we lined up for the most exciting ride at USJ: Harry Potter and the Forbidden Journey!
There was a thick crowd that day (a Monday), but that did not discourage us at all.  Why?  Mabilis gumalaw yung line, and I really enjoyed people watching.  While waiting for our turn, I was able to take calls pa from the office back home in Manila, thanks to Viber hehe!
Here's the line going to the Forbidden Journey ride.  It was longer than this pa, stretching all the way back to the forest part of the theme park.  But if the local and foreign tourist visitors can be patient to line up, why can't we?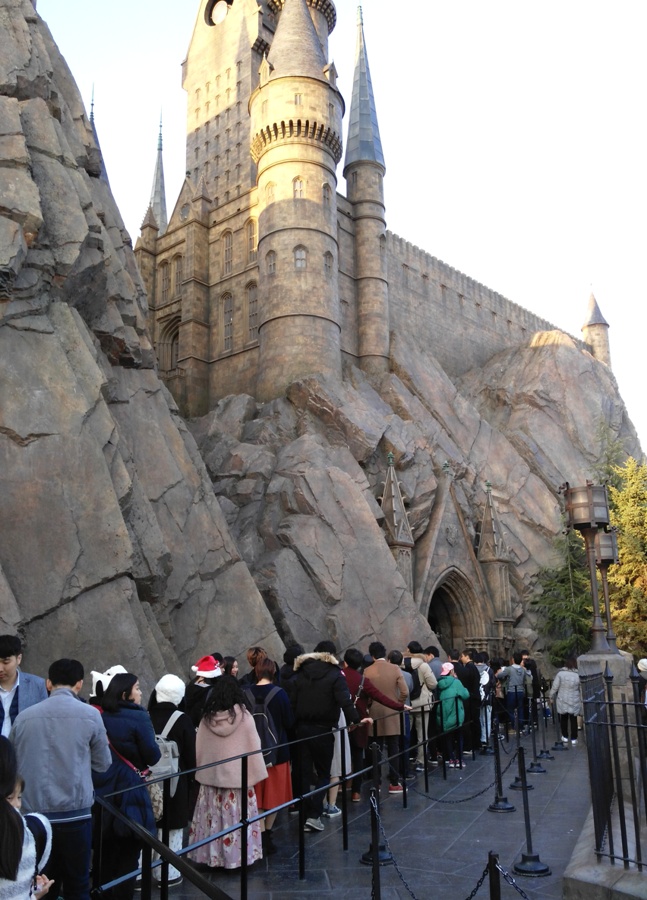 After about 20+ minutes of being in line (which was moving fast, by the way), I could finally see Hogwarts's towers!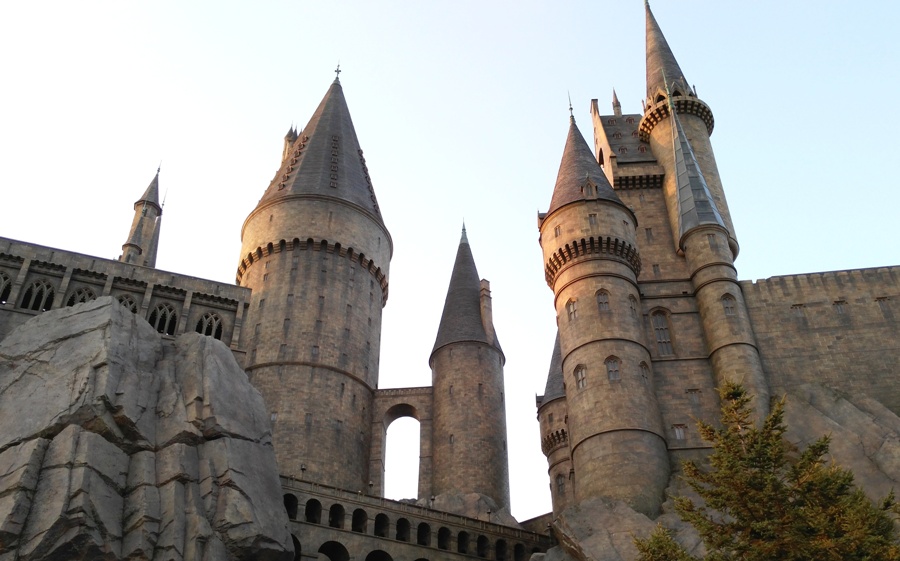 The Forbidden Journey ride was so worth the wait!   Being inside Hogwarts was a surreal experience for us, and in as much as I want to take pictures and videos inside, the place was lit dark and my phone camera couldn't get any clear shot.  The ride was just fantastic(!), and it was indeed the perfect way to start our Harry Potter adventure at USJ.
The only downside of the ride was that all the dialogues were in Japanese!
Here's a video I found over at YouTube (at USJ Orlando) to give you an idea of how the forbidden ride goes like, and that amazing tour inside Hogwarts Castle that I wasn't able to take video of.  The actual ride is 10x more intense than this one on video hehe!
Oh, in case you're wondering, there was no need for a "timed-entry" ticket to the Forbidden Journey ride.  I don't know if USJ has changed its rules on this, but during our stay there the timed-entry tickets were no longer being issued.
The night was starting to set in when we got out of Hogwarts Castle, but the crowd was still thick as bushes.  We went around the theme park and literally combed all the Harry Potter attractions we could find, hehe!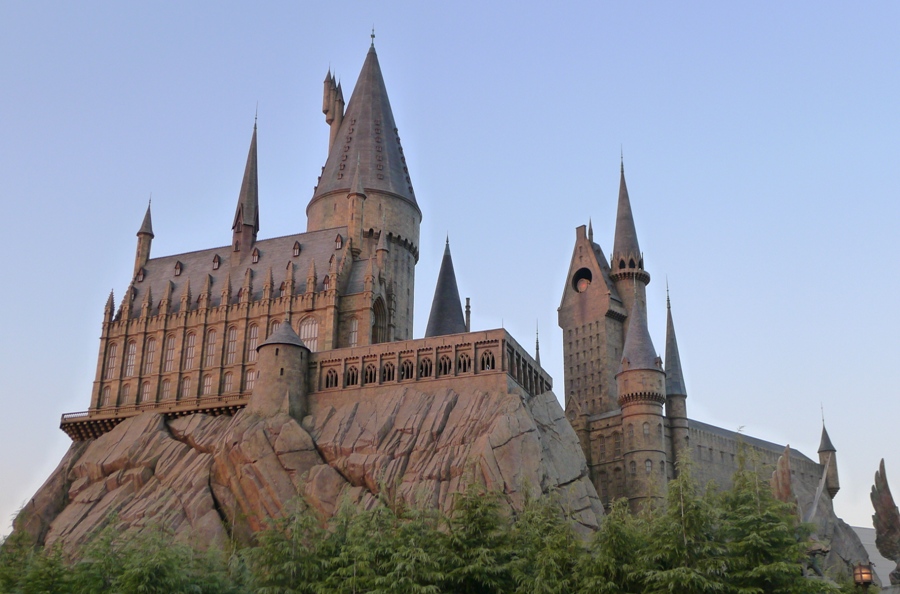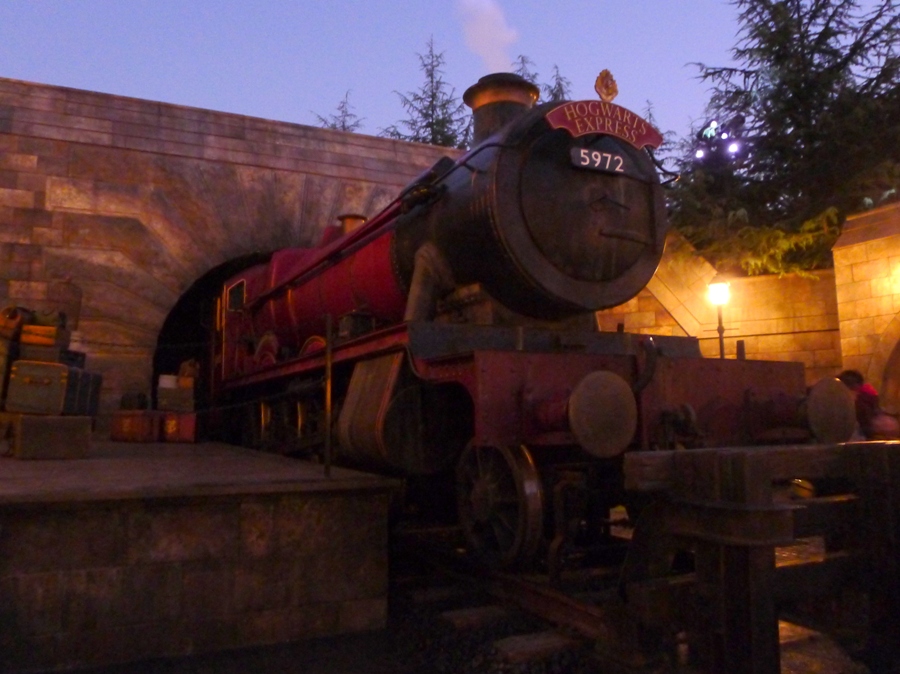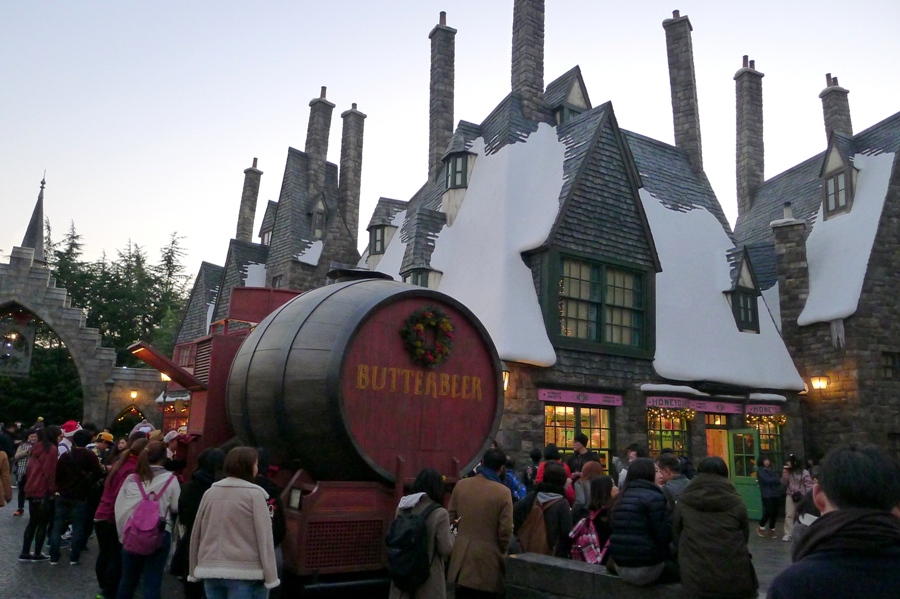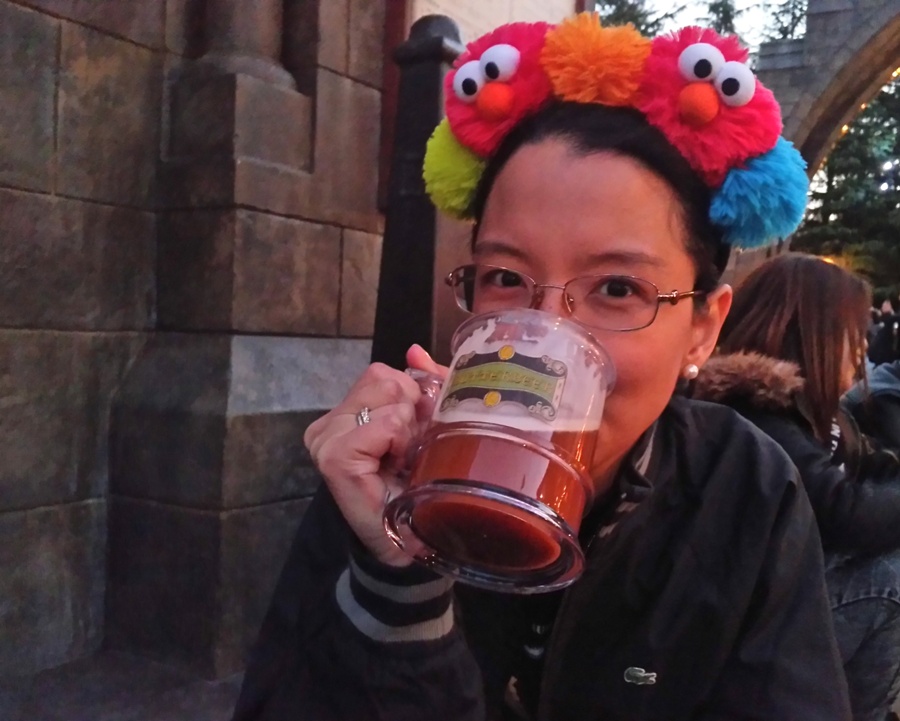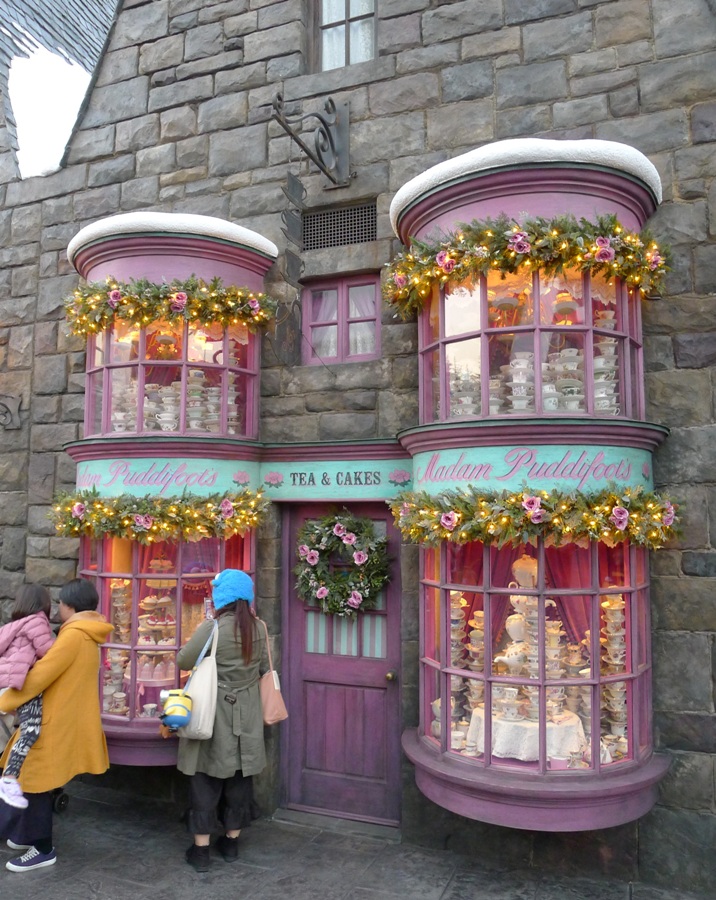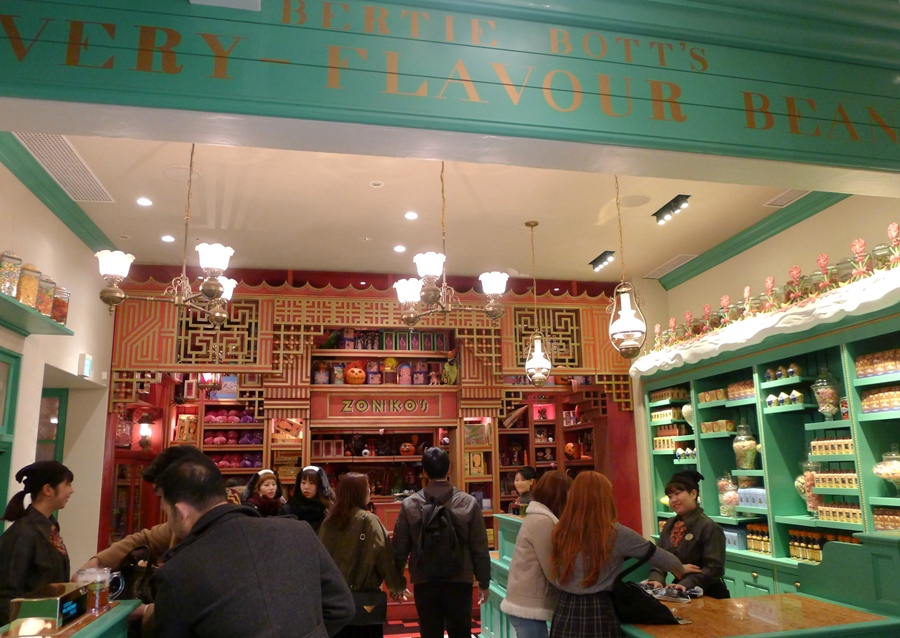 Our timing at USJ was perfect.  The Christmas Tree at Hogsmeade Village was already up and it was a magical Christmas Tree too, with the ornaments arranging (and disarranging) by themselves hehe!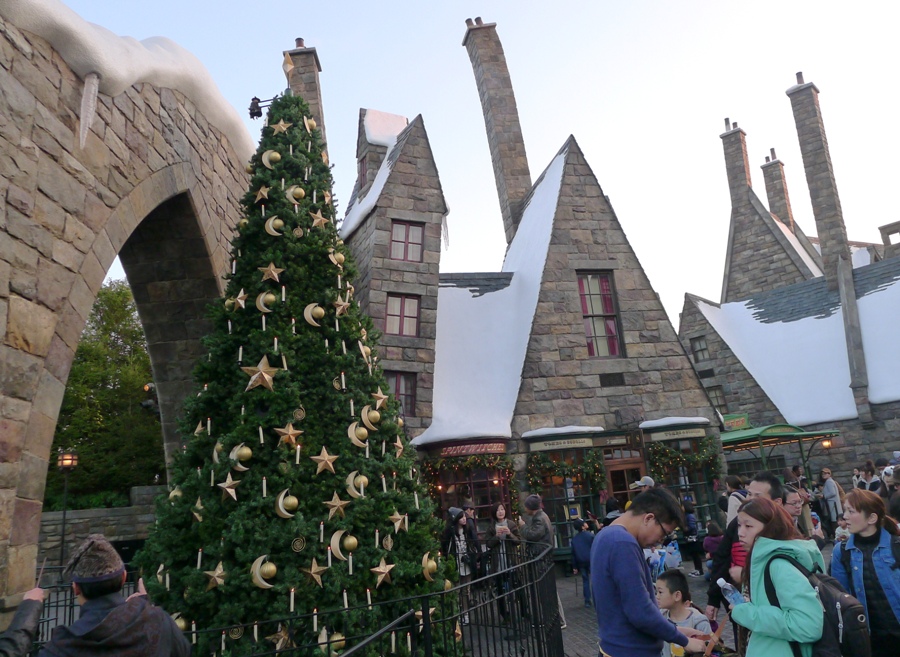 Hogsmeade already looks like a Christmas Village here: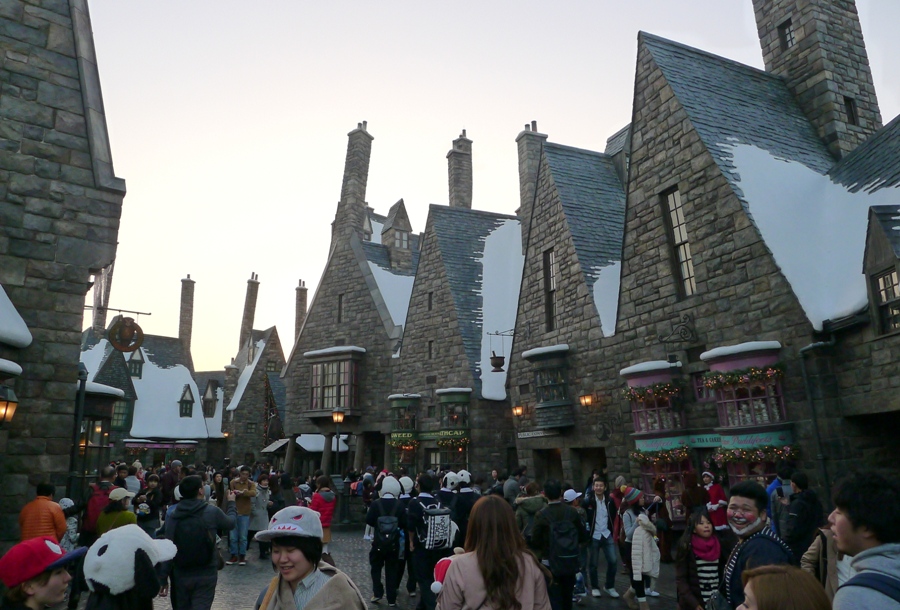 And it was really a magical sight to behold at night: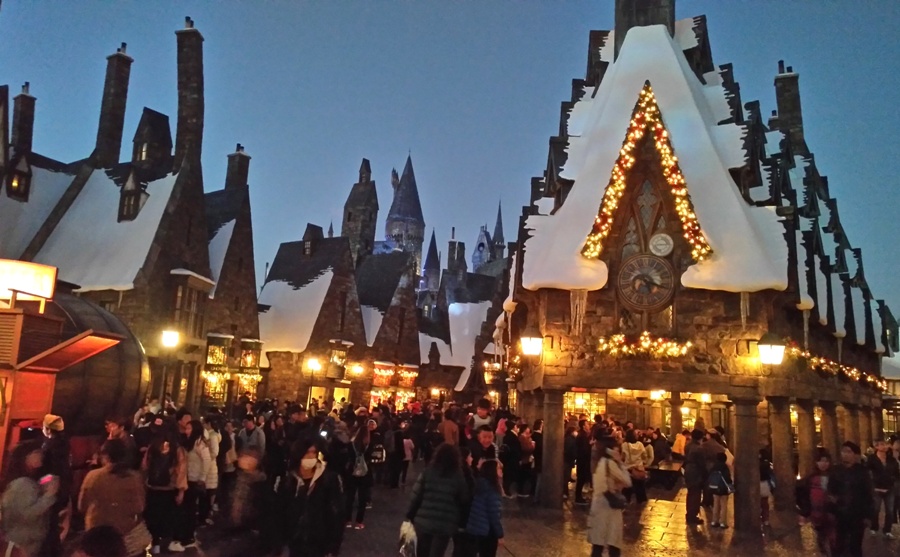 We waited for the winter magic illumination light show at Hogwarts Castle, and it was just beautiful.  Perfect timing k'me because the winter illumination shows started 1st week of November. It changes every season.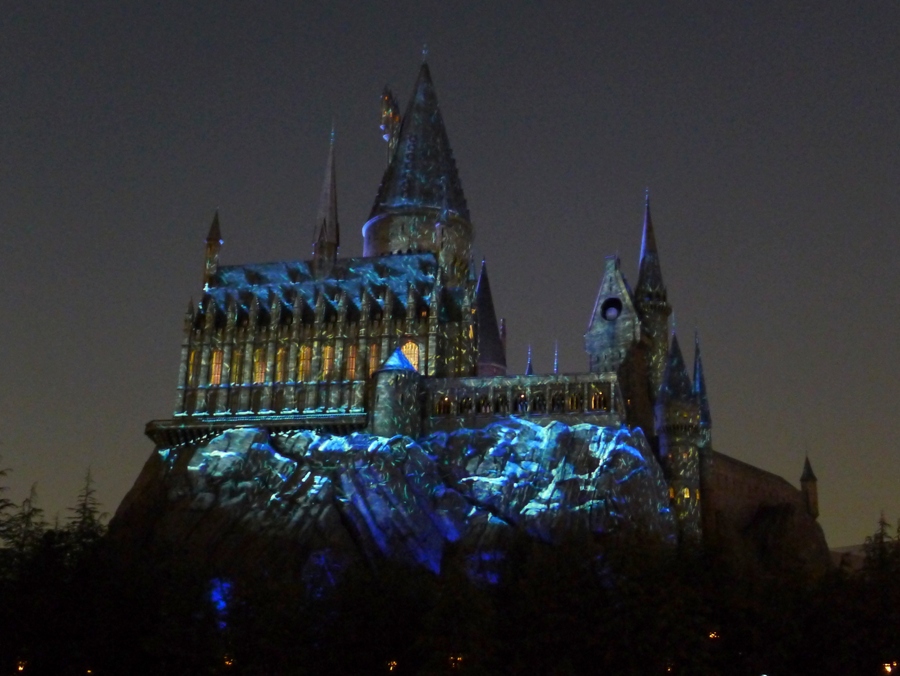 Our souvenir pic at the Wizarding World of Harry Potter: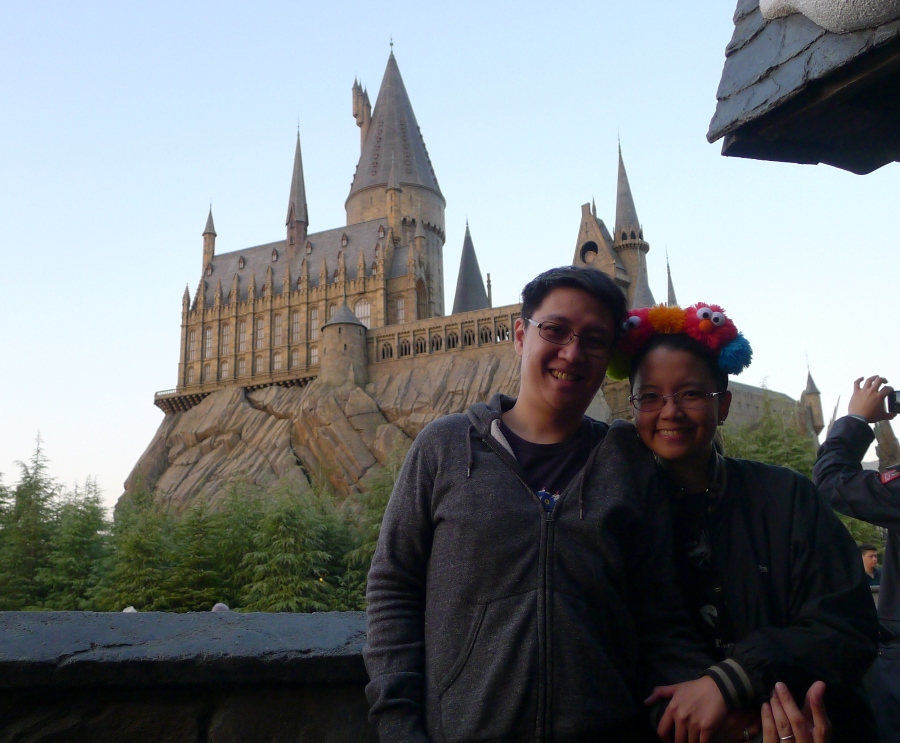 For dinner, we went to Mel's Drive-In diner not far from the Harry Potter theme park, and ordered burgers, fries and…hot tea (haha!) because we needed something to warm us up.  We rested a bit here after eating.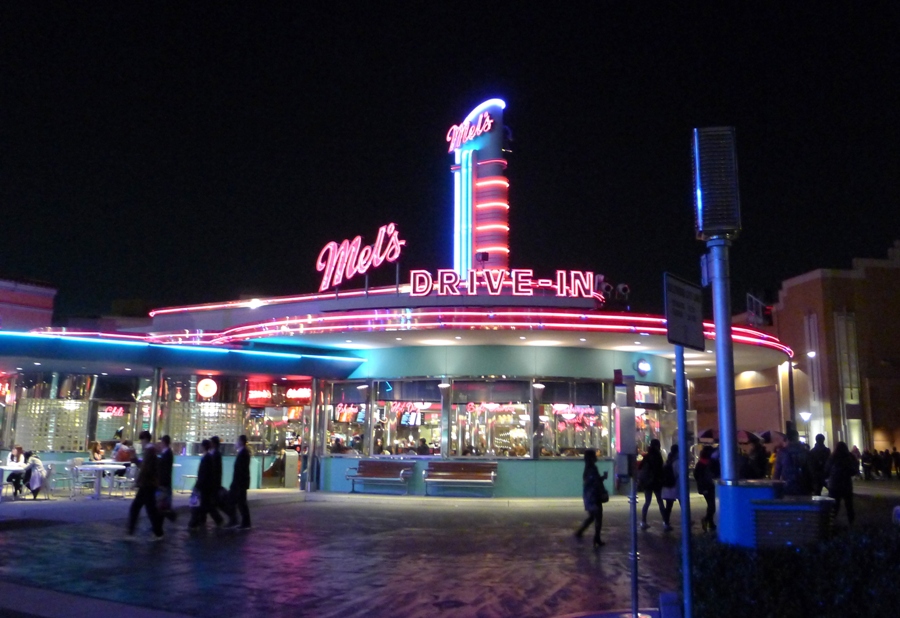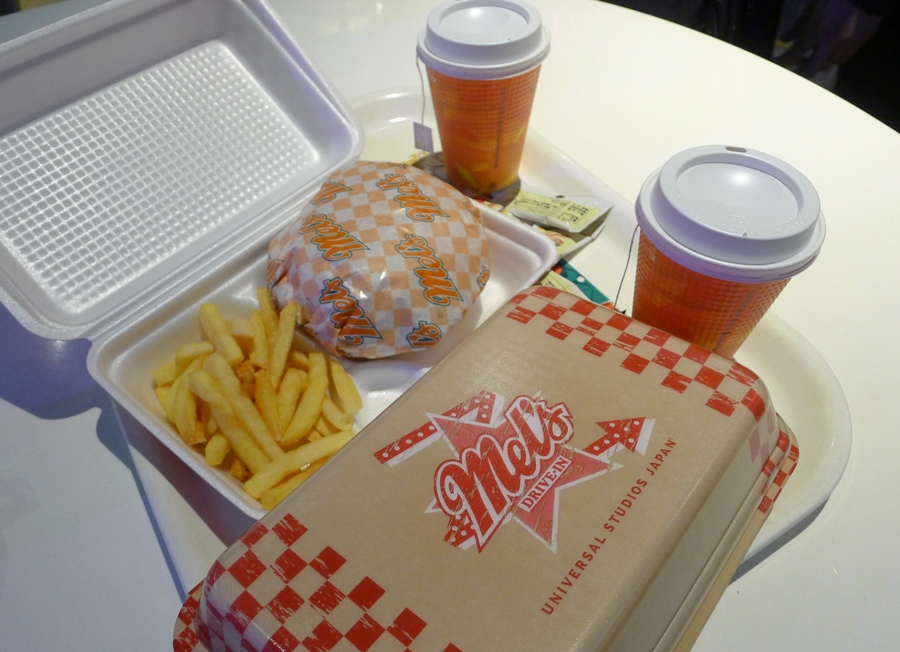 We were done for the day, or so we thought, but we heard Christmas songs coming from the main plaza (where the Minions Park is located) and there we saw an even more amazing lights / illumination show!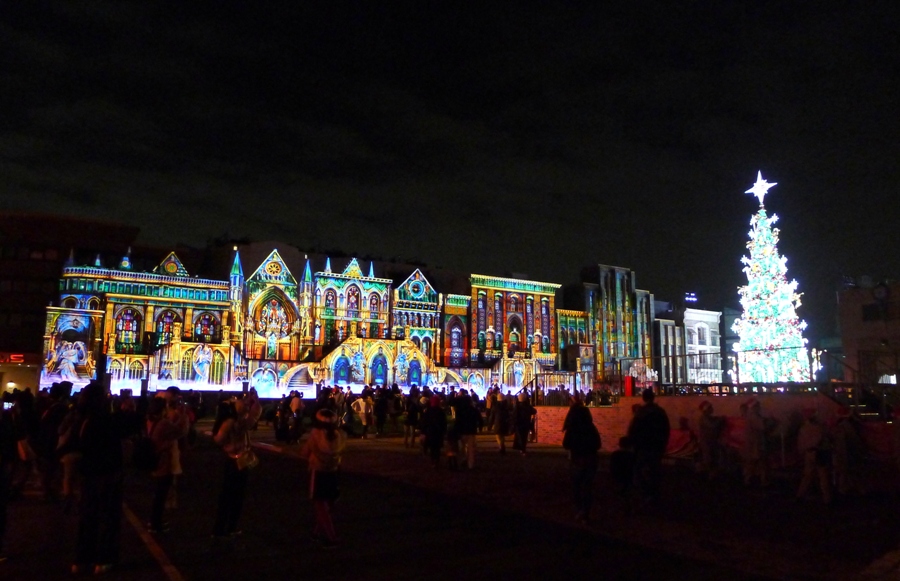 Ang ganda, ganda, ganda lang!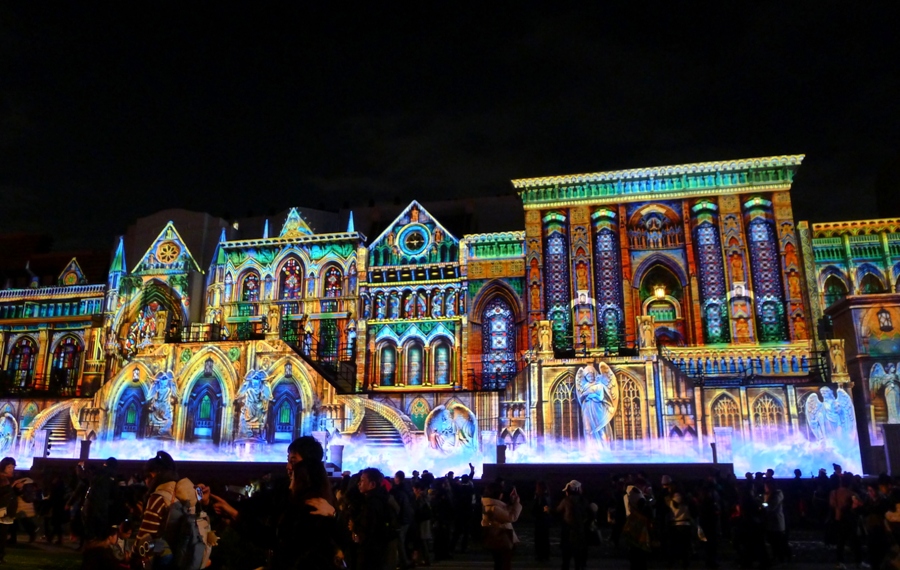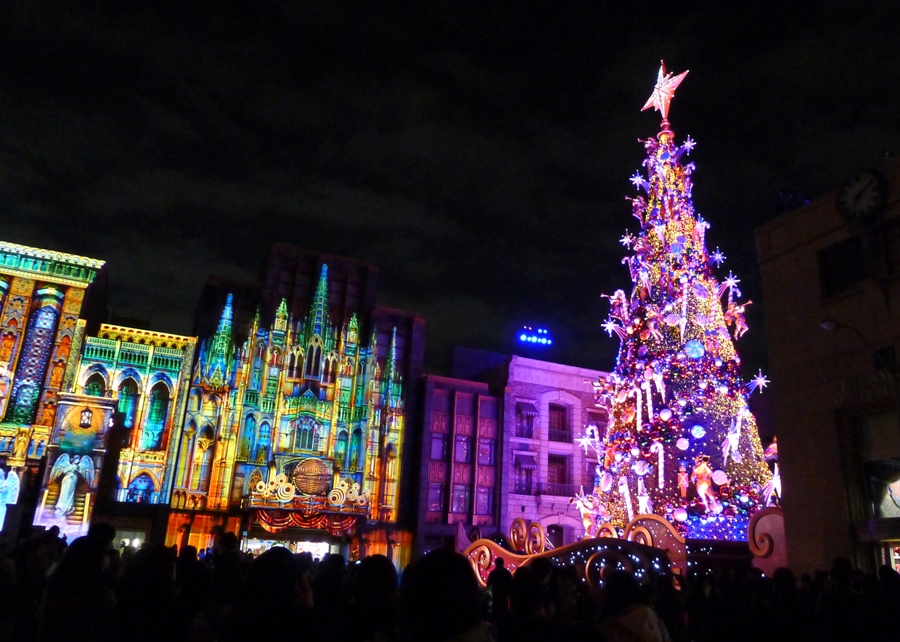 What a festive and spectacular night for us!
We had a really great time that day, and was already looking forward to our Day 2 at USJ so we made sure to rest early that night.
I think all I dreamed about in my sleep that night was being at the wizarding world of Harry Potter and beating the Dementors with him as my ally, hehe!