The hubby and I just spent six (6) full-packed days in Tokyo last week, and this being our first trip together abroad (and our first time too in Tokyo), we wanted to make the most out of our stay by visiting as many places as we can, try as many authentic Japanese food as we can, and – a "must" for me of course – stop (not shop) at every Hello Kitty boutique I can find there hehe!
Like any first time tourist in Tokyo, we researched on and studied their complex but very efficient railway system so we can minimize getting lost (and therefore have more time for sightseeing).  But still, no amount of preparation prevented us from getting lost in Tokyo, hehe!
In Central Tokyo alone, there are five (5) railway stations to choose from already so if you are like us who planned to explore Tokyo via commuter trains, hold on to that railway map you get at the airport and make sure you have a portable wifi router because you will need Google Map to navigate 99% of the time.  Getting to the right platforms and getting out to the right station exits will save you a lot of time so it's really important that you read and follow the signs and maps.
I'm going to document our Tokyo trip by writing it journal-style, so you can picture how many activities we managed to pack in a day, our experiences as first-time Tokyo visitors and of course, to see how fun this trip was!
But first, here's how we planned for our Tokyo trip.
Planning for our Tokyo Trip
We bought our round-trip tickets to Tokyo online after seeing a promo from Philippine Airlines (PAL).  This was last February (after my birthday).  I had just read about the 1-week Tokyo trip of Helene and bought some Hello Kitty x Tomica Dream Cars online (at Amazon.com) so when I saw the PAL offer (the discount was not huge, by the way), I saw it as a sign that we should go to Tokyo this year!
We chose to land at Haneda International Airport (instead of the more familiar Narita Airport) because I read that it was new, and because I basically followed Helene's itinerary which was very, very useful.  Thanks Helene!
We just wanted a place to sleep in and shower (as we will be out for most of the day) and it was here where I discovered the wonders of AirBnB. We found Takuya and Yan's place through this booking app, and it was perfect in terms of location and affordability. Takuya and Yan's apartment is just a walking distance from Shinjuku Gyoen National Garden, and walking distance too from two (2) railway stations that can already take us around Tokyo: the Shinjuku Gyoen-mae Station and Sendagaya Station.
We had our Japan visa processed through Reli Tours. I highly recommend them for efficiency, convenience and price point (Php950.00 processing fee per head, as against Php1,200 I saw from another travel agency).  We got our Japan tourist visa a week after applying (so fast!).
Next would be arranging for a wifi router to rent while in Tokyo.  This is a "must have" when there, because you cannot navigate the city by map alone.  I booked ours at Pupuru.com three (3) days before our trip and then picked up the router from the airport.  Very convenient. I got the basic plan only (10GB consummable, no extra battery) for 400 JPY/day (roughly Php200.00 / day for 6 days).
Because our trip to Tokyo was on the 1st week of November, we packed for light and heavy jackets and warmers.  We didn't over-pack for clothes though, since we can always buy at Uniqlo Japan if and when we need more layering hehe!  But the weather turned out perfect while we were there, like Baguio weather in January.  We didn't experience afternoon rains at all, so every day was a beautiful day to walk around Tokyo.
It really helps to have an itinerary prepared in advance, so you can enjoy your time at each place you will visit in a leisurely manner.  If you are visiting parks, museums or shrines, take note of the opening hours and fees (if any), so you will not go there na bigo at pagod pa.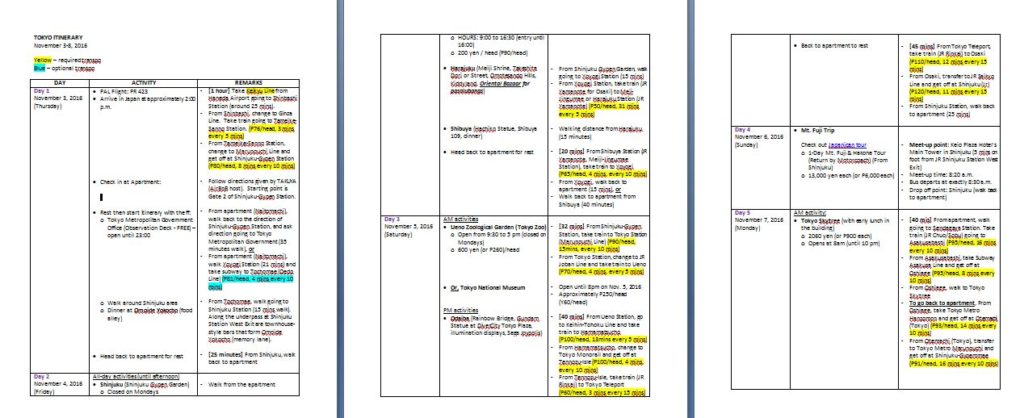 Arrival at Haneda International Airport
Our direct PAL flight to Tokyo was on time and smooth all throughout.  Our departure time was 8:55 a.m. and we arrived at Haneda International Airport a little after 2:00 p.m. (Tokyo time; which is +1 hour from Manila time).  Good thing I had a good meal on the plane because once we were cleared from immigration, the walking (lots of it!) started.
The first thing we did was to look for a Suica Card station to buy our Suica cards.  AJ and I got one each with 3,000 JPY load.  Only 2,500 JPY is usable though; the remaining 500 JPY is a 'deposit' that we can redeem later on after returning the card (there are rules for this though; it does not apply to any Suica card).
The Suica card is good for 10 years' use, so we kept ours not just as souvenirs but for use on our return trip to Tokyo hehe!
Next, we asked around for directions going to the Pupuru station to get our wifi router.  But the weird thing was, nobody there has heard of Pupuru!  Hala!  Our free wifi access the airport was getting choppy at this point too and I could not download the map / directions going to the Pupuru station. So we were literally walking around the airport looking for signs that say "Pupuru".
When I finally got hold of the map / directions online, the process was a breeze na.  If you will book for Pupuru wifi router and pick it up at Haneda Airport, just look for the JAL ABC station (located at the 2nd floor, near the arrival lobby) and show to any helpful staff there the email you received from Pupuru with your assigned identification number.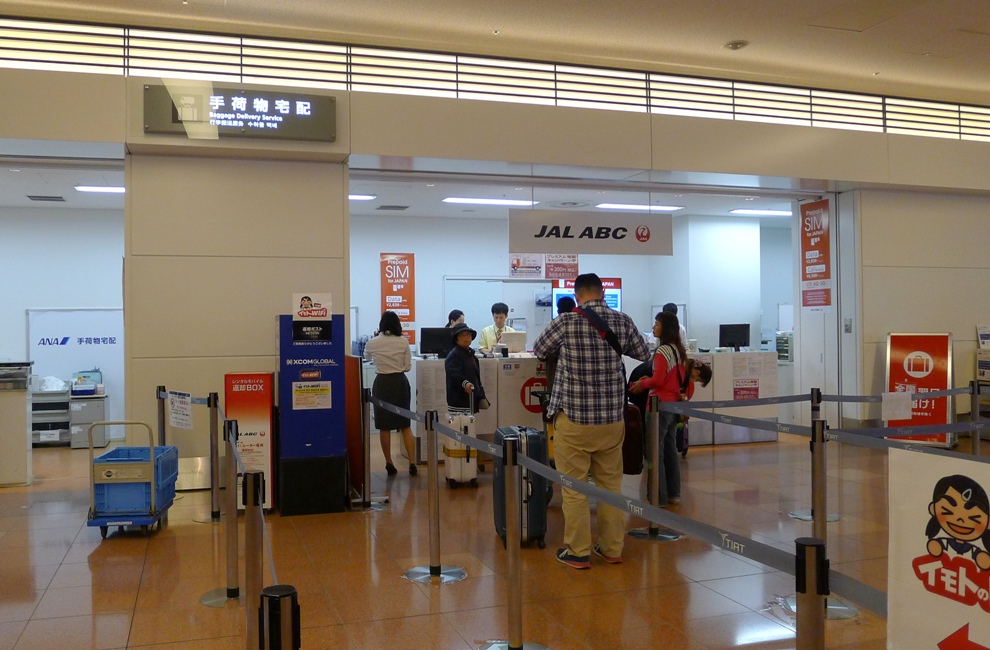 Setting up the wifi router was simple and fast.  We were finally connected to the world in less than a minute, and ready to explore Tokyo!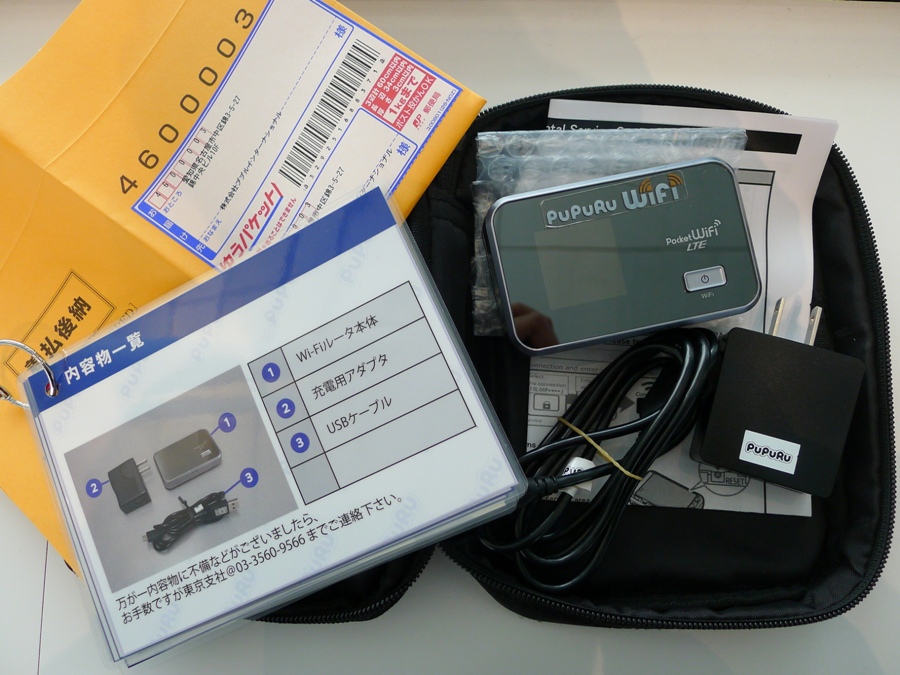 To get to Shinjuku-Gyoenmae from Haneda Airport, we took the Keikyu Monorail (instead of taking the limousine bus) because it is faster and cheaper too.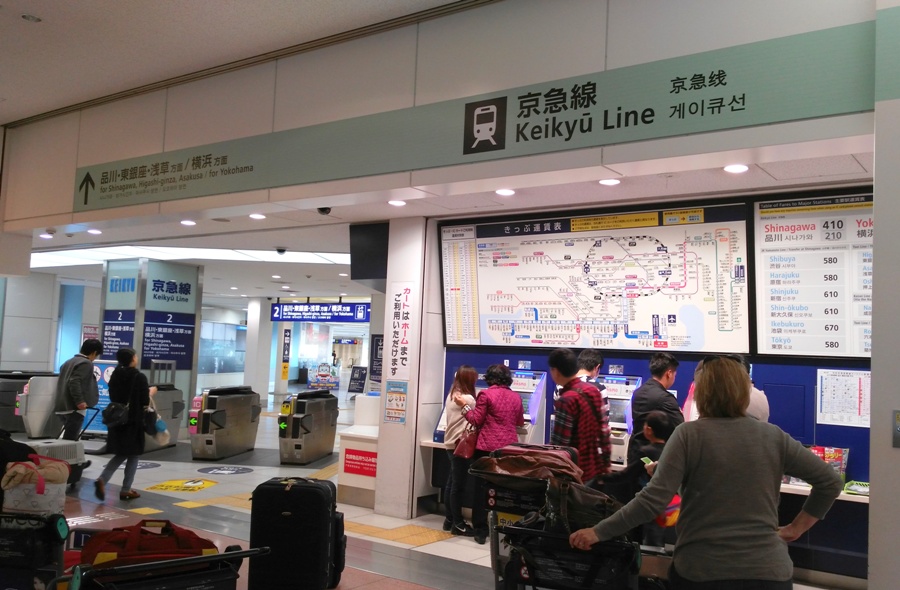 From the Keikyu Line, we got off at Shinbashi Station.  From  Shinbashi Station, we transferred to the JR Yamanote Line (another train line) which stops at Shinjuku-Gyoenmae Station (our destination) via Ginza Line and then Marunouchi Line.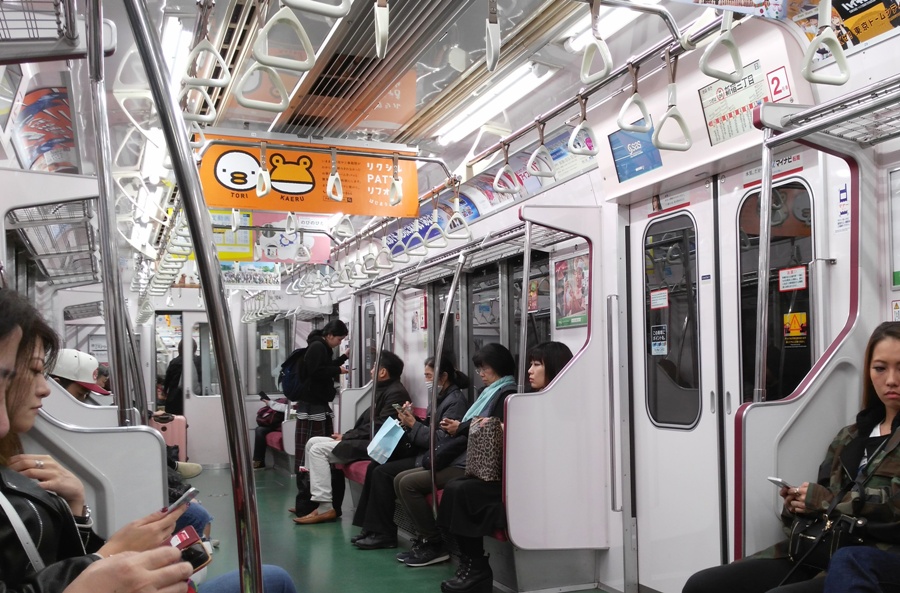 Our apartment was a 10-minutes walk from the Shinjuku-Gyoenmae Station.  Here, you will not mind walking at all; everyone's doing it even the ladies in high heels walk their way to and from the stations.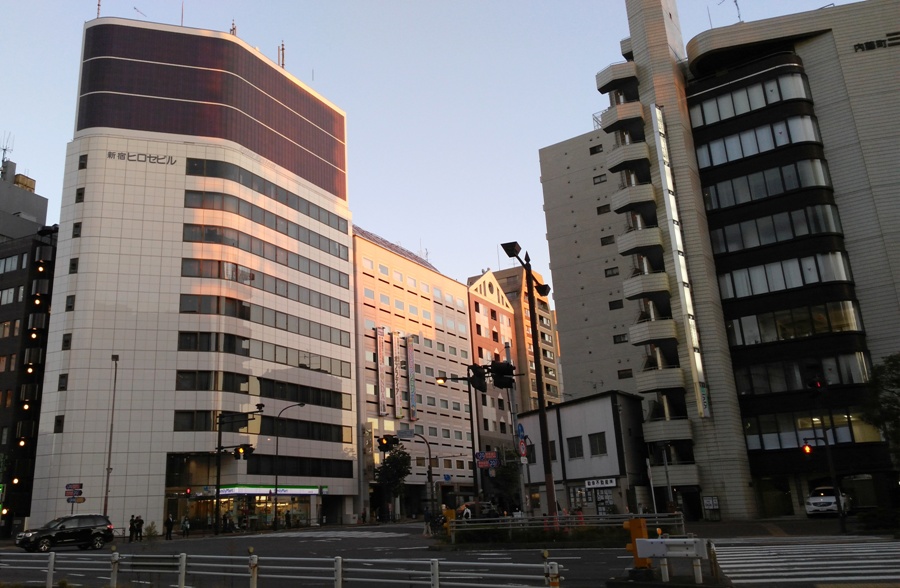 We arrived at our apartment at around 4:30 p.m. and after resting a bit and meeting our hosts, Takuya-San and Yan-san, it was time for dinner!
First Night in Shinjuku
Ang bilis mag-dilim sa Tokyo, wala pang 5:00 p.m. and it looked like 7:00 p.m. already.   Takuya and Yan brought us to this hole-in-the-wall ramen place called Hakatatengin located at the main road. And so on our first night in Tokyo, we enjoyed a big bowl of warm and tummy-filling Roast Pork Ramen with Spring Onions: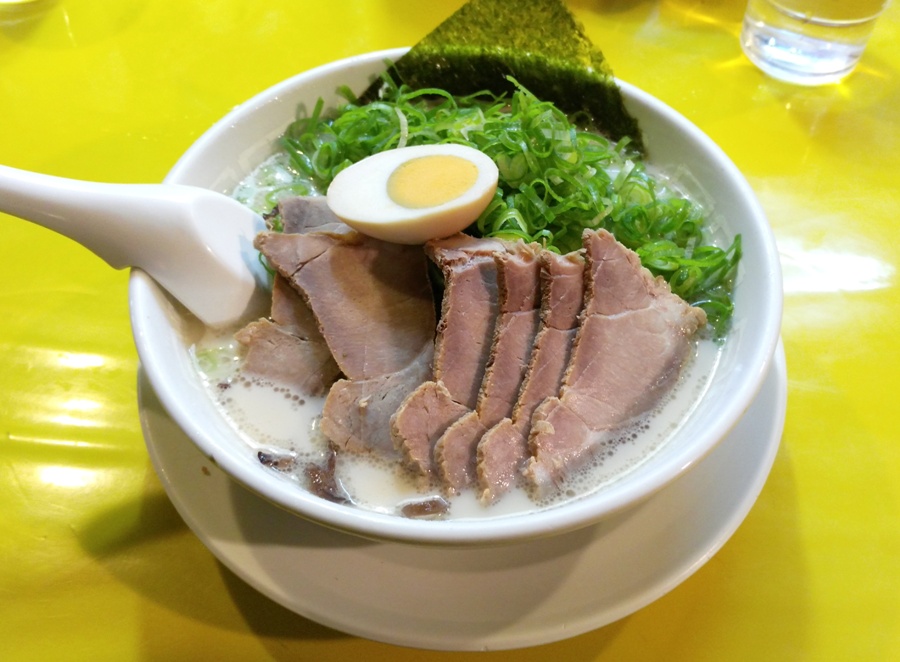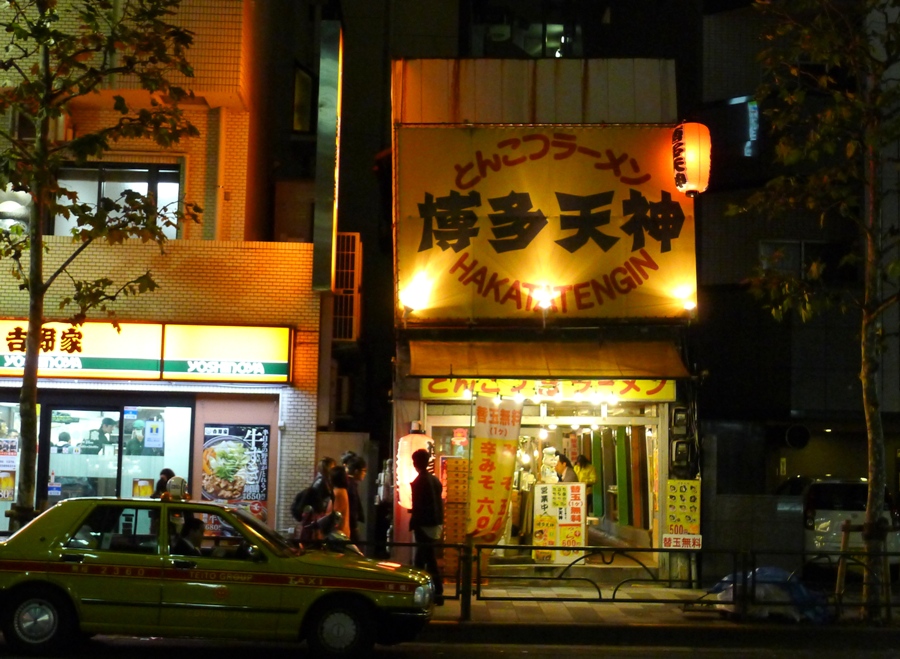 Shinjuku's shopping district is just a "little" walk from the ramen place, so after dinner AJ and I did walk and followed the signs going there.  We also stopped by a Starbucks store to get coffee and scones.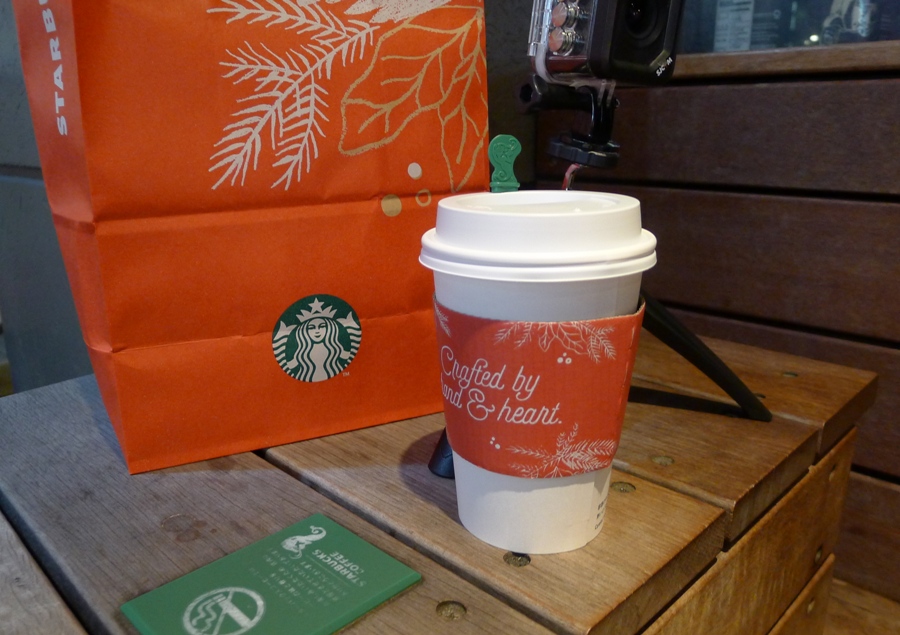 It was a good 15 minutes walk going to the shopping district, which was very busy on Thursday night.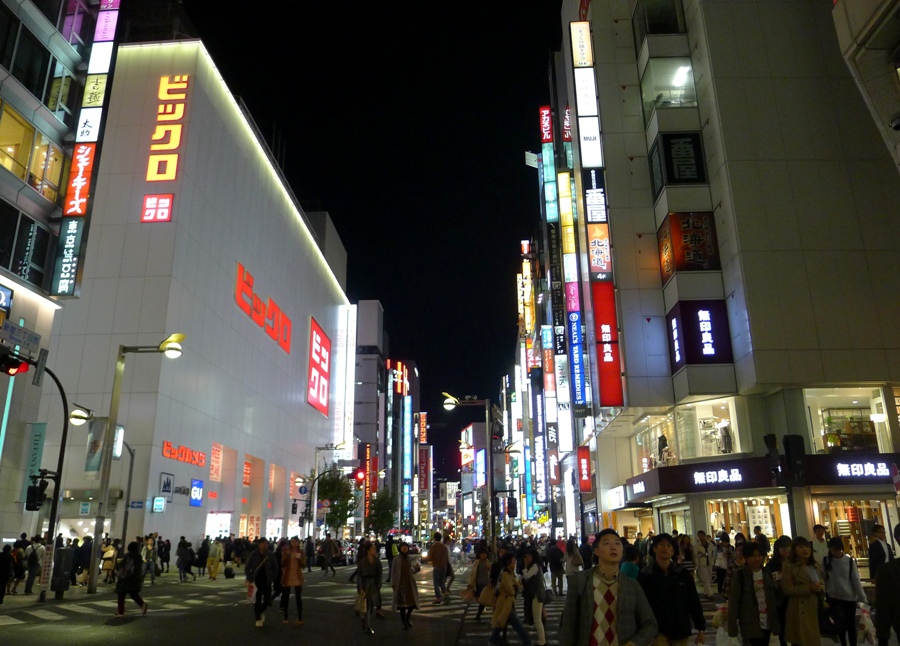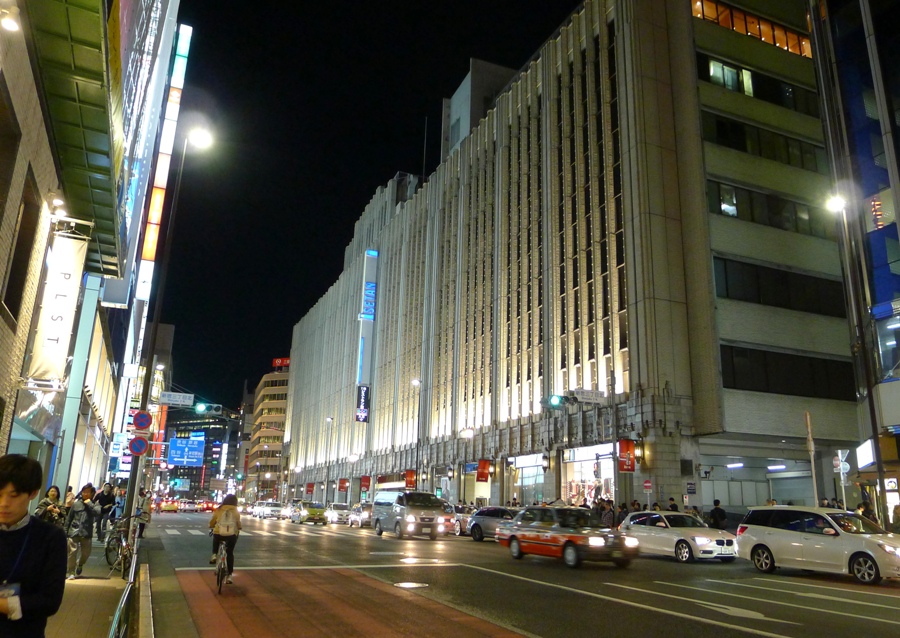 We only checked out the big Bic Camera x Uniqlo (Bicqlo) store there, which has about 4 floors dedicated to Uniqlo items!  Dito pa lang, ang tagal na namin hehe!  We bought a few items that are not available in Manila or are cheaper in Japan like Uniqlo HEATTECH clothing.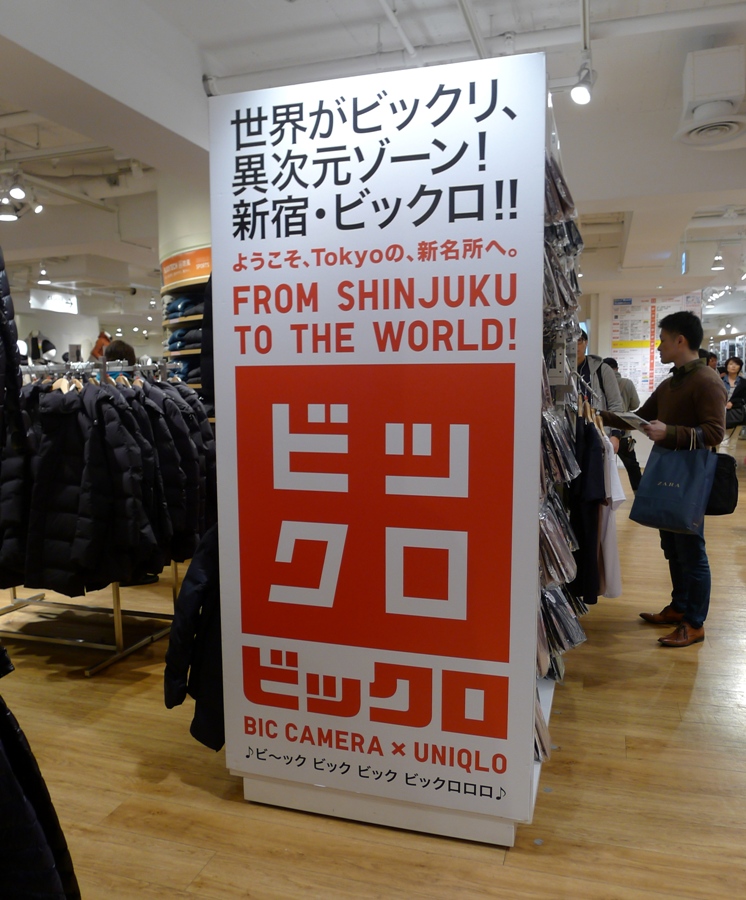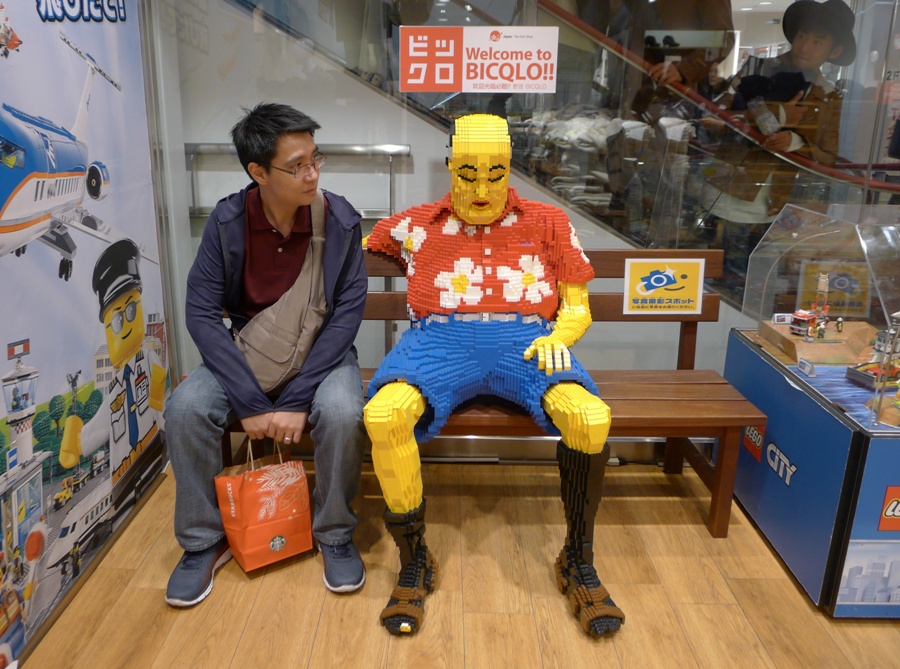 The walk back to the apartment was easy and slow na, since we have no more planned stops for the night.  We rested early because we have to wake up early the next day too for the following:
To check out the free observation deck at Tokyo Metropolitan Government Building (also in Shinjuku) and see the famous Tokyo landmarks from the observatory;
Then stop by Odakyu Mall to buy the Hakone Freepass (for our Hakone-Mt. Fuji trip)
Proceed to Harajuku (Takeshita Street, Kiddyland Store)
End the day at Shibuya (Meiji Shrine, Hachiko Statue, Shibuya 109 Crossing)
Up next: Exploring Tokyo, the DIY Way (Day 2)