Day 2 of our trip to Japan last November involved another long commute by train, this time from Osaka to Nara.  We left our AirBnB hostel at 6:00 a.m., and was at Shin-Ōmiya Station a little after 7 a.m.  We had breakfast at one of the few open cafes inside the station.
The clue to our destination that morning is in our latte art: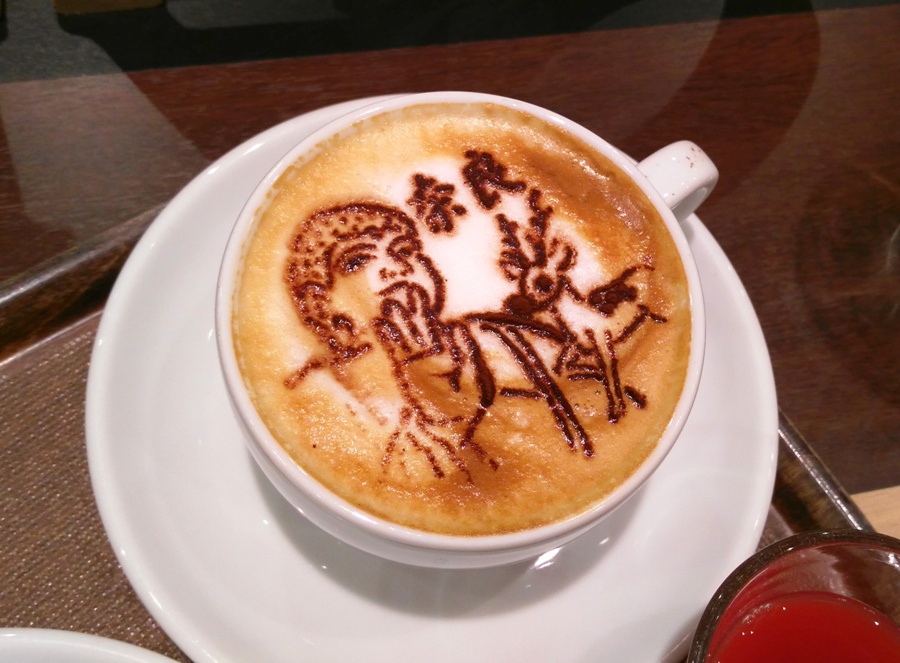 Our plan was to spend half-day in Nara Park to see the deer (and hopefully pet them!) and Todai-ji Temple which is also inside the Nara Park compound, then travel to Kyoto in the afternoon to see the Kinkakuji-Temple.
From Shin-Ōmiya Station, we just have to follow the signs leading to the park.  No need for Google Map and wifi, yey!
We just followed this tree-covered pathway…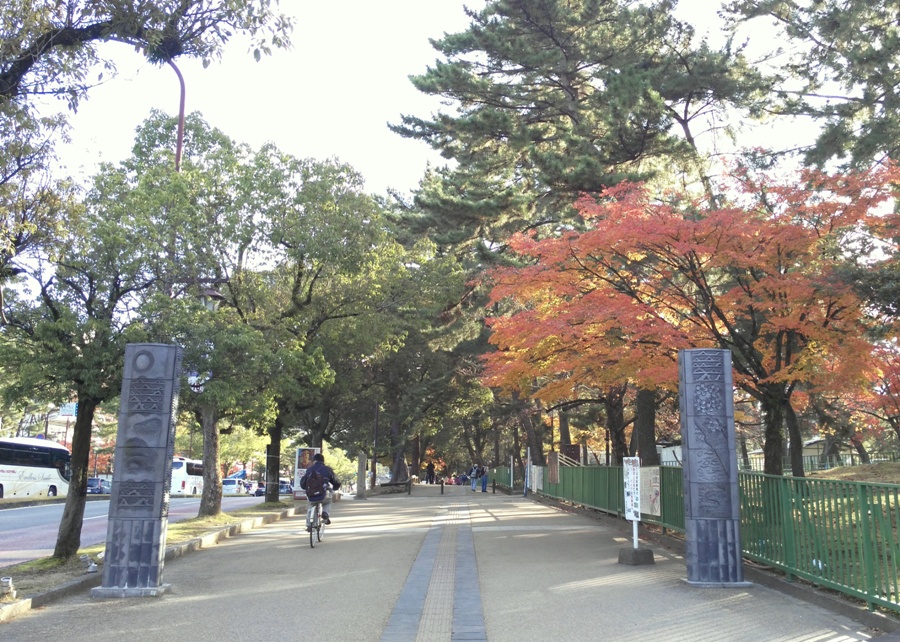 … and soon afterwards saw the deer coming out of nowhere, hehe!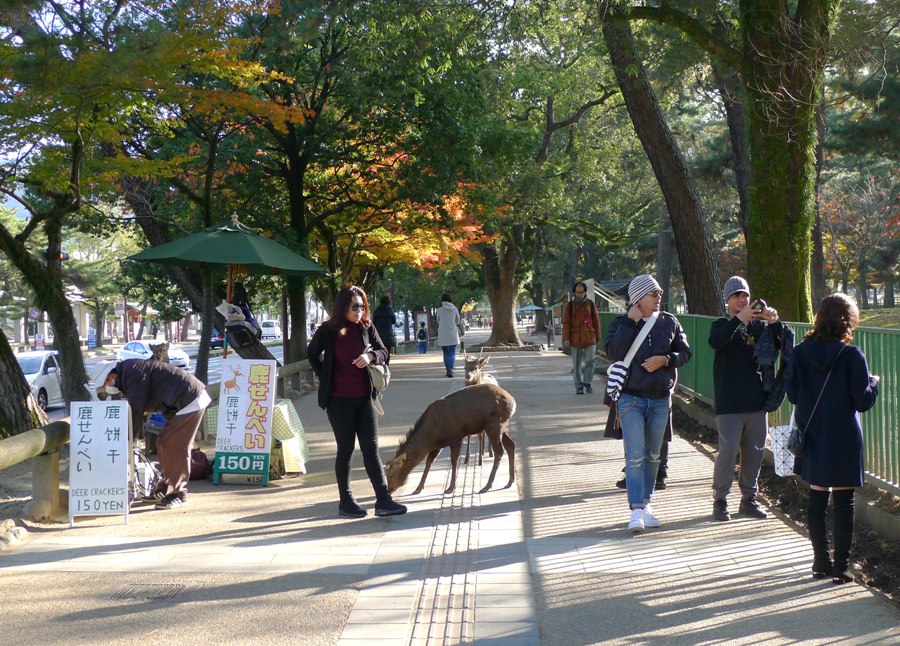 Oh, they smelled their food pala!  Deer crackers (priced at 150 yen, or roughly Php75.00 for about 5 pieces) can be bought anywhere around the park.  If you want a sure place to find them deer, look for these vendors selling the crackers, hehe!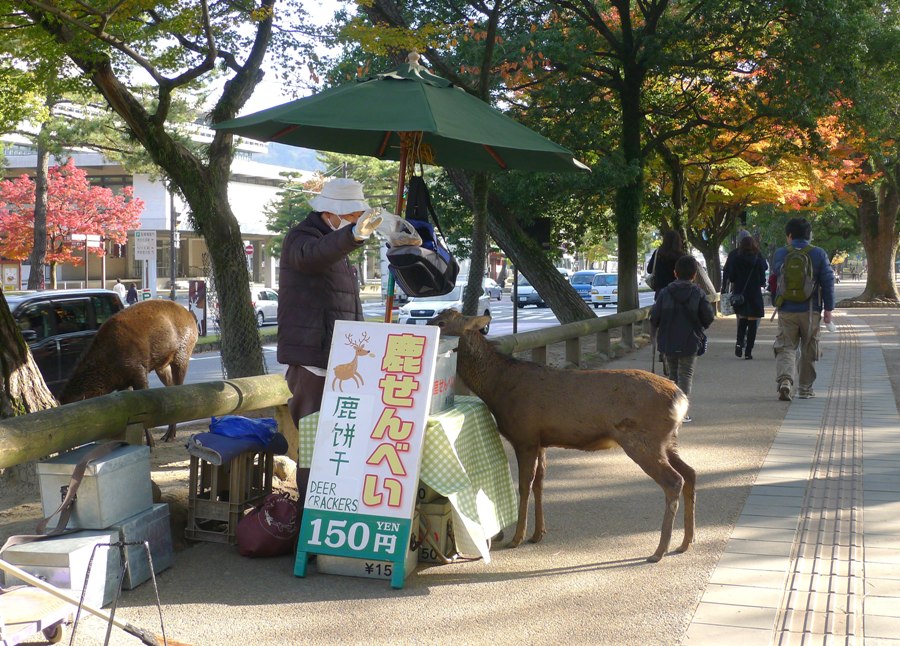 The semi-wild deer freely roam around the park, and marunong sila tumawid!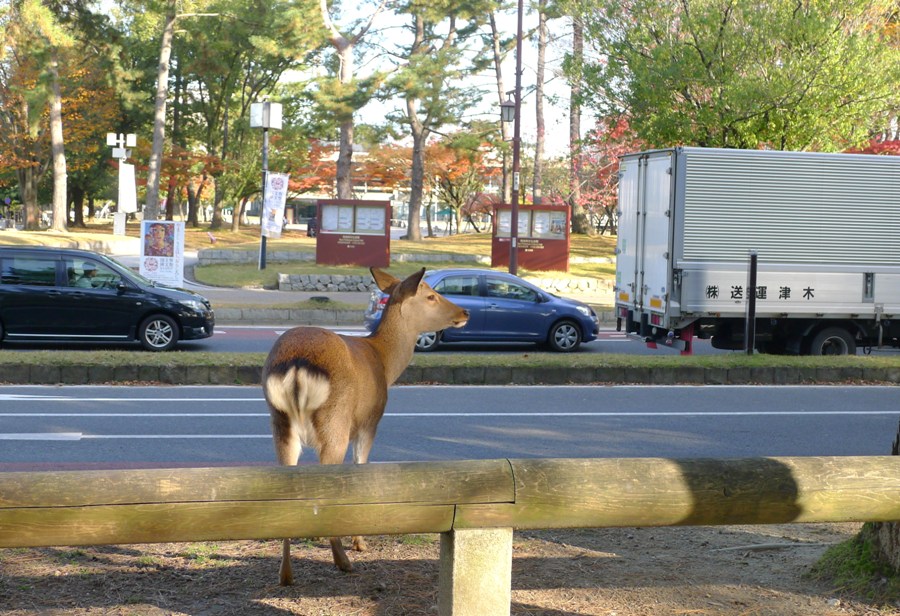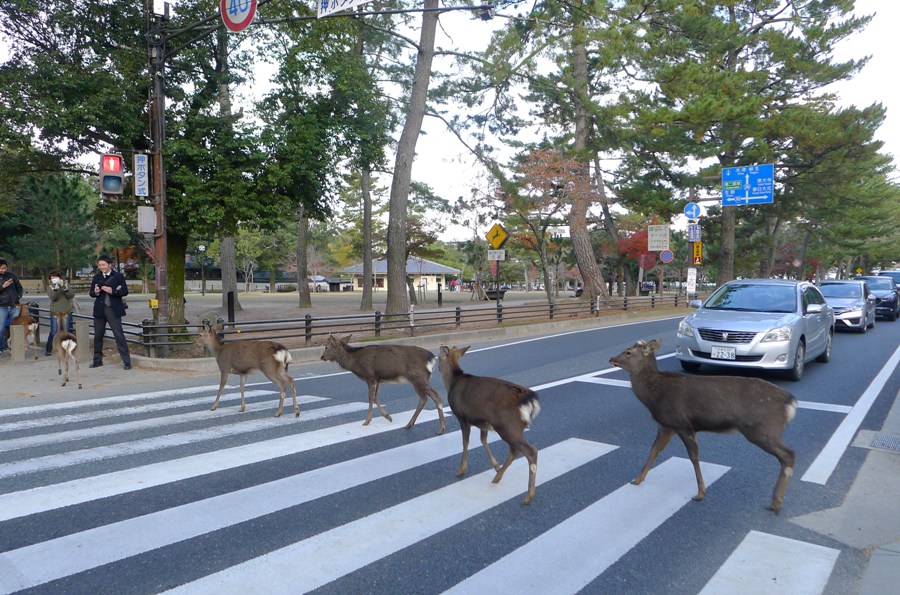 The park is basically their turf, so they are free to go anywhere – and poop anywhere, hehe!
Be careful though, they can be aggressive too especially if you have food crackers in your hand.  This warning sign is found all around the park, and true enough, I've seen a couple of Japanese ladies being knocked down (ouch!).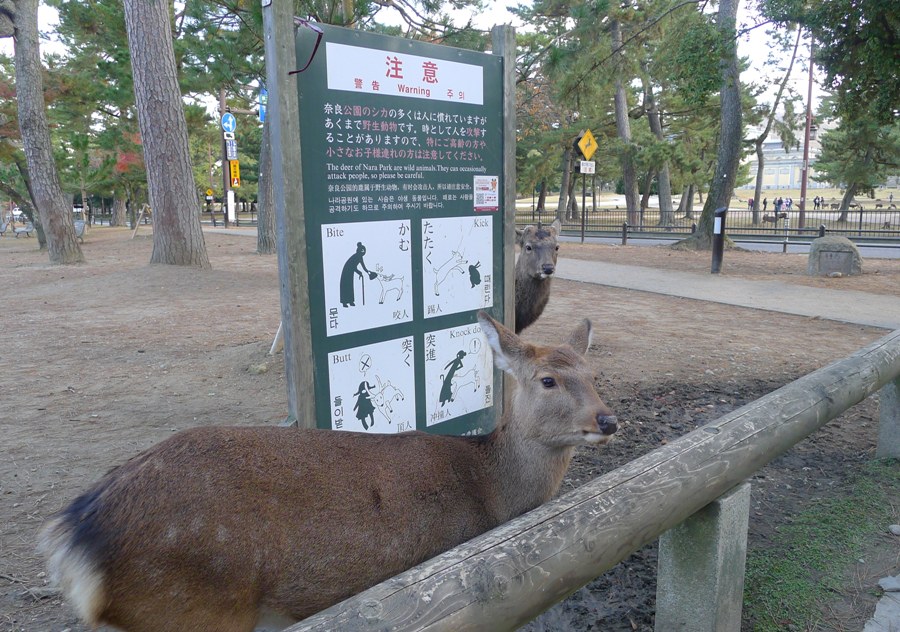 The adult deer was especially good at smelling food, and they will immediately surround anybody carrying deer crackers (kahit nasa bag pa yan!).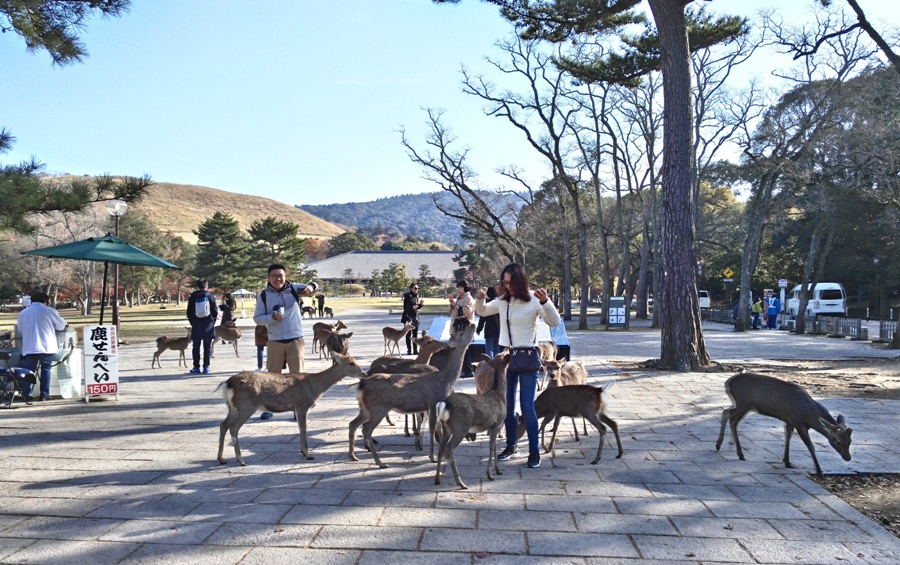 But they are generally tamed, and will even let you pet them.  AJ was able to do that (a lot!) when we were there.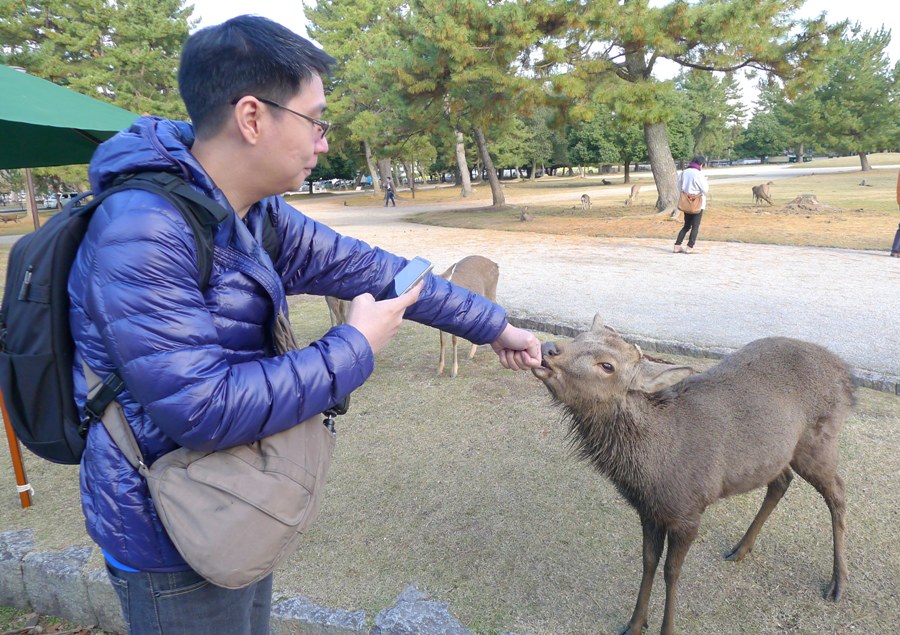 Between us, AJ is the more friendly one with the animals.  Ako, taga-picture lang hehe!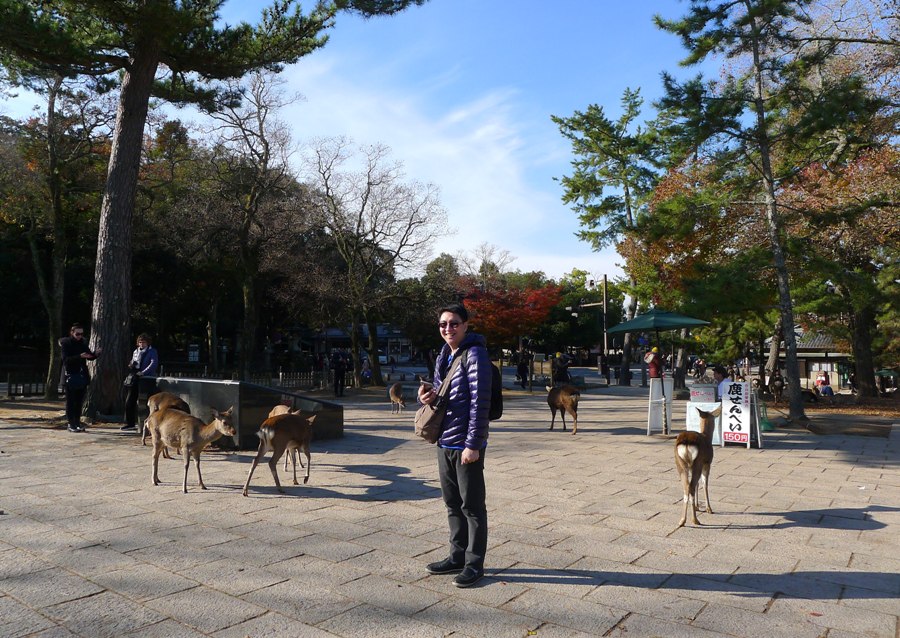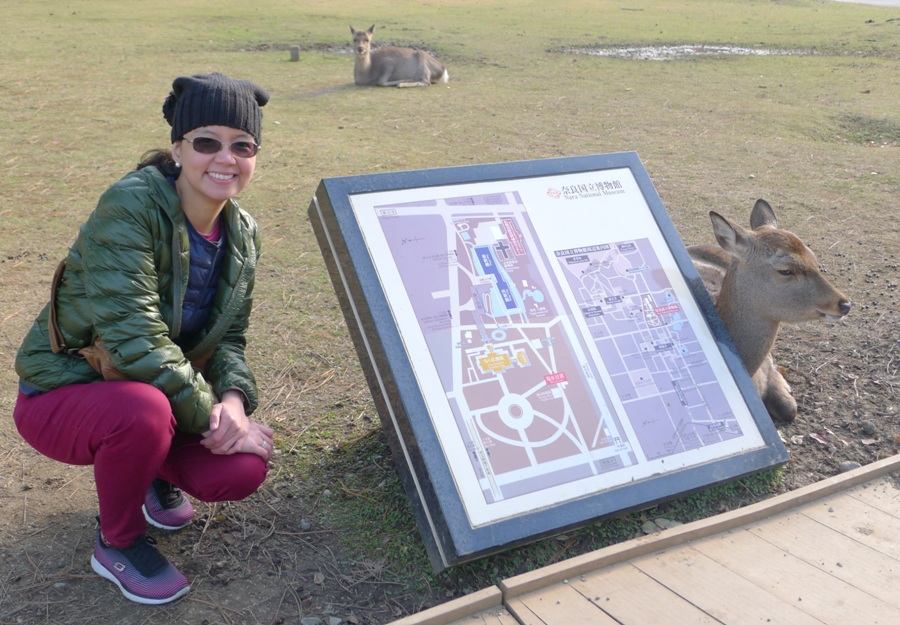 There's a lot to see inside Nara Park, and blessed with a good weather that day (it was really chilly but no rains, yey!), we were able to enjoy all the interesting features of the park, like:
Kofukuji Temple Five Story Pagoda & Eastern Golden Hall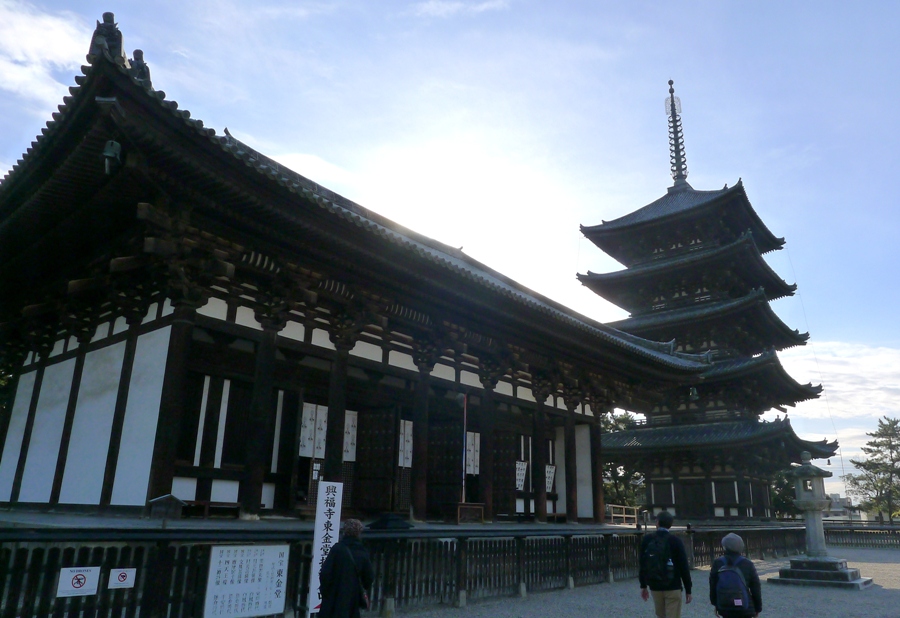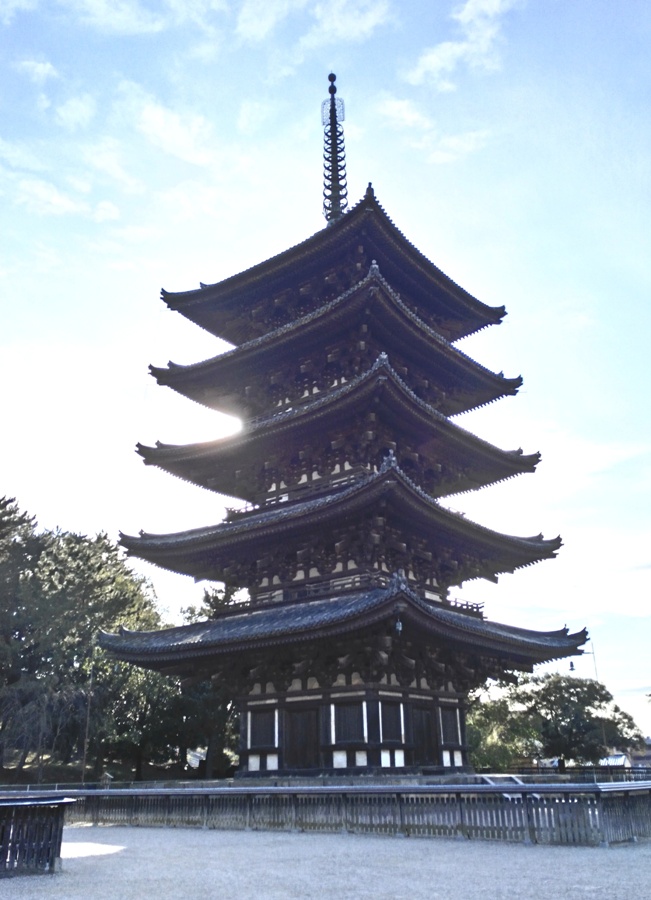 Nandai-mon Gate ('The Great South Gate').  This is the main gate of Todai-ji Temple. The original, erected during the Nara period, was destroyed by a typhoon during the Heian period. The present structure, which dates to the Kamakura period, was built using what is known as the "Daibutsu style.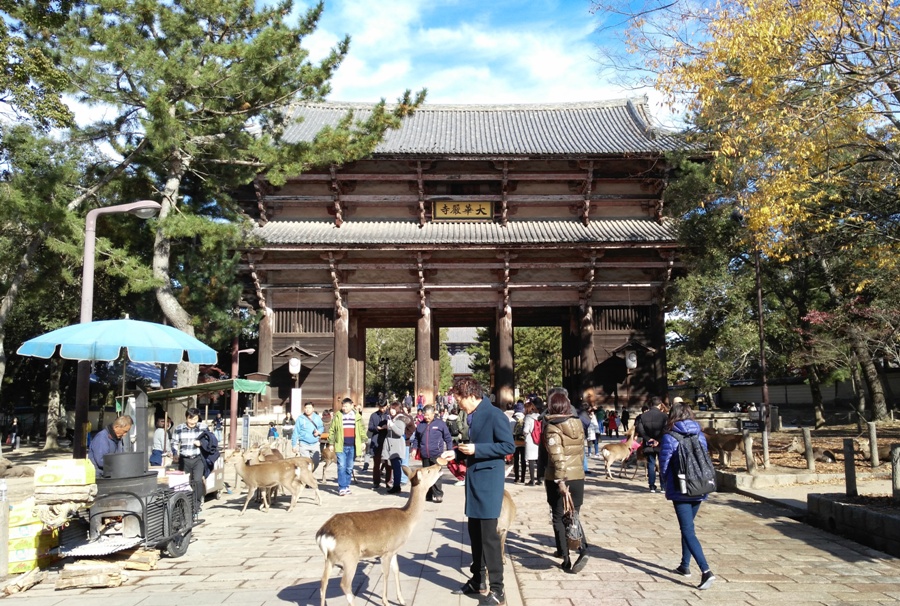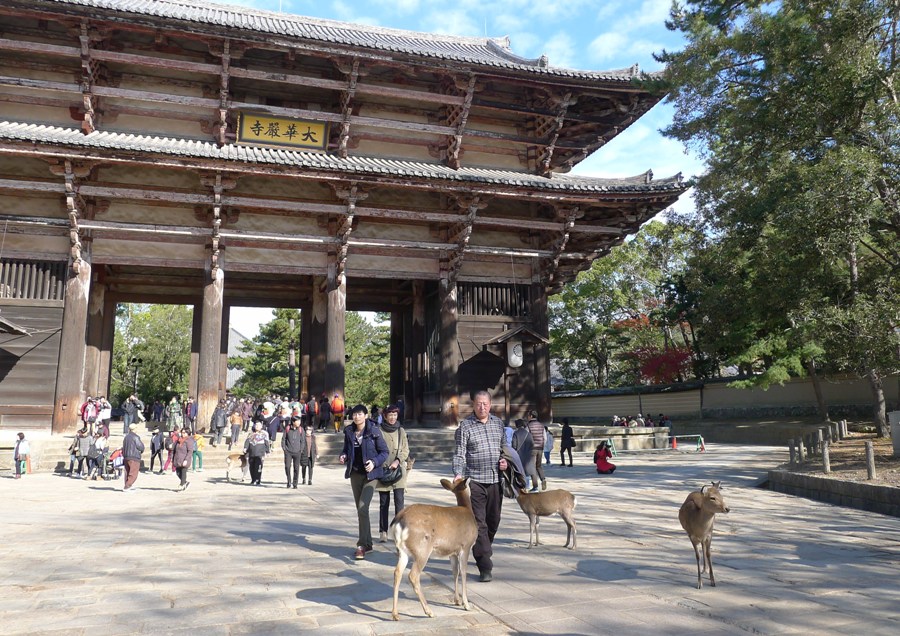 Todai-ji Temple. It is said to be the world's largest wooden building.  It's awe-inspiring and moving. Todai-ji is not just one of Nara's must-see attractions; it's one of Japan's must-see attractions. The focal point of Todai-ji is the Daibutsu-den (Hall of the Great Buddha), which contains the vast grandeur of the Daibutsu, a 16-meter-high Buddha that really does seems to exude some form of spiritual energy.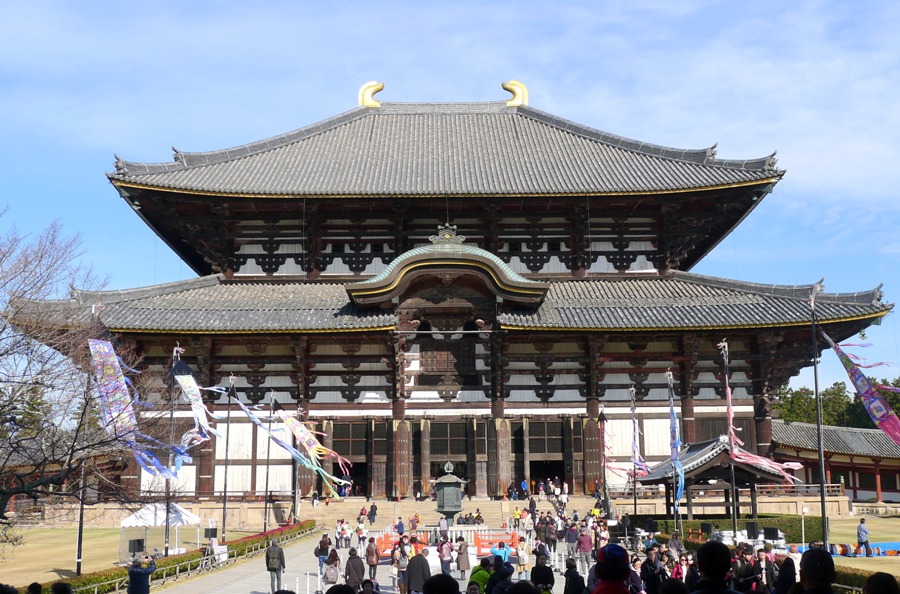 Isui-en Garden (the best garden in Nara!)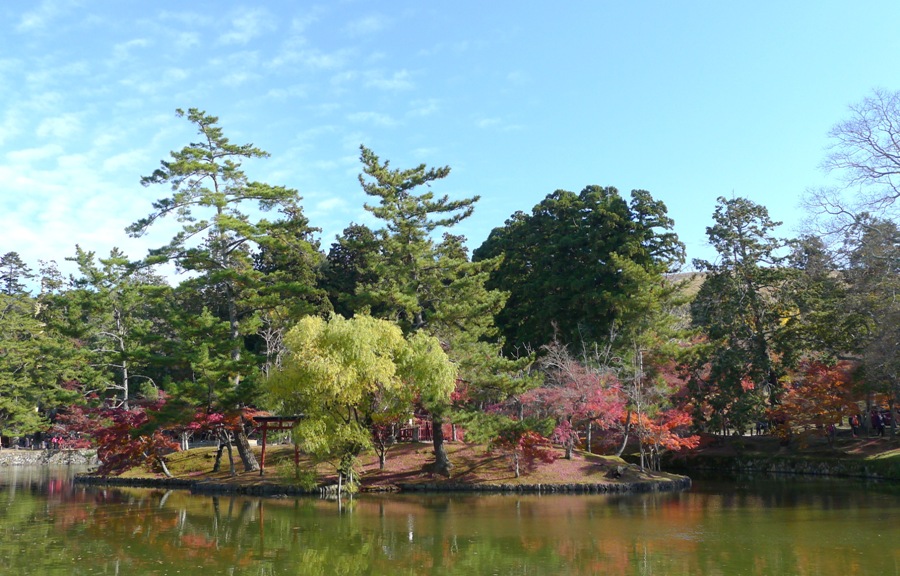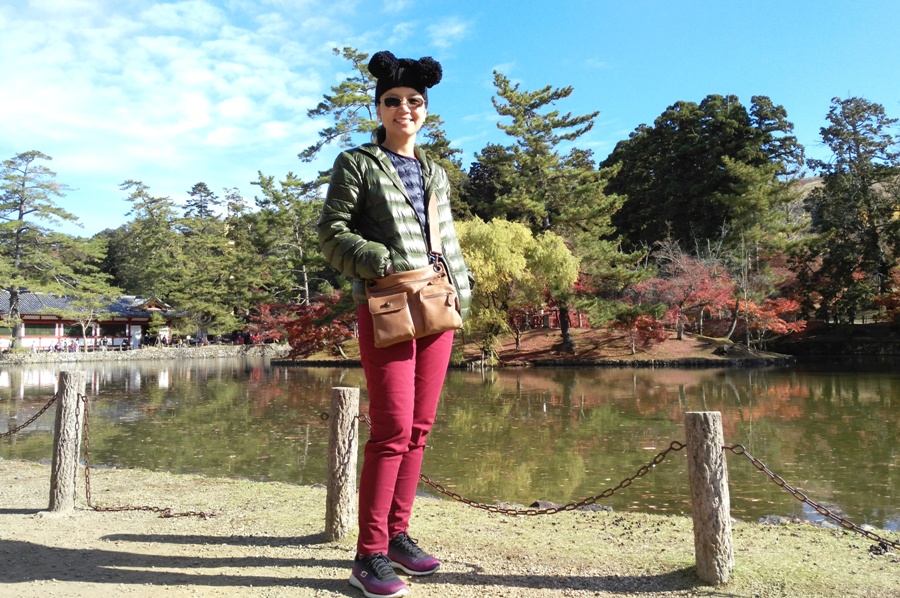 We did a lot of walking around the park, where we experienced Japanese autumn at its peak!  Really beautiful!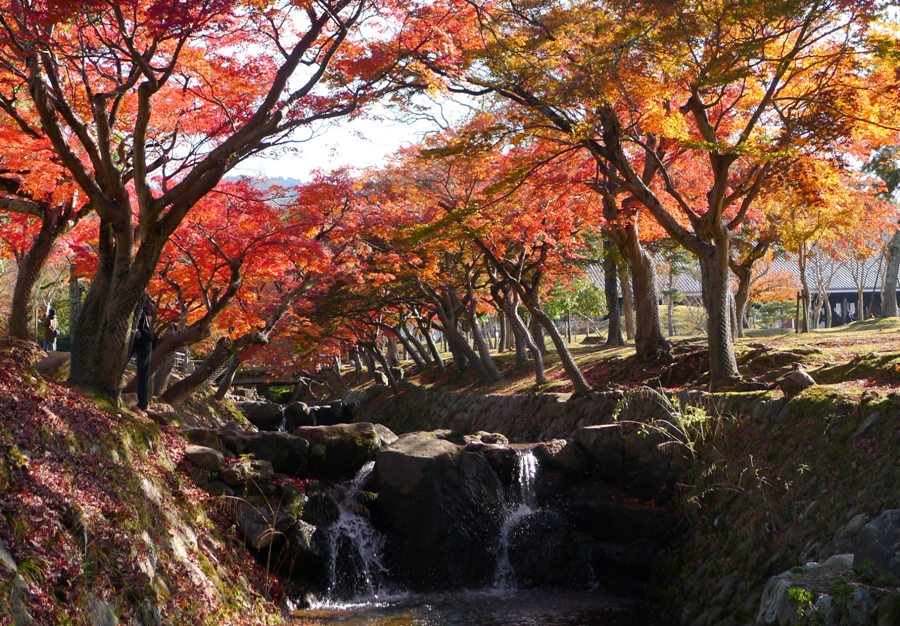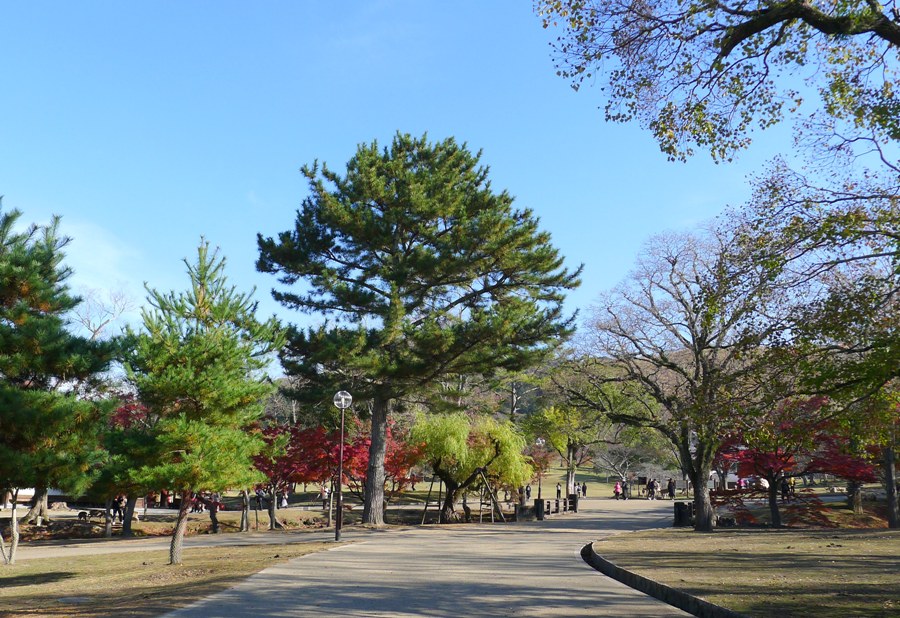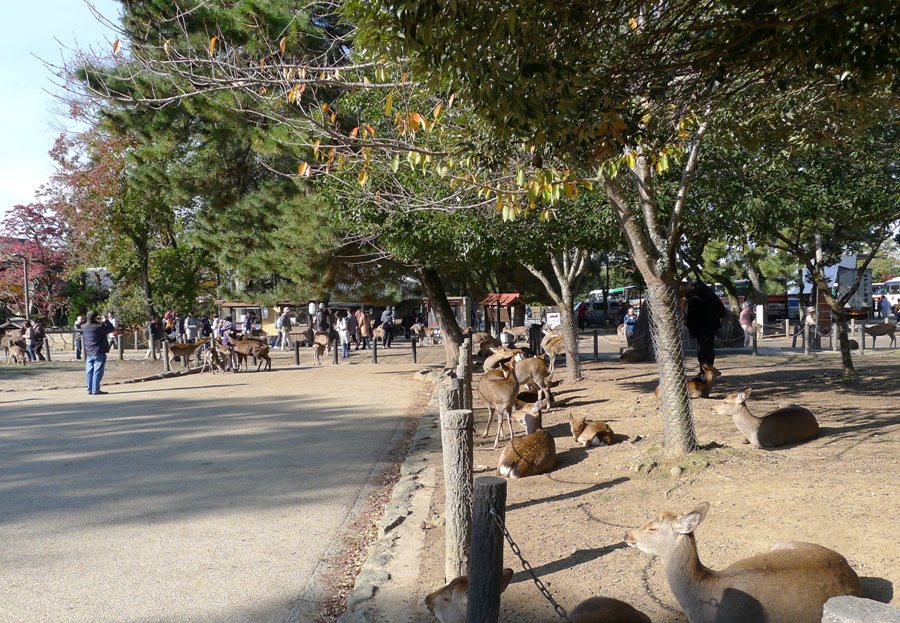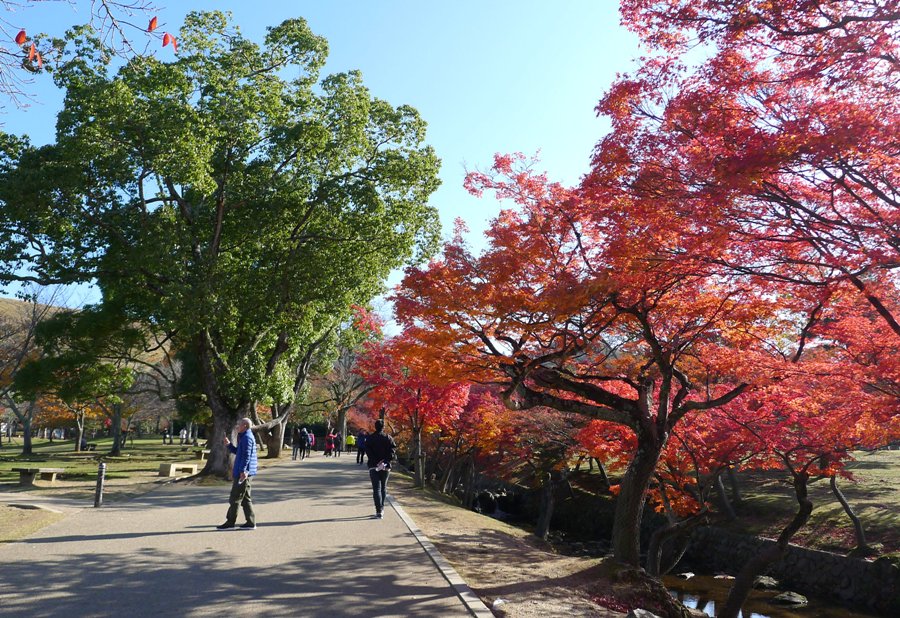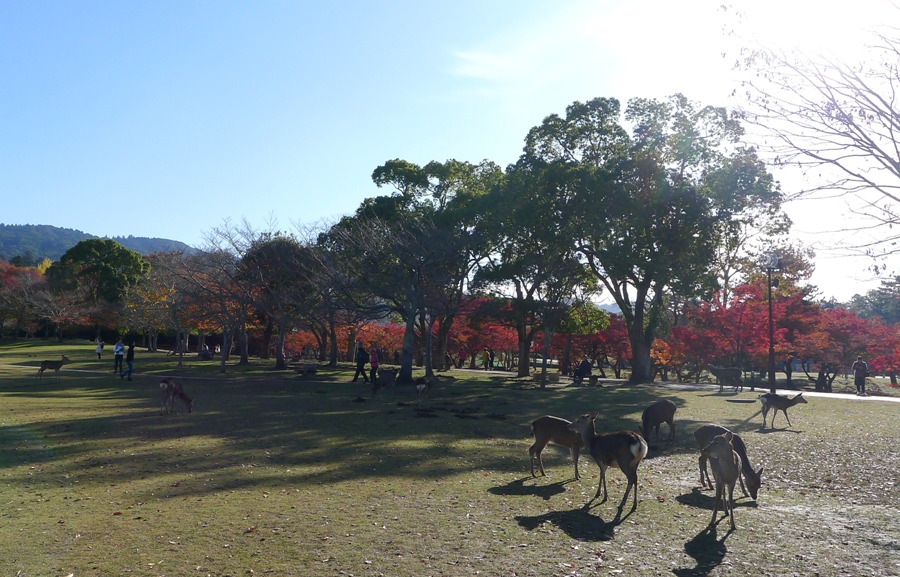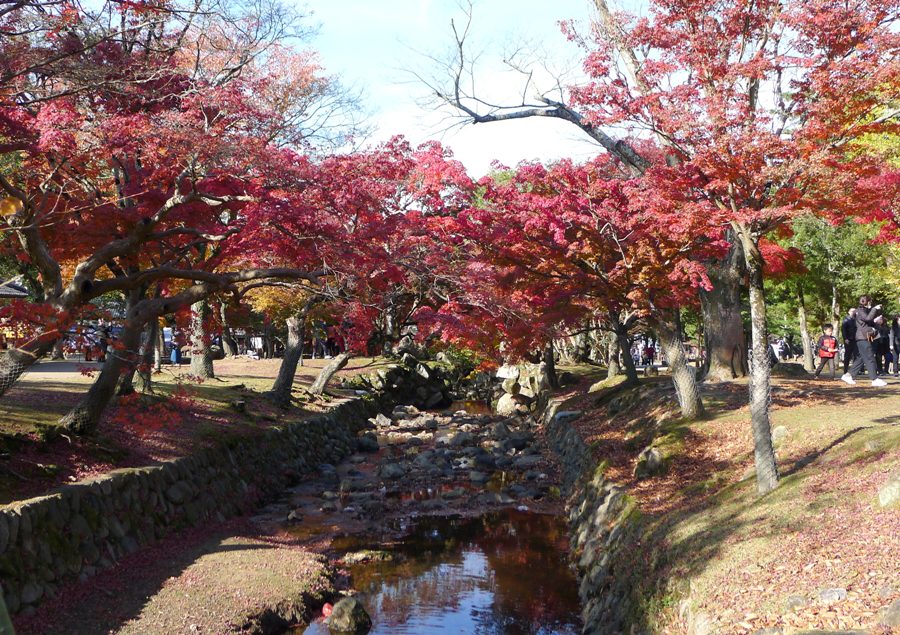 Hello deer! Can we take you home?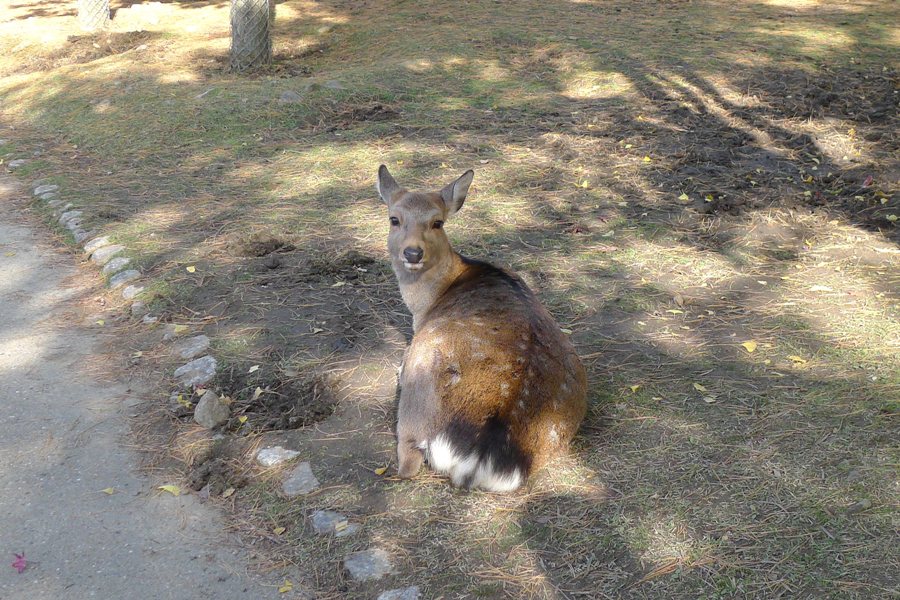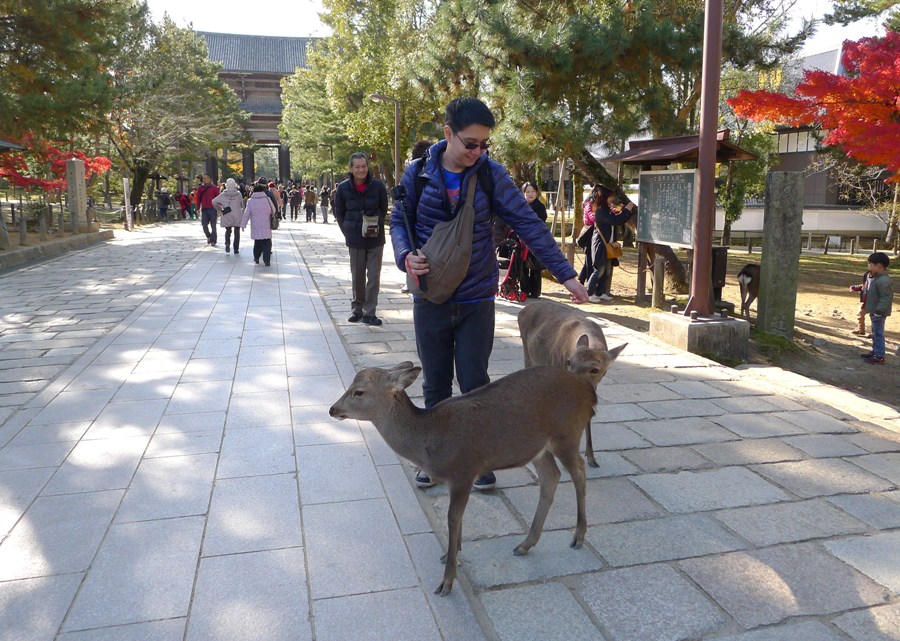 Soon we were feeling hungry, and took that as a sign to take lunch and to head to our next designation: Kinkaku-ji Temple in Kyoto.
Took this photo before leaving Nara Park.  May #sepanx moment pa talaga, hehe!   I highly recommend that you take a day-trip here when you visit Kyoto or Osaka, or both.  It's really worth the 1-hour commute by train!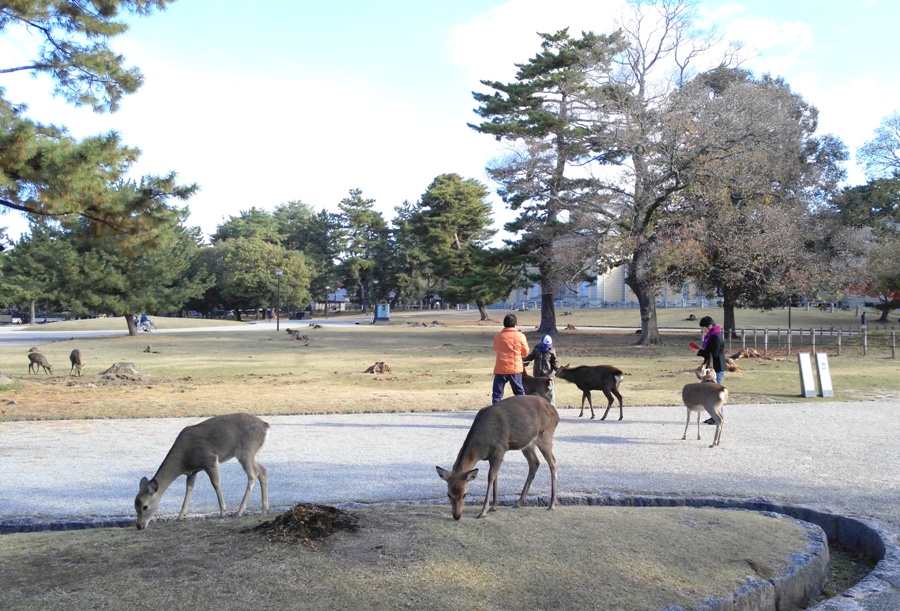 We had a quick lunch at this little market alley located right beside Shin-Ōmiya Station.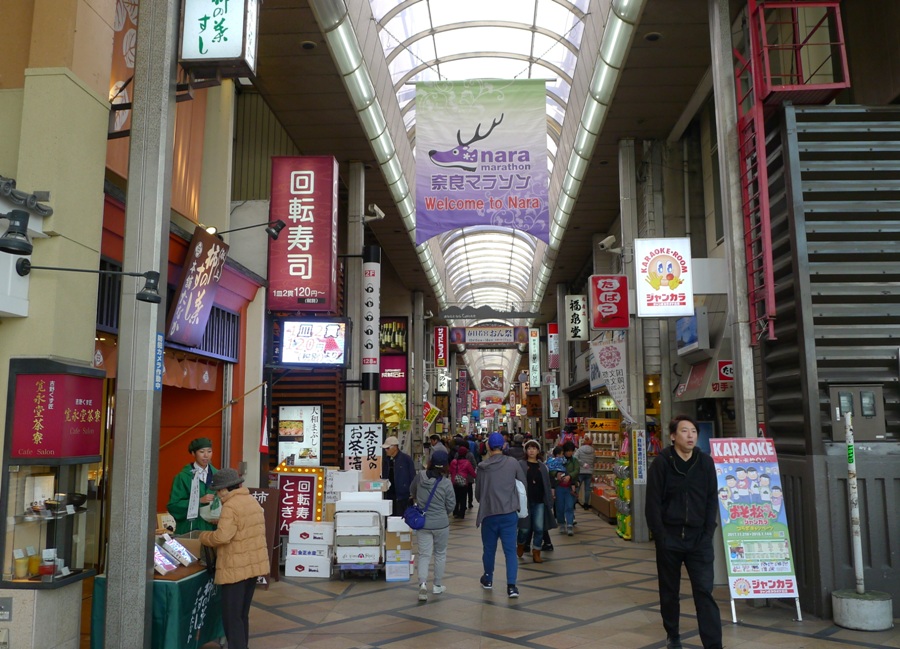 We missed the regular train ride going to Kyoto by a few minutes, but found that there's an Limited Express service train (run by Kintetsu-Nara, a non-JR line) going to Kyoto.  We went for this, and paid additional 510 yen (for each) because this is not covered by our Suica card.  The regular train ride to Kyoto would take another 1 hour, but with limited express service we were able to cut the travel time to about 45 minutes.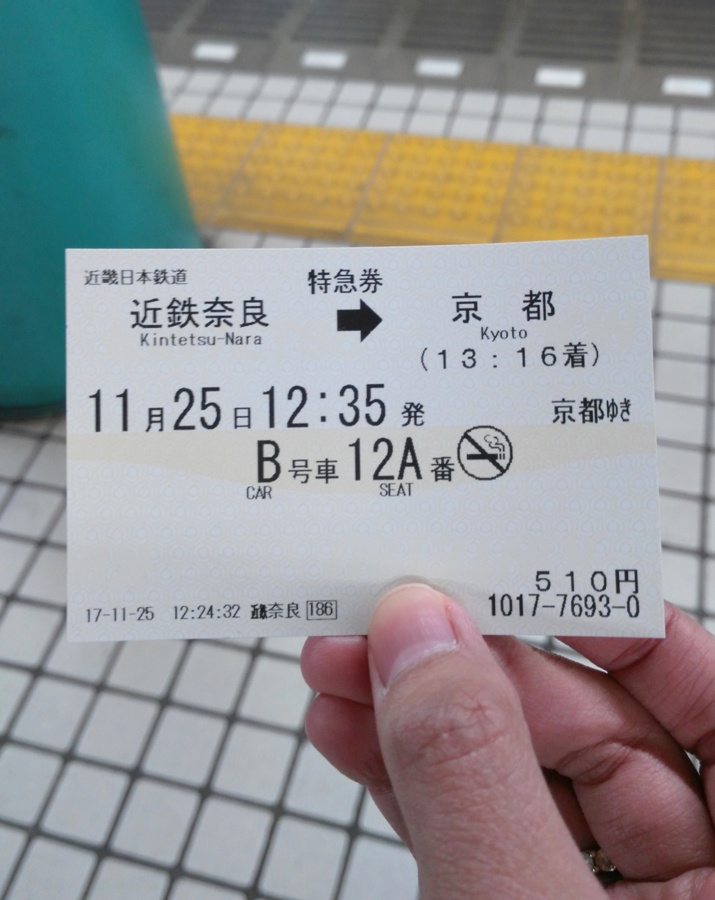 Also, limited express service train has nicer seats, so AJ and I were able to have a good rest on our way to Kyoto Station.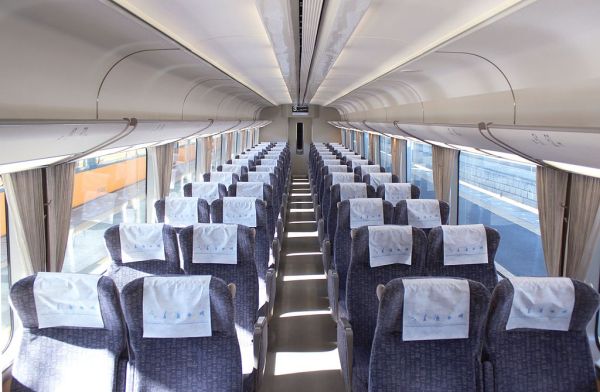 From Kyoto Station, we just followed Google Map and we found ourselves having to take the bus – again!  Having learned from our mistake the previous day, we carefully read the street signs this time and asked for directions from different people, to make sure that we are on the right direction going to Kinkaku-ji Temple.  We didn't buy the Kyoto 1-day bus pass anymore since this is our last itinerary in Kyoto.  We just paid the bus fares using our Suica cards.
We arrived at Kinkaku-ji Temple without glitches, but first, tikman muna ang soft serve ice cream na dinayo pa namin from Manila, hehe!   I read that when at Kinkaku-ji, try daw their gold-leaf Kinkaku-ji soft serve ice cream.
The Kinkaku Soft Ice Cream is located just outside the main entrance to the temple, so you will not miss it.  We decided to have the ice cream first before going inside the temple.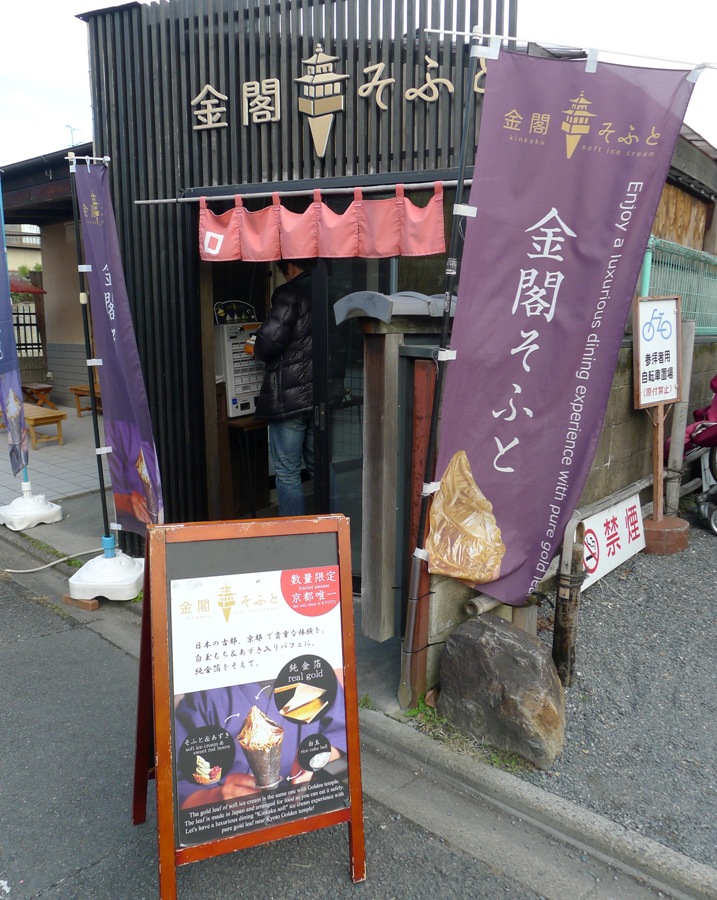 It was expensive (at 950 yen per serving), but that's the price you get for eating 'real' gold, right?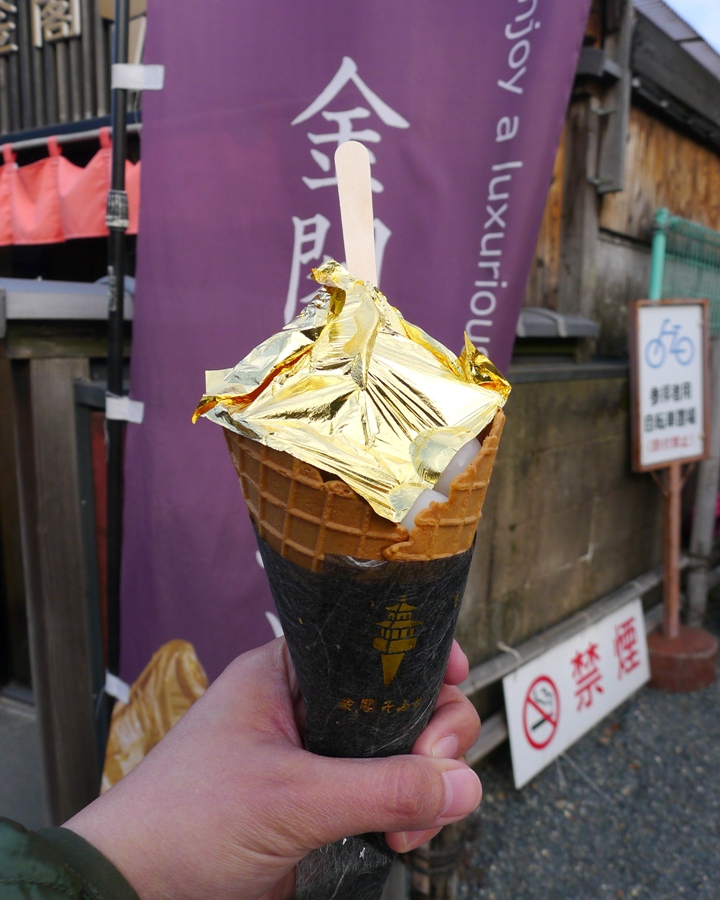 Yes, you read it right. This ice cream is served with a sheet of gold leaf on top.  We chose the most 'basic' ice cream in the menu, which is vanilla soft serve ice cream with chewy glutinous rice cake balls topped with a sheet of gold leaf.  You can also add a serving of red Adzuki beans at additional cost.
The soft serve ice cream did not disappoint, and the rice cake balls were just yummy!
And the gold leaf?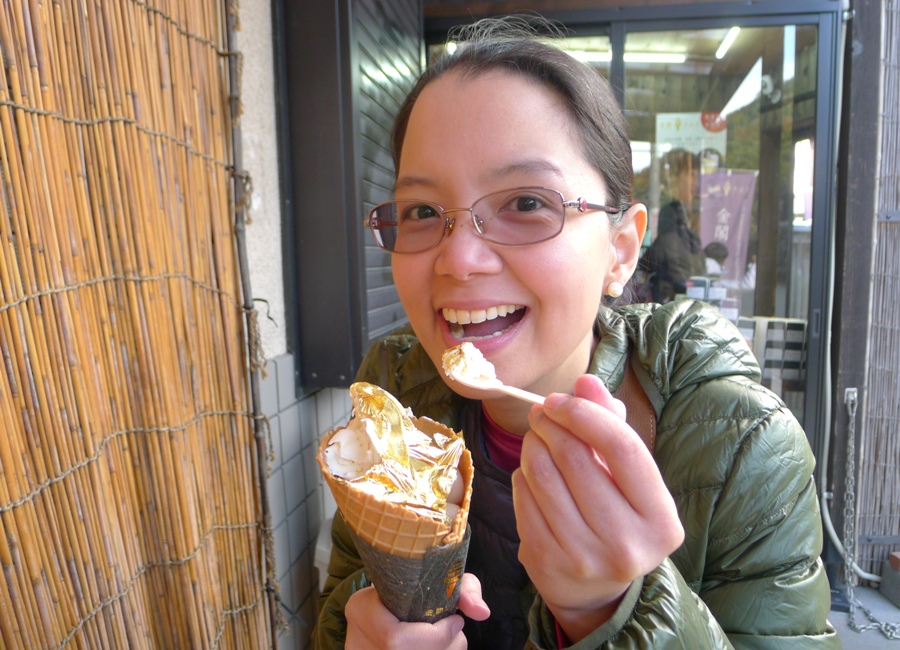 Wala syang lasa, hehe!  But it has a silky texture that melts in your mouth beautifully, or siguro dine-describe ko na lang nang ganito to justify the almost Php500 price tag, hihihi!
This is downright the most luxurious ice cream I've ever tasted in my life!
After savoring our gold-leaf ice cream, we went for our tour of Kinkaku-ji Temple.  Around 3 p.m. na k'me nakapasok and yet ang dami pa ring tourists.  But you have to credit the Japanese for having a very efficient system even inside the temple grounds even though they cannot speak English.  The tourists were able to explore the area without bumping at each other all the time, and take their 'money shots' of the Kinkakuji-Temple (more popularly known as The Golden Pavilion) without any hassle, like we did: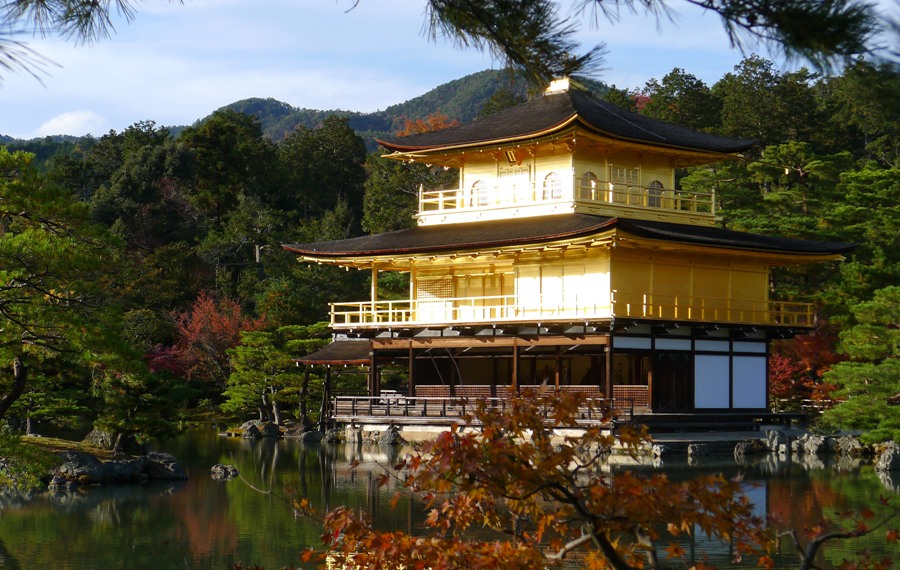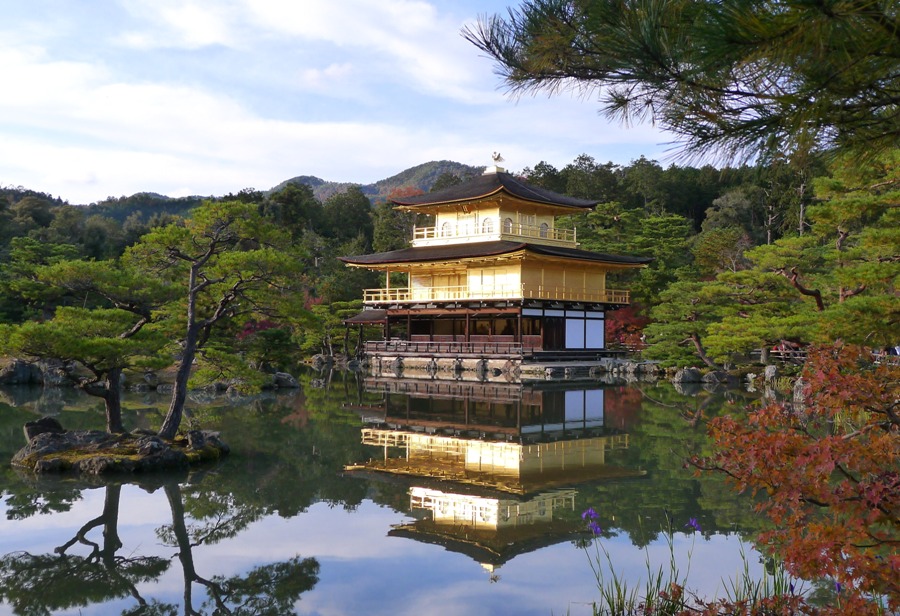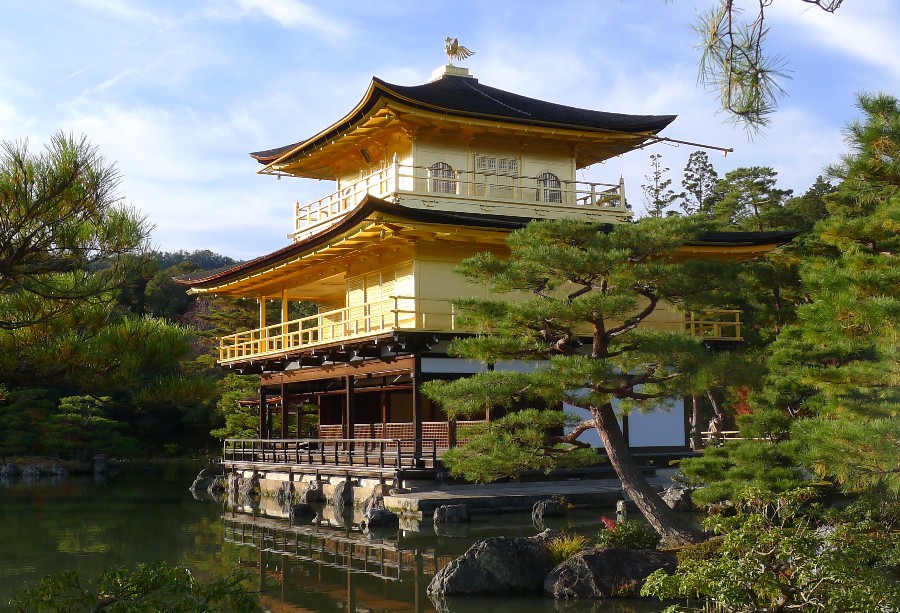 Ang ganda-ganda nya talaga.  Hindi lang halata sa pictures above, but halos magkakadikit na k'meng mga tourists while taking pictures.  Ang dami talagang tao that day (it was a Saturday, after all) but everyone was polite and respectful of each other, we all had our moment basking in the sight of this temple.
The trip going back to Osaka (from Kyoto) was thankfully uneventful, but it was our longest travel in this entire trip because of the long waiting line at Kinkaku-ji bus station going to the train station.  I think we clocked in a total of 1.30 hours travel time for this trip back to Osaka.
By the time we got back, it was dinner time already.  We stopped at Namba Station and went to Dotonbori to look for dinner.
Oh my, the Saturday crowd at Dotonbori was just crazy!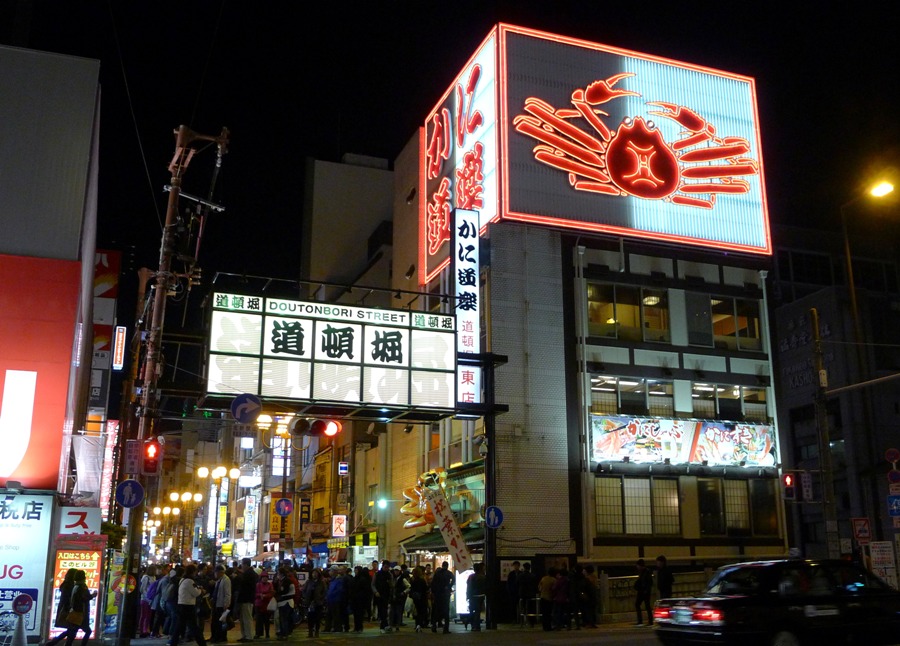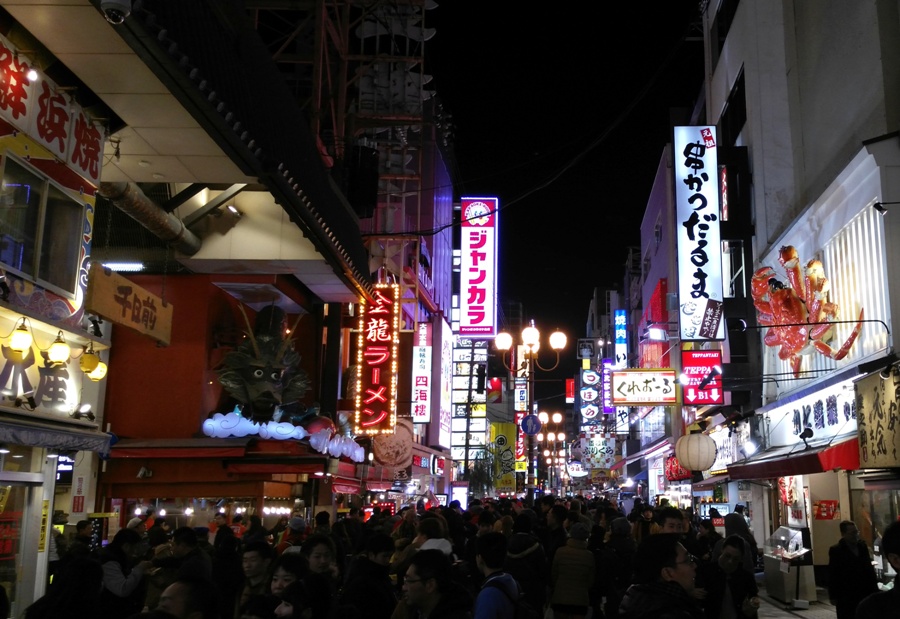 We ended up having dinner at the first less crowded restaurant we could find, and savored our first proper Japanese meal for the day:  Kirin beer and Kobe beef, hehe!
After dinner, we explored more of Dotonbori and shopped for some pasalubongs back home.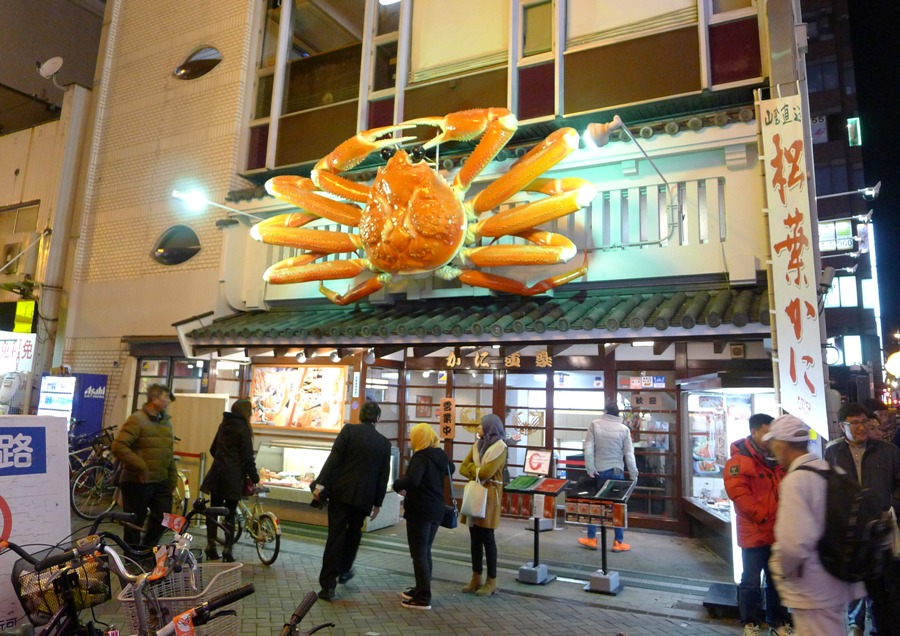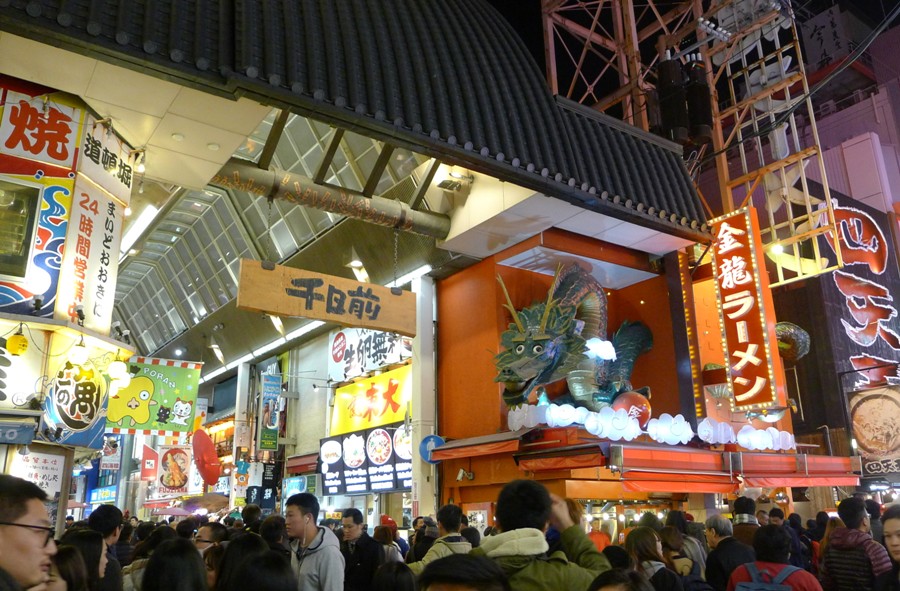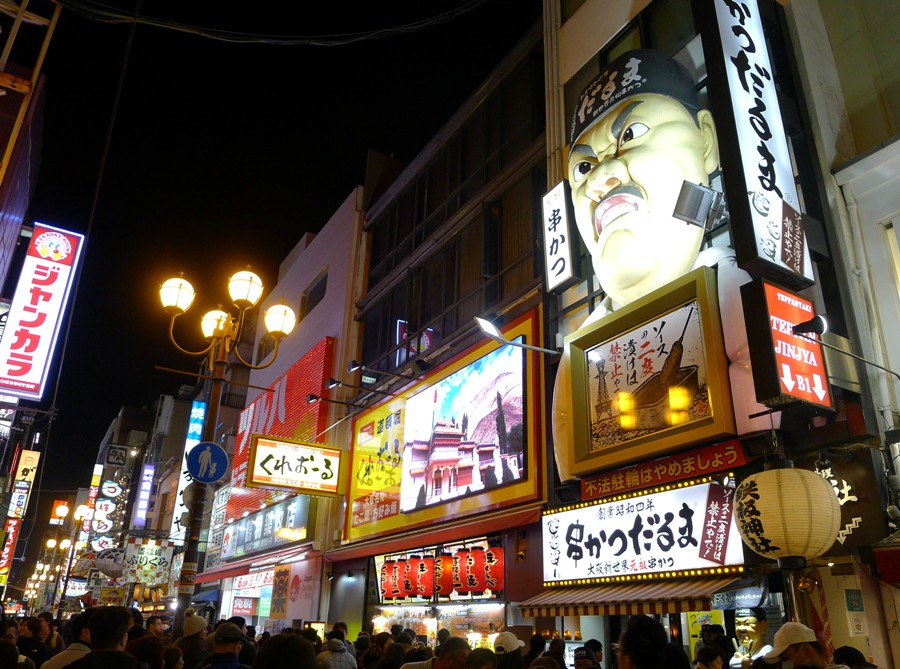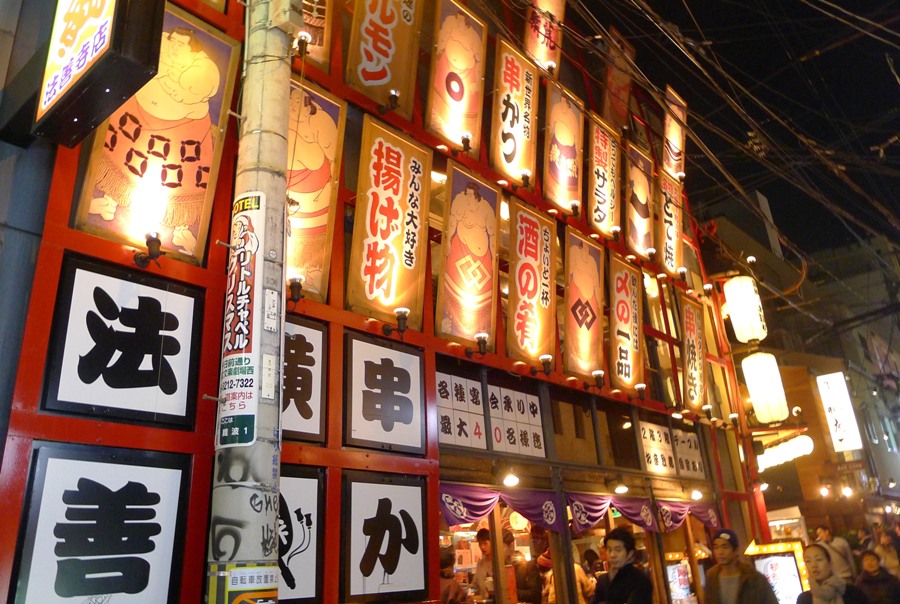 We also looked for a Uniqlo shop there to buy Blocktech warm-lined pants.  Hindi na kaya ng mga pants na dala namin ang lamig sa Osaka.  The Blocktech warm-line pants (priced at Php2,000 each) turned out to be really good investments! Hindi na natagos yung lamig sa mga legs namin, hihi.  We ended up wearing them every day for the rest of our trip =P
Before heading home, we had a quiet post-dinner dessert at this coffee shop we found inside Namba Subway Station.  It's called Victoria Cafe and if ever you find yourself there, do make a stop and order their scones.  Really heavenly and tender inside, yum!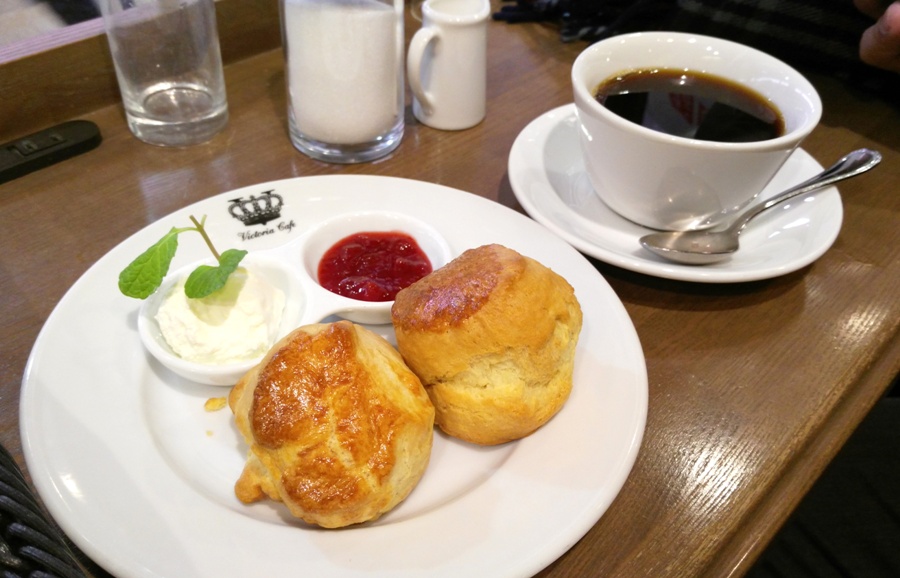 We went home tired but very happy!  We were able to complete our 2-day Kyoto itinerary without major problems,  and we are now excited to explore our home base – Osaka – for the next 3 days!