It's Trick or Treat time again(!) and those who have been following my blog already emailed me asking when will I feature our office's trick or treat activity hehe!
You see, I've been documenting this yearly anticipated activity in our office since 2013 (read my post HERE), and over the years, it has become a highly-anticipated event by the kids because aside from getting loads of candies from us, they are also treated to scary fun and other spooky attractions within the office premises.
All departments and offices in our building prepare weeks in advance for this one-day affair.  Some have been so creative to the extent of transforming their offices into 'themed attractions'!  Check out our past years 'attractions' (2014 and 2015) and you'll know what I mean =)
For this year's trick or treat, a contest was introduced that made everyone more excited to prepare: the best decorated offices will be awarded cash prizes!  Three (3) offices will be picked as winners and the 1st placer will of course get the biggest cash prize!
But there's a catch, though:  the budget for the materials (to be bought) is Php3,000 max, and the rest have to come from recycled materials.  This was a big challenge to my team, because we have a big office space to decorate.
I worked closely with MaiMai, who is a creative genius, for the Halloween concept.  I don't know why, but my instinct told me to go for a really spooky Halloween theme, like a haunted house.   My instruction to MaiMai was simple: transform our office to somethingreally scary (matatakot talaga ang papasok, hehe!).  To achieve this look with such a small budget, I asked her to play with visual effects, and to make the office dark and red.   Ito yata ang effect ng kapapanood ko ng "Stranger Things"!
MaiMai and her 'creative team' (composed of Babielou, Margot, Jomar, Myrene, Hayde, etc. etc. – you know who you are, guys and gals!) delivered – and much more!  On the judging day itself (last Thursday), we were all nervous and excited as the judges (who are 'third-party', impartial, unbiased judges) finally entered our office-turned-haunted house to look around, and they later remarked that it gave them chills!  Kinabahan ako dun, baka hindi k'me manalo because we really spooked them.
Go see for yourself: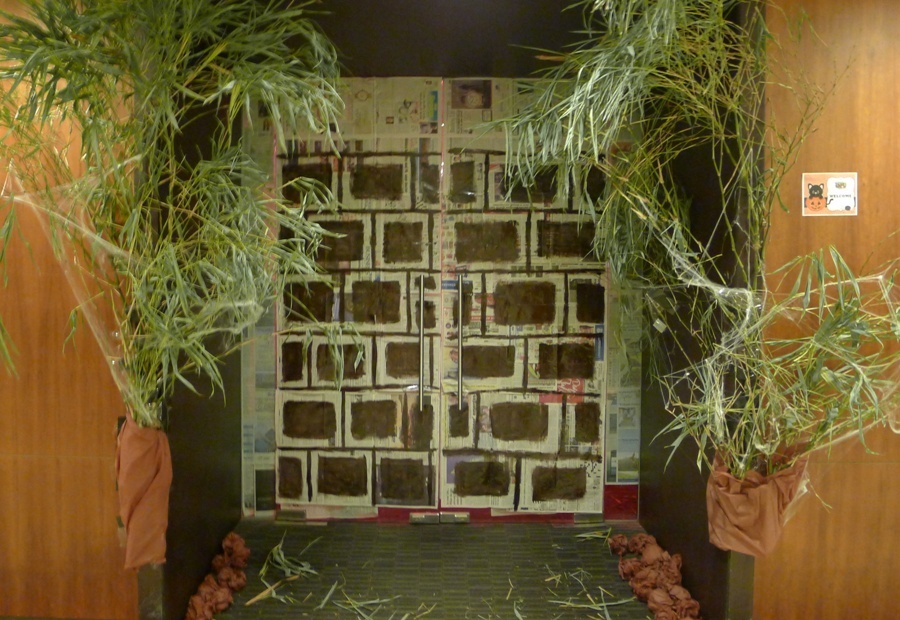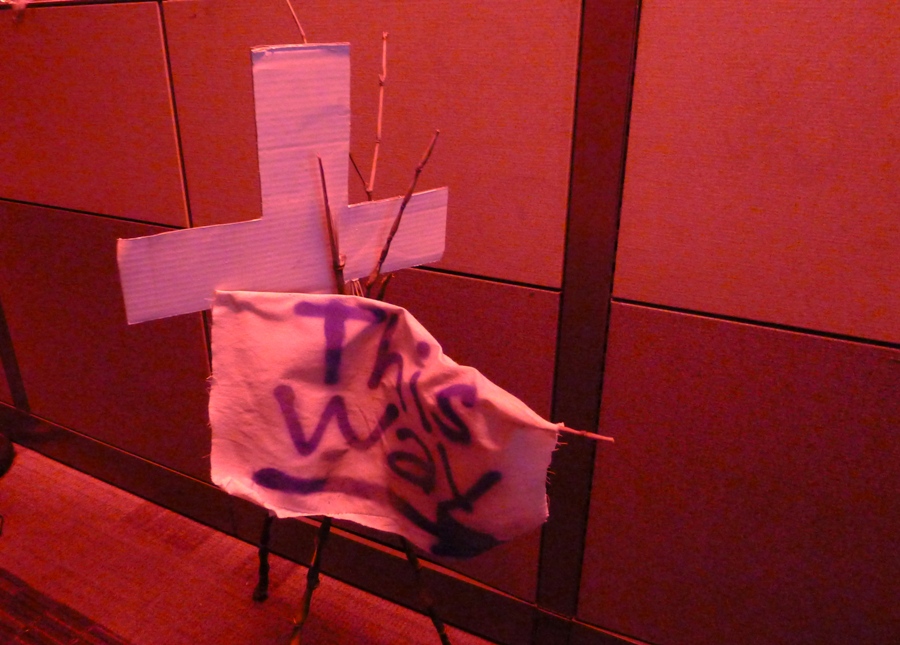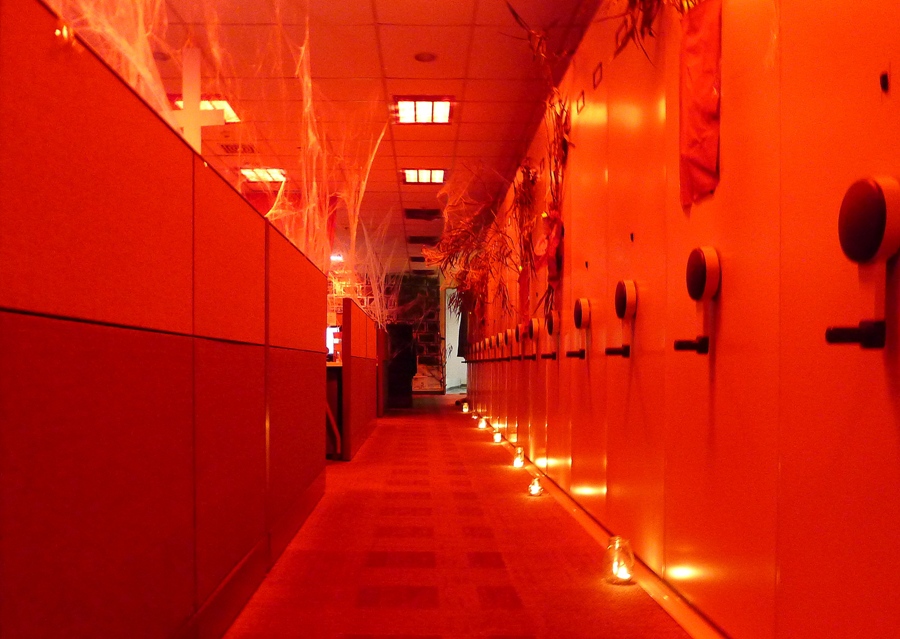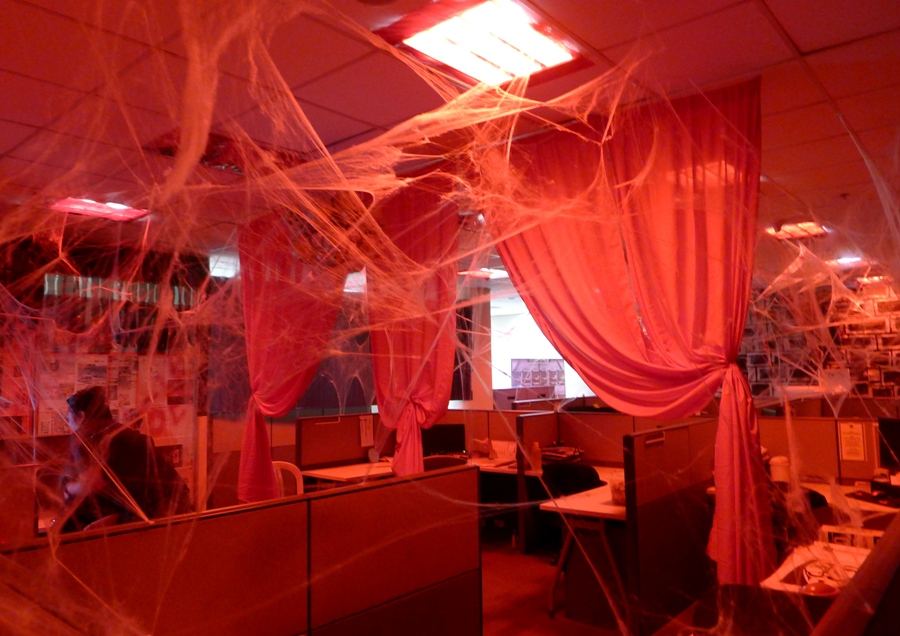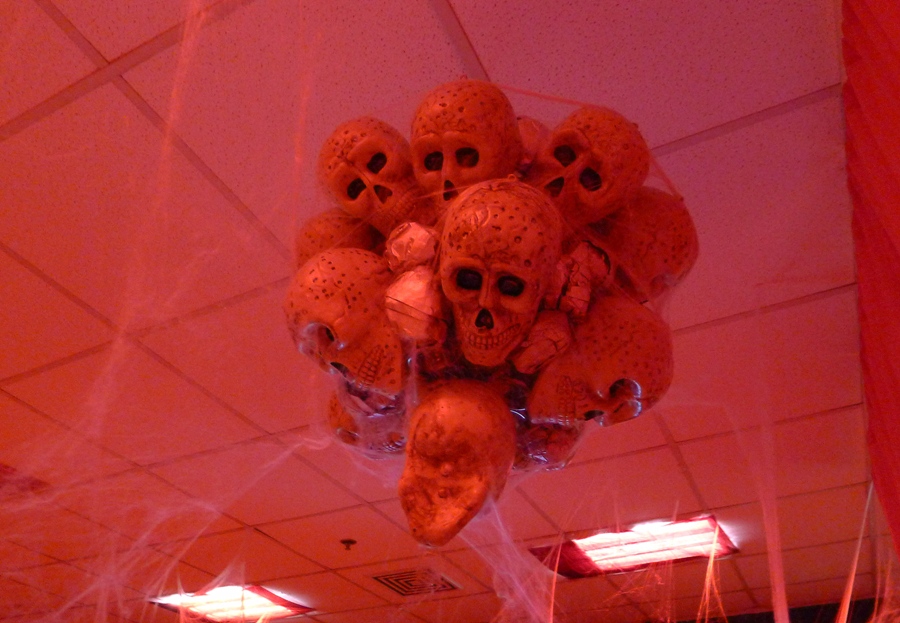 The office was called "The Red Room" by my pamangkin, Liam, because it's really bloody red inside!  The team covered all the ceiling lights with red cellophane paper.  Portions of the walls were also covered with old newspapers, then painted with bricks design.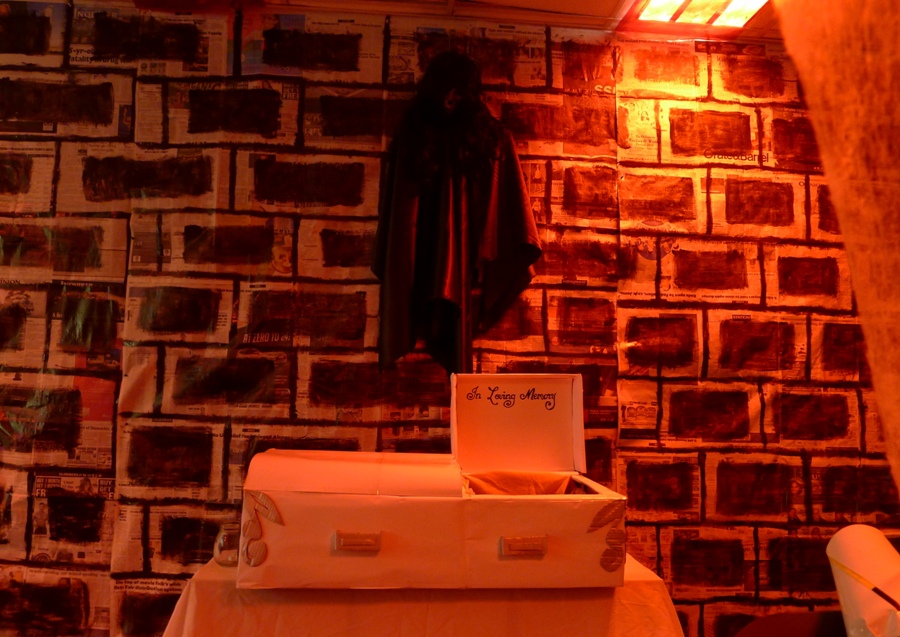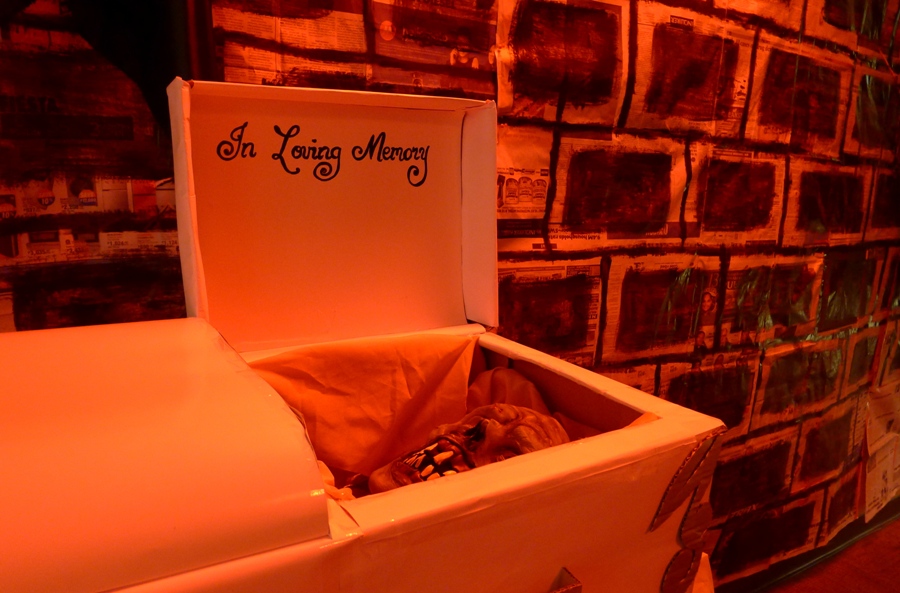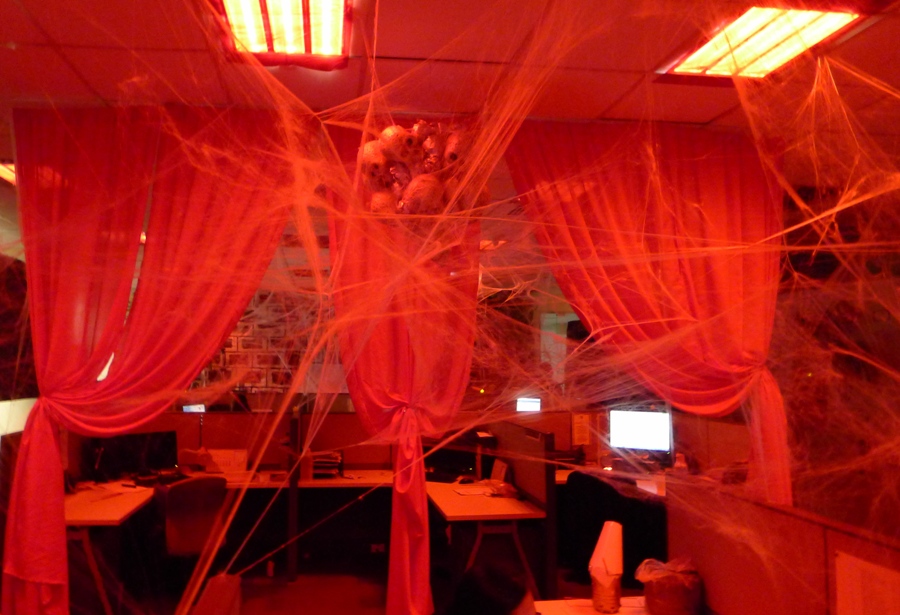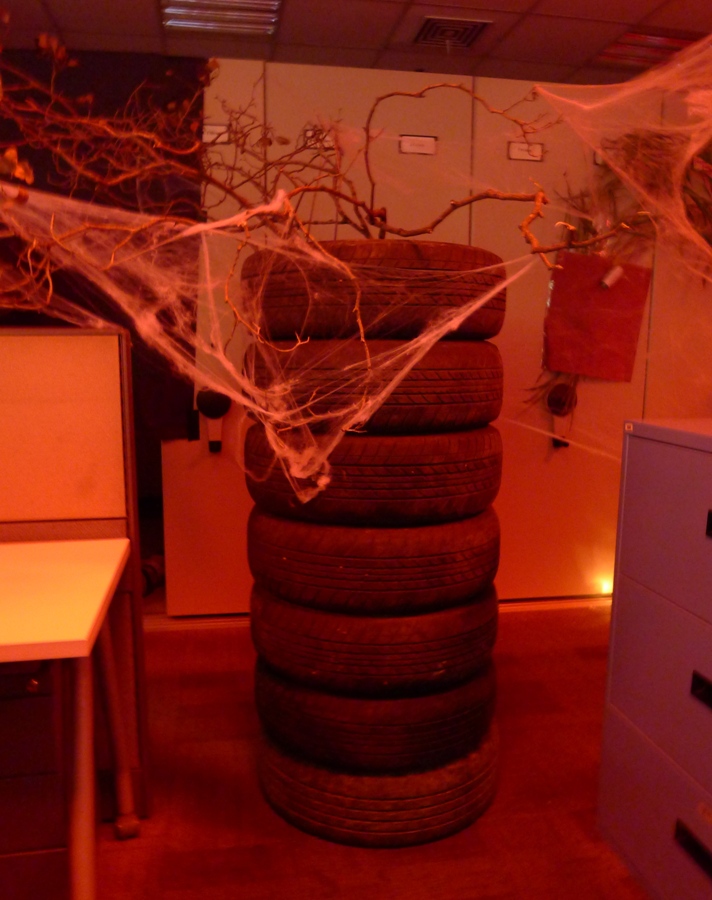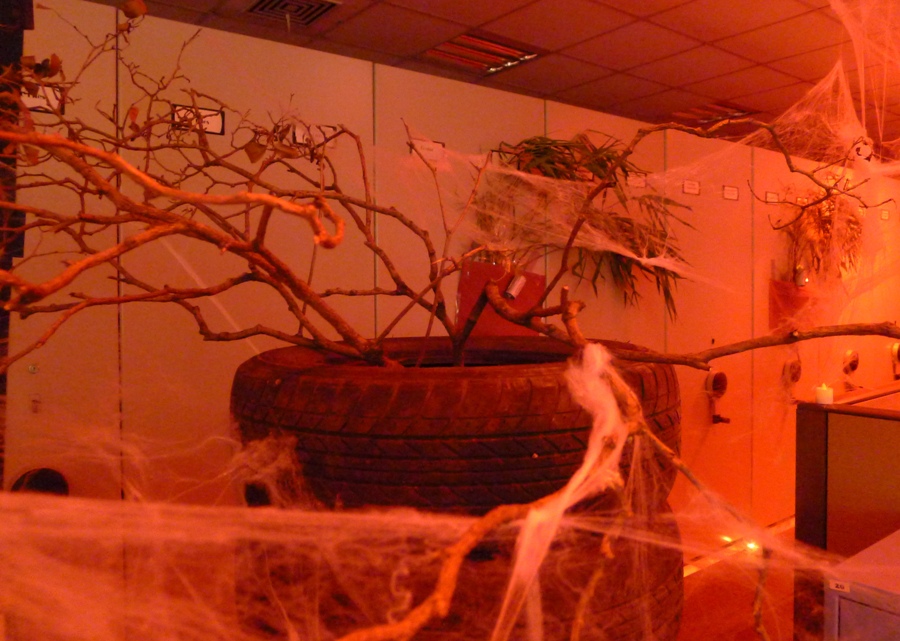 On the judging day itself, we all donned this mask (from the movie "V for Vendetta") and stared at the judges like this: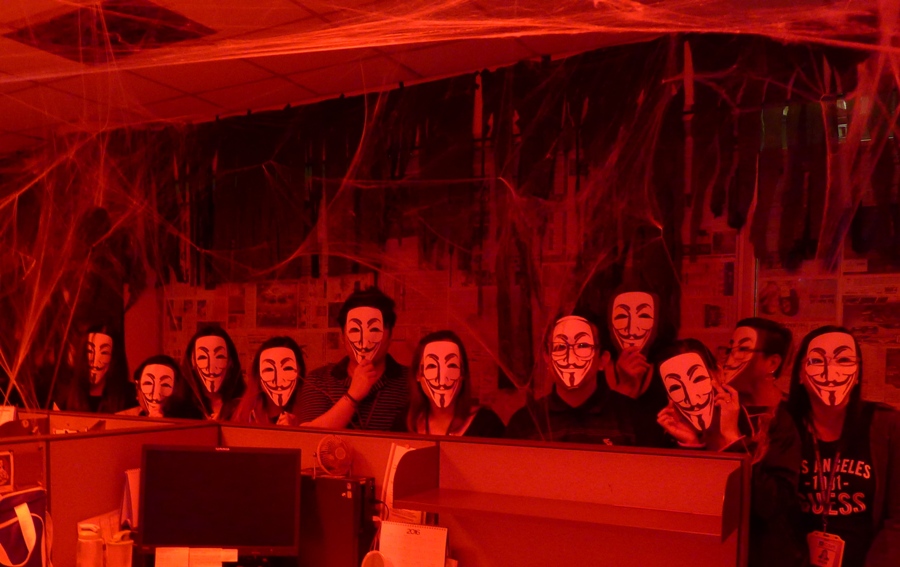 But the 'best part' of our presentation was in the coffin at the far end of the haunted house, which we filled with candies and a 'hand' that will grab yours! Hehe!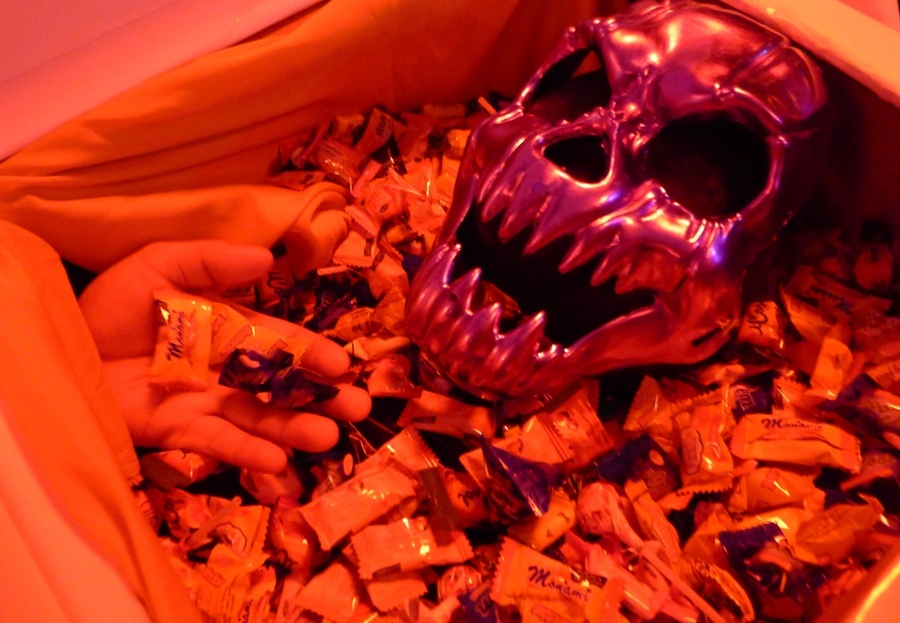 The winners were announced Friday morning (before the kids started going around for the trick or treat) and I'm proud to say that we won 1st place! Yahoo! Awoooooo!
We prepared more Halloween attractions for the kids that day like the moving big spider welcoming the guests (with lots of shrieking) at the front door, the roving monster, a masked giant and a black lady who will grab your feet (when you're not looking!).
We were also ready with "sound effects" – not real ones, mind – but recorded horror sounds like loud footsteps, wolf sounds, hissing sounds, and the best one (the one that made most kids cry!): the sound of a small-voiced kid saying: "Mooooommmmmmyyyyyy…..".   Liam found this scary too.  In fact, he cannot stop talking about it!  This is the part that he likes to re-tell to his Lolay and Daddy (who were not with us during the trick or treat) and then he will ask me to do the "recording".  Haha!
Oh, not only were our decors judged the best too this year; our Halloween-themed candies earned raves too (credit goes to Melody, Valerie, Clair and team).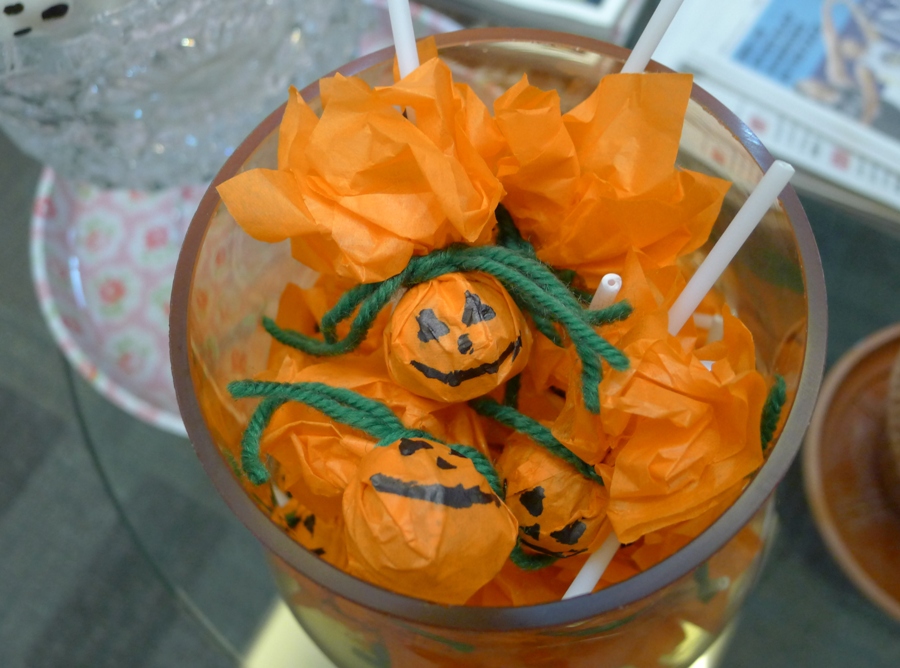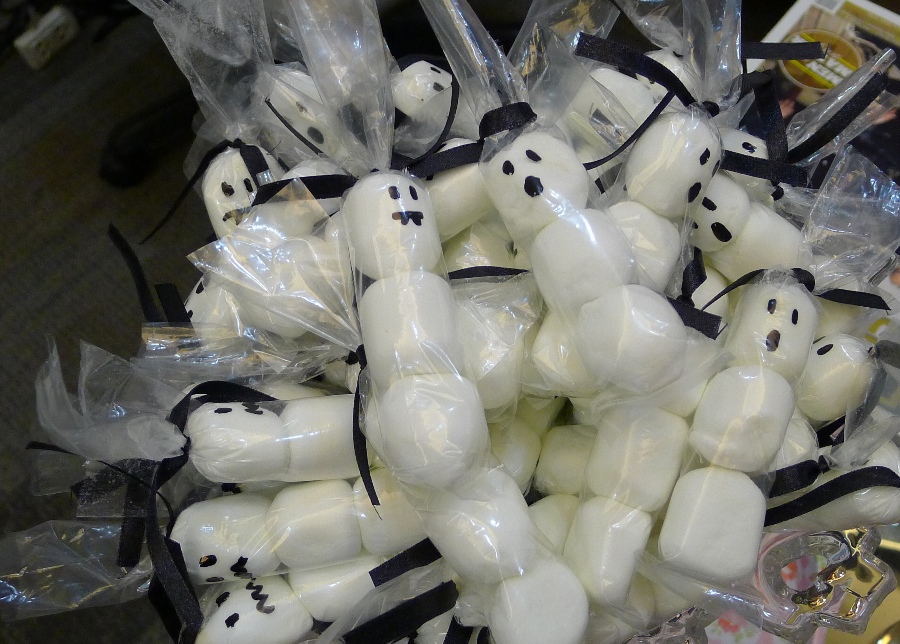 What a memorable Halloween it was for our department!  And of course, bagging the first ever "Best Decorated Office Award" gave us lifetime bragging rights, too hehe!  Good job to all!
Happy Halloween, everyone!