Happy Halloween, everyone!
And because it's trick or treat time, I'm gonna share with you how our own trick or treat at the office went yesterday.
While most of the departments in our big office opted to entertain the kids with their haunting Halloween decors, ours decided that there'll be no spooky decors at all; and that we will be having a candy bar or candy buffet, instead of the traditional loot bags, for the kids to enjoy.
I saw countless ideas online for a Halloween candy bar and showed some of them to my office colleagues.  It's a good thing they liked the idea, and all of us chipped in money to buy the decors, candies, cookies and chips for the kids.
The trick or treat activity at our office, now on its 3rd year, has become sort of a "corporate affair" already and most, if not all, employees look forward to decorating their offices with a Halloween theme in preparation for this half-day event.  They bring their kids, nieces/nephews and grandchildren even, on the trick-and-treat day to go around the offices inside the building and collect candies, cookies, cupcakes and chips.
The look of our office/department yesterday was festive, instead of spooky, because of these smiling pumpkin lanterns that we bought at Divisoria last week (check out our wallet-friendly Halloween decors here).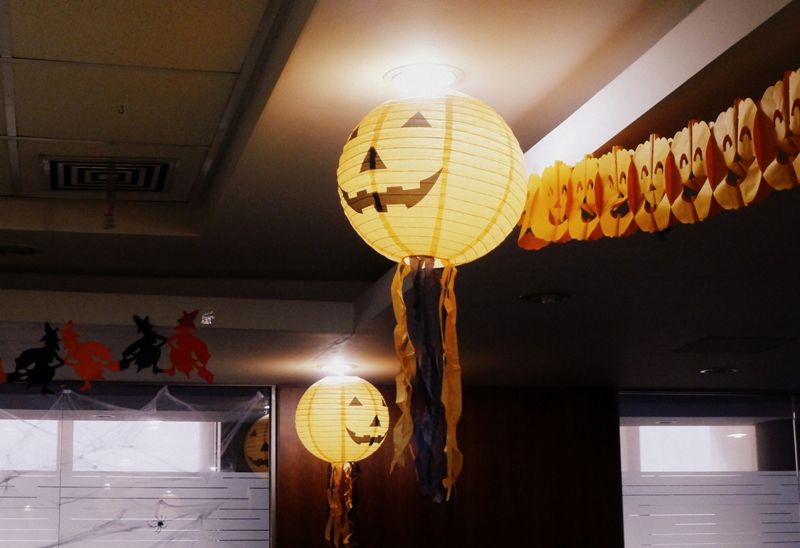 And here's our Halloween candy bar that was perhaps the happiest decor there was yesterday!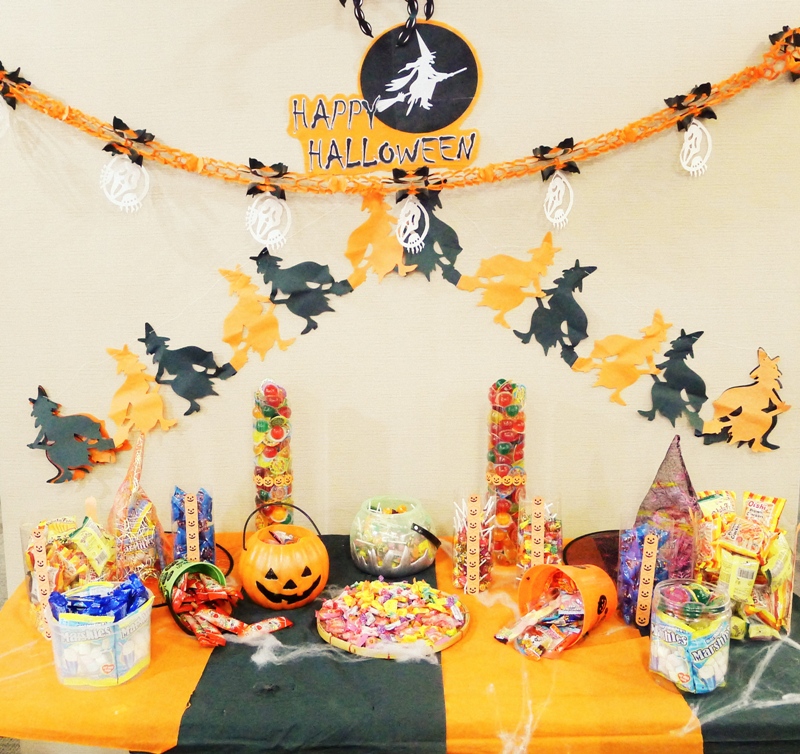 For the candy containers, we used the pumpkin pails bought at Divisoria. some ice cream containers and a bilao that we have kept at the office.
To mimic the clear cylinder jars that I wanted so badly in the candy bar, my very creative office mate, Maggie, made use of these acetate papers (that we no longer use in the office), rolled them up and closed the ends with double adhesive tapes.  To cover the tape marks, she pasted these cut-out little pumpkin faces over them.  Really nice, noh?  =)
Everyone who saw our Halloween candy bar liked it and found it cute!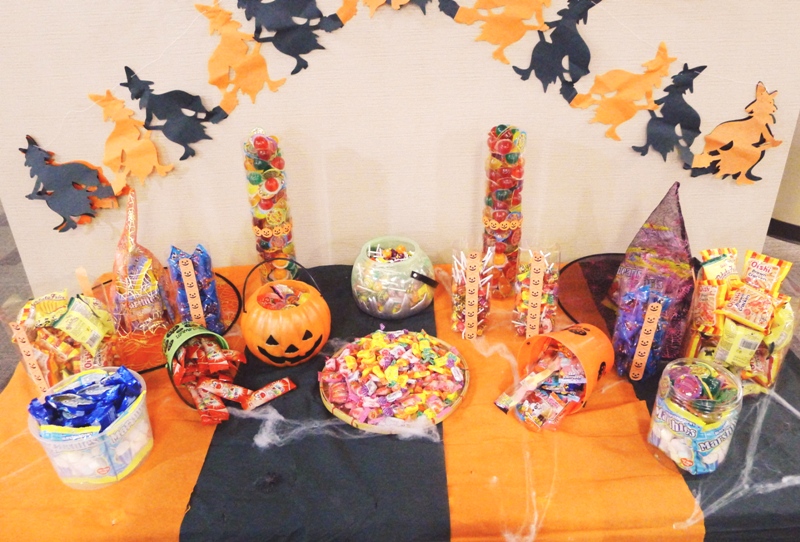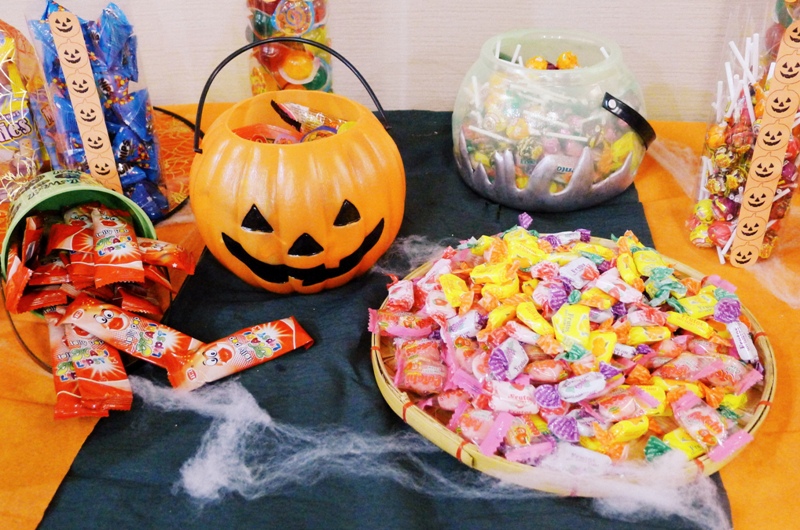 Orange and black crepe papers were used as table covers, then cotton spider webs were scattered around to complete the Halloween look.
We also bought witches hats which we wore during the trick or treat, and the extra 2 hats were used as table pieces, with packs of mallows stuffed inside.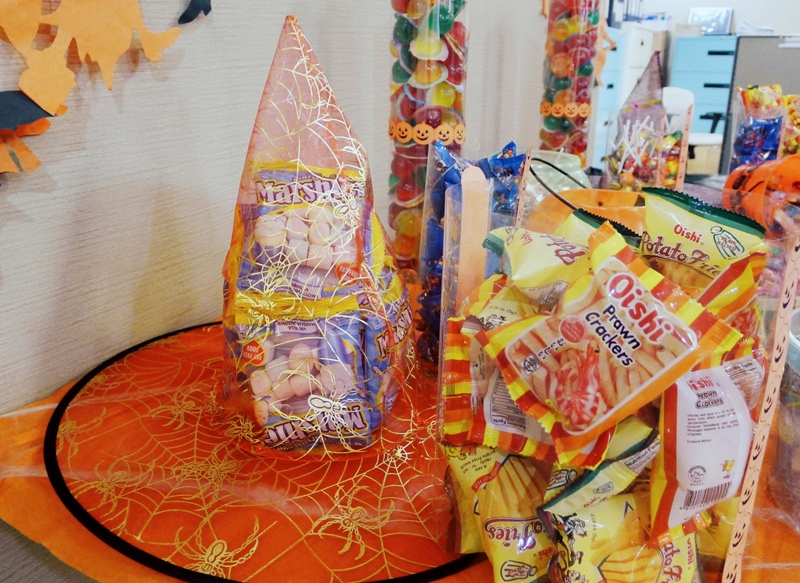 We didn't have time anymore to make buntings with a big "Happy Halloween" on it, so we used the extra paper garlands we have instead.   We completed the decors with this "Happy Halloween" mini-banner that Glynn, my other very creative office mate, made.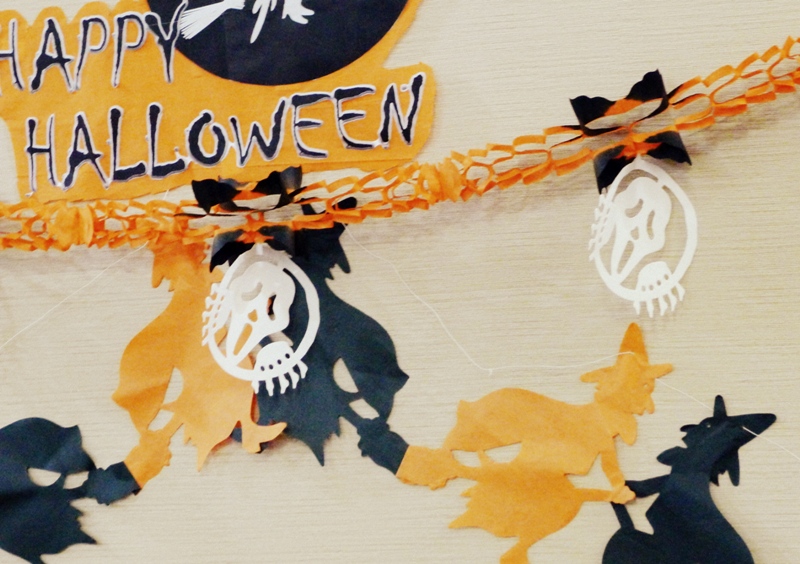 For the Halloween treats, we bought candies, cookies, chocolates, nuts, and little chips for the kids.  We were able to collect P2,000 from everyone in our department, which we used to buy these goodies.  Kami na ata ang umubos ng paninda ng Puregold and SM Hypermart!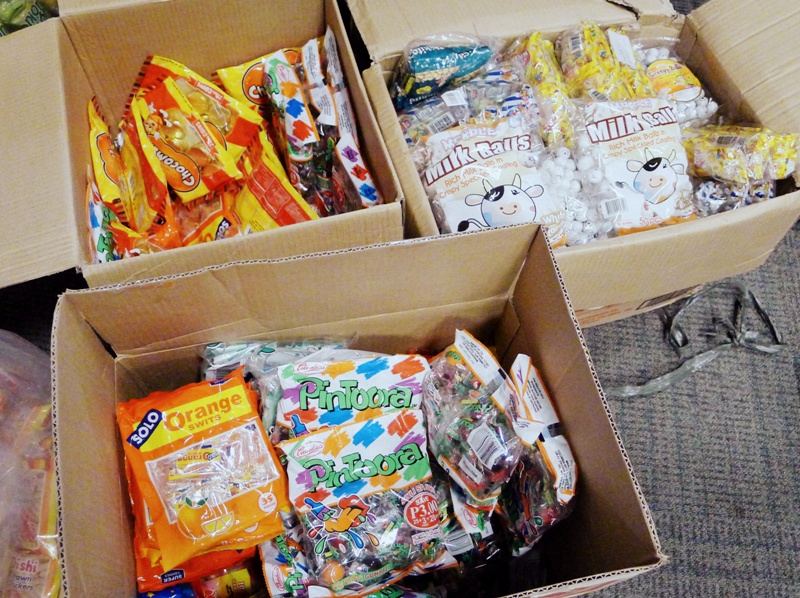 My favorite:  Creepy Balls!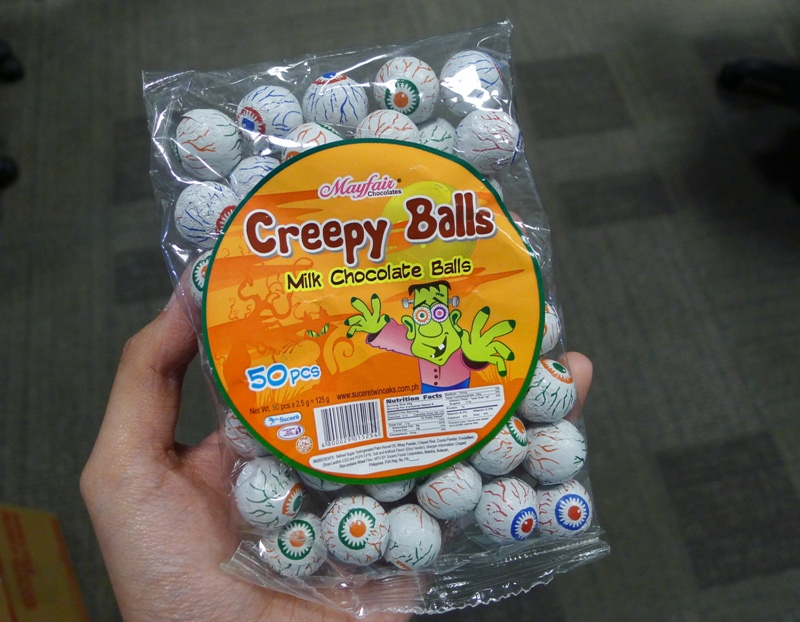 Creepy nga!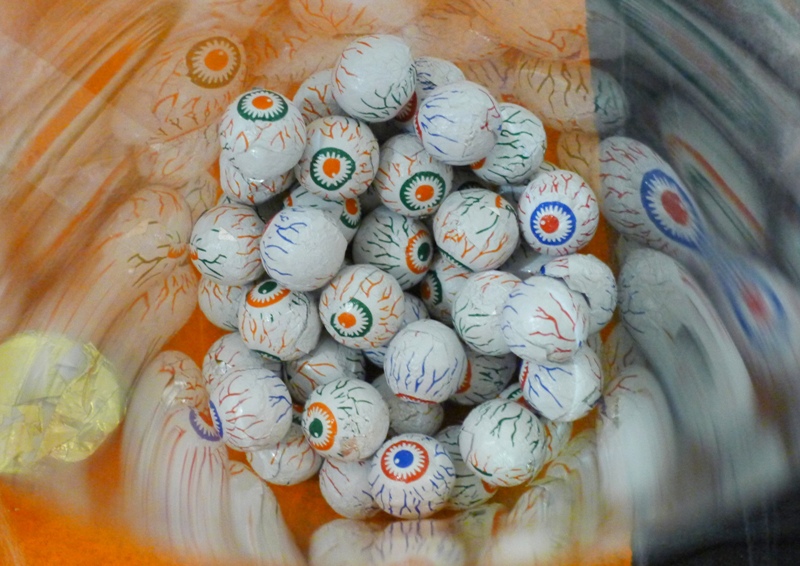 Needless to say, the candy bar (and everything on it) was a hit with the kids!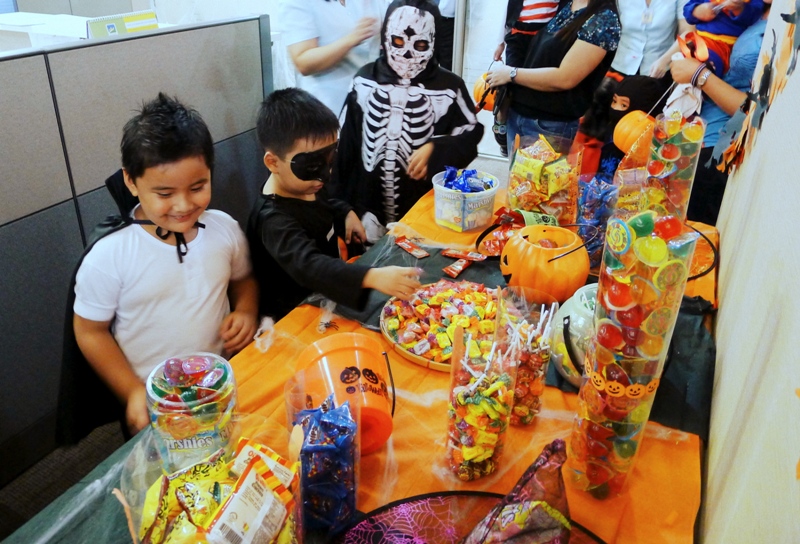 Sa sobrang tuwa nga lang, pati pumpkin pails, gusto kunin hehe!
We decided later to hand out the goodies, instead of letting the kids get them.  Baka kse pati yung crepe paper maubos hehe!
And that's the reason why I wasn't able to take pictures of the other kids in costumes.  I was busy handing out candies and chips.
But, I dropped everything when I saw these pretty girls who were among the last to do trick-or-treat with us: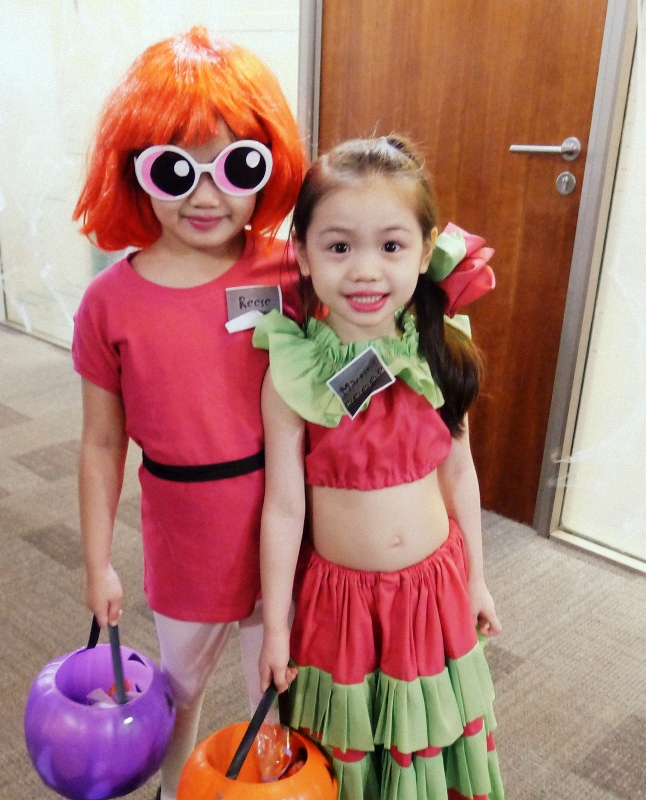 Meet Reese (in Power Puff costume and violet pumpkin pail) and Martina (in Carmen Miranda-like costume and orange pumpkin pail).   I love them both for being so 'game' in this picture!  They are truly in their elements!  I won't be surprised if these pretty little ladies end up as commercial models!
I think there were more than a hundred kids who went to our office that day, and all of them went home with their bags full of Halloween treats!    Oh, what a happy day it was for them, indeed!
As for me and my office colleagues, life went back to normal (meaning, back to "work mode") when the activity ended at 4 p.m.  Nonetheless, we were happy knowing that we made all those kids happy (and hyper!) with their sweet loot!
That's all, folks.  I hope you enjoyed this one.
And as a Halloween treat to my readers, I'd like to share with you this article I found about the scariest haunted attractions around the world.  I enjoyed reading it, but didn't scare me much maybe because none of them are located here in Manila hehe!