Our office had its annual trick or treat last week, and I think a lot more kids were spooked this time because there were far more eerie decors set up and some even looked real, pati ako nagugulat!
For this year, our group decided to put together ghosts, bats, giant spiders and skulls in a graveyard setting.  The creative team (hi Ricky, Jen, Myrna and Rhea!) made most, if not all, decors from scratch.  Check them out below:
Cut-out bats from black cartolinas.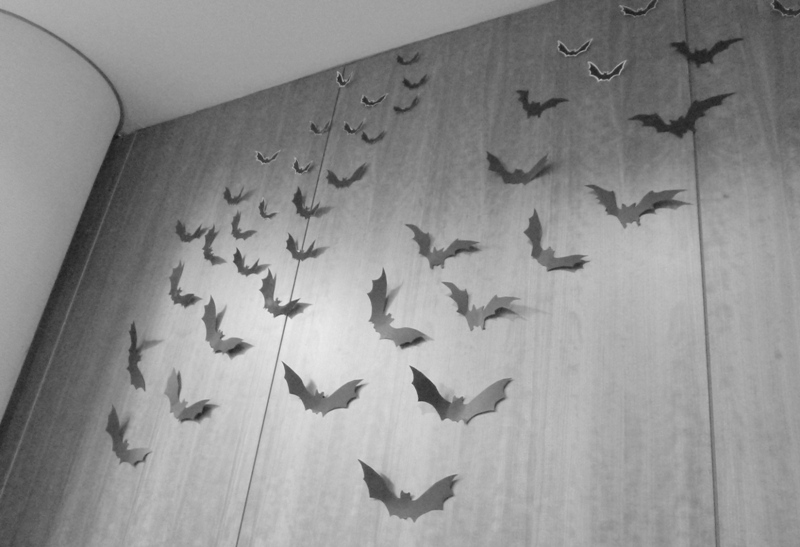 A stand fan was covered with long-sleeved polo to look like a headless zombie.  It moves around when you turn on the fan.  Eerie, di ba??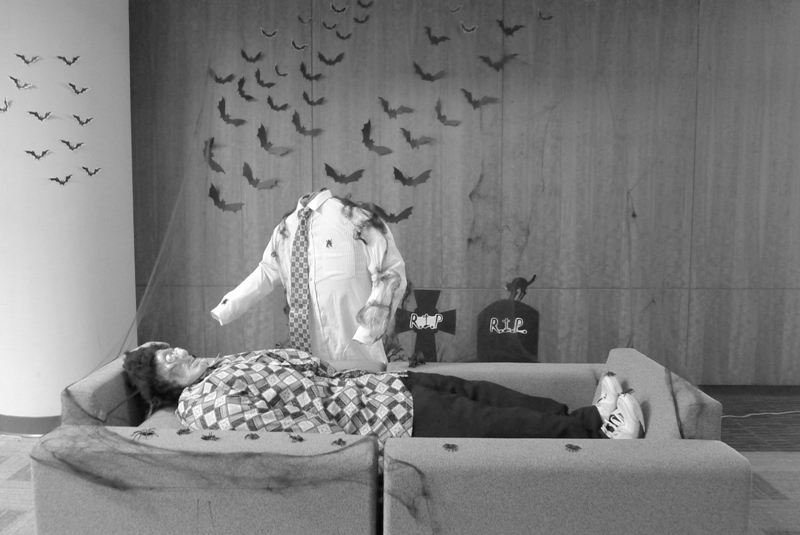 Giant spider made from black garbage bags.  The giant cobweb was made of magnetic tapes (from old compact cassette tapes).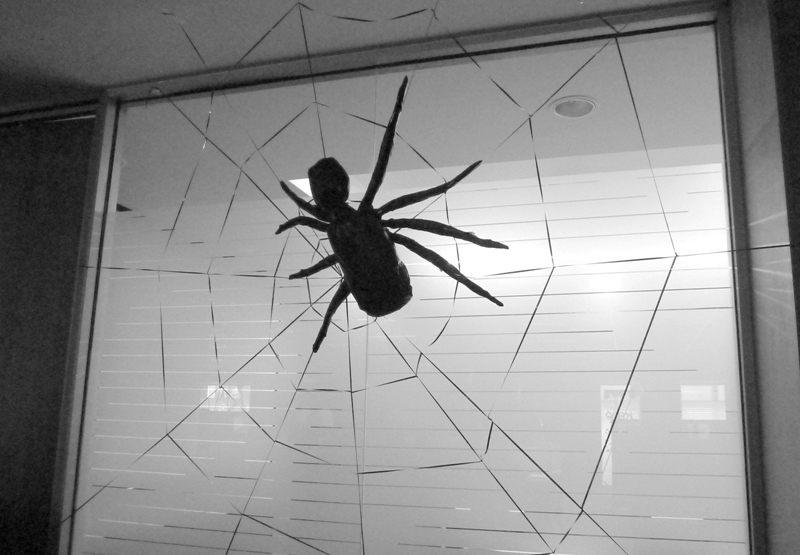 More cartolina and paper cut-outs.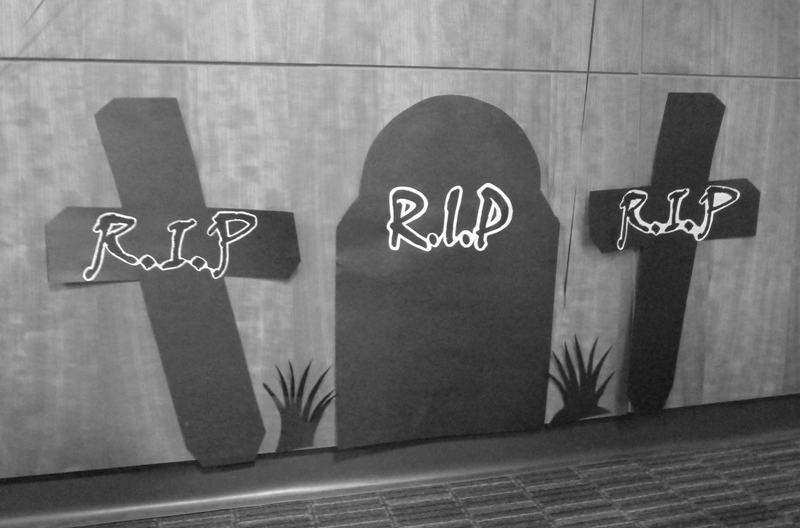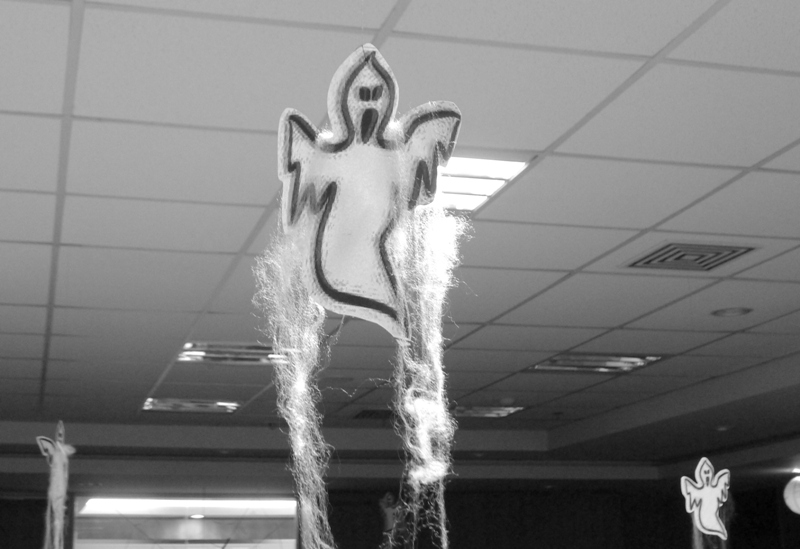 Skull decors bought from National Bookstore.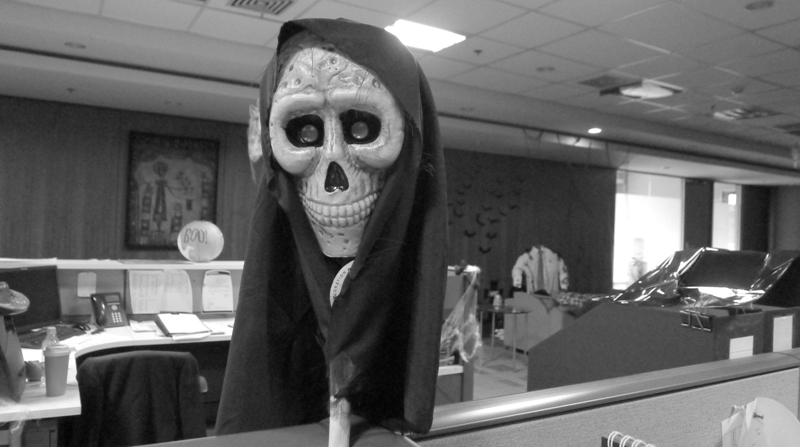 Sorry I had to set my pictures in black and white 'cos I didn't want to scare you hehe!
During the actual trick or treat, the whole room was turned bloody red as all lights were covered with red cellophane sheets!  So scary!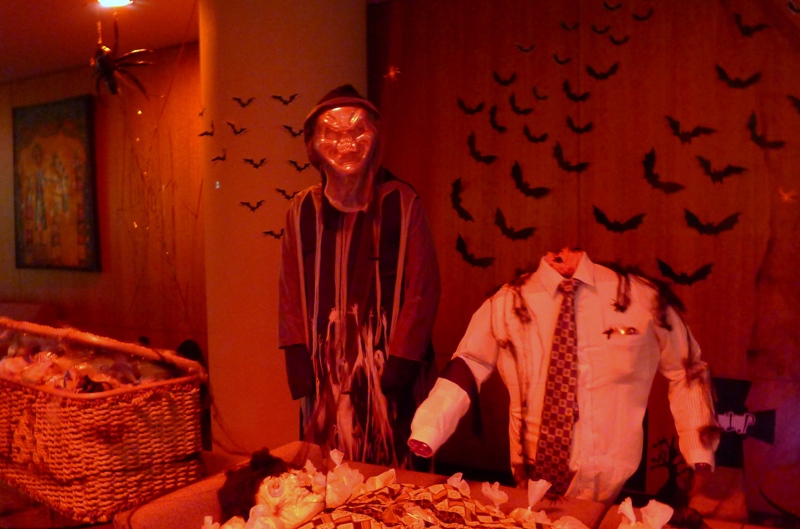 We scattered the candy bags around the zombie (inside the sofa-turned-coffin) and the kids have to be brave and go near it to get their treat.  The guy in black robe and mask is Ted, my office mate, who has fooled a lot of kids (and adults too!) into thinking that he's a mannequin and then he will startle them by suddenly moving his head or hand!
Does our decors look so scary?  Check out this hall that was the grandest among the spooky places in our office last week: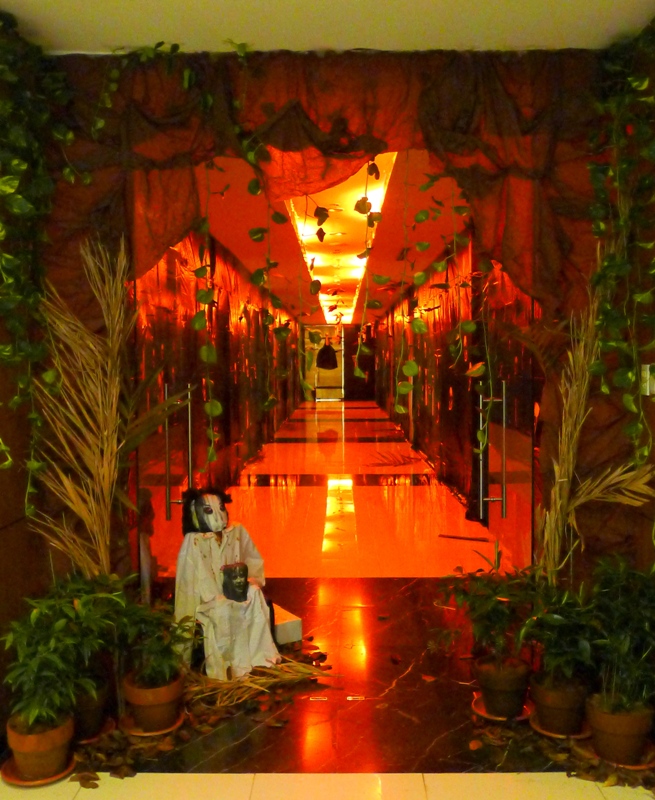 A relief to the treat-or-tricking kids was this Minion dungeon filled with Divisoria-bought Minion balloons…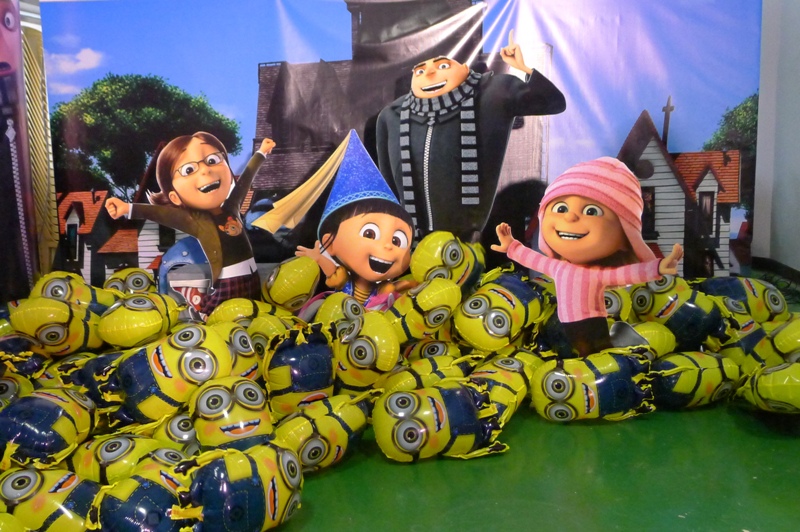 …and this "Frozen"-themed Halloween decors that attracted the little girls: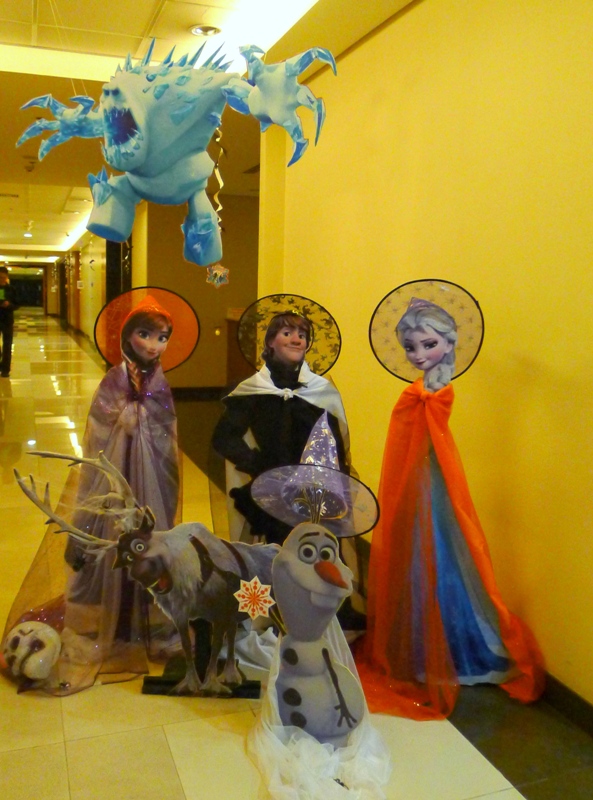 The kids went home with horror stories to share to their classmates and loads of candies, cookies and chocolates to keep them hyper for weeks!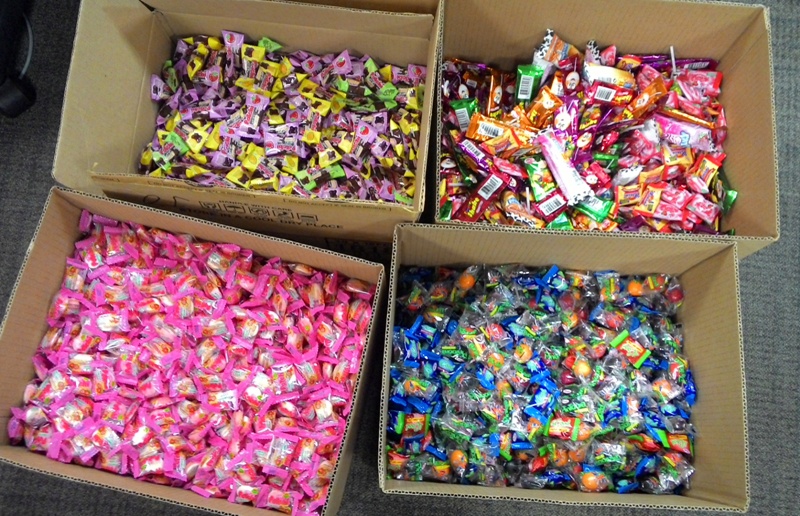 Special thanks to Project C&D for giving us free candies for our trick or treat!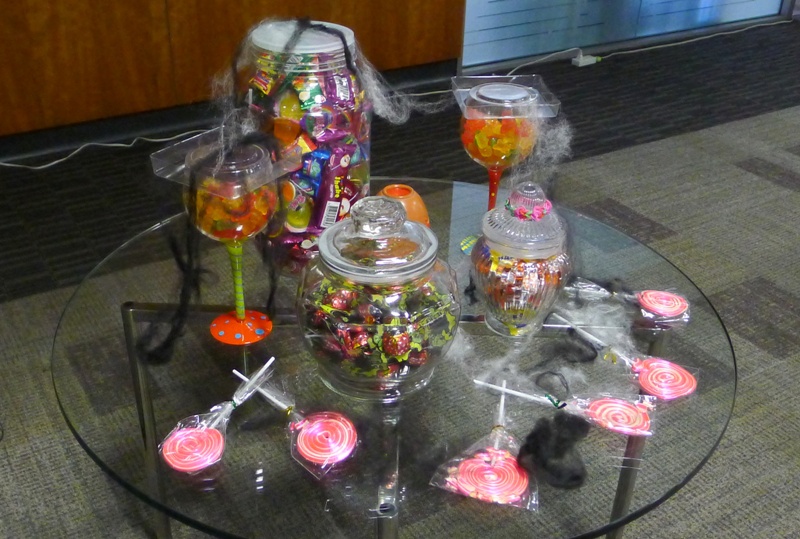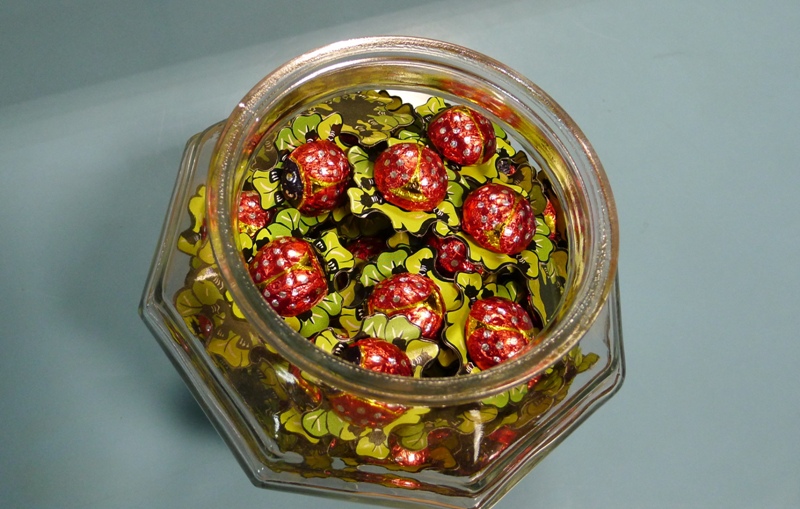 It was a fun Halloween activity but I think we have to go easy on the decors next year k'se baka wala nang bata na pumunta!
(Want to see how last year's trick or treat went?  Check it out here.)