I've just finished doing back-up of my photos from last year's Christmas, and thought of rounding up some photos to summarize everything else that kept me busy during the holidays.  It's not just the holiday feast (which I wrote about here) that made it merry, but the precious time I spent with my  family, good friends and lovable inaanaks!  

Here are some more snippets of my Christmas 2013, which was unexpectedly filled with play time, childlike wonders and amusement.
Doodle time.  My inaanak Maxine loves to draw and she is super talented at it.  Her strokes are flawless, and she can draw from memory.  She drew this Little Pony character on a paper place mat, during our dinner get-together at Zarzuela in Edsa Shangri-La (East Wing).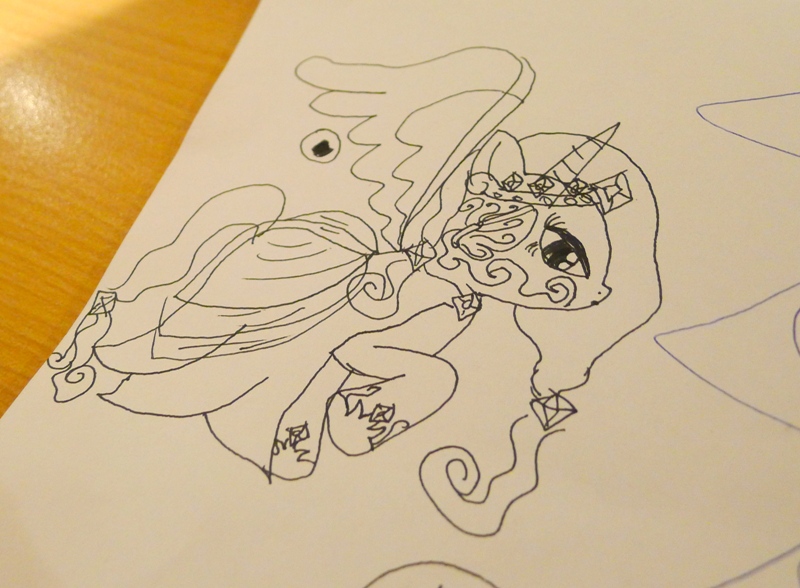 When her mom, Denise, and I got so engrossed with our conversations and catching up, she made this illustration of herself to get her message across.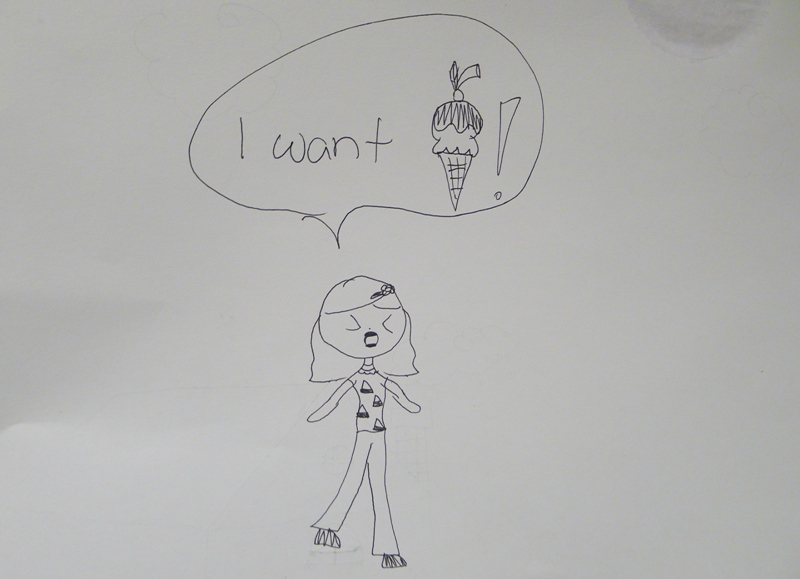 Her attention to details is amazing.  She's indeed wearing a hair clip that day and her blouse has those little triangles.
Maxine at work.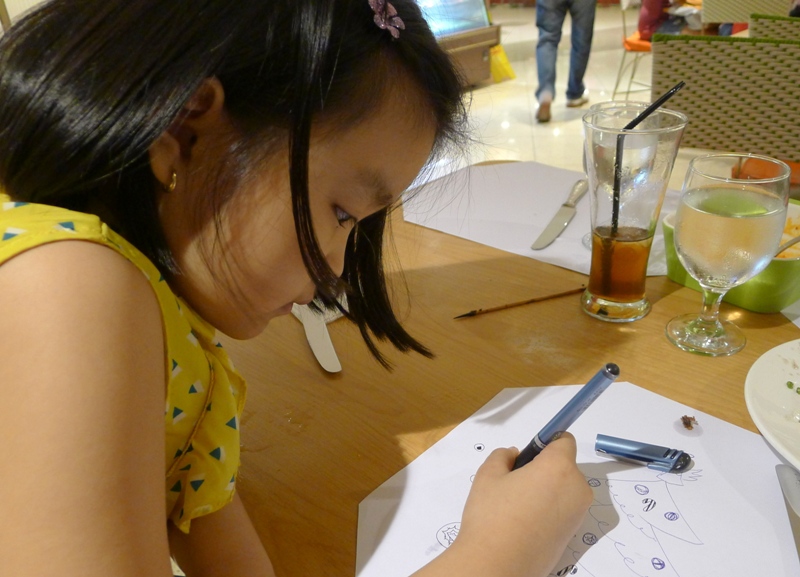 I made this very bad illustration of a Christmas tree, which she prettified and gave life to by drawing candy canes as ornaments, then placed a choo-choo train, some baby dolls and teddy bears under the tree.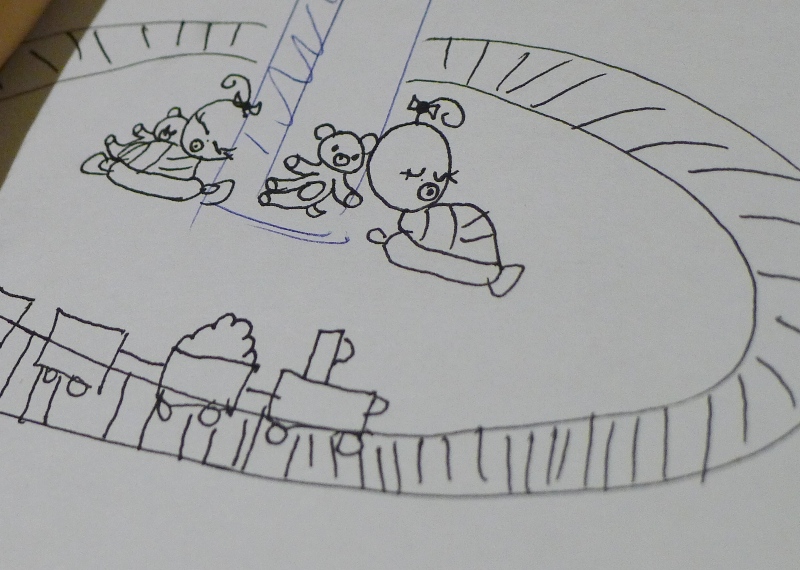 She insisted that I still make some drawings so I did what I do best: lettering.  Here I was copying TWG's logo on another paper place mat (too bad, no picture of my output!).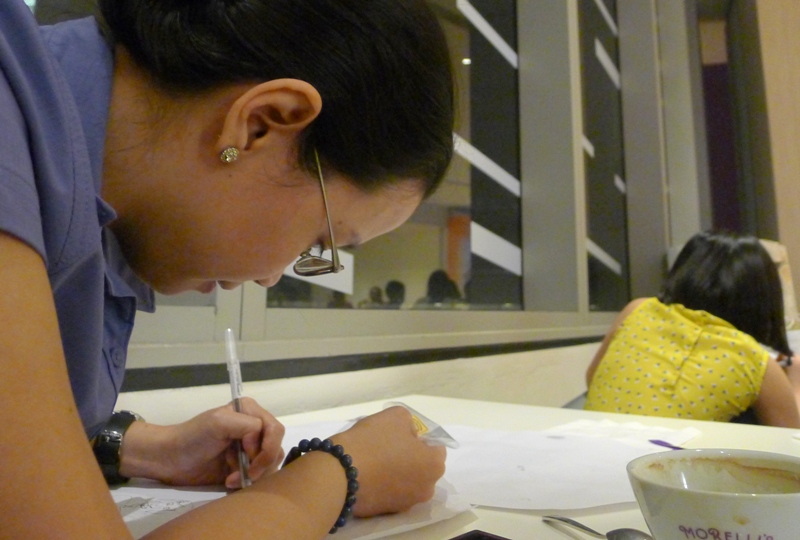 The TWG logo actually came from the bag of macarons that Denise bought from TWG to try.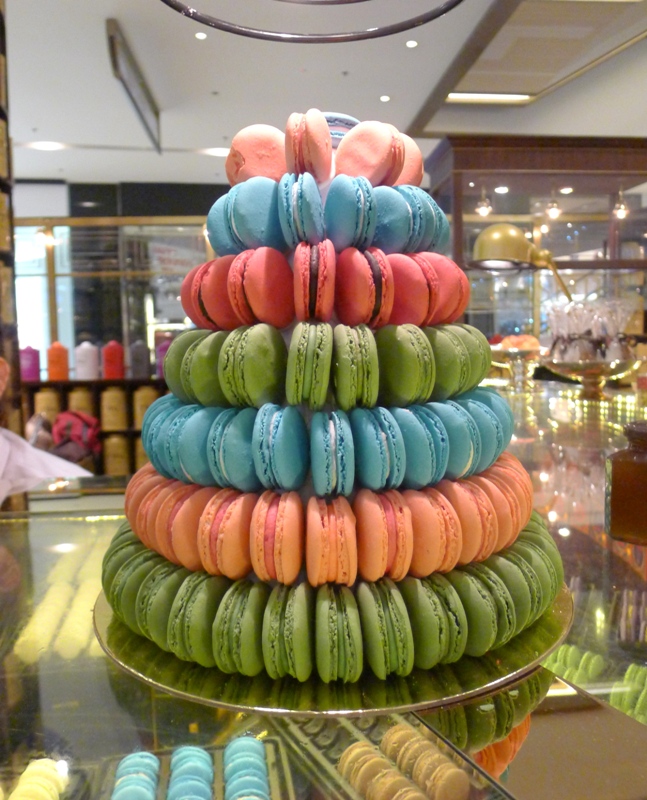 Lego time.   Who doesn't love Lego??  AJ and I were like kids again when we played with these Lego blocks at Hobbes and Landes along with Maxine, her baby sister Raine and dad Roy.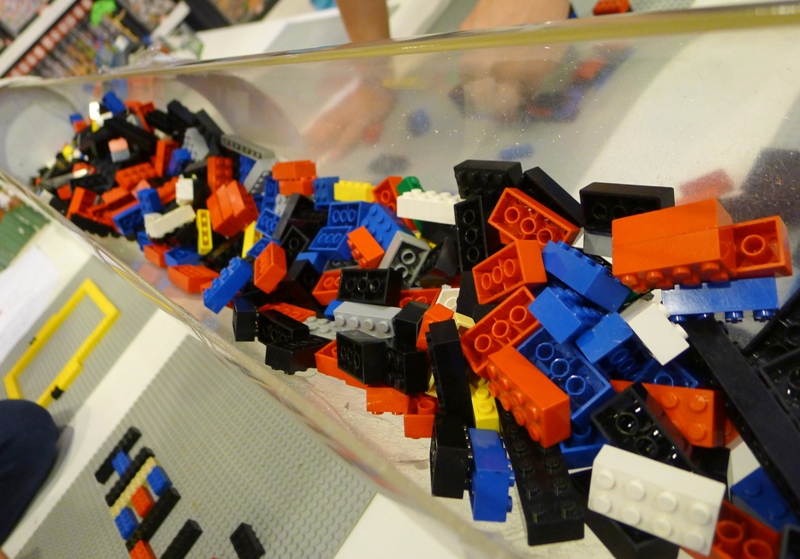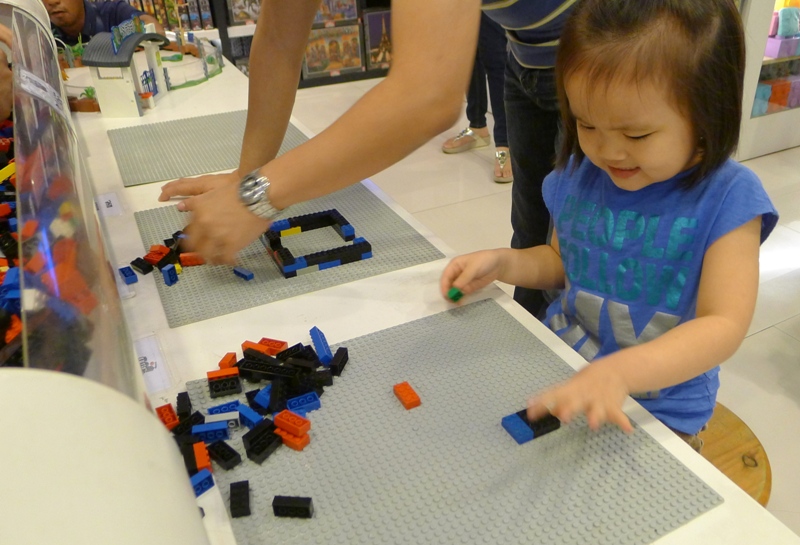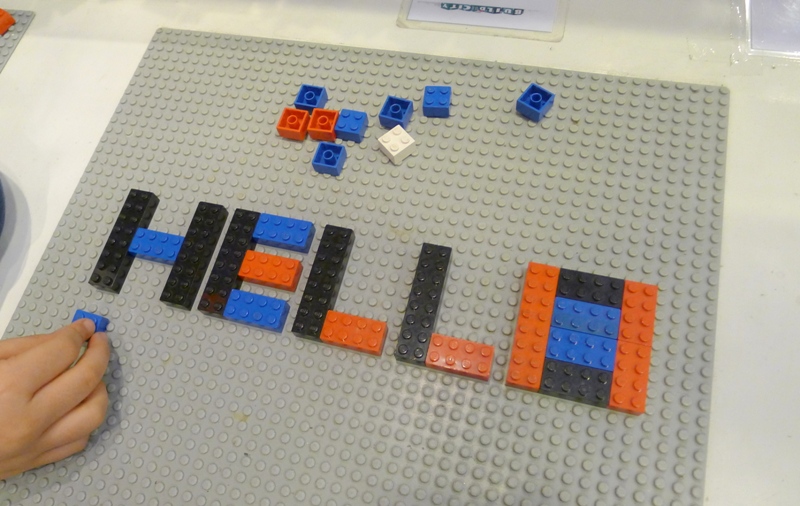 Happy Eaters.  My other inaanaks, Taddy and Toby (or is it only Toby, I'm confused na haha!) are not only happy eaters but super kenkoy on camera as well.  That's why I love taking pictures of them!
AJ and I met with them and their mom, Chel, at Maple in San Antonio Plaza, Makati.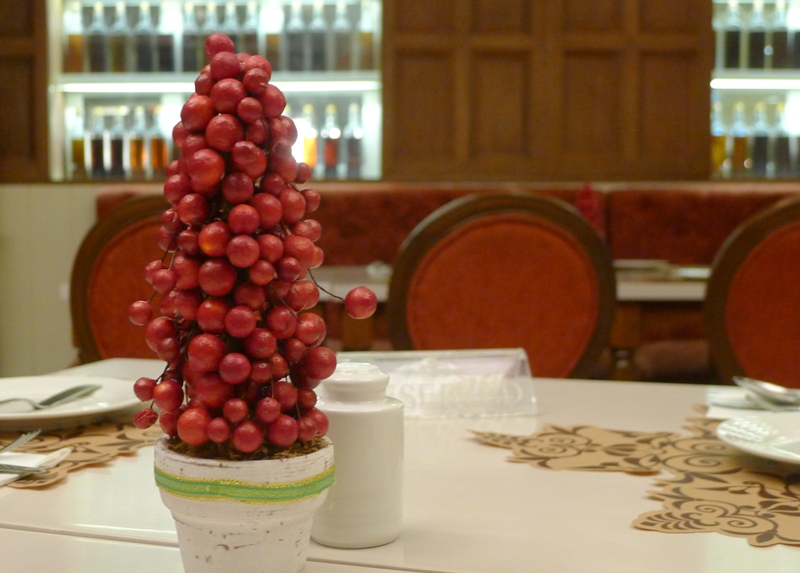 Taddy had the Drippin' Baby Back Ribs, while Toby shared the Chili soup with their mom, Chel.  These boys sure know their food!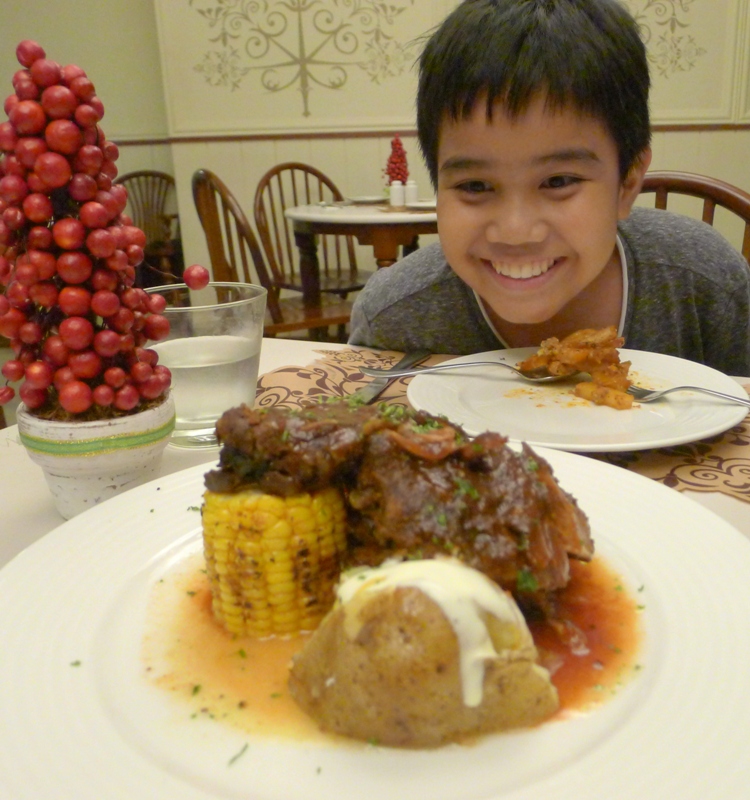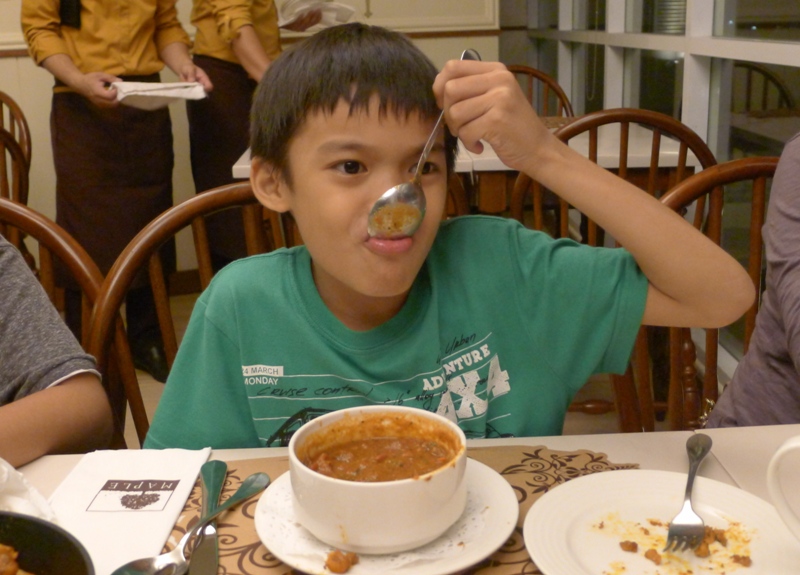 Xbox time.   Chel and the boys almost spent the night at our apartment because we got high playing with their Xbox!   I asked her to bring the whole apparatus at the apartment one night, and before I knew it, everyone was busy playing bowling, then boxing, then danced the night away – with Xbox!  My brother, Juvvy and baby Liam joined in the fun too!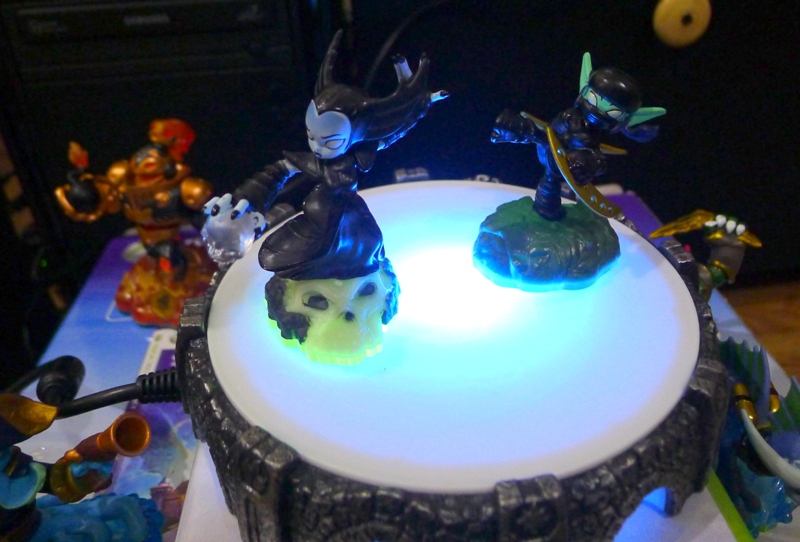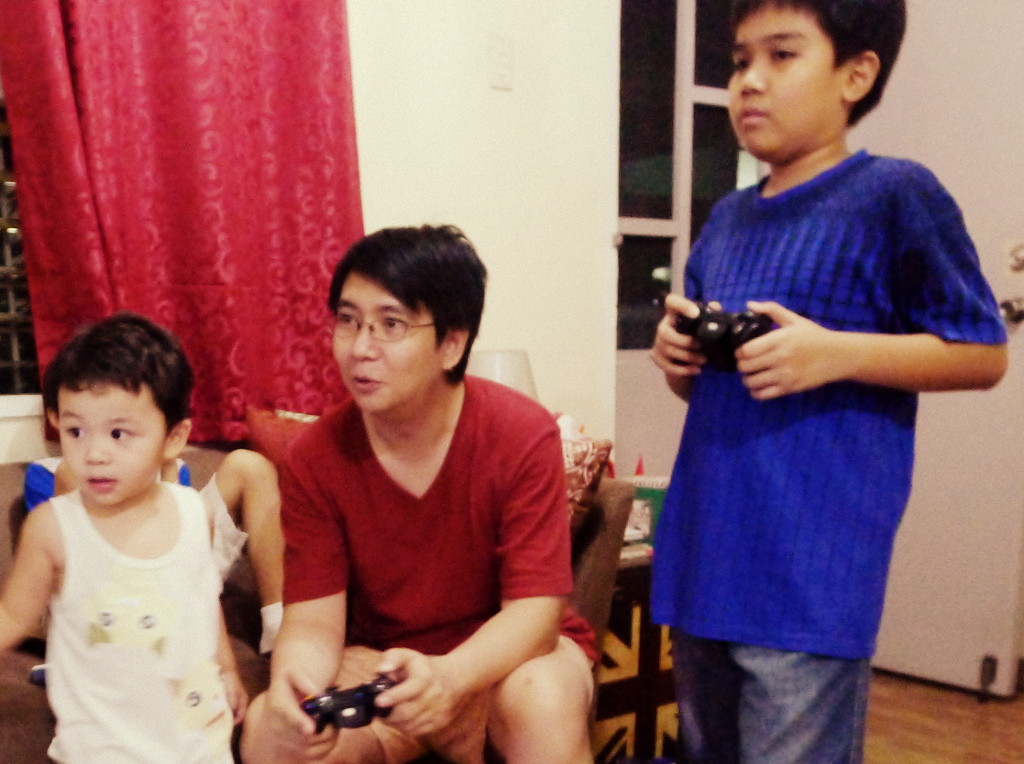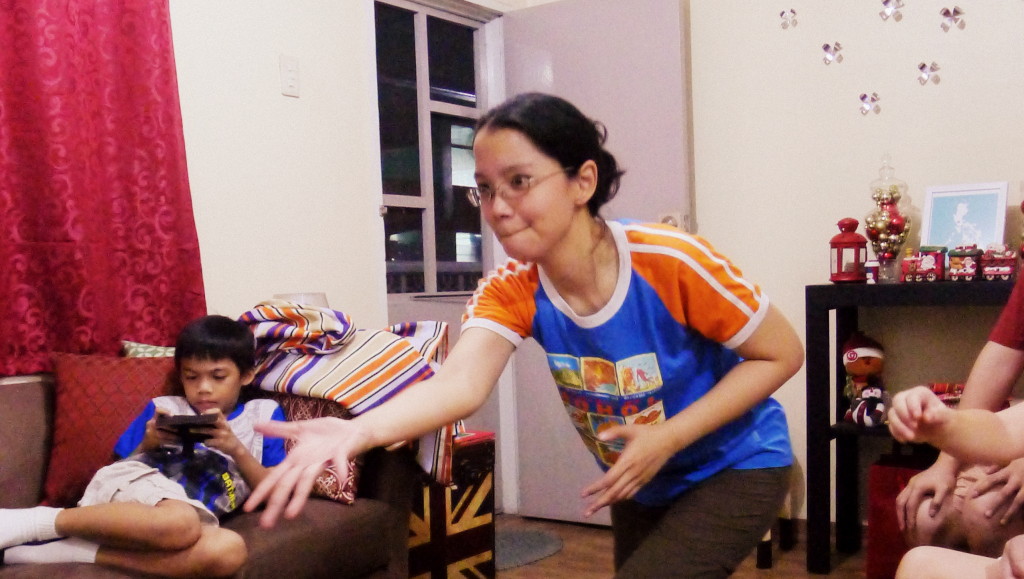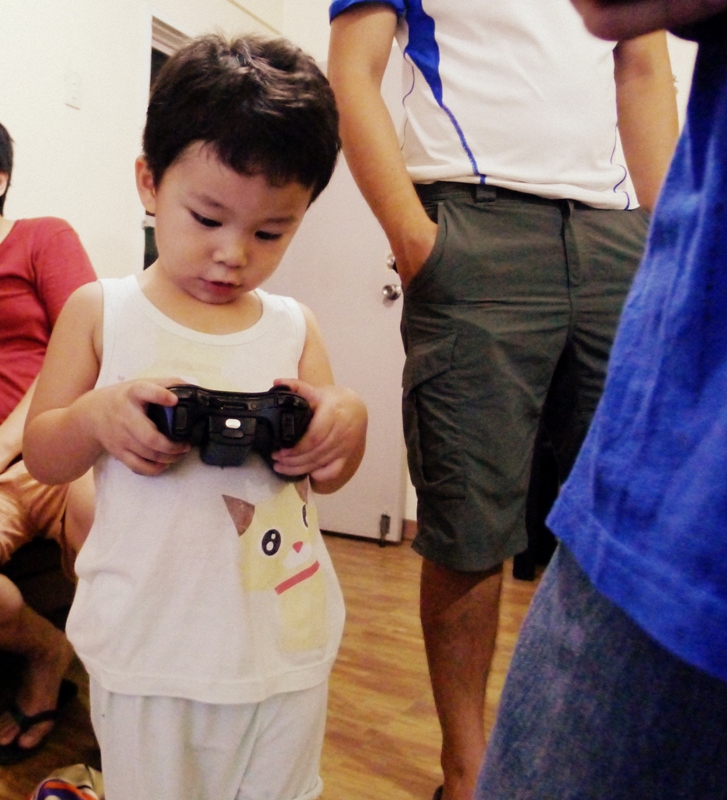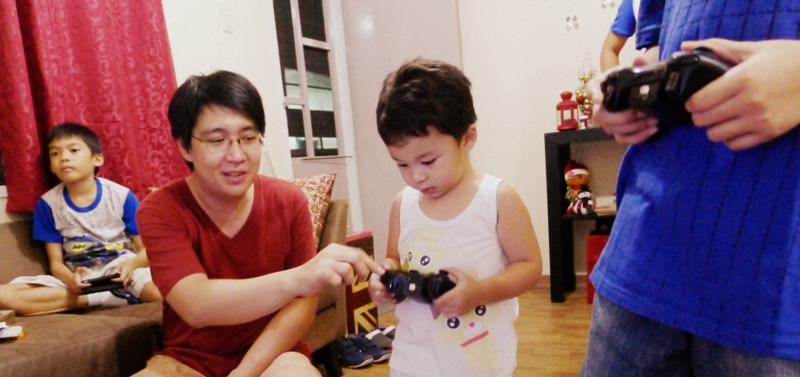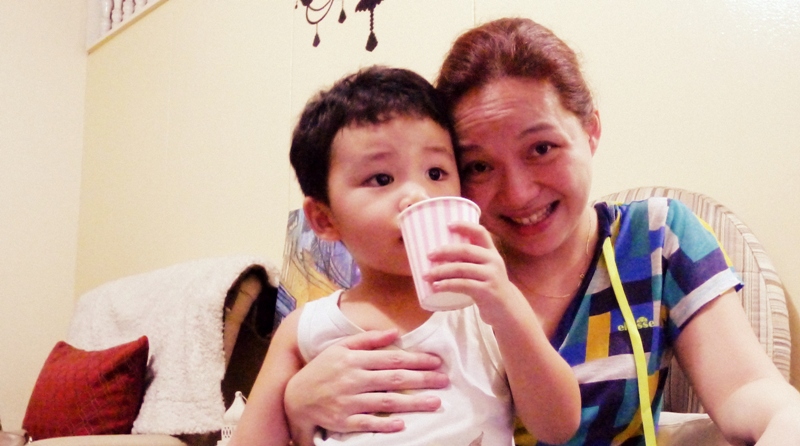 Water Spa time.   We also spent a lot of time at ACE Water Spa (at Pioneer Street, Pasig City), but I wasn't to take photos of our trip there because the establishment's very strict about taking pictures of the pool area.  But on our way there one morning, AJ and I discovered the Vietnamese drip coffee at Highlands Coffee.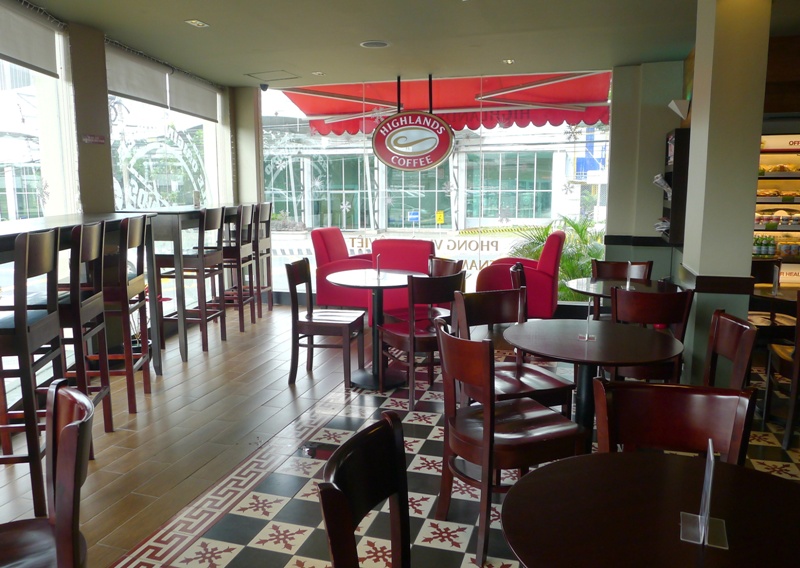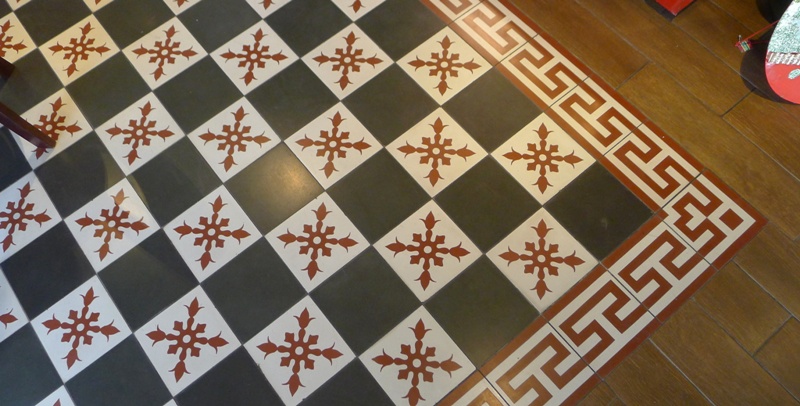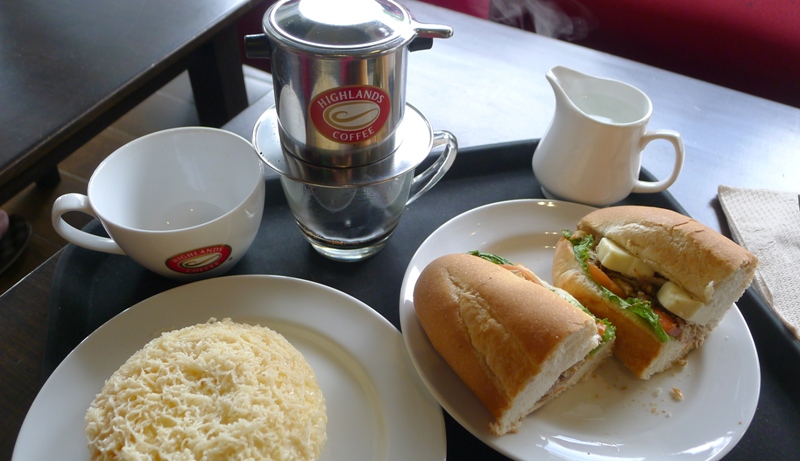 I've previously blogged about this special coffee from Vietnam, which my good friend Pia taught me how to make.
Be prepared to experience palpitations after finishing this coffee, as it is really intense and packed with loads of caffeine.  It will probably keep you awake until the next day (joke!).  Anyway, I shared a cup with AJ who enjoyed it as well.
On the other hand, the breakfast food that we ordered there were both sablay.  We couldn't understand the taste of their cheese ensaymada and the cold adobo sandwich was just so-so and bland.
Hello Kitty time.  I thought there's much to see at "Around the World with Hello Kitty" in SM Megamall but these are just what I saw.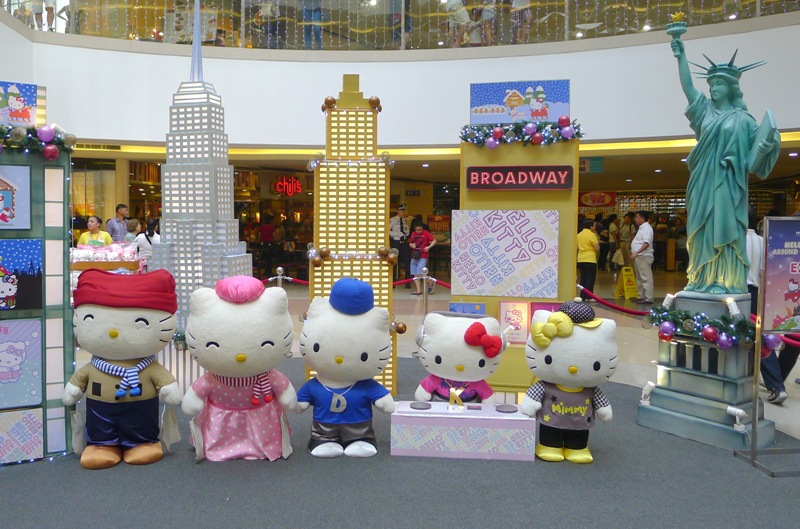 I also missed the meet-and-greet with my favorite feline in the world: Hello Kitty! No regrets, though.  Seeing these cute giant Hello Kitty dolls are enough to complete my trip.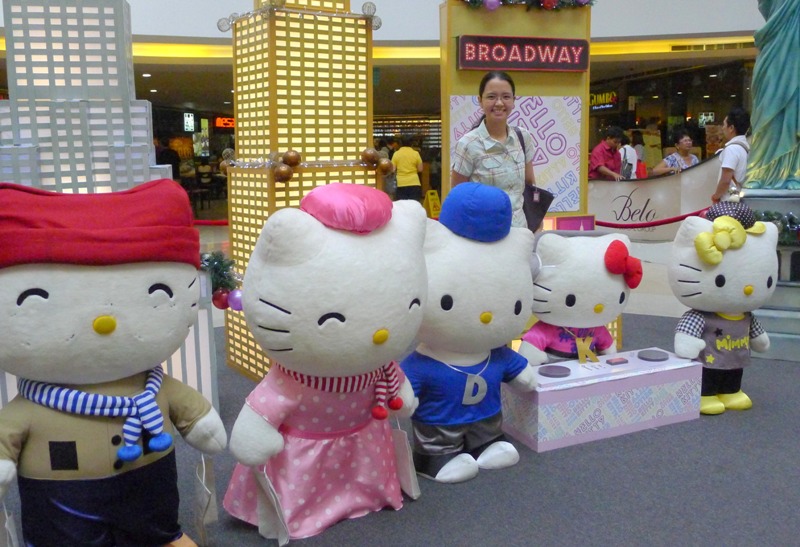 Ba't ba wala pang ganitong toys nung kabataan ko?  Hehe!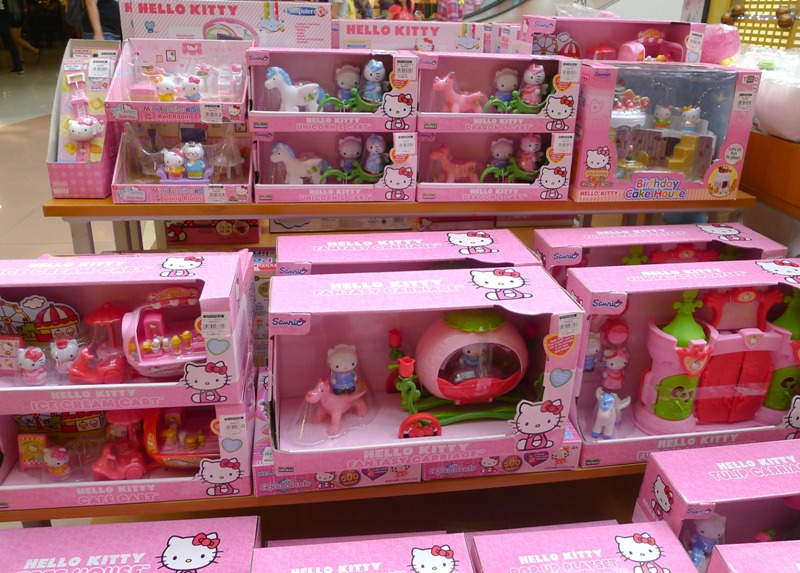 Play time of Liam and Aki.  Lastly, there's the play date of Liam and Aki (the adorable kid of Mommy Maqui!) that finally happened last December 29!  I was there and documented everything with my camera.
So happy that my nephew Liam has a new friend in Aki!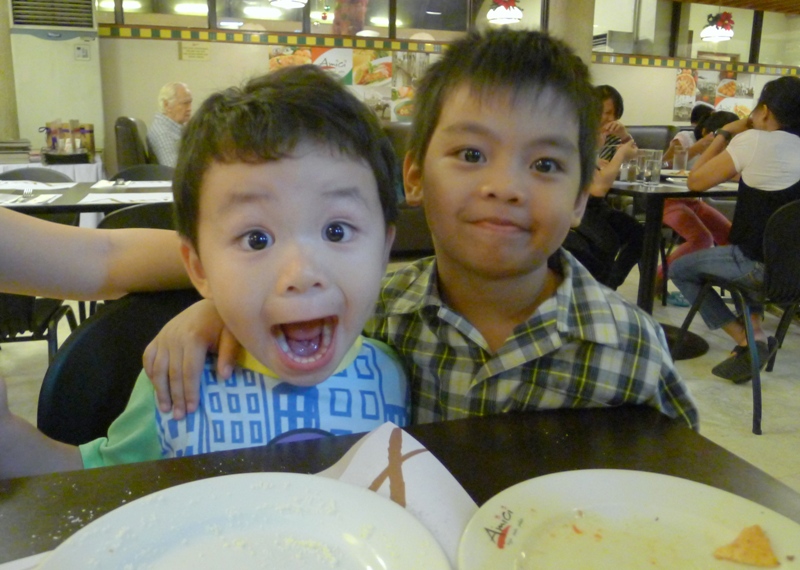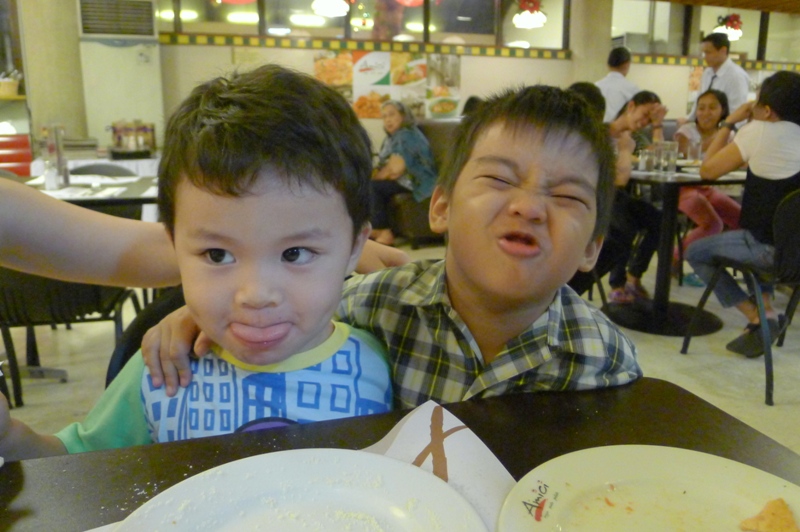 Thank you guys for having me in your fun meeting!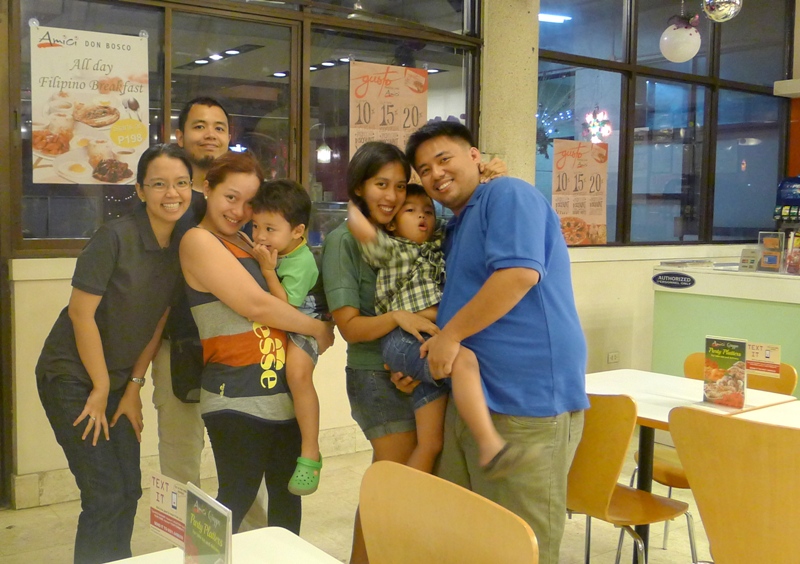 My 2013 Christmas was generally low key (in terms of the preparations that I made) but it was equally as wonderful as my past Christmases.  I guess it's really about having a great time!  I may have cut back on hosting small parties at home and just planned everything spontaneously during the holiday season, but everything still came out fantastic!
The moon is right, the spirit's up, we're here tonight and that's enough.  –  from the song "Wonderful Christmas Time" written by Paul McCartney