I had so much fun with our DIY tea party at home last year – the preparations and all – so I promised myself I'll do another small party this year.  My good friend (and also my kumare), Chel, suggested that we hold an Ice Cream Party at home.  That was some months ago but we were able to finalize the date only last July during our trip to Gourmet Farms.  The ice cream party was set on August 18th.
I made it my assignment to find a "theme" for our ice cream party.  I didn't tell Chel about this.  It was my surprise to her, Nic (her hubby) and the kids (that's Taddy and Toby).   My inspiration was this dessert table at Chase's nautical birthday party: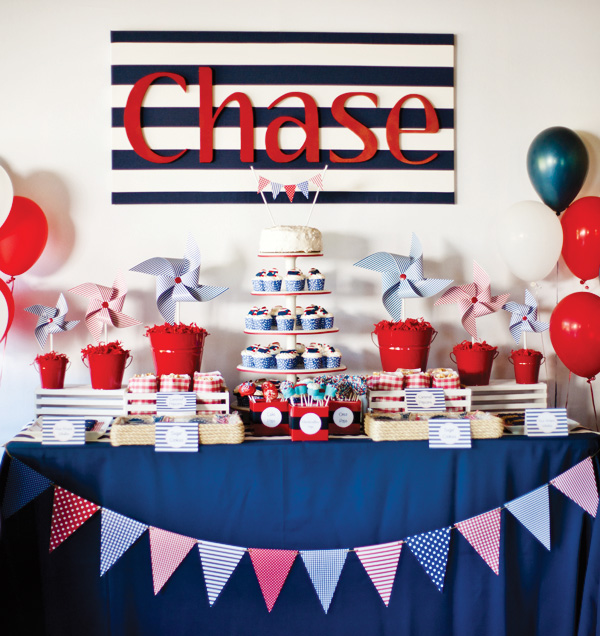 Thankfully, or rather, coincidentally, most of the party and craft supplies I've collected these past months have red and blue colors in them!  It was also a much awaited opportunity for me to play with my washi tapes!  I've been reserving the use of these fabric-based washi tapes that I got from 168 Mall for "special occasions" and here is one, finally!
I chose not to totally copy my "peg", and just worked on what I have at home.  I didn't even buy ice cream sundae glasses.  I used the ramekins and mini bowls we have here.  I had planned on making a bunting but never got around to that because I kept on forgetting to buy blue and red craft papers whenever I'm out.
Still, the result was a homemade, DIY Ice Cream Party that was a labor of love from me, AJ and Chel, who helped in the preparations.
And so, without much ado, here's how our dining table looked like during the ice cream party last Sunday: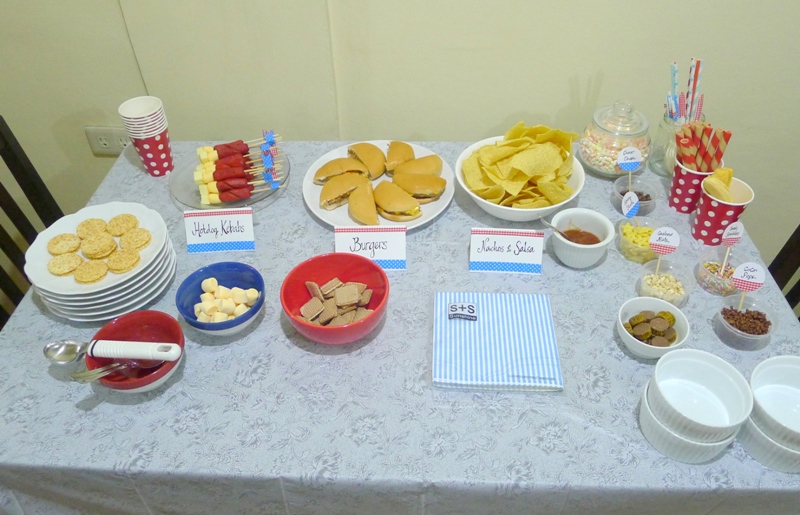 For our finger foods, we prepared Hot Dog Kebabs (with cheese cubes, mango marshmallows and cocktail hotdogs); Burgers (they're actually Cheeseburgers from McDonald's) and Nacho Chips with Salsa (bought from Gourmet Farms).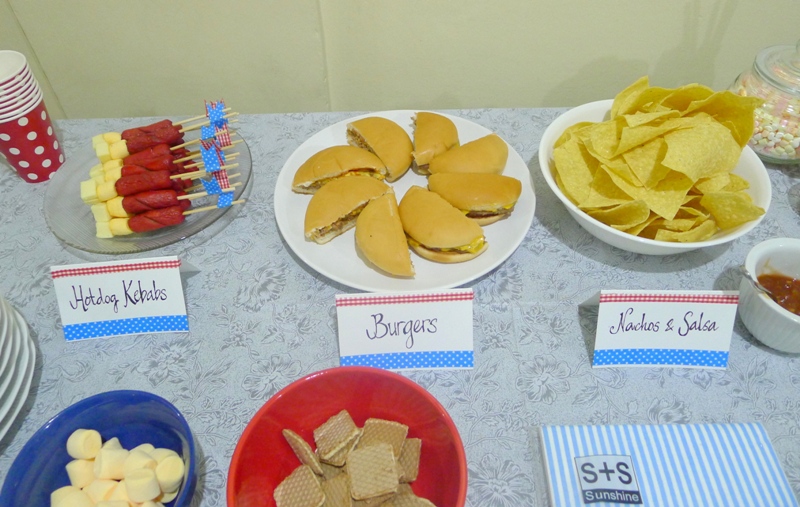 The Ice Cream "Corner":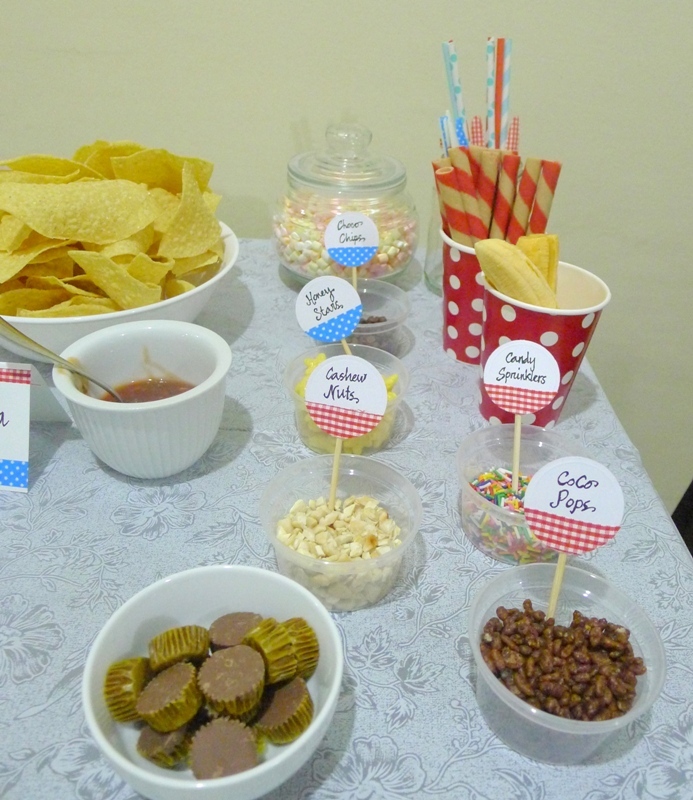 Our ice cream toppings:  chocolates, mallows (in the clear jar), fresh bananas, cashew nuts, cereals and wafers.  Half of these were sponsored by Chel, hehe!
Our adult guests loved the party props so much, it took a while to convince them to finally eat what's on the table, hehe!  The kids, on the other hand, were already requesting for the ice cream!
Chel liked the flags on these Hotdog Kebabs.   I made them out of the washi tapes from 168 Mall that now have a cult following in my blog, haha!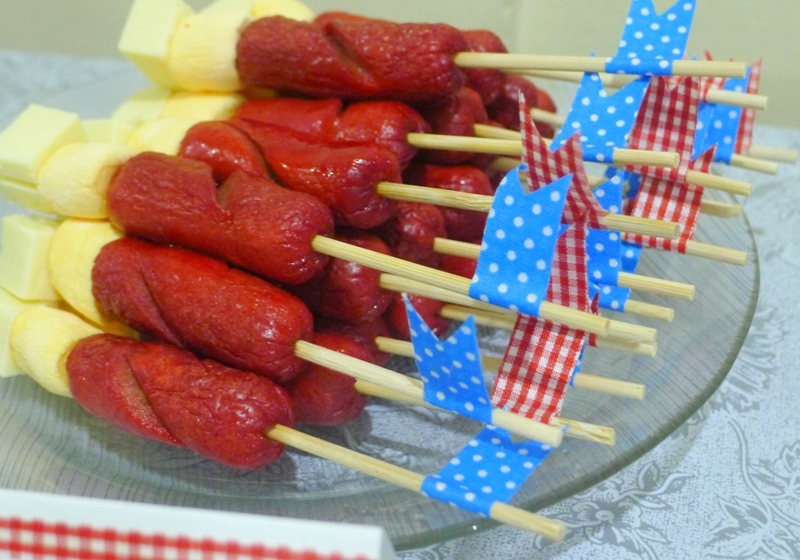 Oh, by the way, the mango marshmallows we used were so good!  I got them from the Landmark Supermarket.  If you love mangoes then you'll love these, definitely.
I also used the washi tapes to create these borders for the food and toppings tags.   Pardon my handwriting; I did the labeling last (when all have been arranged on the table) and my hands were pasmado by then, hehe!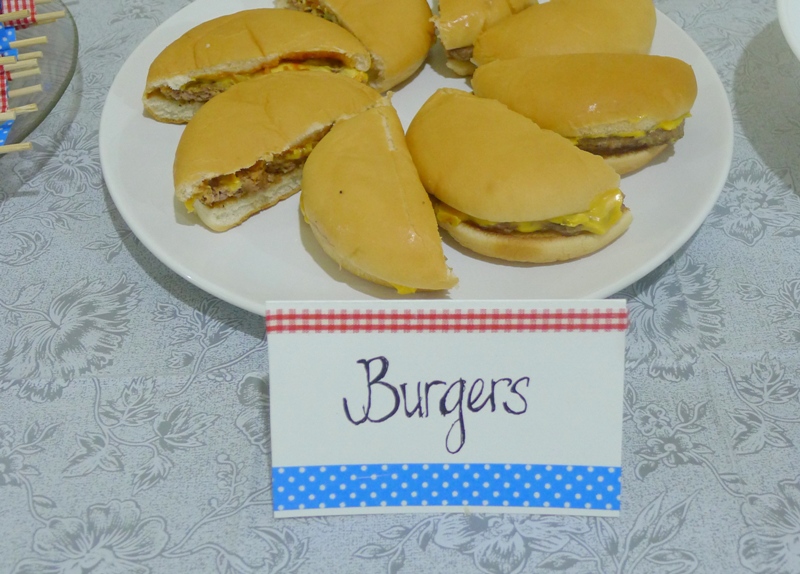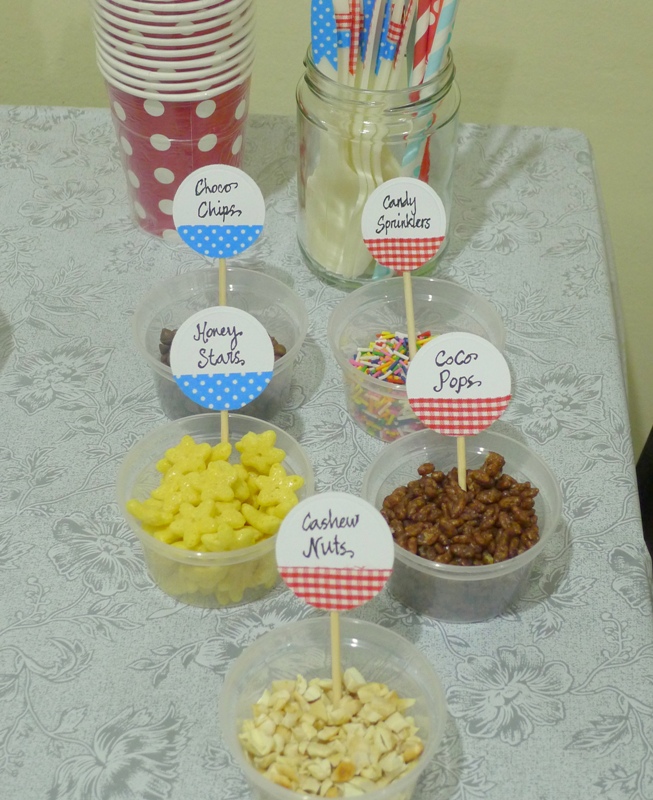 (Opps, I spelled "sprinkles" wrong there, hehe!)
Washi tapes were also applied in these spoons made of Bio-plastic (made of natural raw materials, primarily corn and yam starch).   I chose these over wooden spoons (which are actually cuter) because I can't find one at the grocery that says "no dyes or bleaches used".  Anyway, I think this one turned out just fine.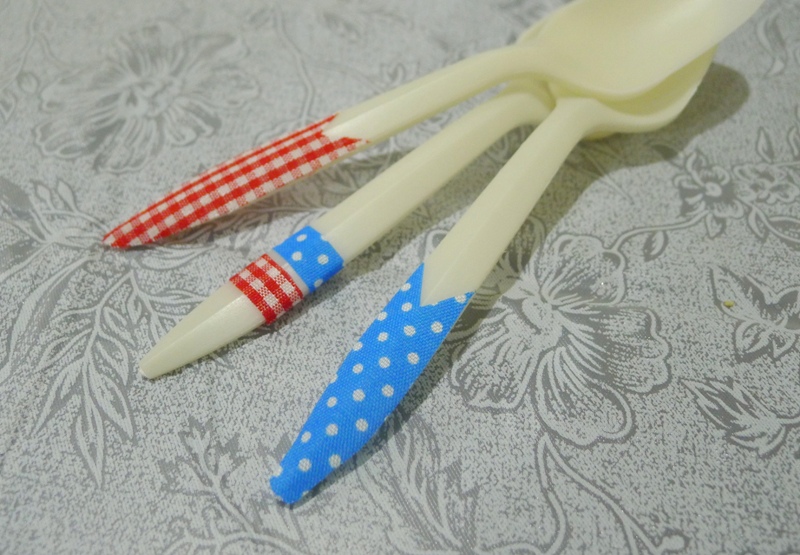 I didn't have a hard time working on the washi tapes, not even in the spoons.  But you might get annoyed by the adhesive tape used here which leaves some stickiness to your hands.  Just wash them with soap and water; that'll remove most of the adhesive from your hands.
For our other party needs like paper cups and paper straws, I used the supplies I bought from Paper Chic Studio.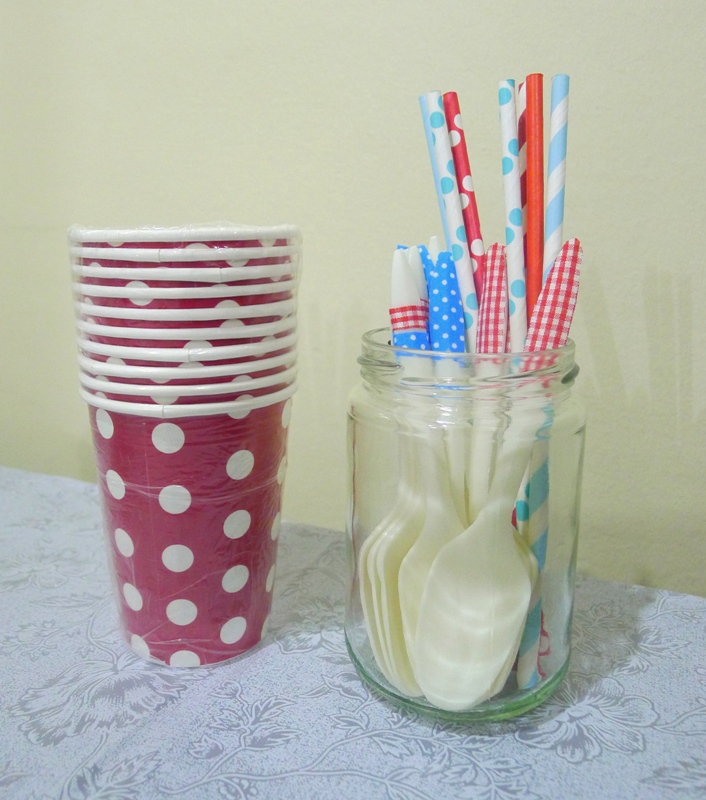 The clear glass jar containing the paper straws and Bio-plastic spoons used to be our Speculoos Cookie Butter jar. Talk about up-cycling!
Awright, let's get the ice creams!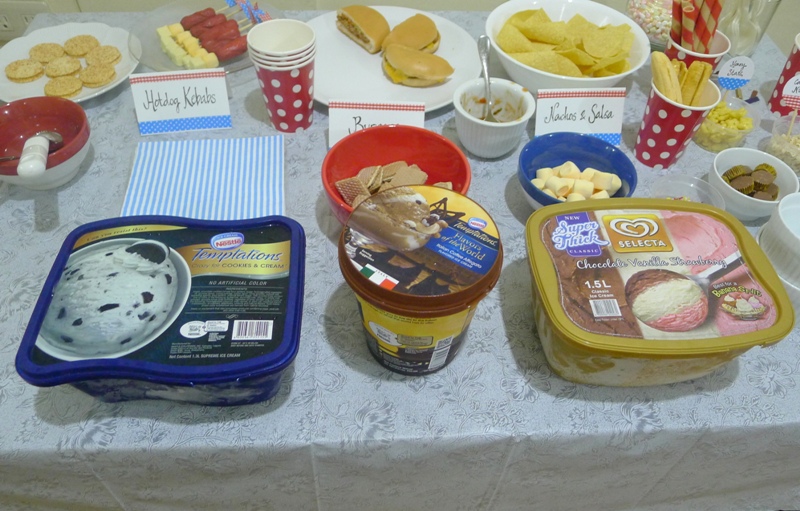 We bought the 3-flavored Selecta Ice Cream (Chocolate, Vanilla and Strawberry) and Chel brought 2 premium ice cream flavors from Nestle:  Cookies and Cream and Affogato (because I love coffee, hehe!).
Taddy and Toby chose the Selecta Ice Cream, and filled their ramekins with their favorite toppings to create their own ice cream sundaes.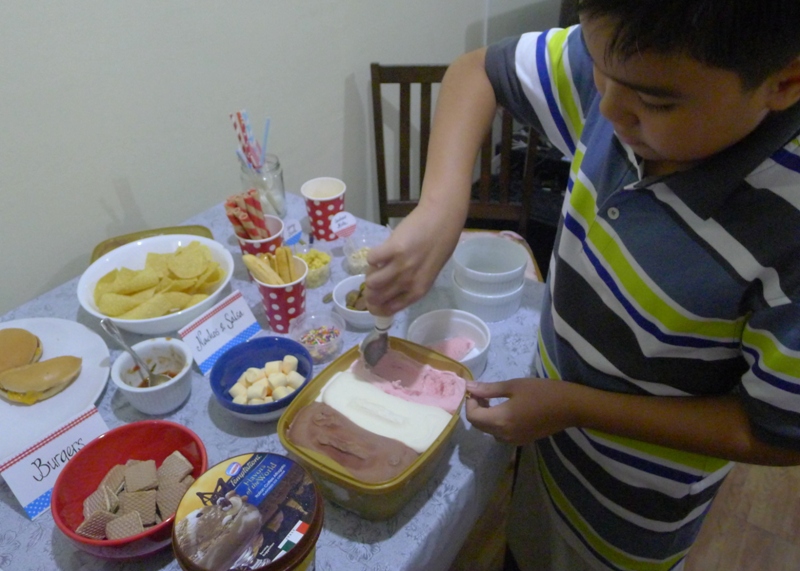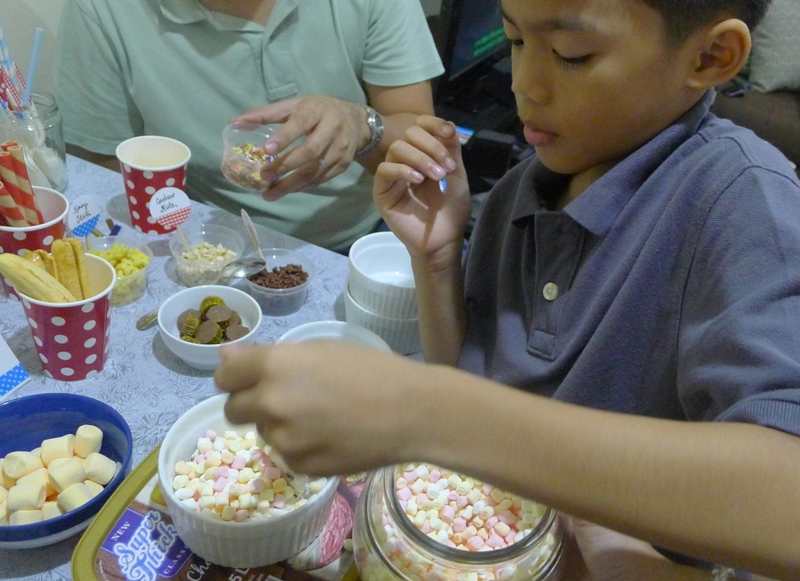 We adults, on the other hand, preferred Nestle's premium ice creams.
Our Ice Cream Sundae creations: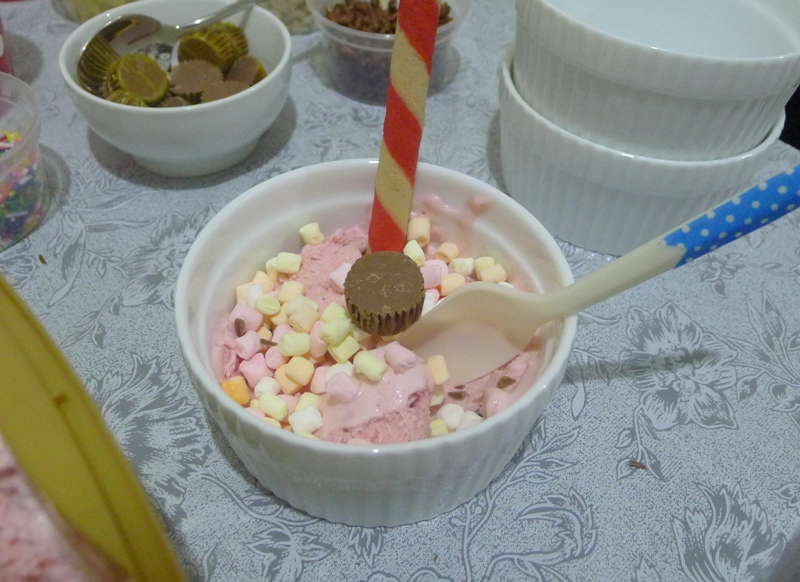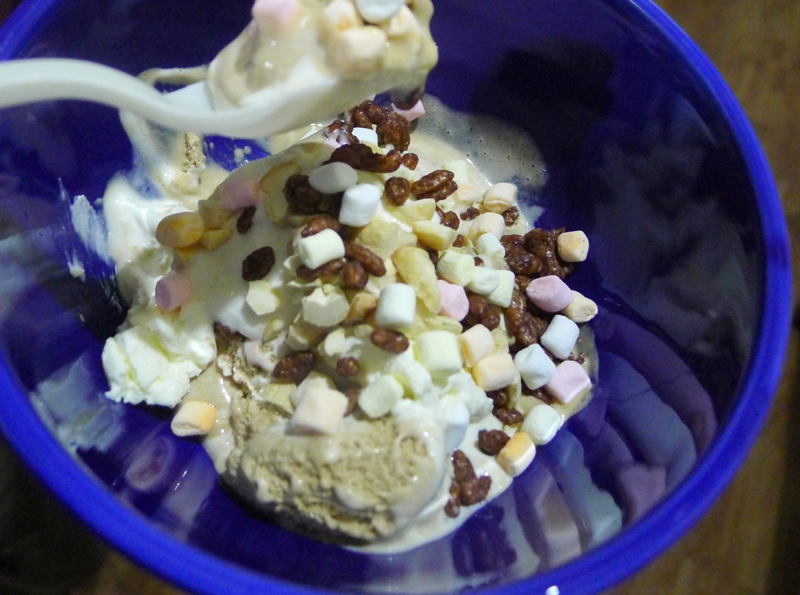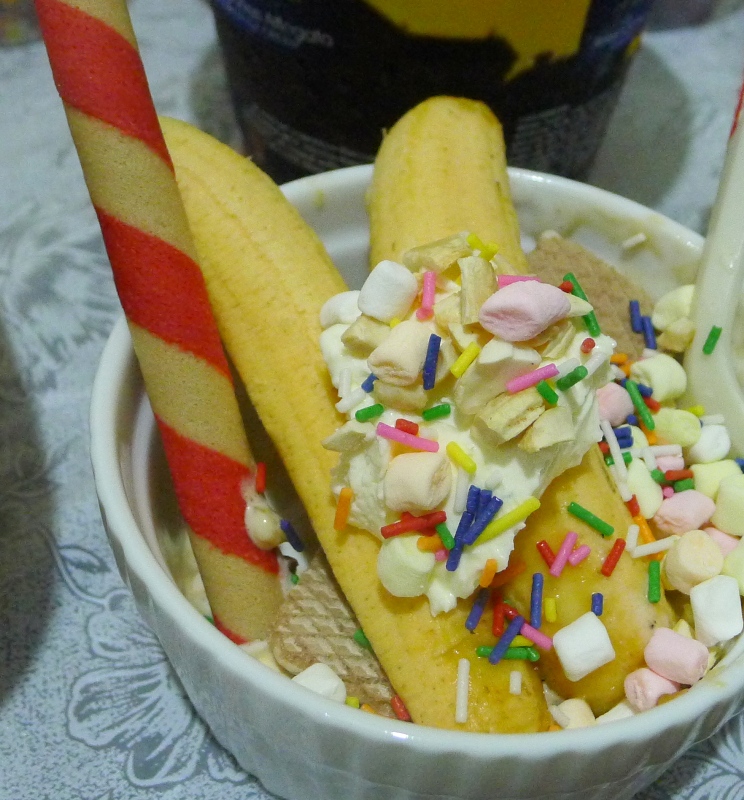 The first picture is Toby's, the second (in blue bowl) is mine, and the prettiest one in the last is made by Chel.
I didn't realize that ice cream parties could be this fun!  I enjoyed decorating my ice cream, but enjoyed eating it more!
Of course, with a good bowl of ice cream comes a nice, warm cup of coffee after.  Chel and Nic liked the Nescafe Dolce Gusto coffee we prepared for them.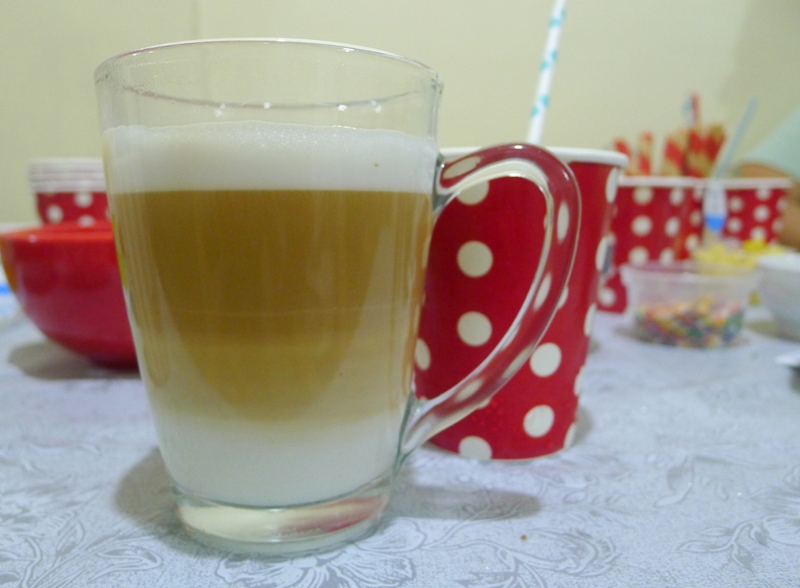 The frothy milk of the Cappucino enticed Chel to make a "coffee art" out of this cup for Nic.  How sweet!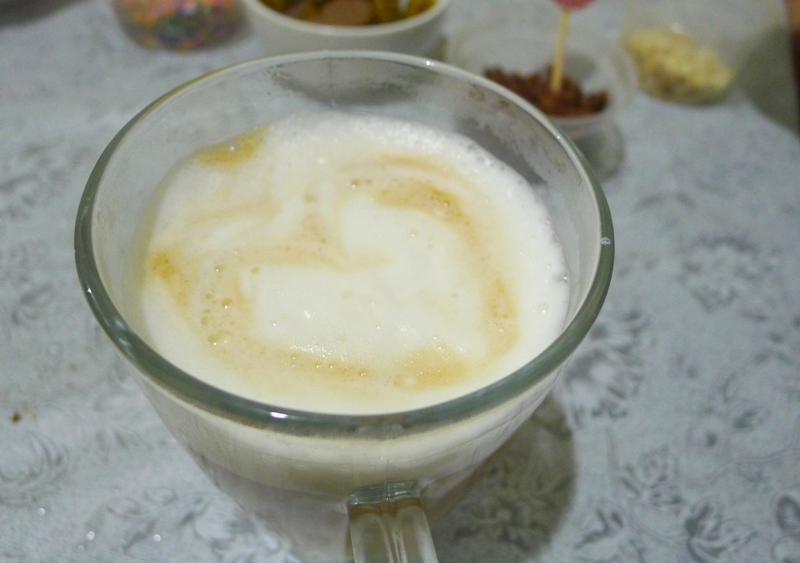 These lemon cookies from Swiss Delice are so divine.  Thanks Chel for introducing us to these premium cookies!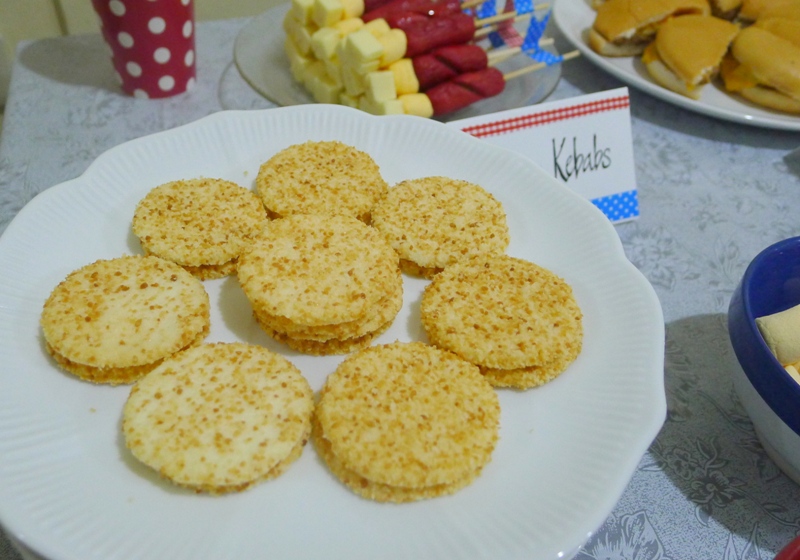 It was truly an enjoyable night full of stories, jokes and ice cream, of course!  It brought back memories of summer where all we want to eat is something cold.  It made us forget of the time and the weather that was already getting bad outside!
Thank you Chel, Nic, Taddy and my inaanak Toby (who, like me, also loves to draw!) for joining us!
And THANK YOU too for the advance Christmas present.  You really know me and AJ!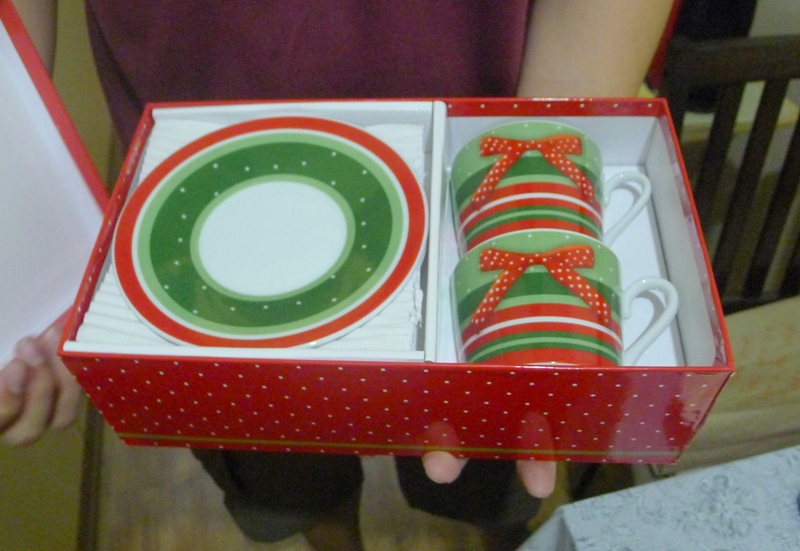 Indeed, this Christmas season, our cups of coffee will never taste the same again  =)