Hello, I'm back!   Guess what I did during my month-long absence from blogging?
Clue: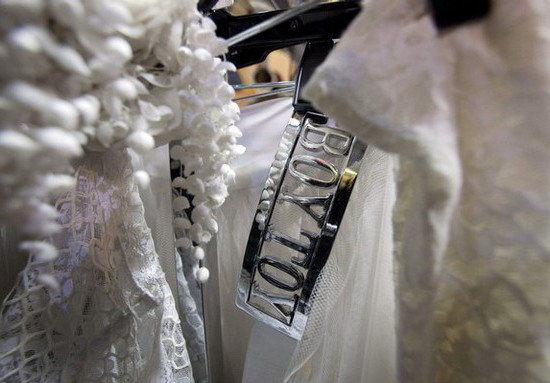 Our office celebrated its 80th founding anniversary last week, where we had activities lined up for both employees and our stakeholders.  The most anticipated activity was of course the Employees's Night which took place last Friday (May 26) at the PICC.   The theme was the 80's, and the highlight of that night's programme was the dance competition between the different functional groups.
We were divided into four (4) color teams for this competition: Red, Pink, Orange and Violet Teams. I belong to the Red Team. We named our team "Bravehearts" – red being the color of heart while the other teams came up with equally creative names like "Victorious Secret" (Pink Team), "Orange Crushers" (Orange Team) and "Ubey-B Baby" (Violet Team).
Our team's dance concept was 'Hits of the 80's'.  We are fortunate to have super supportive (and generous) bosses who got us a very professional choreographer.  We chose songs from Madonna, Michael Jackson and Rick Astley. Van Halen's "Jump" and Spandau Ballet's "Gold" also made the cut.  We were allotted only 8-minutes for the entire performance so even the simple task of picking the 80's songs (to perform) was critical already.
Anyway, I was part of the dance team because it was a requirement, hehe!  I was excited for this new role though, because in the past years I've always been the team coordinator who took care of the participants's food, rehearsal venue, dance practice schedules, etc.  This was actually a welcome change for me.
But what I wasn't anticipating was that I will be assigned to dance to Madonna's song, "Like A Virgin"!  I researched the video, and I knew I couldn't do the sexy moves she did there haha!
Thankfully, the dance steps turned out to be cute and easy to memorize.  Plus, I will be dancing with 2 other girls from my department so okay na ako.  But here came another challenge and that was to replicate Madonna's iconic bride look for "Like A Virgin":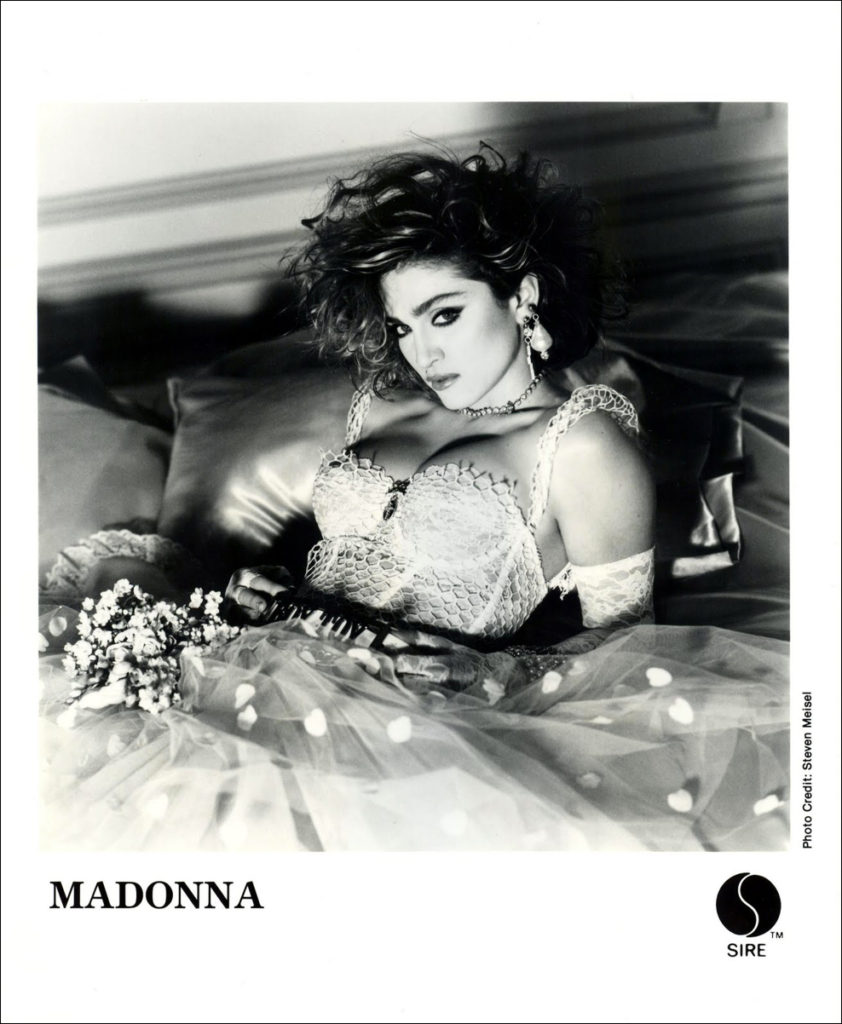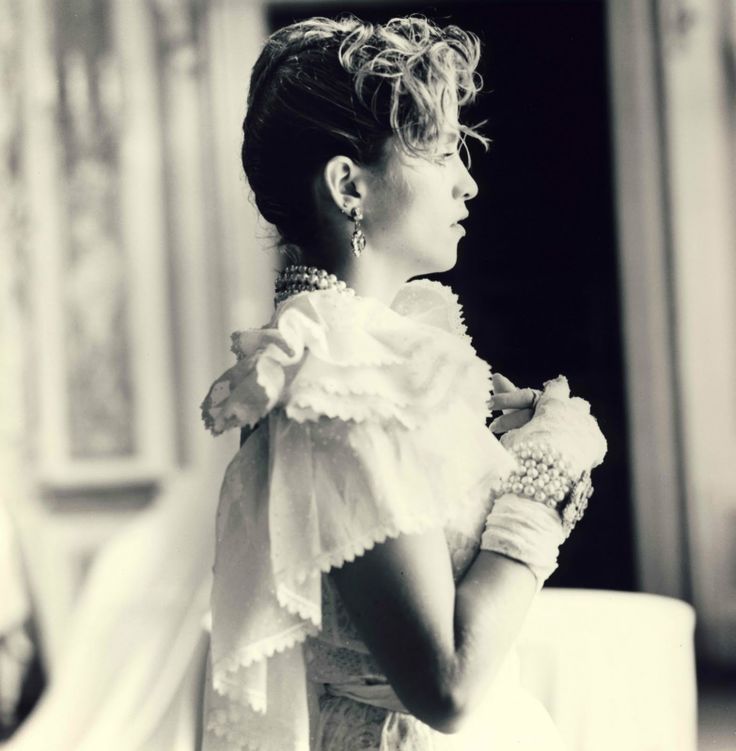 How to get that look: lots of lace, tulle skirt, pearls and diamonds.  A corset? Maybe.  And all must be in white.
All 3 of us girls have to wear bridal veil and carry a bouquet during the performance, because our dance sequence was really intended to be performed with the veil on (so the audience will not know kung sino ba k'meng nagkakalat sa stage) and we will reveal our faces only at the end of the song.  Mukhang madali naman gawin but when we did the blocking at the PICC (on the performance day) with all the stage lights on in front of us – I realized ang hirap pala dahil halos wala akong makita with the veil on!  We had to adjust our bridal veils last minute so all of us could see where we were going (and avoid disasters while on stage and while performing).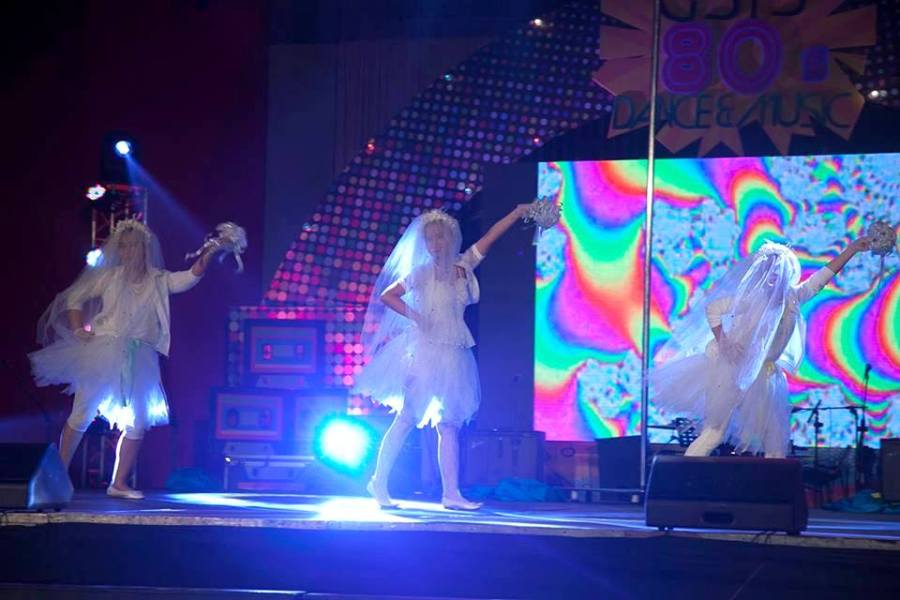 We only had about 2 weeks to look for our Madonna bride costumes.  The first in my list were the tulle skirts we will wear. I found this very accommodating maker of custom-made tulle skirts based in Baclaran.  She accepted my very rush order, and even agreed to deliver our skirts a week before the actual performance.
Then I found some kids-size blouses on sale at Terranova (Glorietta Branch) which one of my mini-brides ended up wearing.
My lace stockings and our lace gloves were from Divisoria.
My top (made up of lace corset blouse and 3/4 sleeved bolero jacket in lace design) were from Greenhills.  So were the white leggings that my 2 girls wore.
The last fashion piece that I tried desperately took for but couldn't find was the 'Boy Toy' belt worn by Madonna for her bride look.  Sayang talaga; it would've made us look more 'shocking' hihi!
Here's our bridal look that night a la "Like A Virgin":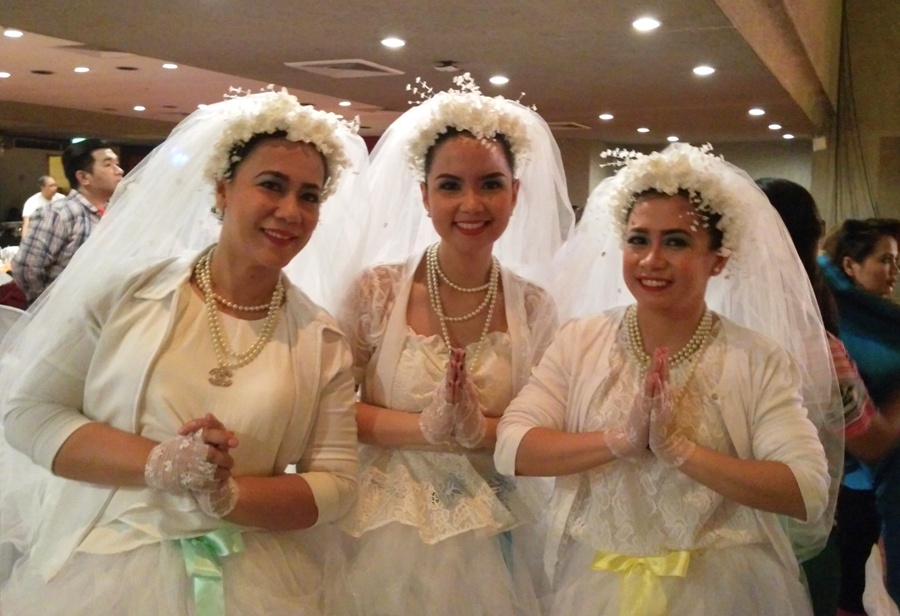 We were advised not to wear too many accessories (because baka sumabit sa bouquet and veil), but I still bought these faux Chanel Pearl necklaces at Greenhills because natawaran ko from P300.00 to P150.00 each!  Ang ganda, di ba?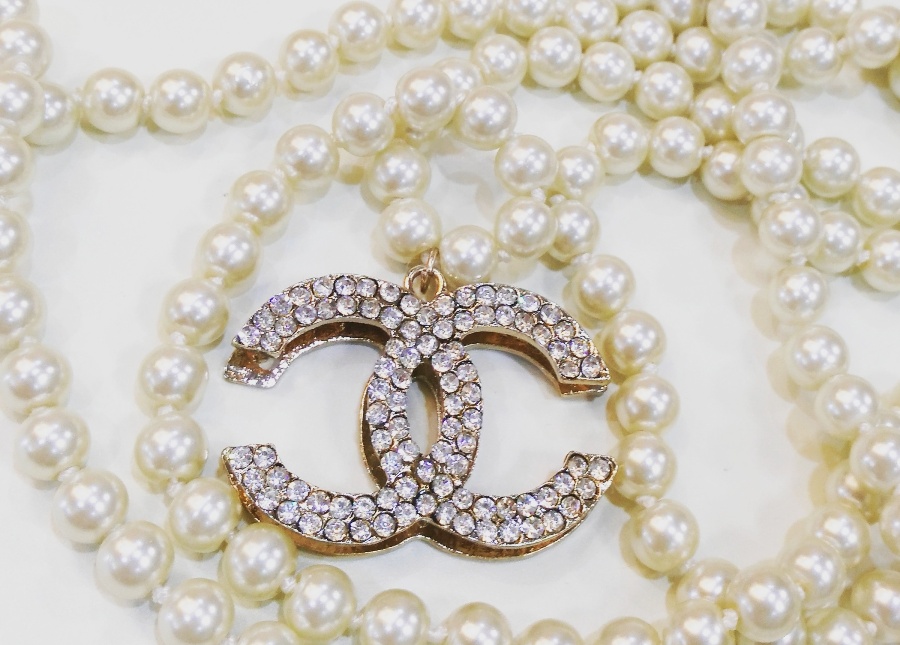 Another good find at Greenhills were our white ballet pairs (our choreographer insisted we wear the same white ballet shoes), that I got for only P500.00 each.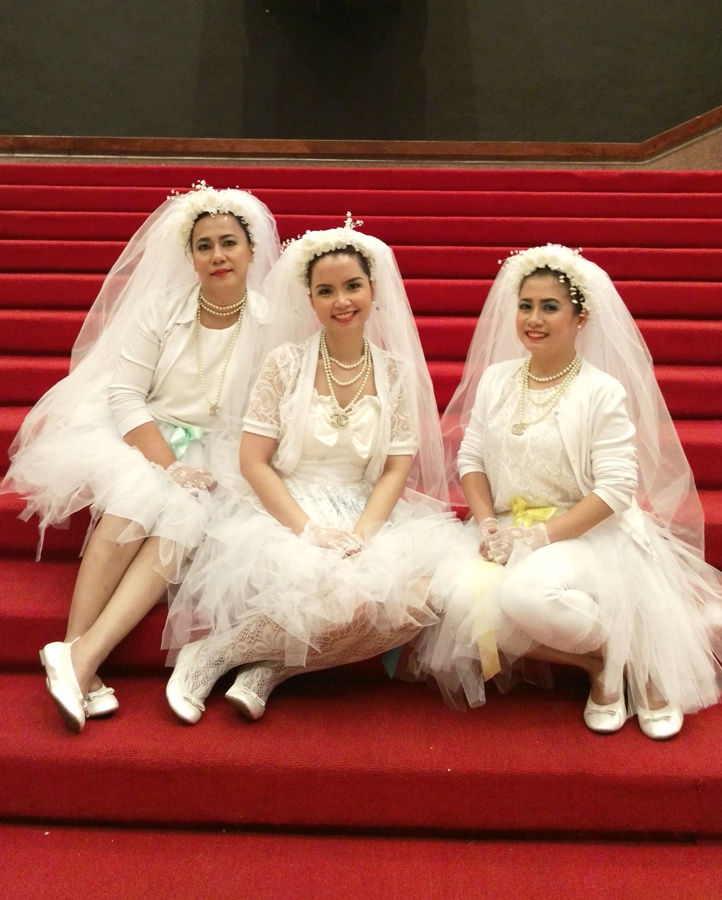 We were the only ones dressed as Madonna brides that night.  And because we're wearing white (from head to toe), and everyone at the event was wearing either bold, neon or the glittery colors of the 80's, kapansin-pansin tuloy kami hehe!  So much so that some guests at the PICC even requested to have their pictures taken with us (akala yata naka-Cosplay costumes kami).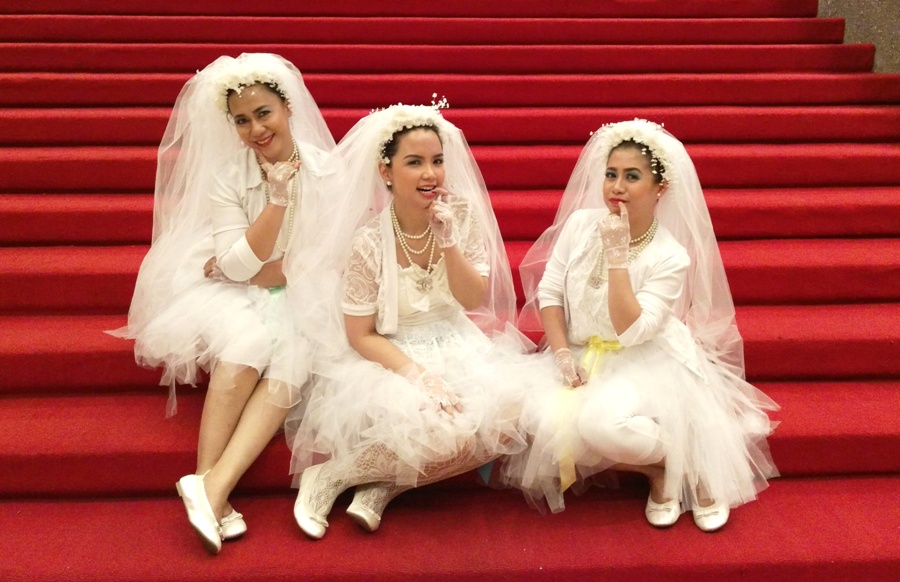 Here's the group pic of the Bravehearts Dance Team.  The others did separate numbers for 'Jump' by Van Halen, 'Beat It' by Michael Jackson, 'Shake Body Dancer' by Magic Fire, 'Earthquake' by The Flirtations, and 'Together Forever' by Rick Astley. We closed our production with 'Gold' (Spandau Ballet).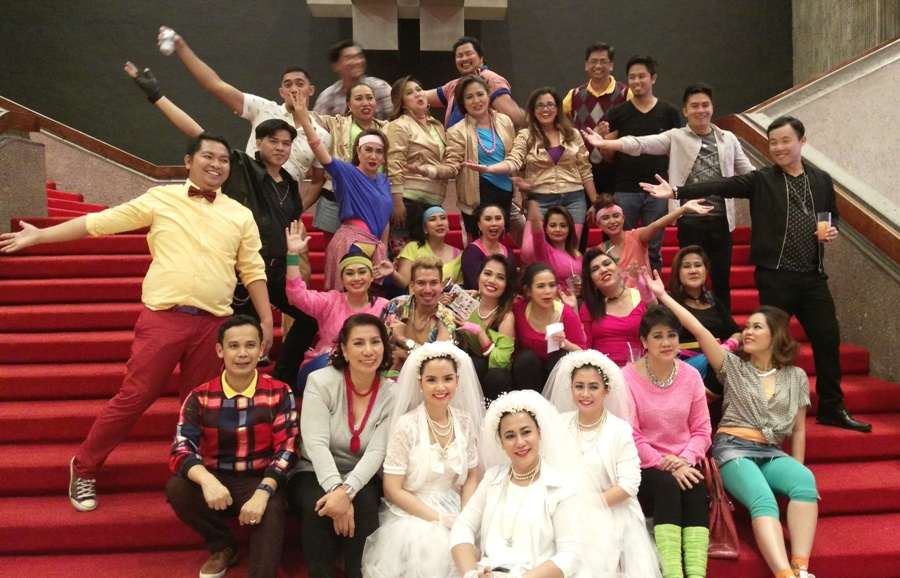 Most of us were nervous before the performance but once the music played, we were in our element.  Our twice-a-week practices in the past 4 weeks (that started at 6pm and ended at 9pm) finally paid off in those 8 minutes that we performed on stage.  The cheers of our office colleagues helped very much in building up our stamina and energy level!  Everybody shined during the performance!
And to make our night sweeter, the judges named us 1st place (grand winner) of the 80's dance competition! What a sweet, sweet blessing for our dance team!
To quote Mgr. Eric (and this best sums up everything we underwent in the past weeks – the late nights practices, missing some family time, sacrificing office lunch breaks to review the dance steps, battling muscle and joint pains after practices haha!):  Fortune favors the brave.
Congratulations again to us, Bravehearts!