Yesterday was one for the books: we survived an epic Saturday traffic that it felt like Friday all over again(!).  Travel time from Pasay City to Makati took an hour.  We made a short stop at Bel-Air Village (via Jupiter Street) for a delivery I have to make (thank you for supporting the Korean-made Nlighten products that I featured here, of which I am a distributor).  The plan was to go to Rockwell Poweplant afterwards for dinner and then coffee.  But we dreaded another mammoth traffic going to Kalayaan Avenue so we decided to look for dinner along Jupiter Street instead.
The signage of A.T. Happy Garden Cafe immediately caught my attention because it's different.  You'll find it on the ground floor of Sunshine Place, next to Coco Hut Fried Chicken and Fish.  I knew we just had to check it out because it looks so inviting from the outside.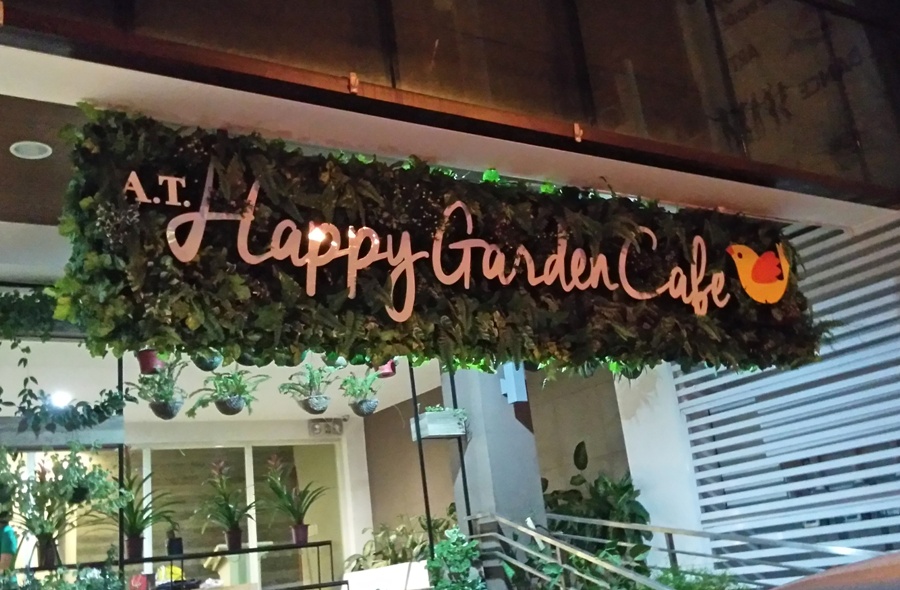 Here's what greeted us when we entered the cafe.  The place smells of fresh flowers!  Tanggal agad ang traffic stress!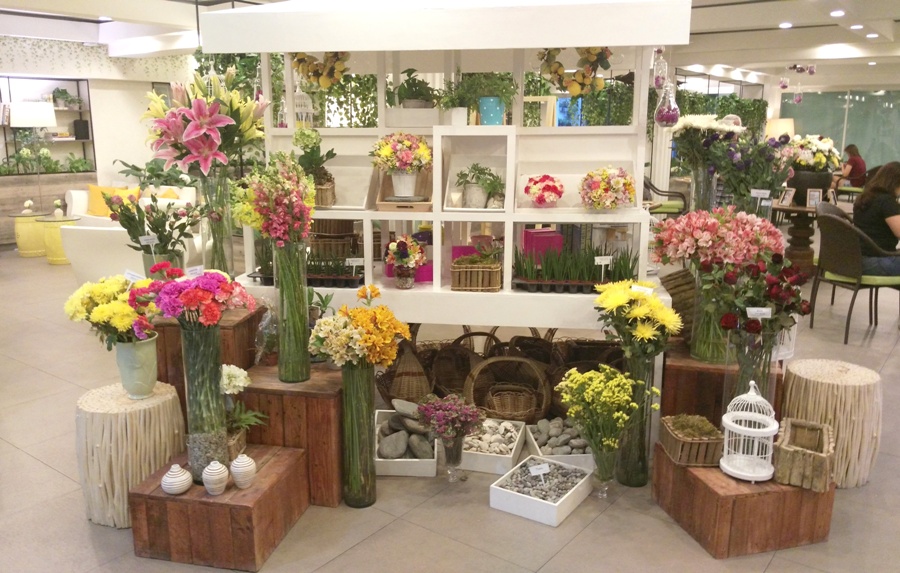 I learned that Happy Garden Cafe is from the same company that put up Bizu Patisserie & Bistro, so I knew then that the food would be good (and a bit expensive hehe!).  But still, to taste is to believe, right?
While waiting for our orders, I looked around the place and being surrounded by greens, flowers and all else nice, clean and fresh was a welcome breather from the traffic jam outside.  It's like we stumbled upon a sanctuary and made a stop there because good food awaits us inside.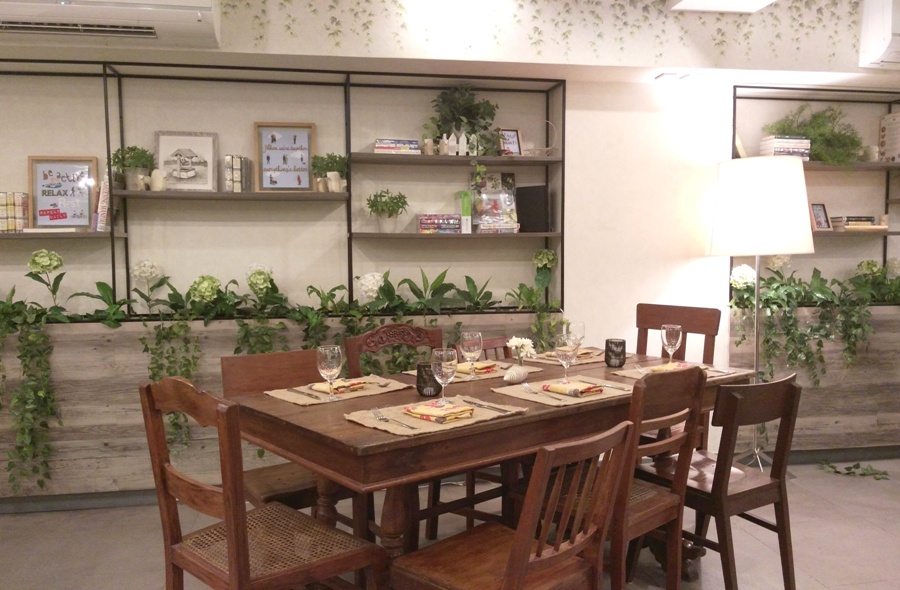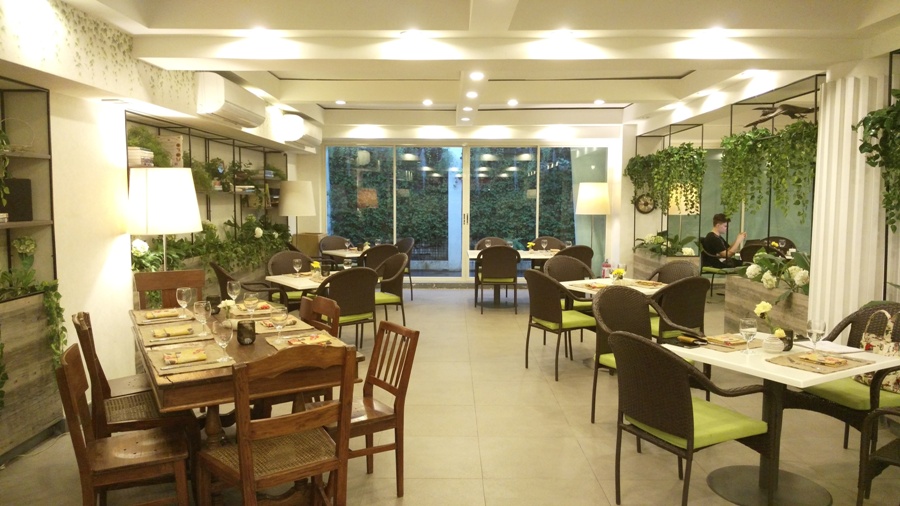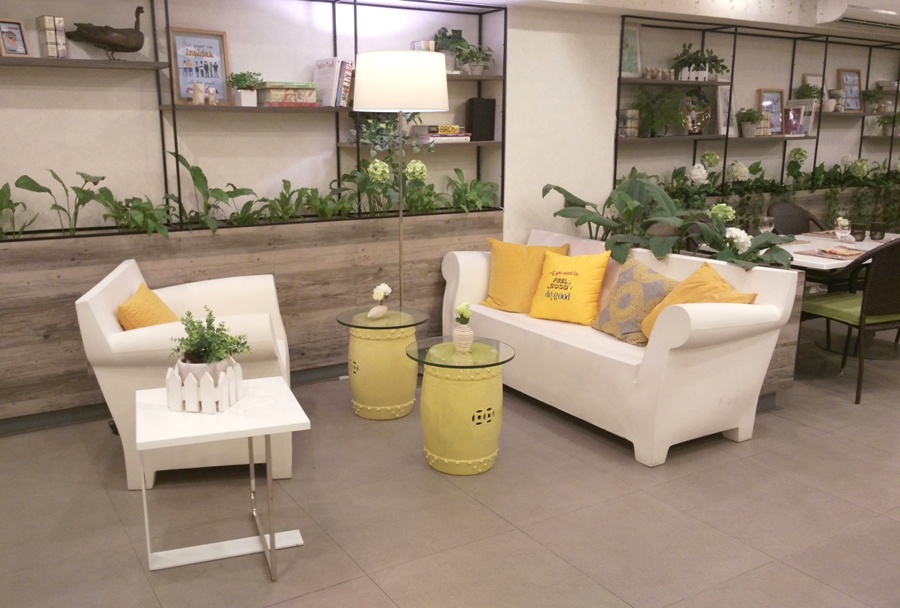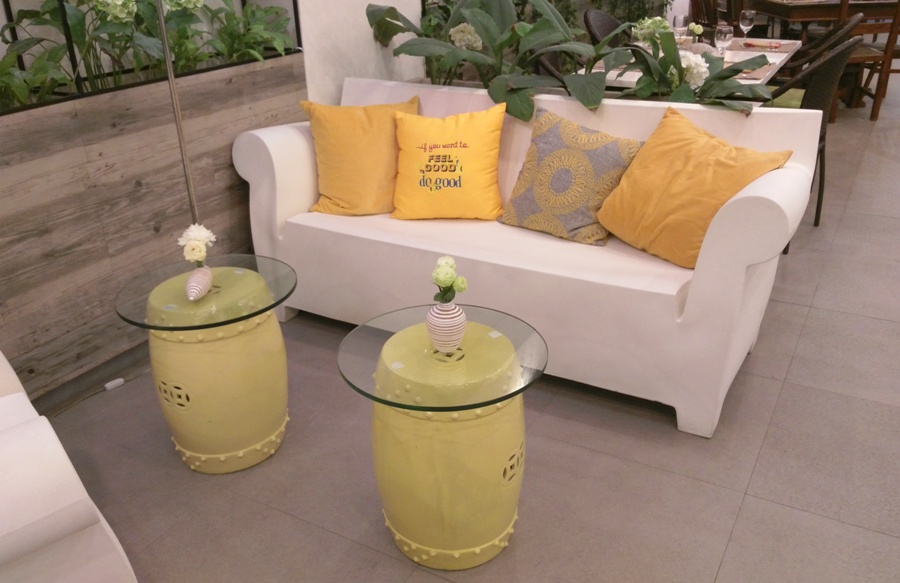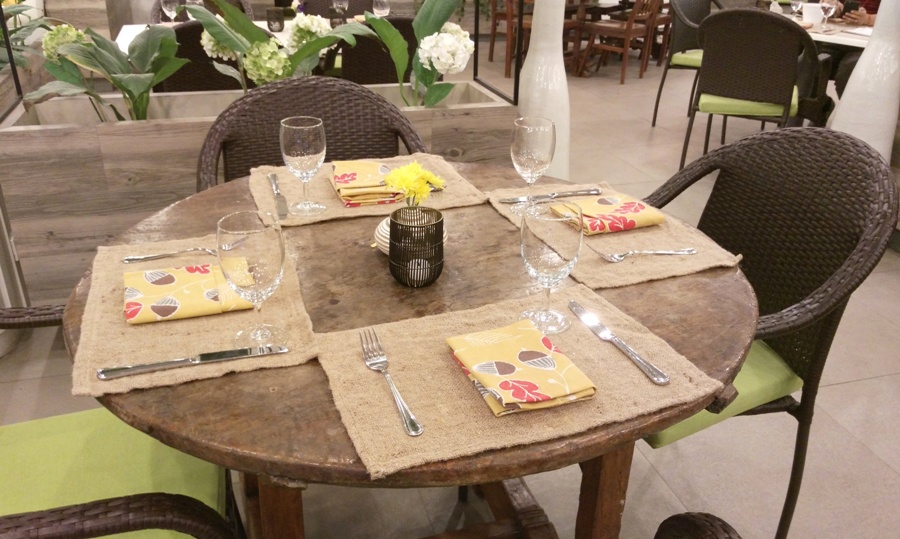 We were served healthy popcorn with herbs and butter as appetizer.  Don't be shy to ask for another bowl because  one is not enough.  It's so good!
I had Spinach Aglio Olio (P295.00) and this is the best I've tasted so far.  Freshly-made spinach spaghetti tossed in lots of garlic, sun-dried tomatoes, rolled prosciutto and olive oil.  We took 2 more orders of this home!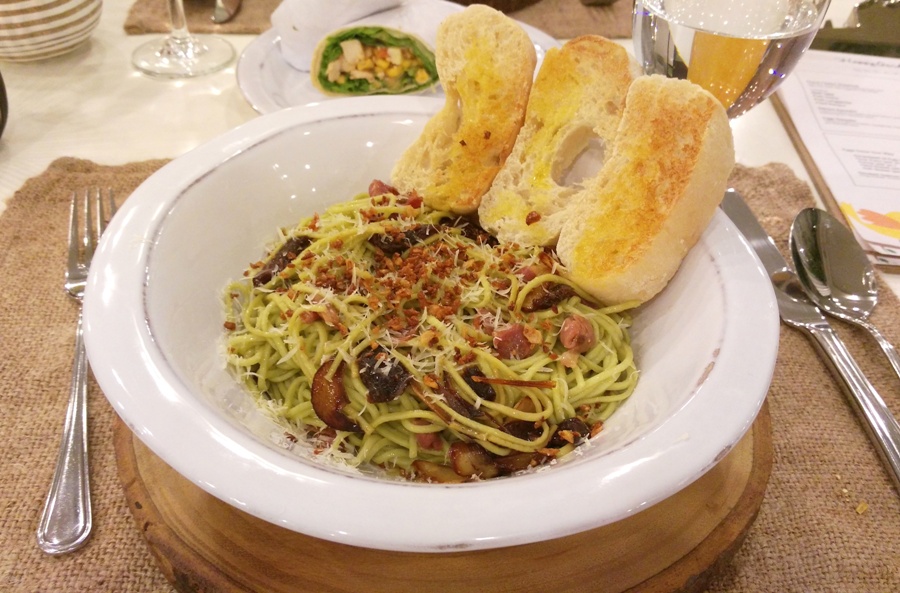 AJ had Porchetta with Brown Rice (P275.00) which has none of the oily texture that we usually see or taste in roast pork; and has a delightful herb flavor (not your usual soy sauce-and-salt flavoring) that goes well with brown rice. AJ said he felt full already after having this single serving of brown rice, whereas in other restaurants he would have ordered an extra white rice to finish with the pork viand.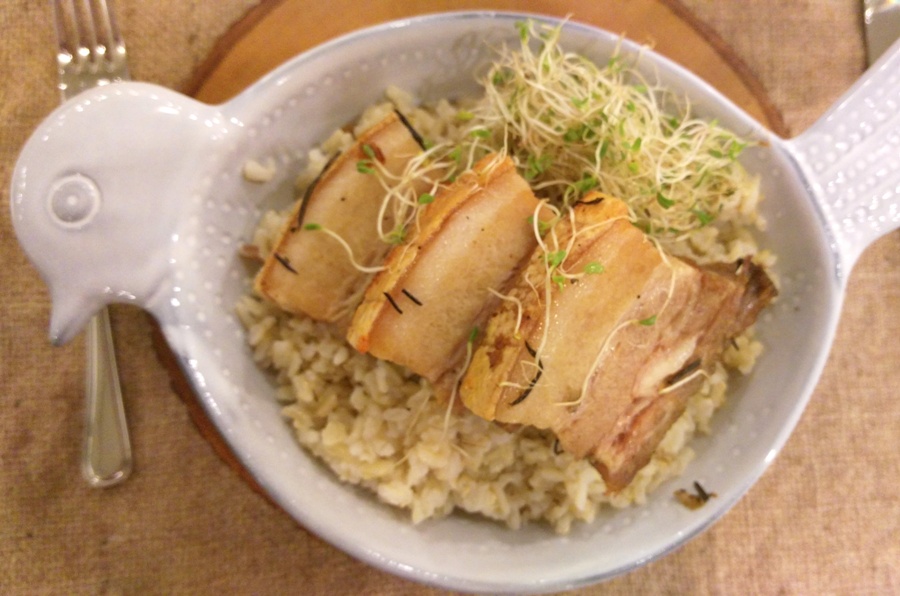 We shared in this roll of Oriental Chicken Wrap (P150.00) that  I also enjoyed because of the fresh and crispy romaine lettuce inside.  Made of free-range chicken, high-fiber olive oil tortilla, romaine lettuce, cheddar cheese, low-fat mayo and buffalo sauce, it's really value for money and also healthy to boot.
And because the Happy Garden Cafe is basically a cafe + flower shop in one, you can buy gardening tools or have fresh flowers arranged there while enjoying their food, pastry or coffee.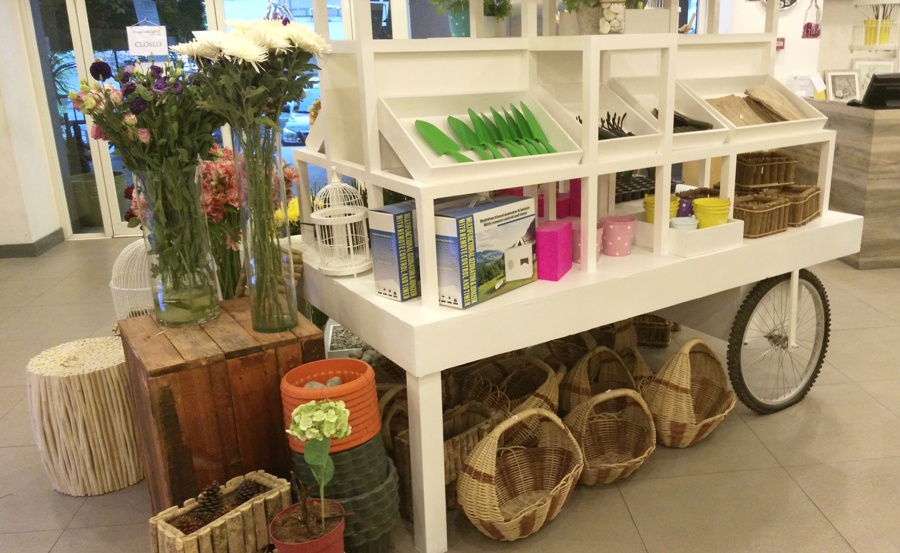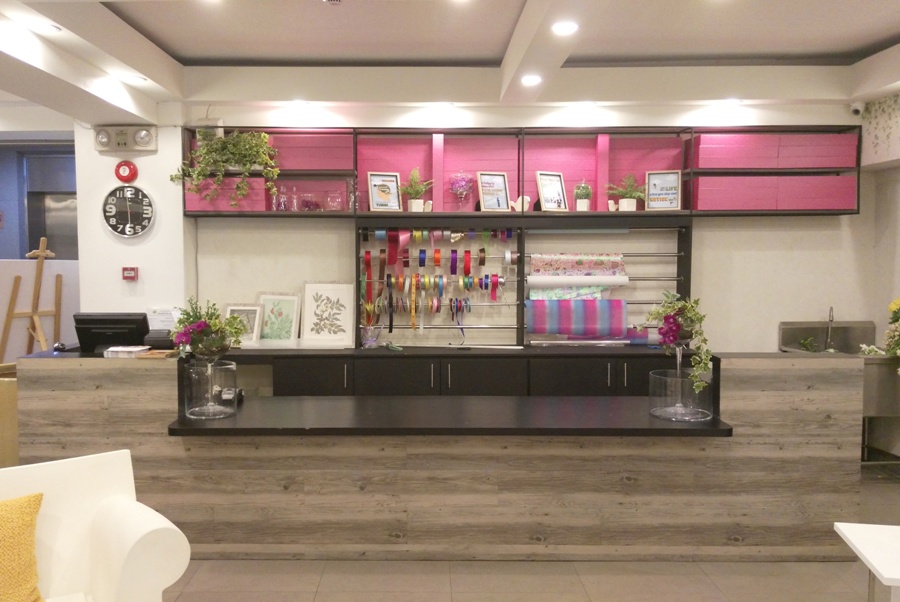 I thought we'll still have some room for dessert but the chicken wrap was surprisingly heavy so I guess we'll have a sampler of these yummy-looking and all gluten-free dessert at another time.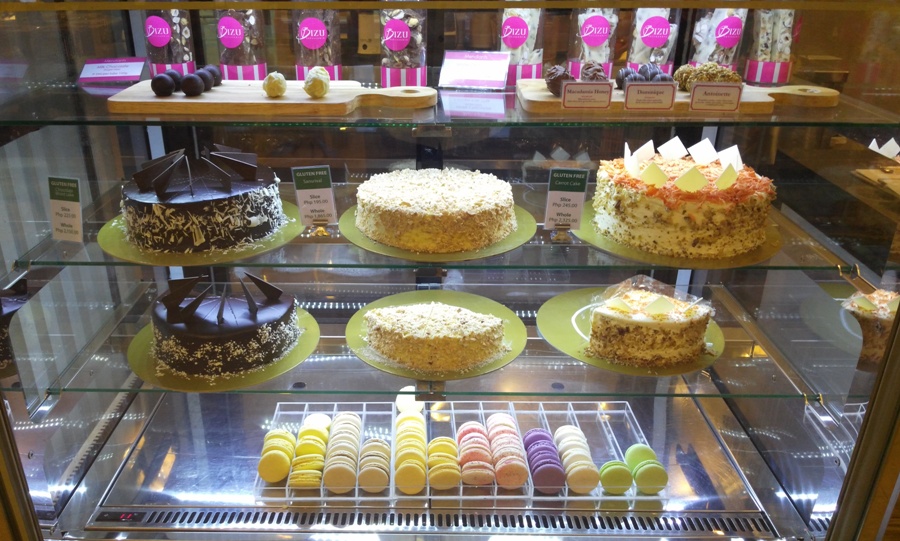 Happy Garden Cafe opened in November last year only so it's still on soft opening and accepts cash as payment at the moment.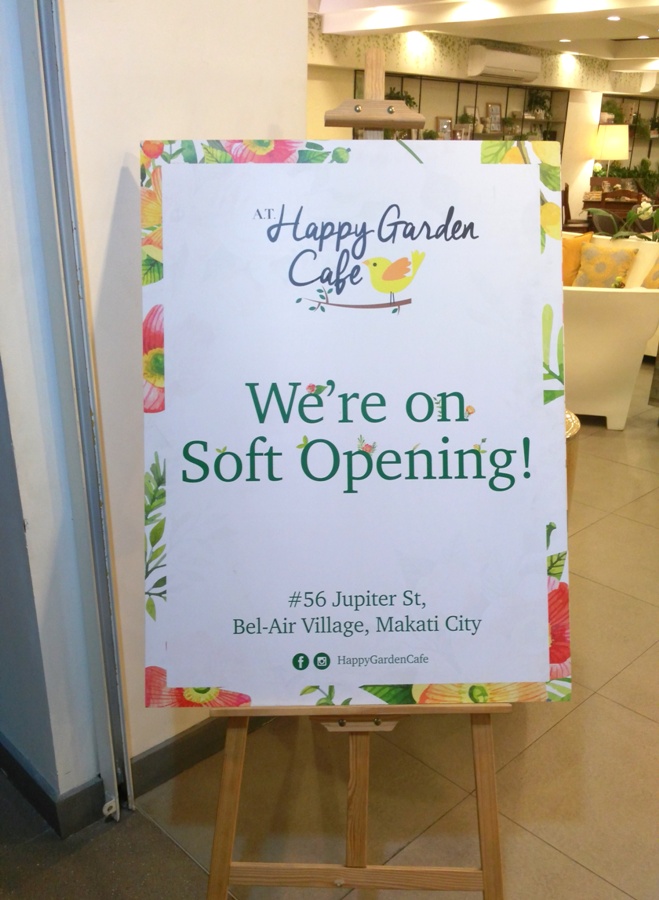 But I'm pretty sure it won't be long before this little flower shop + eco-themed cafe gain a wide following because it chose to serve healthy, delicious food with a garden-like ambiance – something that everyone is looking for these days.
We'll definitely be back at this happy place, and we won't be leaving without dessert this time around.
Happy Garden Cafe  |  No. 56 (Sunshine Place building) Jupiter Street, Brgy. Bel-Air, Makati  |  www.facebook.com/HappyGardenCafe  |  Instagram: @happygardencafe