This is it.  I finally bought myself a luxury designer bag!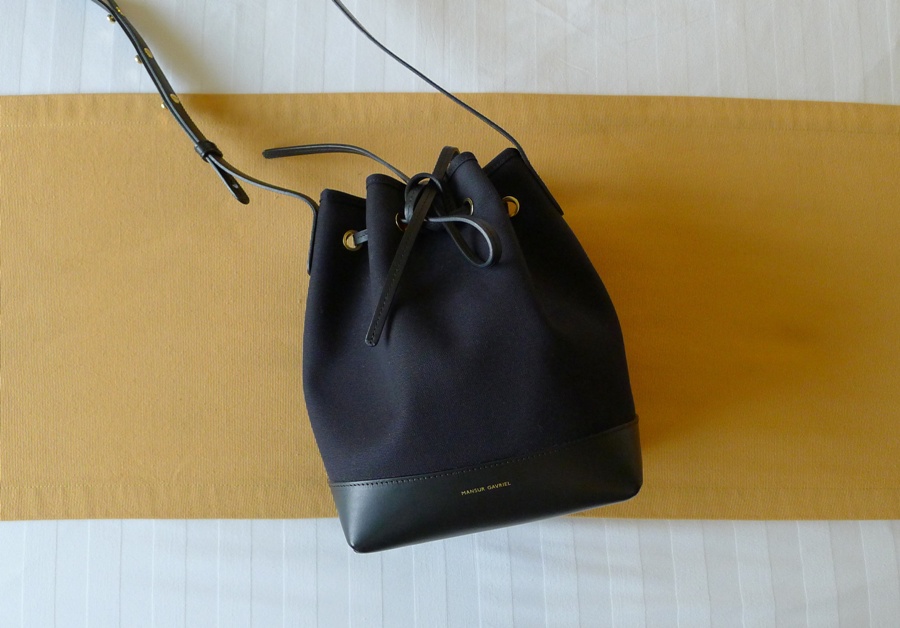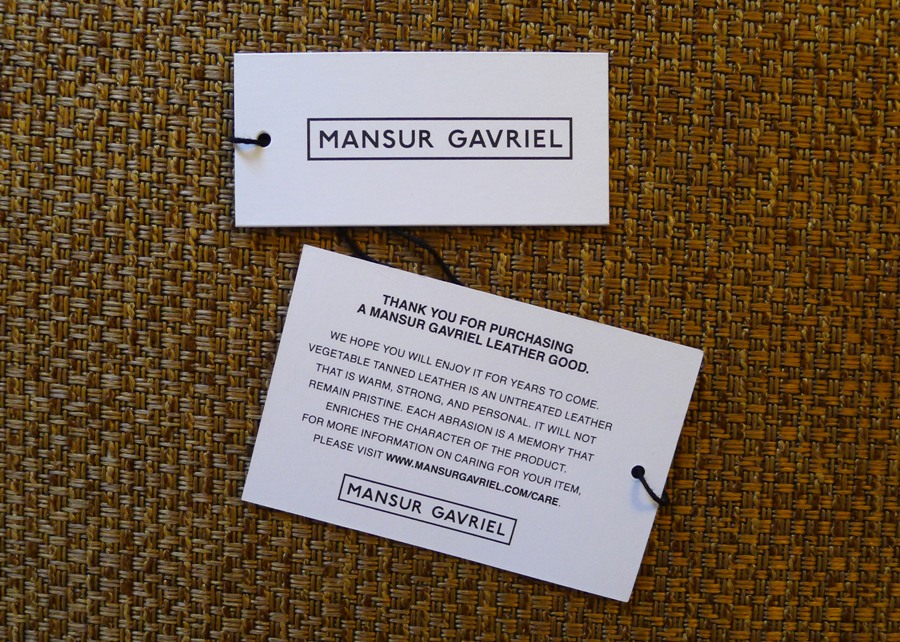 I wrote about Mansur Gavriel's yummy vegetable leather bags some weeks ago (read it HERE) and casually posted a picture of an MG bag over at Instagram.  Before I knew it, I was exchanging Viber messages with @ruedumarche who was recommended to me by an Instagram friend, @yeyevivas.
@ruedumarch  is a curator of beautiful finds and aside from these coveted and eluvise Mansur Gavriel bags, they carry other bespoke leather bags like Meli Melo, Cuyana and Everlane.  Believe me, it took a while before I decided on which bag to get because I have a budget to consider, among others.
To begin with, I was actually eyeing this regular bucket bag that @ruedumarcheposted, in beautiful black vegetable tanned leather and gold interior: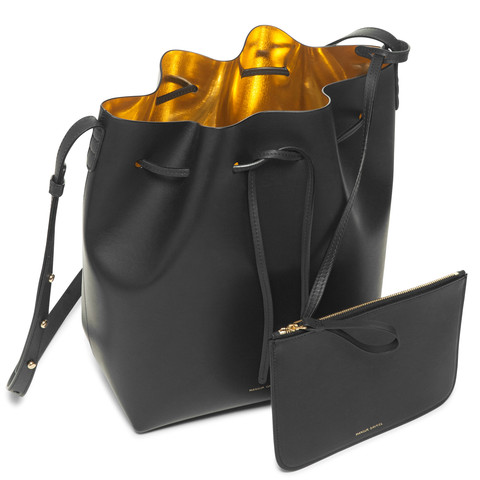 It was not even in the list of MG bags I originally considered (view HERE) but the black + gold combination was too beautiful not to take notice of.  However, the price was 2x more expensive than my budget, so I thought I gotta have to wait some more for my bag.
The proprietress, Ms. Kat, offered me another MG bag and it felt like a jackpot to me.  It was a mini bucket bag in black Italian canvas but with the signature vegetable tanned leather as base, strap and drawstring.  It was perfect for me.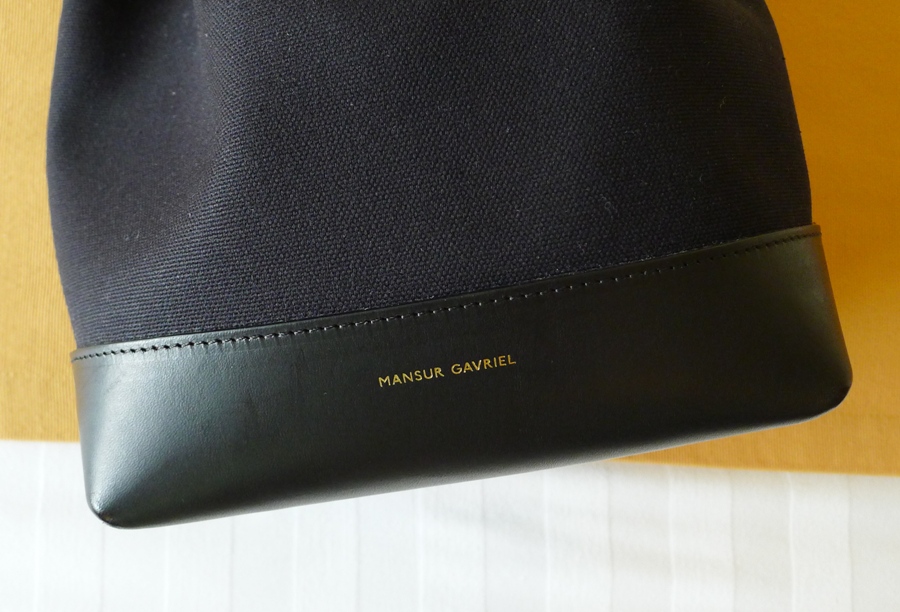 Most reviews on Mansur Gavriel bags have warned about the 'sensitivity' of the bag's leather, and its susceptibility to scratches.  Being the OC that I am, this got me a little worried.  Baka instead na ma-enjoy ko sya eh titigan ko na lang.  So the canvas bag became very attractive to me.  I still get to admire the leather part (and the leather base helps in keeping the structure of the bag intact) but without worrying too much about scratches.  In short, I don't need to 'baby' this bag too much.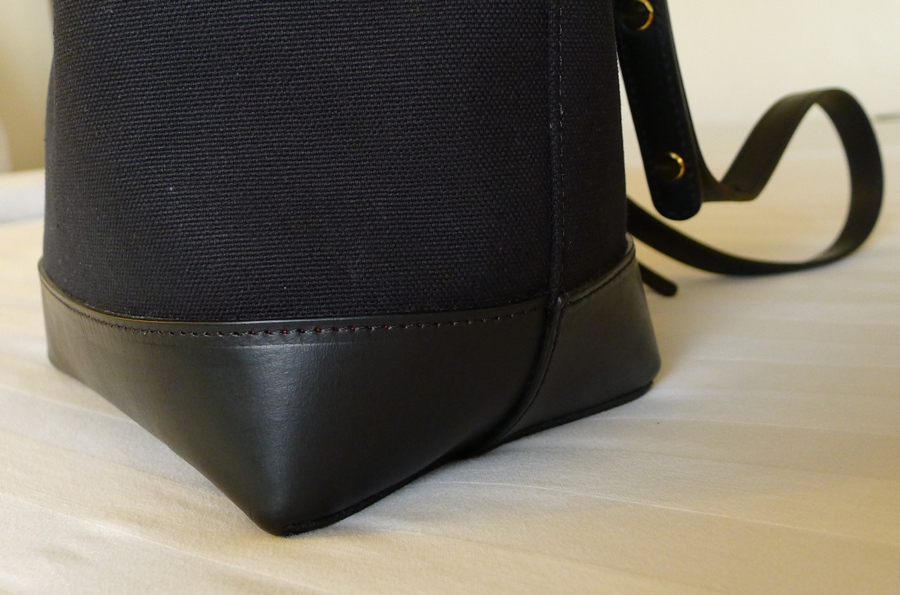 Beautiful construction even at the bottom.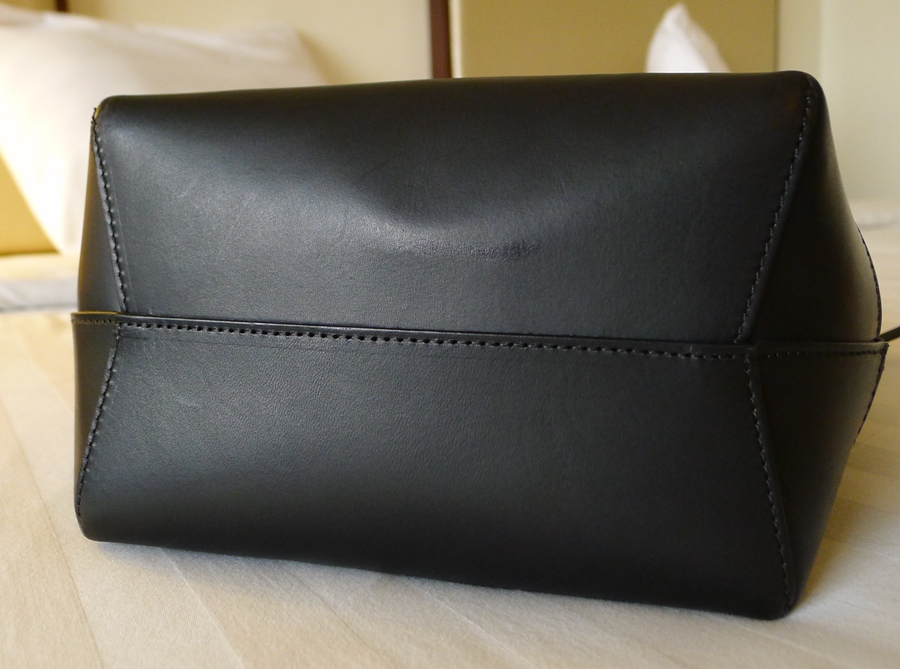 The lining on top was made of canvas too, so there was no problem at all "breaking in" my bucket bag.  No stiff leather to worry about (which takes time to soften up).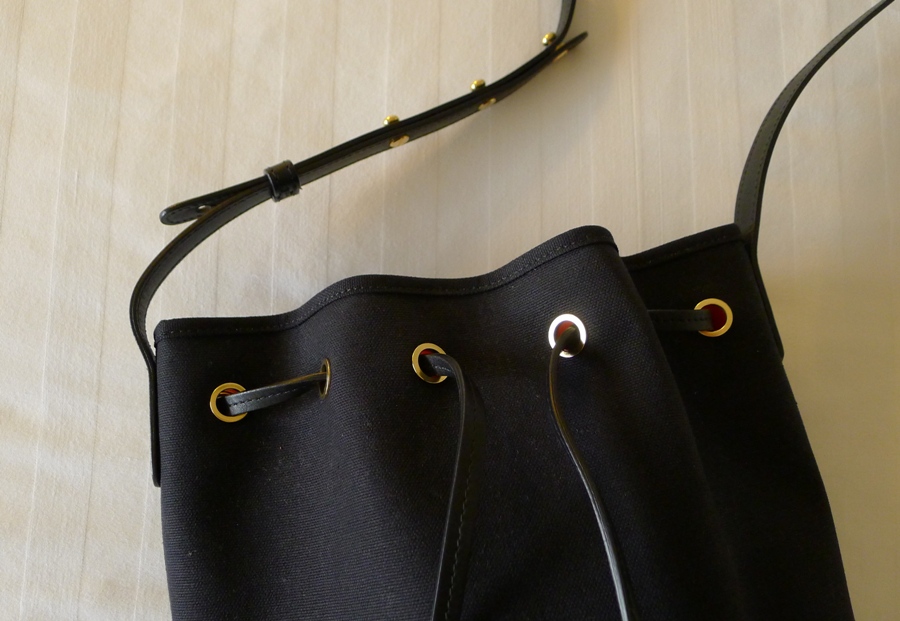 By the way, I am really delighted with the gold "eyelets" in this canvas bucket bag.  You won't see these in regular bucket bags made of 100% leather.
I have not yet mastered the art of making a perfect ribbon from the leather drawstring, but here is it up close.  The leather itself is undeniably lightweight, making me all the more happy and satisfied with my purchase.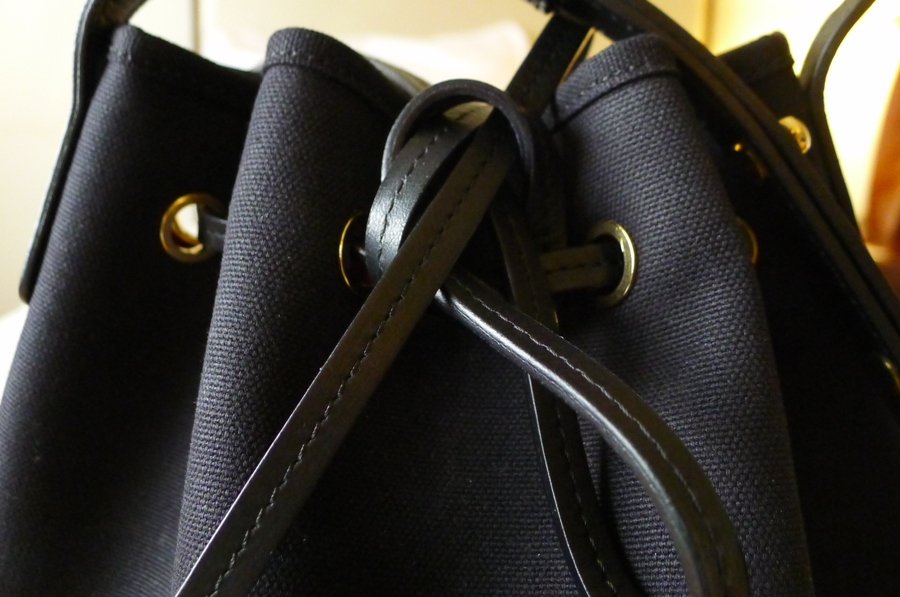 The adjustable strap is also made of Mansur Gavriel's signature lightweight leather.  The gold hardware matches the bag's "eyelets" perfectly.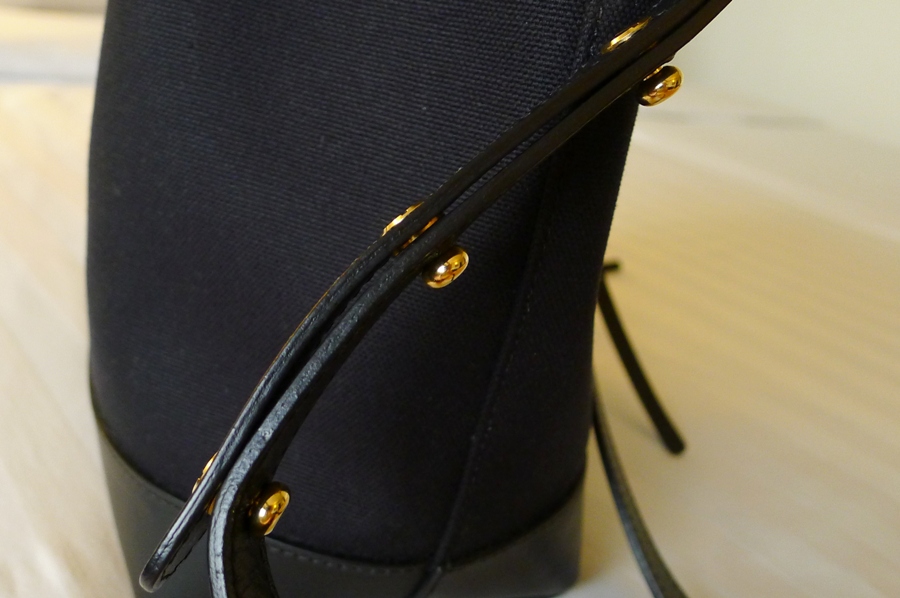 Now, let's talk about the size.  The mini bucket has a dimension of only 9.5 (H) x 8.0 (W) and 4.5 (D).  Before I purchased the bag, I made sure to visualize its size by drawing the dimension on a piece of bond paper.  It was smaller than a short bond paper (8.5 x 11.5 bond paper, to be exact) but I thought that's okay because I have no plans of stuffing too many things inside this bag.  It doesn't even come with a leather pouch (like a regular bucket bag would).  But even then, I thought the mini version is way cuter, and not too agaw pansin.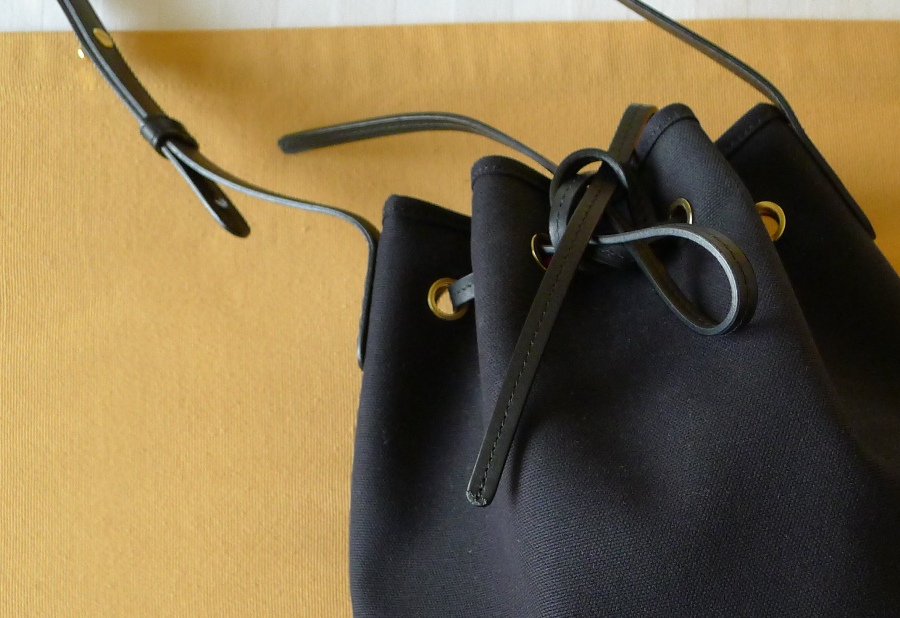 I was able to "test drive" my bag in Tagaytay where AJ and I spent the weekend.  I wore it like a cross-body bag and it was very comfortable; the leather is fantastically lightweight.
I had the bag in front, making it easy for me to reach for my things inside which includes, among others, my Roots wallet, Panasonic LX5 camera (with its case), chargers (phone and camera), my mobile phone (Lenovo K900), a pack of facial tissue, house keys, foldable bag, company ID, calling card case, first aid pouch and other kalat (sorry, no time to edit the contents inside!).  Also, the mini version doesn't make the interior look like a 'bottomless pit' (a common problem with the regular bucket bag because it's taller).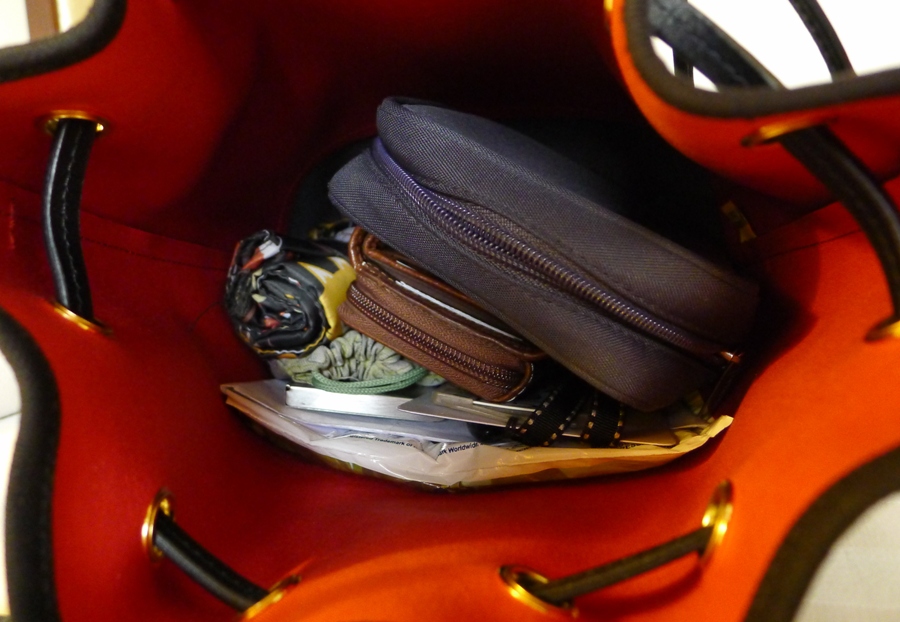 The lining is also made of Italian canvas, and this particular one is coated in red (flamma).  I love it!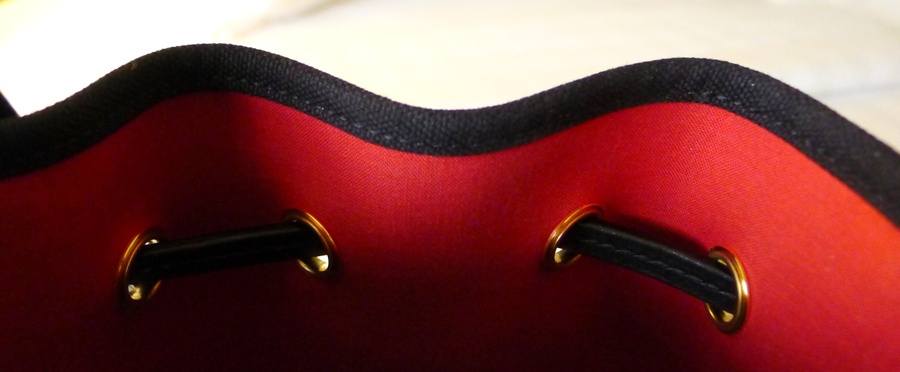 A closer look at the strap handles.  There are triple stitches on each side, so we can be very sure that this bag is sturdy.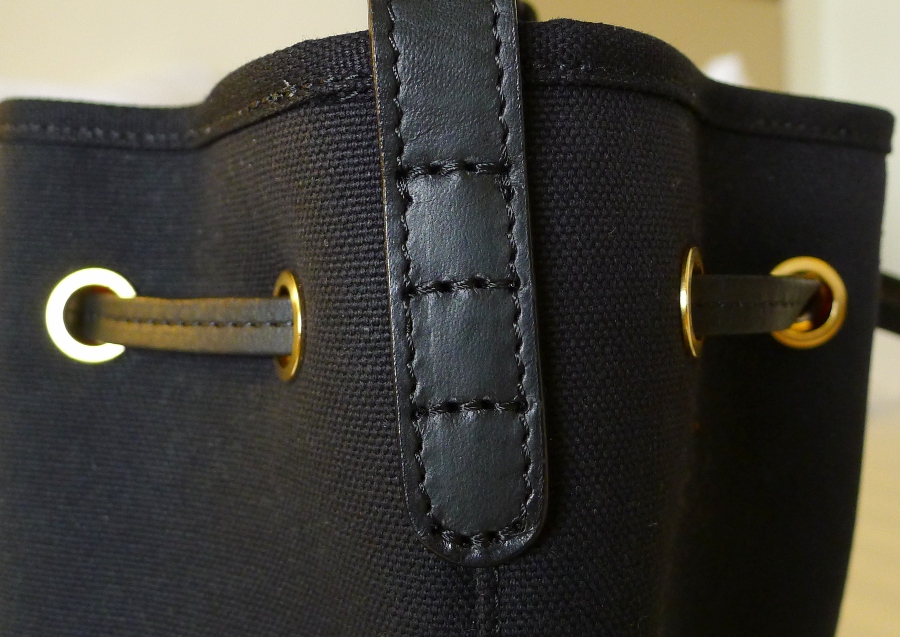 I can't tell you how happy I am to have finally invested in a good leather bag (and Italian leather at that!).  Honestly, it took a lot of guts on my side to buy this bag because it is not cheap. But as a friend of mine always say whenever the topic on designer bags is brought up:  "Kung hindi mo pa bibilhin, kelan pa?"
I guess that's what ultimately sealed the deal.  And I don't regret it at all  =)
P.S.  Just read from this thread there will be a price increase on all Mansur Gavriel bags when they restock in November this year.  How true is this?