I can't even begin to tell you how bad I wanted to own a Mansur Gavriel.  The Bag Hag blogged about it in January this year, and it was love at first sight (again!) for me.
It was the description "very light" that made me take interest in their bags – particularly the tote bag which is simple in design but has very fine structure.  Investing in good leather bag/s is always a good choice, ladies and as much as I wanted to buy myself one, I find their weight a bit heavy and that's what been holding me back (from buying).  That's also the reason why I prefer  Cath Kidston bags over the others right now: they're lightweight, water-proof and are very easy to clean.
I learned that Mansur Gavriel bags are made of vegetable tanned leather, and for this alone it is worth buying already.  Why? Here are interesting facts you should know about vegetable tanned leather (from BillAmberg.com):
Vegetable tanning is environmentally friendly; meaning any leather products that have been vegetable tanned can be recycled.
Vegetable tanning is an age old tradition, so most tanneries have very skilled craftsmen producing and dyeing the leather.
Due to the natural tannins used, vegetable tanned products are unique and have their own life, they are not the same for their entire life, but they change, continuously, for the better developing a patina over time.
The colours that vegetable tanning produces are rich and warm tones that look completely natural.
Vegetable tanned leathers are more valuable and thus sold at a higher average price compared to chrome tanned leathers.
Now the thing about Mansur Gavriel's vegetable tanned leather handbags is that they are surprisingly affordable.  The smallest size-bag will set you back at around Php 20,000, which is reasonable considering its leather quality that is guaranteed to last a lifetime.  And it is no doubt cheaper than luxury bags like Louis Vuitton, Prada, Gucci and others.
So far, I've not had any success in ordering one online.  All the bags are SOLD OUT, but I read that they are restocking this month so there's hope for me pa hehe!  I am eyeing 3 bags to choose from, all of which are in small sizes: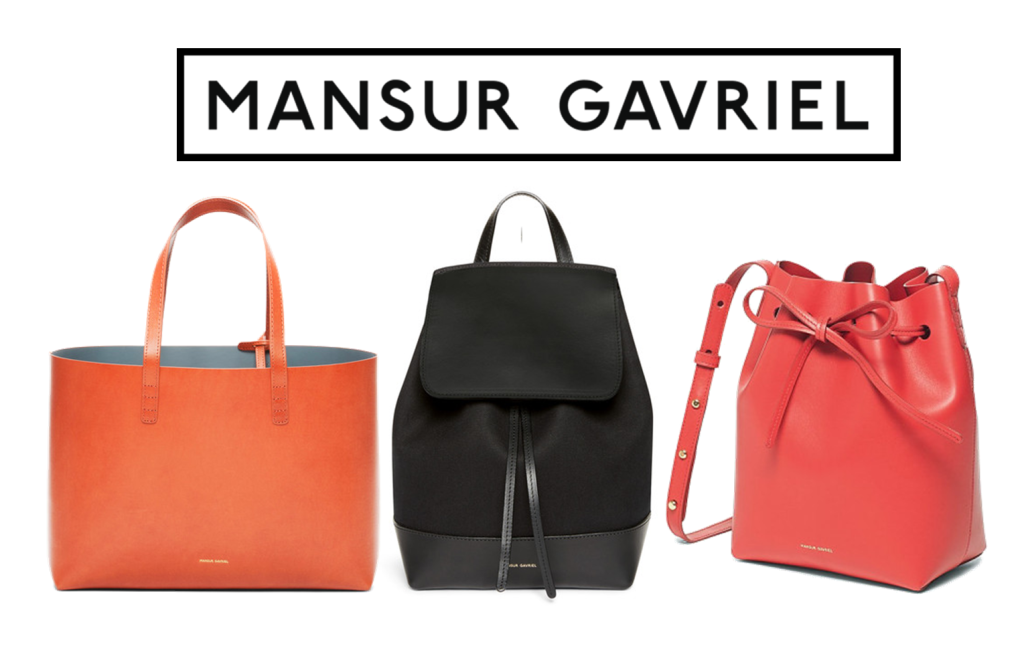 From left to right:  Small Tote (Brandy) – $425.00, Mini Backpack Canvas (Black) – $525.00 and Mini Bucket Bag in calf leather (Flamma) – $475.00
There's this interesting story about how the Mansur Gavriel brand was born.  I highly encourage you to read it because their success story was built on "making things that they love" and doing it at a comfortable pace.  Beware though, because after reading it you too will want to have your hands on their bags.
And that's where frustration kicks in because the waiting list is insane!
Wanna stalk the coveted Mansur Gavriel bags and shop as soon as one becomes one available? Bookmark their official website / online shop now at http://www.mansurgavriel.com/
Good luck ladies!