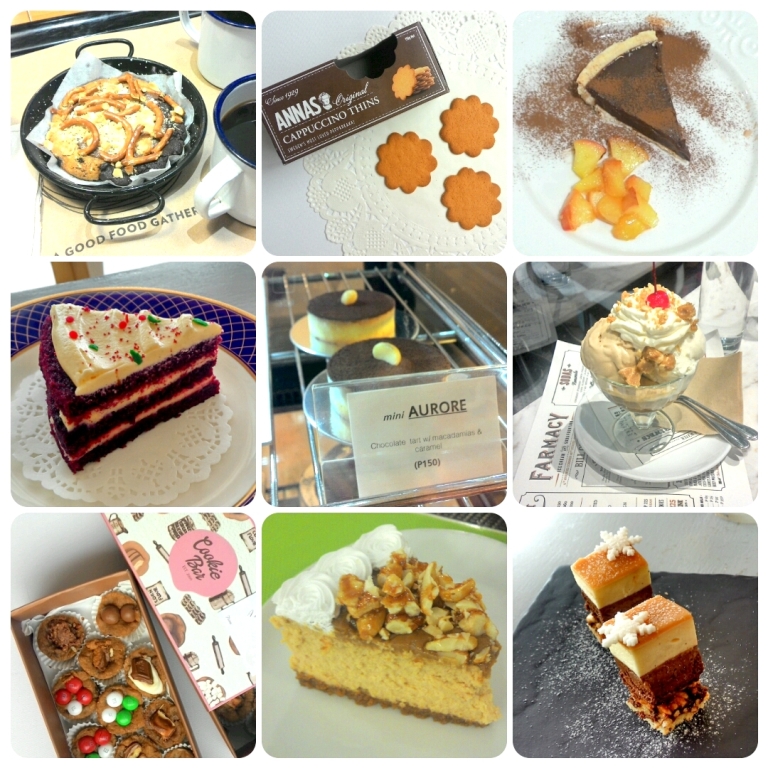 I'm still hung up for the holidays, and who isn't?  The chilly January weather makes me crave for coffee and sweet dessert (aside from sleep) any time of the day!
Let me share with you some of the good stuff I discovered while on a 2-week Christmas break last year.  I can't believe I had so much sweets(!), but all were in eaten in moderation naman  =)
Clockwise from top left:
Crafted Cookie at Scout's Honor.  Now we know that the raves for Scout's Honor are all true!  We super love the idea of crafting our own cookie without the kitchen mess hehe!  We mixed together Scout Honor's basic chewy + double choco fudge cookie dough, then requested that it be topped with a layer of Nutella, followed by Macadamia nuts and pretzels!  It's just so good!  Visit Scout's Honor soon at Century City Mall, Makati.
Anna's Cappucino Thins.  These are capuccino-flavored ginger thins (pepparkaka) that I saw at the Landmark Supermarket. So good when dipped in bold, black coffee.
Chocolate Ganache Tart + Caramelized Apples.   The hubby made both desserts for our New Year's Eve dinner.  What a sweet ending to our amazing 2014!  We'll share the recipe soon here in the blog.
Coffee Sundae at Farmacy.  A lot has been said about this ice cream place which is located just beside Wildflour at BGC.  Mahal nga lang pero sige pa rin k'me hehe!  We ordered the "Pick Me Up" sundae (P280.00) which has hazelnut, vanilla, coffee ice cream, almond toffee, chocolate sauce and a shot of espresso.  It's like affogato but this is a much, much better version of it.
Le Miel Cafe's Le Pavilion.  Oh, this ones' so good I almost didn't want to share it with AJ!  Le Miel Cafe really makes awesome French dessert at reasonable prices.  This particular one, called Le Pavilion, is a medley of 3 desserts: vanilla mousse, chocolate mousse and crispy praline.  So heavenly! Will order a bigger slice next time.
Slice's Yema Cheesecake.  AJ has asked me a number of times to try this yema cheesecake at Slice Bakery (they have a stand-alone store at Central Square, BGC and a kiosk at the Foodcourt of SM Aura) but I've always hesitated because I associate yema with lots of eggs and sugar (read: nakakaumay).  I finally relented last December (when we were out with my friends) and gosh, I can't believe what I've been missing all this time!  It's surprisingly good and doesn't taste like nakakaumay na yema at all.  It's the double goodness of rich cream cheese + sweet yema that made this a winning dessert!
Cookie Bar Manila's Cookie Cups.  We braved the December traffic going to Pasig just to get our hands on these cookie cups!  And super worth it naman.  The cookie cups are chewy soft, and the different chocolates on top gave each a distinct flavor.  My favorite is the one with M&M mints, perfect for Christmas talaga.
Le Miel Cafe's Red Velvet Cake.  Another winning dessert at Le Miel Cafe.  The red velvet cake is moist and soft, and there's nothing else I could add to their perfectly creamy (and authentic) cream cheese frosting.  Lasang cream cheese talaga, at hindi all-purpose cream!
(Mini) Aurore at Cinq.  I discovered this during a food fair at Rockwell Powerplant, and I got to try it again during the Christmas break.  It's one of the finest desserts I've tasted.  This is what actually inspired AJ to make Chocolate Tart during New Year's Eve.  This is one dessert that you shouldn't miss when in Manila.
That's all, folks.  I hope I didn't make you all "hyper" after seeing so much sweets in one blog post hehe!