It's Mother's Day on Sunday and I haven't got a gift for my mom yet!
The universe must have felt my panic because today, I read that Uber Philippines (which I've featured in this post) has partnered with SMART Communications, Inc. for the first-ever on-demand campaign in Manila to celebrate Mother's Day on Sunday, May 11!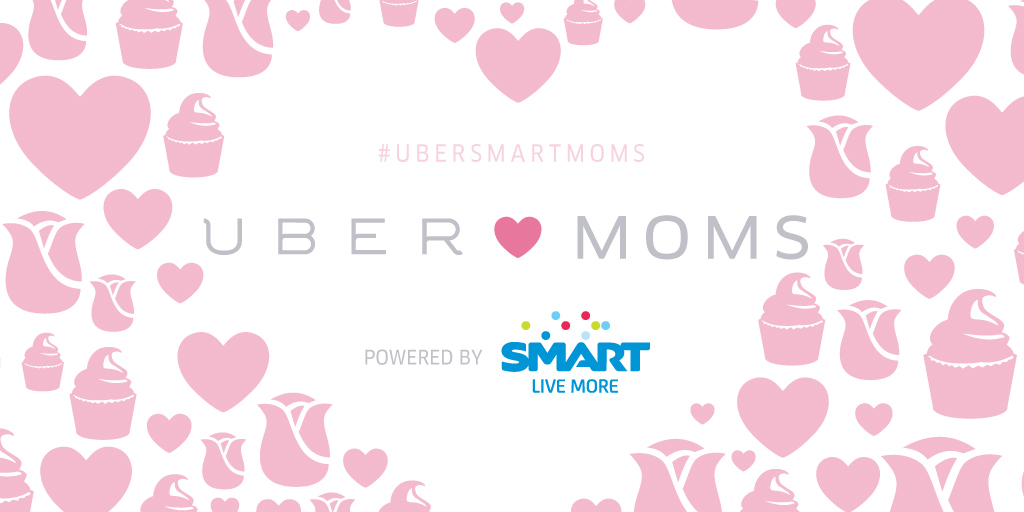 Press Release:
MANILA, Philippines [09 MAY 2014] — Uber has received worldwide attention for its on-demand campaigns in several countries around the world. The way in which Uber has used technology to provide instant gratification by partnering with the biggest companies in the world has given the brand the reputation of always thinking outside the box. Below are examples of previous on-demand campaigns:
#UberKittens – Uber partnered up with a local cat shelter in NY and if you donated $20 to the shelter, Uber would bring you a kitten you could play with for 15 minutes.
#UberSkywriting – For Valentine's Day Uber partnered up with MasterCard and when you opened up the app you could request for a message written in the sky
In line with its recent launch in the Philippines,Uber has partnered with mobile leader Smart Communications, Inc. (Smart) for the first-ever on-demand campaign in Manila to celebrate Mother's Day.
On May 11, Uber users can request for a special Mother's Day package which will include the following:
 A bouquet of fresh flowers
Gift box with beauty products from Glamour Box
A sweet treat from Grechelle's Kitchen
Gift certificate for a manicure session at Posh Nails
This special Mother's Day package is valued at P3,000, but Uber users can get it for only P400.00!
Committed to bringing only the most unique experiences to its subscribers, SMART will be offering the special Mother's Day package to its postpaid subscribers at a discounted price.  That's right.  If you are a SMART postpaid subscriber then the package is yours for only P200.00!
"The country's largest mobile network is partnering with Uber, the most premium on-demand car service in the world, to bring such a unique treat to moms of our postpaid subscribers," said Kathryn Carag, Postpaid Marketing Head at Smart. "We're delighted to be Uber's first partner for its on-demand service in the Philippines, which demonstrates our commitment to allowing our subscribers to 'Live More' and experience more from their subscriptions."
"We're delighted to join forces with Smart to celebrate Mother's Day and moms everywhere. Uber and SMART share a passion for technology and for delivering first class experiences to the people of Manila. We look forward to more collaborations with the Philippines' largest mobile operator in the future," said Mike Brown, Regional General Manager at Uber.
Those with active SMART Postpaid subscriptions will receive a special code on Mother's Day which they can use to avail of the Uber on-demand promotion for half its usual price. This will be charged to the credit card used during the registration for an Uber account.
Users only need to download the free Uber app for smartphones and sign up for an account to enjoy the promotion. A vehicle option named "UberMOM" will be seen in the app, and users would have to move the green pin on the map to the location where they want the gift basket delivered to. SMART Postpaid subscribers only need to enter the promo code along with their orders to get the discounted price for the gift basket.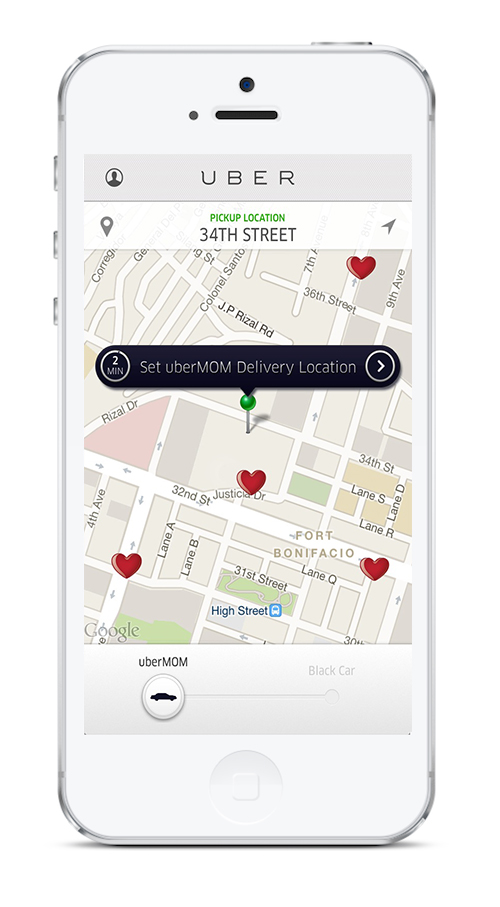 Due to existing high demand and limited availability of stock, the Mother's Day on-demand service will only be available between 9am and 8pm on May 11, and only one hundred (100) gift baskets will be available for delivery. The campaign is available for everyone that has signed up for Uber and consumers can make a request for the gift basket through the Uber application.
The Uber application can be downloaded from the Apple App Store and Google Play Store with the help of Smart's ultra-fast mobile data network. Postpaid subscribers can avail of the 7-day and 30-day Flexi bundles for P299 and P999, respectively, to get access to the Uber app and other mobile Internet applications on their phones. 

*******************************************
Be a part of this first ever Mother's Day campaign, made possible by Uber Philippines x SMART Communications, Inc., and make mommies feeling uber (that's "super" in English) happy on Mother's Day!
Remember, only 100 gift baskets will be available on this special day so be on the lookout for the "UberMOM" in your Uber app and pin in to your location ASAP!
The special Mother's Day gift package is yours for only P200.00 (SMART) / P400.00 (non-SMART).
P.S.  Use my voucher code vla4z when you sign-up at UBER to get P300.00 P100.00 FREE credit that you can use right away!