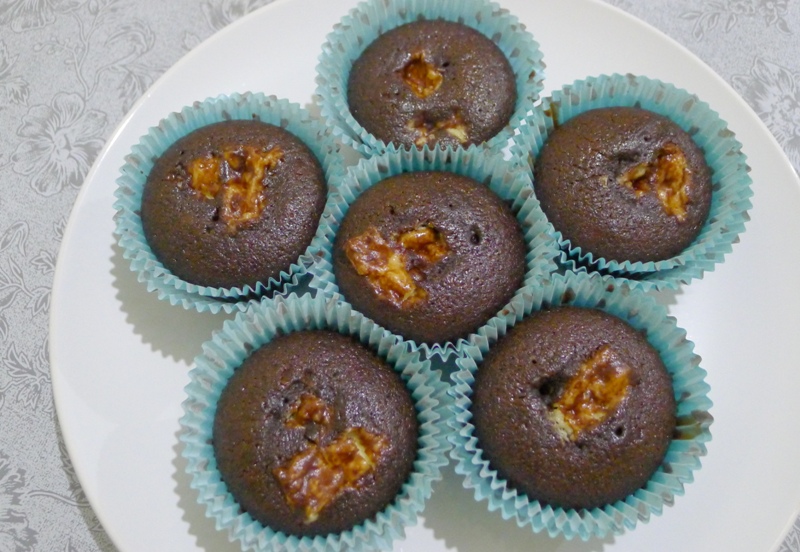 The hubby was in the mood for baking last Wednesday and made these delectable chocolate cupcakes with a twist (yummy!).
He's also in the mood for another guest post here in the The Bright Spot, as there's an interesting story to tell behind these celebratory cupcakes that he made (no help from me this time, hehe!).
Read on, and enjoy AJ's recipe!
************************************
I was sick for the past couple weeks.  I don't know how it happened, but the other Tuesday, my stomach was in excruciating pain and I was feeling nauseous due to acid buildup.  I have a history of acute gastritis from working too hard (is it so difficult to believe that I work hard?), and I still get attacks like that every now and then due to too much stress.  So I took my usual regimen to ease the symptoms but this time around, they didn't work.  I missed two days at work, and I got hunger pangs that made my tummy feel like something was burning inside.  But then every time I ate my tummy gets all burning and painful too.  A short while after eating, I'd rush off to the toilet as well, discharging the food I ate from both ends.  It was time to ask the big question: "Whatever did I eat to deserve this?!? Waaaah!!!"
Leah dragged me to the hospital; she couldn't bear seeing me in pain like that.  Turns out it wasn't just gastritis this time – it was gastroenteritis. You might know it as stomach flu.  My entire gut swelling and irritated.   Sakit daw ng mga matatakaw???
It was Valentines' Day, and we were at the emergency room.  That was no way to celebrate at all.  The day after, Leah and I went off to TGI Friday's and did a proper dinner involving chicken in different forms: grilled, fried, creamed and sauced.  But I was still not 100% well, and had to cut back. Massively. Leah ate more than I did, and that was remarkable.
Bananas. Crackers. Soup. Capsules.  Rehydration salts. It's never fun to be sick.  But I knew I was getting better once I got cravings for real food: street barbeque, torikatsu, fall-off-the-bone ribs, pesto and squidballs.  And I missed coffee sooooo bad!  I wanted to have some cake too.   I suddenly remembered that we still have some of the cheesecake from Leah's birthday, stashed in the freezer.  Hmmm.. I decided that recovering from the stomach flu is reason enough for another celebratory baking experiment.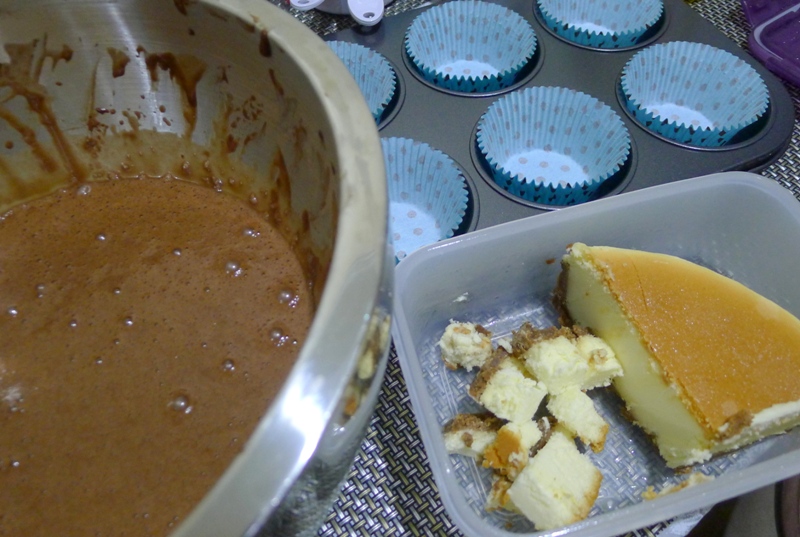 Robyn Stone's Add A Pinch has this recipe for an amazing and decadent chocolate cake (Leah: We adopted this same recipe when we made our first chocolate cake last year).   A little searching and I found that she adapted the cake recipe into a small batch that makes exactly 12 cupcakes.  Perfect for what I had in mind. I sliced up the leftover cheesecake into small chunks and modified Robyn's recipe to give it my own twist.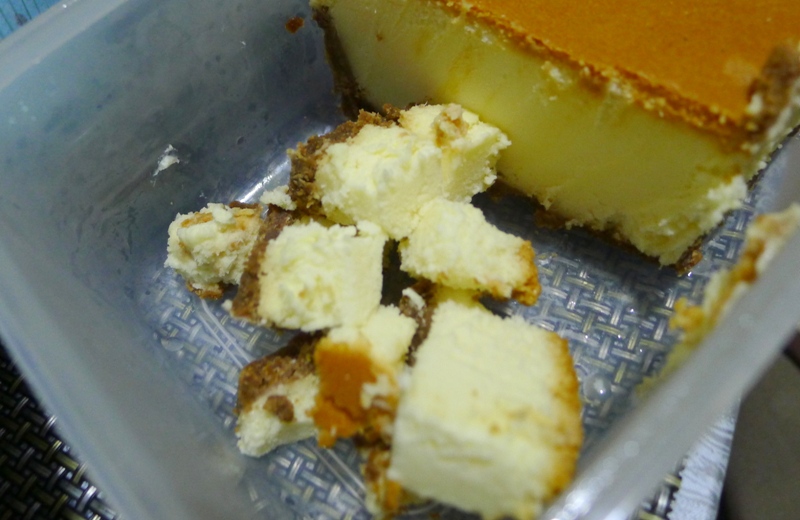 I skipped the frosting since we're not so big on sweets like that, and to highlight the cheesecake inside each cupcake.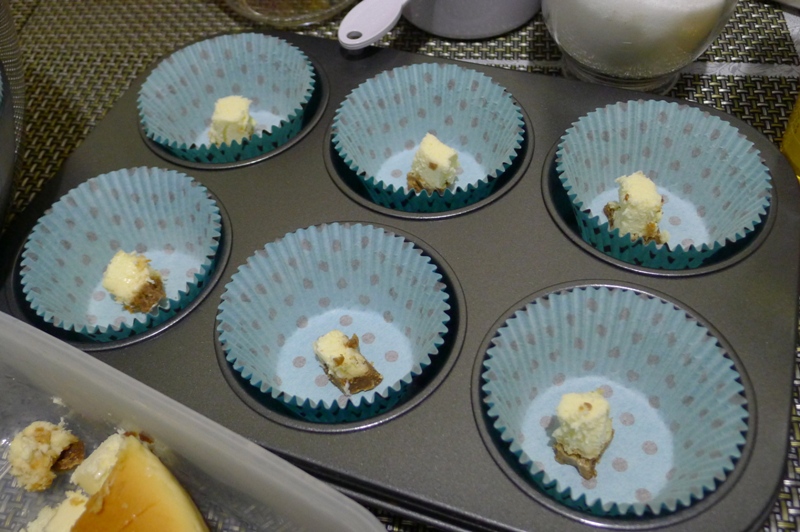 I love how it turned out, the cheesecake chunks floating to the top of each cupcake, plus a portion of the graham crust inside gives it a nice feel.  The cupcake itself was perfect, from the fluffy but not too airy texture to the marvelous depth of chocolatey darkness because of the coffee.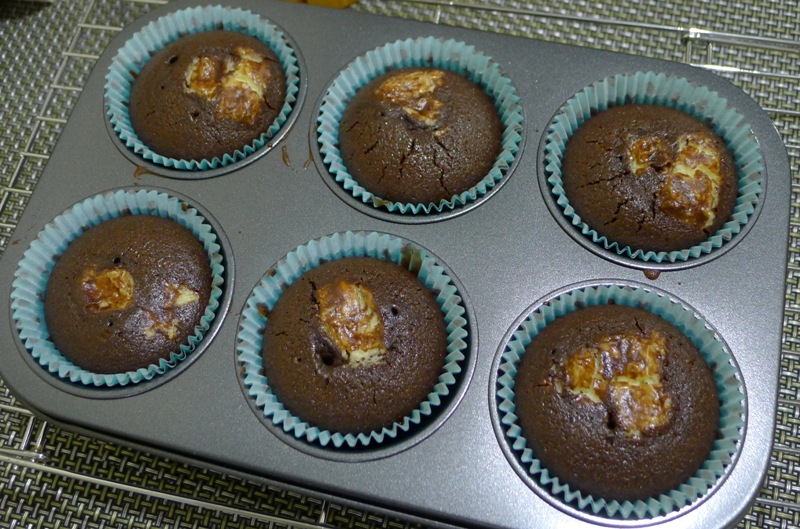 It tasted great, actually.  Leah loved it.  Another five people who sampled it said they love it.  Now maybe I should be thinking of making a larger batch too.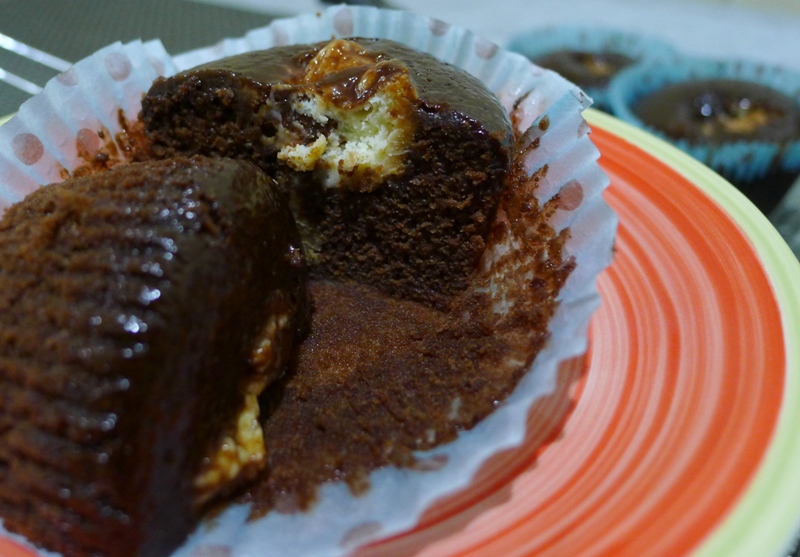 Chocolate Cupcakes (adapted loosely from Add A Pinch)
Ingredients
1 cup all-purpose flour
½ cup granulated sugar
½ cup firmly packed brown sugar
½ cup cocoa
1 teaspoon baking powder
½ teaspoon baking soda
½ teaspoon salt
½ cup milk
¼ cup vegetable oil (I used canola oil)
1 egg, at room temperature and slightly beaten
½ teaspoon vanilla
½ cup freshly brewed hot coffee
Cheesecake chunks
Instructions
Preheat oven to 325º F (or 165º C when using a convection oven).
Place cupcake liners in muffin tin. Spray lightly with cooking spray.
Add flour, both sugars, cocoa, baking powder, baking soda, and salt to a large bowl or the bowl of a stand mixer. Whisk through to combine or, using your paddle attachment, stir through flour mixture until combined well.
Add milk, vegetable oil, eggs, and vanilla to flour mixture and mix together on medium speed until well combined. Reduce speed and carefully add the hot coffee to the cake batter. Beat on high speed for about 1 minute to add air to the batter.
Evenly distribute cheesecake chunks and pour cake batter over them. Each cupcake liner should be about ¾ths full.
Place in the oven and bake 12-15 minutes or until a toothpick inserted in the center comes out clean.  Ours actually took about 18-20 minutes.
Remove from the oven and allow the cupcakes to cool completely.
************************************
I super loved these cupcakes!  AJ knew that Purple Oven's New York Cheesecake and his own dark chocolate cake are my favorites right now, so he made something that will let me (and him!) enjoy both at the same time.
The taste is amazing.  But the best part is that the cupcakes retained the same moist texture that I love (and always look for) in AJ's chocolate cakes.   Yes, it's the same luxurious chocolate cake but in a cup this time, and made better with the addition of cheesecake chunks.  Talk about double happiness!
.