A new Japanese restaurant has opened at SM Aura in December last year, and the hubby and I were invited 2 Saturdays ago to try their selection of dishes.  We don't have an inkling of what the restaurant has to offer, but when I googled up the English translation of its name, my eyes lit up because I saw the words "goddess of food".  The restaurant's name is Ogetsu Hime, short for "Ogetsu-hime-no-Kami", the food deity in the Shinto religion of Japan.
The first time I mentioned about the food goddess being on my side was when I was invited to a luncheon at DADS Worlds Buffets in December last year (click here to read about the culinary tour that took me and AJ around the world in just 3 hours!).   It was an amazing feast that I still rave about up to this day.  The food goddess must have heard me wishing for another unforgettable feast but this second time around, she made sure that I will be having it at a restaurant bearing her name, no less!
Another amazing coincidence was that the group that launched Ogetsu Hime last year was the same group which pioneered the "eat-all-you-can" style of dining here in the Philippines with their Kamayan, Saisaki and DADS restaurants – the Triple-V Group.  This fact doubled up my excitement, and you only have to look at the food pictures from the DADS luncheon to understand why, hehe!
But, I have to admit, my 'knowledge' of Japanese cuisine is very limited.  So when we were told that Ogetsu Hime specializes in sashimi and sushi rolls, teppan and sukiyaki, I almost raised my hand to ask if I can order for familiar dishes like katsudon or ramen instead.
I'm glad I kept my mouth shut, and just let the food goddess impress us with a selection of dishes truly worthy of gods and goddesses.
Ogetsu Hime takes pride in using only the freshest ingredients available, for food in season is naturally the best.   Nothing beats the pure, natural taste of the food we eat; and with the increasing expensiveness of these types of food,  I know that we're really in for a treat.
The feast opened with a parade of very fresh sashimi (raw fish and meat) and sushi rolls, and I almost drained my camera's memory card because I took too many pictures of them!  They're so beautiful to look at, but once we digged in, time stopped and we're in food bliss.
Tokubetsu Sashimi.  This was the opener.  It's made up of Hamachi, Shake, Maguro, Uni, Hotategai, Ikura, Tako, Amaebi and Unagi.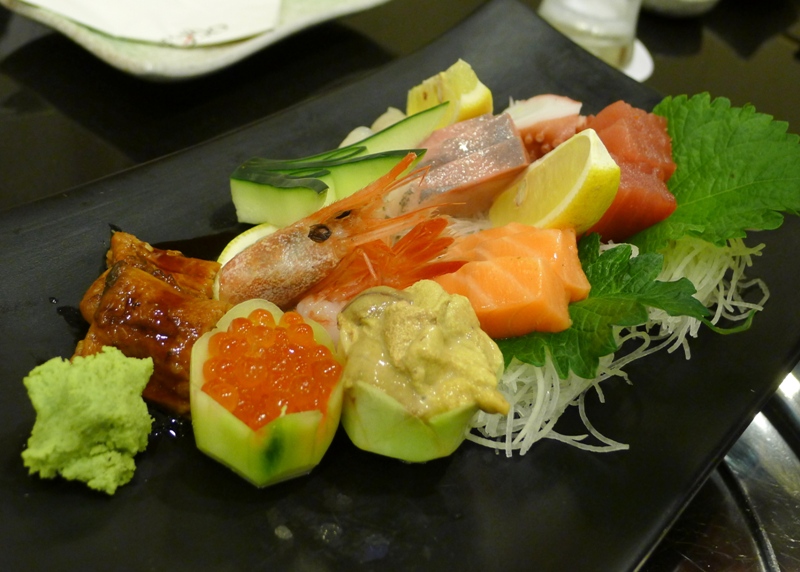 Kaisen Fried Rolls.  Bread Crumb Crusted Fried Roll with Spicy Tuna, Salmon and Cream Cheese, topped with Wasabi Mayonnaise and Unagi Sauce.  It was my first time to try a fried sushi roll and the taste is wonderful. It's not oily and is cooked just fine – a bit crispy outside but soft inside.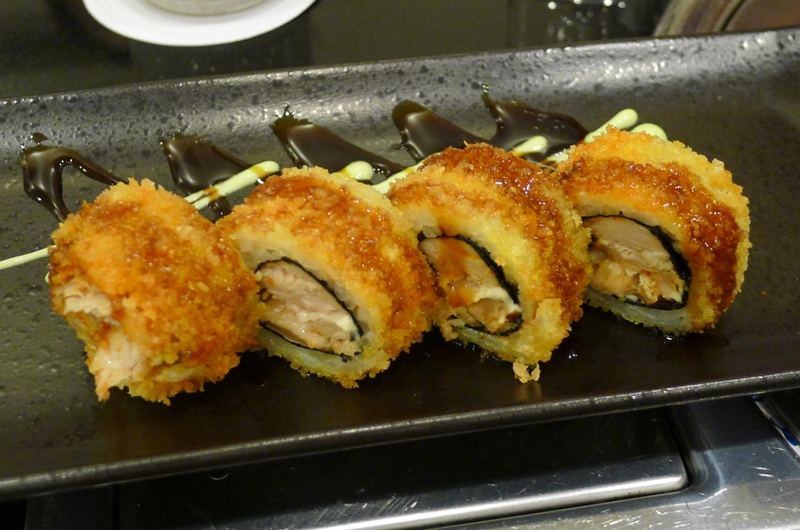 What I immediately noticed with the sushi rolls here was that they're not rice full.  So unlike the others I've tasted where I have to guess pa the taste of the meat or seafood inside (because all I can taste is the rice!).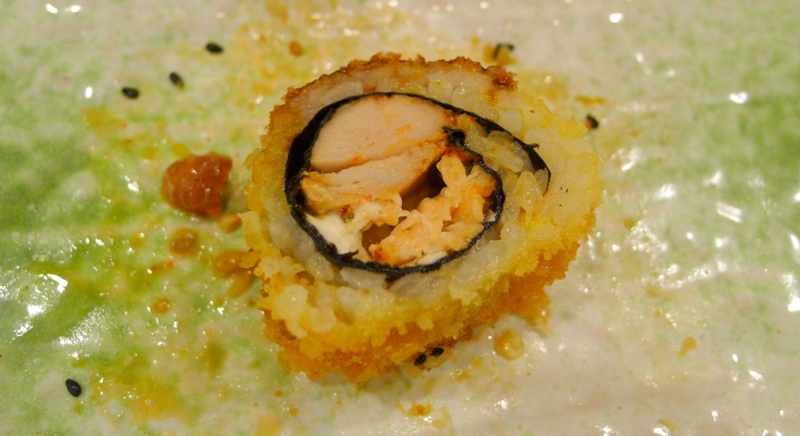 Soft Shell Crab Roll.  Tempura Fried Soft Shell Crab with Asparagus, Cucumber, Mango Honey Sauce Rolled in Aonori and topped with Japanese Mayonnaise and Unagi Sauce.  I love this one!  A fine mix of fresh veggies and soft shell crab.  I prefer it without the sauce.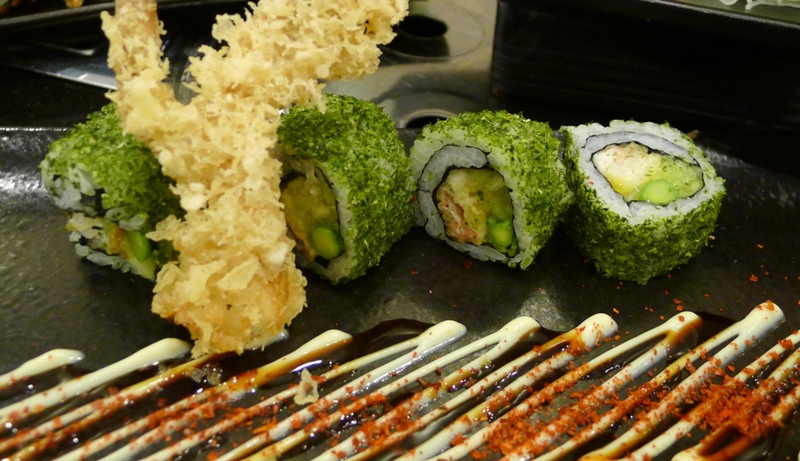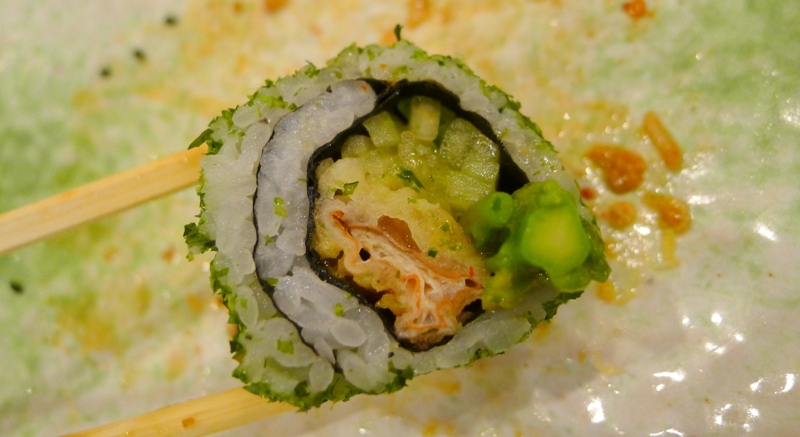 Ogetsu Hime Roll.  Furikake and Sesame Seed Crusted Roll with Unagi, Ebi Tempura, Cream Cheese, Avocado and Unagi Sauce with Kochukaru Mayonnaise.  This is Ogetsu Hime's signature roll and it's really good.  Again, you get the savor the taste of the shrimp and eel (Unagi) here because the rolls are not all about rice!   
An interesting trivia: because avocados are highly seasonal and therefore not regularly available, the Triple-V Group substituted this with fresh mangoes when they developed their California Roll for Saisaki, and thus born our Pinoy version of California Maki Roll!   But the Ogetsu Hime Roll will always have avocados, and we were told that if it's not available, then this dish will not be offered to customers.  Talk about getting the money's worth – always!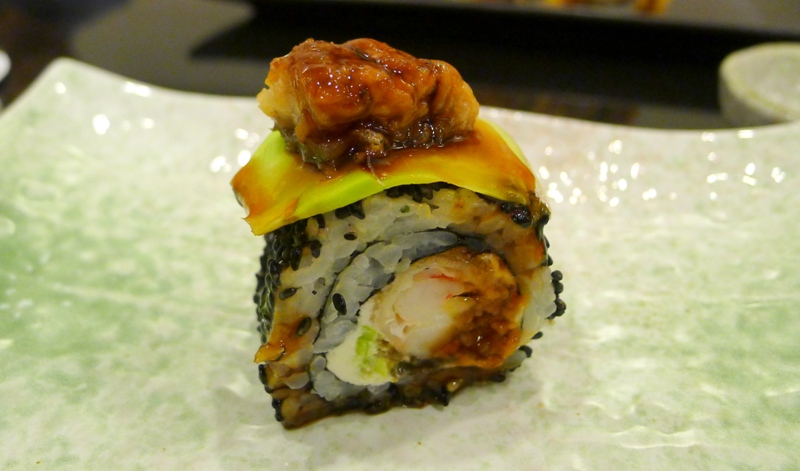 Spicy Maguro Roll.  Marinated Soy Sesame Tuna, Crispy Tempura Bits, Spicy Kochukaru Mayonnaise Rolled in Black and Yellow Ebiko with Roasted Sesame Dressing.  This one's simply divine, it's definitely my favorite.  Make sure to eat the sushi roll with the ebiko mixed in roasted sesame dressing for maximum taste impact!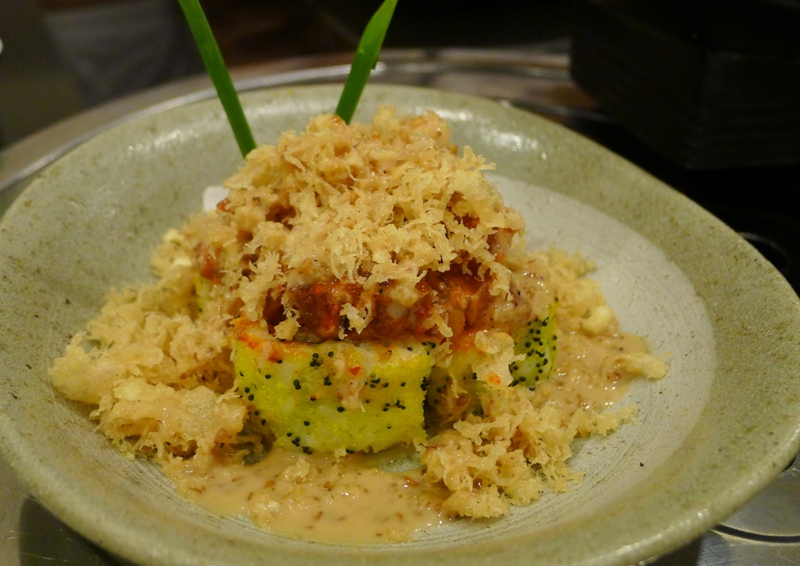 Rainbow Batera.  A Batera molded Sushi Roll topped with Tuna, Salmon, Ika, Kani, Saba, Ebi, flavored with an assortment of Ogetsu Hime Sauces.  I wasn't able to try this one anymore but it looks really good.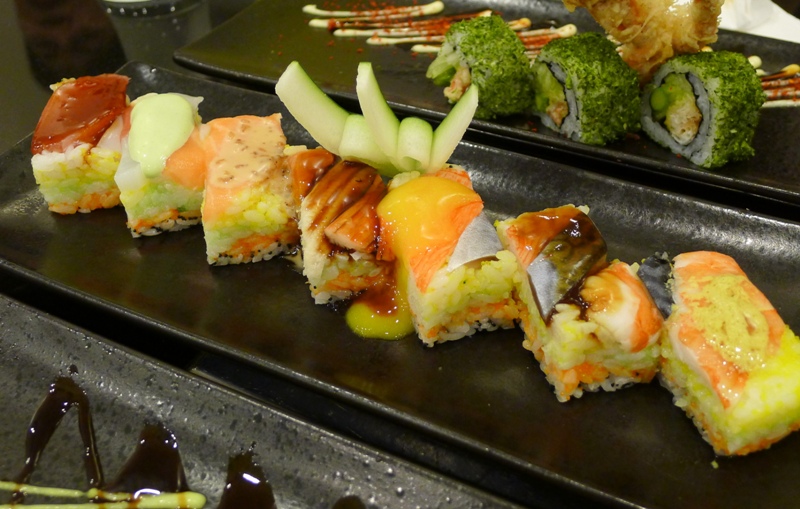 By the time I had my 4th piece of sushi roll, I felt almost full.  But it was at this point that Ogetsu Hime's mastery of preparing teppan and sukiyaki dishes were revealed, and the culinary journey continued.
As in every dish the we cook, there are ingredients and cooking techniques to follow to make it taste outstanding.  But the Japanese's teppan and sukiyaki dishes are not just about ingredients and techniques.  It's about timing.
We'll know more about this in the continuation of this post (which will be out also this week) so watch out for it! (Update: Click HERE for the continuation of my delicious food post on Ogetsu Hime.)
Ogetsu Hime  |  Sky Park, Level 5, SM Aura Premier, 26th Street corner McKinley Parkway, Taguig City  |  (02) 5199740  and (0917) 8096585