This is the continuation of my food post on Ogetsu Hime, which I decided to break into two (2) separate posts because I couldn't miss out on everything we had there.  Yes, they're ALL that good!
Click here for the first installment of my review on Ogetsu Hime, which is all about sushi and Japanese rolls!
For the main course, two (2) of Ogetsu Hime's superstar dishes were served for us to enjoy: a Teppanyaki Meal with prime beef and oysters and Sukiyaki.
Seeing our teppanyaki meal being cooked was an exciting sight in itself.  The pleasure was not just in seeing the food being cooked right before your eyes (and smelling it too, hmmmm), but in watching the graceful hands of the teppan chef preparing the beautiful meal.
The ingredients of our teppanyaki meal were all laid out for us to see.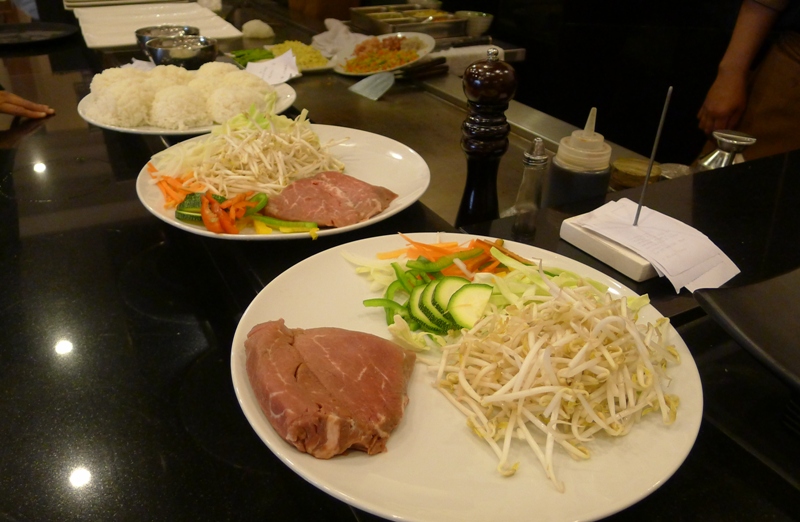 First to be cooked was the Chahan Moriawase, a flavorful Japanese fried rice mixed with chicken, beef, bell peppers and scrambled egg.  It smelled so good while being cooked.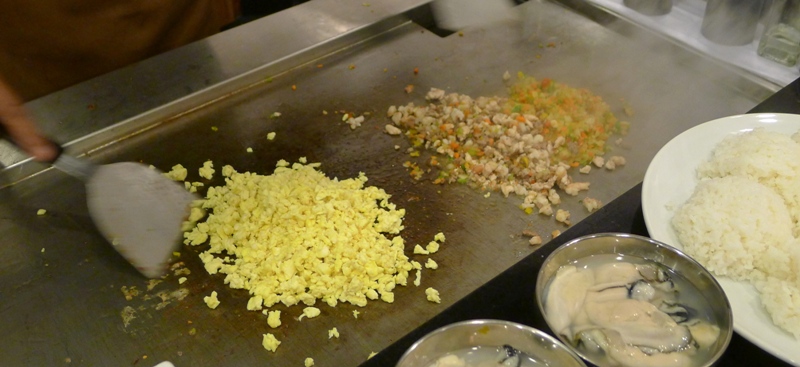 Buti na lang ang bilis nya lutuin, k'se nakakagutom na sya sa tingin pa lang, hehe!
My cup of Chahan Moriawase.
The chicken and beef pieces in my rice.  Hindi sila nagtipid sa sizes ng meat.  This rice is already a meal in itself.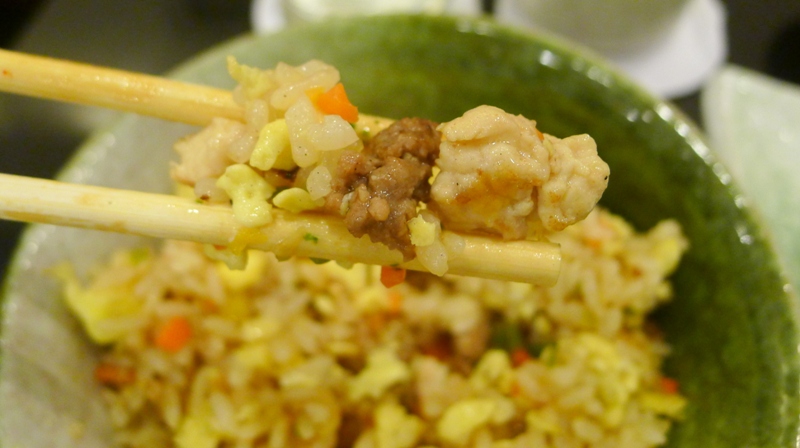 Next to be cooked (in the teppan grill) was the prime beef cut (I'm not sure if it's the U.S. Rib Eye or Prime Tenderloin that we had, sorry!) and it was a delight to see our thick beef being cooked in such a precise manner.
Watch the transformation below:  from cutting the beef into chunks, then stir-frying them a bit before seasoning with a special soy sauce and garlic slices: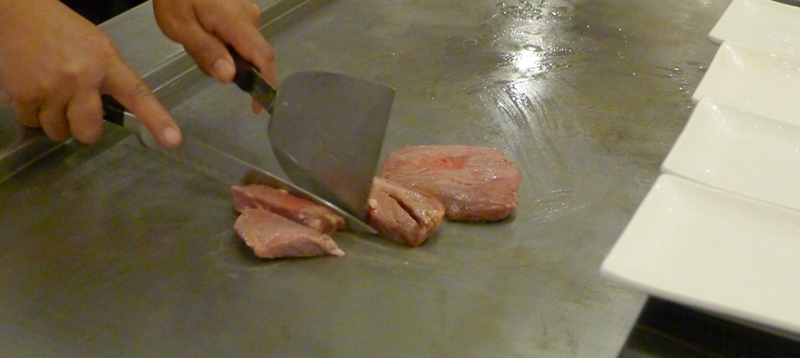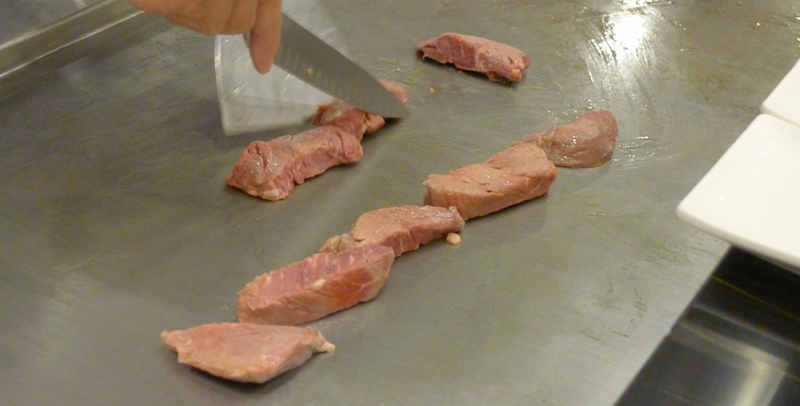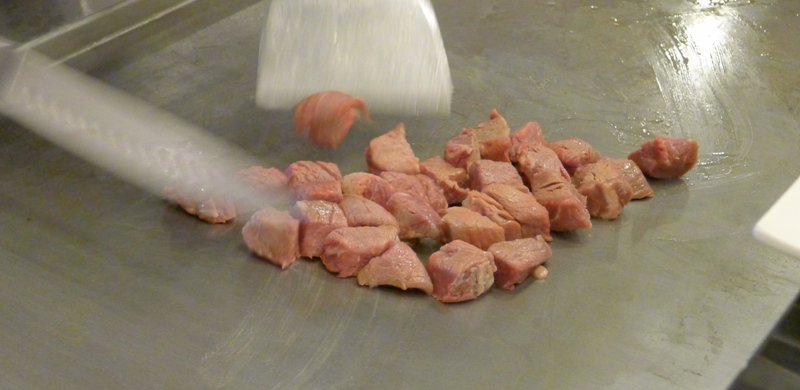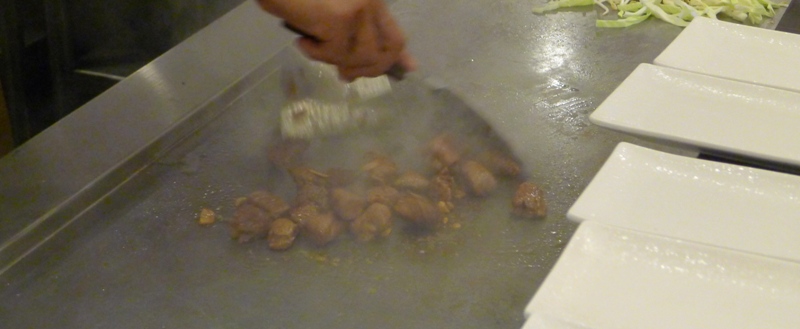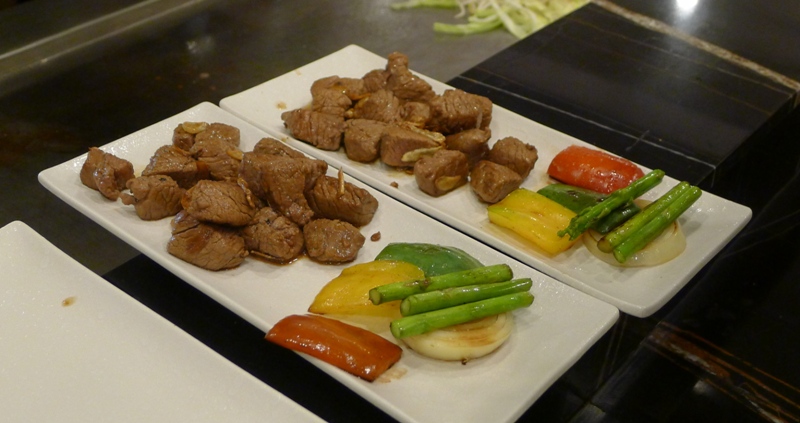 The beef was done medium rare, to give us the best texture and flavor.  Cooking the beef too much will make it dry and difficult to bite into.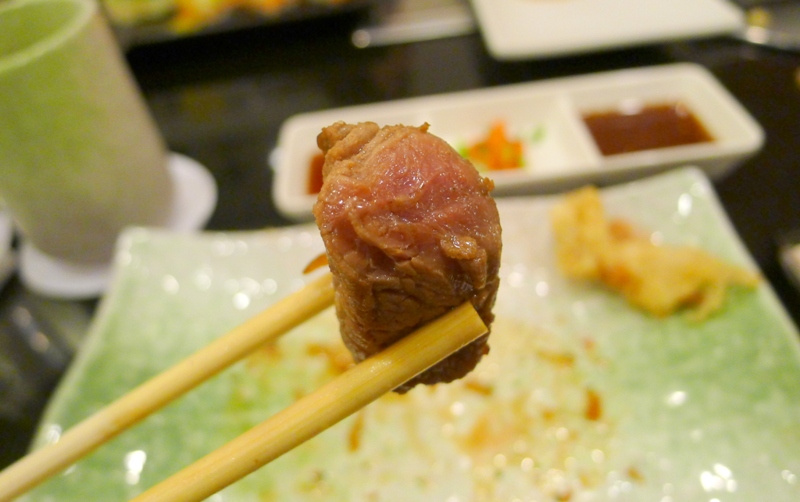 Oh my, this one's heavenly good!  The beef's fresh, tender and has a nice soy sauce flavor, even though it wasn't bathed (i.e. marinated) in the seasoning that long.
I also liked the veggie side dish, cooked teppanyaki-style of course.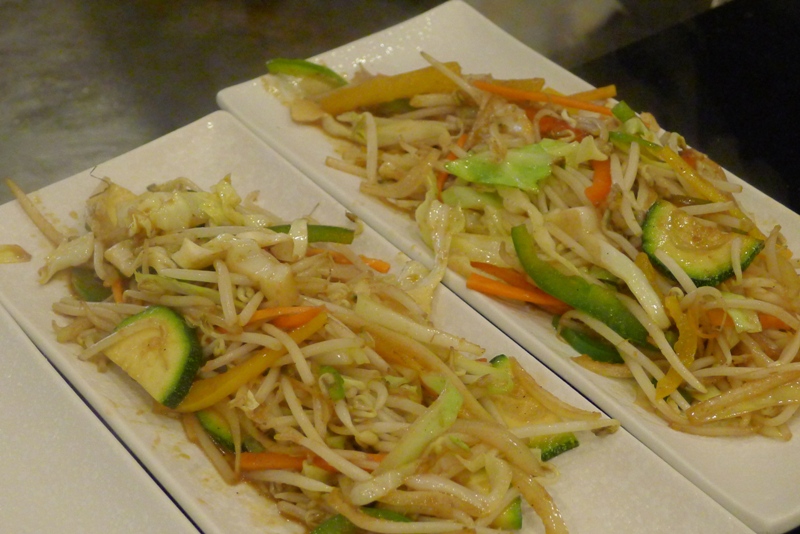 We were also served the exquisite Kaki (oysters).  They're really big.  Too bad I don't have an acquired taste for oysters but I tried one (only because it's cooked) and in fairness, I liked it.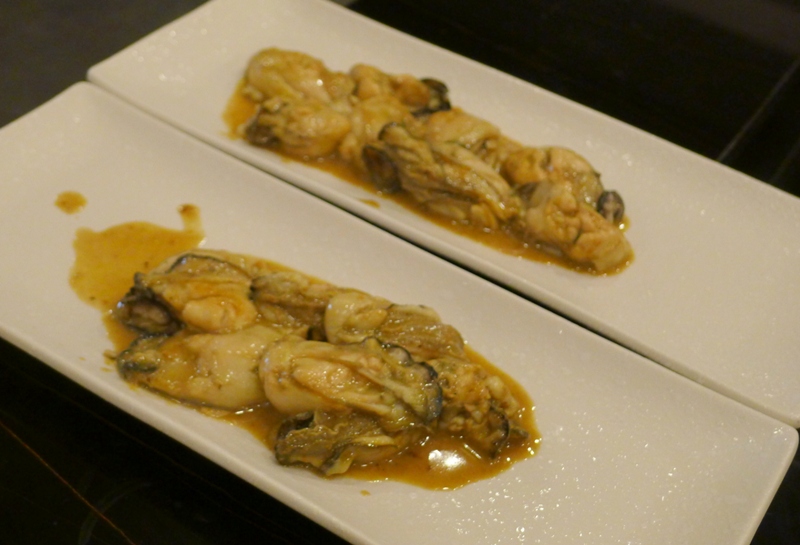 We rested for a while after our heavy teppanyaki meal, and then we were presented with the climax (read: ultimate must-try) dish:  Ogetsu Hime's Sukiyaki.
I'd say that dining at Ogetsu Hime will not be complete without trying their Sukiyaki, done nabemono-style (table hot pot cooking style).  We had the privilege of trying 3 of their 4 finest beef selection, and I remember that each bite of the beef slices just got better and better it was difficult really to pick which one was the best!
And this being my first proper Sukiyaki meal, I just have to document every step of its preparation.
But first, here are the ingredients: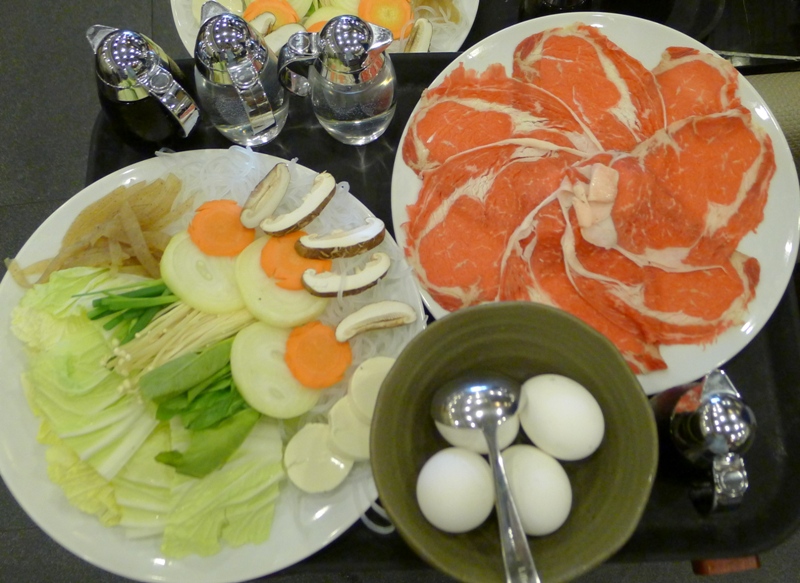 It started with the prepping up of the raw egg which will serve as the dipping sauce for the beef.  This is optional though, especially for those allergic to raw eggs.  But I wanted a complete meal experience, so I have to have the raw egg dipping.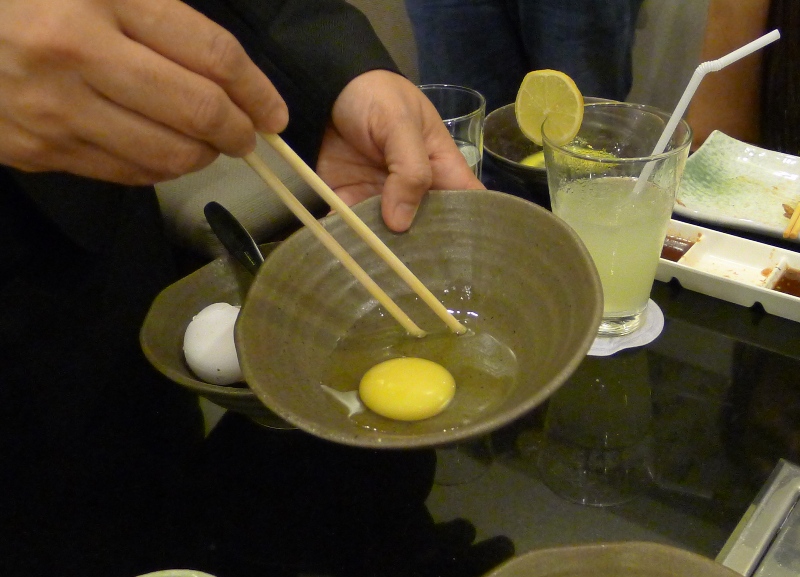 Here's how Sukiyaki is done at Ogetsu Hime (with the help of their attendants who will do all the cooking for you):
The heated hot pot pan is first greased with tallow or any form of pork fat.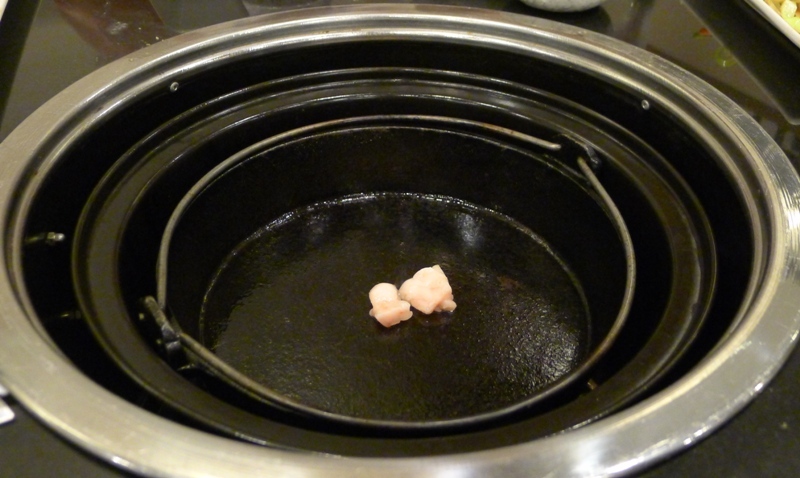 The sliced white onions are added next.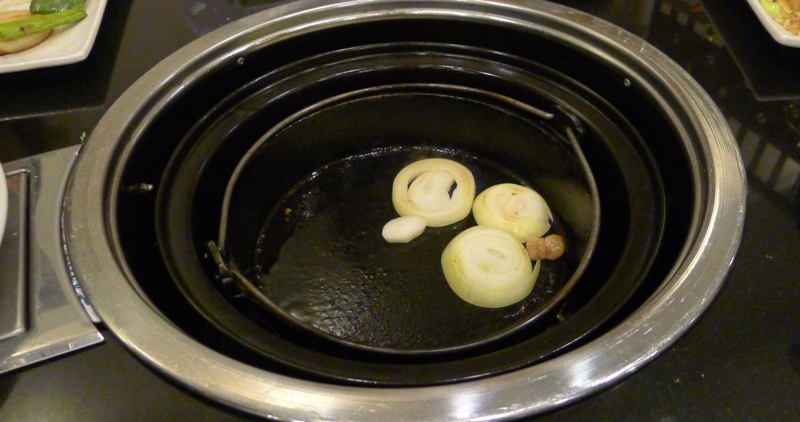 This is followed by their special cooking sauce and some water. Once the sauce starts to boil, the thinly-sliced beef is added one after the other.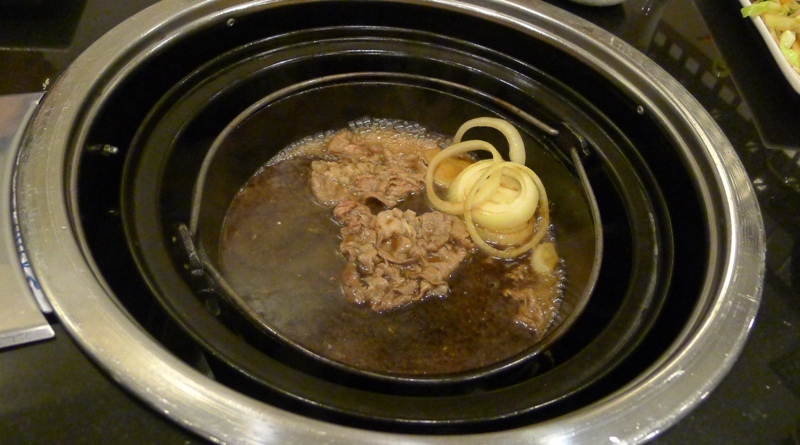 In cooking Sukiyaki, I learned that the beef should not be left too long in the broth as it will dilute the broth.  It's best to take the beef out once both sides are cooked.
It is only after the last of the beef slices is cooked (and taken out of the pot) that the veggies, tofu slices and jelly noodles are added.  By this time, the broth is already infused with amazing flavors that came from the 3 beef varieties cooked in it.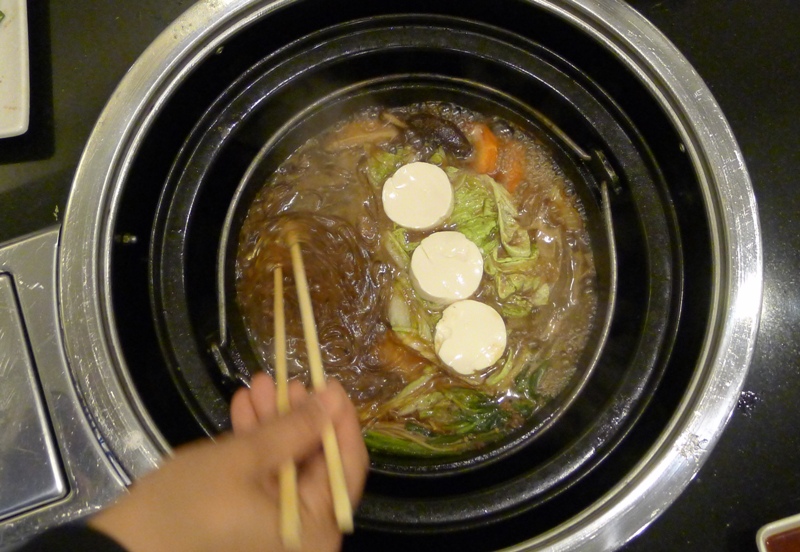 Here are the 3 beef varieties that we tried in our very special Sukiyaki meal:
U.S. Rib Eye.  This is the "entry level" beef in the Sukiyaki menu.  It's soft and chewy.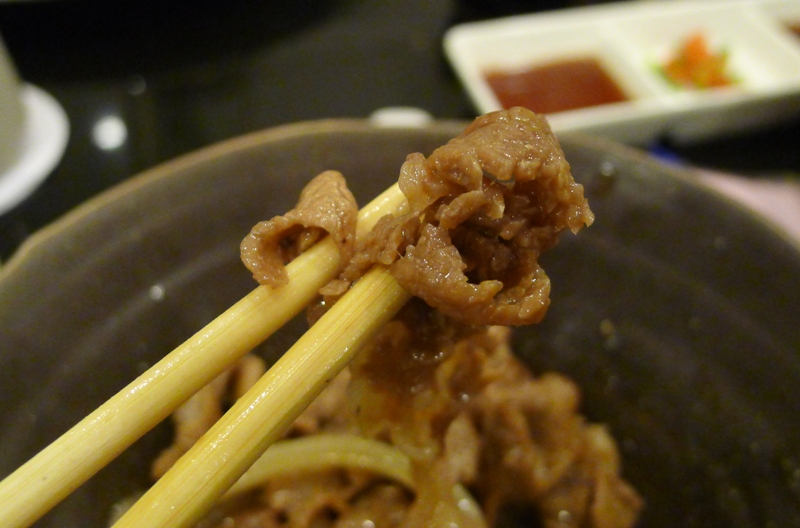 Ogetsu Hime Prime Rib.  It has a melt in your mouth texture and is slightly sweeter in taste.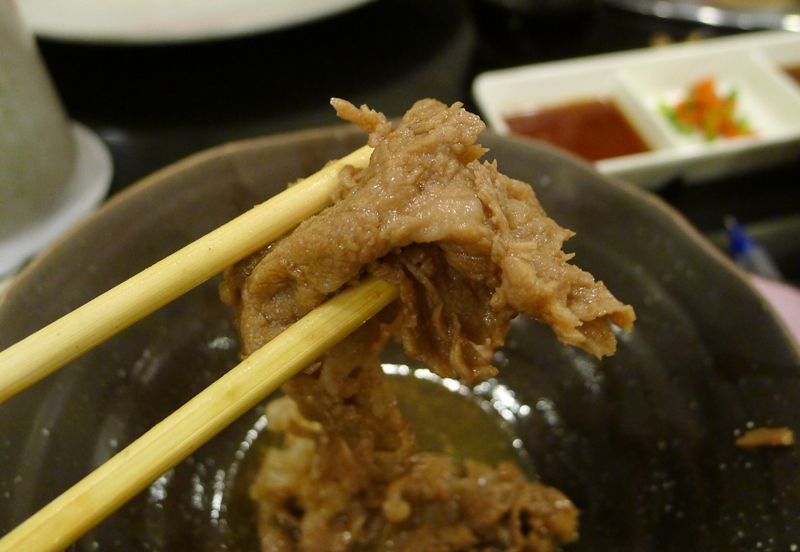 Matsusaka Beef.  This one's more marbled (i.e. has more fat) and therefore has better mouth feel.  It's the softest to bite among the three.
I cannot emphasize enough how good all 3 beef varieties were.  But if I were to choose which of them I liked best, it's the Ogetsu Hime Prime Rib.  The taste and texture suited my preference for soft textured but still lean beef.
Last to be enjoyed are the veggies and jelly noodles cooked in the already succulent beef broth.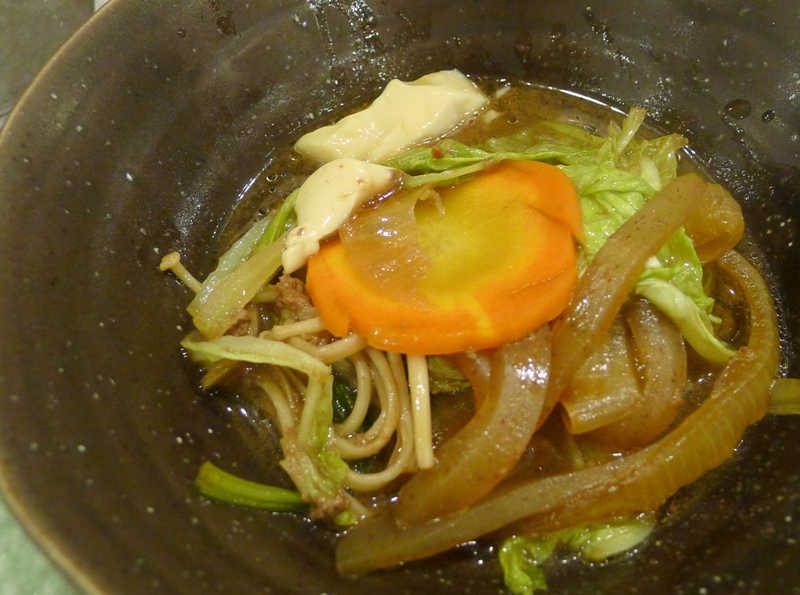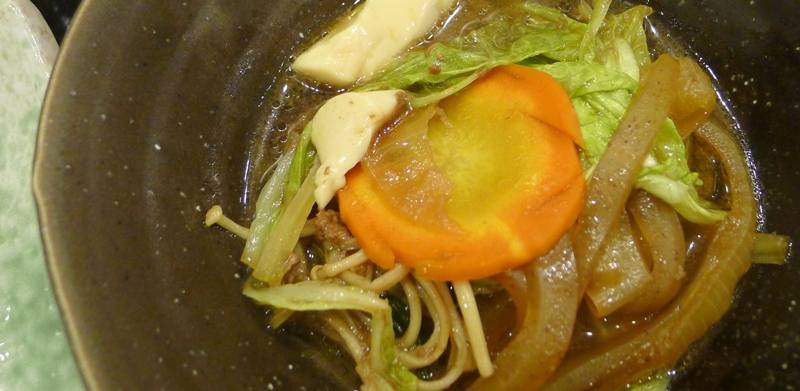 It was a flawless ending to our very satisfying Japanese lunch.  I will surely go back for this Sukiyaki!
AJ and I didn't realize that our lunch was almost 3-hours long, thanks to the good food, attentive staff and comfortable seats at Ogetsu Hime.
The restaurant was done in neutral shades of brown, evoking a warm and earthly feel: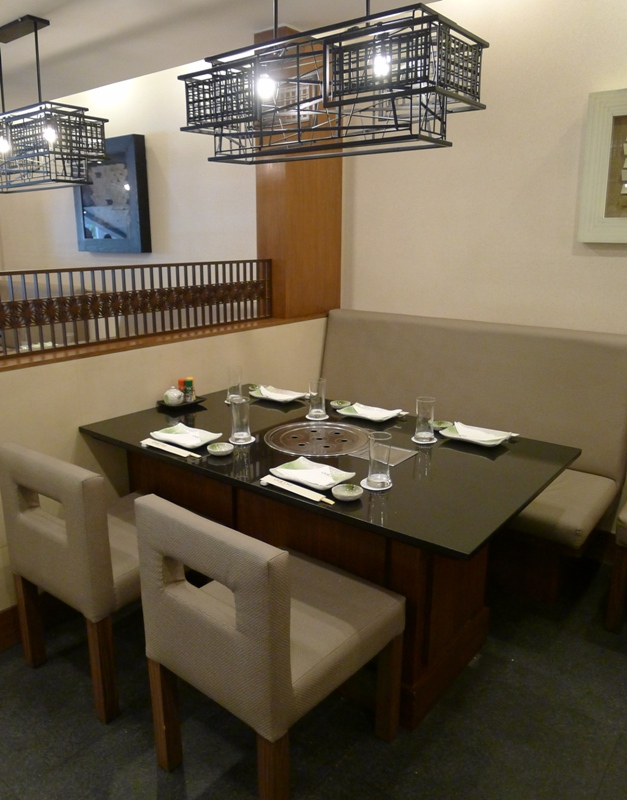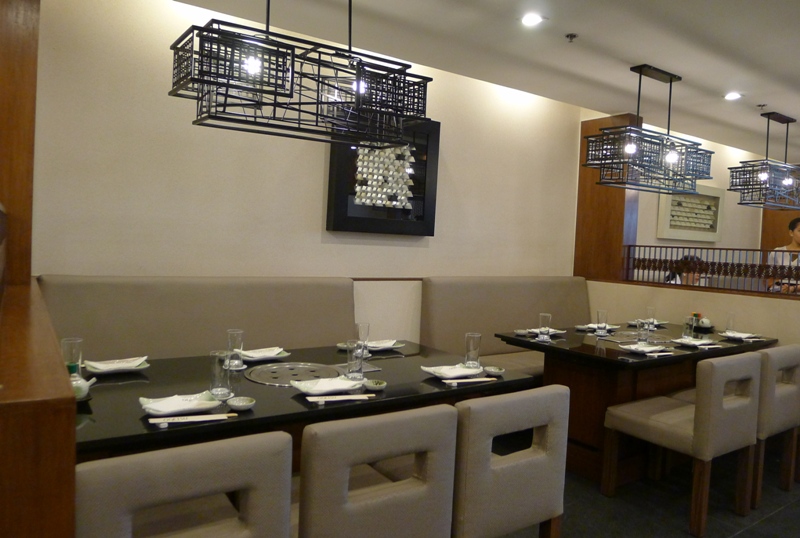 It's worth mentioning too that the 10% service charge that we usually pay in upscale restaurants does not apply here.  Yes, you read it right.  There's no extra premium to be paid for the skilled services that you get.  Of course you are free to give generous tips if you wish, but it's not imposed.  Shouldn't all restaurants operate this way?  Customer service should not come with a fee.
No wonder we love it at Ogetsu Hime!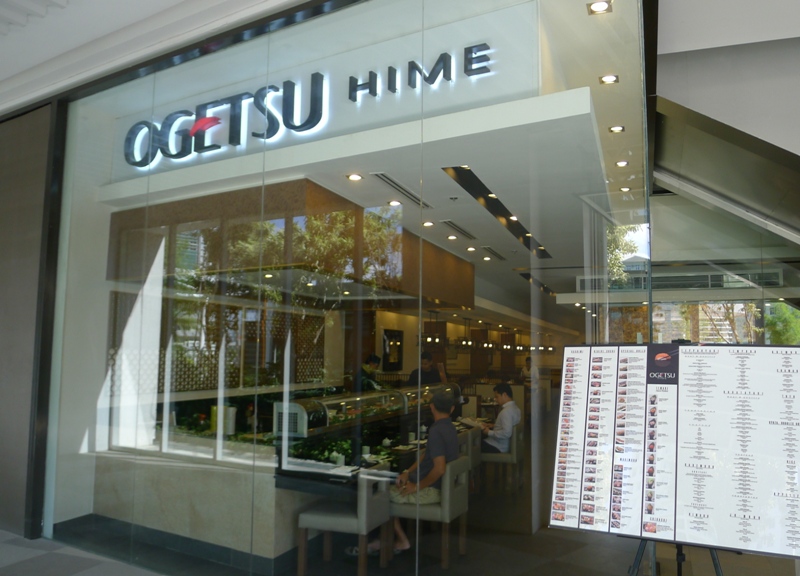 Ogetsu Hime  |  Sky Park, Level 5, SM Aura Premier, 26th Street corner McKinley Parkway, Taguig City  |  (02) 5199740  and (0917) 8096585