Call me baduy but there's only one (1) item of clothing that I splurge on and that is a Lacoste polo shirt.  The rest I buy only if discounted, hehe!
My love affair with Lacoste shirts started when I was in college, where the students at the University I attended in wear Lacoste shirts like their uniform.  But there's no way my parents, and more so I, will splurge on a P3,000 shirt.  That's the cost already of a 3-unit course! And ilang Giordano shirts din yun!  So I promised myself that once I have a job, I will collect Lacoste shirts!
But it was not until I got my second job that I splurged on my first shirt.  I guess the P3,000 price tag still scared me so I postponed buying until I finally got my voice to ask a sales attendant at Rustan's Makati about a white Lacoste shirt that I really liked.
I remember being  surprised when she told me the shirt costs P1,950.00.  I fitted it and it was perfect for me.  I confirmed the price again and it's really P1,950.00, way below the P3,000.00 I originally thought.  It turned out I was holding a kids size Lacoste basic pique shirt, size 14.
Here is it, still looking great at more than 10 years (gosh, vintage na ito!)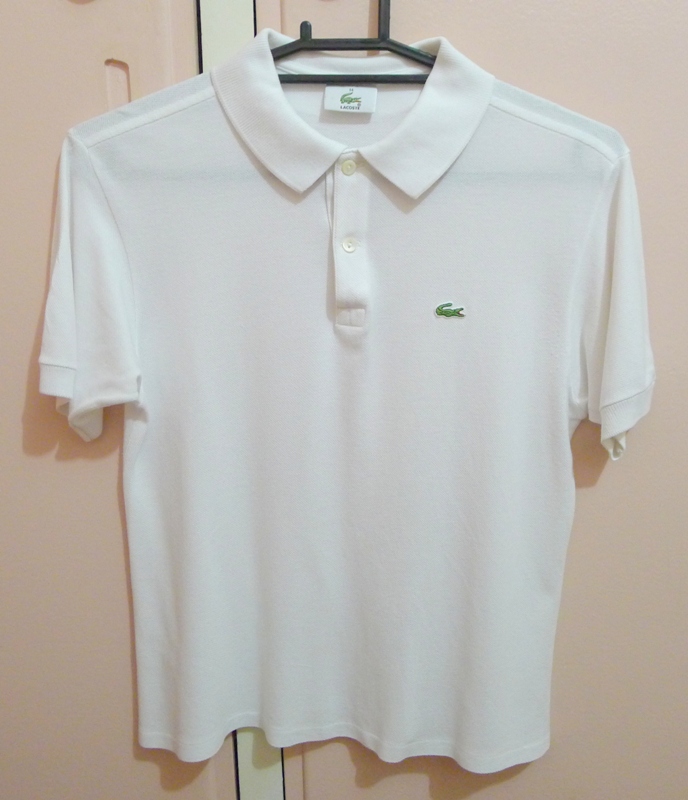 I now have about 15 of this shirt in various colors and all in size 14.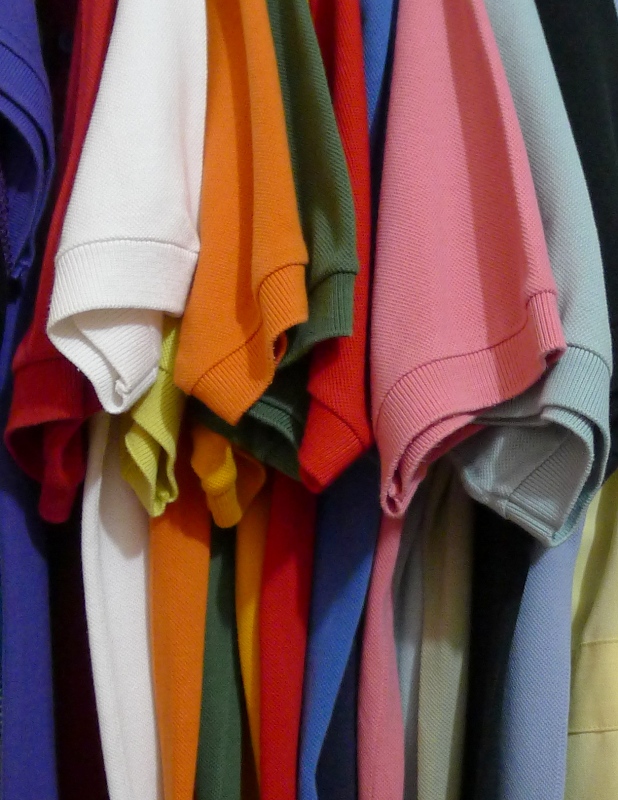 Most of these I bought from my Christmas bonuses.  But there's one special shirt (in black) that came from AJ, and he looked for this hard-to-find color at all Rustan's stores in the Metro until he found it at Shangri-La  =)
Lacoste shirts are precious to me, so I buy them only at Rustan's, the exclusive distributor of Lacoste shirts.  I don't have to worry about fakes this way, plus I get to carry their signature shopping bag (hehe, babaw ba?)
Anyway, a lot has been said about the iconic Lacoste crocodile logo and how, by just looking at it, you will already know if the shirt's real or a fake.  Let's do a crocodile dissection with my Lacoste shirts, and understand their characteristic markings.
I've read in forums that there are 3 items that you should check in a Lacoste crocodile patch: the teeth, claws and scales.  They must always be present, though they need not be identical.  You can see all 3 distinguishing features in the crocodiles below, though they are more prominent in my white shirt.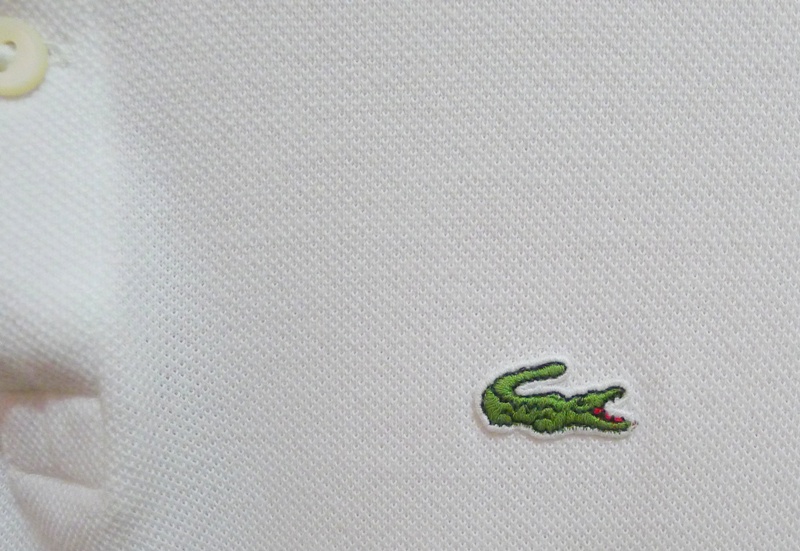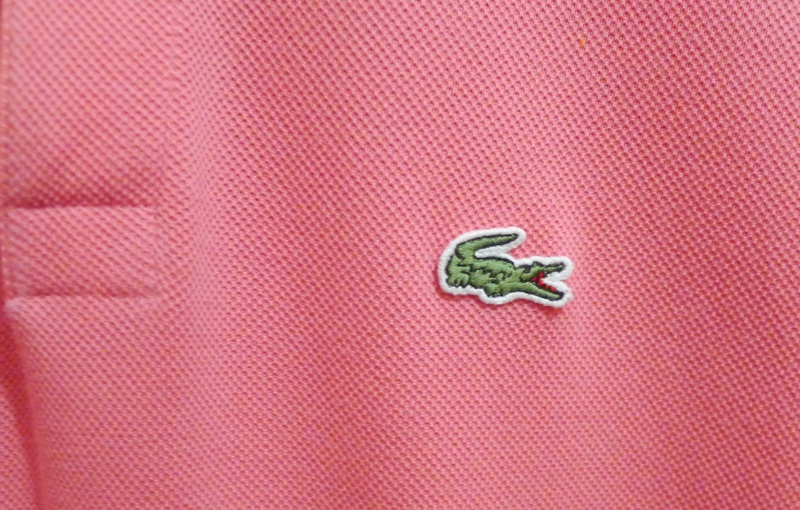 Throwback moment #1: Does the pink shirt looks familiar?  Yes, I wore it during our pre-nup pictorial way back in 2011 =)
Going back, since mine are boys' shirts, the crocodile patch is sewn onto the shirt and not directly into it, the way the ladies' shirts are done.
Next is the shirt tag.  It is sewn beneath the lining of the back collar so it is very clean to look at.  The shirt tag shows only the Lacoste logo and the size of the shirt.  You will notice that my first shirt still bears the old typography (smaller print for "LACOSTE") and the shirt size is in black and aligned to the center.
The newer tags show a bigger font for "LACOSTE" and the shirts sizes are in red and placed at the upper left side of the tag .  (Some say that a Lacoste shirt is a fake if the shirt size is written as "Small", "Medium" or "Large", instead of numbers.)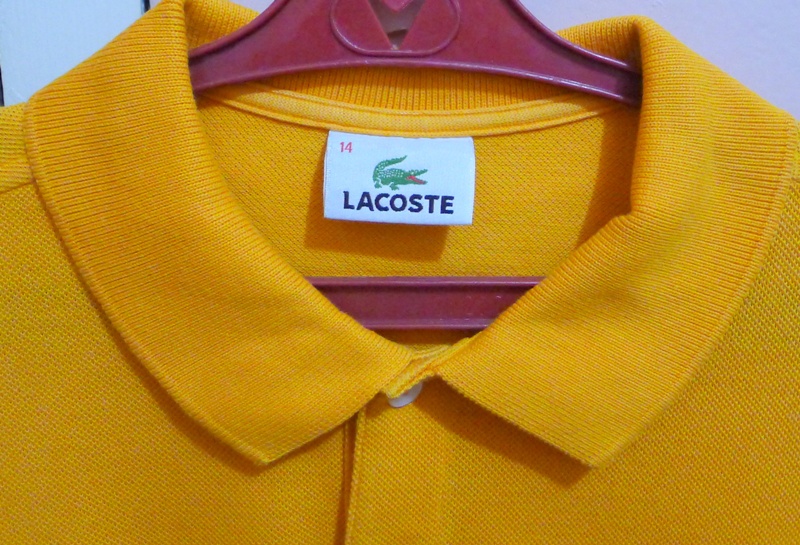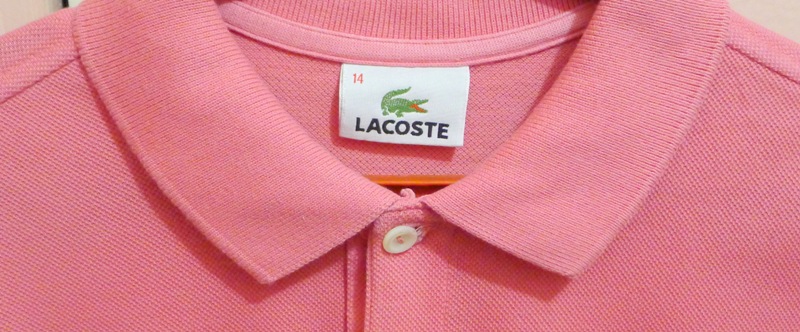 Throwback moment #2:  I wore my gold yellow Lacoste shirt during a get-together at the lovely home of Frances (of Topaz Horizon) in December 2012.
As for the cloth and its quality, pique shirts are made of 100% cotton knitted fabric so expect it to turn soft over time (which I love).  But like any other shirt, the color's gonna fade over time too, even if you hand wash them very gently.
I don't mind my shirts looking old, really.  These are the type of shirts that never go out of style, so I'll be happy to wear them over and over again.
Here are some of my fairly faded Lacoste shirts, which I still love to wear every so often.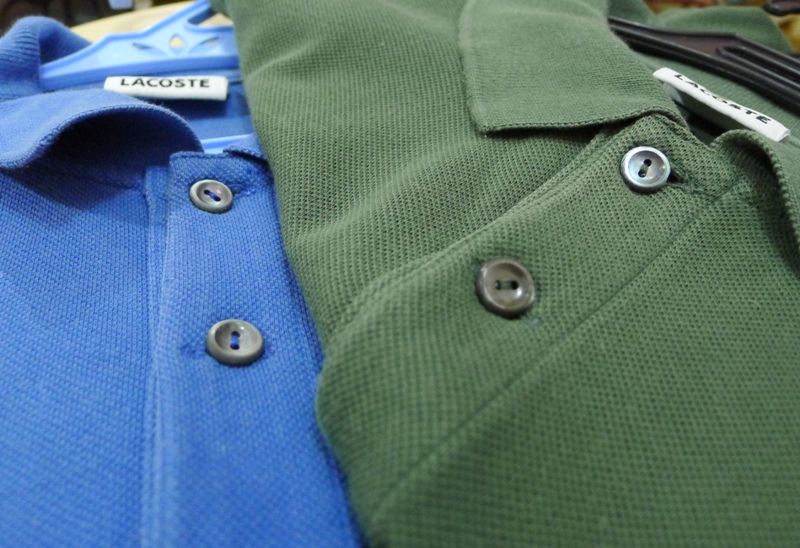 You will notice that the dark colored shirts have greyish black buttons (only 2 buttons by the way, for kids sizes), and have no text markings at all.
Light-colored shirts, on the other hand, have cream-colored buttons. I read up somewhere that the buttons are made of mother of pearls and not ordinary plastics.  I checked this info with my shirts and it looks like it's true because no two buttons look alike.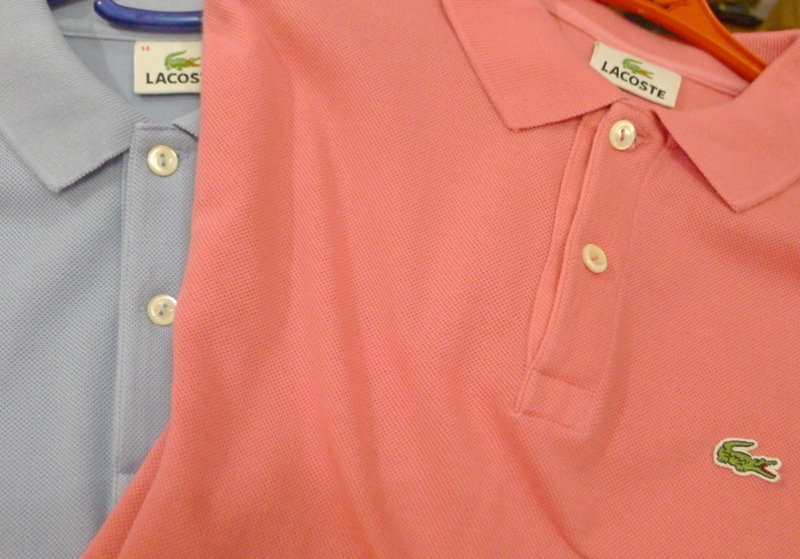 But an exception to this button color-coding scheme is the red shirt, which used cream-colored buttons instead of the greyish black ones.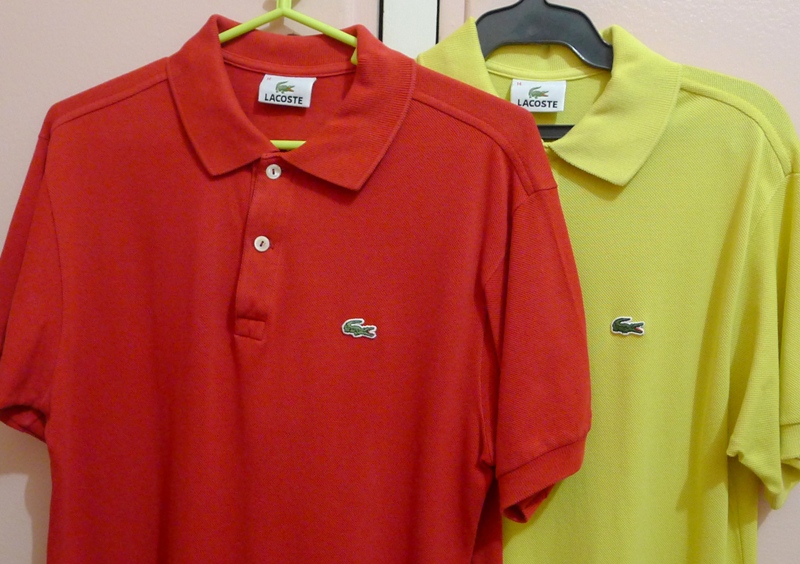 Throwback moment #3:  The red Lacoste shirt is always my "birthday" shirt.  Check it out at my 2013 birthday celebration here.
The fabric label is made of silk cloth and is sewn at the inner right side of the shirt.  I checked each fabric tag in my shirts and found this same print in them:
Here comes the serious collector in me:  I do not just collect the shirts, I also collect the price tags!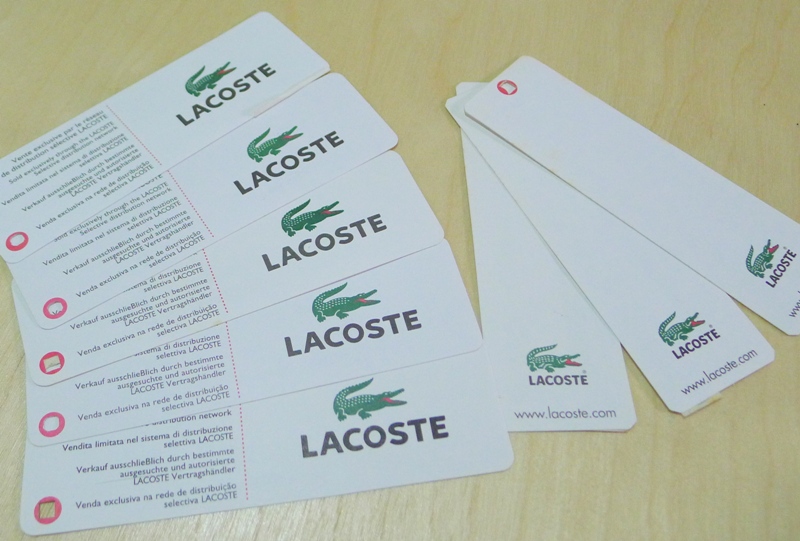 Weird ba?  Hehe!  I don't know why I kept them in the first place, but now I'm glad I did cos I can show you that I bought my first few shirts for only P1,950.00 each!  The price has shoot up since then, making it almost twice as expensive now than 10 years ago.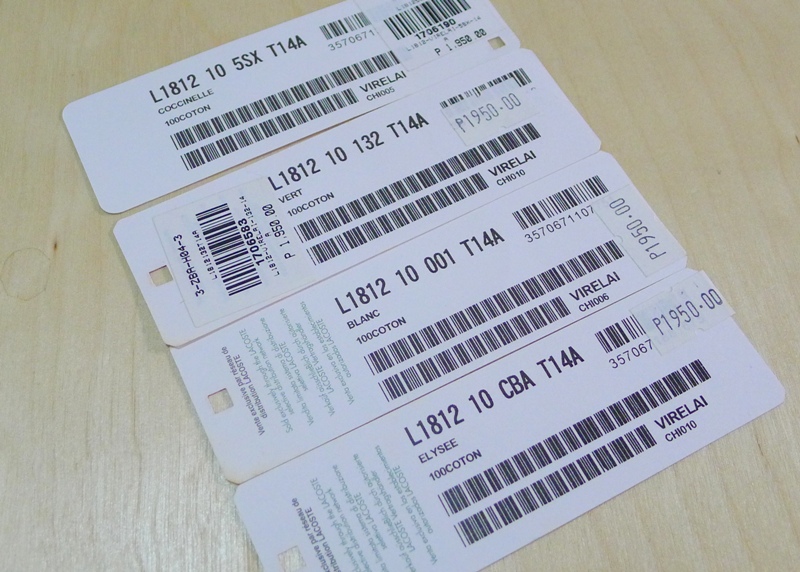 An important detail in the tag:  the shirt color which is printed at the left side of the price tag (just below the shirt code).  Notice that the colors are in French, and not English like "Aqua Blue", "Emerald Green", "Coral", "Gold Yellow", and so on.
Anyway, the shirts that I was able to snag at pre-inflation price are in these colors:  Blanc (white), Elysee (blue), Vert (green) and Cocchelle (navy blue).
After my fourth purchase, Lacoste increased the prices of their shirts from P1,950 to P2,350, and sooner after that it increased again to P2,650 and then P2,850.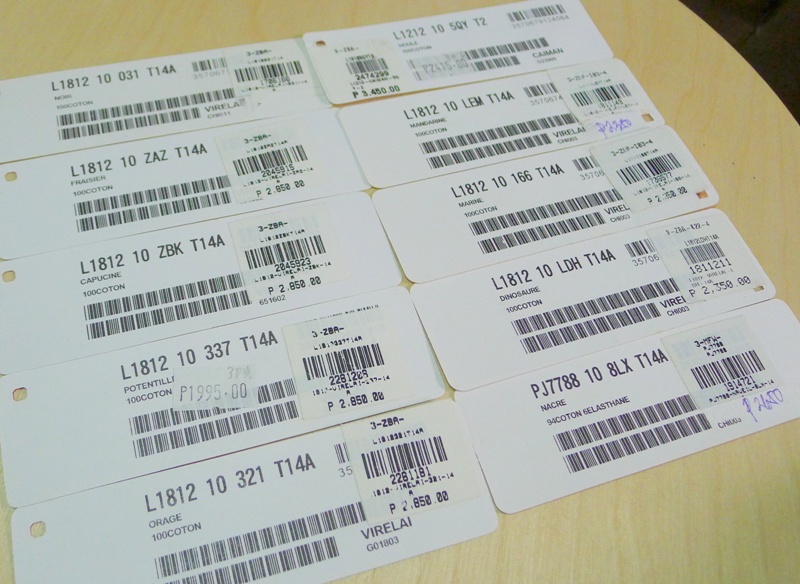 There were a few times when I was able to buy them at discounted prices, like the Potentilla (gold yellow) which I got at 30% off or at P1,950 which is its pre-inflation price (yey!).
Another thing you will observe in the tags is the word "Virelai".  According to Wikipedia, Virelai is a form of medieval French verse used often in poetry and music.   This was how Lacoste chose to name their line of boy's basic/classic shirts – after a short-form music or literary form.  Cool!
I'm posting below clearer pictures of the price tags so you can see the changes they have made as additional safeguards against counterfeits.
In front.  The one above is the old lay-out, which shows only the logo.  The new lay-out has additional texts printed at the left side, and the logo is now bigger and in landscape position at the right.  It looks cluttered this way.  Even the punch hole has changed position from center to the left side.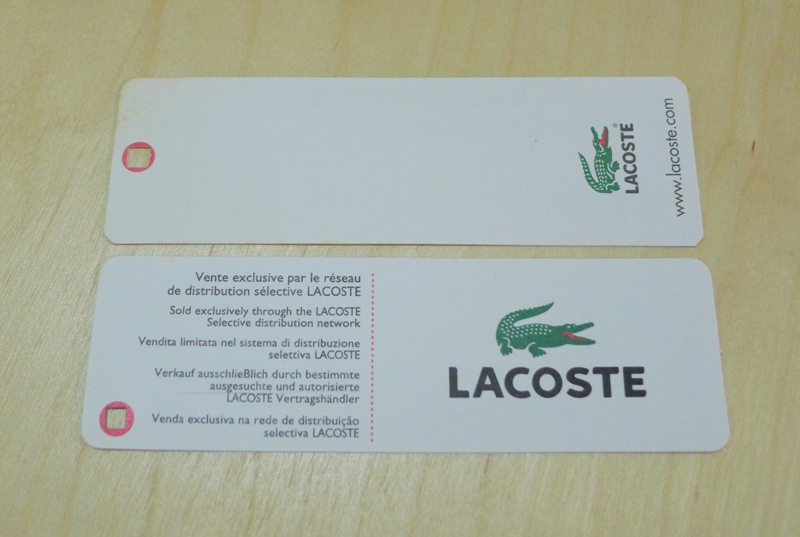 At the back.  The older tag is clean in front but text-heavy at the back, while the newer tag is the total opposite.   It's a good thing they removed the green texts already (and placed it in front), because there's no way I can read that size 7 font!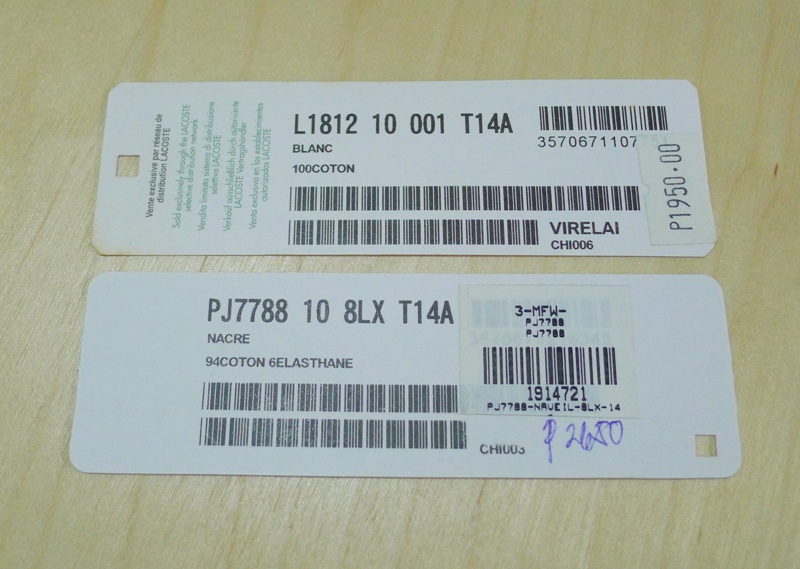 Very recently, I learned that Rustan's has stopped ordering size 14 Virelai shirts.  Their biggest size is now at 10.  This made me really sad, because where else can I get my shirts?  I love the fit of my size 14's and I wouldn't trade it for any Lacoste adult size shirts.
I've been thinking about this lately, and realized that instead of sulking I should be grateful for being able to make good my promise to myself.  I have 15 Lacoste shirts to remind me of that.
But there's a part of me that doesn't want to give up, and as an alternative option, I thought of ordering Lacoste shirts from this Instagram seller who's marketing Lacoste "authentic, overrun" shirts at less than P1,000.00 each.  Too good to be true, right?
Watch out for the part 2 of this post next week, as I show you the telltale signs of a fake Lacoste shirt, with actual pictures to boot.  (Update:  Part 2 – Spotting a Fake Lacoste Shirt)
Meantime, I'd love to know about your best fashion splurges!  What fashion items are you willing to splurge on by saving on the others?   Share them in the comments section of this post or better yet, blog about it and send me a link!  =)