I'm not supposed to write anything today but I couldn't help sharing with you the disappointments I had with JRS Express.  Just this week, I had the misfortune of dealing with them for the 2 packages containing the items I ordered online.
The first package contains the 2 Lacoste shirts I ordered from an Instagram seller.  I've paid for these 2 weeks ago and up to now there's no package and worse, I don't know where it is. Their online tracking system is always down.  The branch nearest to our home cannot help me track the package either because they are still using the manual method (i.e. logbooks) and therefore has no record of parcels and packages still in transit.  The seller who sold me the shirts is having the same problems in tracking the shipment.  I have already left a message at JRS Express' Facebook page and I'm keeping my fingers crossed that this last resort will work na.
The second package contains the terra cota garlic roaster I ordered from Ms. Ellen, whom I've transacted with in the past (check out the Cath Kidston and Starbucks mugs I bought from her).  I paid for the item last Monday and then on Wednesday I received a call from JRS saying that they have made 2 attempts already to deliver the item at our home but nobody's answering.  I found this weird because they have successfully delivered items at the same address before (with my dad receiving them for me), but since I was in a meeting at that time I agreed to pick it up at their branch instead.
AJ and I were able to pick up the package yesterday, but it was only this morning that I was able to open it.  I could not believe what I saw.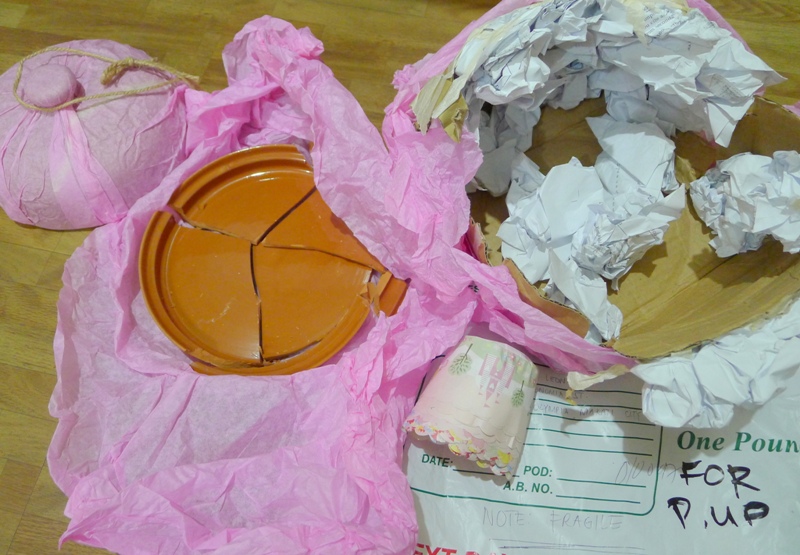 This is what I was supposed to receive:
The domed lid has no damage alright, but without the roasting plate, it's useless.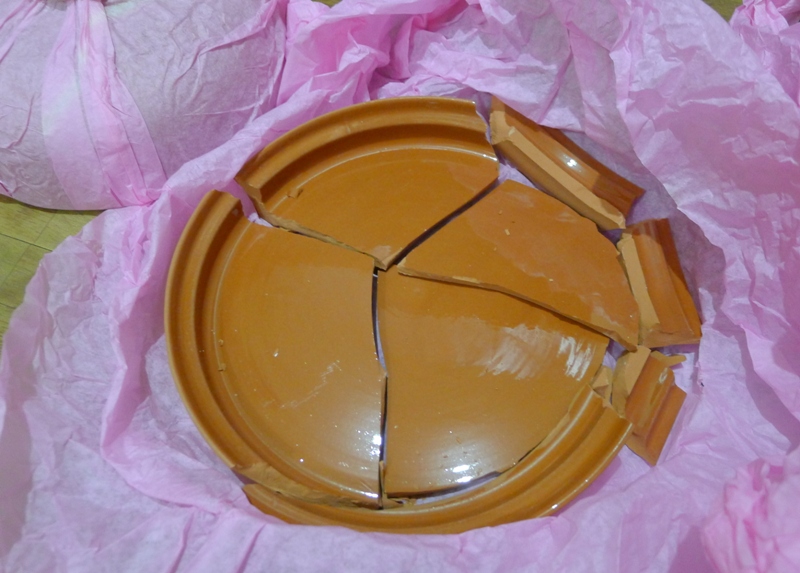 I know Ms. Ellen and how meticulous she is in packing fragile items for shipment.  This one was packed with care, no doubt.  You can see that in the way each part of the garlic roaster was wrapped (with pink Japanese paper), then placed in a sturdy carton box with lots of crumpled paper inside to prevent shaking and breakage of the item during transit.
JRS Express knew that they're delivering a fragile item, so they are expected to handle it with care.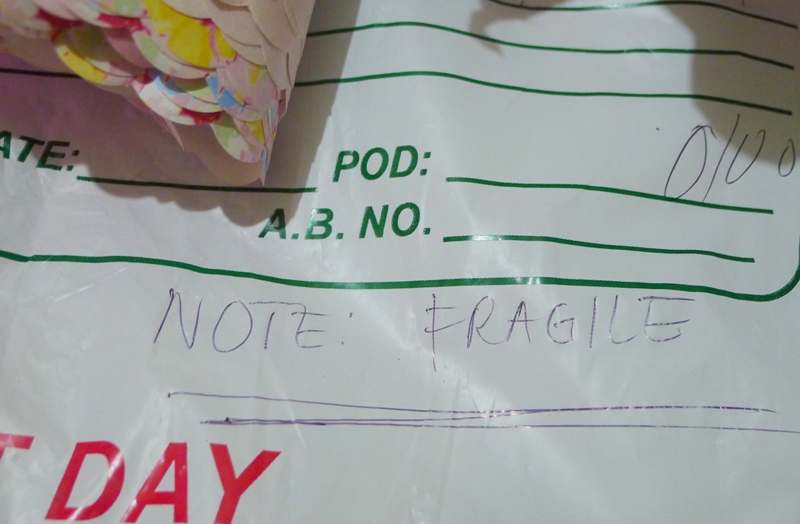 Only a violent fall or throw could have broken the item this bad, and for this, I could not help but put the blame on JRS Express, the courier responsible for delivering it to me.   
I also noticed that the carton box and crumpled papers were damp, as if the whole thing was covered in water at some point during the transit.  Proof of this can also be found at the damped paper baking cups that I found inside the domed lid.  As I am writing this, the paper baking cups are still soft and stuck together.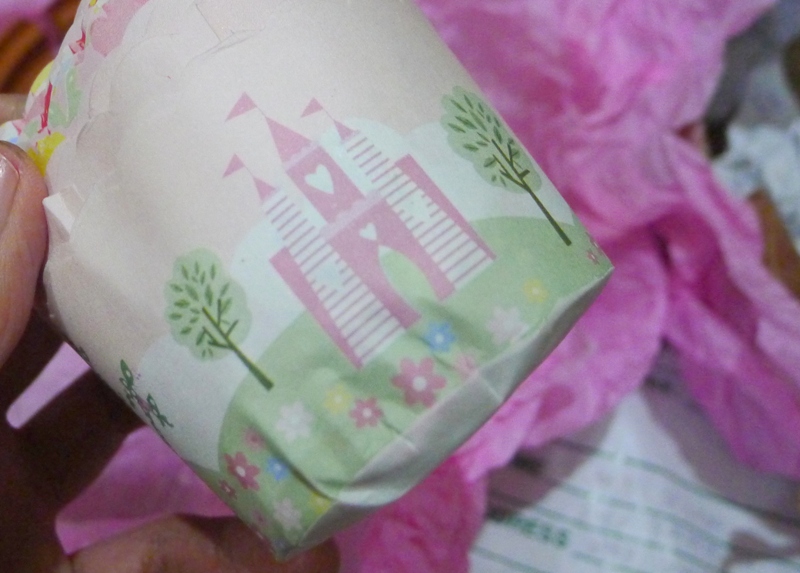 I have relayed this unfortunate incident to Ms. Ellen, who said she will replace the item.  This made me all the more annoyed with JRS Express.  Imagine what this negligence is costing both Ms. Ellen (the seller) and me (the buyer)??
I have thought of reporting this incident to them but with their manual recording of everything, can they help me trace back where the damage may have happened?  Worse, they might just deny that they have mishandled the package (because there's no proof of it) and this will just piss me off.  After all, my package came all the way from Dumaguete and there are lots of drop-off points in between.
I was once an active seller online (through eBay and Sulit.ph) and I have always subsidized the high price of courier services because I want to make sure that the items I have sold will reach the recipients in good condition.  Ms. Ellen is no different from me in this way, and to get this kind of result even with the expensive service fee that we pay is totally unacceptable.  I have had my share of bad courier services in the past and believe me, it can kill a business.
It's about time that JRS Express, and other courier service companies for that matter, put value in this "third-party delivery service" concept.   They may think they are servicing ordinary clients only but what they do not know is that these are entrepreneurs with businesses to grow and nurture.
As for my other package (i.e. the Lacoste shirts), I'm not pinning my hopes on JRS Express anymore, but I think this is the first and the last time I'm dealing with Instagram sellers.