I am so used to hearing this from my officemates: "You're having chicken again for lunch?".
Yes, I really am a chicken person.  And my favorite part is, of course, the wings!  The reason is simple: it has the most balat (skin) of the chicken which I really love.  I also find it to be the most flavorful part of a chicken, maybe cause the meat is not thick, allowing the spices or the marinade to instantly seep and lock in the flavors.
That's why discovering Frankie's New York Buffalo Wings a few weeks ago made the foodie in me very happy.  It's been a while since I've last had good chicken wings  (and that was at Wingman at The Collective), so you could say that the excitement is double this time because not only am I craving for flavored chicken wings, but because I want to try new flavors!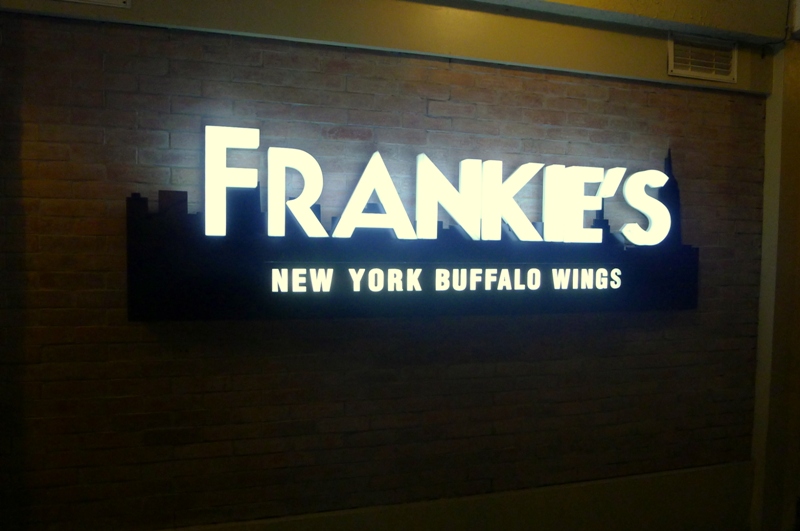 Thankfully, Frankie's New York Buffalo Wings boasts of several flavors and as we were lucky on the day we visited it, we were given the opportunity to try 6 flavors!  Yes, 6!  It was truly a chicken wings feast that delighted both my and AJ's taste buds!
And I know you won't believe me if I say that all of them are our favorites.  Syempre, dapat may ranking, hehe!  So here are the chicken wings flavors that we tried, ranked according to how good we liked it (with 1 being the highest):
1.  HICKORY BBQ.   Hands down, this is our favorite.  It has a great hickory aroma, with sweet and mildly spicy taste.  Excellent flavor, it will definitely appeal to everyone.  And the price will most definitely appeal to everyone, too!  Just P173.00 for half a dozen chicken wings (and P320.00 for a dozen), regardless of the flavor!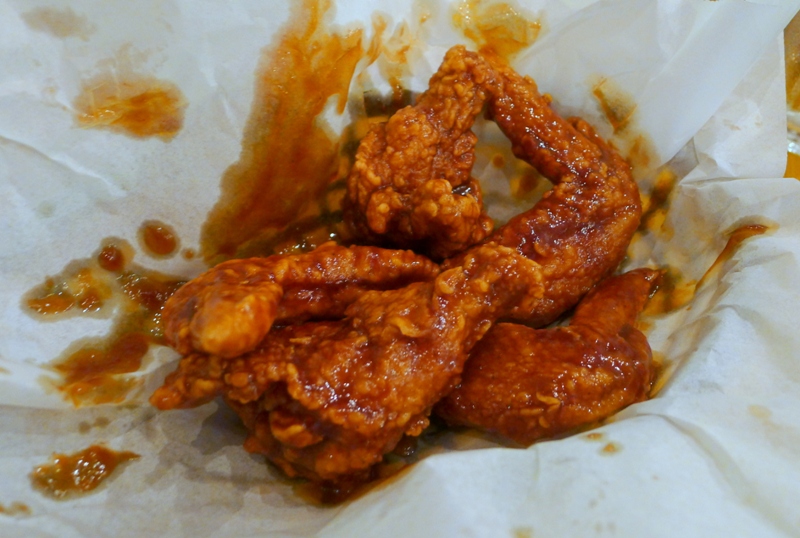 2.  CLASSIC BUFFALO.   This is best enjoyed with a cold beer on the side.  Crispy crunchy on the outside and tender meat inside.  I don't know what secret spices they put in here but everything is balanced: it's not not too salty nor too hot (spicy) nor too strong.  Easily a best-selling flavor!  Dip it in their signature blue cheese dip and you're super good!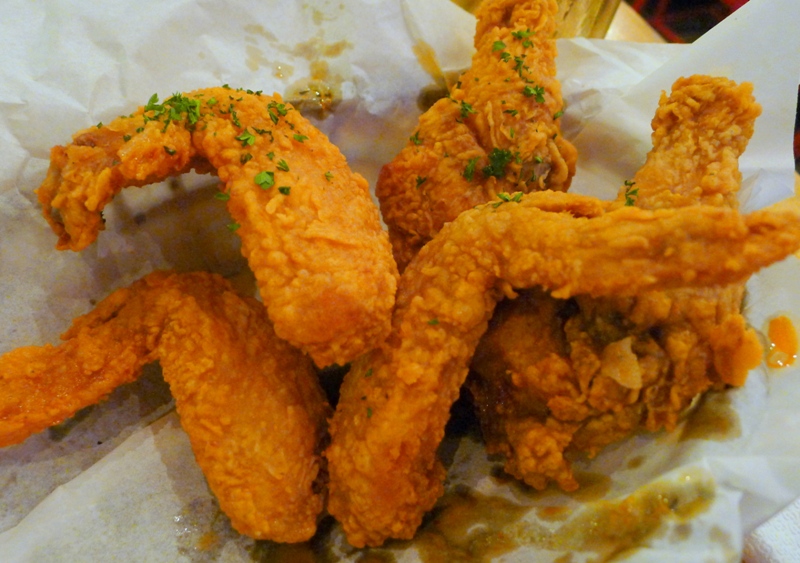 3.  GARLIC PARMESAN.  Bursting with tartness from parmesan and a mild garlicky hint that is not so overpowering!  I can eat this with rice!
4.  NAGOYA TEBASAKI.  Sweet sauce and sesame seeds remind me of a version of teriyaki sauce.
5.  SMOKEY BBQ.  Tangy and sweet-ish, you'd think that it came straight from the grill, and not from a deep fryer!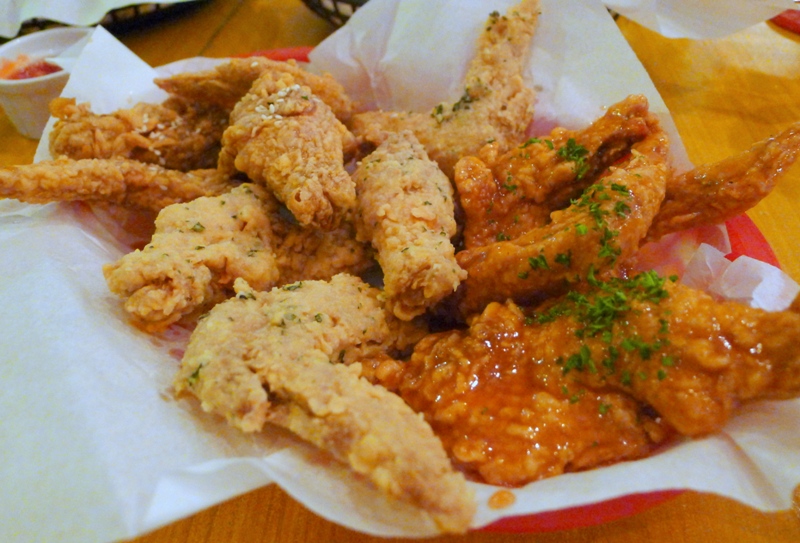 A 'Wings World' (P320.00), a combination of Garlic Parmesan, Nagoya Tebasaki and Smokey BBQ.
6.  HONEY GARLIC.  Its sweet honey taste will be adored by kids, and the kids-at-heart.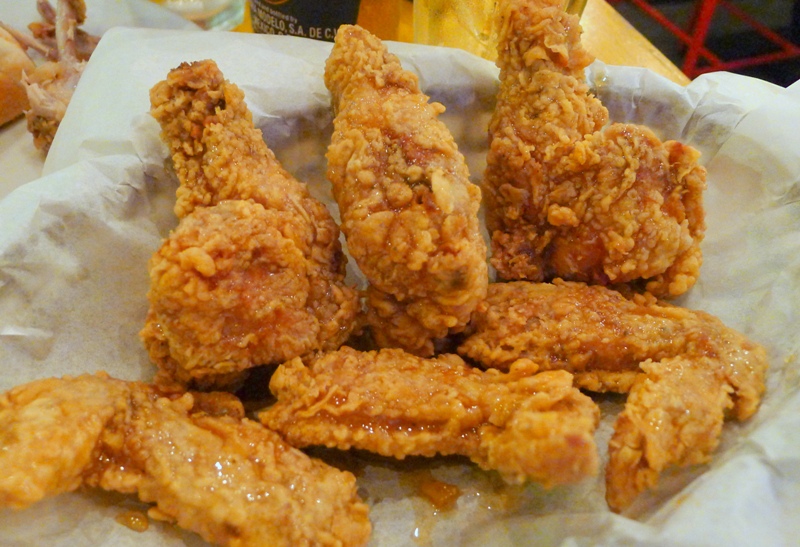 AJ insisted that I post this picture.   This was my plate.  Nakakahiya, ang takaw ko!  Napasarap kasi ng kain, hehe!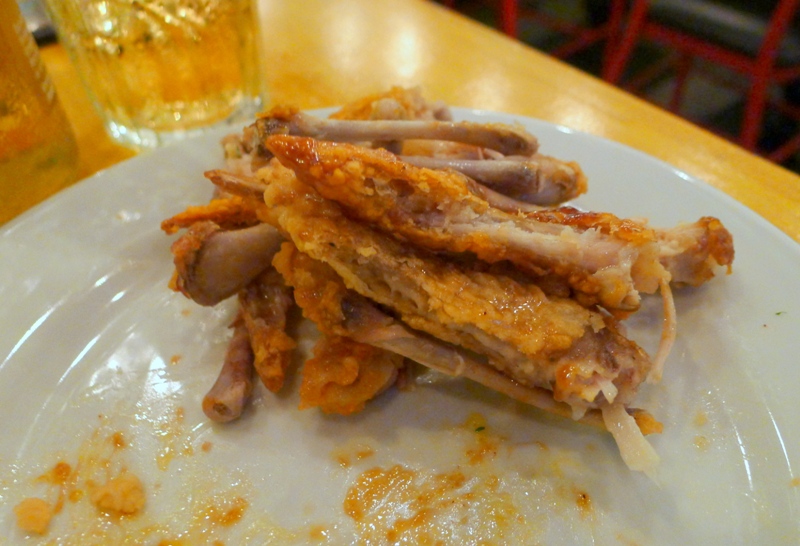 One thing I observed about Frankie's New York Buffalo Wings is that their chicken wing drummettes are already separated from the wingettes.  This does not only translate to easier eating experience for us customers (i.e. no need to pull off the parts separately), but ensures that we get maximum crispiness and flavors in both parts of the chicken wings.  I know this for myself because I've cooked fried chicken wings before with the two parts joined together, and that portion in the middle, although cooked well, are not as crispy as the other sides.
And that's exactly what we get from Frankie's chicken wings:  full-packed, original flavors in both wing parts that are not too messy to eat.  Actually, you don't have to worry a bit about the messy part.  You can eat these wings in careless gusto because you will be provided with plastic hand gloves (without a need to request for one!).
So you think we're done after eating all those wings?  Oh, not yet!  This was just the appetizer, hehe!
We wanted to try their burgers as well so we ordered the Garlic Parmesan Burger (P200.00).   Oh boy, we were surprised at how big the serving was.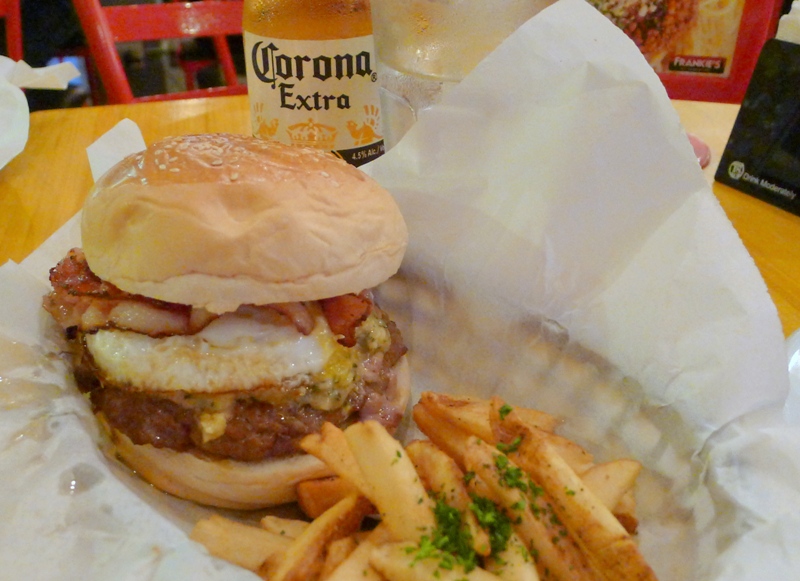 And look at that bacon. *drools*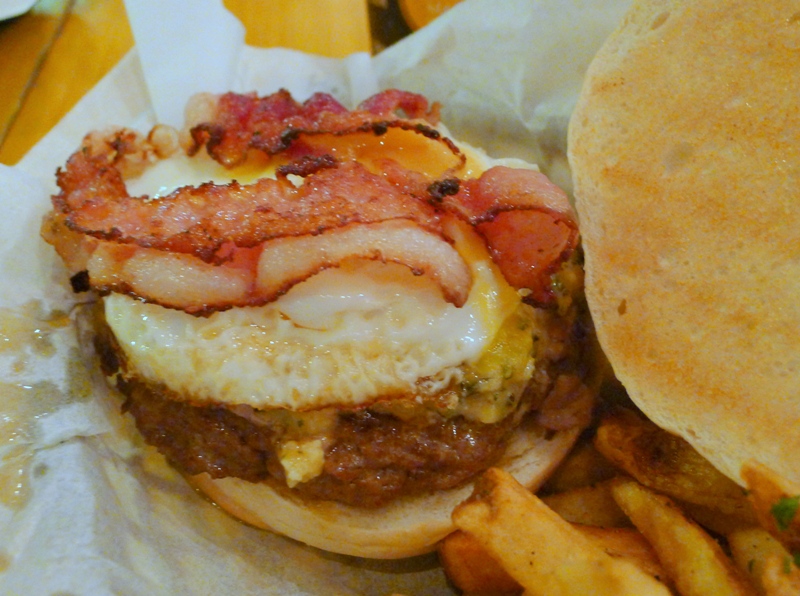 The burger was thick and huge, with a good-tasting garlic parmesan sauce and topped with fried egg and strips of bacon.  We found it to be good, but not exceptional.  I think it's because of the burger patty.  It was a bit dry and crumbly and could have been enhanced by some smoky flavor.
The fries on the side was perfect, though.  Crispy, salty and yummy!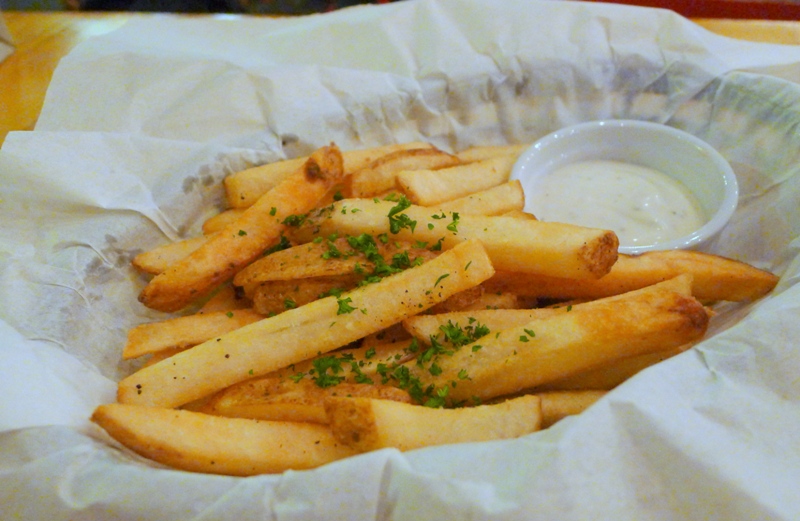 Then there's the pasta.  We had Spaghetti Hungarian Pesto (P190.00) which is good, really, but I find the noodles a bit too soft (I like al dente pasta more, that's why).  This pasta dish has a nice creamy pesto sauce, generous helping of parmesan powder and big-sized sliced Hungarian sausages, proofs that Frankie's didn't scrimp on the ingredients.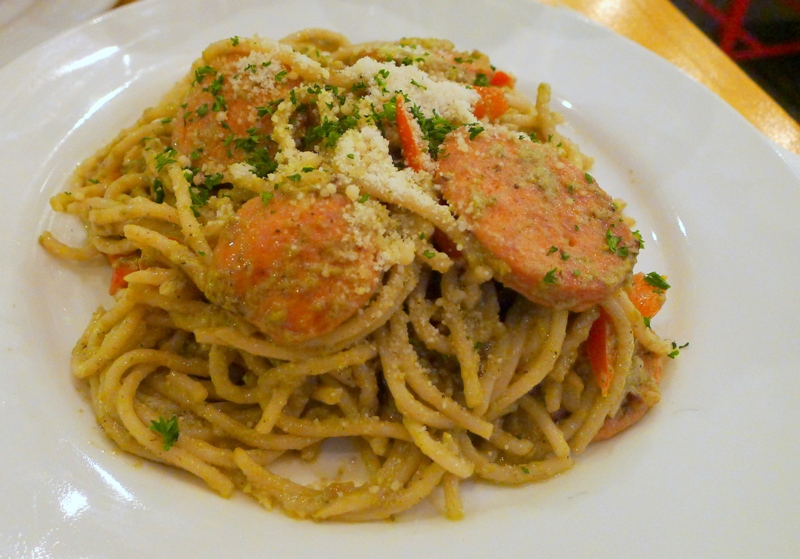 We were so full by the time we had a fill of this pasta dish, but that didn't keep us from trying their signature dessert: the New York Cheesecake (P120.00).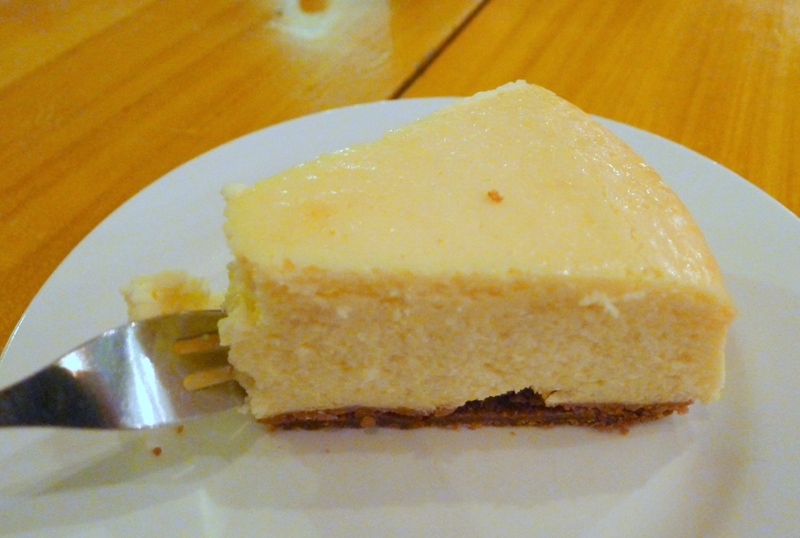 Don't be fooled by this plain-looking cheesecake.  AJ and I were pleasantly surprised at how creamy, rich, smooth and dense this cheesecake is, with no signs of gelatin abusively added in it!
The thin graham crust at the bottom highlights the cheesecake's taste, which is a lovely cheesy lemony flavor that is not too sweet.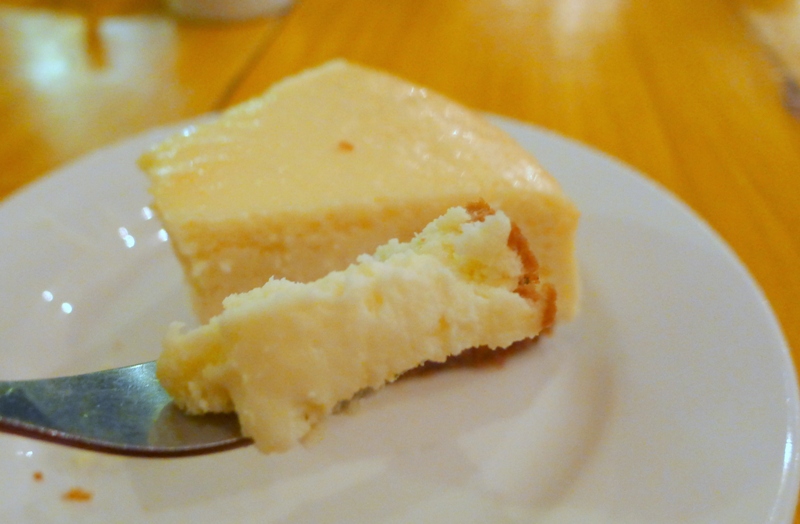 This one's so good, you ought not to miss it when you dine at Frankie's New York Buffalo Wings!
The restaurant, which opened only last year but already has a solid following (and it's not difficult to understand why), is located at the Ground Floor, City Golf Plaza, Doña Julia Vargas Avenue in Ortigas, Pasig.  I hope they'll open one in Makati soon, but I wouldn't mind traveling to Ortigas at all for another round of those chicken wings, capped with a slice of New York Cheesecake, of course!
The restaurant has the look and feel of a New York bistro – small but cozy.  You'll notice that it has more male elements than female, though and that's because the restaurant was founded by a group of young gentlemen who are passionate about good food at good prices and fun, happy ambiance!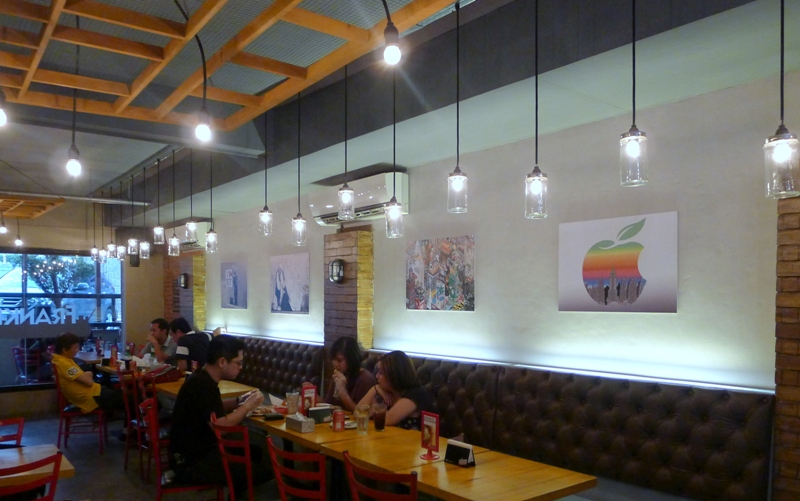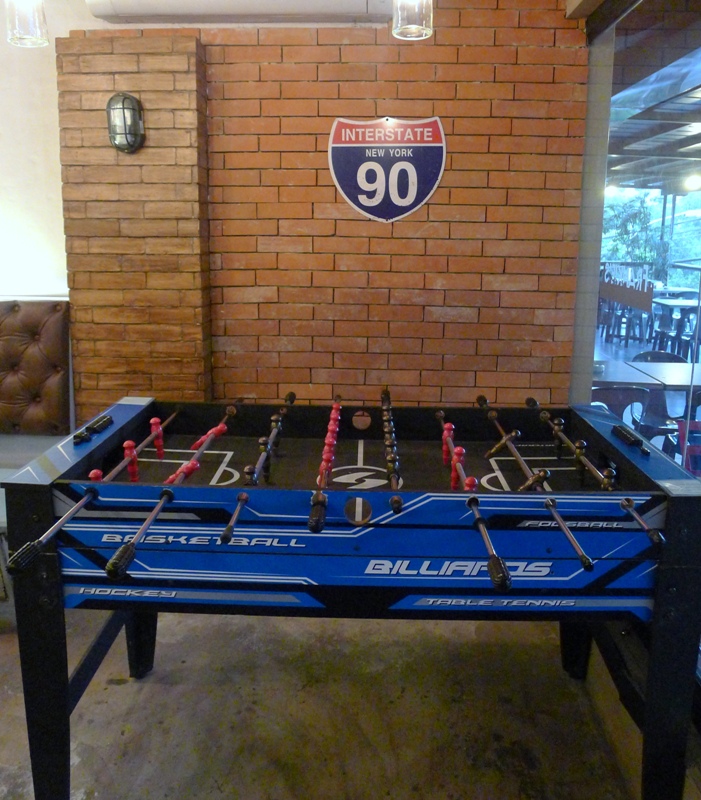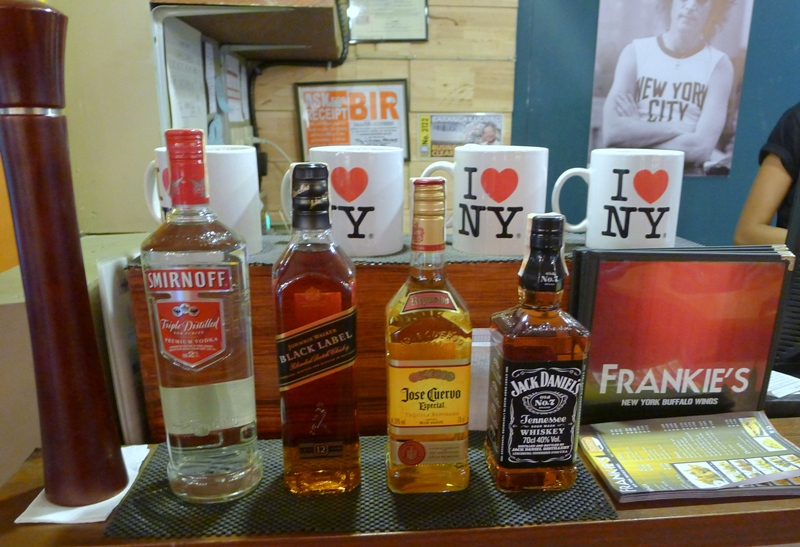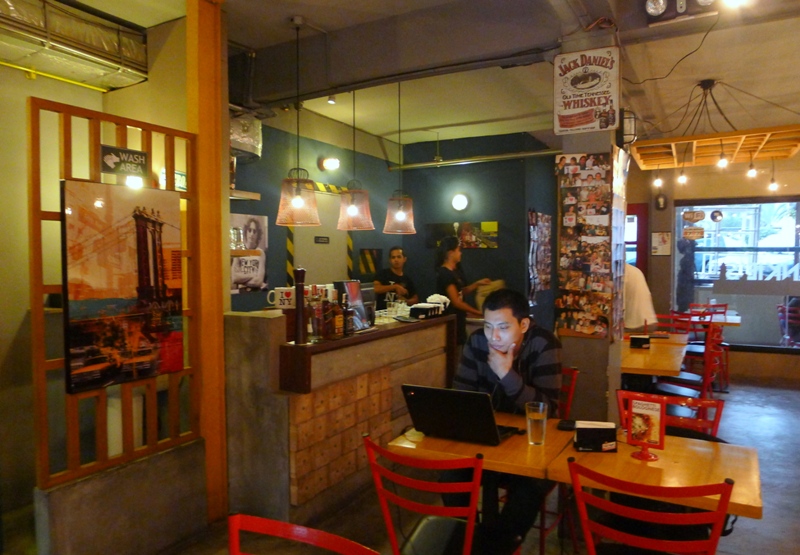 I like this little nook where you can clean your hands before devouring the chicken wings: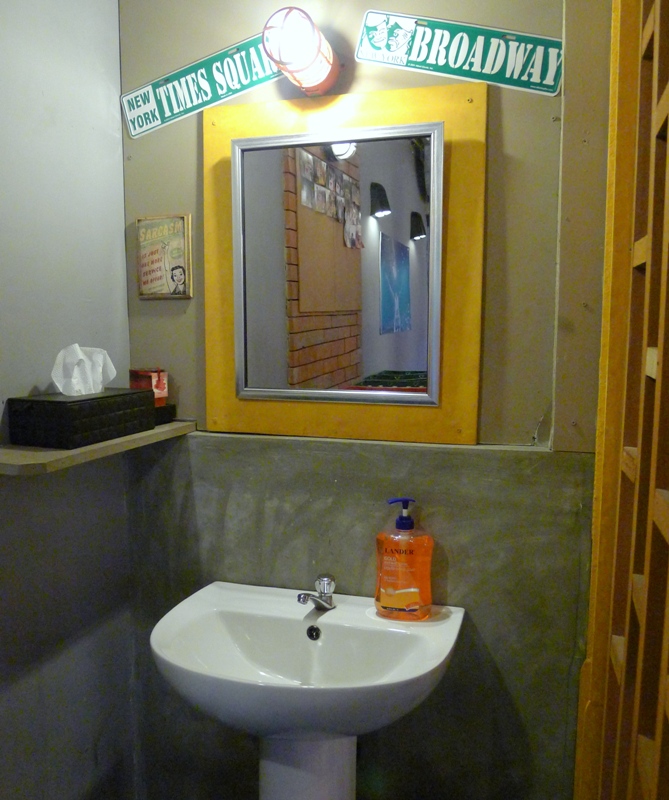 The place was already packed by 7:00 p.m. on a Saturday night.  Happy atmosphere here, I tell ya!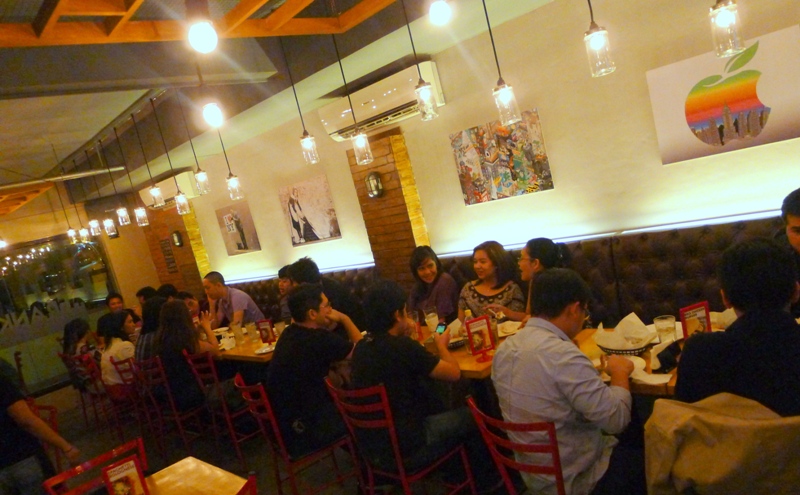 Now, you might wonder why it is called Frankie's, among the many names that can be chosen from a baby name book.
I'd learn from Ed, one of the owners of the restaurant (he's the good-looking guy serious with his laptop in the picture above), that they chose Frankie as a homage of sort to the founder of their signature product, the buffalo wings!
I googled it up, and learned that the buffalo wings were created 'accidentally' in the early 60's by Teressa Bellissimo of Buffalo, New York who was then faced with feeding her son and his friends a late snack. Having an excess of chicken wings on hand, she fried up the wings, dipped them in a buttered spicy chile sauce, and served them with celery and blue cheese dressing as a dipping sauce to cut the heat. The wings were an instant hit.  The original hot wings appetizer was first served at Anchor Bay, owned by Teressa and her husband, Frank.  The famous Frank's RedHot Sauce is also known to be the primary ingredient in the buffalo wing sauce created by Teressa.
So there, Ed's group couldn't have chosen a more perfect and significant name for their first food venture  =)  It's no wonder why their buffalo wings are so loved by many; the recipe was inspired by no less than the original founders of buffalo wings!
Frankie's New York Buffalo Wings  |  Ground Floor, City Golf Plaza, Dona Julia Vargas Avenue, Ortigas, Pasig  |  6871250 for pick up / 87878 for delivery  |  Opens Mondays to Sundays from 11:00 a.m. to 3:00 a.m., except Fridays and Saturdays when it stays open until 4:00 a.m.  |  Twitter and Instagram @frankieswings  |  http://www.frankiesnywings.com/  |  Facebook – FrankiesNYwings