What a Monday!  I felt like I was gone for a week because of the reports that I rushed to finish this morning, not to mention the powerpoint presentation for the boss's big report next week that was due before lunch.   I shortened  my lunch  so I could finish the review of a policy document.  Then I spent the rest of the afternoon crunching numbers for a management report that is also due next week.  I was beat by 6:00 p.m. (and thankfully it was time to go home)!
On our way home, AJ rewarded me with my favorite street food:  squid balls (yummy!).  And then passing by Malugay Street (same area where The Rise by Shang Properties is to be located), I saw Wingman at The Collective, and this reminded me that I haven't told you yet about this restaurant!
But first, let me introduce you to The Collective.  I remember this being a warehouse-type building that housed lots of automotive shops.   Then the shops closed and I thought the building was going to be demolished.  Some months later, it opened up again and this time, young and hip people flocked in, and that's because of the  food establishments that now line up the facade of the warehouse.
One of the more crowded restaurants there is Wingman which, as it name connotes, sells chicken wings.  My cousins have told me again and again how good their chicken wings are but it was not until 2 weeks ago that AJ and I were able to try it.  Coming from our trip at 10A Alabama, we were craving for some feel good but never-yet-tried food and I remembered Wingman.  So on a hot Sunday afternoon, we drove ourselves back to Makati for those much-talked about chicken wings.
And my oh my, I've never had chicken wings these good.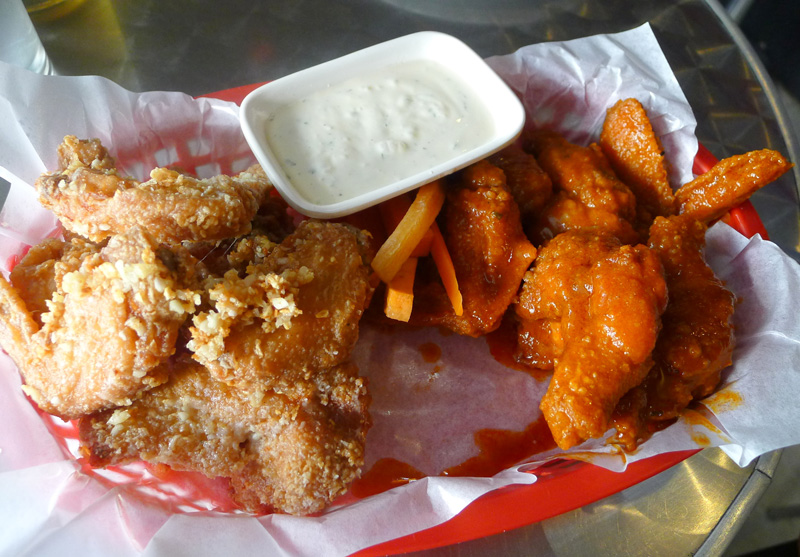 When there, do not scrimp on the chicken wings.  Get the dozen order (see above, that's only P330.00) and you split that into 2 flavors.  We chose Buffalo Classic (The best in town!  You can go for medium spicy, hot, apocalyptic or pinaka – spicy to the max!) and Garlic Parmesan (fresh minced garlic with imported grated parmesan).    Both were good.  And original.  And addicting!
I observed that all customers that day have mini-burgers on their tables so I ordered some for us to try too.  It's a good thing they have Homerun Sliders (P250.00), a set of 3 mini-burgers that you can have in all the same "dressings" or choose 3 from the 5  burger types in their menu.   Here are what we chose: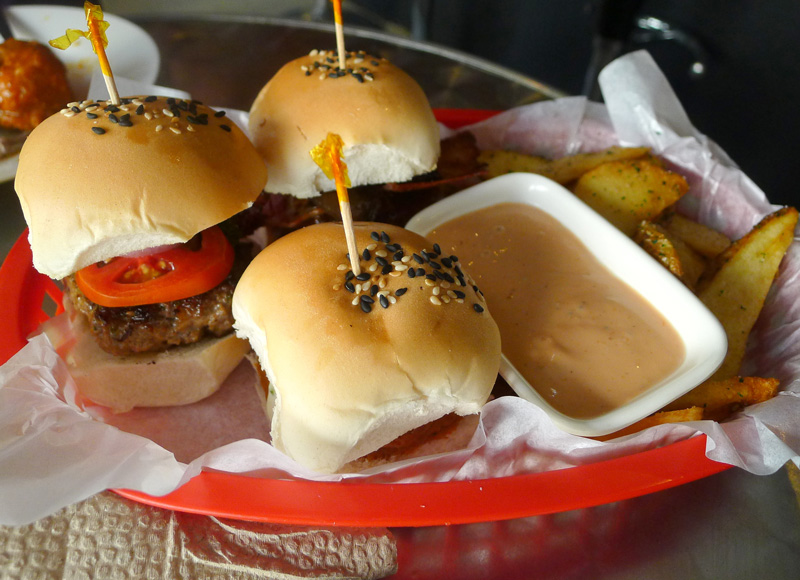 Chimichurri Burger (with homemade chimichurri sauce, a blend of garlic, parsley, vinegar, and chili topped with tomato and onion), The Cowboy Burger (with bacon, caramelized onions and lots of smoked hickory barbeque sauce) and Wingman Burger (Wingman's own special creation; with your choice of spicy buffalo sauce and topped with rich bleu cheese).
My favorite is the Chimichurri Burger, followed by the Wingman Burger (if you like bleu cheese then you'll like this one) and The Cowboy Burger (I found the barbeque sauce too sweet).    The beef burgers, as you can see in the picture, are really big and fresh – just exactly the way they should be!  They're not salty nor too bland, just right for you to savor the dressings and so  distinguish one "flavor" from the other.
All burger orders come with a side dish and this can be hand-cut fries, onion rings or side salad.  I chose the hand-cut fries.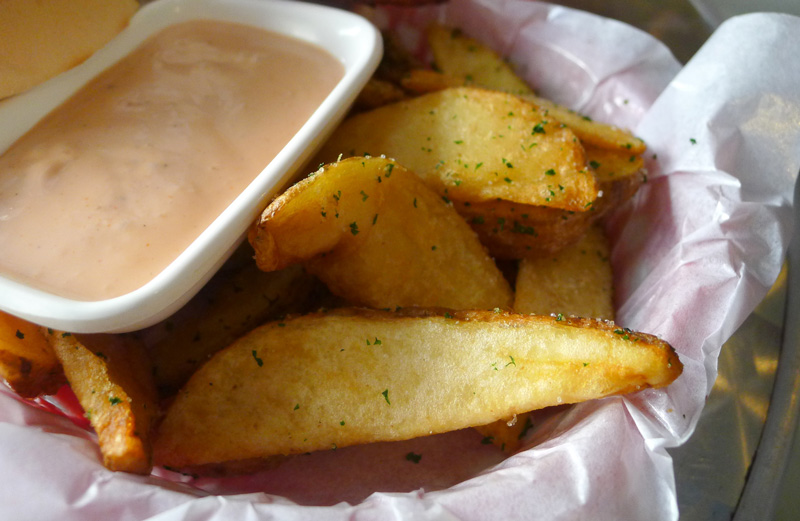 The fries were so good a separate order of this is a must if you're dining in group.
All those raves about Wingman weren't hyped at all.  The long drive from Quezon City to Makati  was so worth it.  I don't know how else to describe their chicken wings (and burgers too!), except that you really have to taste them to believe  =)
Wingman @ The Collective  |  7274 Malugay Street, San Antonio, Makati City