Exactly 2 months ago today, I woke up to AJ's very excited voice saying that there's a cat outside our door and drinking from the water that I will use for the house plants.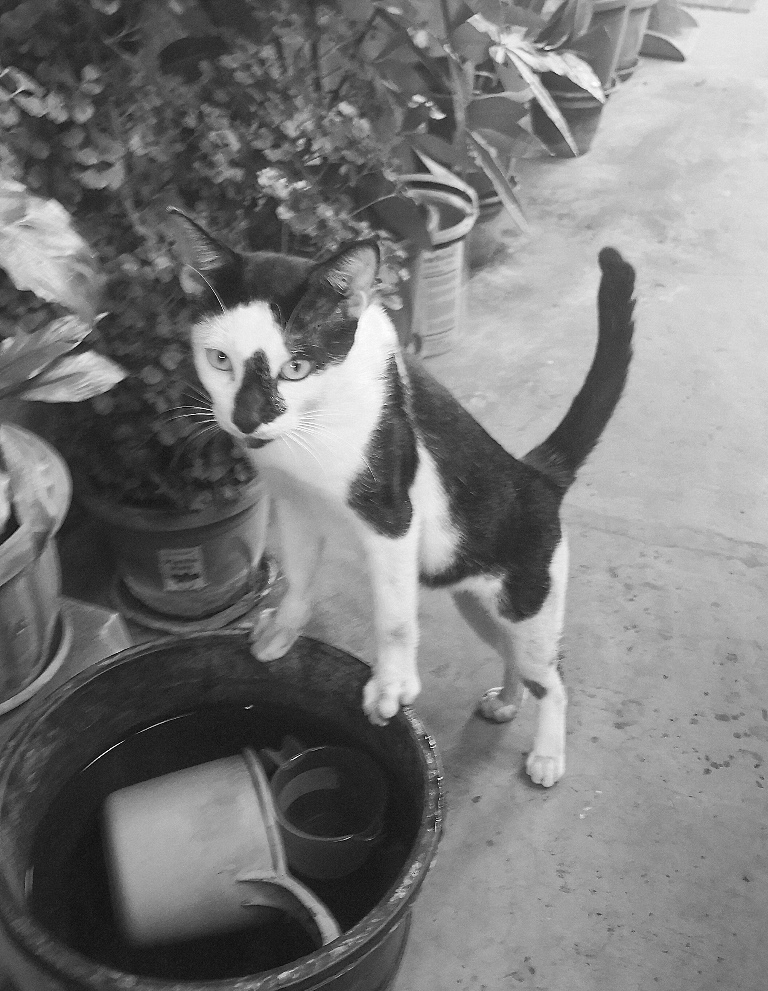 You see, AJ is what I call a cat whisperer and you have probably seen in our travel photos that a cat almost always find itself in the picture, being pet by AJ who else?
Although I'm a big fan of Hello Kitty, I never had a pet cat so I don't know how to react around them.  I like looking at them, alright, but never tried petting nor feeding them – until that fateful day in July when Cat was found outside our apartment door, already full from the food that our apartment door-neighbors (J and M) have given him.
As to how Cat discovered the 2nd floor apartments was something that amazed us even to this day.  You see, daddy has made our compound 'cat proof' as he wasn't a big fan of cats really (stray cats always poop kse in front of our gate).  But this smart boy that we named 'Cat' was able to figure out how to play Batman on the roof and landed here – unannounced.
We could not think of a special name for him because as you will discover here later, marami ang gusto mag-adopt sa kanya, haha!
The excited AJ immediately built Cat a house, using a spare cardboard box we have here. May drawing pa!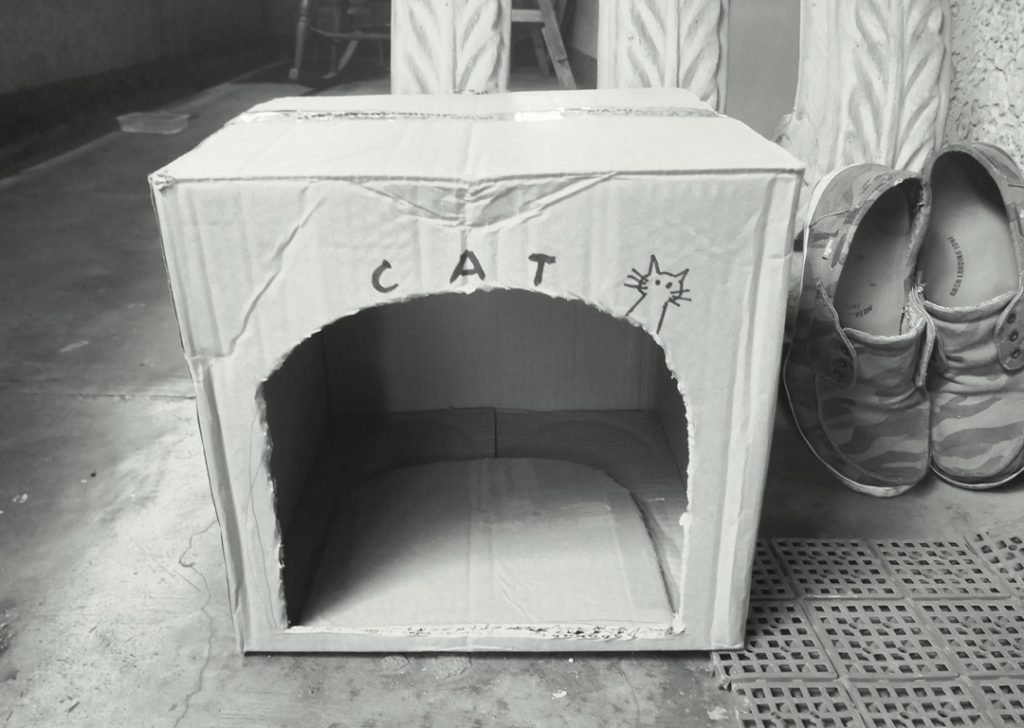 To make it inviting, I placed a rug inside the cat house. Nakita naman ni Cat na nag-effort k'me so pinagbigyan k'me. But it's too small daw, haha!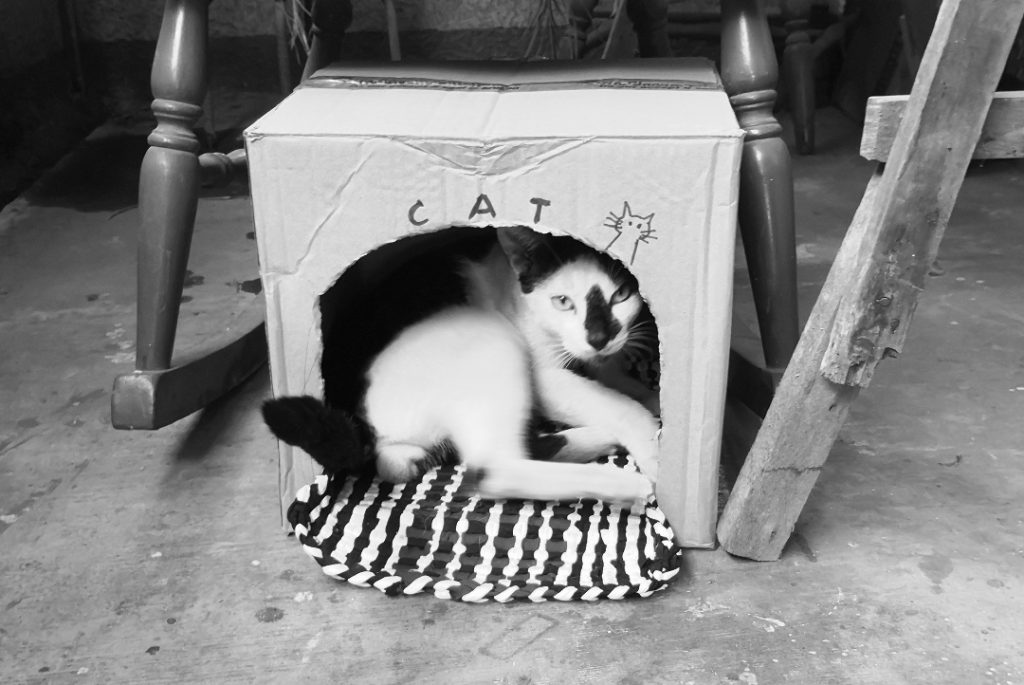 At first, I didn't think he'll stay because he's a stray cat and just probably want some food, water and a place to rest. But AJ let him have a taste of fresh milk, and I think that is what 'imprinted' our apartment in Cat's mind.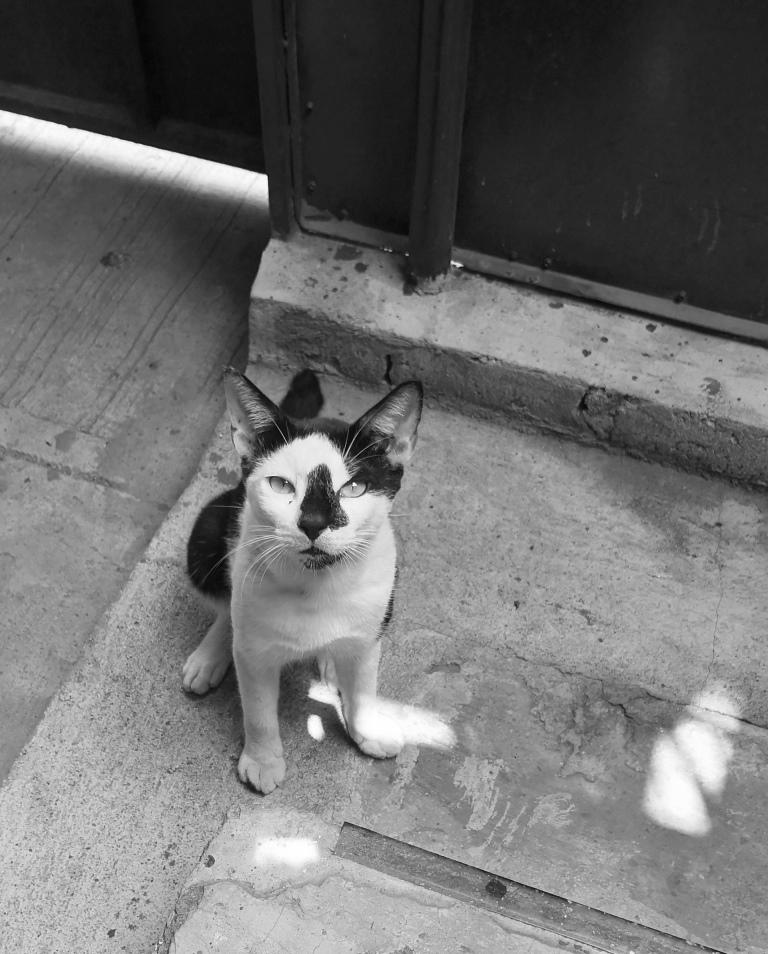 In the days that followed, I will find him at the neighboring door's rug mat, or our own rubber mat…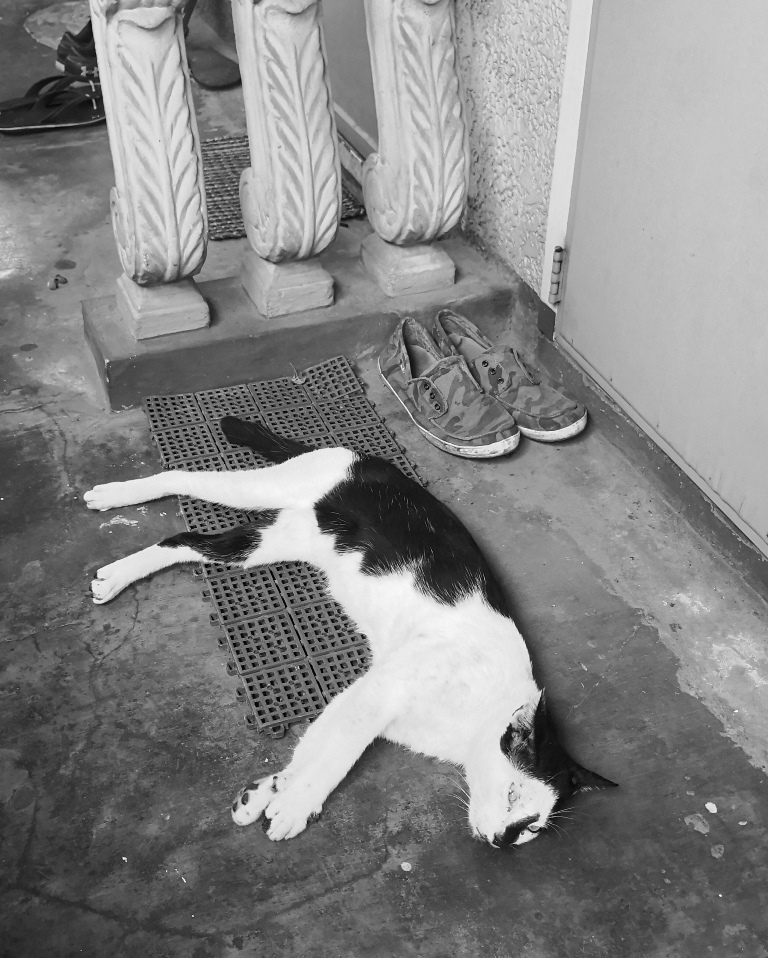 … or staring at me from the door as I prepare my breakfast.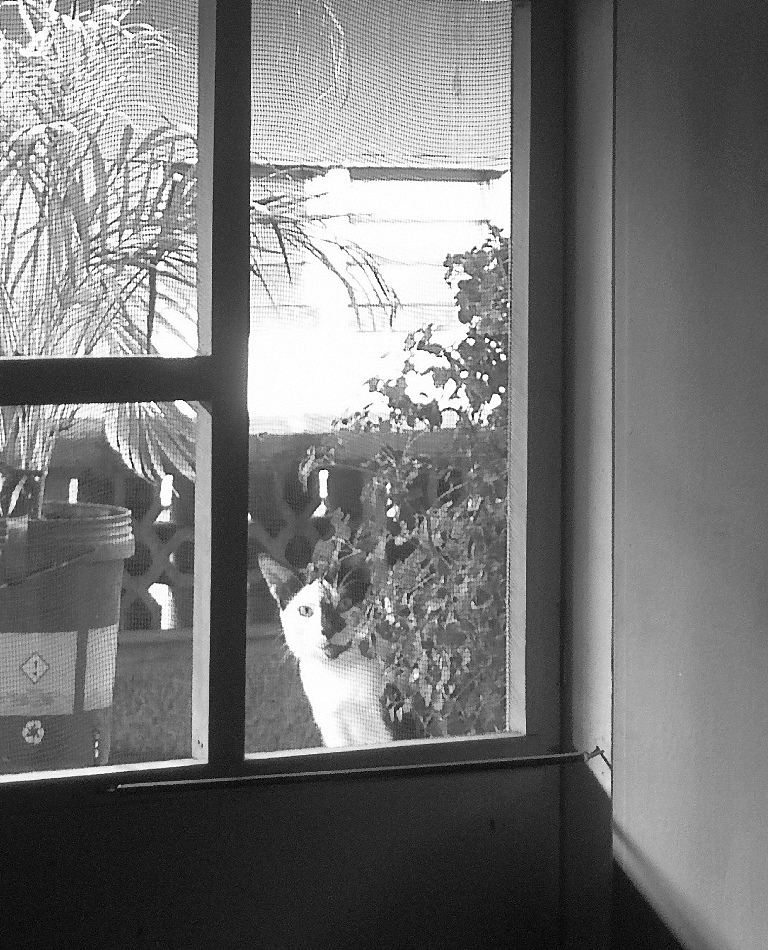 Good thing my mommy has some spare canned tuna in the pantry; we were able to feed Cat when he comes to us for food.   Our grocery list also expanded to include Century Tuna and VitaPet wet cat food for this boy with a big appetite!  Suffice it to say, he loves all of them and that's when I started to pet him.  We formed our bond over tuna, mackerel, salmon and milk.
Cat would then learn that there's another cat tenant here by the name of Fred, but unlike him, Fred is a domesticated cat adopted by neighbor A from when he was still a baby.  Seeing another cat in the 'hood must be both a shocking and exciting feeling for Fred, but not for Cat.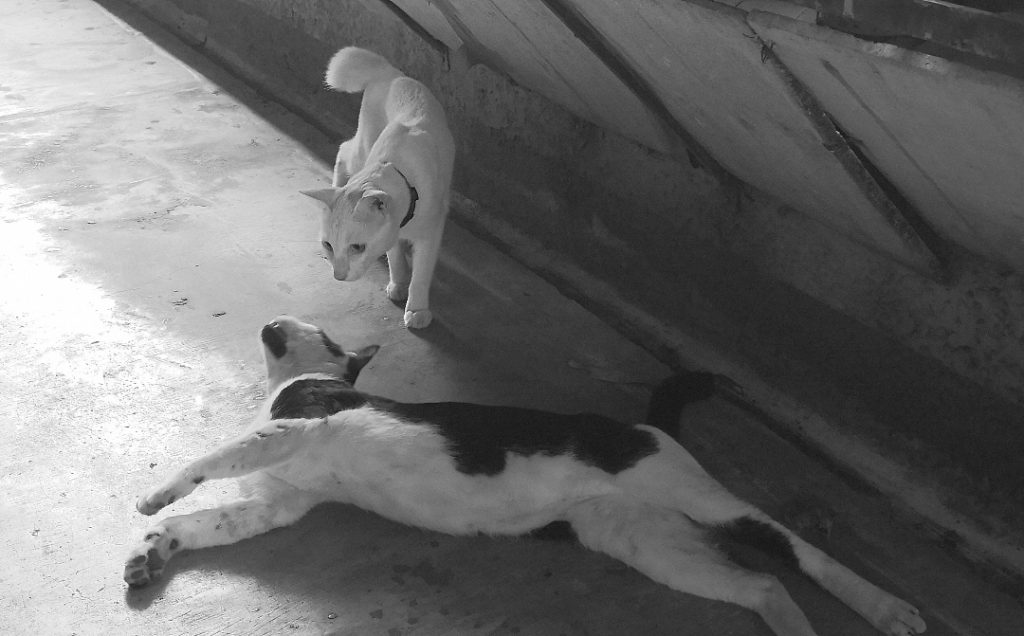 Tahimik ang first encounter nila; I think they're sizing each other up at first but Fred appears mesmerized with Cat,  he wanted to smell him all over but Cat would not have any of that.  Soon all of us here will be rattled by their cat fights in the late afternoon (which is the usual time for Fred to go out and have a stroll in the veranda). The crossing of their paths is always an event to watch out.
Weeks and months have passed, and Cat doesn't seem decided yet which to call his 'home'. He still wanders off at night, and then comes back after 2 days with fresh scratches and wounds. He will then rest for a day or two here (with neighbors J and M and us alternating in feeding and cleaning him), after which he will wander off again. Sometimes he'll go out in the afternoon and be back in the evening, very hungry and very tired.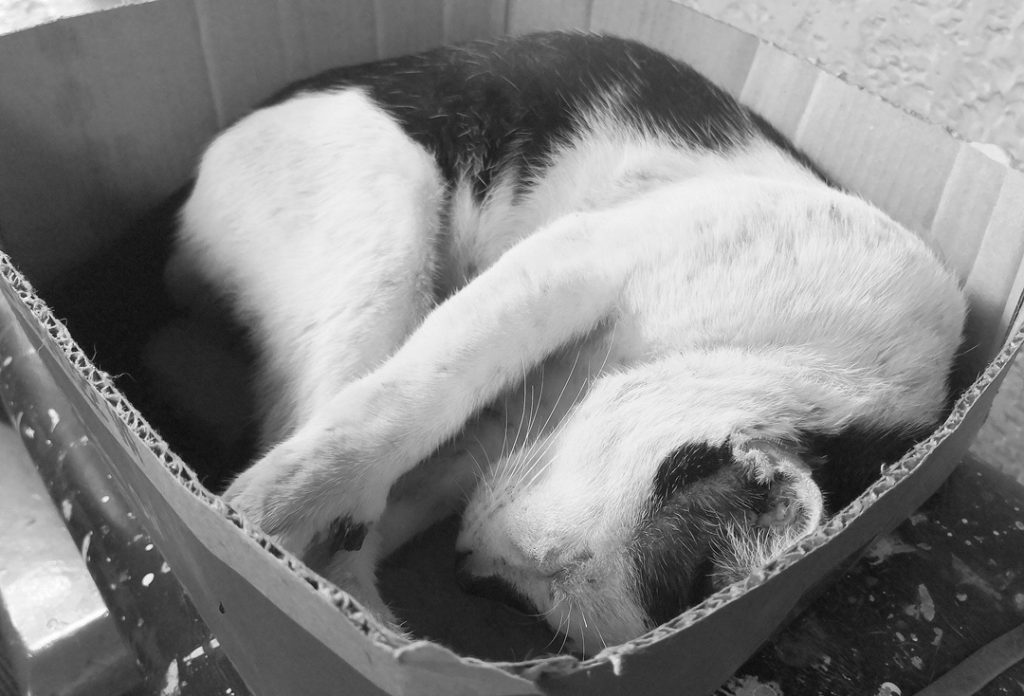 Soon he started going inside the different apartments (except the one occupied by Fred). He seems to like the last door the most (and the company of J and M).  He would also come inside ours and stay for a bit, but will later go out as he prefers the veranda the most. It has become his 'territory' and even Fred could no longer walk there in peace.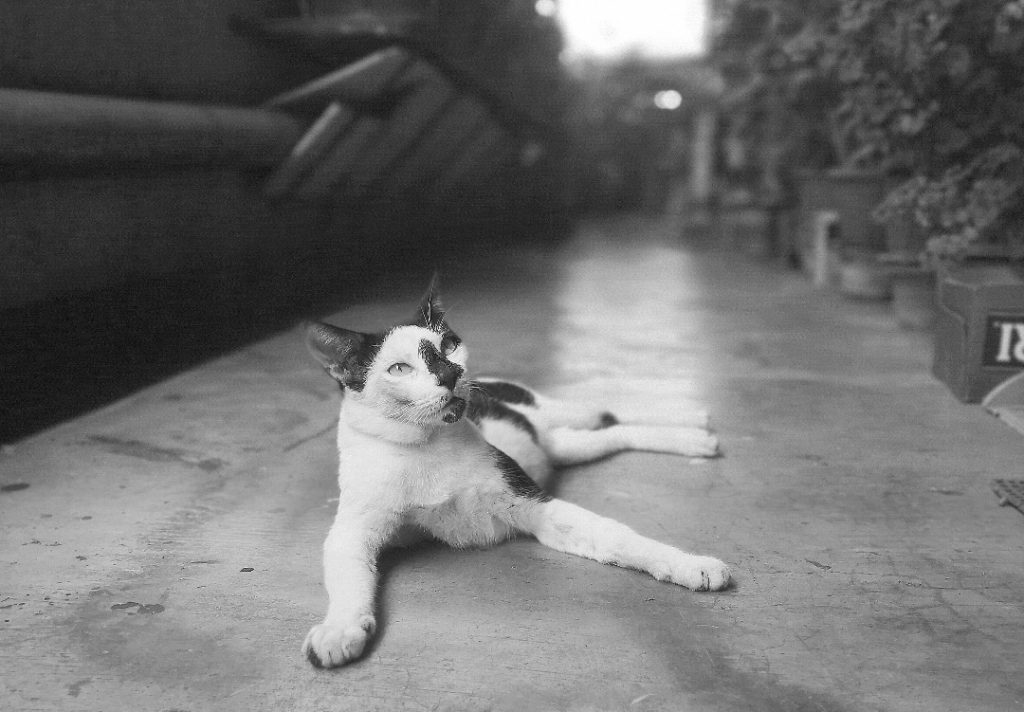 The small spaces in between Daddy's potted plants were Cat's favorite sleeping places. It's also the best place for him to enjoy the free piano music that we play for when we work (from home).  Sosyal diba, with free food, lodging and concert pa!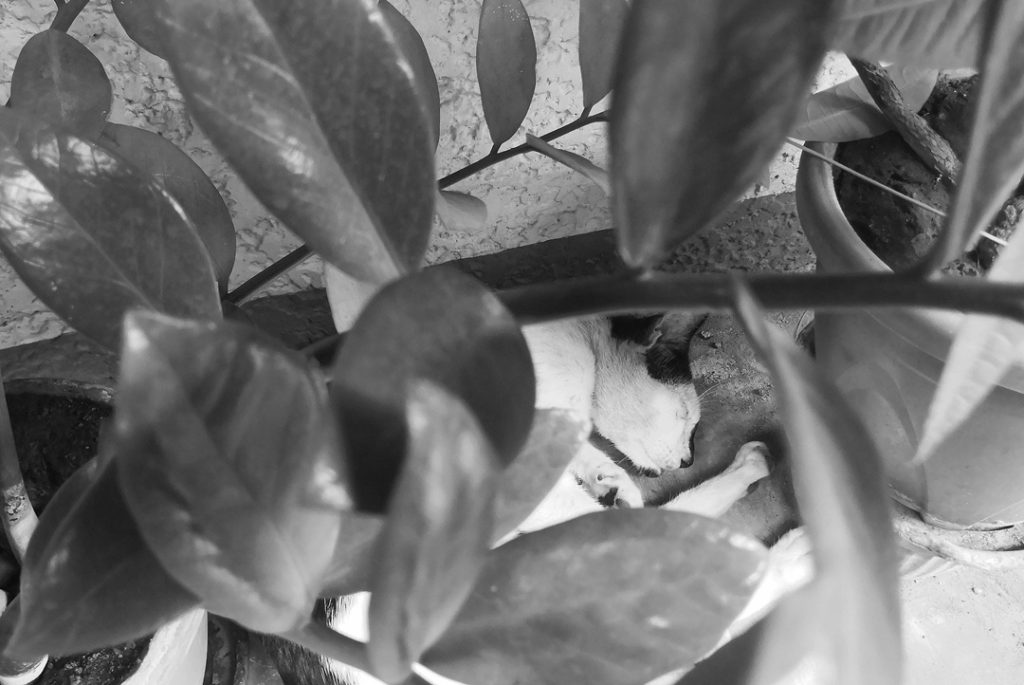 Cat always has his siesta after lunch, and it's his favorite part of the day I think because he can just be himself and have a long rest, judging from his cute sleeping positions: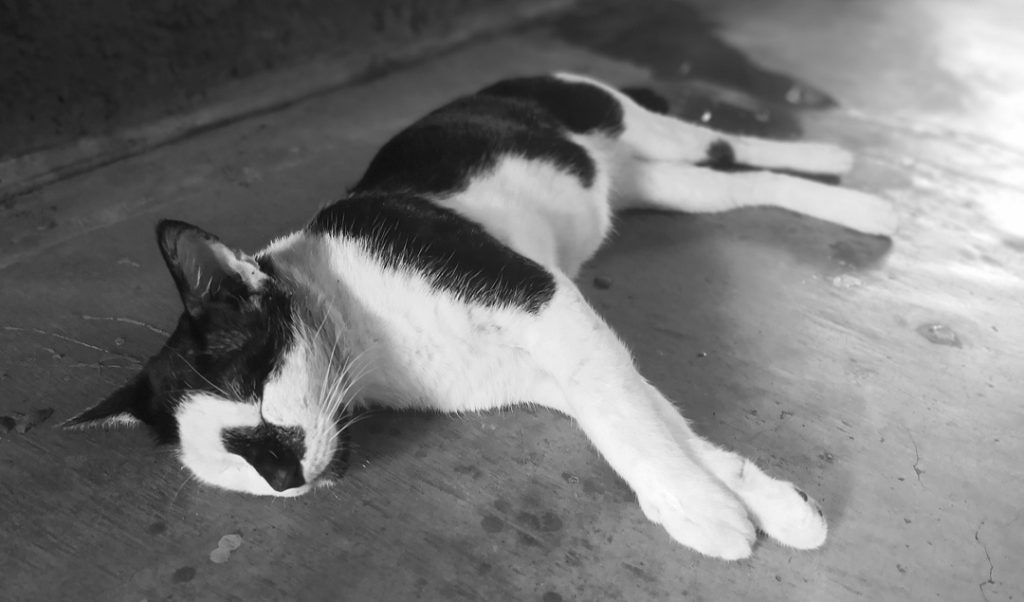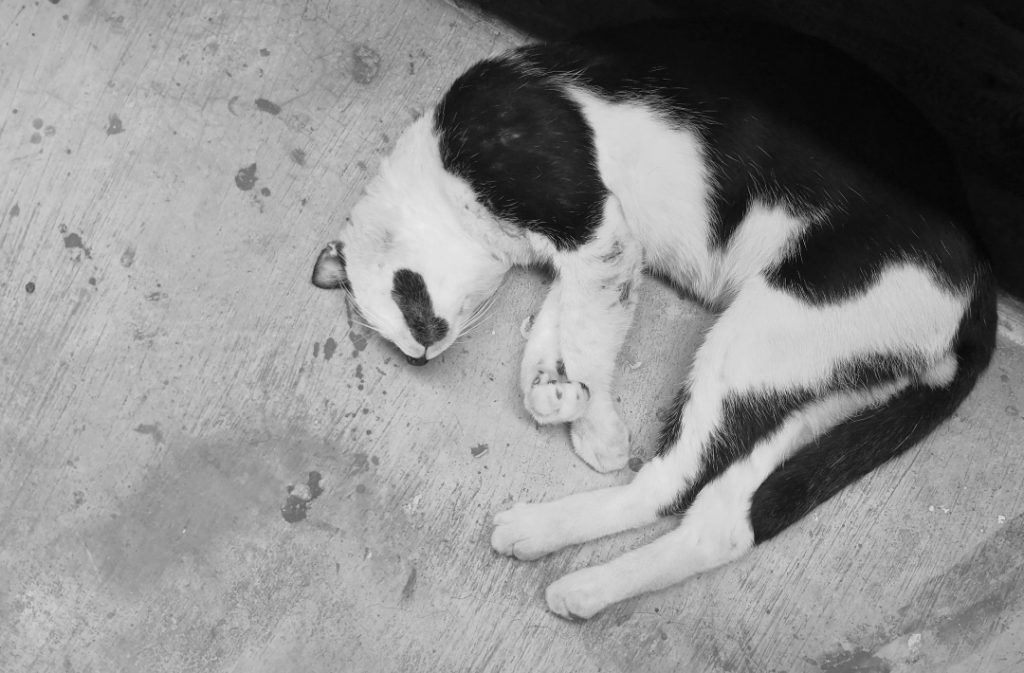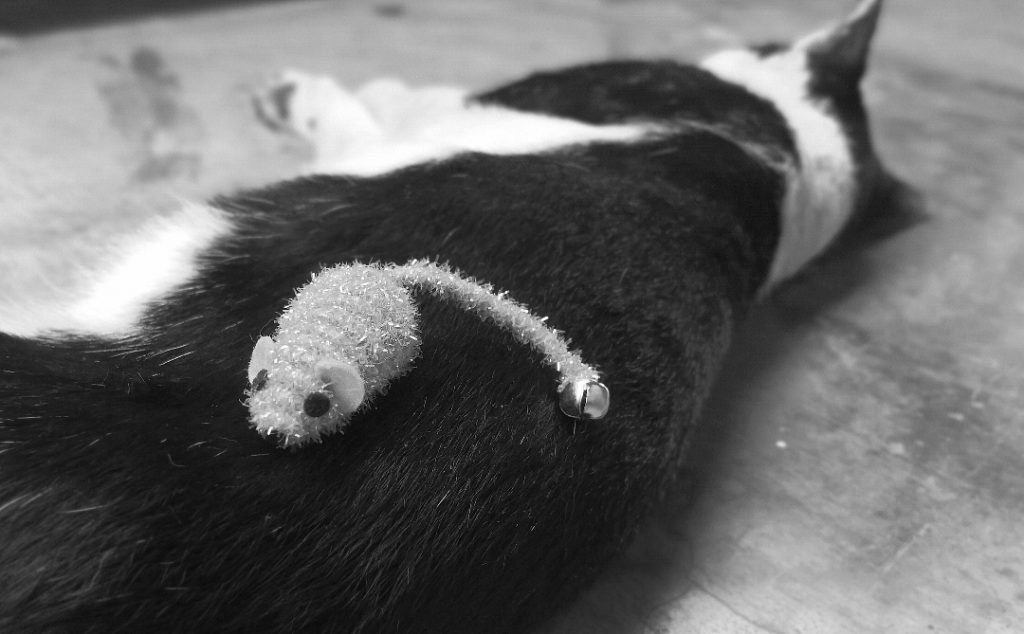 Eventually, Fred has finally come to understand Cat's sleeping schedule and "me time", and learned not to bother him.  He's still curious though of his neighbor.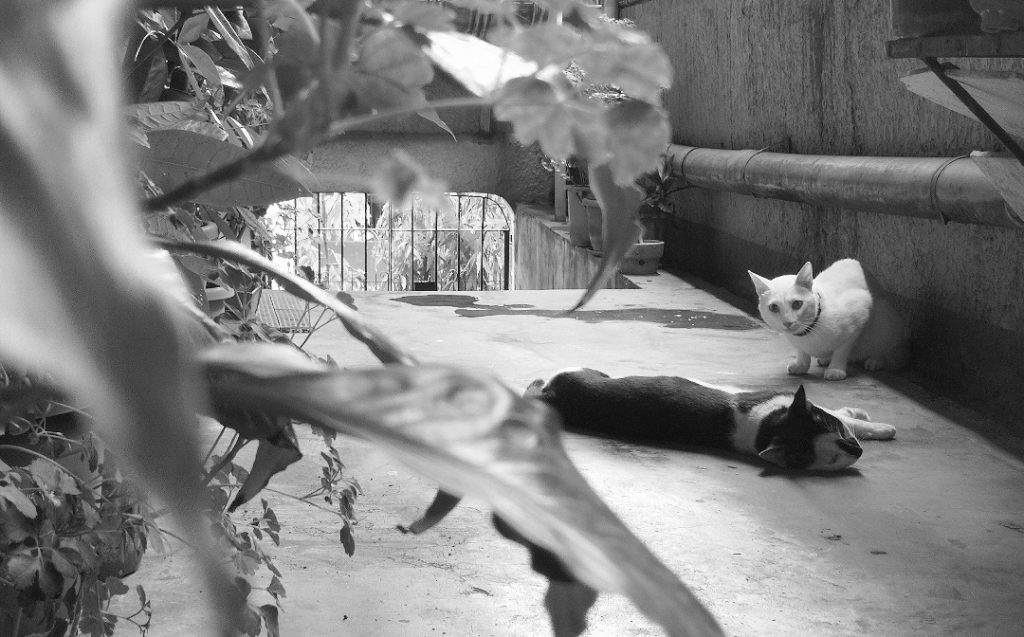 About 2 weeks ago, Cat figured in a very bad cat fight outside our compound and went home with so many new scratches and a really big and deep wound on his left arm. It was so bad, even I became worried about it. I showed it to AJ and right there and then, we decided to take him to the Vet.
I already have a kennel here borrowed from our other tenant who also has a cat (Tommie), and because Cat was very weak at that time, putting him inside the kennel was uneventful.
But the moment he realized he was in a cage, he began crying and wrestling with himself inside – desperate to escape from his boxed prison. We talked to him on the way to the Vet but he just kept on crying. And he's also shivering so we know that he's stressed as well. Poor Cat!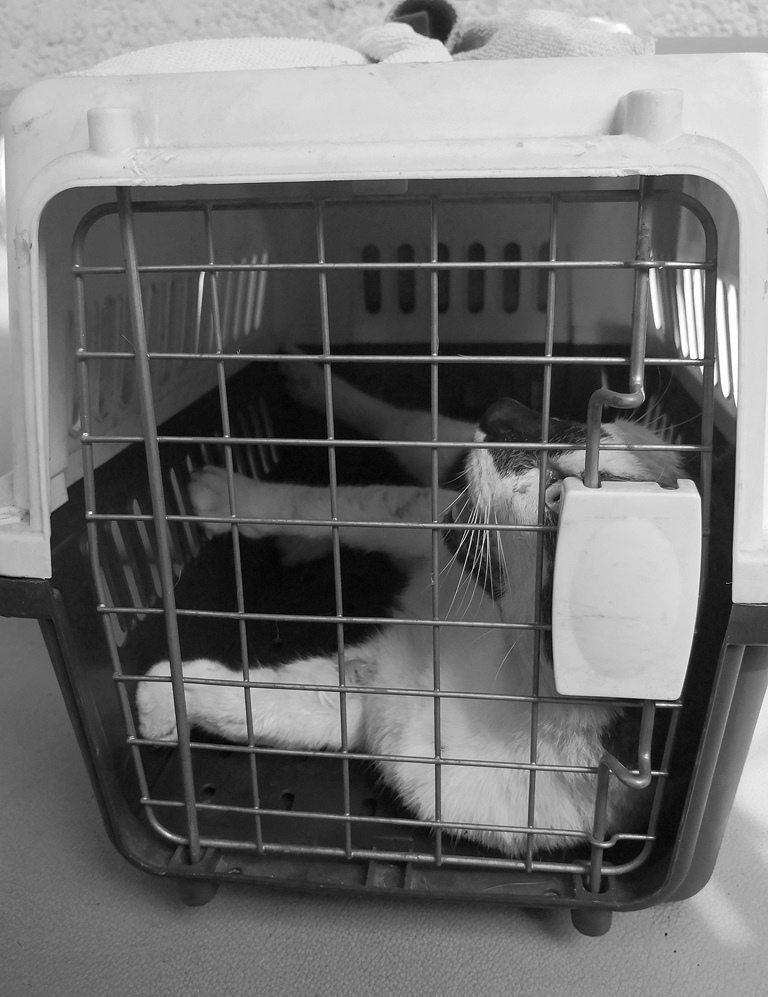 I was so afraid that he will jump and attack the Vet Doctor the moment AJ opened the cage, but big surprise there, Cat walked out slowly and immediately relaxed when AJ held him. He was behaved all throughout, and didn't cry even after 3 vaccine shots including his antibiotics. We were done with our clinic session in less than 15 minutes.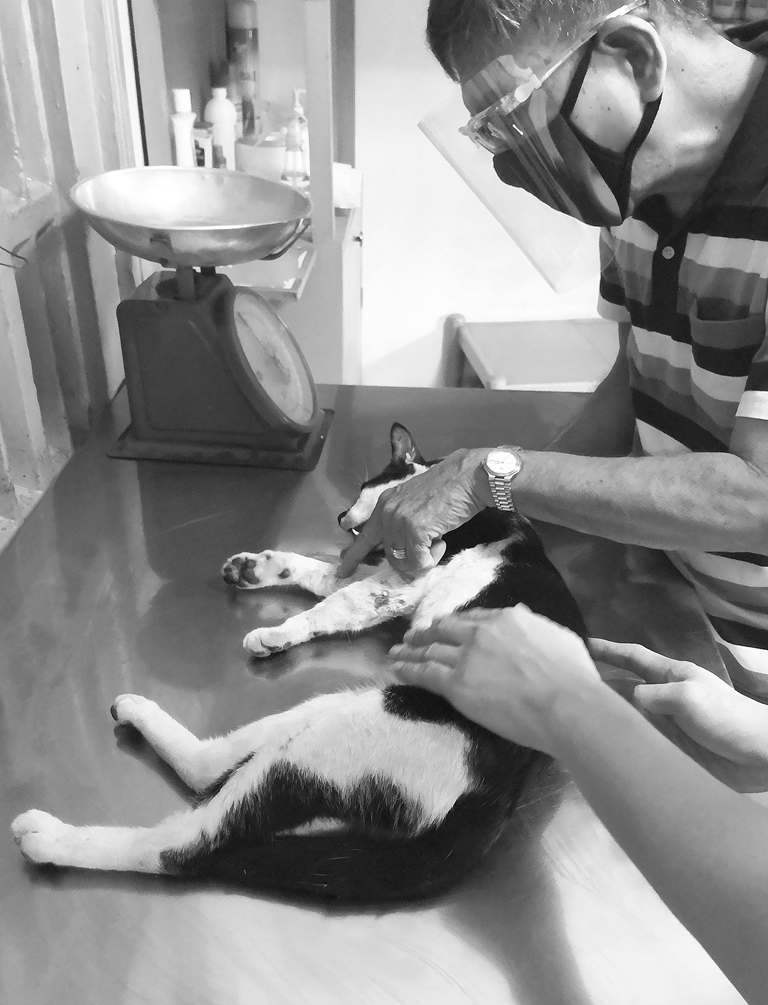 He's much calmer when we took him home but still crying, poor boy! When AJ let him out of the kennel, he looked very tired from the clinic visit but he finished his milk and we let him sleep at his favorite spot outside our apartment – under the potted plants of daddy.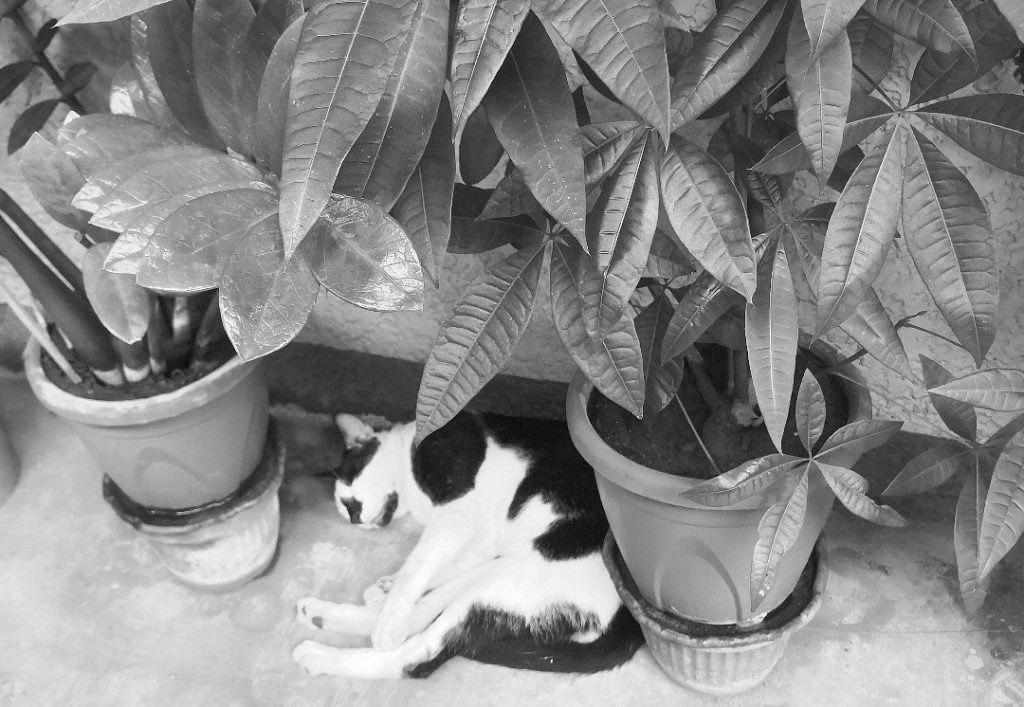 The day after that, we finally let Cat stay with us the whole day.  He has been inside our apartment before but not this long, and it was only then that he oriented himself with every nook and cranny of our humble home, marking every door and chair as his territory by rubbing his neck and cheeks with these. Even the refrigerator door was not spared, haha!  Thankfully, he didn't scratch our chairs and walls, and did not urinate in them.
I would learn more about Cat in that one whole day of us being together, but I was really surprised at how super sweet he is! He loves it when we pet him, and when I 'massage' him with this 44-pesos rice paddle or spatula (the non-stick one with ridges all over the paddle) that I bought from Daiso. He will come to me when he wants his massage, and make lambing by rubbing himself against my legs and wrapping his long, thick tail around my legs too.
He has now found comfort in our little home and with air-conditioned rooms, who is he to complain?  Haha!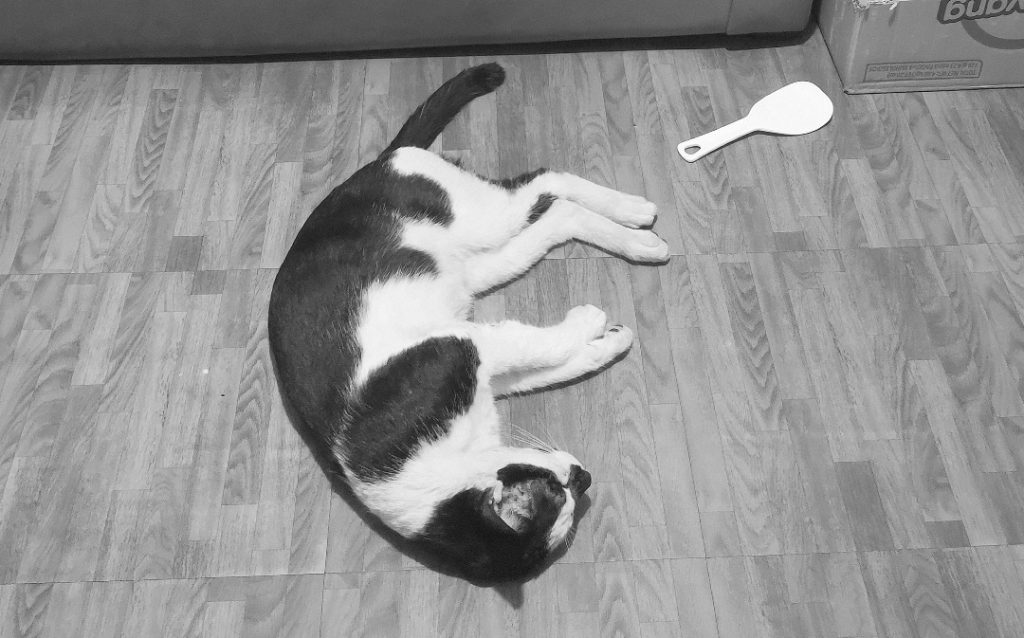 But he loves staying in our kitchen the most, with the cold tile floor as his king-size bed.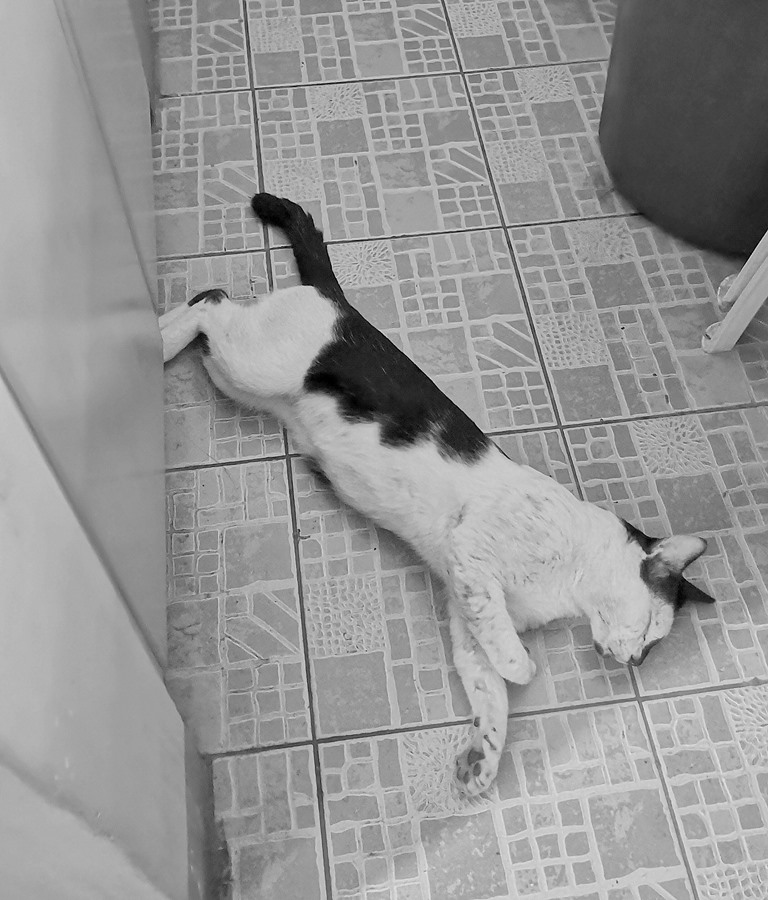 It's too early to tell if he will be here for good, but for now I am enjoying our set-up:  he stays with us in the morning (so I have a cat-companion at work now) but by late afternoon he will stand by the door and start meow-ing.  That's our signal for us to let him out and then he will transfer to the next door apartment, where he will have his dinner and stay for the rest of the night.
He still has this habit of wandering off but as I said, this Cat is very smart and he always find his way home to us.
In the meantime, someone is asking if we can "semi-adopt" him too.  Haha!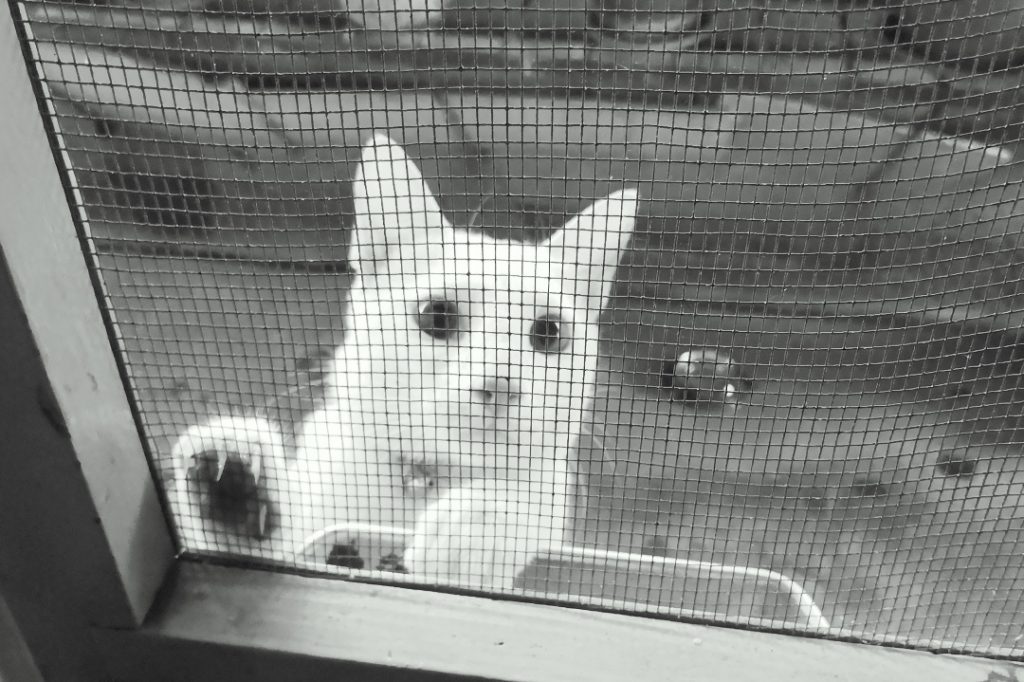 Sorry Fred, kahit love ko ang snowy white fur mo,  we are not yet ready to take in more cats!