We went on a day trip to Apo Island on the second day of our stay in Dumaguete.
About Apo Island:
Apo Island is a volcanic island covering 12 hectares in land area, 7 kilometers off the southeastern tip of Negros Island and 30 kilometers south of the Negros Oriental capital of Dumaguete City in the Philippines. The name "Apo" was derived from the a Filipino word which literally means, "Grandchild".
The marine habitat around the island is a marine reserve, protected by the National Integrated Protected Area Act (NIPA) and under the jurisdiction of the Protected Area Management Board (PAMB). It has become a popular dive site and snorkeling destination with tourists. There are two resorts on Apo Island, both of which have their own dive centers: Apo Island Beach Resort and Liberty's Lodge. There is a ranger station and a lighthouse. (source)
The initial plan was to commute all the way to Apo Island.  There are a number of travel blogs with DIY guides on how to do your own day tour of Apo Island, and how to get there from Dumaguete.  We read and studied them all.  The most comprehensive transportation guide I found is from Pinay Travelista.  As to the activities that you can do while in the island, I found DIY Trippers's travelogue and Two2Travel's travel tips most interesting and helpful.
But things took a different turn for AJ and me when we passed by Harolds Dive Center on our way to the Marine Mammal Bone Museum (on our 1st day in Dumaguete).
We learned that they still have slots available for a day tour on Apo Island the next day.  We can choose between snorkeling and diving as choice of activity in the island (with different rates, of course).   So we ditched the plan to commute, and availed of the day tour / snorkeling package of Harolds.
The rate is Php1,000 / head, inclusive of the following:
Rent of Snorkeling gear (mask, snorkel and fin set)
Guided snorkeling
Lunch, PM snacks and drinking water
Coffee / Tea
Land transpo from Dumaguete to Dauin (with return trip)
Ferry transpo from Dauin to Apo Island (with return trip)
Marine park and other fees
Not bad, isn't it?  I thought it was a really good deal, and what's more, everything's taken care of the only thing we need to do is to be at the diving center at 6:45 a.m. the next day.   The staff took down our names and contact numbers (sort of a registration thing) but didn't accept payment right away.  We were to pay on the day of the trip itself.
Come next day, AJ and I were at Harolds at exactly 6:35 a.m.  And guess what?  We were told (unapologetically at that) that our tour has been moved to 9 a.m.  The staff there explained that there's some problem with their ferry boat that will transport us from Dauin to Apo Island.
With 2.5 hours to spare, we decided to have breakfast in the area.  I suggested to AJ that we look for Gabby's Bed and Breakfast (because I've read lots of wonderful reviews about this restaurant) and have our breakfast there.  We hailed a tricycle taxi and thanks to Google Map, we found it — or so we thought.
What we found was not Gabby's Bed and Breakfast but Gabby's Bistro along Rovira Drive, which is part of a compound where Florentina Hotel is also located.
I didn't expect to see something picturesque here.  The Mexican-themed Florentina Hotel is the first thing you will see when you enter the compound.  It's so beautiful inside and out.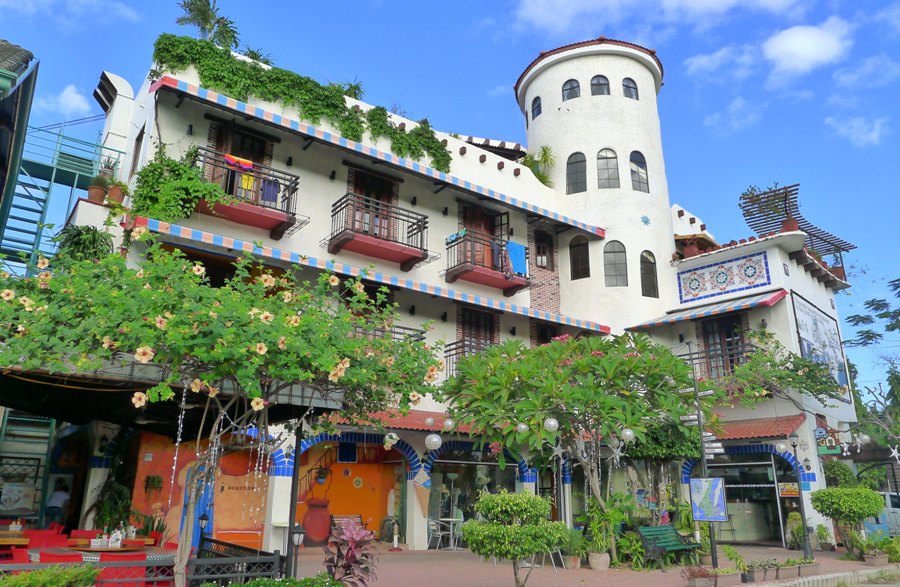 Gabby's Bistro is just beside the hotel.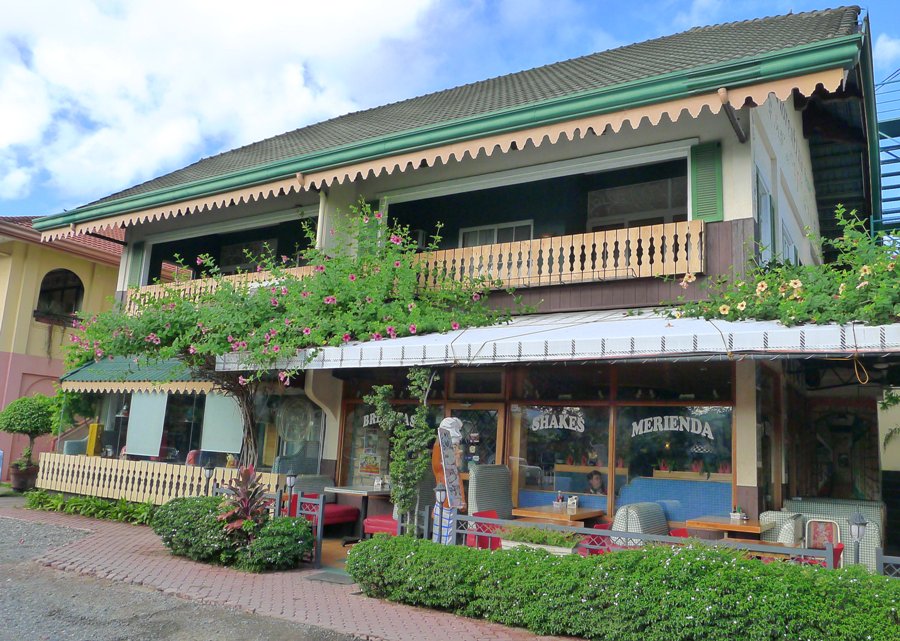 It has the look and feel of a '50s diner with quirky details.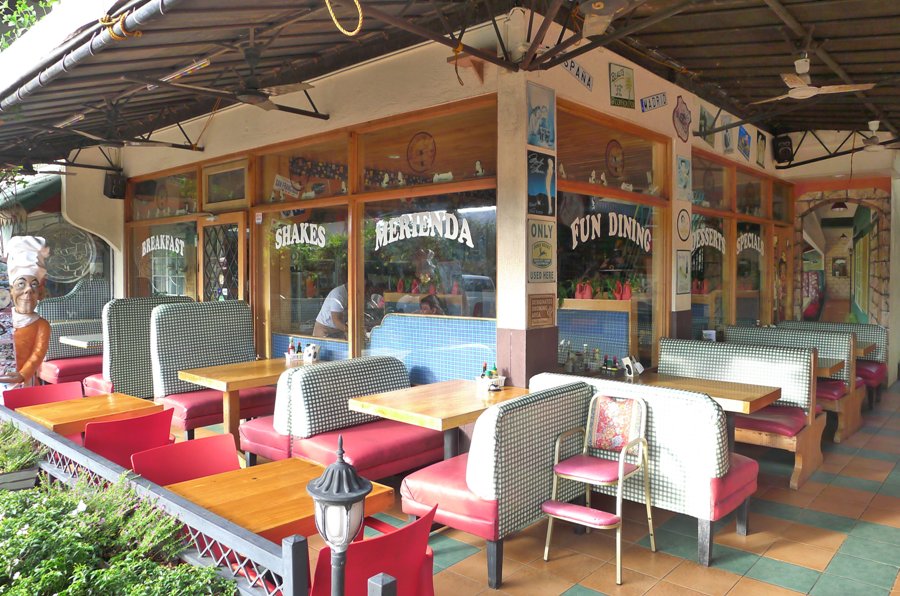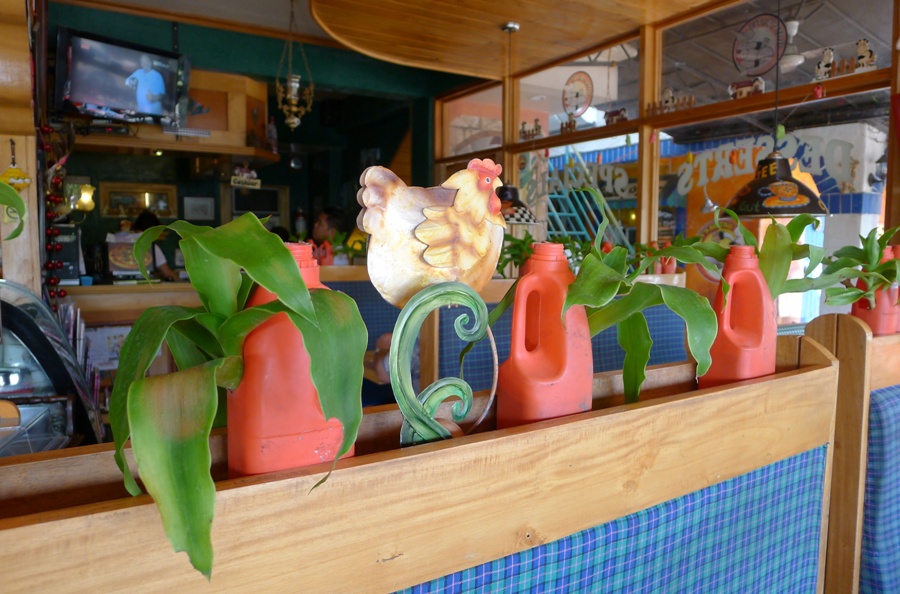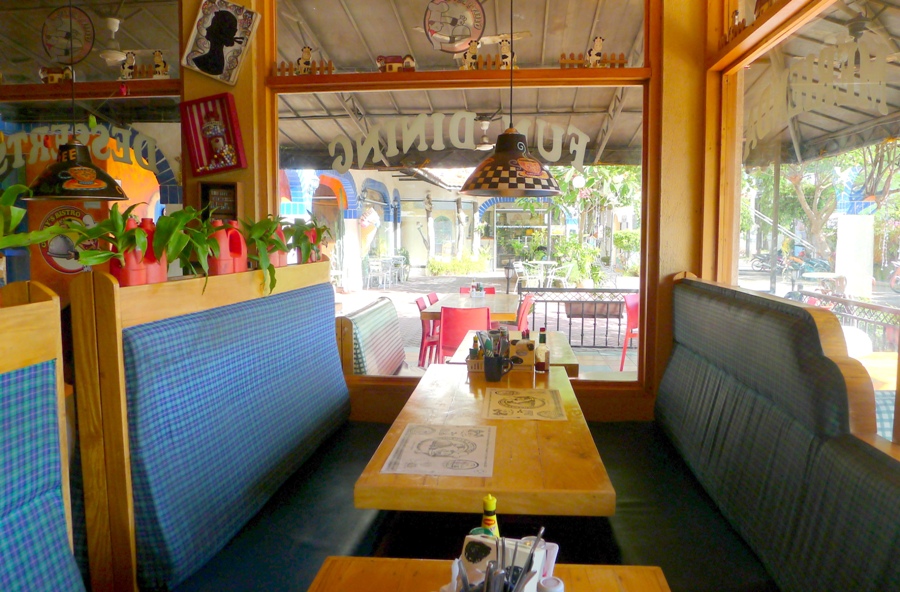 By this time, we are already aware that restaurants in Dumaguete serve big portions of food (total opposite in Manila) so instead of picking 2 breakfast items in the menu, AJ and I shared in Gabby's Special (Php280.00).  Brewed coffee is only Php50.00 per cup.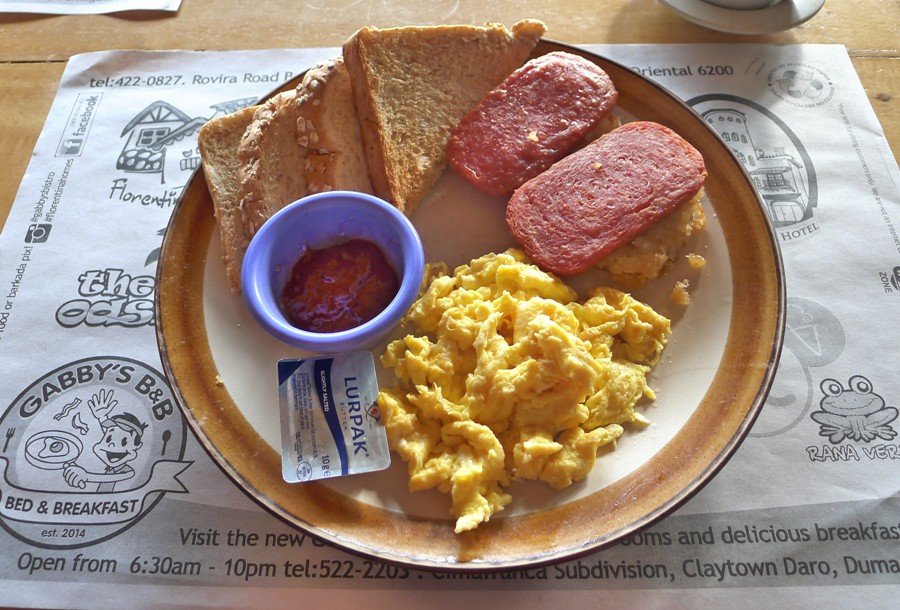 With still an hour to spare, we toured the next-door Florentina Hotel.  I'll do a separate post on this hotel (and promise, maaaliw kayo!).
We were back at Harolds 10 minutes before 9 a.m. and then waited for another hour before we were finally transported to Dauin.  We were joined by Chito, a diving enthusiast, and 2 Koreans who are also divers but will stop only at Dauin.
Travel to Dauin took about 25 minutes.  Our ferry boat to Apo Island is already there, and the staff at Harolds began to load it with our supplies (snorkeling gears, food, water, etc.).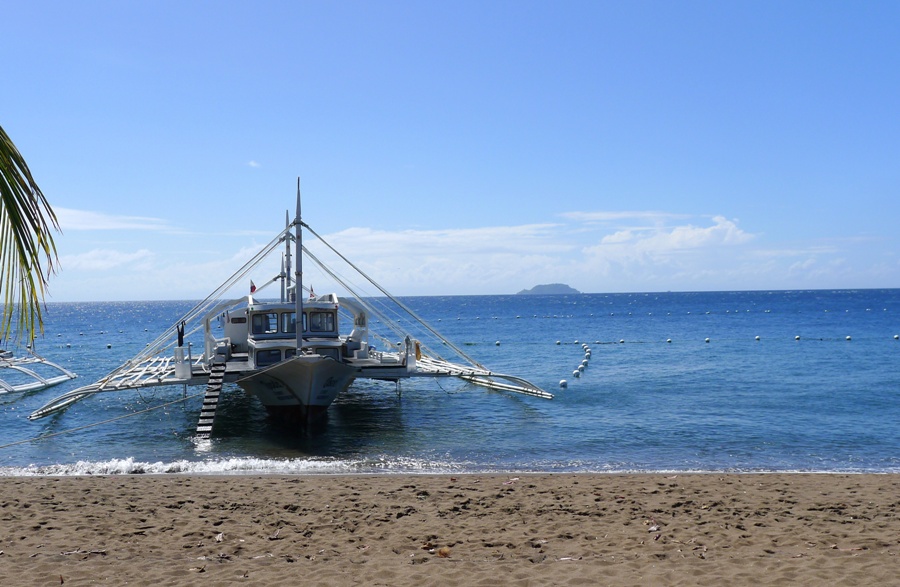 It was only here we learned that we will be traveling with a group of 21 and their flight from Manila was delayed; thus the tour was consequently delayed.
Since we didn't have any other agenda that day except this day tour, hindi na namin nakuhang magalit or mainis sa Harolds.  We were also entertained by our travel buddy Chito, who regaled us with stories about his past diving trips (including Apo Island), the interesting people he has met along the way, the other places he has been to, etc.
Finally dumating din yung group na hinihintay namin, and I realized that I was the only girl in this trip.  Muntik na ako mag-back out hehe!
I have read online that our stuff will get wet during the ferry ride to Apo Island.  So I prepared for this and packed our clothes, gadgets, wallets and toiletries in big ziplock bags and garbage bags.
But since we have a big ferry boat, we didn't have to worry about getting wet pala.  Our stuff were secure and dry on the duration of the trip.
We arrived at Apo Island at around 11 a.m.  For some reason, our ferry didn't dock to shore so I wasn't able to take good pictures of the volcanic rock formations at the boat landing area.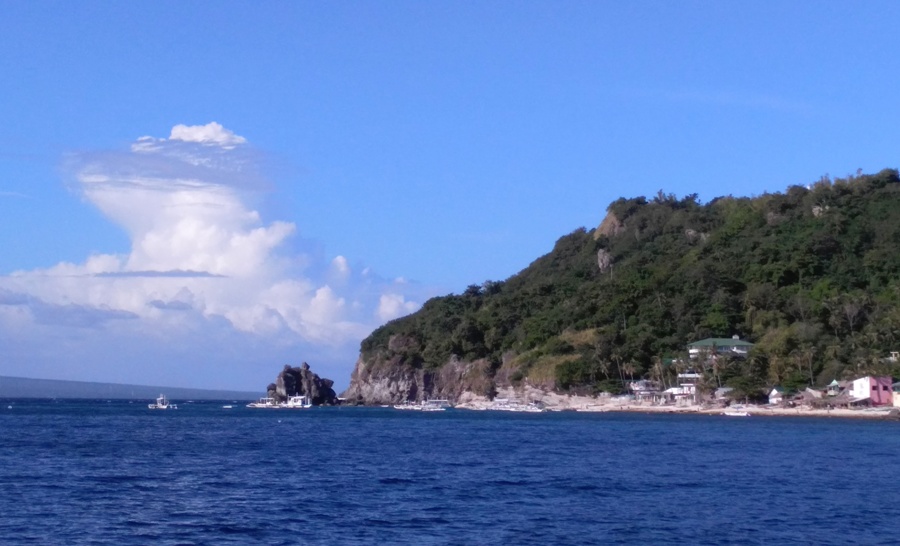 We had lunch on the ferry boat.  It was a sumptuous buffet spread of chicken adobo, grilled liempo, fried fish, chopsuey, white rice and banana.  Since we were excited to snorkel na, AJ and I didn't stuff ourselves and just took a little bite of everything.
Snorkeling at Apo Island was challenging (as compared to Dos Palmas or the other islands in Palawan) because of the moderate current.  It was already high noon when we got there, so expected namin malakas na yung alon.  Despite this, I would say that our short stay at the marine sanctuary was sulit because we saw the sea turtles!  They're so big and yet they look fragile to me.  Must be because they look so peaceful down there that I don't even want to swim so close to them.
Now you might be wondering why no pictures of sea turtles here.  Well, we did rent an underwater camera at Harolds but the only one available has a drained battery so they have to recharge it.  That's fine with us 'cos we were also waiting for our ride to Dauin, anyway.  But then the staff at Harolds forgot to bring it with him to Dauin. Grrr lang di ba?  Pero sige carry pa rin, the important thing is for us to see the sea turtles with our own eyes (and not really to have pictures with them).
We left the island at around 3 in the afternoon (day tour is good for 4 hours). It was only at this point that I was finally able to take pictures of the island from our ferry boat.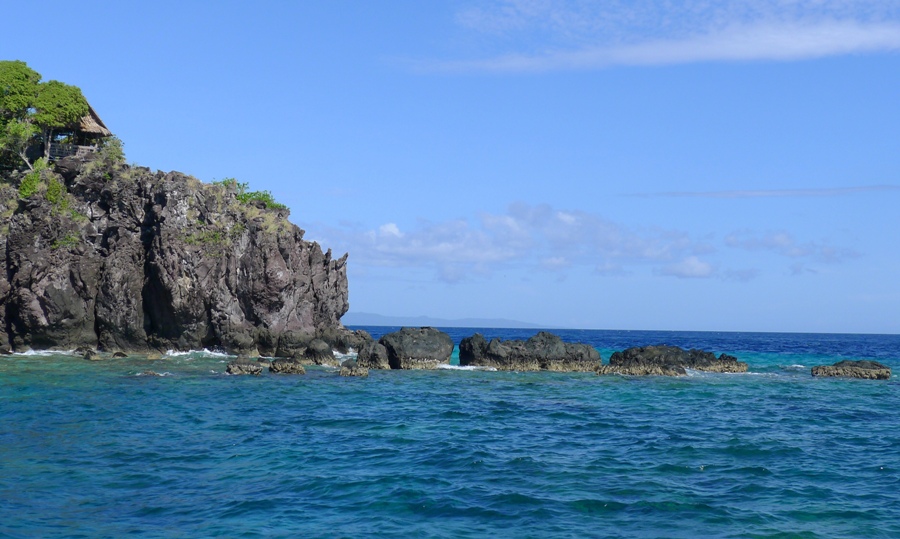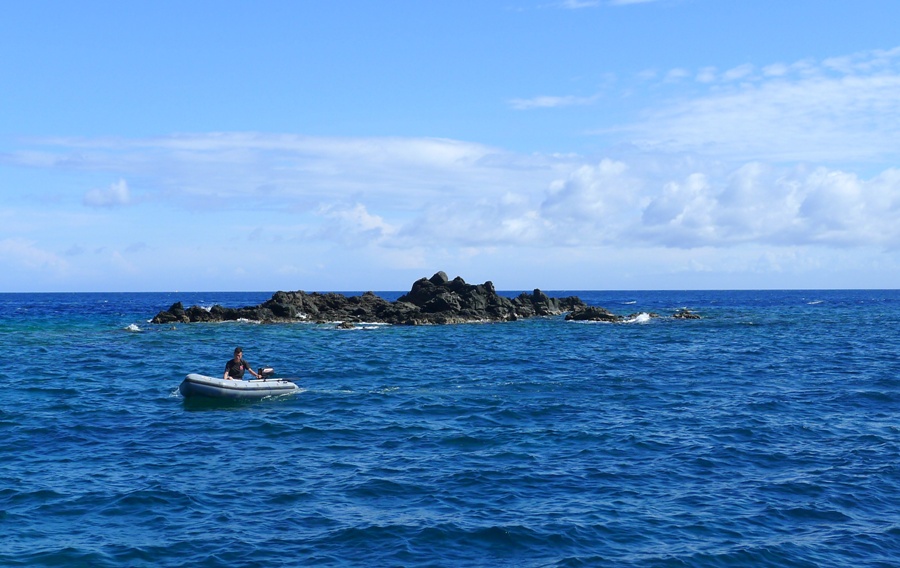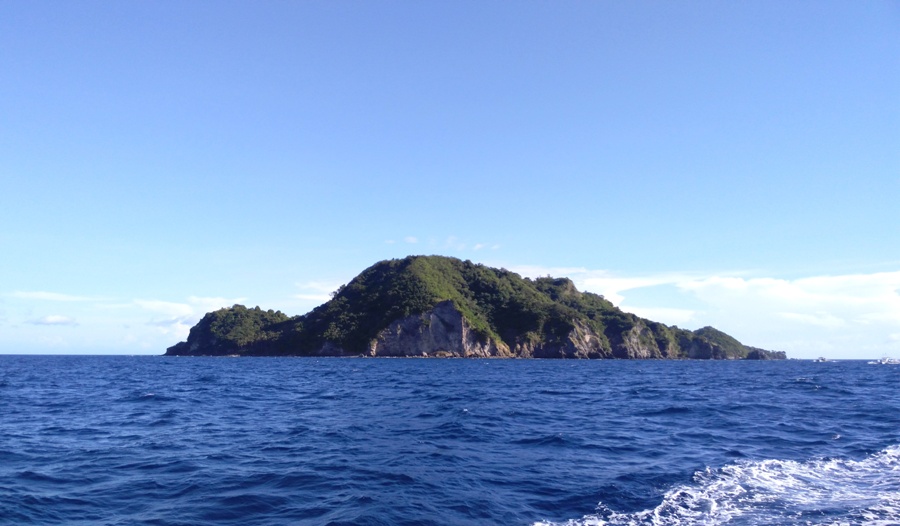 Our verdict on Harolds Dive Center's Snorkeling Package (Day Tour) at Apo Island:
Facilities – 5/5.  Harolds Dive Center is a one-stop shop for divers and snorkelers wanting to explore marine life in Apo Island and other nearby sites.  As you can see from the package inclusions of our Apo Island day trip, they basically will take care of everything you need for an enjoyable and hassle-free trip.  It also helps that Harolds has its own ferry boat and own boat crew so you can be assured that your things will not get wet and will not get lost during boat ride.
Affordability – 5/5.  At Php1,000.00 per head for an "all in" snorkeling package and day trip to Apo Island, this is a good, good deal.  Wala na k'meng inisip pa na possible expenses for this trip.  Harolds Dive Site took care of everything.  Oh, if you're interested, rental fee for the underwater camera is Php500.00.  We were able to reimburse that when we got back to Dumaguete in the afternoon.
Boat Crew and Guide – 5/5.  The boat crew and our snorkeling guide were all attentive to our needs and were very helpful.  All smile pa lagi.
Food – 5/5.  AJ and I didn't expect much from the food that will be served to us.  After all, ang mura nung Php1,000 per head that we paid.  But goodness, lunch was a-plenty and the food were all yummy!  Walang sablay.  We feasted not really on the lunch itself but on the sweet bananas that were given to us.  Naka-3 yata ako the whole day hehe!
Another surprise were the sandwiches provided to us as afternoon snacks.  They're mammoth sandwiches! Foot-long french bread filled with either homemade tuna or chicken spread, fresh tomato and cucumber slices.  We weren't able to eat them on the boat so they became our dinner!  Ayos!
Customer Service – 2/5.   I obviously saved the worst for last.  As you have read above, we weren't advised that the day tour was moved to 9 a.m.  They have our mobile numbers; they could have easily texted to us the change in schedule.
Secondly, we were not informed that we will be waiting for a bigger group .   This info may not have mattered much to the staff at Harolds but it does to us because we are tourists in the area and we want to maximize our time there exploring the city.  I can't help but ask Mother E and even Chito if the locals are really like that… like they're not mindful of the schedules?  Or was it just me who is from Manila and therefore sanay na inoorasan lahat.  In the end, it was me who adjusted because how can I enjoy my stay there if I will not do as the locals do.
Third reason for the low rating on customer service is the way we were treated by the woman manning the cash register.  The other staff informed her that we are already back from the day tour and would like to refund the Php500.00 we paid as rental fee for the underwater camera (that they forgot to bring to Dauin).  The woman was working on her laptop while talking to somebody on her cellphone so we just waited.
But I could see that nakasimangot sya, and after she's done talking to somebody on her cellphone, she went to work on her laptop.  Aba, nakalimutan yata k'me ni Ate.  So I kindly asked the staff again to inform her of our request for refund, which the staff did.  The woman answered back in their dialect and continued to work on her laptop.  Wala ring ginawa si staff. So I presumed the woman told the staff to let us wait?
I have to repeat my request, this time for all to hear (#beastmodeon) and that's when the woman finally instructed the staff to get money from the cash register and give it to us.  I don't know if such discourtesy is common in small businesses (I work in government and such display of discourtesy is not tolerated; in fact, it can result to one's suspension from work).  But I do believe that even one discourteous staff can hurt your business, however small it is.
Overall, I would rate our experience with Harolds Dive Center as Very Satisfactory (despite the setbacks).
And Apo Island?  We will surely be back there – bitin eh!  This time we'll book an overnight stay so we can have more time to explore the island and yes, more swimming time too with the sea turtles!
I know this sounds cliche already but yes, it's more fun in the Philippines! Explore the island provinces and experience island life – it's clean, good fun and a good way to detox too!
More on our Dumaguete vacation (with side trip to Cebu) coming up. Stay tuned!