Finally, a follow-up to the hubby's widely read travelogue about his trip to Toronto last year.  This time, he'll talk about food!  
(Click here for the 1st part.)
***********************************************
Hi everyone, I'm back.  Anyway, as promised, let me share with you my culinary experiences during that 3-week stay in downtown Toronto.
The Hyatt on King Street West was my temporary home.  I had such a great time as a guest there, and it also helped that there are many Filipinos employed as staff.  The warm hospitality and the kumustahan were always just around the corner, heheI I also encountered other Pinoys employed in the different supermarkets and stores that I visited.  Normally, I'd lead my question with the word 'Kuya' or 'Ate' to establish my own identity as a Pinoy – and then we'd sometimes converse in Tagalog right then and there, a quick break from having to speak straight English for days at a time.  Don't get me wrong though – many Canadians I encountered in shops were actually very friendly and helpful and that really helped make my stay enjoyable.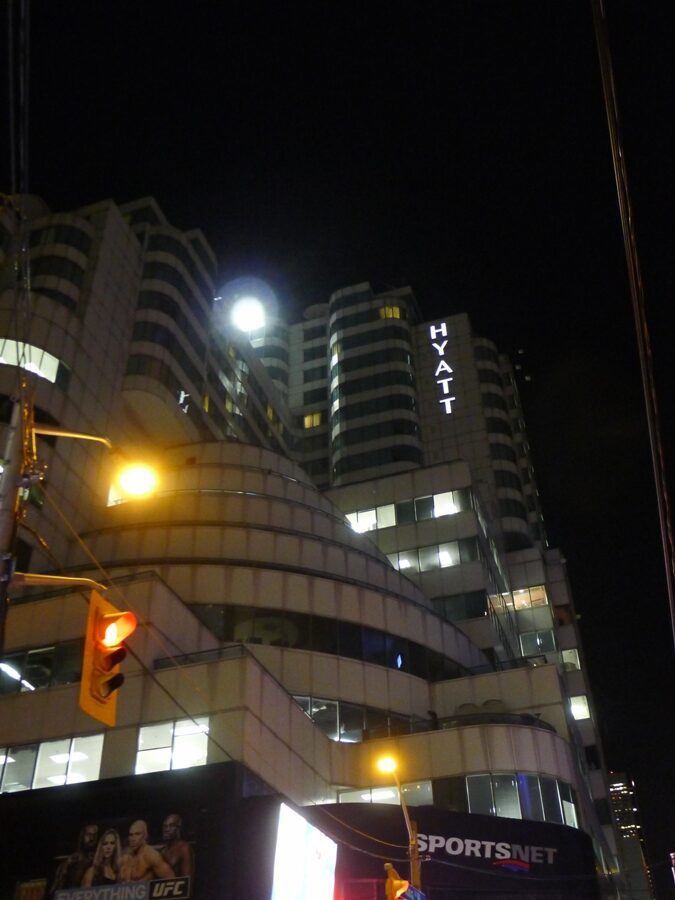 Thankfully, breakfast was included with my hotel lodgings. I breakfasted at the hotel from Mondays to Fridays, and because of that I made friends with many of the café staff.  I normally started with a couple cups of coffee while viewing the local news channel to wake up my sleepy brain. Typical fare for me would be a croissant, bacon or sausage, eggs, plus potatoes and veggies. I then washed them all down with a glass of orange juice and then off to work I would go.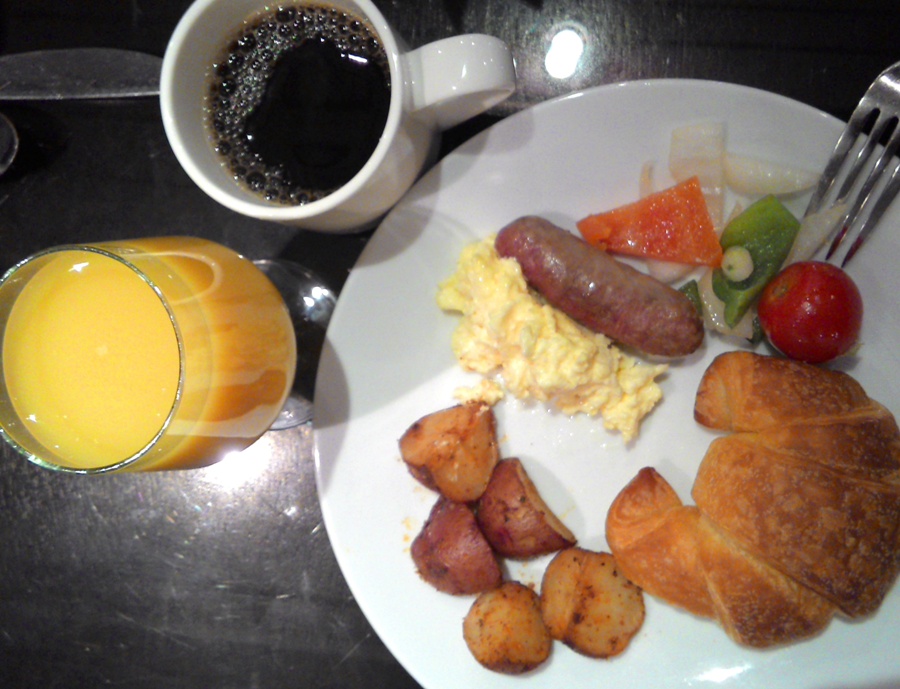 I ate sooo much bacon during those days – when I got back to Manila I couldn't even look at bacon again for several months afterwards.
Fortunately for me, I walked daily to the office – it was two kilometers away from the hotel.  With my heavy laptop in my backpack, it became a twice-daily workout for me – once going to the office and then again going back to the hotel.  Sometimes at night, I'd walk another three to four kilometers looking for my dinner. During the weekends, I was even able to walk eight to ten kilometers a day, since I wanted to see the city but needed to save money by not riding.
I didn't eat much for lunch during workdays – normally I'd walk to a nearby supermarket and order a bowl of soup with a small baguette. Or sometimes just crackers.  The heavy breakfast from the hotel plus bottomless coffee at work were usually enough to keep me going through the day.  One day I bought a ham and cheese sandwich and walked out to the lakefront to eat.  However, these birds kept trying to steal my food, but they did keep me company so I ended up giving them morsels of bread.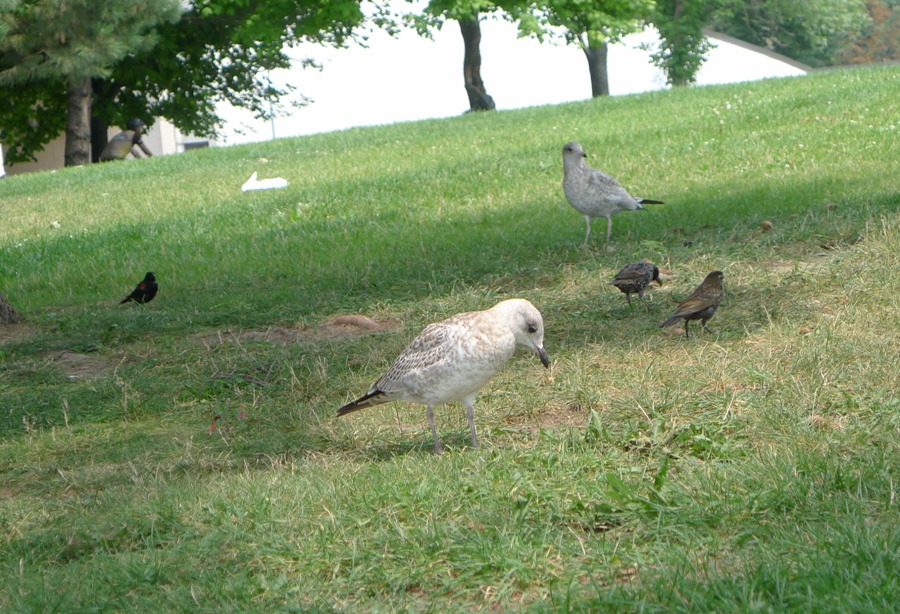 There were a row of ritzy restaurants right across the hotel, and they looked really classy and upscale. The al fresco dining looked particularly attractive.  I often passed by them to look at the menu and prices – and I normally continued walking away.  I resisted the urge to splurge, since I was saving my money to buy pasalubong for going back home.  The restaurant row really comes alive at night, as you can see below.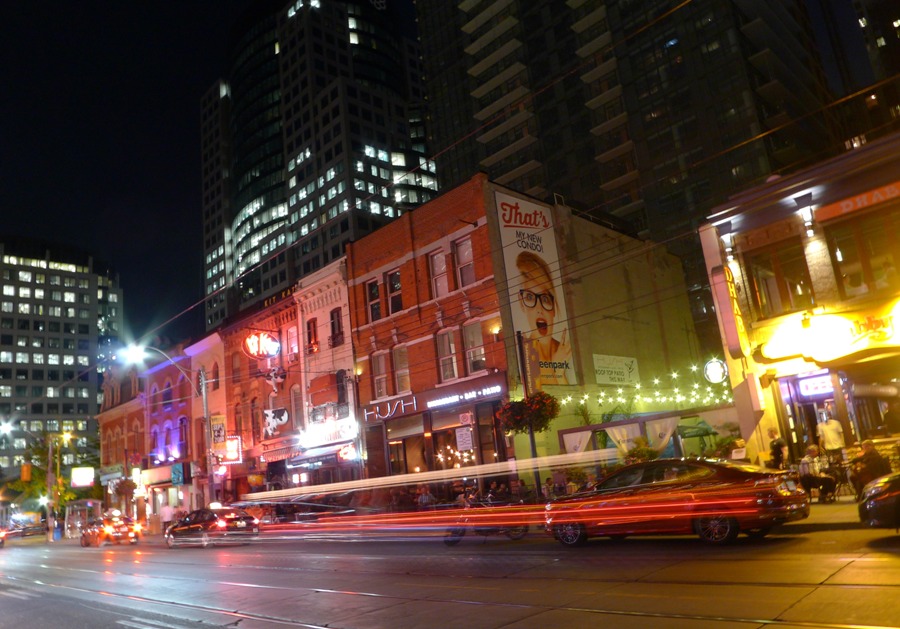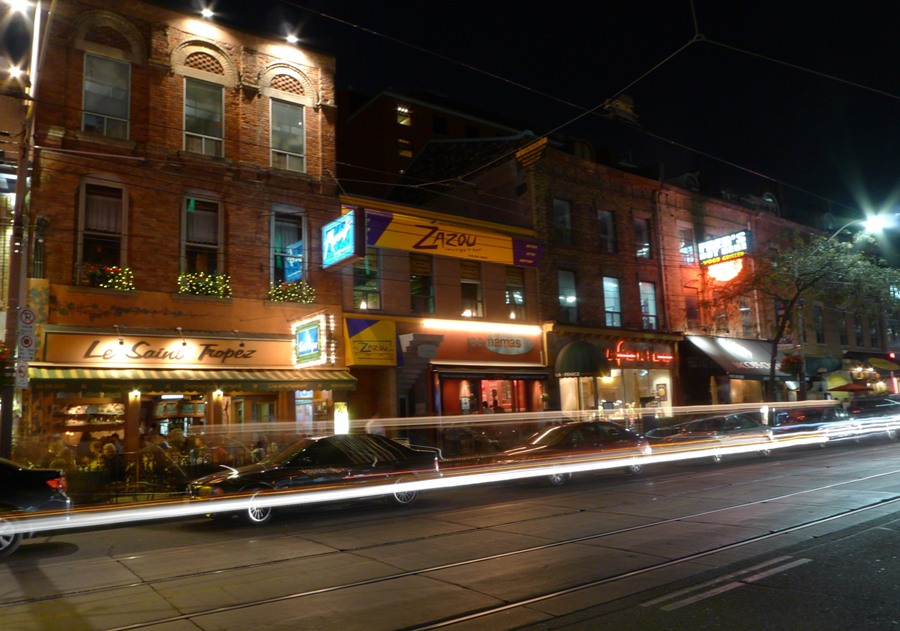 Many restaurants around the hotel offered pizza, pasta, burgers, sandwiches, and other continental fare.  Here's a combo meal which I tried from one of the more prominent pizza places, Pizzaiolo.  I think I ordered a slice of their Sicilian pizza, and chose a Corona, my favorite beer.  The pizza slice was huge and almost didn't fit on the paper plate! And yes, that's just one slice – I asked the kind lady to slice it in the middle because I thought I'd be eating only half. But it tasted good, and I was starving, plus it went well with the beer, so I was able to eat all of it anyway.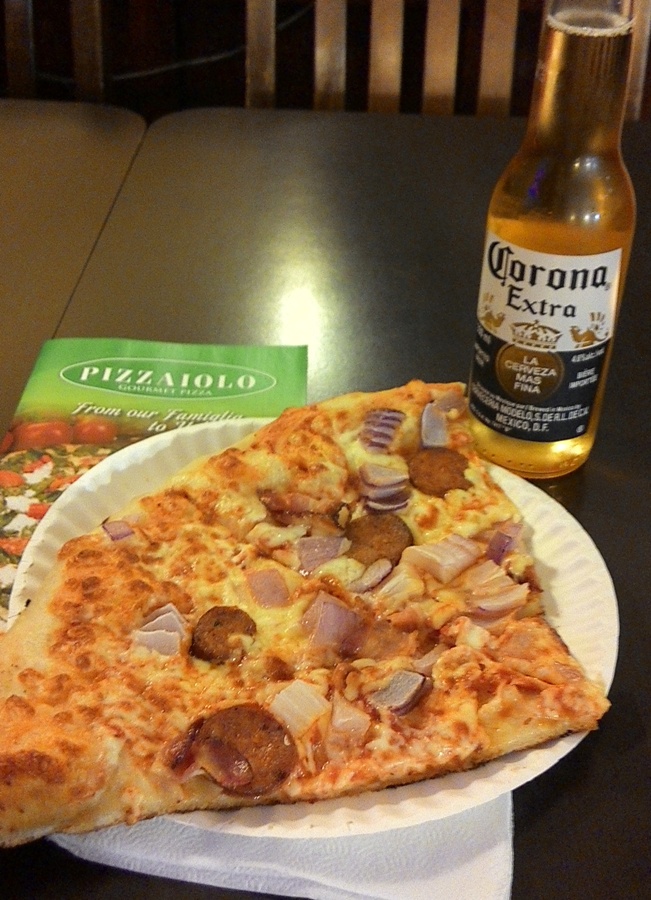 One night I was walking hungry and came across Smoke's Poutinerie.  I ordered a bacon poutine, expecting a satisfying portion of fries with gravy, curds and bacon on top.  The regular portion was too much for me, I was not able to finish it all.  It did taste great, and I was at last able to try a dish that's uniquely Canadian. My tummy was satisfied.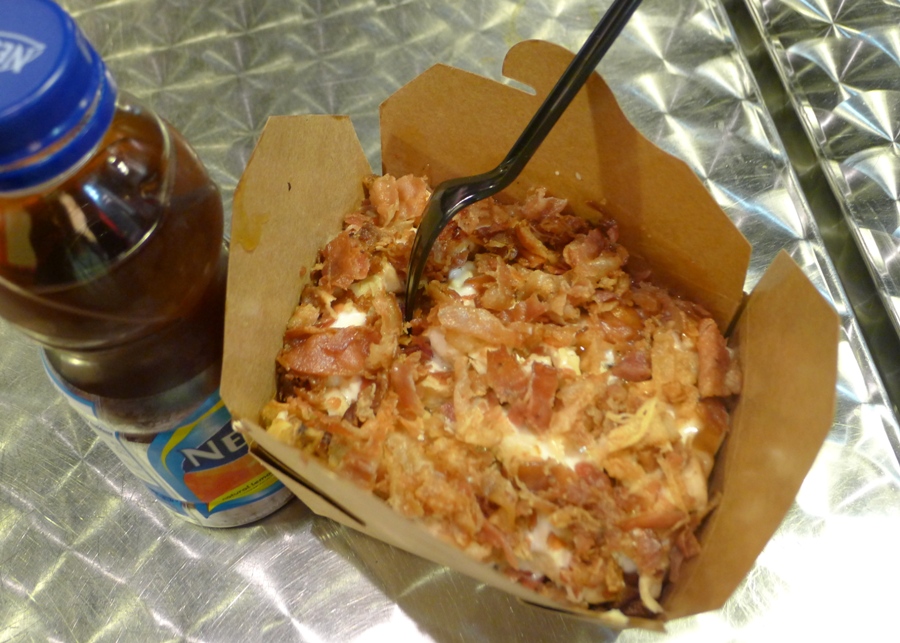 After three/four days of eating pizza, pasta, burgers, I felt I was going crazy if I didn't eat rice! And rice wasn't regular fare among the fastfood restaurants around the hotel.  So I walked to Chinatown and found a noodle place that did serve rice meals – rice craving satisfied.  However, I came back the next night because they made a good seafood noodle soup which was just the right size for my tummy's capacity. And there always seemed to be a group of Pinoy customers conversing in Tagalog over by the next table – it almost felt like Binondo or Quiapo!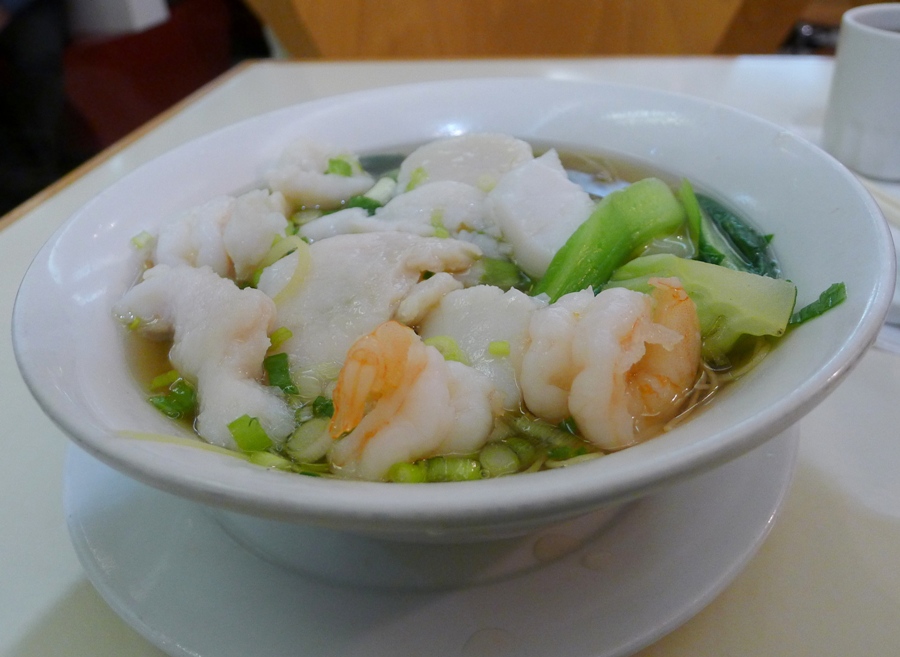 One weekend, Google Maps suggested I try out a sandwich from Banh Mi Boys which was a couple kilometers from the hotel.  There was a long line when I got there, and all the tables were full so I ordered for a grilled chicken banh mi to go instead.  It was a huge sandwich, the size of which I'd normally share with Leah, so I ate half for lunch and had the remainder as my dinner. It tasted really great, with loads of meat and lots of veggies plus great sauce.
When you're in downtown Toronto, you gotta try out the food trucks!  There were lots of em, serving burgers, fries, sandwiches, snacks, ice cream and more.  On a warm summer day you'd see three or four of them together near parks or malls.  The food was good, prepared and cooked while you wait, and they're affordable too.  I was able to try a snack of a burger and fries once, but sadly I was not able to catch a soft serve or a parfait, boohoo!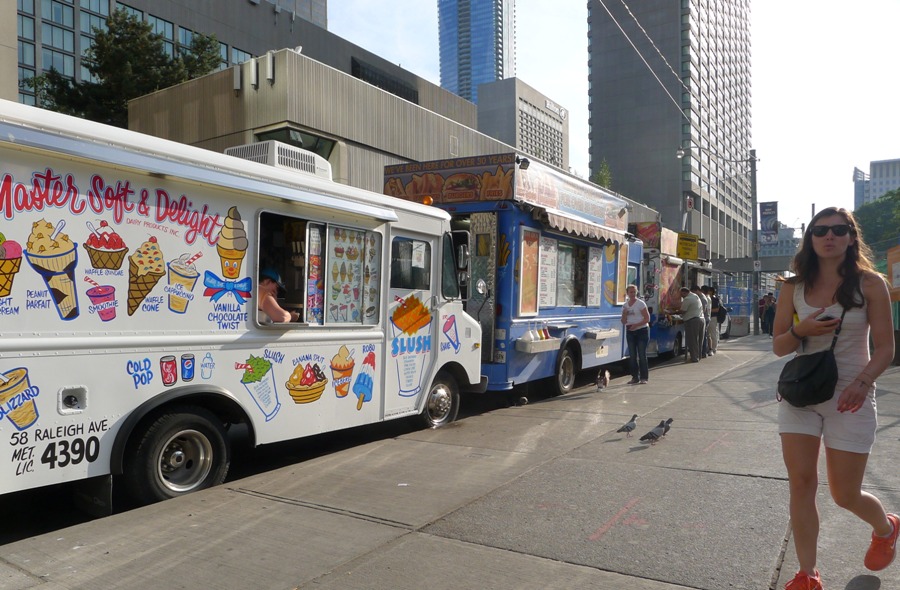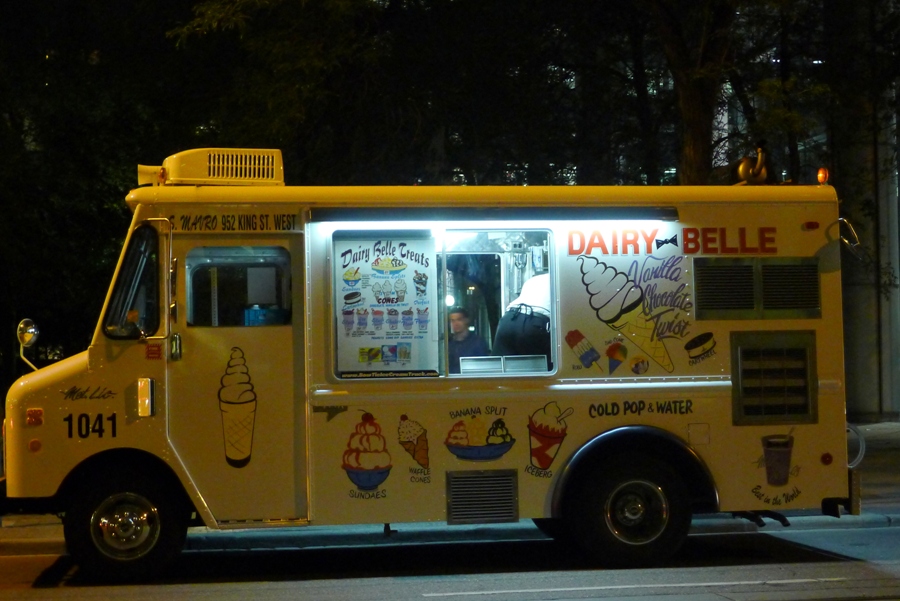 Starbucks is pretty much everywhere, so I instead tried out some of the coffee shops which I wouldn't find in Manila.  Notable among these were Tim Horton's, which was pretty much all over Toronto as it is truly Canadian, and another local coffee shop called Orange Alert.  There were many more which I weren't able to try, either due to time, distance, or budget constraints. Orange Alert stood out for me since it seemed like a chip off the old block, it looked homey and quaint.  The brewed coffee was great, dark and aromatic, fair trade and organic. I paired it with a slice of a really good cherry cheesecake.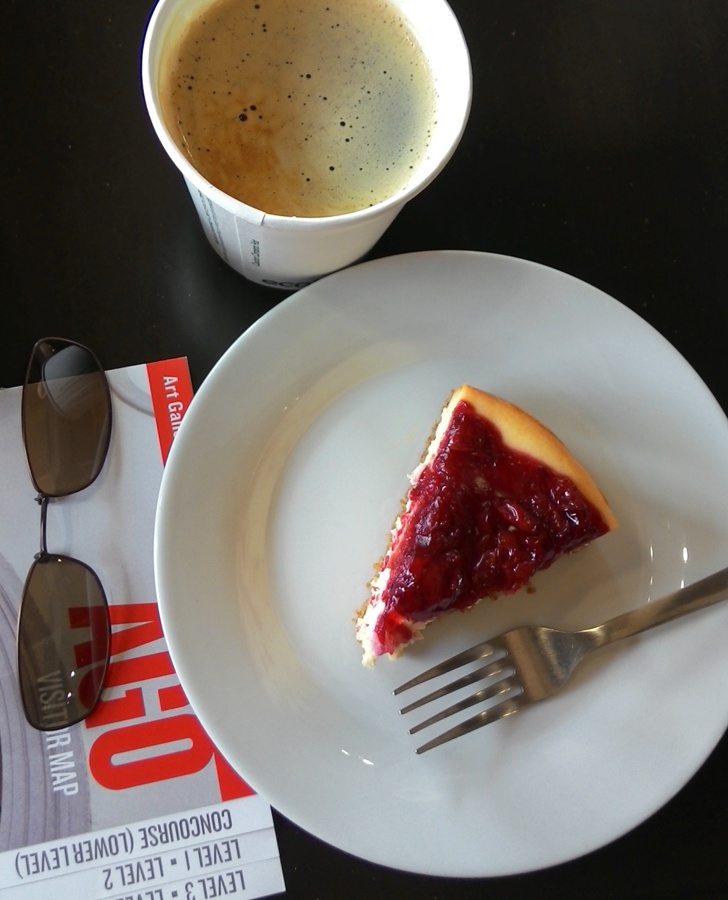 But by now, am sure you guessed that I couldn't really go for long stretches without eating rice.  Part of my daily adventure was finding out where I can get a rice meal haha!  Below are a couple dishes I tried from food courts in malls.  The first was from a Vietnamese food joint, and the second was a Bourbon Chicken meal.  Both were huge portions for me, good for lunch all the way to late at night. I didn't forget to clean up my table after eating, as courtesy for other people who'll eat there next. That's customary for them, and I felt happy to oblige.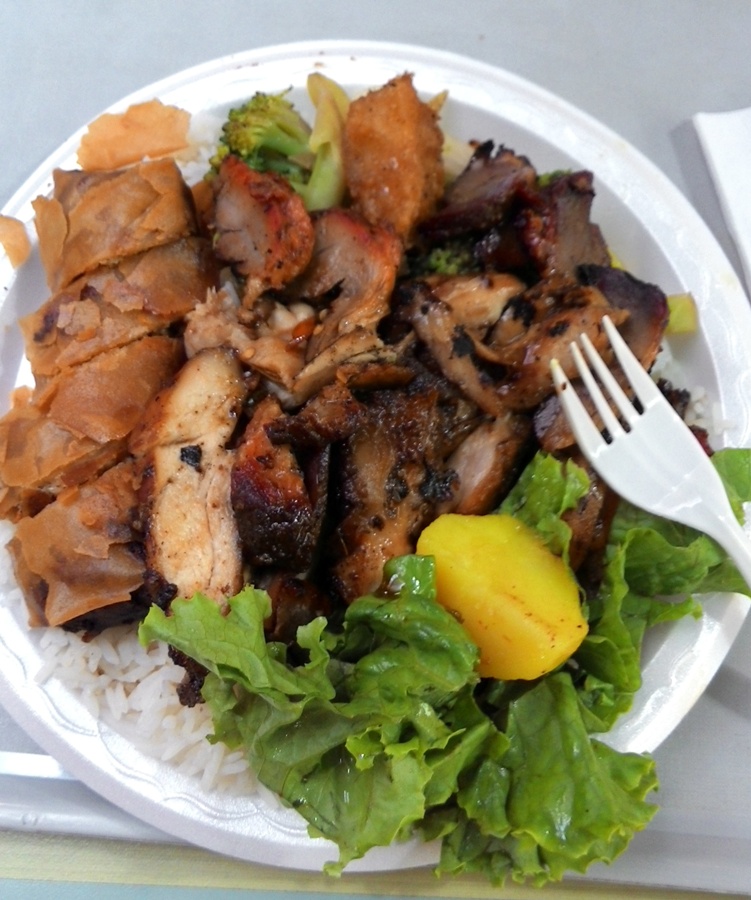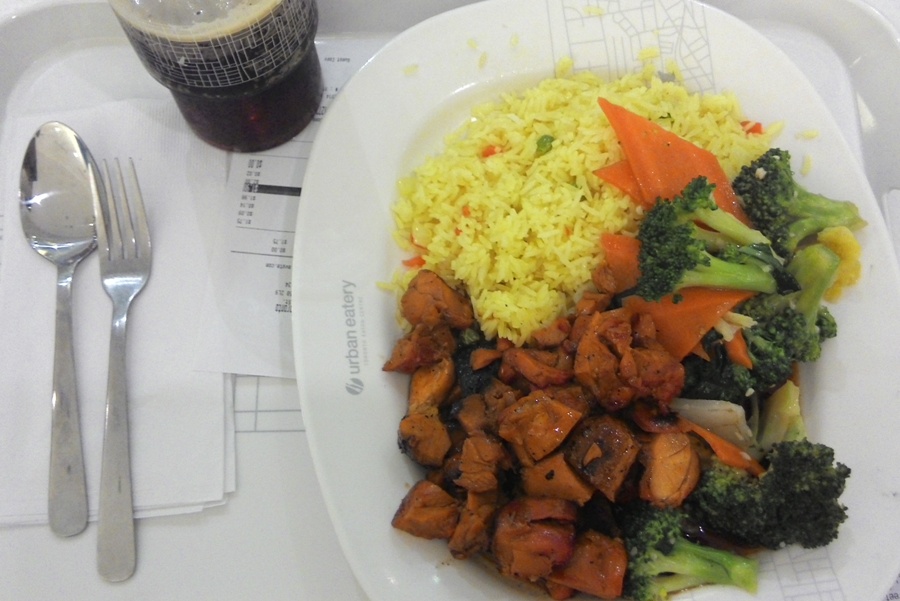 I went to several different supermarkets for my basic needs like water and stuff.  Then I came across Longo's on my way home, and this happened during the second week of my stay.  There, they had in-store specials and meals to go – it seemed a very popular section for young urban professionals who didn't have time or skills to prepare their own meals.  And woohoo, they got combo meals that varied every day! I can choose from a meat viand like chicken, chops or ribs, and two side dishes that included rice from among the choices.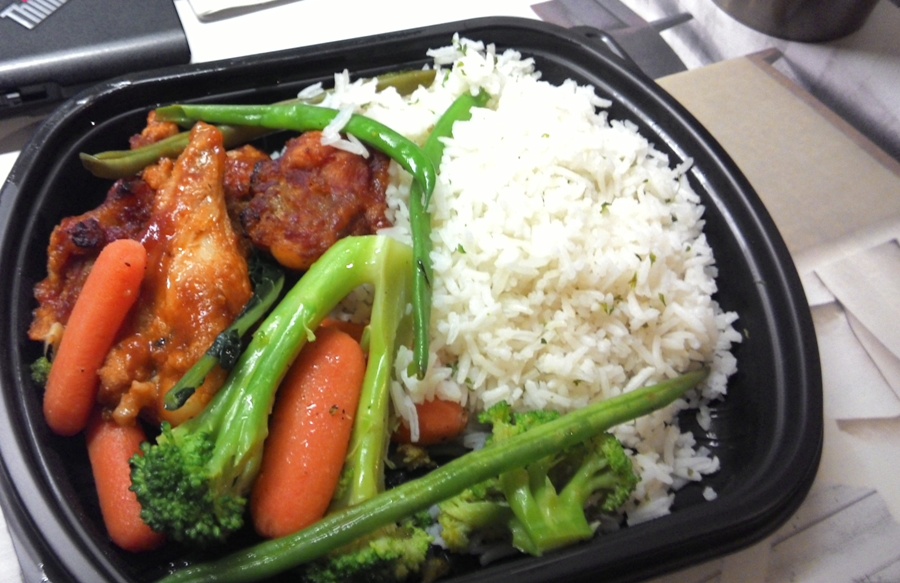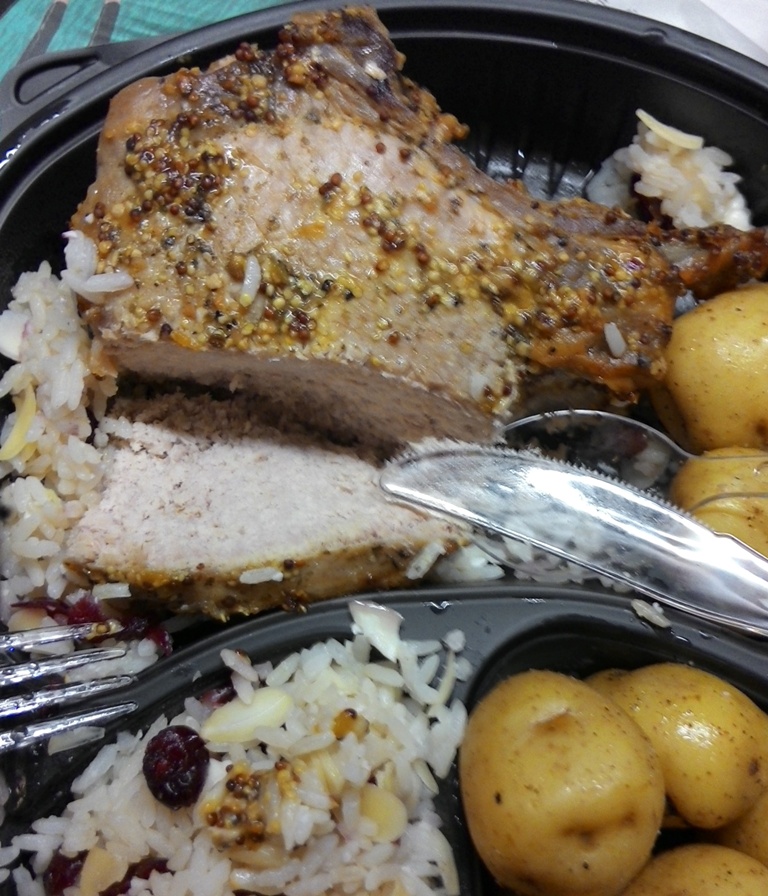 I was so disappointed that I didn't discover them right away, but I was finally glad to be able to have rice nearly every day. That was my sanity check, all right.  It was tough enough that it was my first time alone in a foreign country for quite a stretch of time, so little things that reminded me of home became really important. A bowl of champorado would have been welcome too, but I guess that was hoping for too much haha!
I wanted to splurge a little for my last dinner in Toronto, so I walked around trying to choose.  I was floored with so many choices, and I went back and forth unable to make up my mind. By the time my tummy was growling painfully I didn't realize that it was almost 10pm, and many shops were already closing.  But then I saw this great deal for a whole rack of ribs on a bed of fries that cost less than CA$12, and I knew I'd be alright. I love eating ribs, and I cleaned out this plate while savoring the hickory barbeque sauce and enjoying the sights.  It was Hooters, after all. People have this love-hate relationship with joints like this because of their so-called style or gimmick, but I was starving. And I was there because they offered a no-brainer deal for the ribs. No, really, you gotta believe me!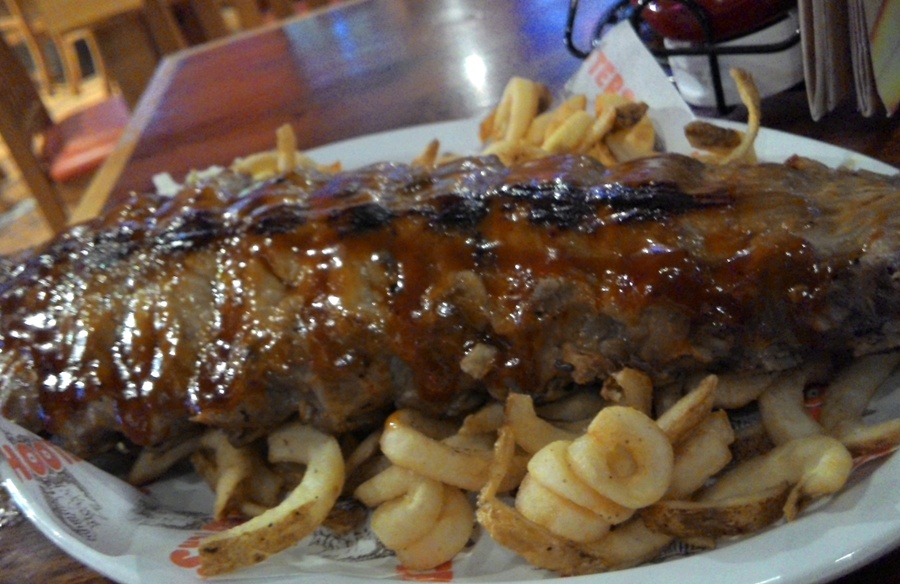 I appreciate you reading all the way through to the end, and I hope I stoked an appetite in you – an appetite for your favorite comfort food or an appetite for an adventure, either one would be good. Both would be better. Post a comment below and share how you plan to satisfy that craving.
Next time I'll tell you about my visit to some of the iconic places in and around Toronto. From the teaser pics below, can you guess where I was?