Text and pictures by my Guest Writer: AJ the Hubby, the Baker and the Gamer.
********************************************************
How would you feel when your boss suddenly asks if you have a valid passport?  That could potentially mean travel, right?  After the sudden rush of knowing that a travel opportunity lies ahead, of course you'd wonder where to, how long, what for, why you.  So it turned out I'm being sent on a training session half the world away, to learn as much as I can about a new team, a new business model, and new tools that we're bringing to the Manila office.  Off I went to Toronto, Canada where I stayed for three weeks by my lonesome.
It was exhilarating and dreadful at the same time.  The furthest I've travelled by plane was only 4 hours away.  My travel kit said total travel would be 17 hours, with an hour's stop at Vancouver.  It was a new and exciting experience for me, but the long travel time did take a toll on my knees and legs.  After about a couple hours in flight I couldn't wait to stand up and walk around again.  Of course, loitering's prohibited inside the plane and the only walking I got was to the washroom and back to my seat.  I was grateful to wait in line, though – it meant being able to stand longer and flex the sore muscles.  But overall, I liked the sensation and the sights of being up in the air. I loved looking at the sky and the clouds and the stars at night.
Meals in the economy class were far from gourmet, but I had little choice anyway.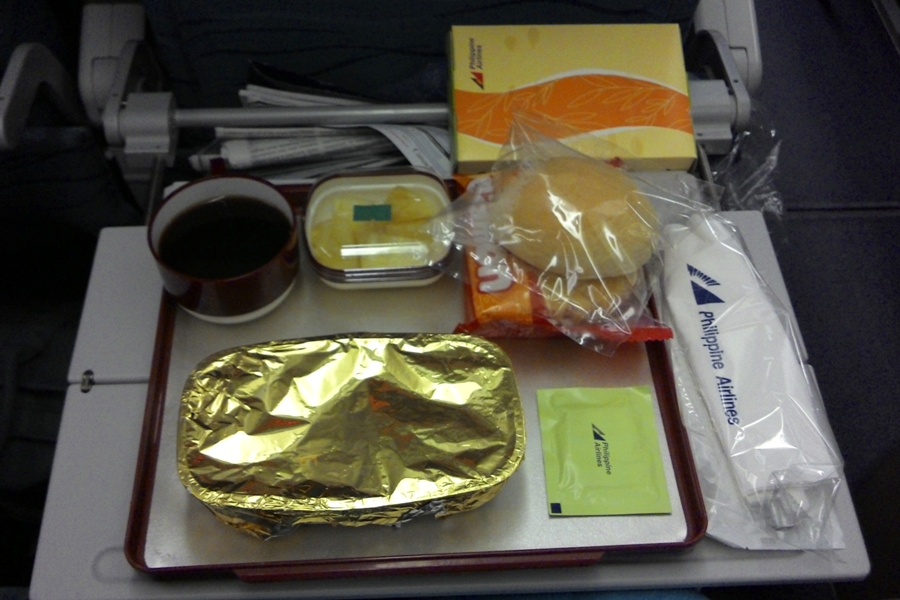 "Are we there yet?" Repeat as desired until arrival at destination.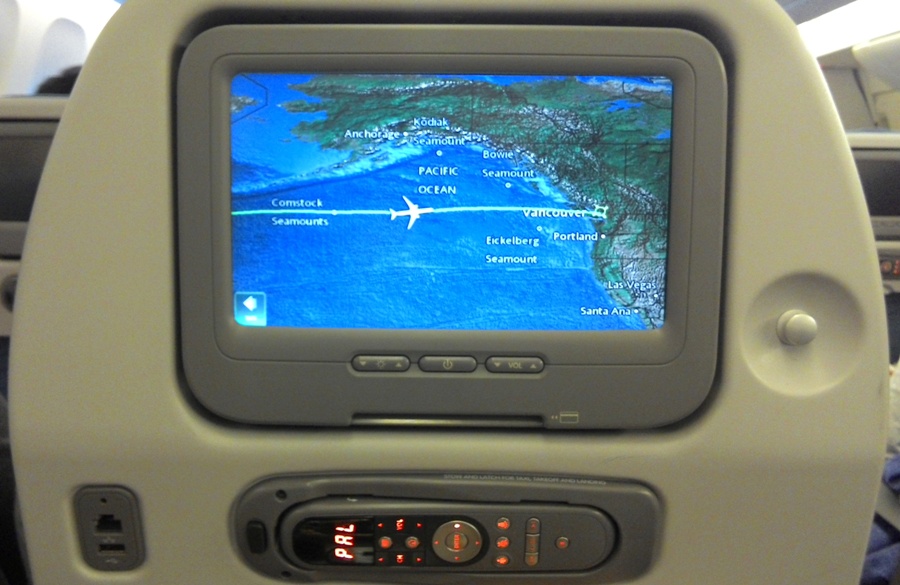 I arrived at Toronto on a Sunday night.  It was August, and since it was still summer the weather was cool and the breeze was gentle.  It feels like Baguio in November/December and there was no need yet for heavy jackets and mittens.  After checking in at the hotel downtown, I took a few snapshots of the marvelous view out my window, informed Leah I was cozy but missing her, and then promptly fell asleep.
Here's the view from my hotel window at night: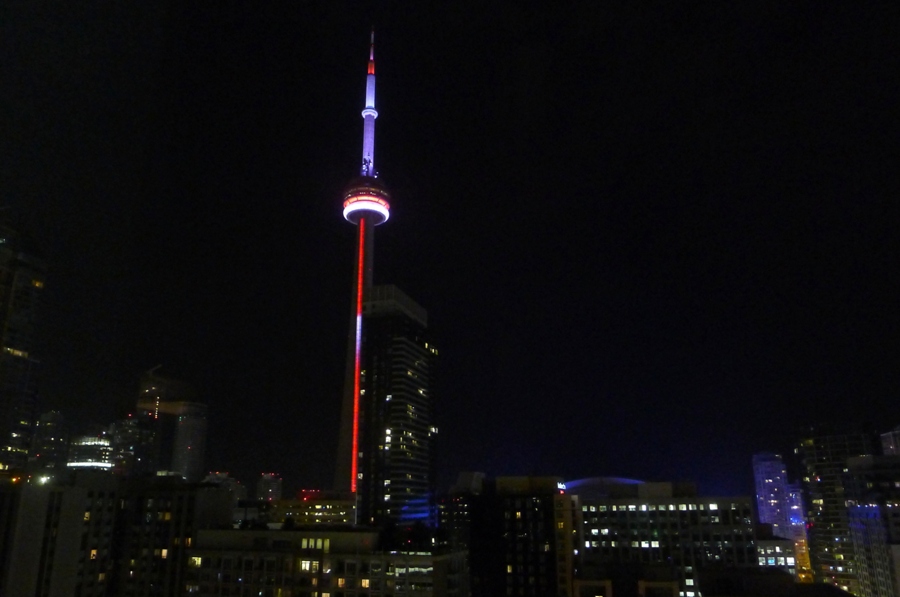 The next day was a non-working holiday, and it gave me time to get accustomed to the time difference and work my way around the city, to fight off the jetlag before I started with work.  It was my first time there and I was there alone – I didn't know anyone in Toronto and I didn't have anyone showing me around.  While some would see that as unfortunate, I saw in it a golden opportunity to wander around, get lost, and then find my way back again.  I felt comfortable just walking around and observing people and snapping pics along the way.  I also felt confident that my Android smartphone with GPS and Google Maps would be enough to get me to interesting places in the city, though it's still a poor substitute for someone who is from the city itself.  For the rest of the three weeks that I was there, I did rely most on Google maps since routes and establishments are fairly accurately labelled.  People's reviews also helped me choose which one to go to, since there were so many places to visit and I had so little time to do so.
I took hundreds and hundreds of photos during that three week stay.  Below, I'm sharing with you some of those that I liked best.
There was gorgeous architecture around the neighborhood, sitting alongside modern buildings.  I also walked around some quaint neighborhoods and snapped some pics.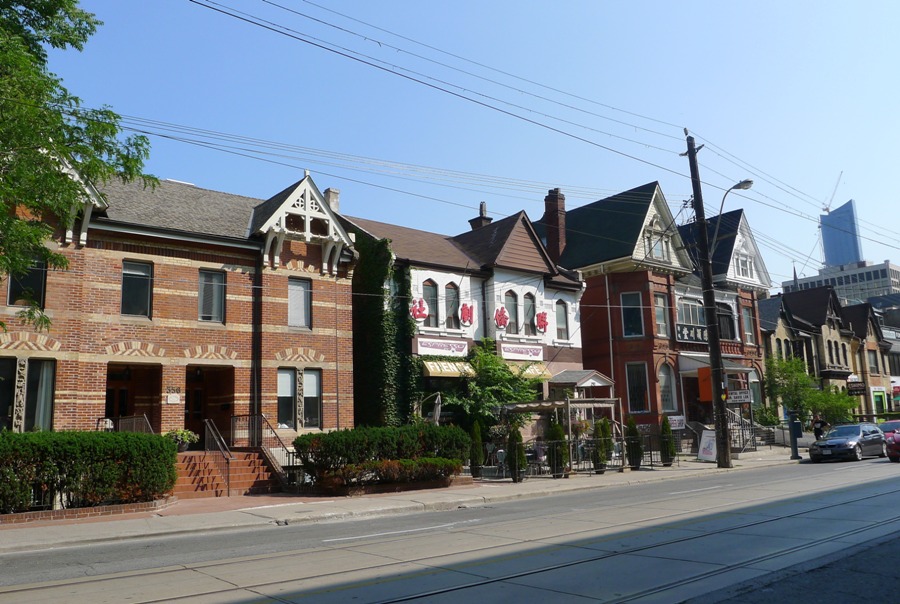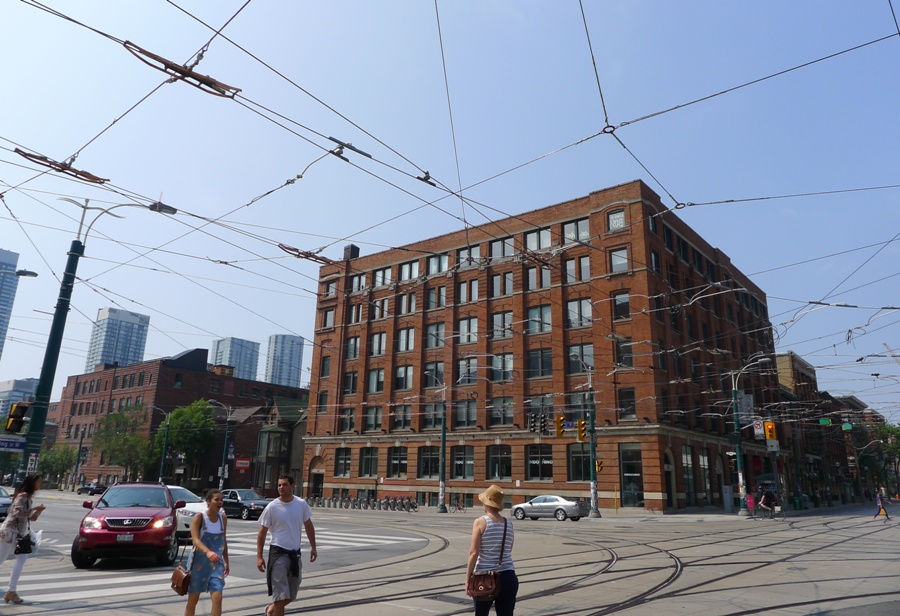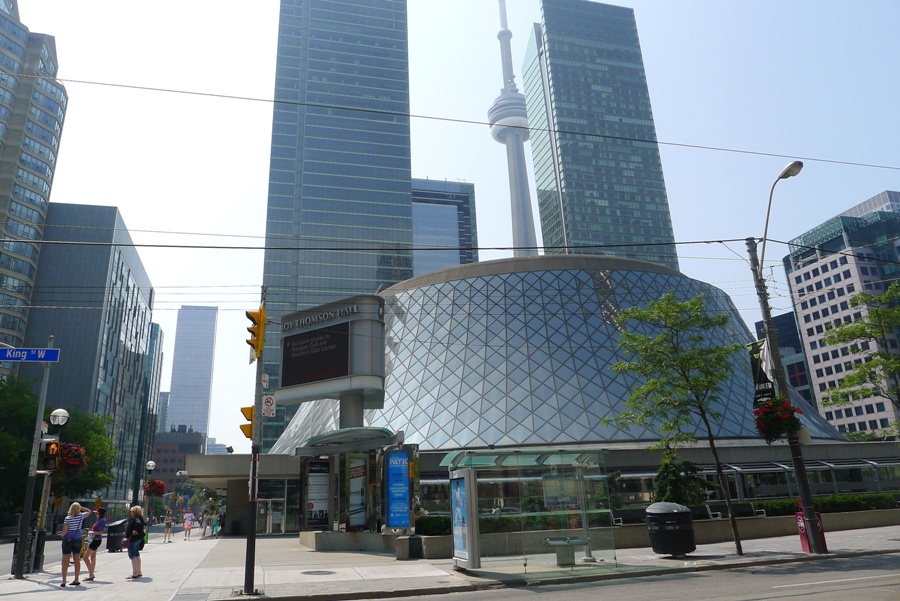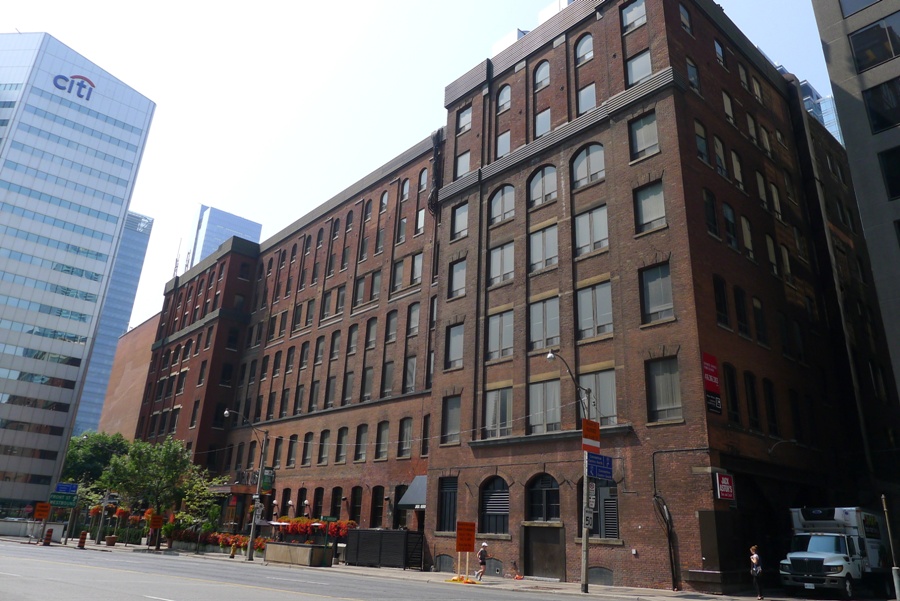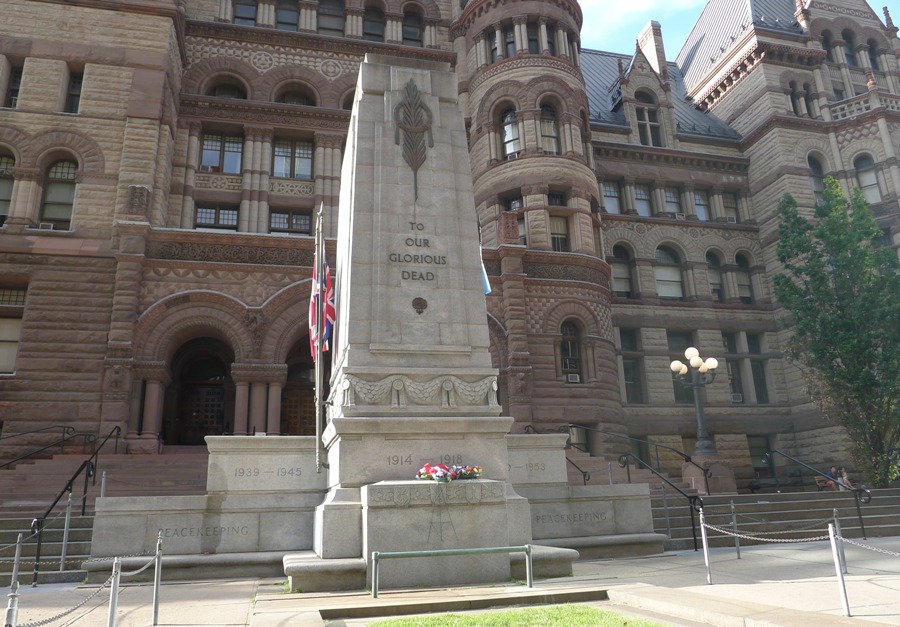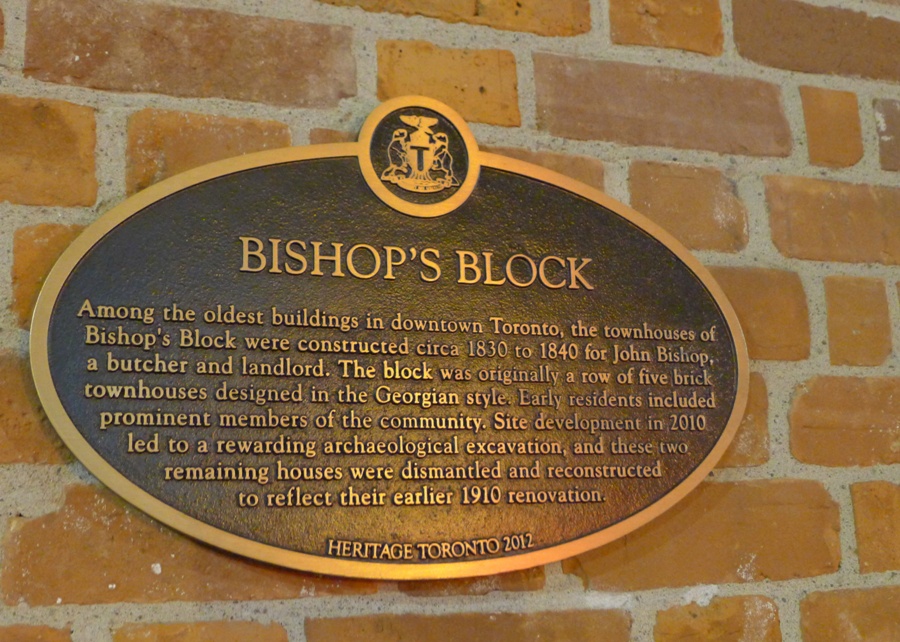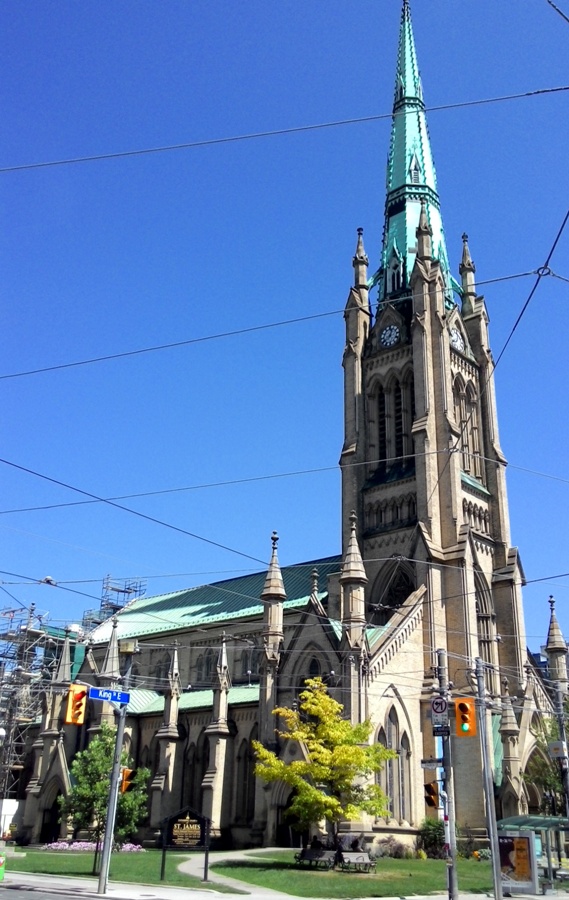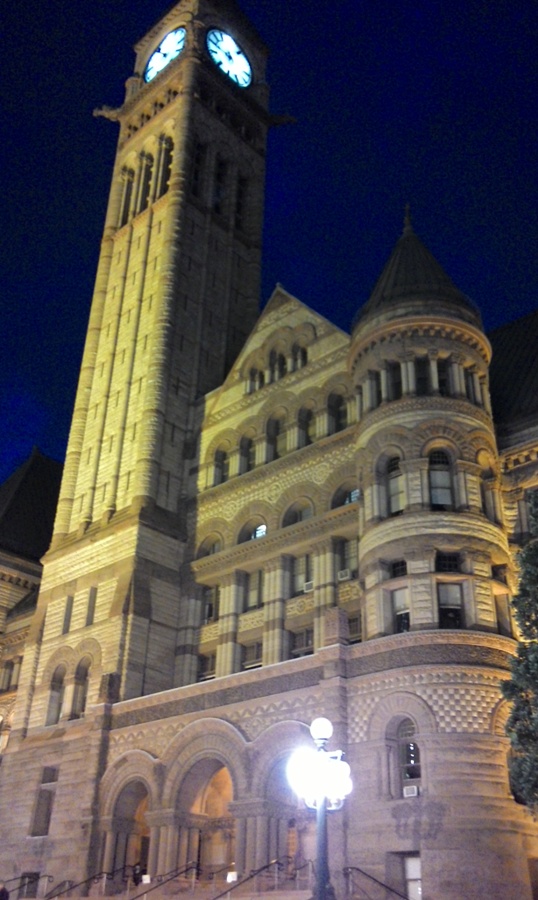 A lot of people bike around town when going to work –it's encouraged as an alternative to bringing your own car or taking public transit. Rental bikes are cool, there are plenty of these rental stations in the city – credit/debit cards preferred.  Do you think we should have these in Manila? Or is it still too dangerous because of undisciplined motorists and bicyclists?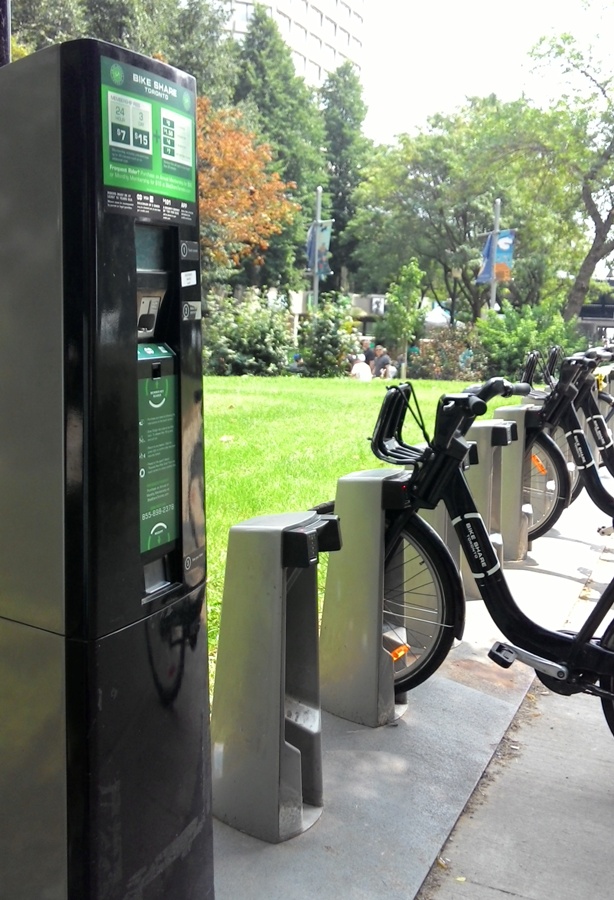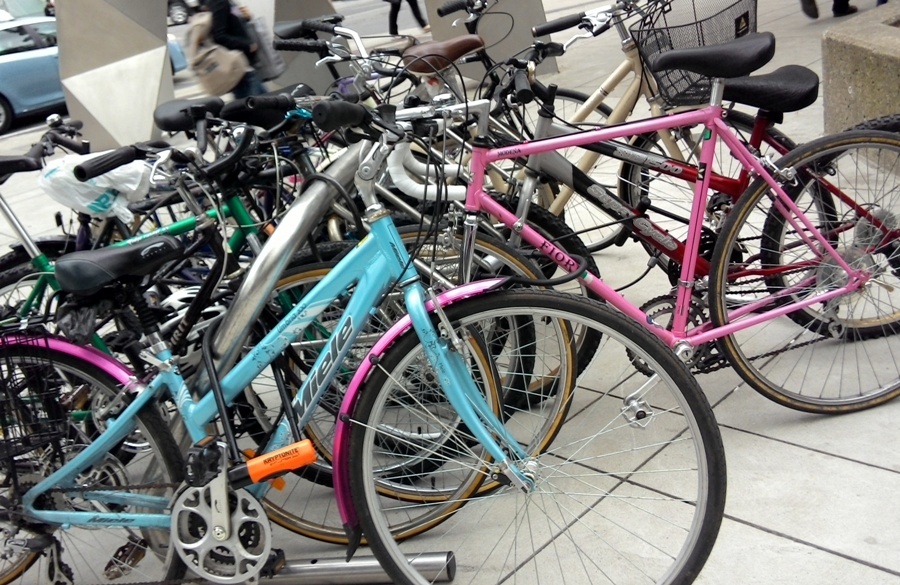 Here's a famous musician who bikes around town with his grand piano in tow. I know he's famous and he travels to famous places but I forgot his name. Lots of people crowded around and listened to him play – a great way to spend the evening: a free concert!  Oh, that shot was taken at nearly 7pm.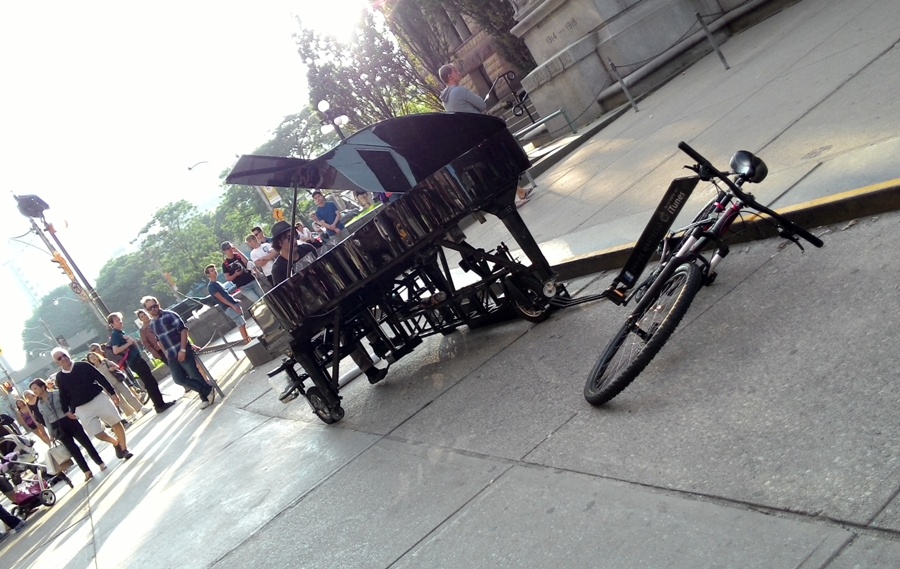 Another reason for bikes: parking's a b*tch in the city.  Look at the rates for street parking below – this is along King Street West in the downtown area..  I recall seeing rates as high as CA$30 for daily garage parking as well.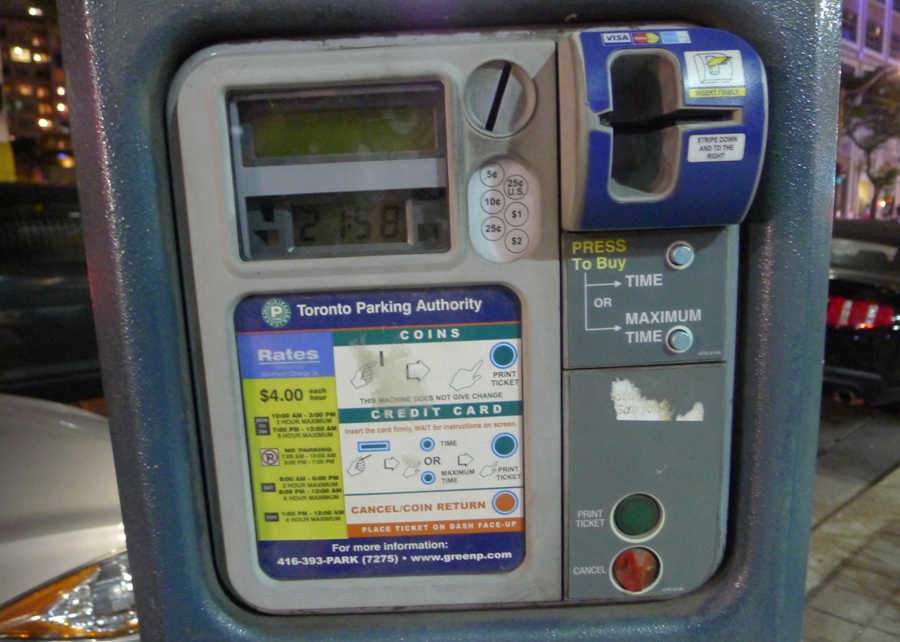 A stroll by the lake is very relaxing. During the summer, boat tours and day trips to the nearby Toronto Islands are usually packed with residents and tourists alike.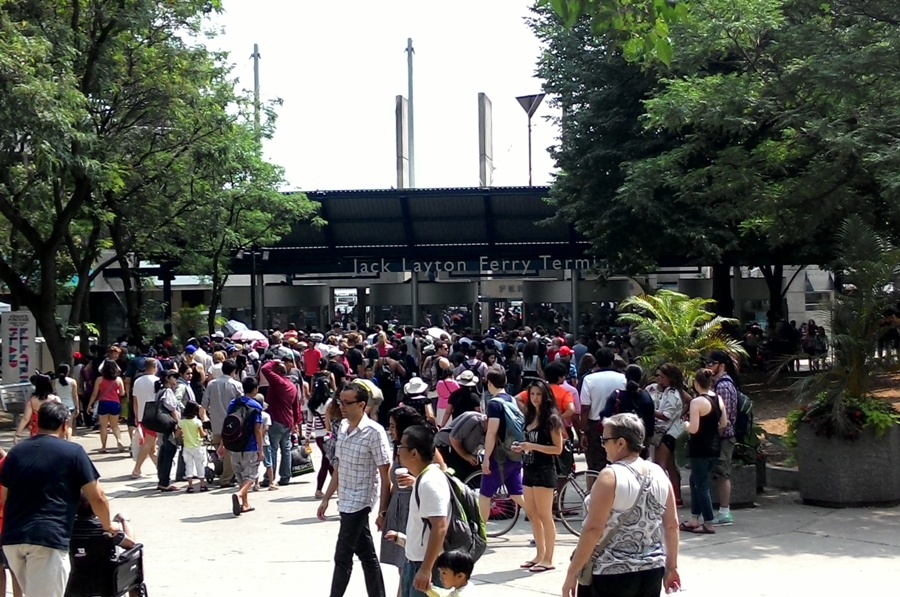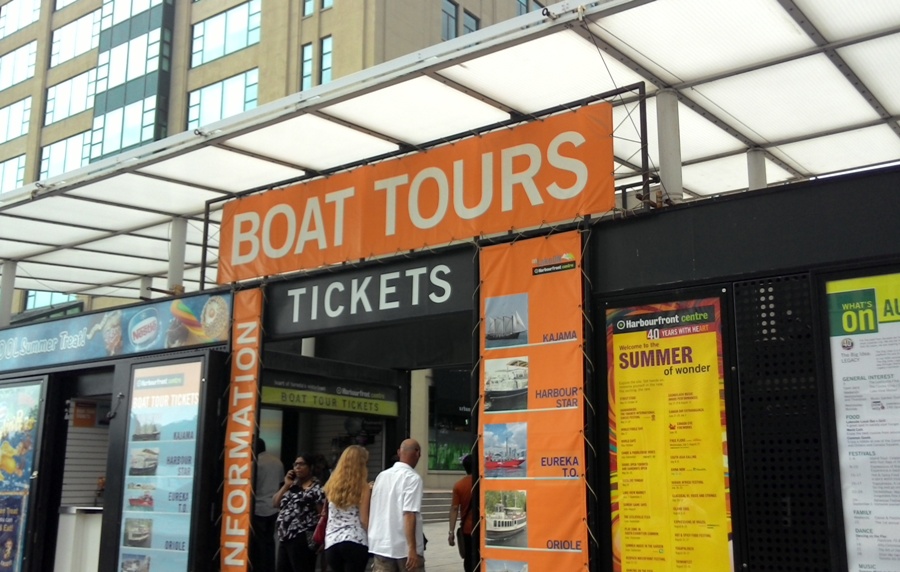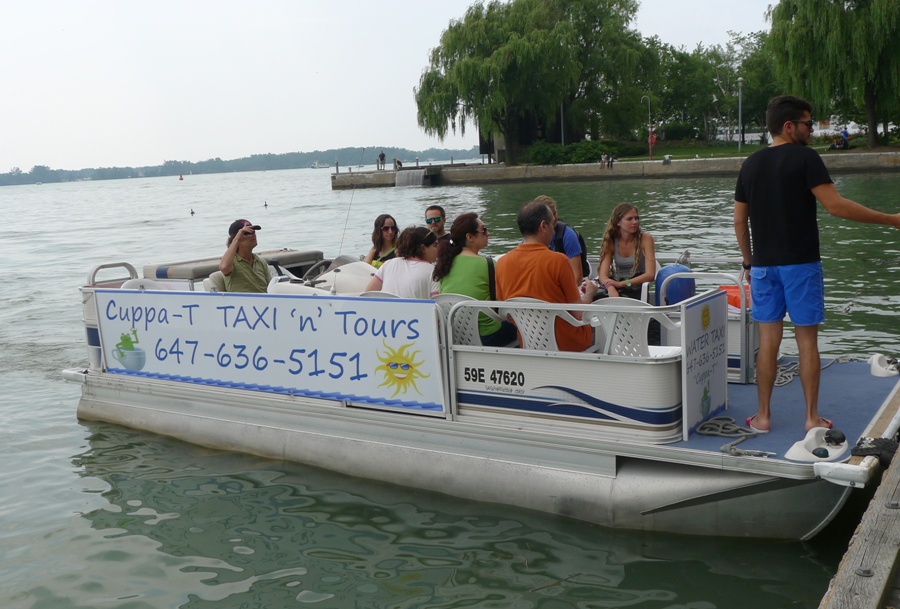 I was buried neck-deep with work that I had to learn and bring back home, so I often walked down to the bay and sat at the base of a tree to eat lunch because it allowed me to decompress.  A number of times, these sea birds and pigeons would crowd around me trying to steal my sandwich.  I had to be constantly on guard but I was grateful for their company so I threw them some morsels instead.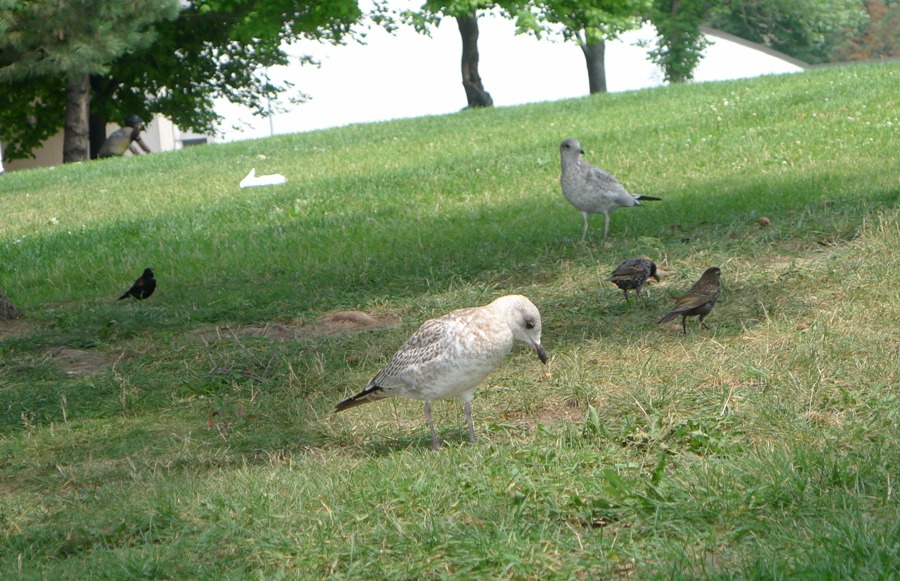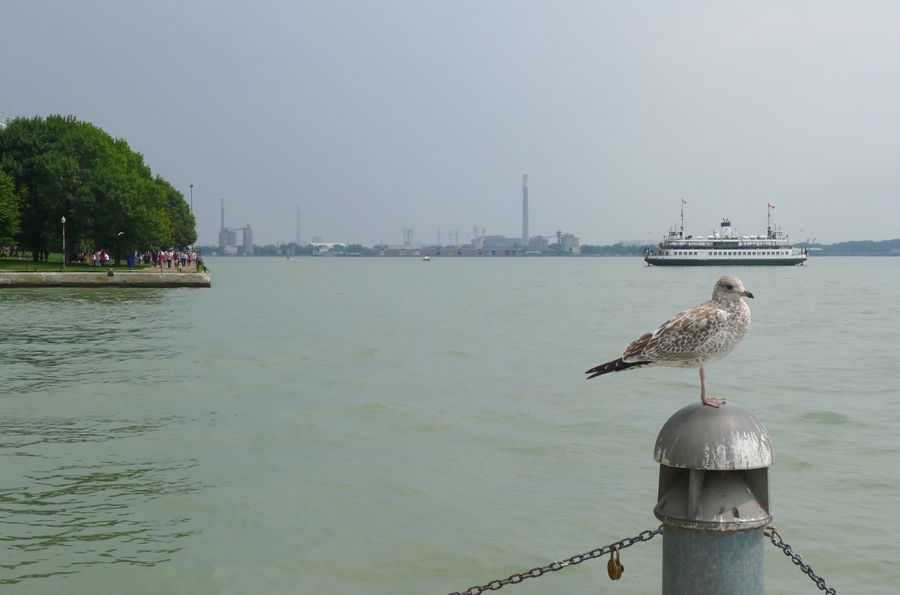 Summer meant longer days in the city.  Seeing the sun still bright at 7pm messed with my body clock somewhat – I felt dinner hunger was delayed until it was already dark outside. Here's a view out my hotel window at 8:00 in the evening on a cloudless day.  I still wore shades while walking back to the hotel at 7pm – unbelievable!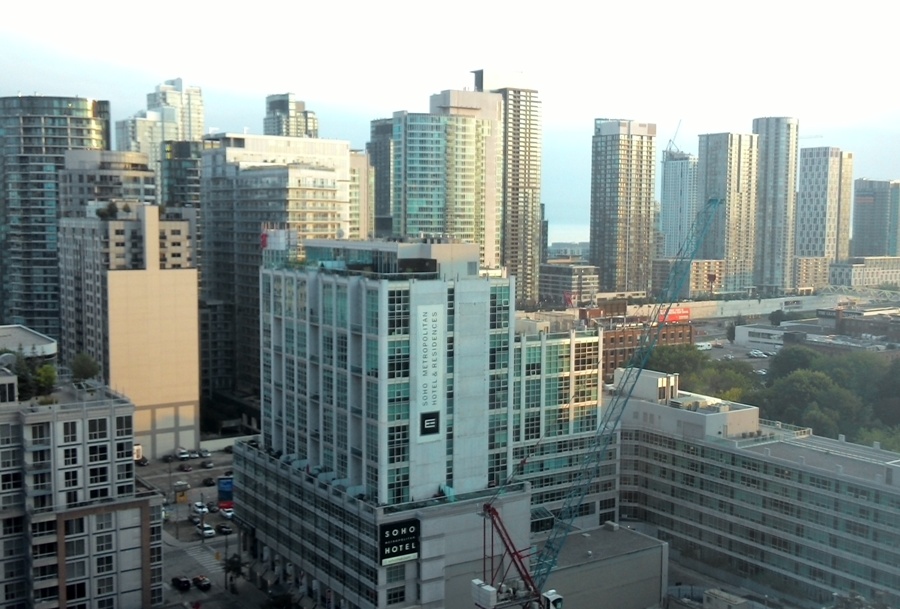 I also went around town trying public transportation, which I would definitely say is light years ahead of what we have here.  They were efficient, organized, clean, and fast.  The transit companies employed both men and women drivers that were courteous and disciplined, following traffic lights and designated stops only.  If you missed your stop, you had no choice but to get off at the next stop – the bus drivers/streetcar drives/train drivers always announce the next stop anyway so if you missed that, it's entirely your fault for not paying attention.  Once, my cab driver missed a turn because I said it a tad late, we had no choice but to drive around the next block instead of making an illegal u-turn – it was my fault anyway so I paid the price for not reading my map properly.  People crossing the road always waited for the light to go green even if there were no cars passing, and crossed mostly on designated pedestrian lanes.  Most everyone followed traffic rules and road ethics. I loved this discipline+respect of both the motorists and pedestrians – it shows a maturity and trust in a system that's common to first-world countries. I didn't feel out of place or got culture shock because I usually follow traffic rules here in Manila even though many Pinoys don't.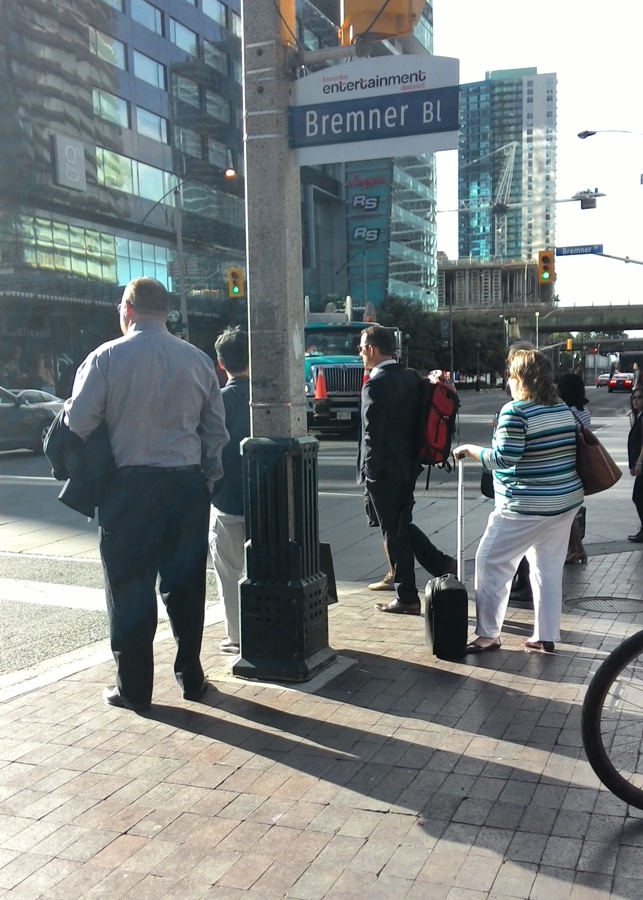 There was traffic in the downtown area especially during rush hours, heck it's just like any other city.  Me?  I just walked everyday – it was 2kms from the hotel to the office.  Walking allowed me to see more of the city's sights and to try different routes as well.  It was a great daily workout too since I had a heavy laptop stashed in my backpack.  Too bad I wasn't able to try out the rental bikes – maybe next time.
There were parks, gardens and memorials all around the city.  The TIFF (Toronto International Film Festival) even sponsored some weekly outdoor film shows in the nearby park, a picture of which is below. The Allan Gardens, one of Toronto's oldest parks, houses a sprawling greenhouse with a collection of exotic plants and offers seasonal shows too. Some parks had fenced areas where dogs can be released from their leashes to get them exercised – otherwise pet dogs have to be walked on leashes and the owners responsible to clean up after pet-poop.  It's a win-win solution for people and pets to unwind and relax.  Did I tell you I found no stray animals over there save for one cat?  Unfortunately the cat ran off as soon as I tried to call it.  Maybe I should have called it "Kitty" instead of "Muning", hahaha!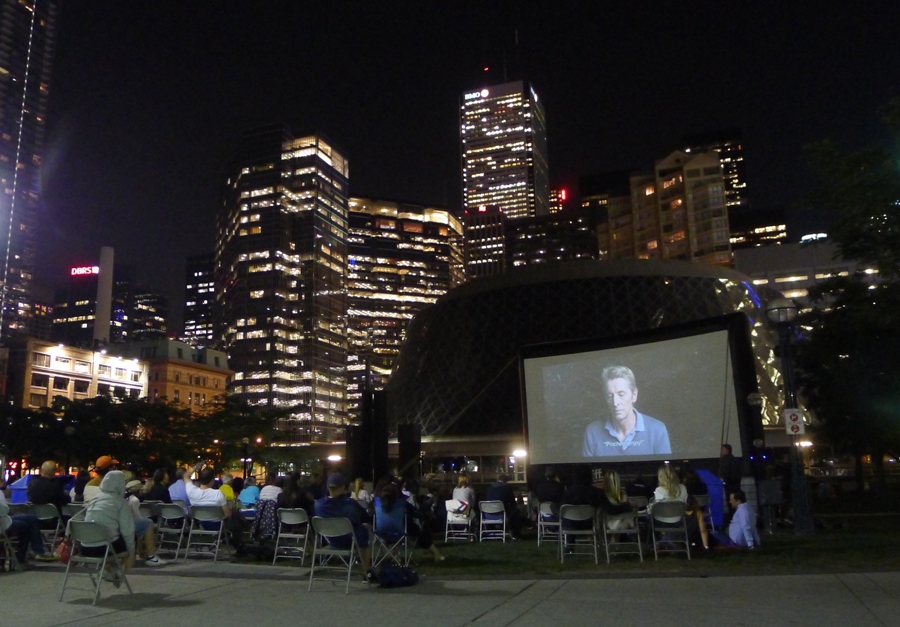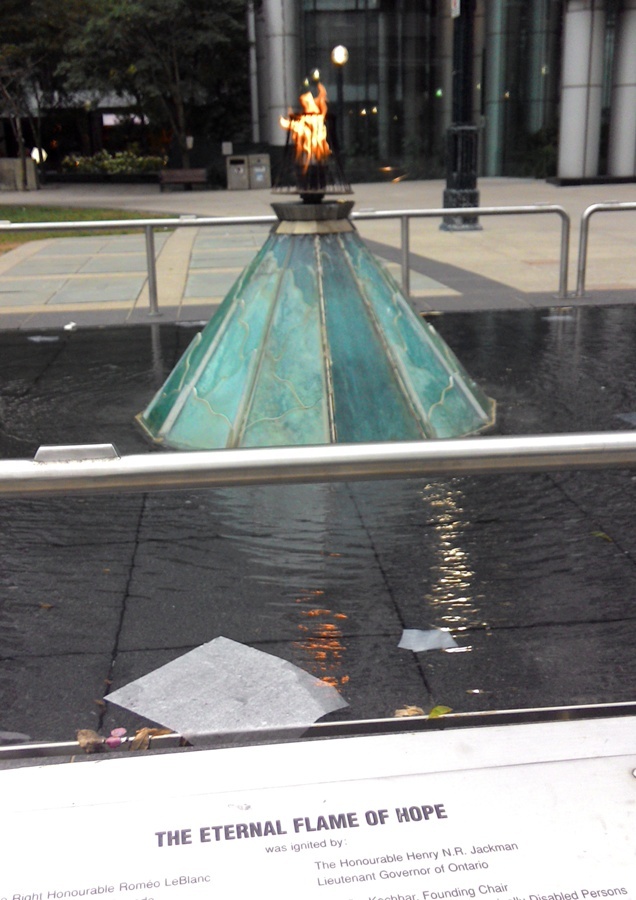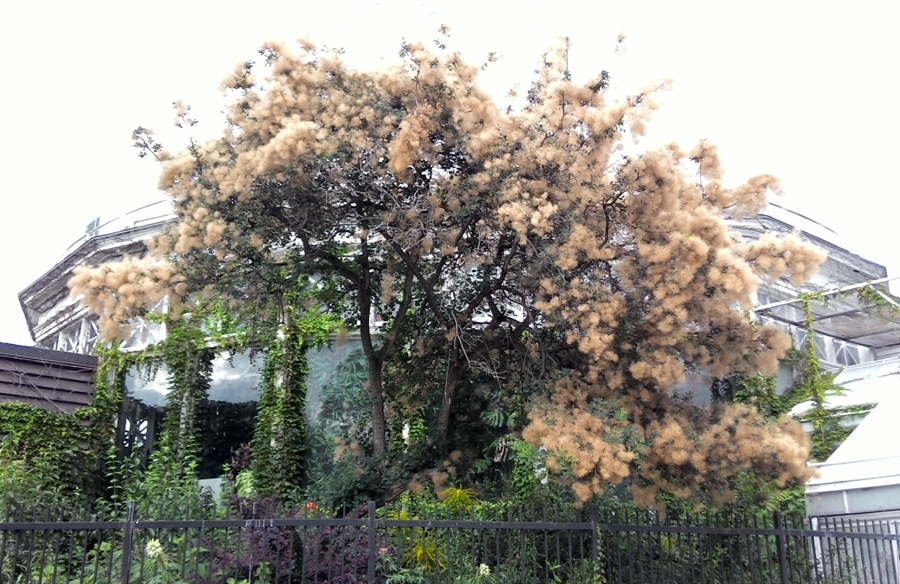 Watch out for the 2nd part of AJ's travel stories, which will be all about food!