The hubby and I spent Christmas Eve at the newly-opened Hyatt City of Dreams Manila.  It's our first time to celebrate it away from home, but were at the same time excited and giddy over the new place that we are about to explore!  We adjusted our Christmas schedules for the 24th and the 25th to be able to make the most out of our stay at the new Hyatt.  After all, hindi mura ang room rates nila, hehe!
The hotel's lobby alone was pretty impressive.  I love the high ceiling and the light lamps that floated like a school of jellyfishes!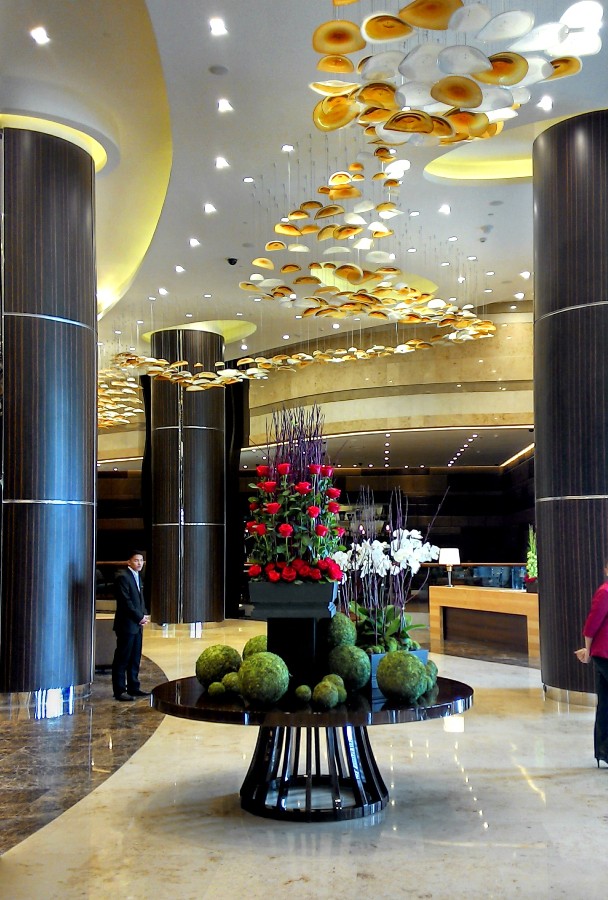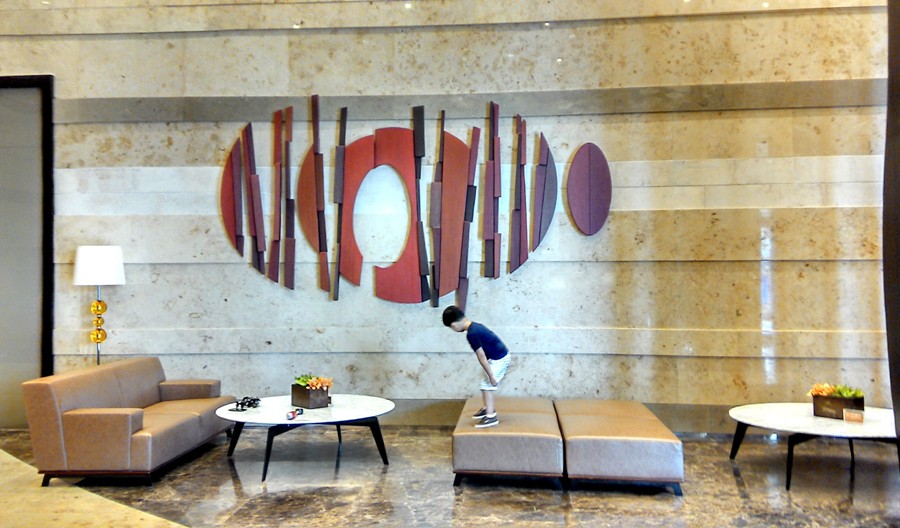 Here's something about the new Hyatt:
Hyatt City of Dreams Manila is a stylish, modern hotel at City of Dreams Manila—an exhilarating 6.2-hectare integrated hub of international retail, world-class dining and globally renowned nightclubs and entertainment within Parañaque's Entertainment City.
Spread over two gleaming towers, Hyatt City of Dreams Manila houses 365 comfortable, modern rooms where you can prepare, recharge and kick back, when you're not busy exploring the city.
Click HERE for the complete description of their facilities and offerings.
I forgot to bring my camera that day, so I'm really glad I have a powerful android phone in Lenovo K900 which takes really fantastic and sharp photos.  I just have to use its High Dynamic Range (HDR) feature to achieve that perfect color finish.  The results are all outstanding, as you will see below.
We got Hyatt's Standard Room, but their personalized service made us feel more like VIPs!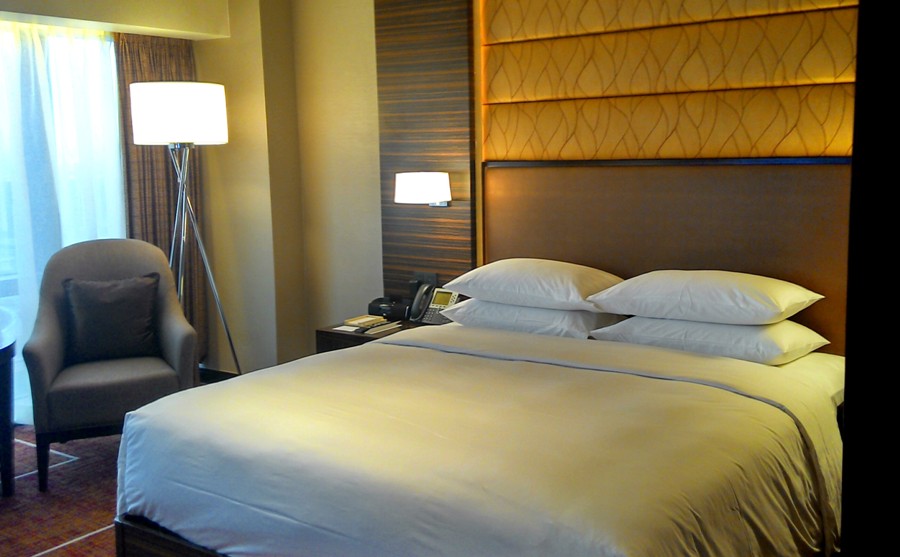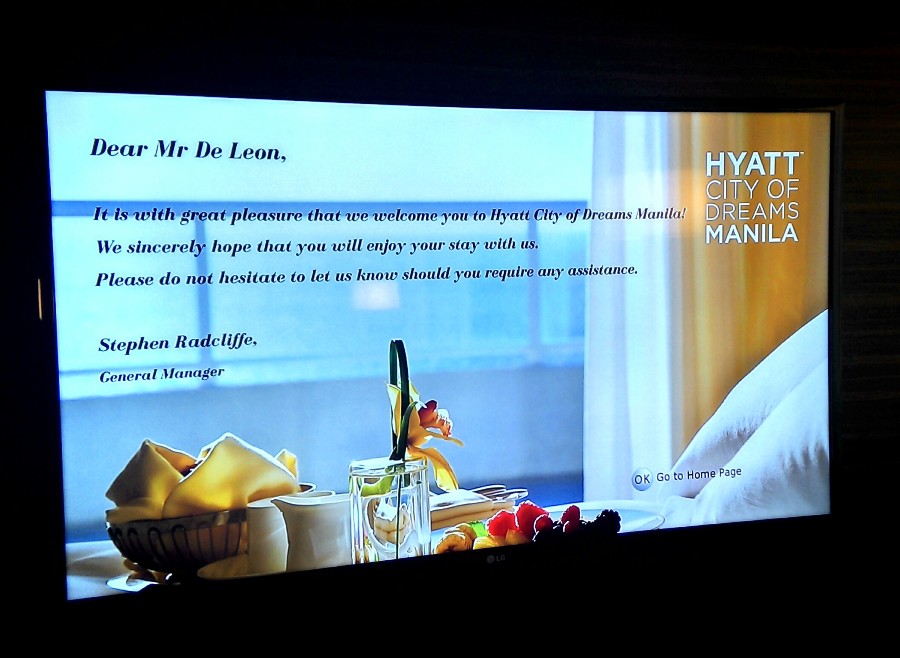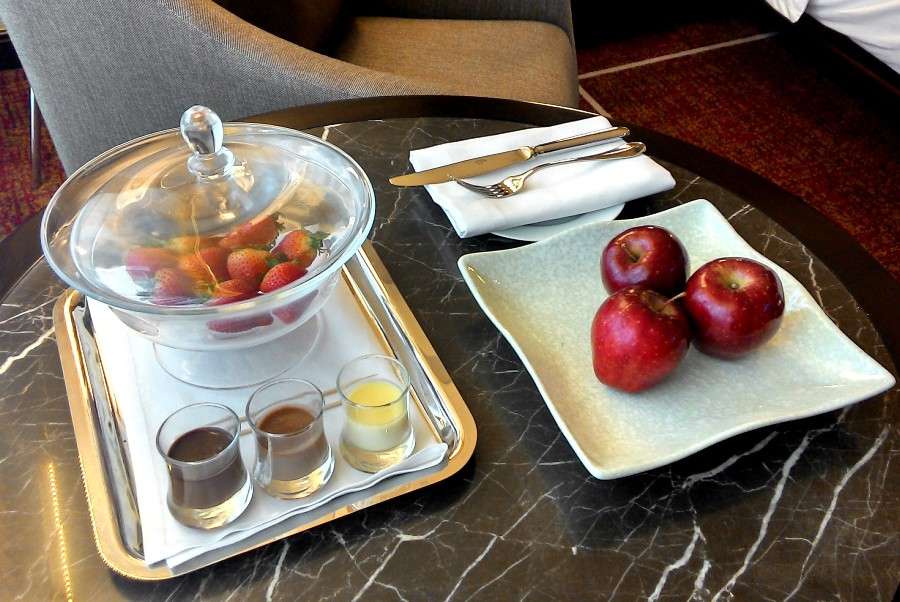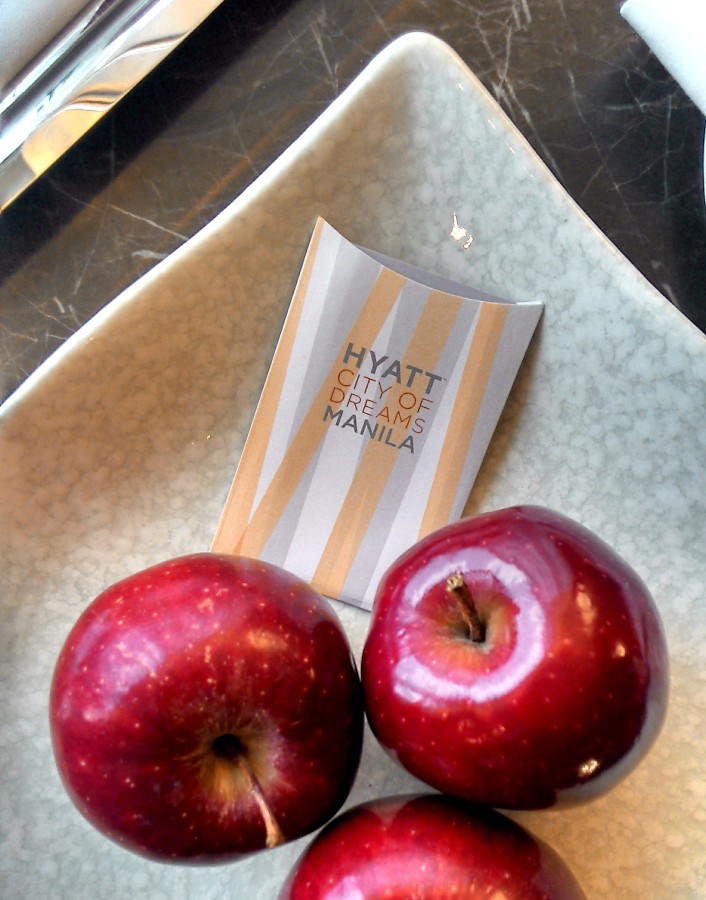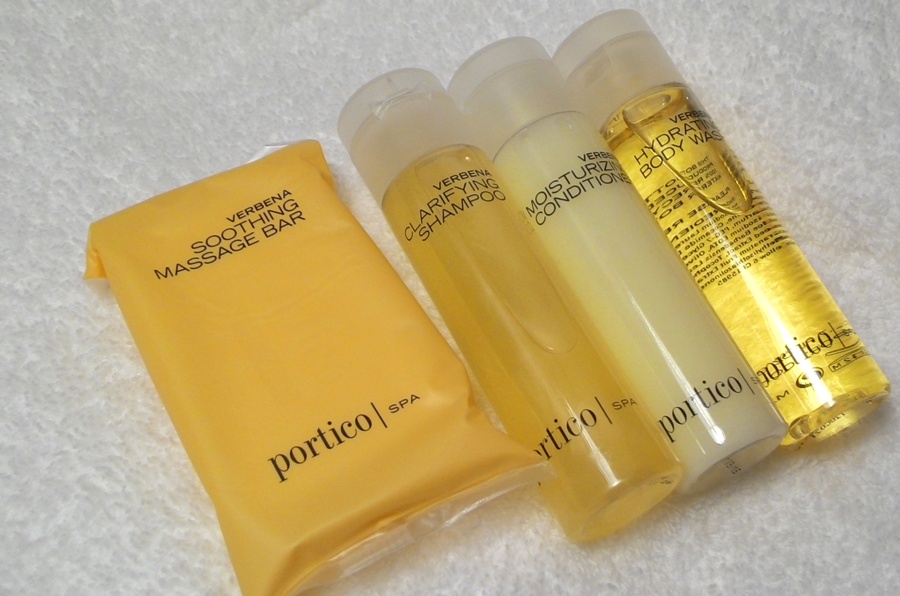 We had our late lunch turned into early dinner at The Café, Hyatt's open-kitchen restaurant with "cosy circular booths to private and semi-private rooms to standalone tables in the heart of all the action".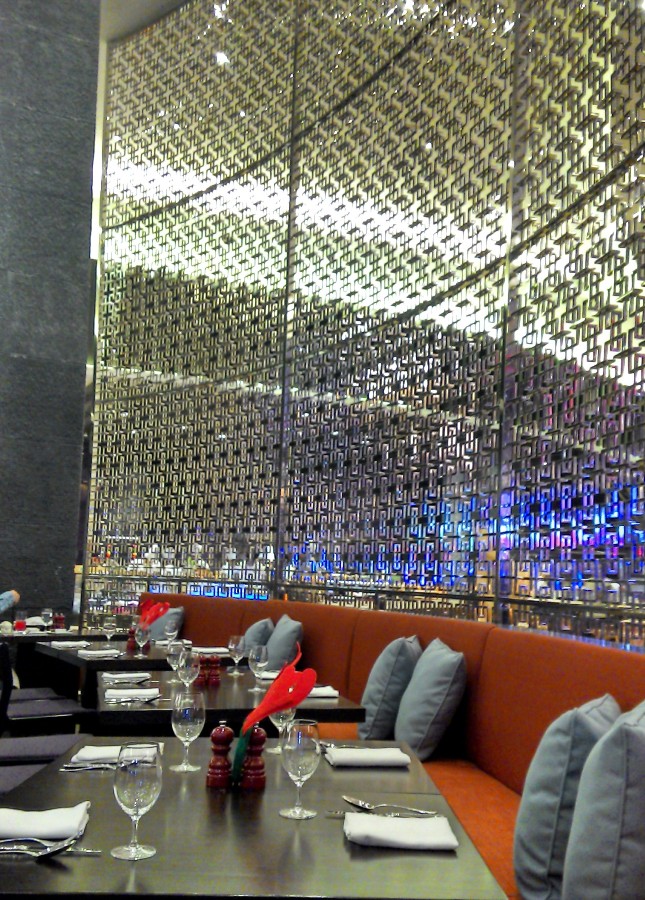 AJ and I ordered their sosy set meals which, at P990 each (exclusive of VAT and other charges), are fairly reasonable considering that you get everything from the appetizer down to dessert, plus the serving's really generous.  My personal recommendation is the Roast Set.  You get the tenderest pieces of meat with richly-flavored sauces and the best pudding ever!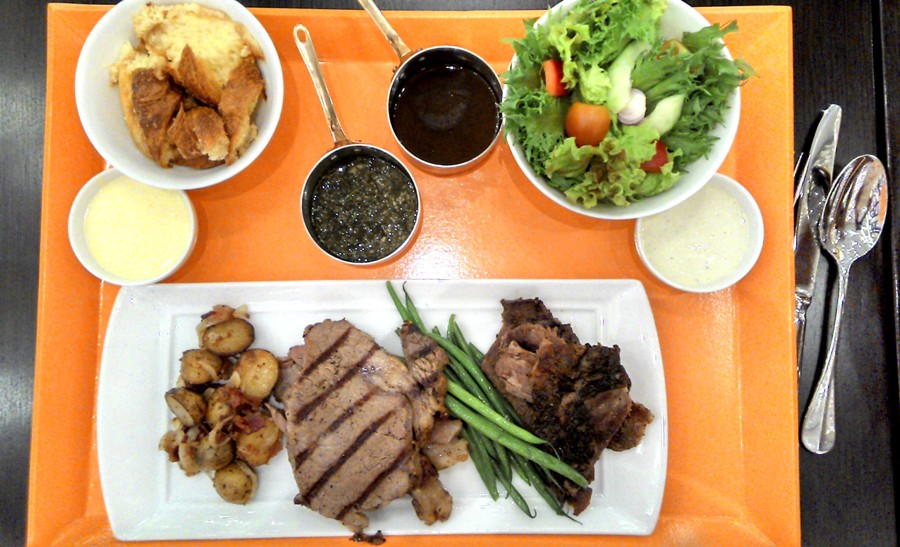 Hyatt City of Dreams Manila is a pretty sight at night: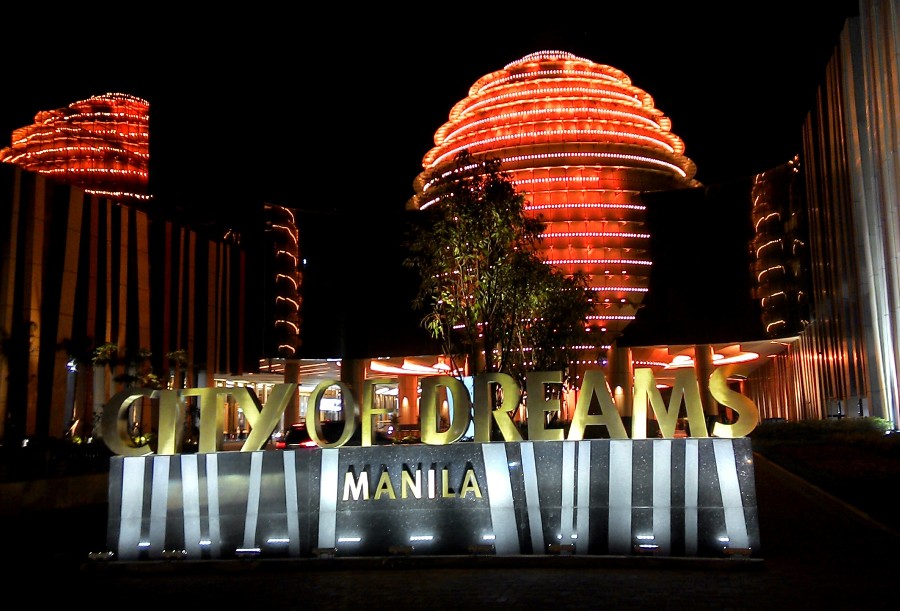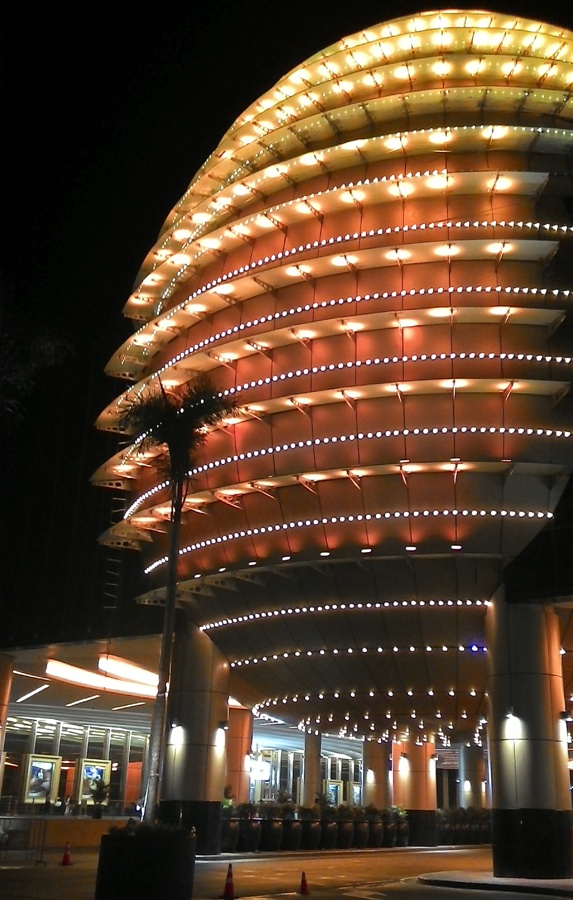 But the grander scale of its beauty would be visible to us in daylight.  Here's the morning view from our room: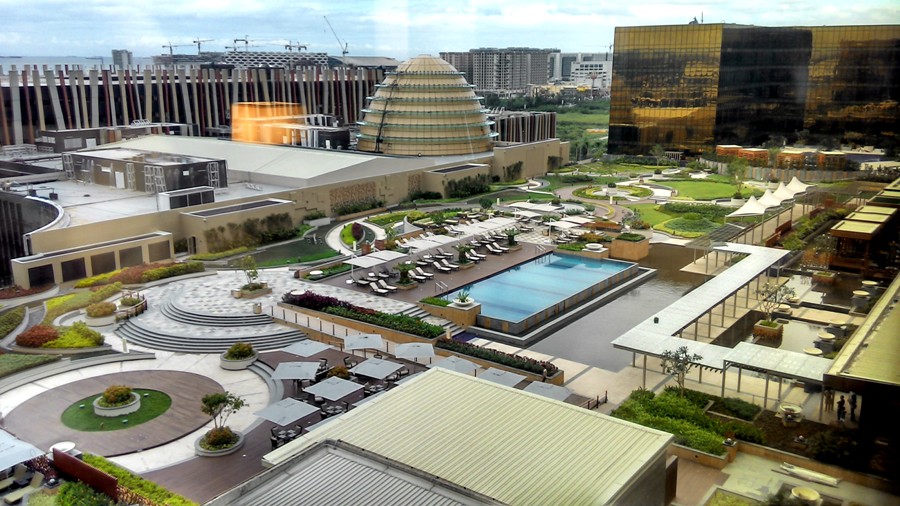 We were blown away by the gold-colored structures, the perfectly-manicured pocket gardens, first class amenities and the very helpful and courteous staff. Truly world class!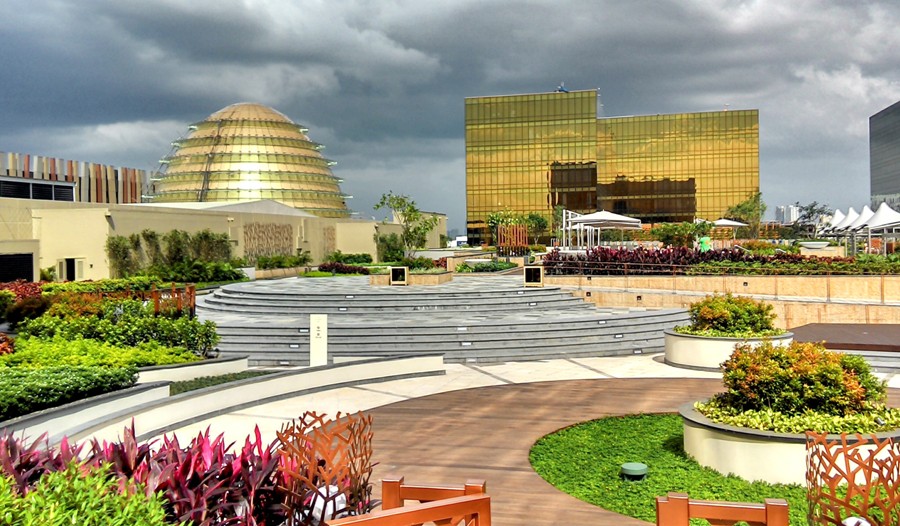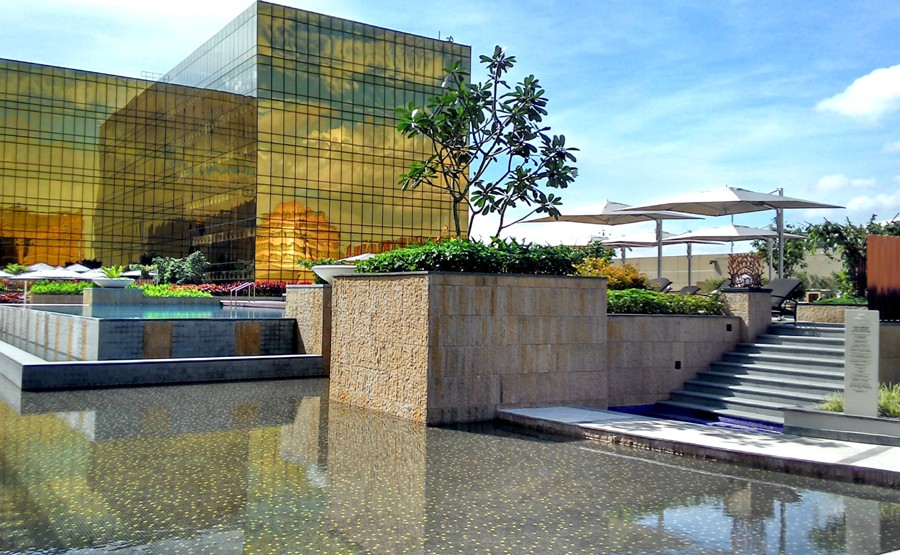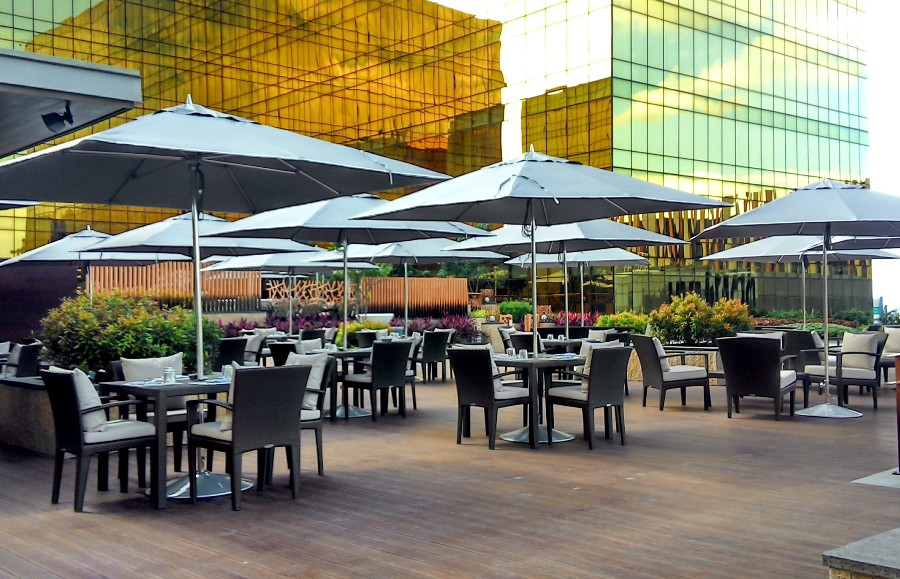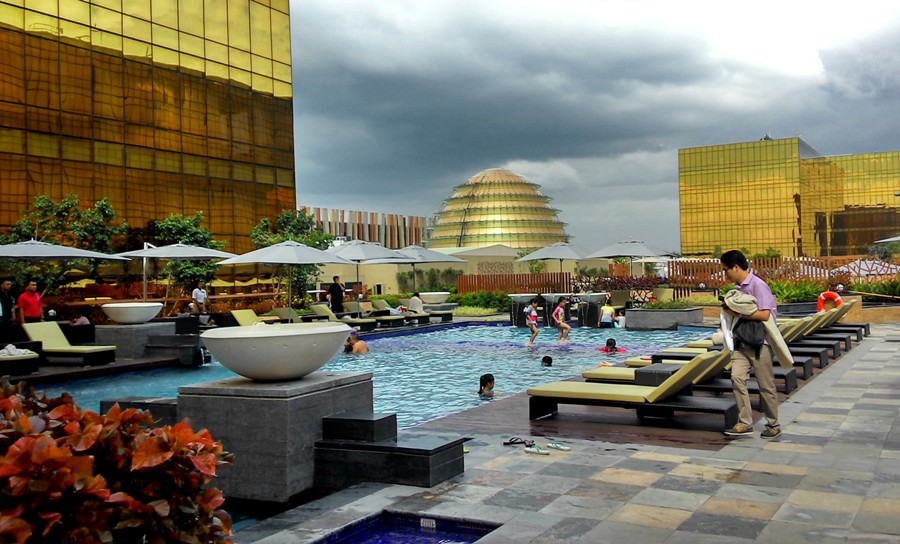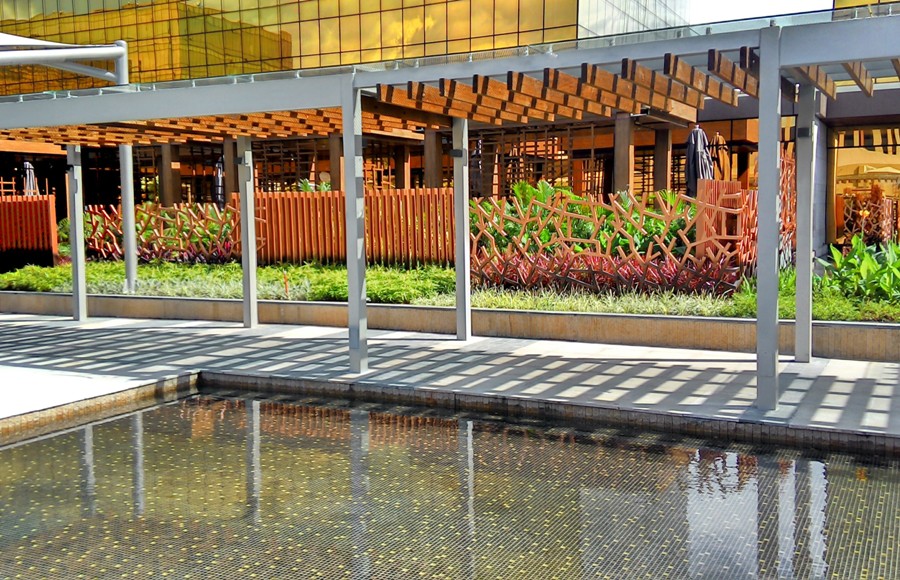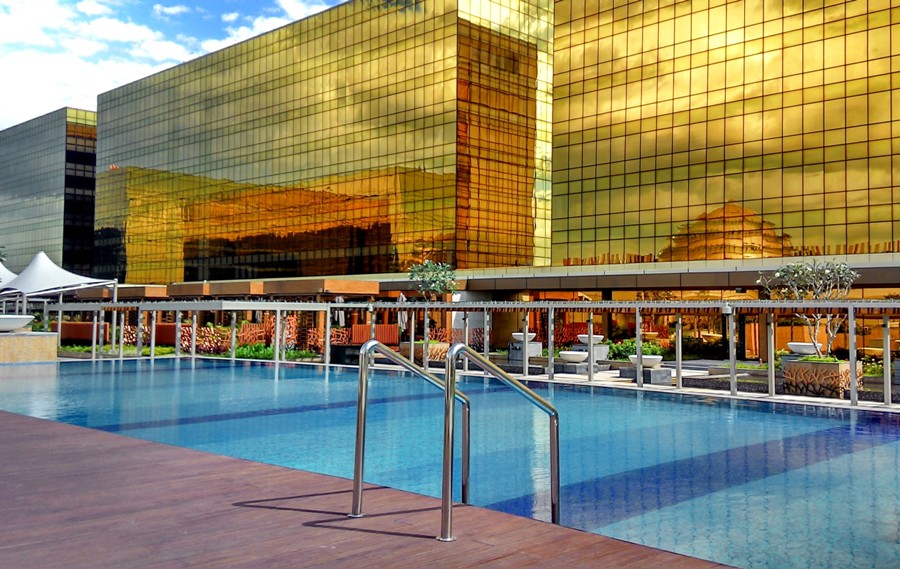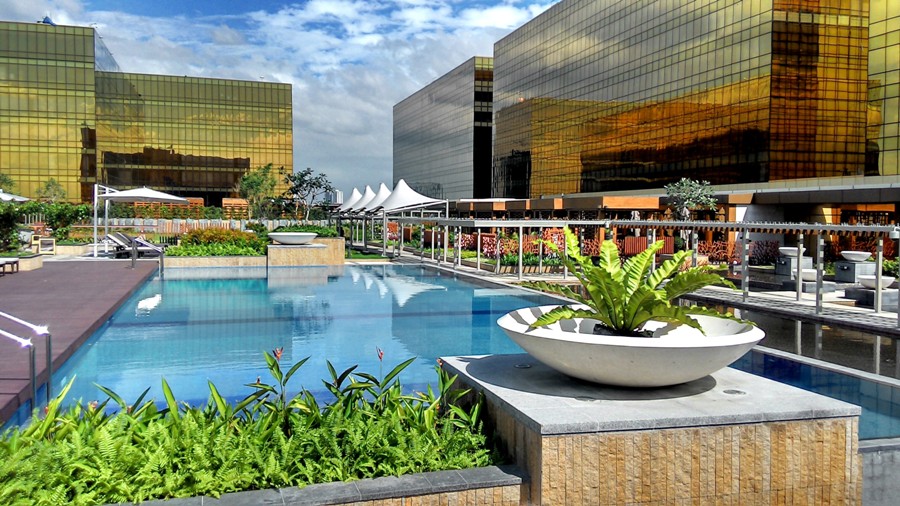 You can choose from the three (3) hotel brands in this dream city: Hyatt (that's where we stayed in), Nobu (a boutique hotel) and Crown Towers, a 6-star hotel (soon to open).
We were able to take a peek at the upscale Nobu Restaurant (actor Robert de Niro is its famous co-founder), and interiors pa lang, sobrang impressed na kami.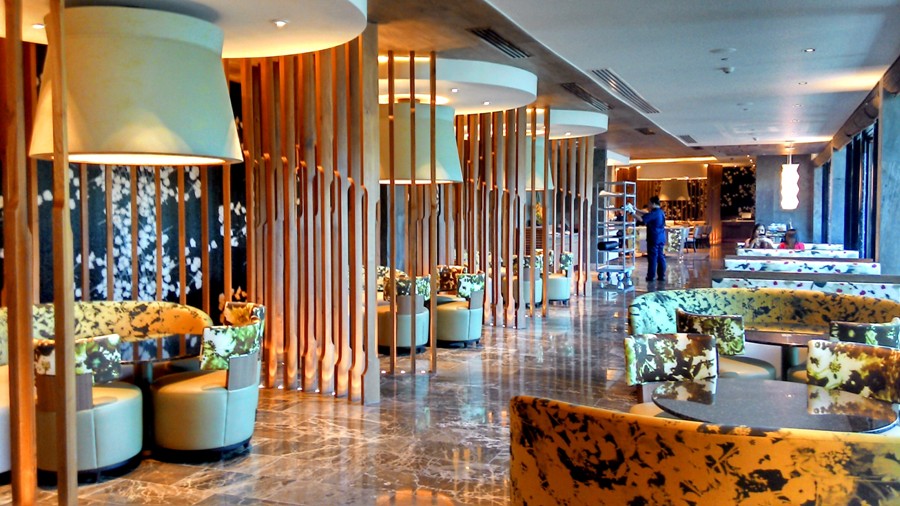 Luxury-colored buildings are everywhere!  I told AJ that we are not in the city of dreams, but city of gold!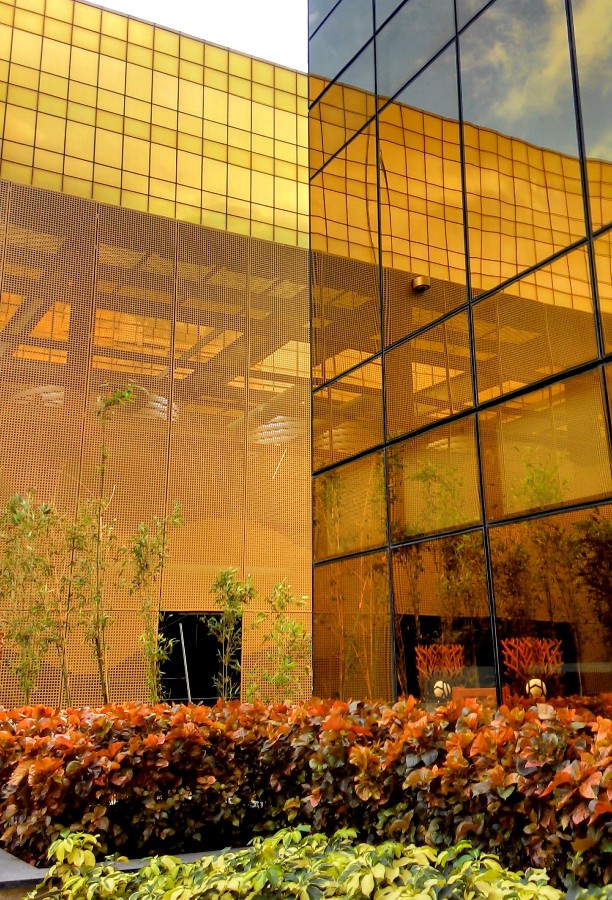 Equally tantalizing was Hyatt's breakfast buffet.  We feasted on their wide selection of freshly prepared food.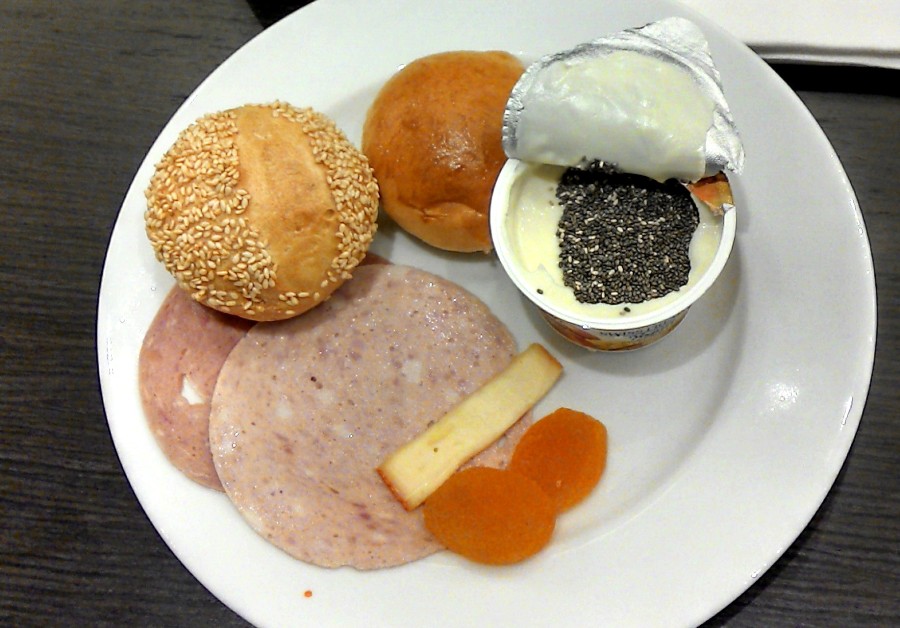 I love that their bacon is grilled, not fried!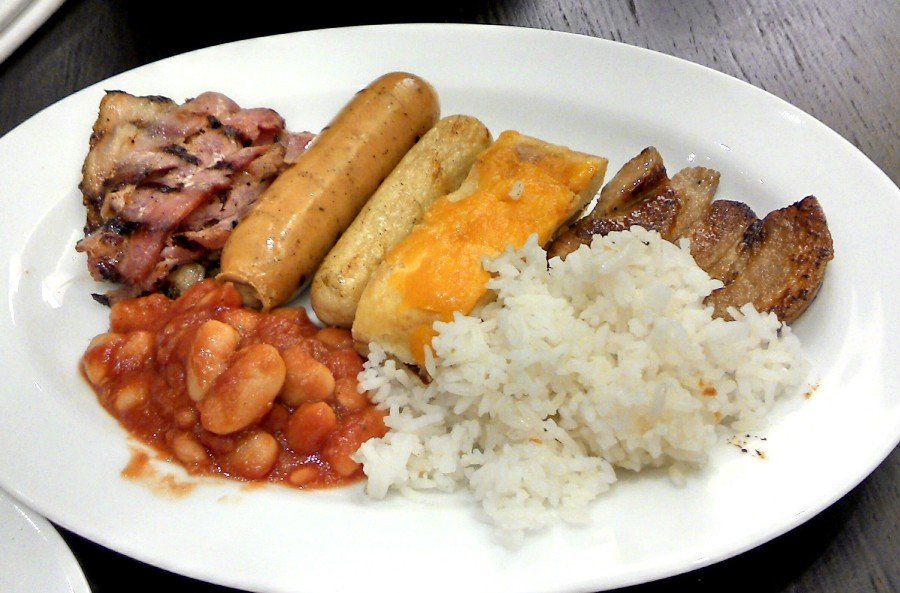 French Toast with Banana Butterscotch on the side.  We had, like, 2 big servings of these.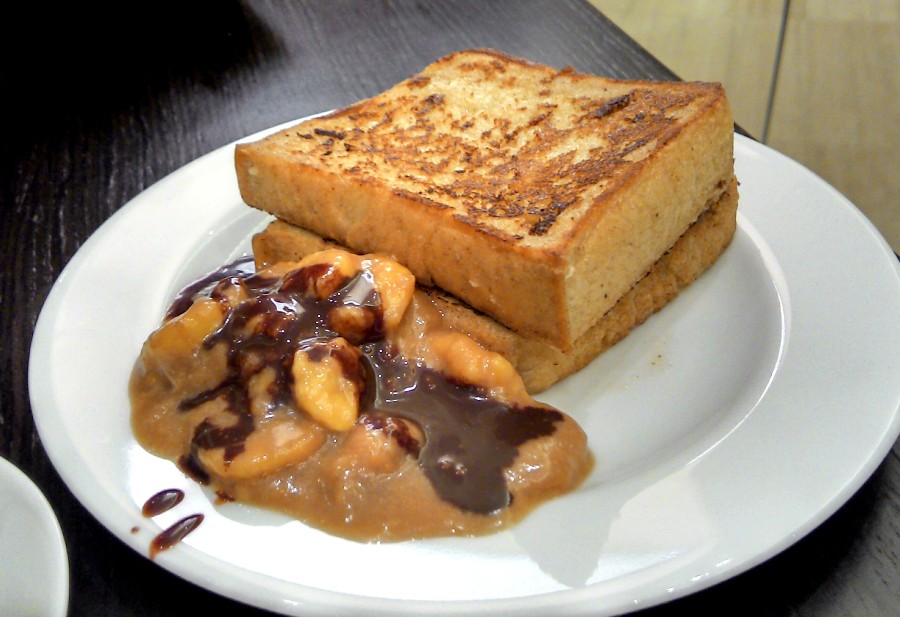 Hyatt's (edible) Santa Claus.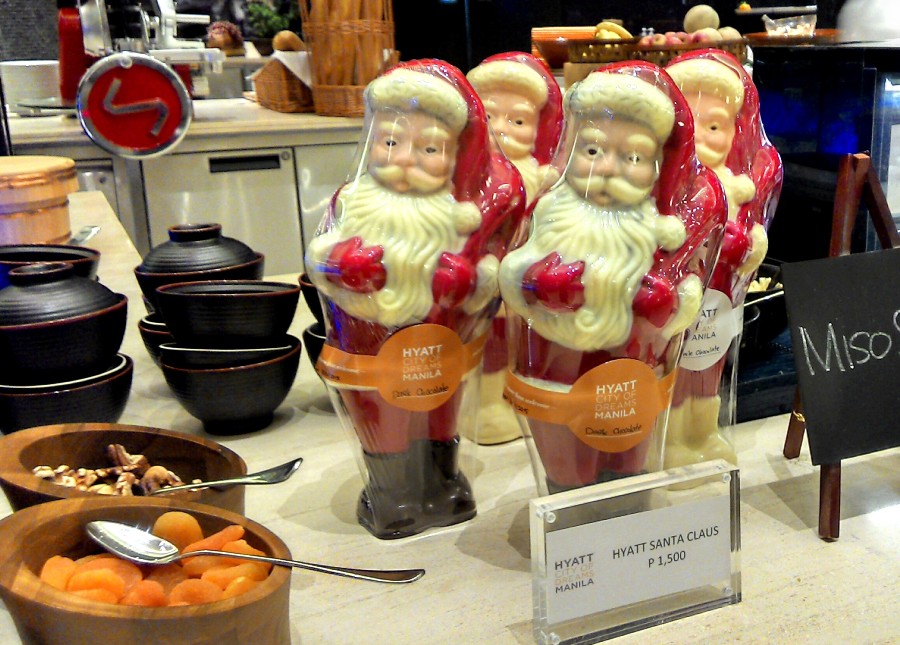 The big and busy open kitchen: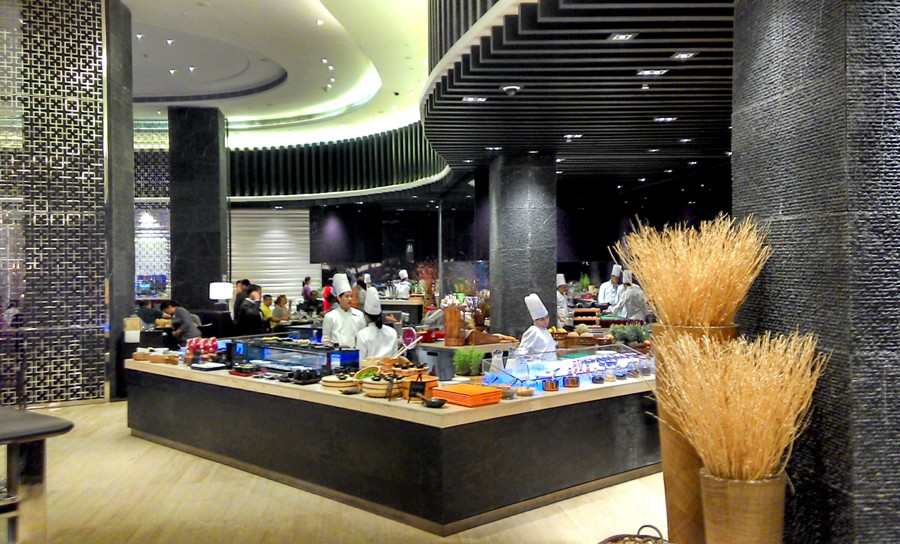 Spices galore!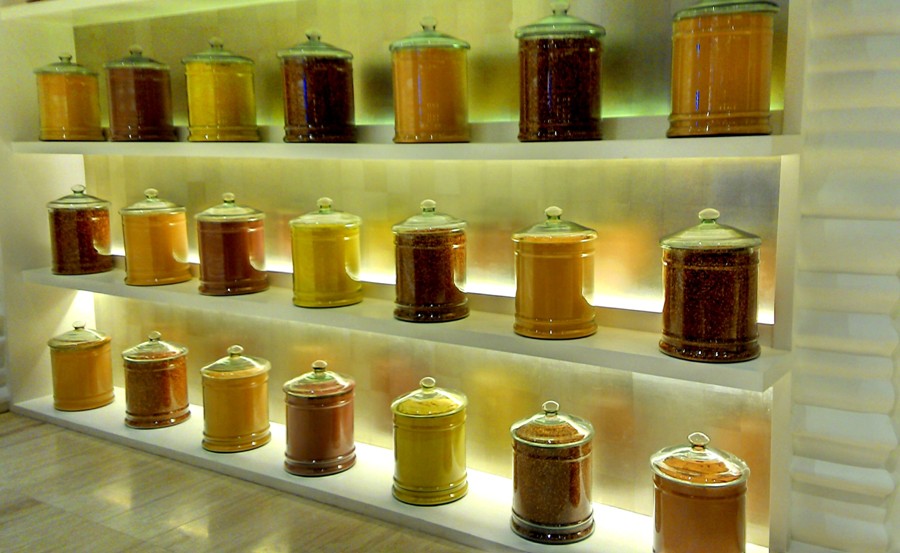 I don't know how to end this post because I honestly didn't want our stay at Hyatt to end too!  Suffice it to say, we are looking forward to coming back as we still have a lot to explore at the city of dreams.  There are the live bands to enjoy, new restaurants to discover and swimming pools to try.  One night simply wasn't enough.
Hyatt City of Dreams Manila  |  Asean Avenue corner Roxas Boulevard, Entertainment City, Paranaque City, Metro Manila  |  Tel. No. +63 2 691 1234  |  email: [email protected]
Disclaimer:  This is not a sponsored post.  All images appearing here are my personal photos, taken with my android phone (Lenovo K900).  Attribution is required if you want to re-publish or re-blog my photos, for personal or commercial use.  Link to the blog post where the photo is featured is strictly required.   Thank you.