My nephew Liam celebrated his 4th birthday 2 weeks ago and of course, his Ninang Tita (that's me!) took a leave from her work and flew to Cebu to be with him on his special day.  Like last year, we celebrated it at an out-of-town resort.
I can't believe that this boy who, as an infant, always cried his lungs out during bath time is now learning how to make sisid and do a lot of guided swimming!  I don't remember anymore if it was his dad or mom who introduced him to Jonathan Bird's Blue World series but it has a very positive effect on Liam.  He became very interested with stories about animals, marine life and underwater explorations, and can identify more sea creatures than the rest of us adults combined!
But before I proceed, you must be wondering who is Jonathan Bird and what is this Blue World series?
Jonathan fell in love with the ocean in the 1980s when he learned to dive in college. Already an avid photographer, he combined scuba diving and photography to create what would eventually become not only his passion, but his profession. Although Jonathan has had a few close calls with dangerous animals like sharks, his worst underwater injuries have come from pointy sea urchins and crown-of-thorn sea stars. He was once head-butted by an angry dolphin. None of these things have dampened his enthusiasm for the excitement of underwater exploration.
Jonathan is an Emmy Award-winning underwater cinematographer and producer, president of the non-profit organization Oceanic Research Group as well as a widely published author, award-winning assignment cinematographer, photographer and speaker. He is the author of 7 books, director of over 20 films and a member of the Wyland Ocean Artist Society. (source)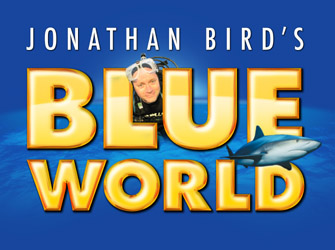 Jonathan Bird's Blue World is an educational family-oriented underwater adventure series hosted by dynamic naturalist and underwater photographer Jonathan Bird.   It is co-produced by Jonathan Bird Productions and the non-profit organization Oceanic Research Group. Each half-hour television episode consists of three separate segments running 5-11 minutes in length. Segments encompass a variety of subjects, including stories about animals, marine research and researchers, underwater exploration and recent discoveries. The stories always have an underwater theme and feature stunning underwater photography.  (source)
For his birthday, his parents booked an overnight stay at Shangri-La Mactan Resort so Liam could enjoy lots of swimming time with his Daddy, Mommy, Lolo, Lola, Ate Donna and Ninang Tita.  It was a "Diver Liam" day!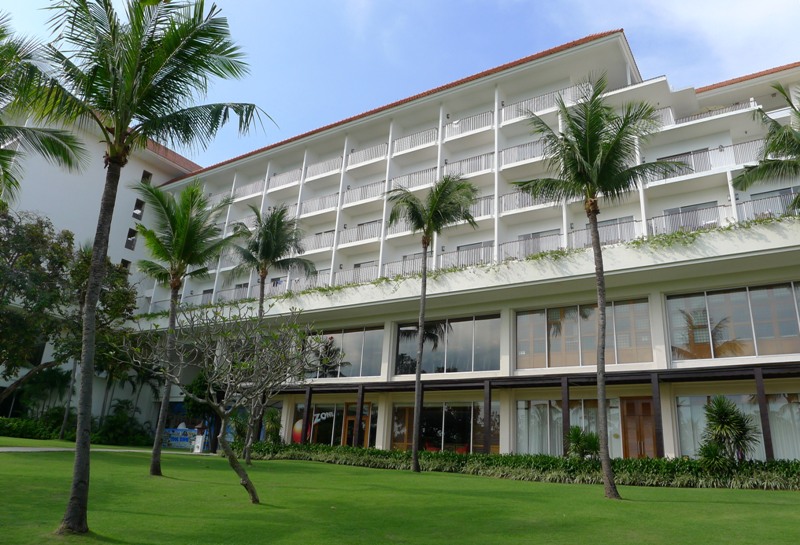 Shangri-La Mactan Resort's super wide kiddie pools became Liam's own blue world for 2 days.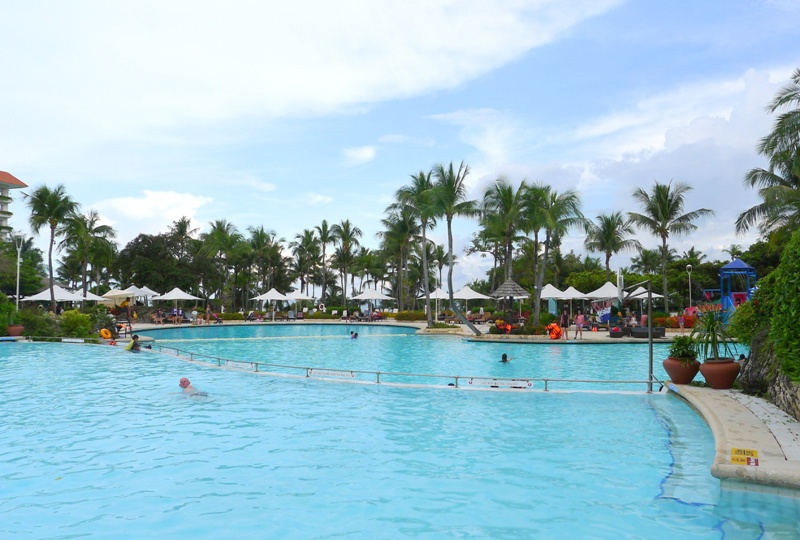 Diver Liam ready for his underwater explorations!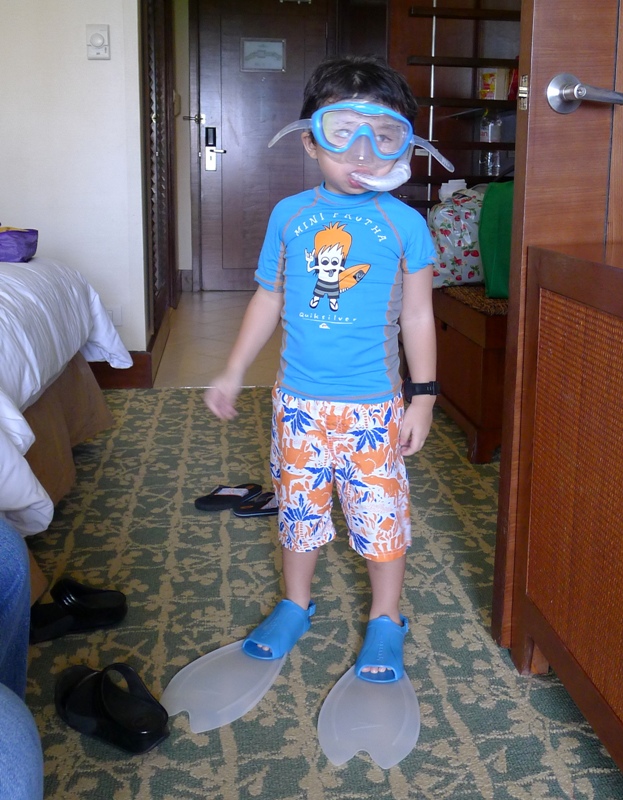 Doing the 'Okay' sign before "diving". (That's Mommy Juvs and Daddy Dino in the background)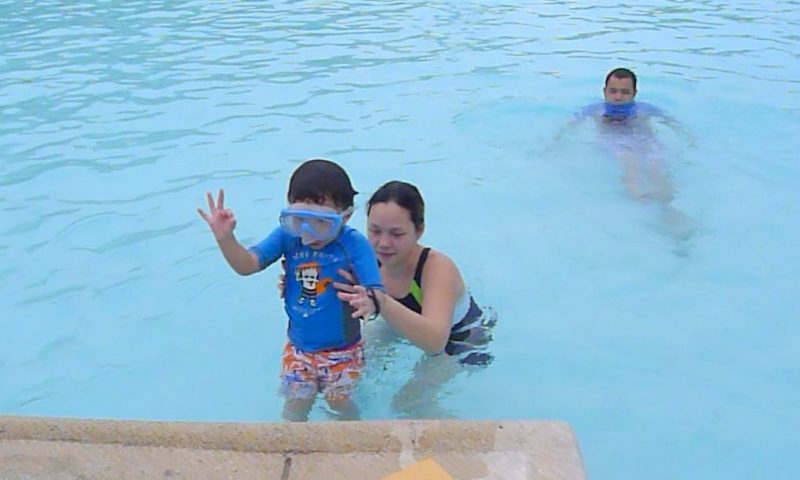 Learning how to make sisid to get the treasure coins…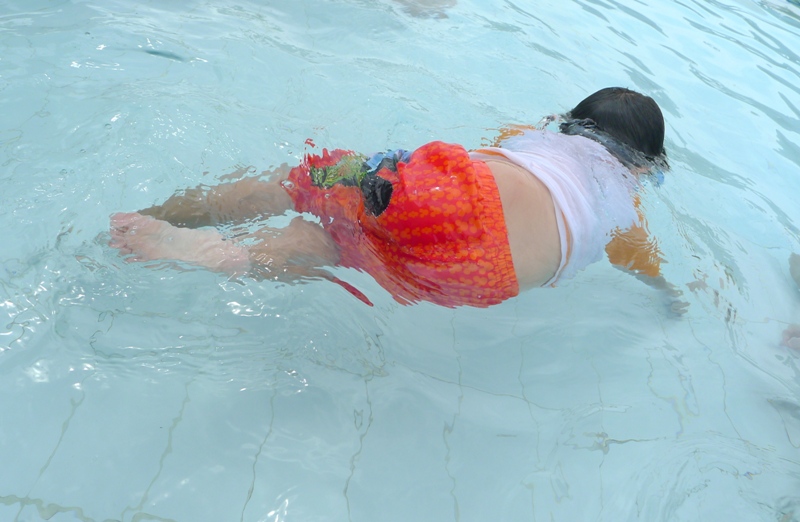 … and rescue his pet turtle and stingray!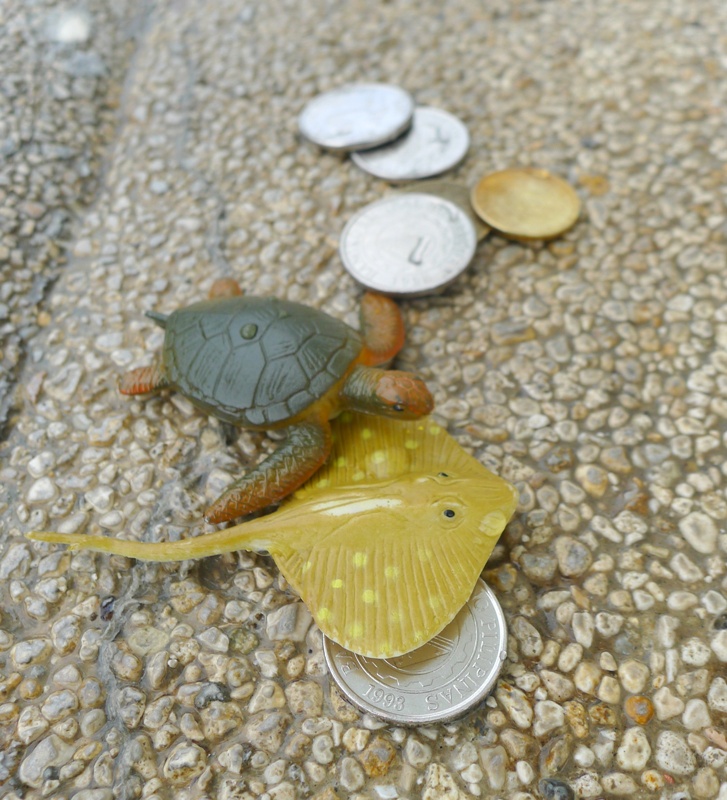 I took charge of Liam's birthday cake which I ordered from Maricel of A Sweet Cottage.  A week before the birthday, I changed it to fondant cupcakes because I got concerned about traveling with a fondant cake and bags in my arms.
Maricel did a very good job with these diver-inspired fondant cupcakes!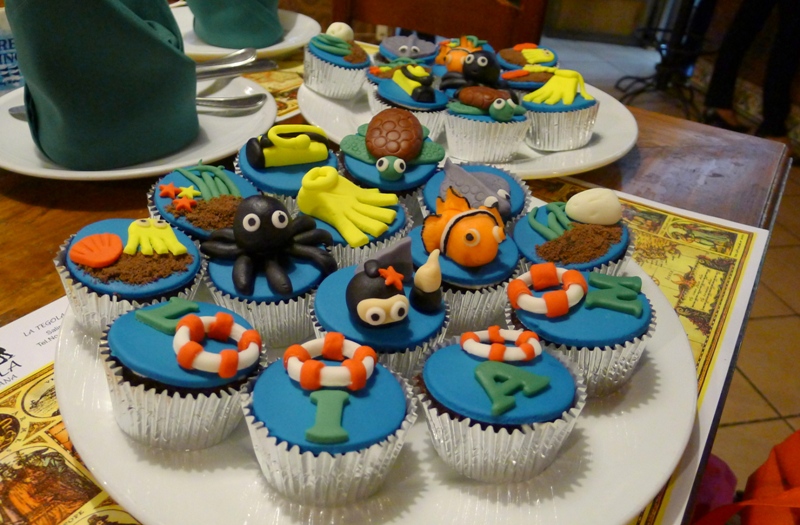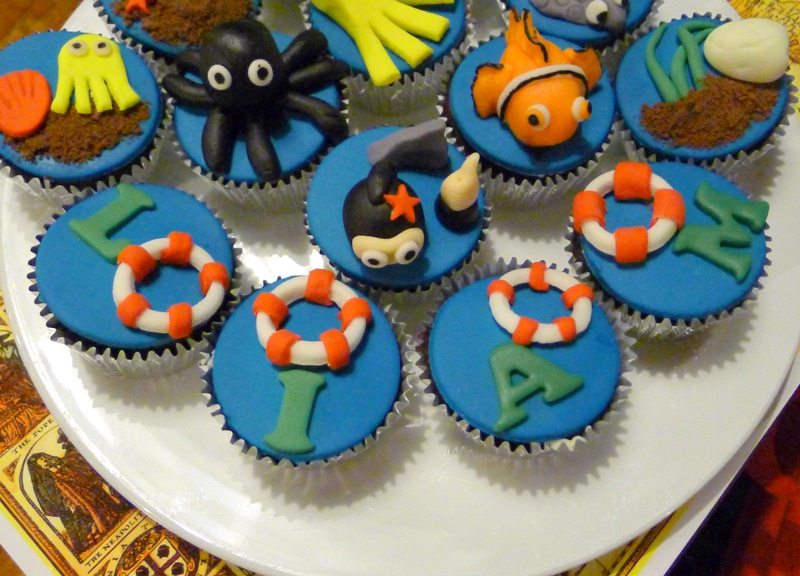 Maricel executed my ideas and inspirations flawlessly.  My sis-in-law's special request – a cupcake with a diver doing the "thumb up" sign and with a starfish on his head – was so cute!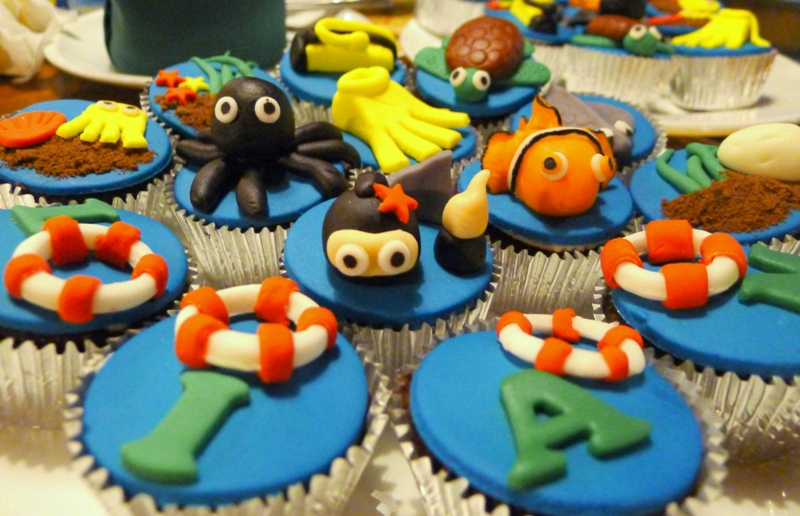 Liam gave it his thumb up too!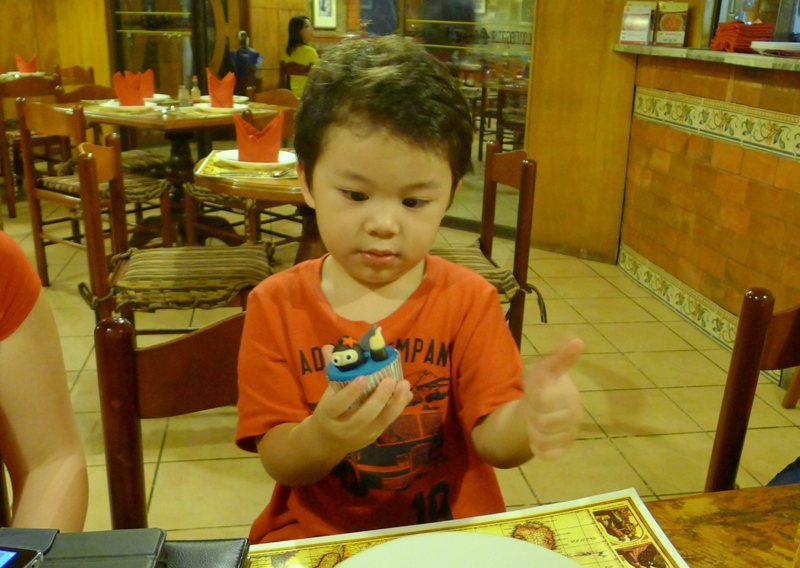 And since it's his birthday, no one can stop him from eating his cupcake kahit wala pang dinner!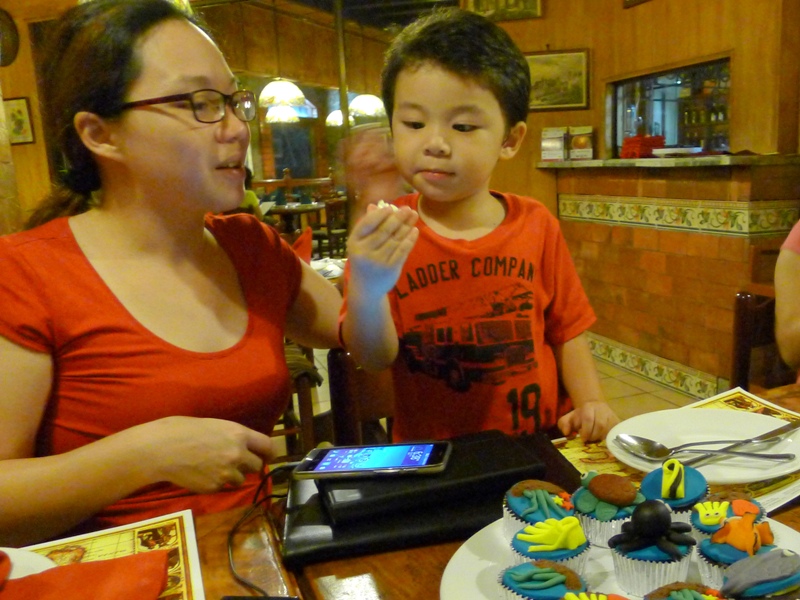 It was a super fun celebration, with the birthday boy already hinting that he wanted to be a maritime explorer when he grows up, hehe!
Proof: He told his lola that he will save up the birthday money she gave him because he will buy an 'expensive camera'.
A 4-year old saving up for this 'expensive camera'?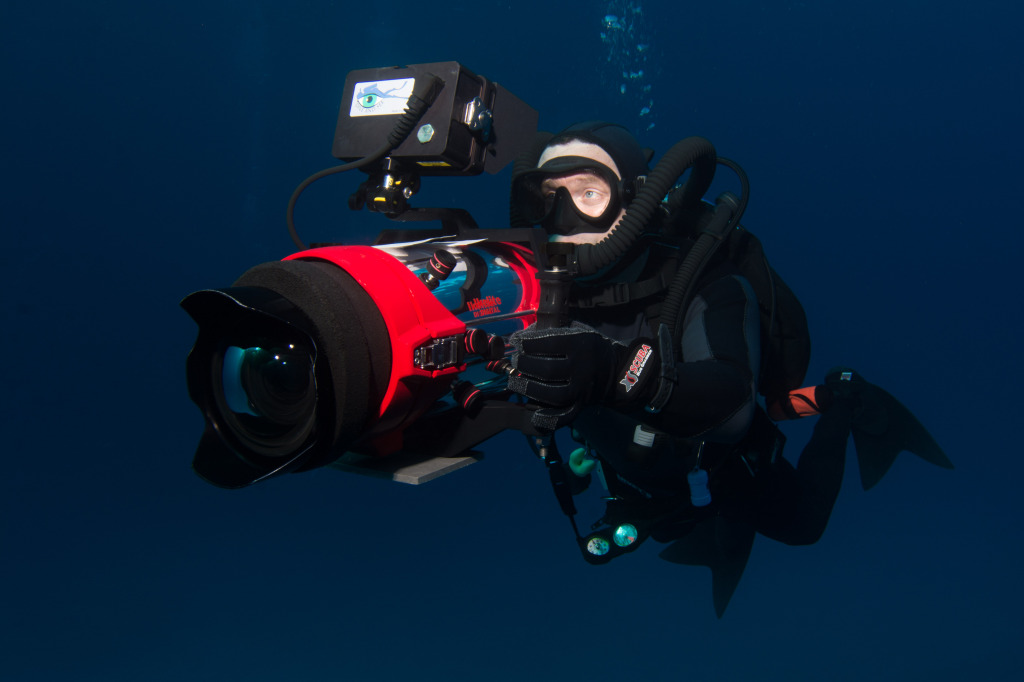 Liam, you never fail to amaze me!  Belated Happy Birthday, my dearest pamangkin and kalaro!
(P.S. I do hope this blog post gets to Mr. Jonathan Bird to let him know that he has a 4-year old fan here in the Philippines, who watches his videos everyday and has memorized his opening line – "Hi, I am Jonathan Bird and this is my world!".  It would be a thrill if Liam gets to meet his idol someday and to show him around the real blue world!)