I was invited by American Standard to the Luxe and Style Blogger Engagement last Saturday (July 19) and thanks to my angels – Ross and Mimi – I did not only make it to the event, but I had a super great time too!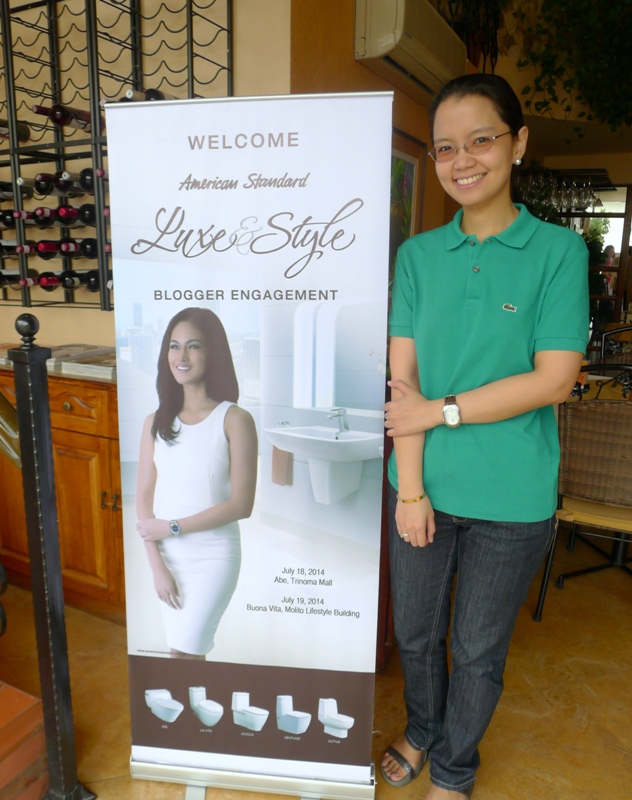 I am not new to the American Standard brand of toilet bowls and wash basin (or 'water closet', as they are collectively called) because I have personally used them – at home and in hotels.  We used to own one at home before, back when uso pa ang big toilet bowls, and this actually started my habit of bringing a book or magazine inside the CR hehe!  That's how comfy I find the toilet seats made by American Standard!
It was also this habit of reading in the CR that brought about the OC-ness in me when it comes to bathroom cleanliness.  I don't mind having a small bathroom at our apartment as long as it's always kept clean and disinfected.  AJ and I take turns in cleaning our bathroom (yes, I don't mind doing this dirty work) so you could say I know how to blend pagdating sa usapang toilet (not toilet humor though – mahina ako dyan haha!).
Lastly, my wanting to reconnect with the brand I grew up with has something to do with this major project I've been working on since last year.  It all started with this lot somewhere in the South that I acquired last year: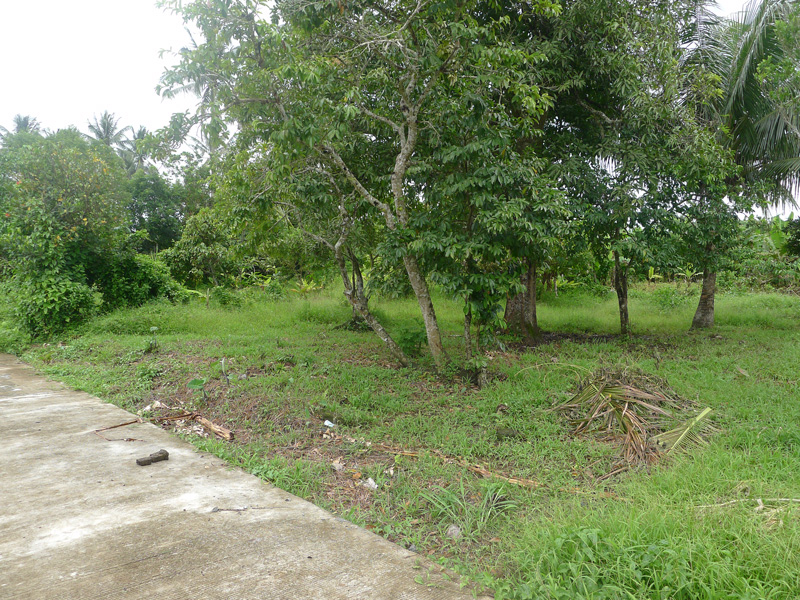 In this lot will rise our 'home away from the city', and AJ and I are really saving up for the house that we will build here.  I call it our future 'shabby chic home', although AJ is eyeing a 'rustic cabin' look para daw hindi magmukhang super girly hehe!
Getting to know the brand I grew up with.
The event started around lunch time, with Ms. Fe of Lixil Corporation introducing us to their company which purchased the American Standard brand in 2013.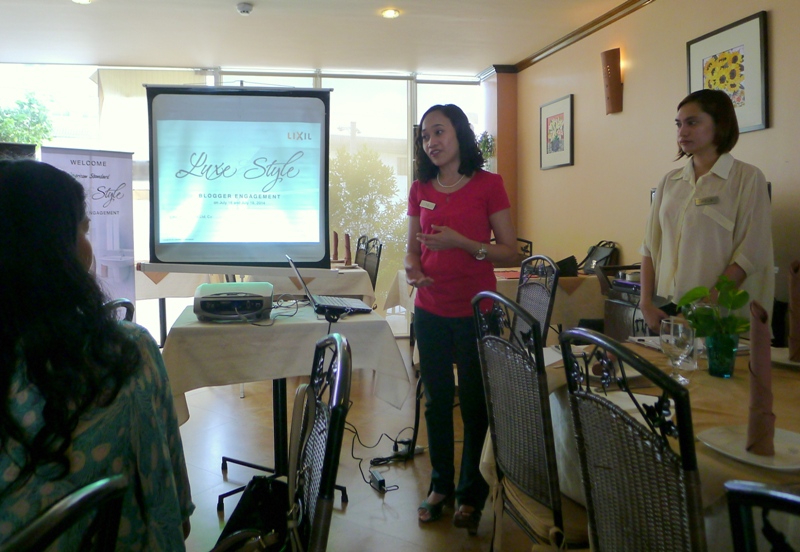 Lixil Corporation is known for the manufacture and sale of building and house construction materials – offering a complete living and housing solution.  It is based in Japan but now has a global presence that's hard to ignore, especially after acquiring American Standard in 2013.
The brand name "Lixil", I learned, came from the words "living" and "life".   Thus the company's mission vision and corporate social responsibility (CSR) charter are all aligned to good living, and you can very well see this in the brands they have acquired over the years – which includes American Standard.
As an overview to the good living philosophy that we are about to learn, we were feted with a full-course Italian menu c/o Buona Vita Restorante Italiano.  Incidentally, buona vita translates to "good life" in English.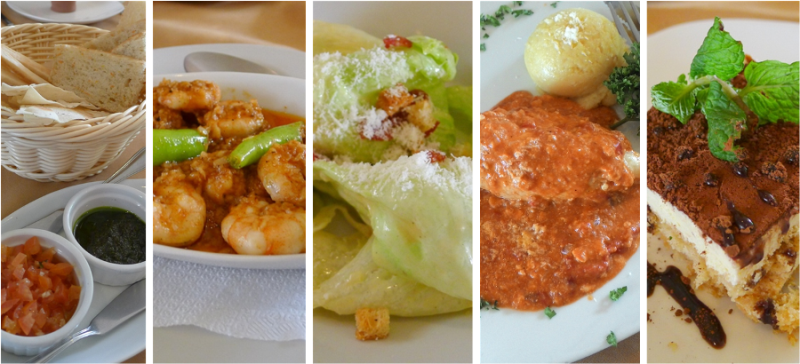 From left to right: Freshly baked bread and bread sticks with pesto and tomato dips, Gambas al Ajillo, Cesare salad, Pollo alla Valdostana, and the heavenly good Tiramisu.
Here are interesting facts I learned about American Standard:
1.  The brand has a 40-year history with the Philippines already, where it was previously known as American Standard Philippines before it was bought by Lixil and is now known simply as American Standard.
2.  With Lixil, the superior design and innovative technology of American Standard bathroom products were further enhanced not only to achieve maximum comfort for the home and business owners, but also to minimize its environmental impact.
3.  It recently introduced the "Your Style, Your Way" concept that focuses on the design philosophy of stylish innovation, comfort and "green technology", making American Standard the choice in countless leading projects worldwide, including the Burj Al Arab, the world's most luxurious hotel.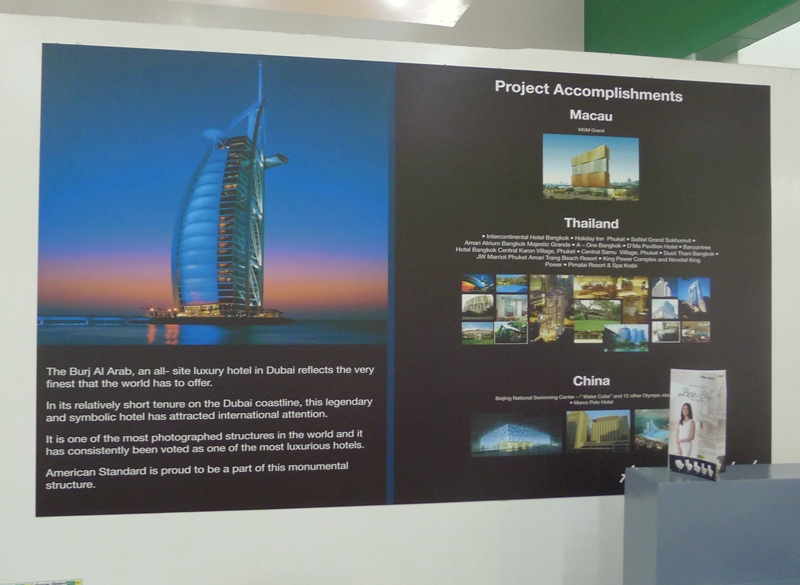 4.  The ceramic parts of American Standard toilet bowls are covered by a lifetime warranty.
5.  It is more sulit to get the one-piece toilet bowl (where the tank and bowl are seamlessly connected together) intead of the 2-piece model because it's easier to clean and prevents germs and bacteria from building up at the bottom of the tank.
6.  Skirted toilets (or "full skirt" design toilets) are also easier to keep clean than non-skirted ones (or those in the shape of a goblet).  You don't have to worry about grimes building up at the bottom of a toilet bowl because this one has a curve-less shape, thus easier to scrub too!
7.  There's something for everyone at American Standard, with top-class to mid-range products available to choose from.
We were next given a preview of the Luxe and Style collection of water closets and fittings by American Standard.  Each collection in Luxe and Style  is distinct and, as you will see later, their aesthetics and function are their biggest selling points.
After enjoying our sumptuous lunch and learning a lot about American Standard, we prepared for a tour of their showroom in Wilcon Depot, their exclusive distributor here in the Philippines.  We had a group picture taken before heading there, and I felt starstruck standing next to Camille of The Soshal Network haha!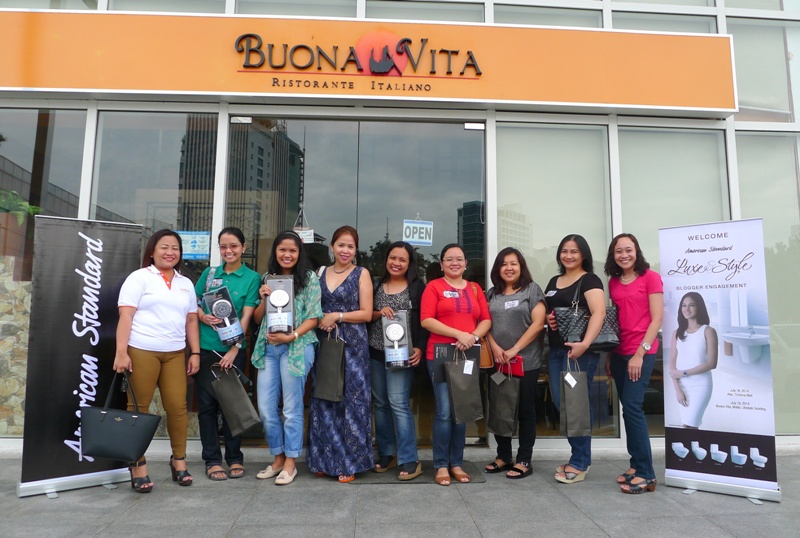 The ultimate one-stop shop for all your construction needs:  Wilcon Depot!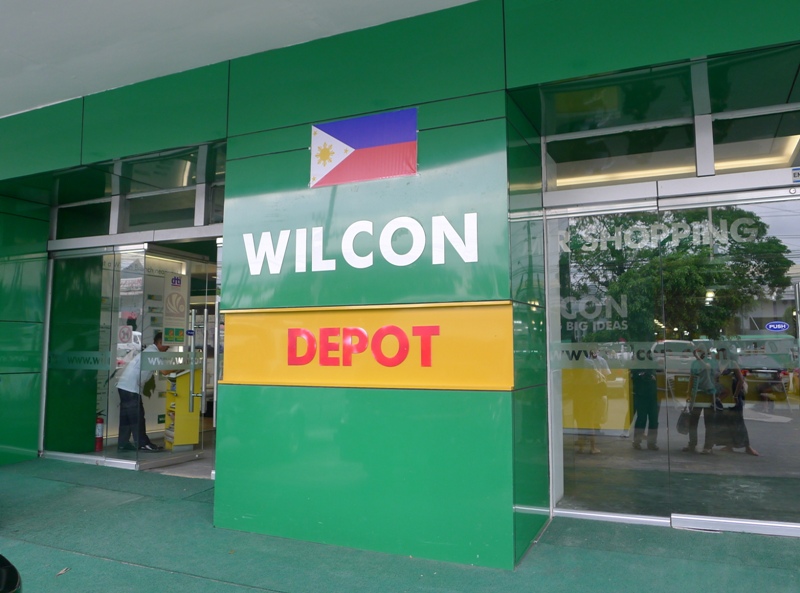 The Bathroom Tour at American Standard Showroom: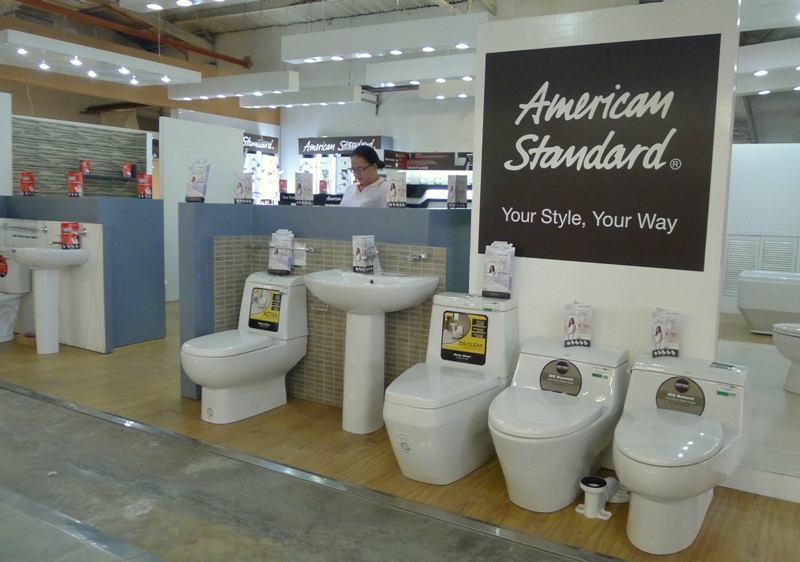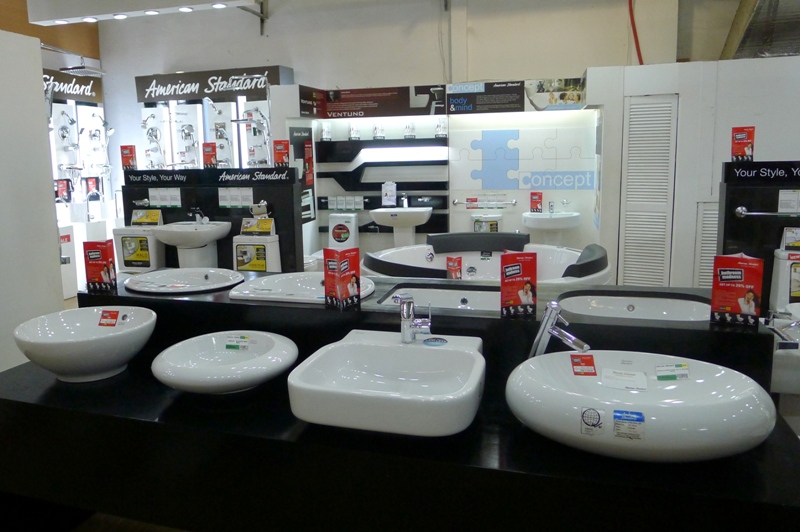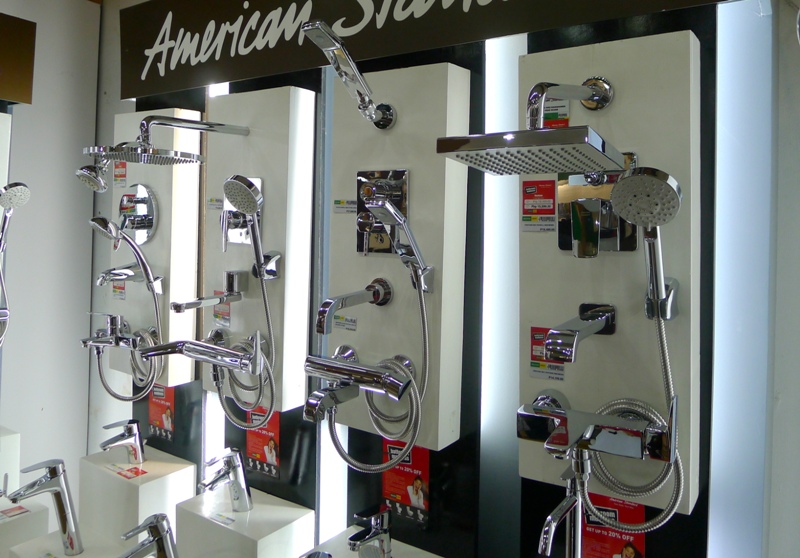 I found myself examining closely the toilet bowls and wash basins on display – something I've never done before – thanks to the new information I learned during the presentation of American Standard products.
By developing toilet bowls with 3 to 5 liters flush volume (from the previous 6 liters in their older models) and dual flush feature, American Standard minimized its environmental impact in form of reduced water wastage.  The smaller flush volume also means the tank will fill up fast, so kung ikaw na ang susunod na gagamit ng banyo, you have nothing to worry about at all hehe!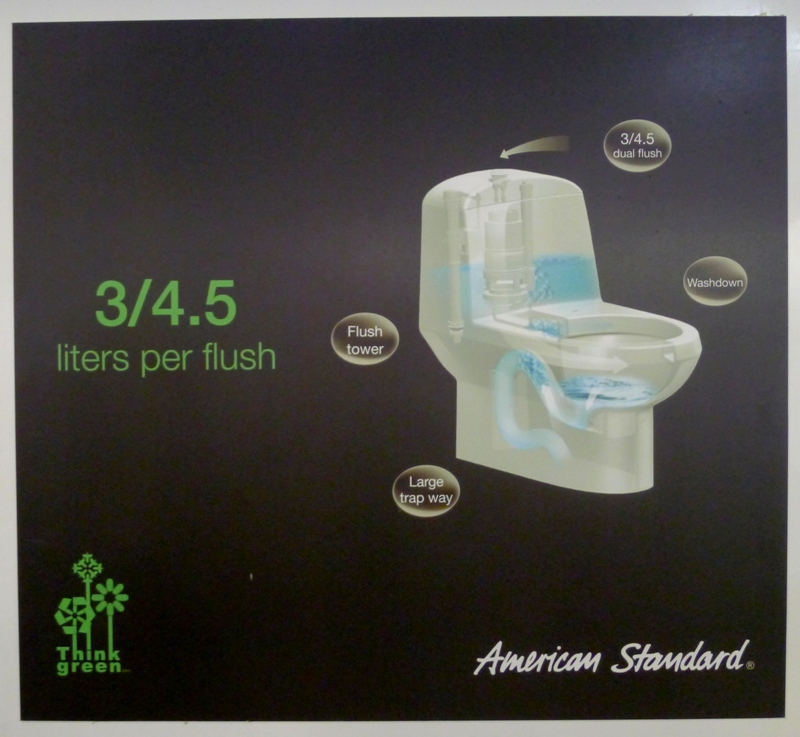 Highlight of our tour:  seeing in person the newest bathroom collections of American Standard – the Luxe and Style Collection.   You can already tell from the name alone that these products will really upgrade your bathroom experience.     
The Acacia Collection.  Designed by Lixil's design director, Khumtong Jansuwan, this collection was inspired by the emotional characteristics of the East and the natural sensibilities of Northern Europe.  Sleek lines, soft curves and geometric shapes are its design elements, which evoke an unspoiled look for the bathroom.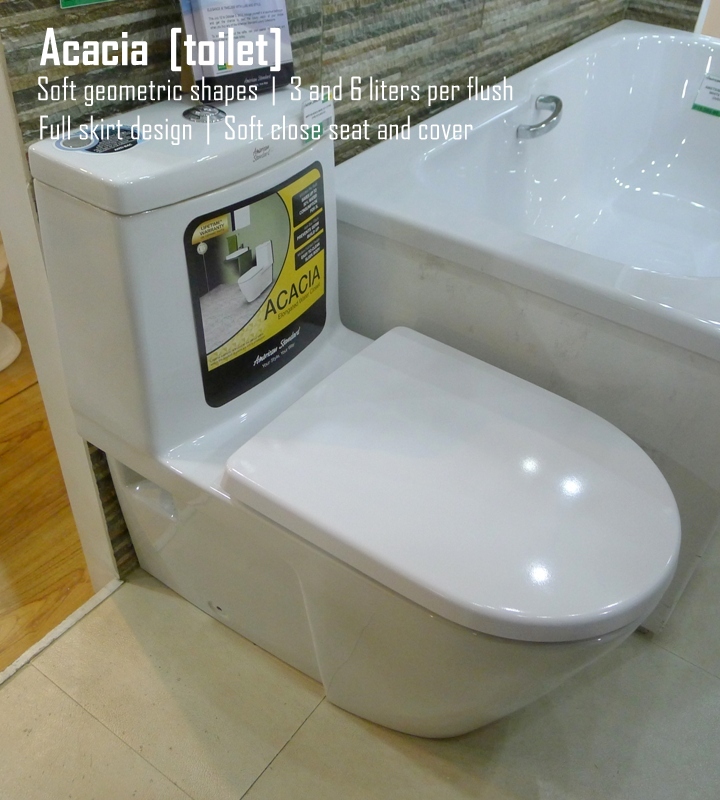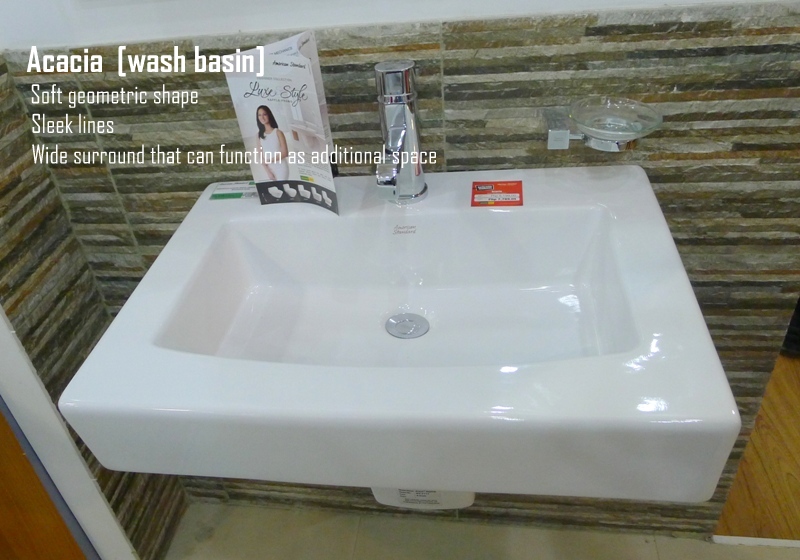 La Vita Collection.  Italian designer Ronen Joseph designed the La Vita collection for American Standard with nature in mind.  His objective is to create a natural-looking paradise inside your bathroom.  The toilet bowl and water basin are shaped like pebbles, have protective anti-bacterial glaze and are resistant to scrubbing and frequent use.  Sakto lang sa dream house ko diba, because that one's going to be our future nest and everything in it has to be durable.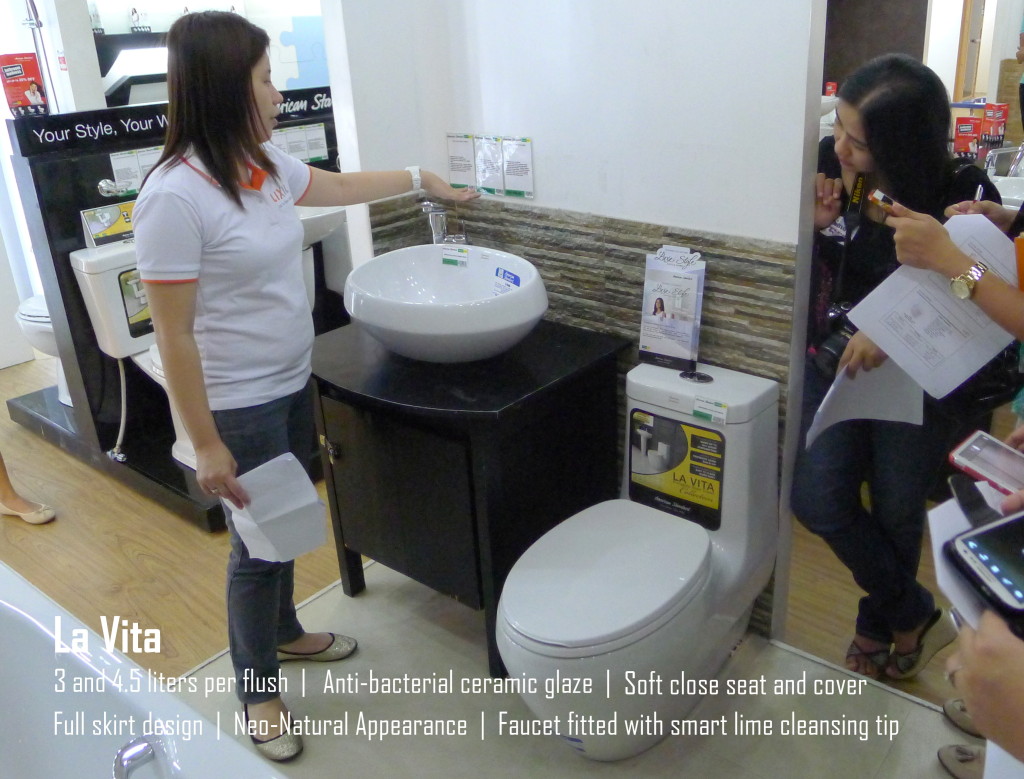 Ventuno Petite.  I love the "petite"-ness of this one too.  I immediately thought of my condo (which I am renting out) because it's a studio-sized unit so the compact-shaped toilet is perfect.  But don't be deceived by its size.  It's packed with useful features like the anti-bacterial glaze that prevents the growth of bacteria and accumulation of odors.  It also has a soft close seat and cover so wala at all yung maingay na bagsak ng toilet seat and cover (and aren't we all annoyed by that noise?).
Ideal Design Solutions (IDS).  If you are a sucker for minimalist but highly-functional designs, then you will love the IDS collection of American Standard designed by Achim Pohl and Tomas Feigl of Artefakt, "a German design company with an enviable reputation for product design".  Their philosophy is "The ordinary should be beautiful" thus all their designs for American Standard showed a well-balanced approach to form and function.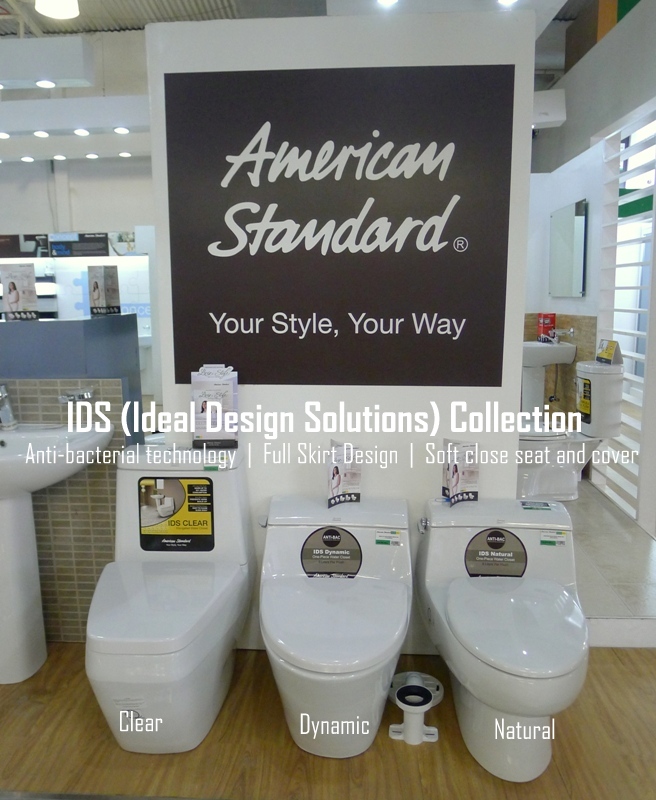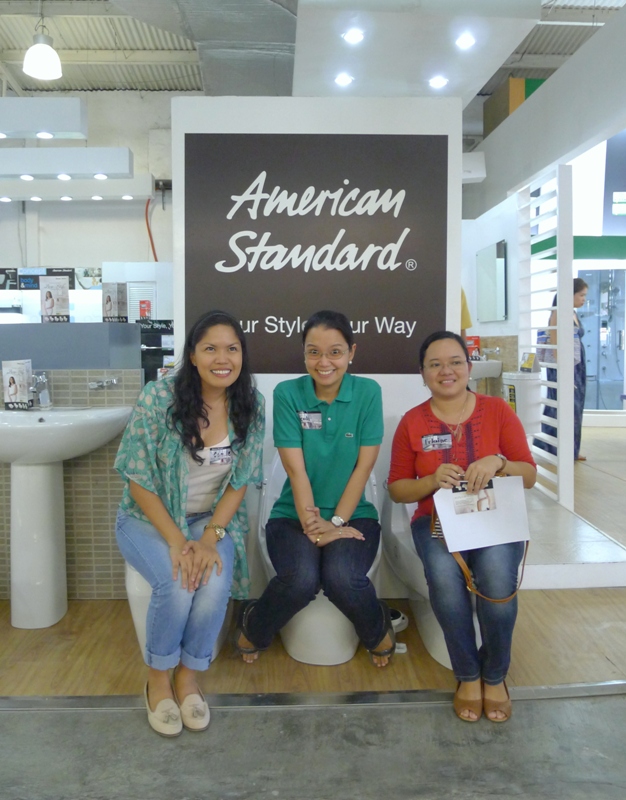 That's Camille (of The Soshal Network), me and Erlaine (of Glammamomma) trying out the different variants of the IDS (Clear, Dynamic and Natural).  Each has its own distinct style and personality.  I was sitting on the IDS Dynamic here which has the comfiest seat.  Perfect for reading books while doing my business in the CR haha!
Activa Collection..  The team of Pohl and Feigl also designed the Activa Collection Suite; offering a balance of subtle curves, soft squares and ovals for a modern and spacious-looking bathroom collection.  It's slightly more compact than the IDS collection so it's perfect for a condo or townhouse.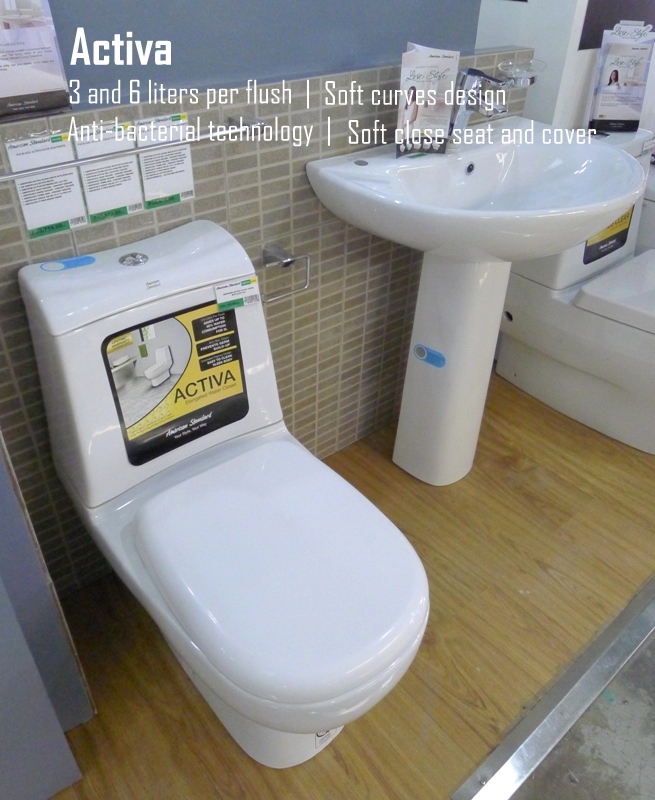 My verdict
The Luxe collection of American Standard are all in the high-ranged price level, with the Activa toilet being the "entry level" product with a P24,199.00 price tag.  The most expensive is the IDS Dynamic toilet (yung favorite ko) which is priced at P48,699.00.   All toilet products are made of 100% ceramic, so hindi na ako nagtataka sa price tag.  It's like investing in lots of Llandro ceramic figurines.
If function and comfort are my only deciding points (kunwari, money is no object hehe), then the IDS Dynamic is my choice.  This design marries my need for a comfortable toilet seat that's durable and minimizes environmental and health impact in the long-run.  My second choice is the Acacia, because it's simple in design but has all the "green" technology features of American Standard.
In terms of design naman, I am torn between IDS Dynamic and Ventuno Petite.  The boxy shape of the Ventuno Petite also appeals to me, mainly because the structure looks more like a chair than a toilet!
As to price / affordability, Acacia is slightly more expensive than Activa, but definitely less expensive than the IDS Dynamic.  I still prefer it (over Activa) in terms of design and function.
What about you?  Which is your style, your way?
Elegance is Timeless with American Standard's Luxe and Style Promo!
For a minimum purchase worth P30,000.00 of any of the water closets and fittings from Acacia, La Vita, Ventuno, IDS and Activa, all of which are part of the American Standard Luxury Collection, you get a raffle stub that will give you a chance to be one of the winners of a Lucerne Gift Certificate worth P200,000 each.   Each gift certificate may be used to buy the luxury watch of your choice from Lucerne's branches at Glorietta 4, Shangri-La Plaza Mall or Ayala Center Cebu.
The Luxe and Style promotion is available in all branches of Wilcon Depot and Wilcon Home Essential stores nationwide and will run from July 12 to October 3, 2014 only.
Visit the American Standard showrooms now at Wilcon Depot and Wilcon Home Essential stores to personally view and experience American Standard products and to participate in this limited time promo!
American Standard  |  www.americanstandard.com.ph  |  facebook.com/AmericanStandard.PHI