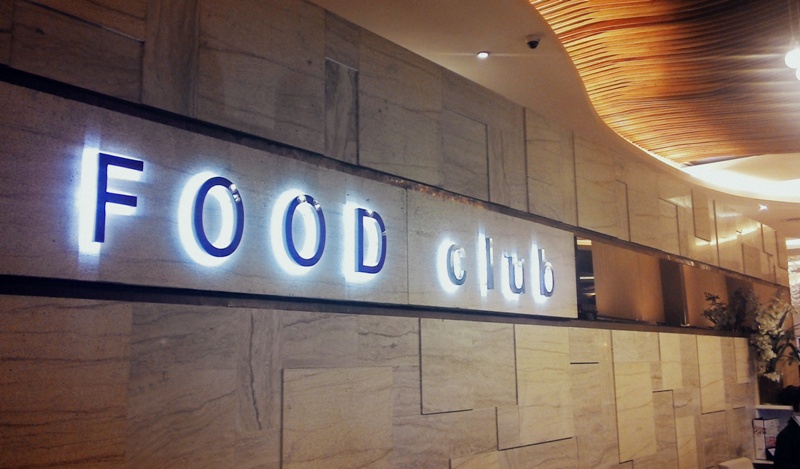 I love trying out buffet restaurants, so when my Ninang Caro invited me, AJ and my cousin Mae to have dinner at The Food Club last month (to celebrate her birthday), we said yes right away!
The Food Club is located at Blue Bay Walk in Macapagal Boulevard which, by the way, is fast becoming our foodie mecca because of the many new restaurants lined up there.  We always look forward to our trip there because everywhere we look we see a new restaurant waiting to be tried (and critiqued upon hehe!).  The last time we were there was for Project Pie and Angel N' Kiss, a Korean bakeshop which I'd love to feature here someday.  I have posted some pictures of this novel bakeshop at my Instagram account (@dbrightspot).
Dining at The Food Club, you won't think  that you're in a restaurant because the place is huge and designed to look like a hotel restaurant – with big ceiling lamps and super soft dining chairs.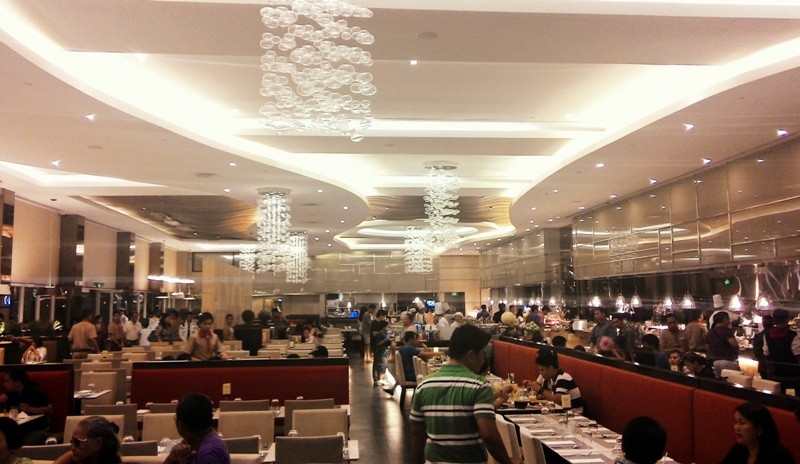 As expected, I got lost in the many food stations to choose from.  But here are some that I was able to try:
Bread, Cheese and Preserves Station.  I am a carbo-lover and can eat bread, pasta and rice without feeling full hehe!  Their cheese selection is not exceptional, but they have a nice variety of freshly-baked bread and imported preserves.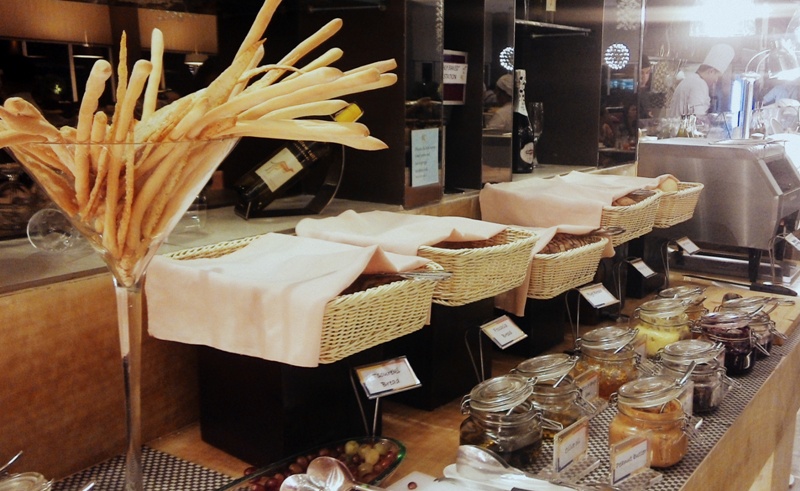 Nacho / Taco Station.  Their cheese dip is good, but a bit sticky.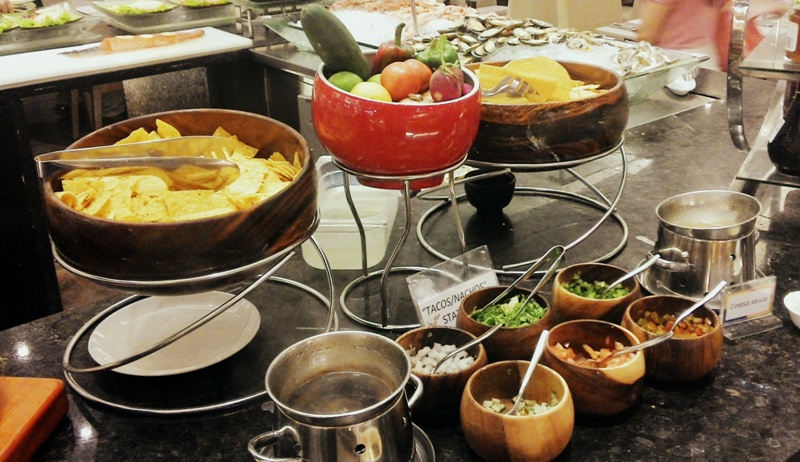 Pasta Station.   Pasta dishes are cooked 'fresh' at the Food Club.  Just pick your choice noodles and sauce, and then they'll cook it for you.  Same concept as in hotel buffets.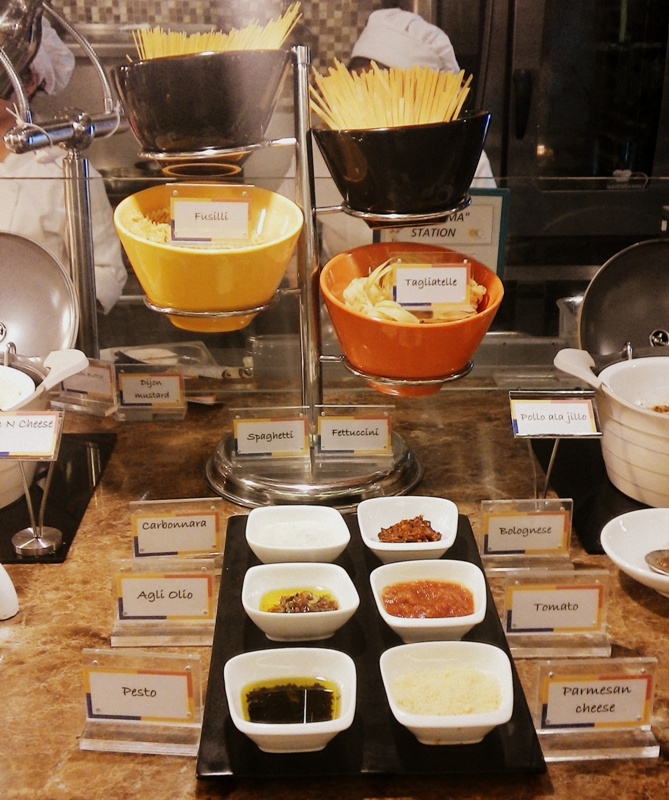 I asked for fusilli with tomato sauce and lots of parmesan cheese.  I was worried it might taste bland but the sauce turned out to be rich and flavorful, ubos namin ito agad ni AJ hehe!
Maki Sushi Bar.  I love the food styling in this one.  The mini-boat is a perfect image of the food's freshness (fresh catch, ika nga).  After all, the best maki sushi are those made of the freshest raw tuna and salmon.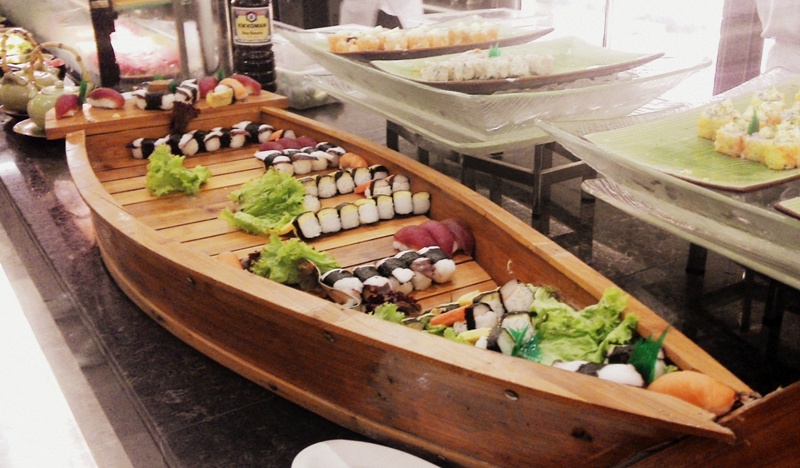 There's an unlimited assortment of viands at The Food Club, ranging from Western, Asian, European and Filipino popular dishes.
Faced with so many options, I ended up taking familiar dishes like roast pork with gravy, dumplings, pizza and buffalo wings.  I think my taste buds waned after seeing all these yummy food on display, I chose birthday food instead hehe!   Or, nabusog na ako sa tingin hehe!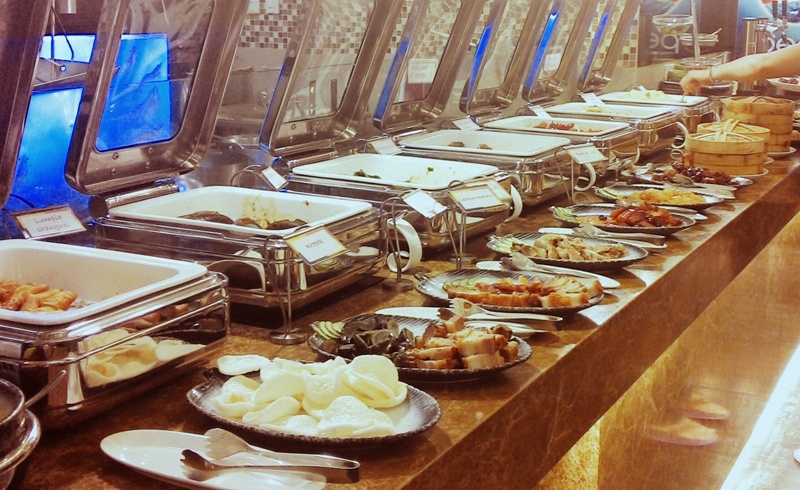 Dessert Station.   The Food Club has a very wide selection of desserts, and I mean really wide.  They have mini-cakes, crepes, ice cream, candies, chocolates, fresh fruits, fondue, and even kakainin and Halo-Halo.  I had ice cream, brownie square and crème brûlée.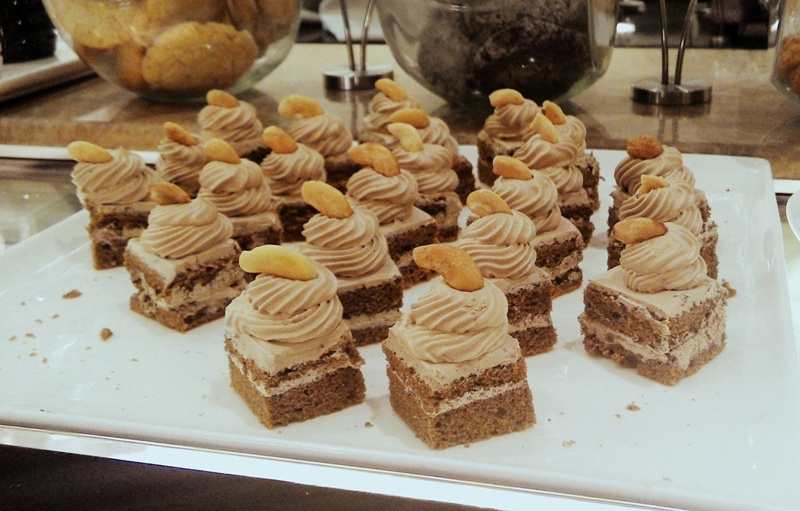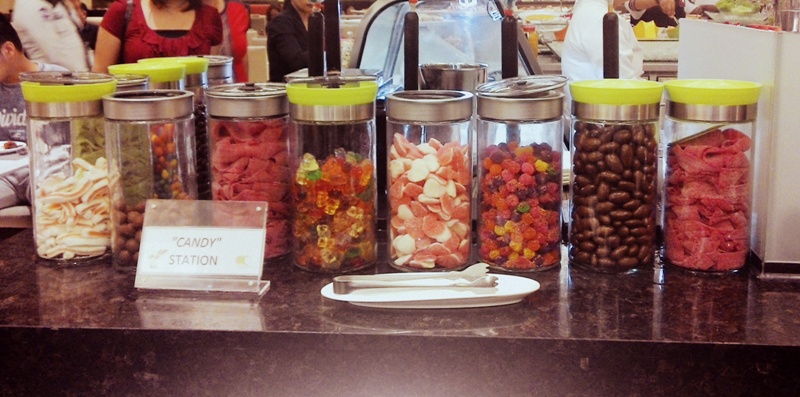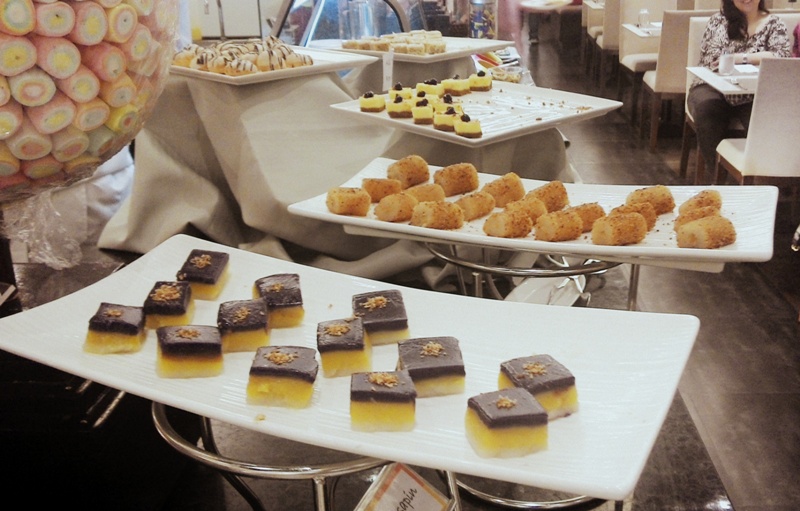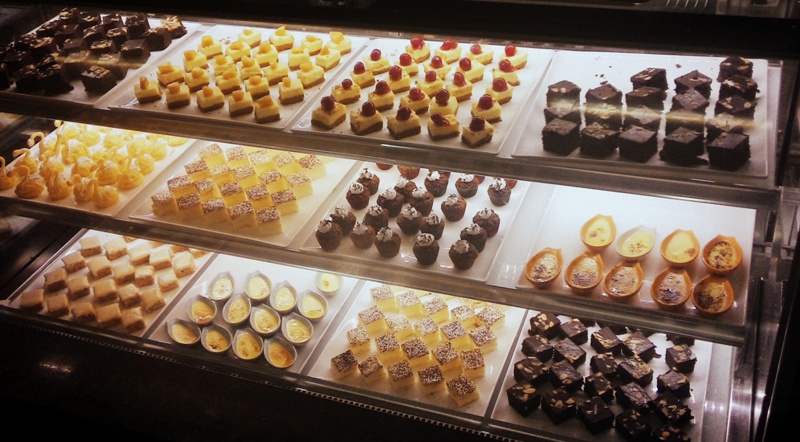 Coffee Station.  Brewed fresh. Unlimited cups.  I couldn't ask for more.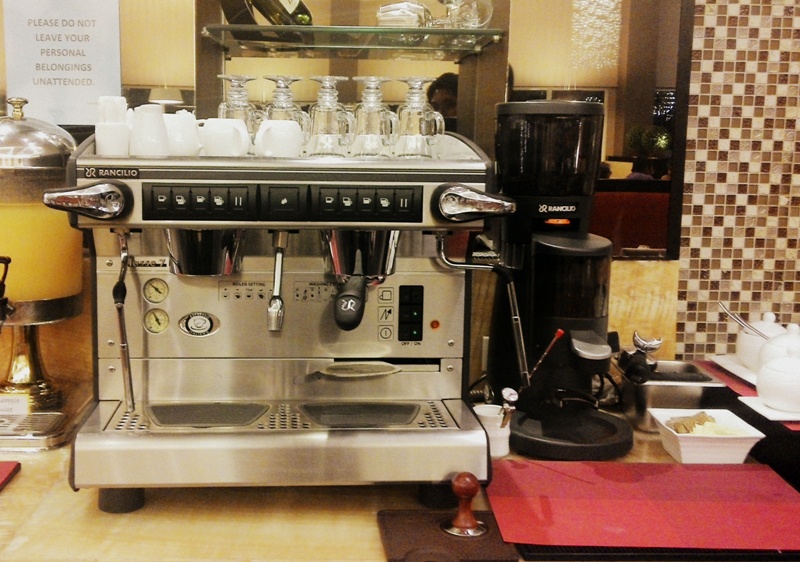 Needless to say, we all went home with very happy tummies (thank you, Ninang Caro!).
My final verdict, in terms of:
Food Selection – The Food Club tied with Dad's World Buffet (another favorite of mine)
Taste – Dad's World Buffet rated better than The Food Club (and even Vikings)
Ambiance and customer service – The Food Club rated best.   The attendants are all very courteous and attentive, and they all speak in English!  We'd learn that most of them have experiences working in cruise ships, thus they know how to really 'pamper' their guests.
Price point – Cheaper pa rin ang Dad's World Buffet (P588 weekday lunches compared to Vikings and The Food Club's P800 rate).
Would I go back to The Food Club?  My answer is a big YES.
The place is perfect for intimate and big celebrations alike, and you can be sure that your guests will not only enjoy the food, but be attended to like they are in a five-star hotel.
Now here's another reason why you should try The Food Club really soon: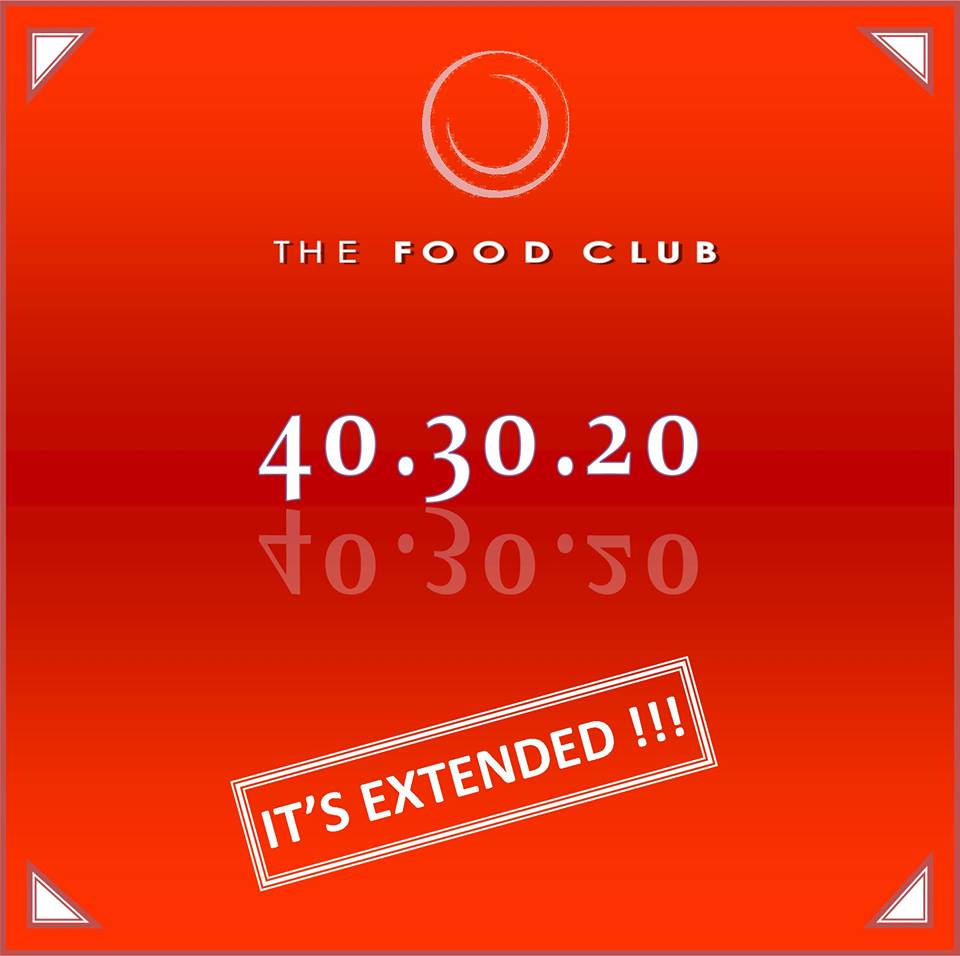 The Food Club's amazing 40-30-20 promo.   Here's how it works:
40% OFF for a minimum number of 12 (adult) diners using Cash payment.
30% OFF for a minimum number of 12 (adult) diners using any of your Credit Cards.
If you won't be able to complete the minimum number of 12, guess what? You still get 20% OFF.
Plus, if you are celebrating your birthday this month, you can also avail of their Birthday Promo and enjoy a free buffet lunch or dinner!
Place a reservation within the week of your birthday (e.g., if your birthday is on July 5, you can avail of the promo 3 days before or after (July 2,3,4 or July 6,7,8) your birthday). You may also reserve on the exact day of your birthday.
You must have at least 1 full-paying adult companion.
You need to present a government-issued ID with your name, birth date and photo (e.g. Driver's License, Passport). If no ID is available, you can bring your birth certificate.
Of course, a birthday celebration at The Food Club isn't complete without a free birthday cake (and a birthday song performed live!).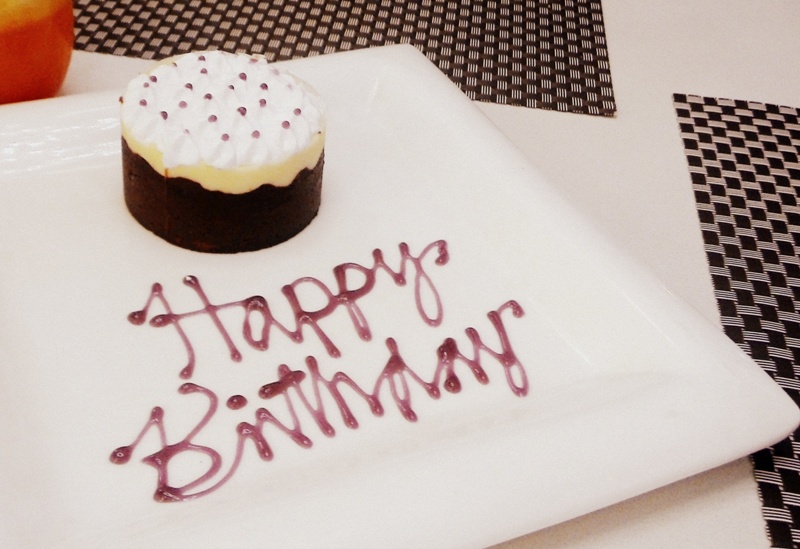 For reservations and inquiries: [email protected] or call (02) 736-8001.
For more information and updates about The Food Club, like their facebook page at facebook.com/TheFoodClubPH