My post about how to spot a fake Lacoste shirt has been getting inquiries from readers lately.  I was even asked to check a number of online and IG shops selling Lacoste shirts advertised as "authentic overruns" to see if they're, well, authentic.
Unfortunately, I found most of these online shops selling the exact quality of the fake shirts I've bought.  It made me feel bad so I stopped looking na lang.  I think the pictures I've shared in my previous posts here and here are enough to help one distinguish a fake from the original.
About 2 weeks ago, while strolling at Rockwell Powerplant, AJ and I passed by the Lacoste shop where I noticed new shirt colors on display.   Wala akong balak pumasok talaga dun sa shop but I couldn't help asking pa rin if they have size-14 (boy's size) shirts already – for me.  #bakasakalilang
The sales associate went inside the stock room to check if there are shirts available in my size.  I was expecting he'll come out empty handed, but instead he went out carrying not just one, but four size-14 shirts with him.  I almost fainted hehe!
I'd learn that it took time for them to restock because Lacoste changed their collar tag design (again!) as a way of being one step ahead of the counterfeiters.
Here's the new collar tag.  There are 2 tags now: (a) the logo tag which you see in front (with the name "Lacoste" and the iconic crocodile just beside it) and (b) the inner tag indicating the shirt's size.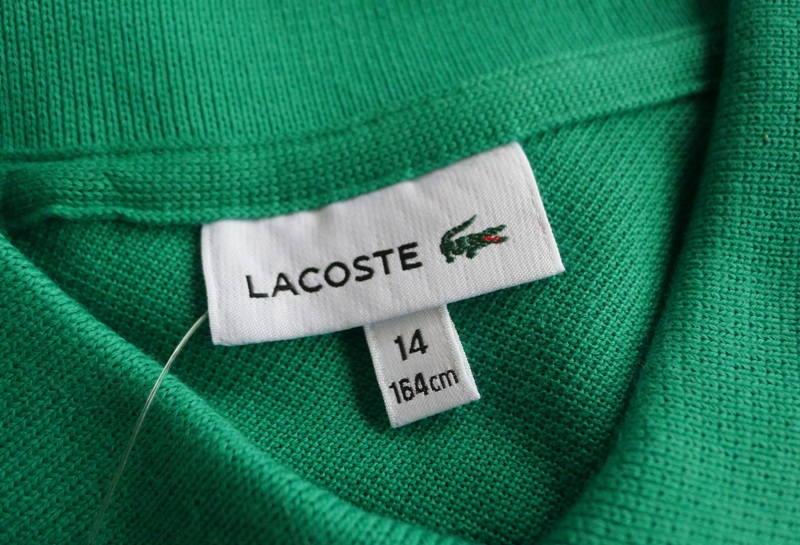 Observe again the pique fabric used in the collar lining.  The weaving pattern is very obvious and transparent, so unlike my fake (or replica) Lacoste shirts where the collar lining is made of cotton cloth and the weaving pattern is very faint in my camera's eye.
My new shirt's plastic cover.  Grabe, tumaas na naman ang price ng Lacoste shirt ko!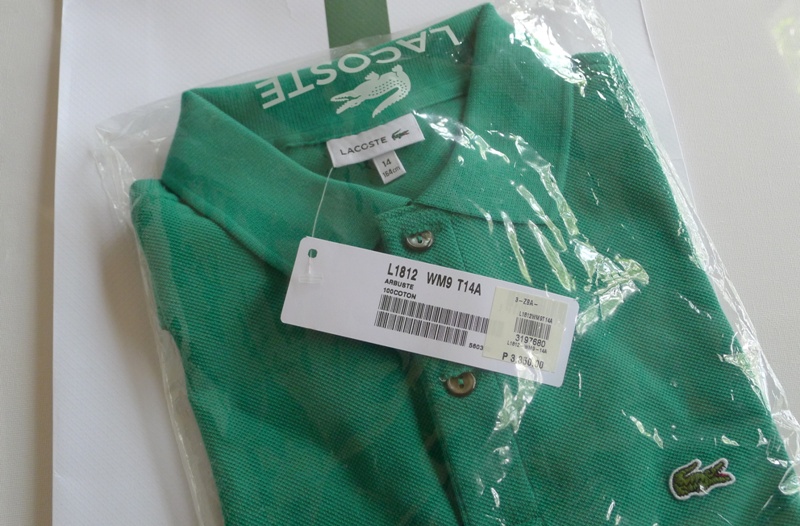 I love my shirt color's name, Arbuste, which is "shrub" in French.   The punch hole in the price tag no longer has a red outline.  Also, always check if the shirt's color is indicated in the tag.  If the color indicated in the tag do not match the color of the shirt, then it's obviously a fake.  If the tag don't have the shirt's color written at all (like in the fake Lacoste shirts I bought) then chances are it's a fake too.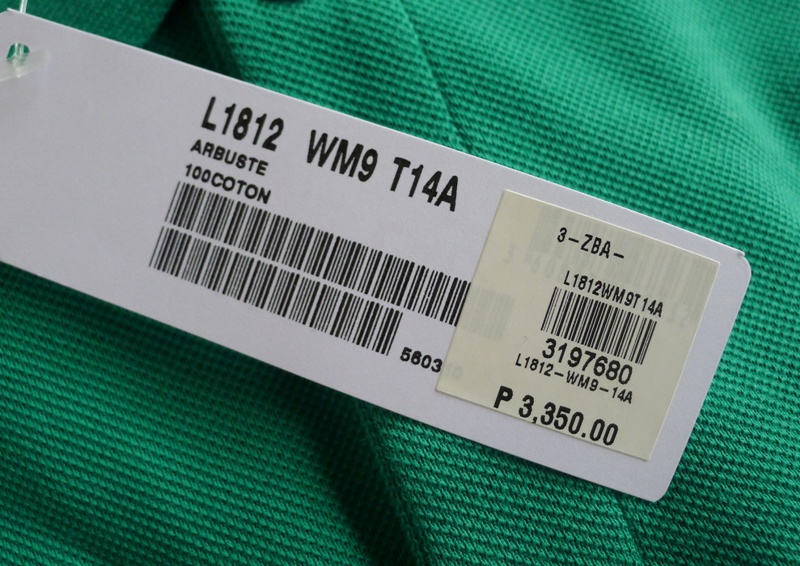 Since my shirt is in dark shade of green, the buttons are greyish black.  I've shared in a previous post that light-colored Lacoste shirts have cream-colored buttons, while dark-colored ones have greyish black buttons.
If you really want to 'invest' in a Lacoste shirt, I encourage you to buy only from Rustan's, their exclusive distributor here in Manila.  Based on my observations, most resellers at IG and Facebook are selling only replicas.  After all, a good pique shirt don't come cheap.  At P800 to P1,500 per shirt, versus the P3,350.00 price tag at Rustan's, you'd wonder how come people still buy their Lacoste shirts at Rustan's.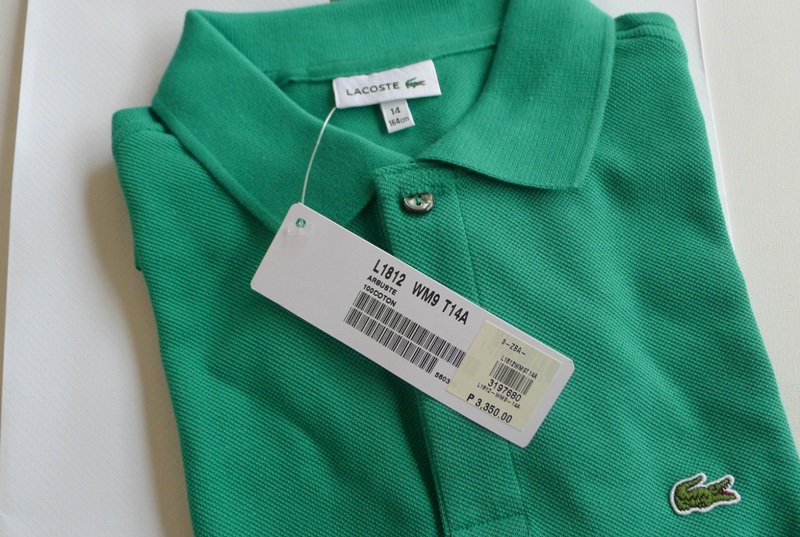 So there.  I'm glad to see my size 14 Lacoste shirts back at their stores, but have to work harder now to afford them, hehe!
Have a great Thursday to you all!