There is an ongoing sale (and a BIG sale at that) at my site partners' online stores, and I am so tempted to buy, buy, buy even if I don't have an immediate need for them because, alam nyo na, sayang ang sale hehe!
But I think these purchases can be justified as 'investments', particularly for my "travel essentials".  You see, AJ and I are seriously thinking of traveling to Japan next year when (hopefully) the visa-free entry policy has taken effect.  Oh, I'd love to see the cherry blossoms and visit Sanrio Puroland!
Here are the sulit items I've picked for my wishlist, all of which are discounted at almost half their original prices: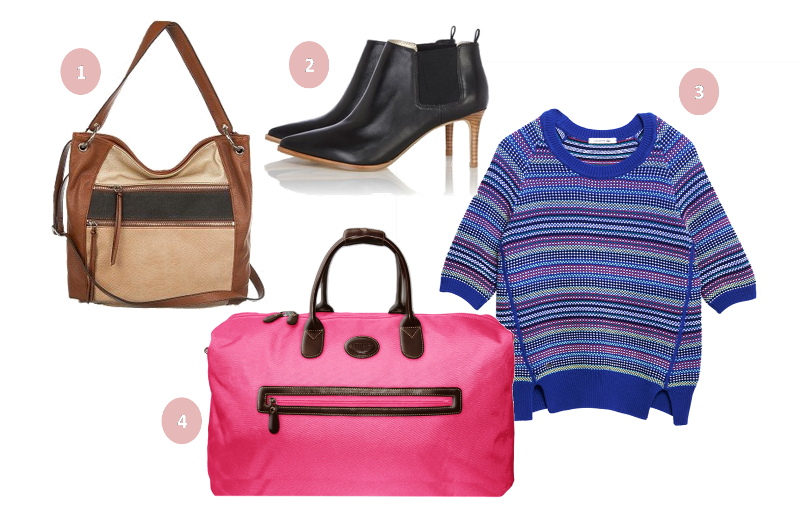 1.  Naturalizer's Delancy Handbag (from $89.00 to $39.99).  What I liked about this bag is that it has lots of zipper pockets.  You will see 2 outside and 1 inside, perfect for keeping those travel documents and money safe.  The magnetic strap closure makes it easy to reach for your things inside.   It's very roomy and can fit my camera perfectly.  You have the option of carrying it as a shoulder bag (with a 7-inch drop) or as sling / cross-body bag.
2.  Karen Millen Stacked Heeled Ankle Boots (from $360.00 to $250.00).  This elegant leather boot features a slim mid heel that makes it okay for walking.  It can also double as court shoes  when worn with long, straight-cut slacks for those wine dates in the evening.
3.  Lacoste Short Sleeve Jacquard Multi-Color Sweater (from $160.00 to $79.00).   I picked this because I love the colors (so alive and happy!) and because it looks so comfortable to wear.  Made of 100% cotton, it's gonna be easy to pack (no ironing needed) and can be worn not just as sweater but as top for that modern, preppy look.
4.  Bric's 22-inches Ultra Light Cargo Duffel (from $200.00 to just $99.00, a steal!).   I've just purchased the Cath Kidston Overnight Bag, but this one is too good to pass up!  And it's not just because of the price, but also the bag's description:   "Our lightweight duffle is not only functional, it also provides the technical features you need to make your travels enjoyable and hassle-free. New ergonomic styling maximizes inside packing space and it's soft sided design makes is easy to stow."  I know AJ might not approve the bubblegum pink color, but it's cute so let's have it!  Hehe!   It's gonna blend beautifully with the pink-themed color of Sanrio Puroland, isn't it?   =)
Be sure to check out the other sale items at Lacoste, Bric's, Karen Millen and Naturalizer!  Just click on the sidebar banners at the right and start shopping away!
And as I'll be out the whole day tomorrow, let me greet each and everyone now a HAPPY EASTER!   May this Easter bring you all together for a great celebration filled with lots of joy, love, happiness and Easter chocolates!