I still can't get over my excitement of finally owning Cath Kidston bags, which were purchased straight from their store in UK!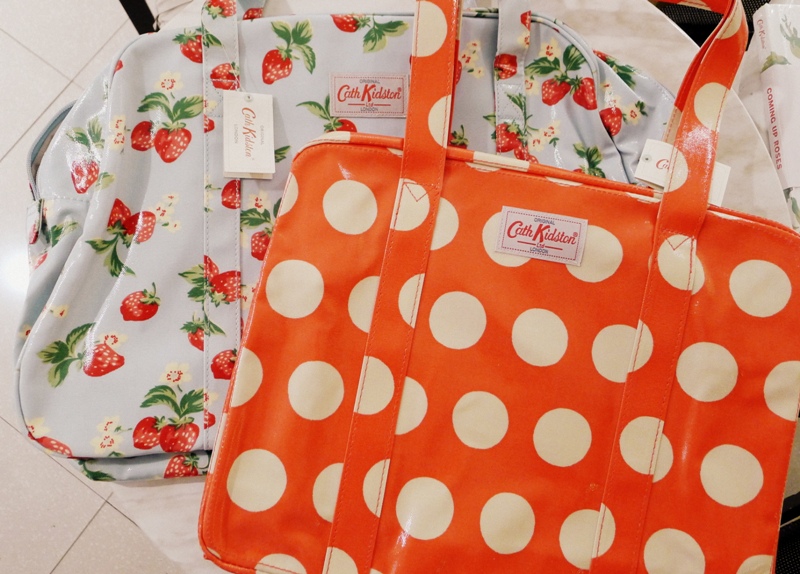 I'll be honest here, and tell you that my experience was not entirely pleasant.  By that I mean it was not totally stress-free.  For a while I thought I have lost the bags but in the end, pinahaba lang pala ang suspense, hehe!
Here's my story:
February 28:  I chanced upon an ongoing sale at the Cath Kidston website and saw 2 bags to my liking – both discounted at more than 30% each.  I snapped the bags, and in less than a minute, I received an order confirmation from Cath Kidston in my email.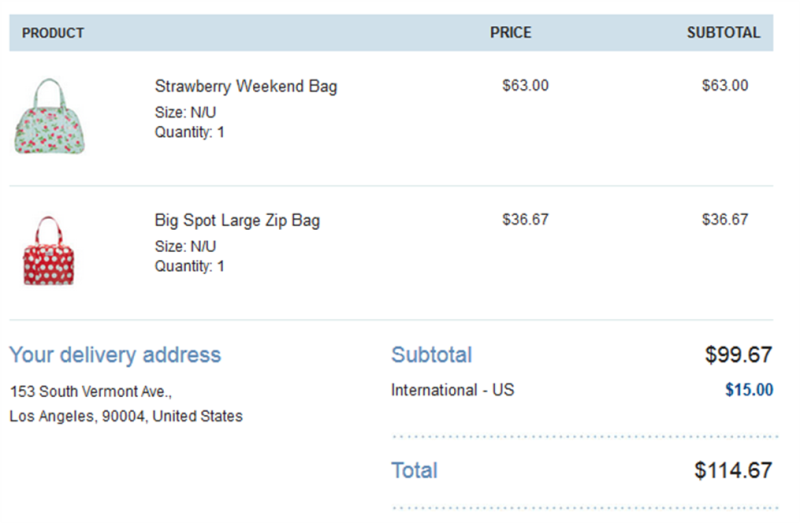 (Note: The Big Spot Large Zip Bag was originally priced at $50.00, while the Strawberry Weekend Bag was originally at $90.00, I think)
I used Johnny Air's shipping services, instead of having the bags shipped directly to the Philippines, for convenience.  I read from Edelweiz's review of Johnny Air services that it's best to use their LA address (instead of the NY  address) as your delivery point to get rid of the sales tax.   I think it worked (more on this later).  The shipping fee from UK to LA was only $15.00.
March 4:  I received confirmation from Cath Kidston that the bags have been despatched (that's the UK spelling for 'dispatched').  It will take 7-10 days for my order to get to the US.
March 12 (8 days after the dispatch):  I decided to email Cath Kidston to inquire about the status of the shipment.  I received a reply on the same day, informing me that my order was not sent out on a tracked service so they cannot check where it is.   I decided to wait out a little more before making my next move.
March 18 (14 days after the dispatch):  I was able to confirm from Johnny Air's LA office that no package under my name has been received yet.
March 22 (18 days after the dispatch): I finally emailed Cath Kidston, informed them that I have not yet received my packaged, and asked for assistance. I received a reply from the Customer Service Advisor who has handled my concern since Day 1, Ms. Daniella C., and she explained to me that the parcel will have to be declared as being lost in transit since the total number of days (of delay) is already beyond their allowable period for shipment.  Because of this, I was asked to choose between: (a) full refund of my payment or (b) re-sending of the parcel after confirming the delivery address.
I opted for (a) to resolve the matter quickly.  I felt sad because I won't be getting the bags, but I was also very pleased with the way my concern was handled by Ms. Daniella of Cath Kidston.   She's very efficient kaya imbes na magalit ako, I admired her for being helpful and courteous in all her replies to me.
March 24:  My full refund of $114.67 was processed and credited to my credit card on the same day.  Grabe, this is customer service at its best!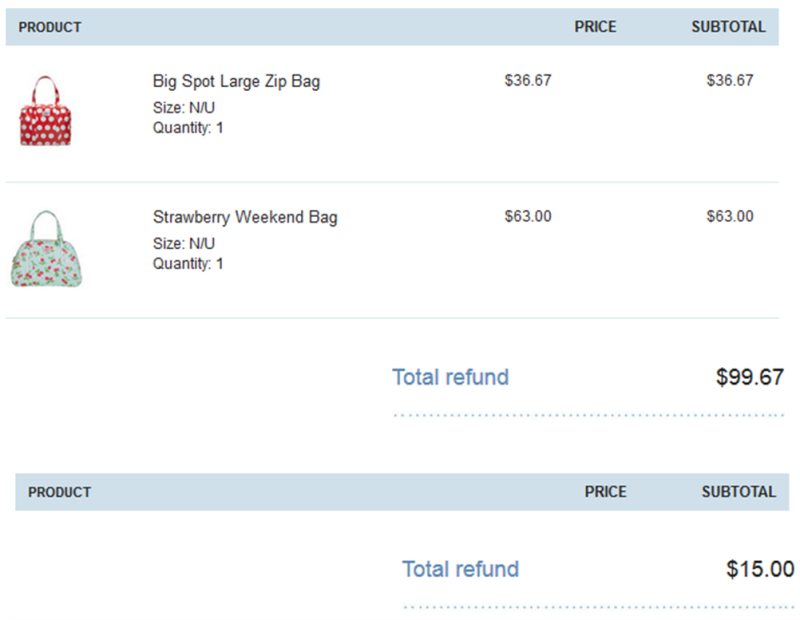 March 29:  A day of surprise!  I received an email from Johnny Air informing me that my package is ready for pick up at their SM Megamall Branch.  Huwaat??  So hindi pala lost in transit?  Pano yan, naibalik na rin yung payment ko?   But before informing Ms. Daniella of this surprise turn of events, I decided to check out the package first to make sure that everything's in order.
March 30:  I picked up the package at SM Megamall.  I couldn't wipe the smile off my face when I saw this Cath Kidston print!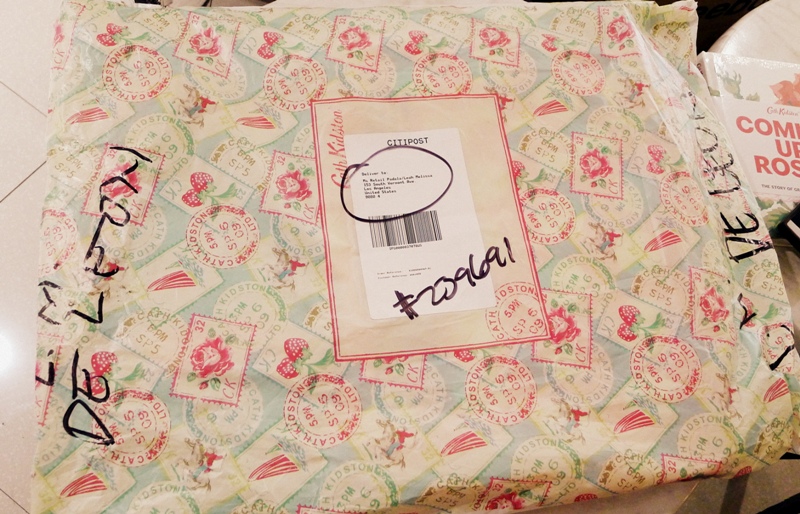 From London, with love.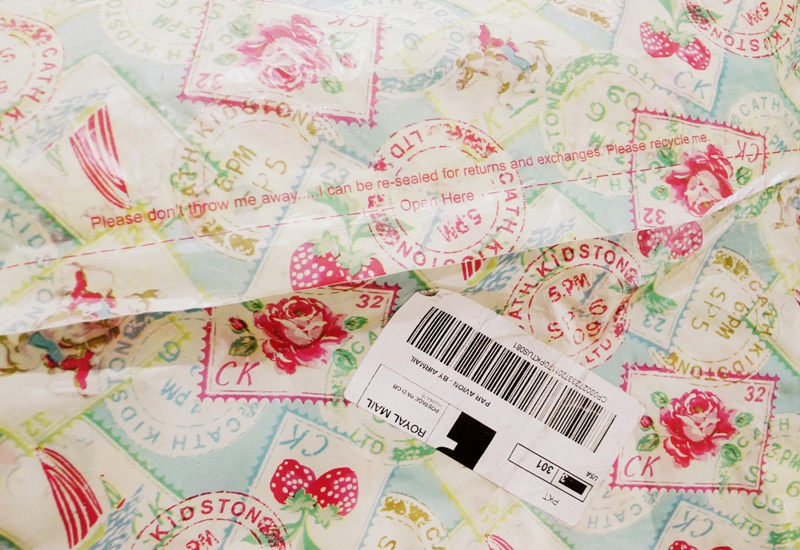 Total bill from Johnny Air:  P1,185.47.  That's for a package that weighed 3 lbs.  I checked my invoice and no sales tax was added.  In short, I paid only the standard shipping rate of Johnny Air (computed at $5.99 x 3 lbs. or P1,058.46 at the conversion rate of $1 = P46.08), plus 12% VAT (P127.01).   I think it's really cheap considering that there are 2 bags and they are both big.
And here they are, so pretty and so worth the looonnnng wait!  Coincidentally, I saw this book at National Bookstore about Cath Kidston's inspiring beginning.   I'm excited to read it!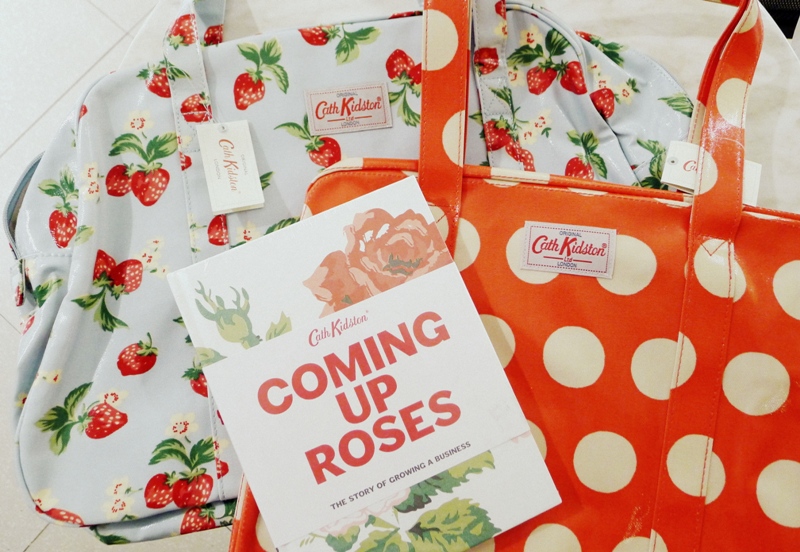 Here's how to spot an authentic Cath Kidston bag: the logo patch should be very flat on the bag.  If it is crumpled or wrinkled, then it's a fake.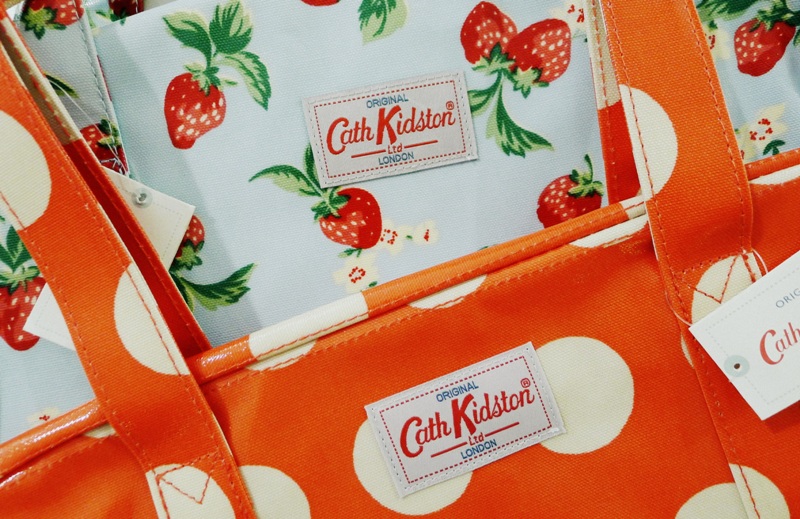 I love the zipper pull of my Strawberry Weekend Bag!
I used the Strawberry Weekend Bag when I traveled to Laoag the following day (March 31).  I was able to fit in my clothes, extra shoes, toiletries kit, as well as some paper works and booklets.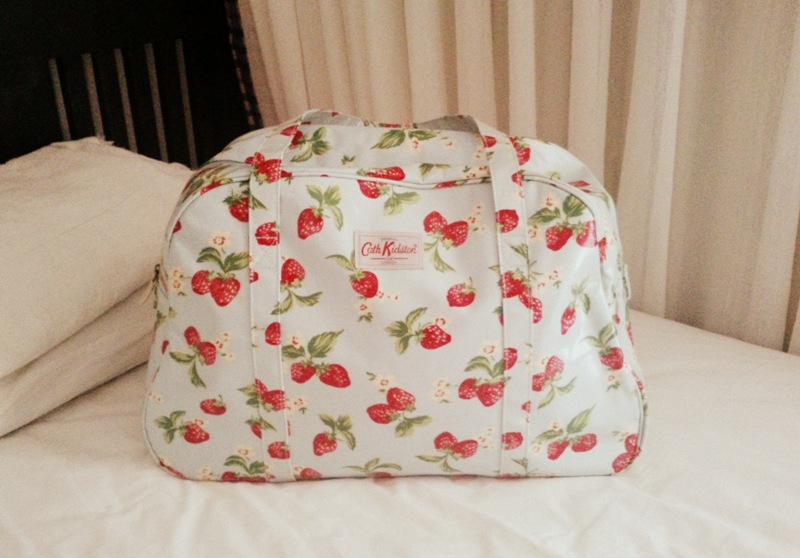 The Big Spot Large Zip Bag is now my everyday work bag.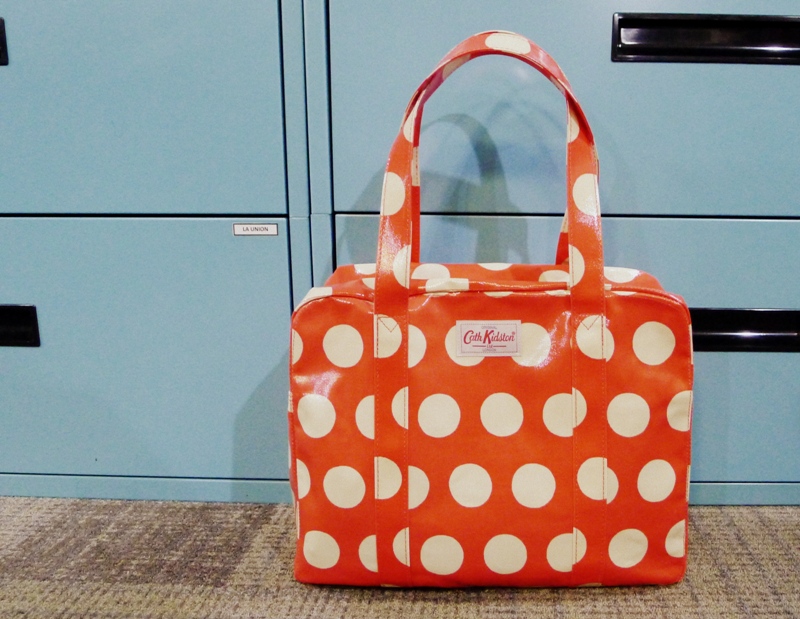 I happily informed Ms. Daniella last March 30 of the belated arrival of my bags, and she's very happy with the news too!  She worked out the charging back of the cost (of my purchase) to my credit card, again on the same day!  What a big relief!  Now the bags that I've used right away are finally paid for, hehe!
I'll never forget this experience, which has taught me to always use the tracked shipping option from hereon, for my own peace of mind too.
As for Johnny Air, I'll definitely use it again in my next online purchase abroad.  I had not encountered problems in dealing with them, and their LA Office responded to my query in a prompt and courteous manner.
To shop Cath Kidston, visit https://www.cathkidston.com/
For more information about Johnny Air's Retail Padala, check out http://johnnyairpadala.com/.