I bought my first life insurance policy when I was 22.  I have to credit my parents for instilling in me (and my brother) at an early age the importance of saving money for the future, and  investing in life insurance.   When I received my first paycheck from my second (and more stable) job, I asked my mom to set me an appointment with our insurance agent from Insular Life (who is now retired).
At that time, investment-linked insurance coverage was not yet popular, so I got the traditional life insurance policy.  But mine has living benefits tucked into the policy, which will allow me to enjoy cash benefits while still living (hence the term "living benefits").  What's more, it has a "paid-up option" wherein I will pay the premiums for only 15 years.  The accumulated dividends will then be used to cover the premiums for the remaining period.
Investing in life insurance at an early age has taught me to be more conscious about budgeting my salary.   I have to earmark part of it (which we receive weekly) for the premiums that I pay quarterly.  I also share in our household expenses so I monitor my actual "disposable income".  I would have used this to buy make-up, fashionista clothes, engage in monthly facials and hair grooming, but I met my Bulacan alahera and that started my investment in jewelries.  So the disposable income was again reduced, but no regrets there at all.  Had I started buying jewelry only now, the more I cannot afford it.
Fourteen years later, I can already see the fruits of my investments, especially in insurance.  Next year is the 15th year of my policy at Insular Life.  I will check if I can already avail of the paid-up option (excited na ko!).  The value of the premiums I've put in these past years has also grown, and I surely won't get this same effect had I put the same amount in the bank.
Of course, we cannot discount the effect of inflation in the value of the insurance, but that's beside the point. As a long-term savings option, insurance is still more attractive than saving in a bank (at least to me).  I know a lot of people who doesn't believe in life insurance because the premiums to be paid are just added expenses, and they feel that they won't be enjoying its benefit naman because they see only the death benefits in it.  Also, they are afraid of uncertainties.
I feel sad when I hear these explanations because if you will really study your policy contract and ask a lot of questions from your agent, you will realize that insurance is actually a very liquid investment.  Secondly, whether you decide to put your money in the bank, insurance or negosyo – you will still face uncertainties.
If it will help, seek financial counseling from an insurance agent (or "financial advisers" as they are now called).  This service is FREE and will help you in understanding your attitude toward uncertainties or risks, particularly if you are risk-prone (i.e., risk-loving) or risk averse.  Together, you and the financial adviser will lay down your regular and additional sources of income, as well as your expenses, to see how much money you can invest and where best to put it, given your present priorities and long-term plans.
Going back to my first point – of life insurance being a very liquid investment – let me share with you this illustration I got from our new financial adviser at Insular Life, Mark Joseph Fernandez: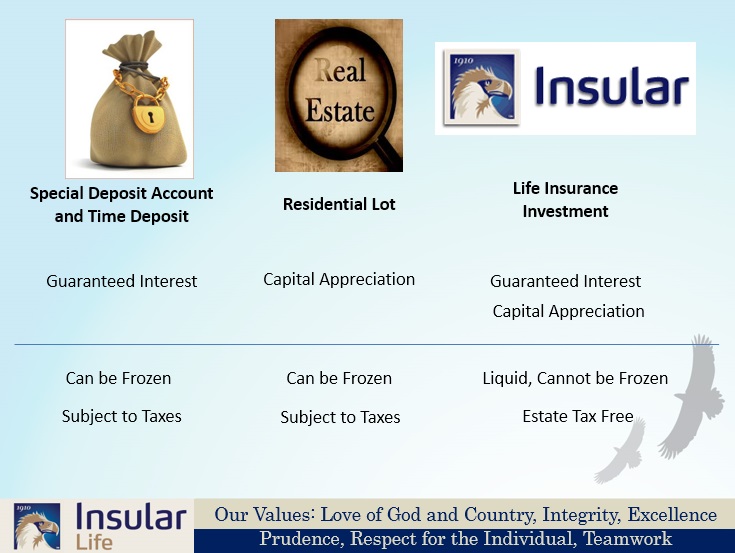 Let's talk about capital appreciation first.  Every time I am offered an investment product, whether it be from an insurance company or from the bank (which now offers insurance-linked investments that works the same way the investment-linked insurance), I look for the words "capital preservation" or "capital appreciation".  This is very important to me because I am actually risk-averse.  I don't mind sacrificing part of my salary for insurance premiums because I am assured that the face value of the insurance (this is the "capital" of your investment) is guaranteed.  I (or my beneficiaries) will get that amount of money at some point in the future – guaranteed.  The dividend I earn from the policy I consider as bonus na lang. This way, I will not get paranoid if the market is down.  If you are like me who is risk-averse, you can work with this line of thinking because I think it's less complicated hehe!
Insurance is a liquid investment because it cannot be frozen; meaning, you can have access to your funds anytime.  The money you put in banks and securities (for equities investments), on the other hand, can be frozen by regulatory bodies like BSP or SEC.
Being accessible also means you can withdraw a portion of the cash value of your insurance, if you need the money.   So you have your cash and still have your insurance coverage.  But please take note that any fund withdrawal made from your policy will reduce the amount of your coverage.  So if you don't want that to happen, you can repay the withdrawn amount in full later on or through staggered payments.  Other insurance products offer this option in form of  policy loan, wherein you can take a loan out of the cash value of your policy with very minimal interest.  You can repay the loan through installments or through automatic deduction from the future value of your policy.  I personally won't recommend the latter because tumatakbo ang interest here and in the long-run, the amount of the accumulated interests will be greater than the actual loan itself.  Talo tayo dito.
I know we're still too young to appreciate the benefit of "estate-free" tax.  But this is really one of the beauties of insurance products.  Parents who buy insurance investments for their kids are said to be doing more for their future than say, giving them a house-and-lot as inheritance later on.   That's because there are estate taxes attached to properties that form part of one's inheritance.
If, for example, the value of your property right now is P2 million and you want to pass that later on to your kids, you may want to consider getting them an investment insurance of the same value also because, after factoring in the capital appreciation of both type of investments over time, the insurance money will still end up more valuable because the property will be subjected to estate taxes and others, while the insurance money will not.  So your children will get the insurance money tax-free, and also the property (the estate taxes can be paid for using part of the insurance money).   If there's no investment insurance, they will get the property but will have to shell out money for the payment of the estate taxes (and I heard the amounts are insane!).
There, I've said too much which I hope you will find useful.  I made these same explanations to AJ who bought his insurance also from Insular Life.  He had had insurance policies before but nobody was there to help him budget his premium payments to make sure they are paid regularly.  Sayang nga eh, but what's important is that he now has, not just one, but two insurance policies! One is from Insular Life, and another from a different insurance company.
It's through him that I developed this personal advocacy to promote life insurance awareness.  If one is to live smartly, he or she must be financially ready for the future.   Since then, I've helped my brother (and sis-in-law, Juvvy) with their insurance purchases, and my parents too!
Later I will talk about shopping for insurance products.   There are lots of insurance companies out there that are performing very well:  Insular Life, Sun Life, Pru Life, Manulife and AXA Life, among others.  But how do you know which one is the best company to trust your future with?  And most of all, what kind of insurance should you get?  (UPDATE:  Read about How I shopped for my insurance plans HERE).
Before I end this already lengthy piece, let me just say that all I've shared here are my personal understanding of how insurance products work.  I'm not an insurance agent (although in the past I've been invited by my agents to try it as part-time job) and lastly, this is not a sponsored post  =)
If you are interested to get free financial consultations from my financial adviser, Mark Joseph Fernandez of Insular Life (who has appeared in ANC's "On the Money" last February 7), you can contact him at (0917) 5836275.
Have a blessed Saturday, everyone!