It's been a while since I shared a Saladmaster recipe.  In case you don't know yet, I partnered up with my sis-in-law Juvvy 2 years ago so we can buy a Saladmaster cooking set for ourselves.   The set was a very expensive one, but we managed to fit it into our budgets by splitting the items in the set, thus splitting the cost too.  We got 3 items each.  Since then, I've been posting Saladmaster recipes here in my blog to share to those who also own Saladmaster cookware (Click here to check out my Saladmaster recipes).
The newest recipe I tried (which was  last weekend) came from the Saladmaster recipe book that I got as gift from my consultants, Kuya Rene and Ate Jane.  After almost 2 years, ngayon ko lang sya nabuklat, hihi.  You see, I have this habit of storing things that I won't be using immediately and then I'll forget where I'd keep them.  So it was a good thing I did some decluttering last December, and there I found it together with the books I've read and kept in a cabinet.
Going back to the recipe, it's called "Baked Tropical Chicken" in the recipe book, which I find odd because there are no pineapples used here.  Or is it just me who associates "tropical" with "Hawaiian tropical" thus the pineapple thing?  Anyway, I am changing its name to "Baked Creamy Mushroom Chicken" because the cream of mushroom is really the recipe's secret ingredient.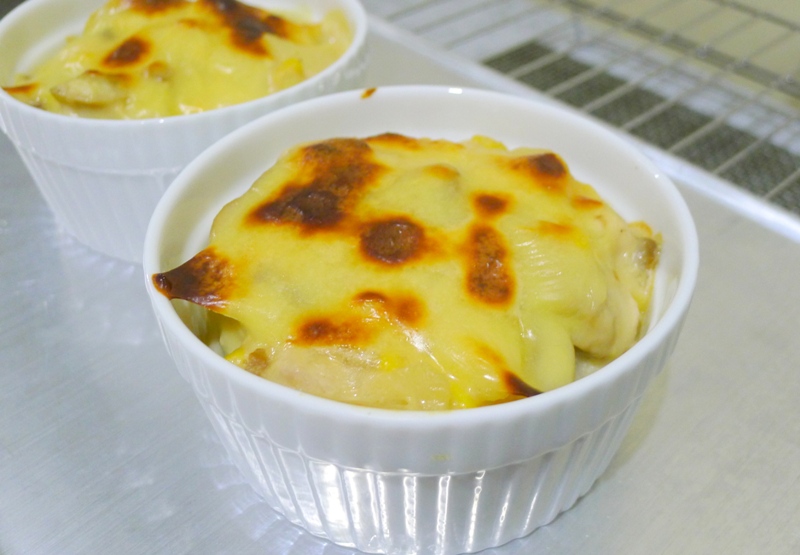 Here are all that you will need for this recipe: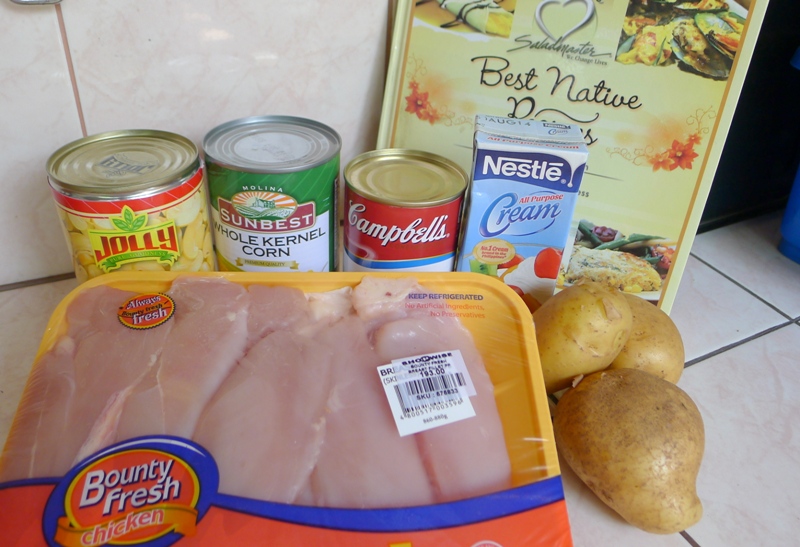 Bounty Fresh chicken breast fillets, cut into cubes
Big can of sliced button mushrooms
Big can of whole kernel corn
2 cans of Campbell's Cream of Mushroom
Nestle All-Purpose Cream
2-3 medium-sized potatoes, thinly sliced
Onion, chopped
Garlic, chopped
Salt and pepper to taste
Grated cheese (or hamburger cheese slices)
Steps:
1.  Pre-heat the Saladmaster Electric Skillet at 400 F (or 205 C) for 5 minutes.  Saute garlic and onion together (no cooking oil needed) then add the chicken.  Mix well until chicken meat is evenly colored.  Add salt and pepper to taste then cover for 5 minutes.   The chicken meat will be in beautiful white color after 5 minutes, like this one below: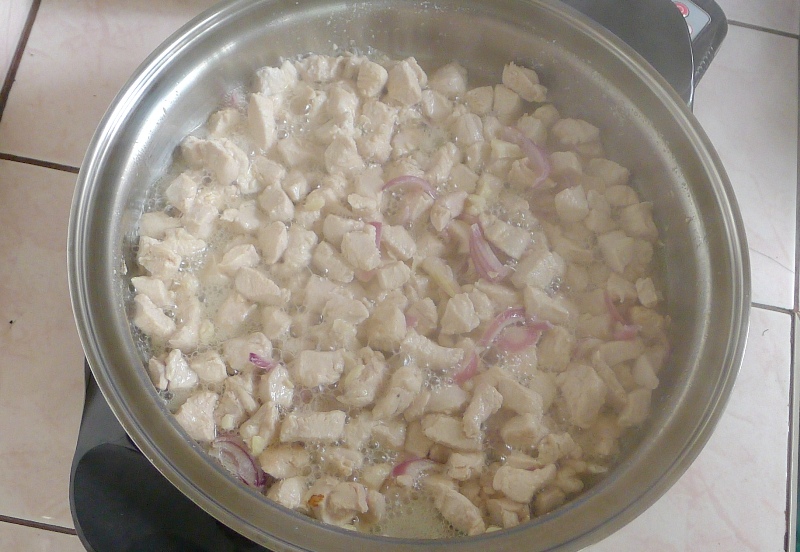 2.  Pour the all-purpose cream, then top it with sliced button mushrooms.  Make sure to evenly distribute these around the pan, with the all-purpose cream coating as much chicken meat as possible.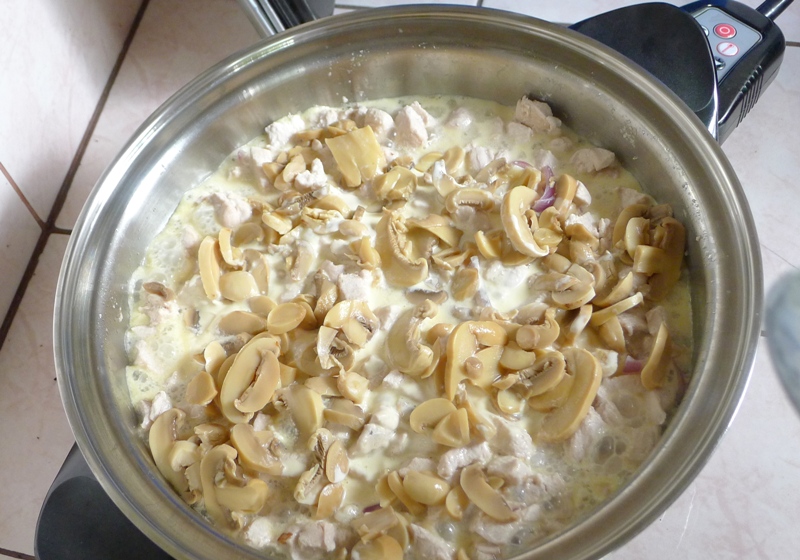 3.  Next, add the whole kernel corn, then lower temperature to 250 F (or 120 C).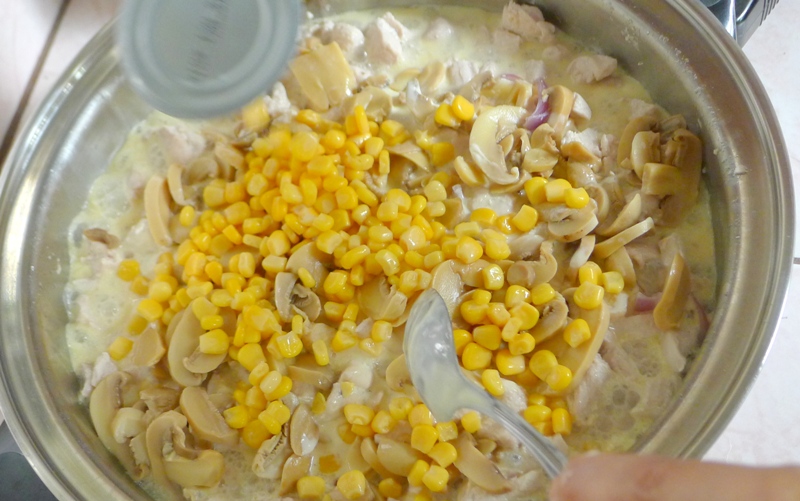 4.  Arrange sliced potatoes on top of the kernel corn, then spread over the cream of mushroom.  Cover the pan for 15 minutes.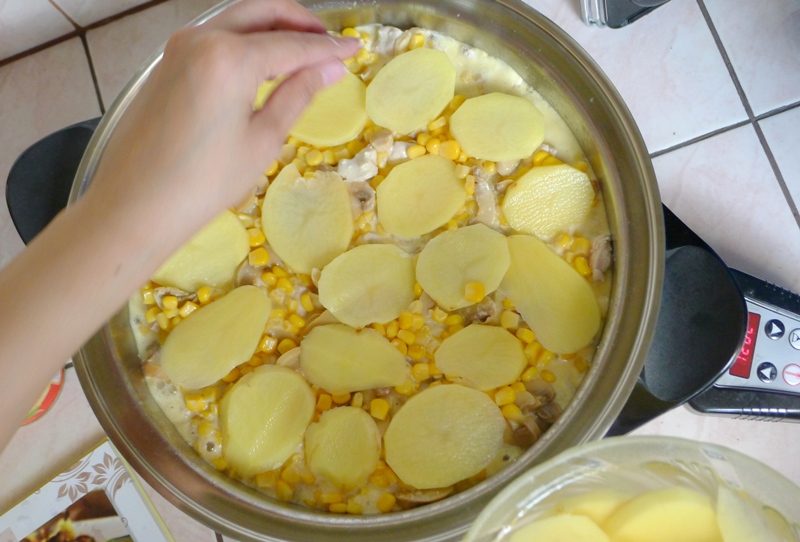 5.  Once the 15 minutes is up, add grated cheese (or hamburger cheese slices, which we used).  Cover again for 3 minutes or until the cheese is melted.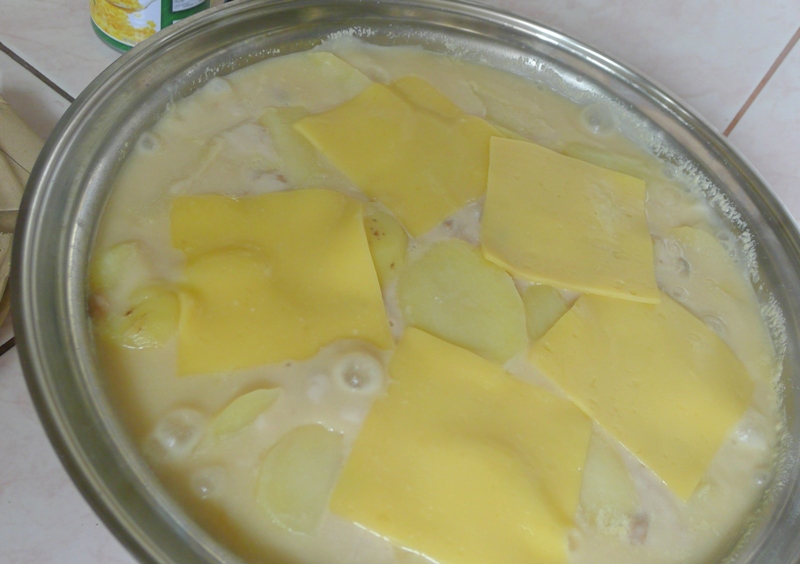 The result is a delicious creamy mushroom chicken. You'll notice that the sauce is initially watery, but once the dish has cooled, it will come out thick.  The chicken meat and potatoes were very tender and the cream of mushroom oh-so delicious!  This one reminded me of chicken pastel without the sausages, carrots and celeries.  Sarap!
We stored the left-over dish in the fridge for a few days.  Then last Wednesday, we made a quick dinner by baking the creamy mushroom chicken, casserole-style.   Here's how we did it:
1.  Place the creamy mushroom chicken in ramekin cups.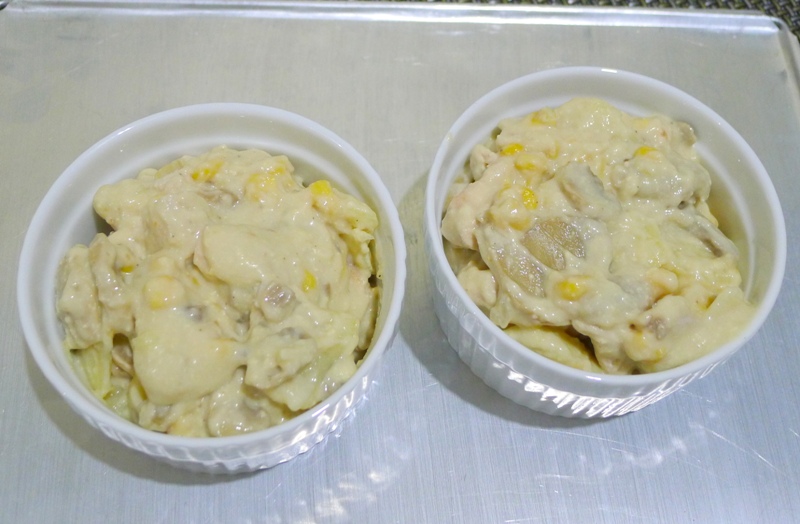 2.  Add grated cheese or hamburger cheese slices on top.
3.  Bake in medium heat for 10 minutes, or until cheese has turned into  brown.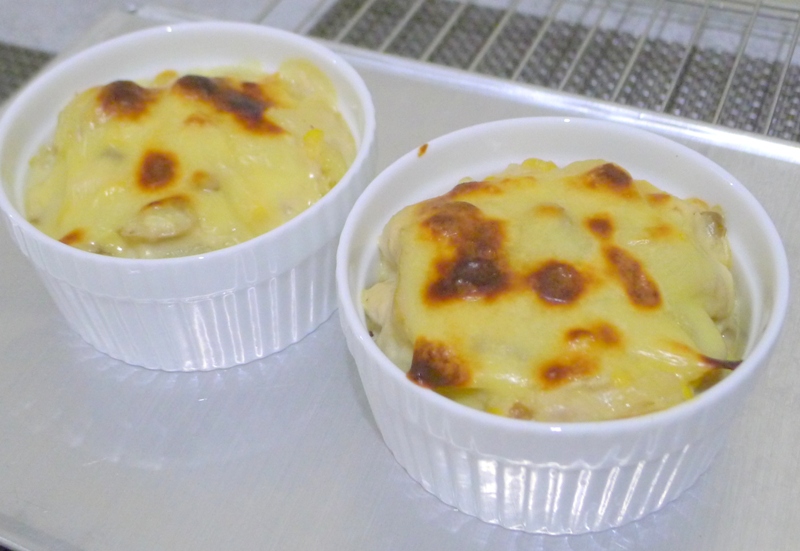 I only have praises for this easy-to-prepare, easy-to-cook dish.  The secret I think is to use really delicious cream of mushroom (I prefer Campbell's) and fresh chicken meat.   Notice that I didn't put any flavorings here, just some salt and pepper to add taste to the chicken meat.   You can upgrade the cheese to be used (mozzarella or quick-melt cheese are also good options) if you want your sauce to have that cheesy taste too.
I gave some of this to my parents, who paired it with pasta noodles instead of rice.  They love it!  They now call this their creamy chicken carbonara, hehe!
I hope you get to try this, soon!   It's a perfect comfort dish or 'pasta sauce' for this nice cold weather we're having  =)